12 Best Motorcycle Rides in Colorado & Guide
Disclosure: We may get commissions for purchases made through links in this post.
The Rocky Mountain State is well-known for its colorful landscapes, signature craft beer, abundant wildlife, and towering canyons. But beyond these textbook trademarks, it is a well-loved motorcycle riding destination.
National forests, state parks, and major thoroughfares provide enthusiasts with the perfect setting to ride their two-wheelers to their hearts' content.
The best motorcycle rides in Colorado include Trail Ridge Road, Million Dollar Highway, and the Guanella Pass. Even more roadways can be found in Durango, Colorado Springs, and near the Arapaho and Gunnison National Forests.
Over 60 motorcycle-accessible trails are waiting to be discovered in the state. But for now, here are 12 of the best motorcycle rides in Colorado:
Trail Ridge Road
Million Dollar Highway
Pikes Peak Highway
Independence Pass
Peak-to-Peak Highway
Grand Mesa Scenic Byway
Guanella Pass Scenic Byway
Colorado River Headwaters Scenic Bay
San Juan Skyway
Mount Evans Scenic Byway
Kebler Pass
Colorado National Monument
Most scenic byways in the state almost undoubtedly end with panoramic views of serene valleys, alpine forests, or a beautiful sunset. Either that or motorheads get to enjoy these natural wonders as they ride.
When planning for your next touring adventure, consider one of these suggested locations. I can guarantee that you will not regret whichever destination you will choose.
Best Motorcycle Rides in Colorado
1. Trail Ridge Road
Trail Ridge Road is a scenic drive for motorheads spanning 48 miles from Estes Park to Grand Lake in Colorado. It is the highest continuously paved road in the U.S., slicing through the heart of the Rocky Mountains and offering breathtaking views of mountain peaks, glaciers, and alpine tundra.
The trail includes several hairpin turns, narrow stretches, and steep slopes but with no official trail rating.
Venturing into Trail Ridge is not for the acrophobic — as it has elevations ranging from 7,522 feet (2,292 MASL) in Estes Park to 12,183 feet (3,713 MASL) at the Alpine Visitor Center.
Difficulty-wise, it may be a tad overwhelming for those unaccustomed to mountain driving. On the bright side, adventurers get to enjoy its panoramic vistas, dense forests, high alpine meadows, and well-maintained roads.
Some notable features of the trail include views of the 14,259-foot Longs Peak, scenic overlooks in Forest Canyon and Rock Cut, and several diverse ecosystems. Several restaurants, cafes, and lodging options are available along the route, particularly near Grand Lake and Estes Park.
The road is generally forgiving but can be hazardous during inclement weather. So make sure to exercise caution when riding, especially during peak season.
2. Million Dollar Highway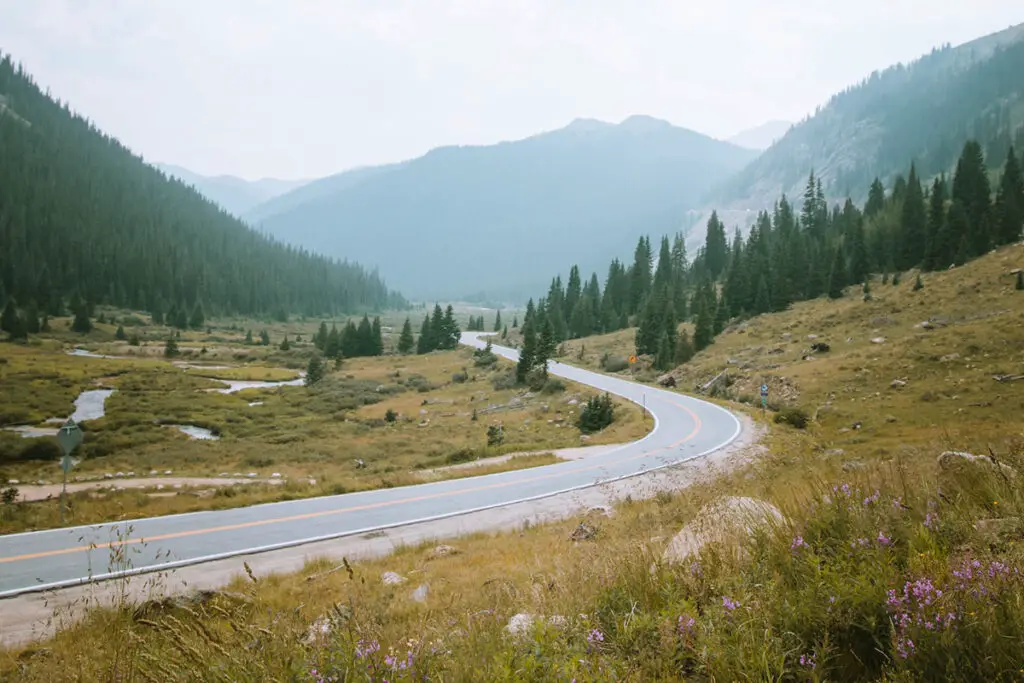 The Million Dollar Highway is part of US Route 550 in southwest Colorado and of many an enthusiast's checklist of superlative routes. It stretches about 25 miles from Silverton to Ouray (a.k.a. Little Switzerland) and weaves through the San Juan Mountains.
This challenging ride is famous for its narrow lanes, steep drop-offs, and sharp turns — surpassed only by astounding views of the Red Mountain Pass, Uncompahgre Gorge, and mining towns with well-preserved Victorian architecture.
Considered among the best motorcycle rides near Durango, CO, this popular spot can appear daunting to the untrained eye due to its rugged, mountainous terrain and elevations reaching up to 11,018 feet (1,828 to 3,358 MASL). It also does not help that certain sections run along the edges of cliffs without guardrails.
Despite these setbacks, hobbyists and frequenters continuously flock to this highway, as it is deemed safe for vehicles and two-wheelers.
3. Pikes Peak Highway
Located in one of the most iconic mountains in the state, this beautiful route stretches 19 miles from Cascade to the Pikes Peak summit in El Paso County. Its highest elevation stands at 14,115 feet (4,302 MASL), with its lowest at approximately 6,000 feet (1,828 MASL).
The route follows a well-maintained, paved road featuring a variety of terrain alongside hairpin turns and steep grades. It also highlights some of the most panoramic views of Pikes Peak, surrounding greenery, and the nearby Crystal Reservoir.
First-timers may experience symptoms of altitude sickness when riding toward higher elevations. But don't worry; there are stopovers at the Glen Cove Inn and the Summit House where you can eat, rest, and clear your head. While at it, you can also buy souvenirs and trinkets.
Categorized as a scenic drive, Pikes Peak Highway does not have an official trail rating. Nonetheless, it is deemed mostly secure by motorheads and drivers.
4. Independence Pass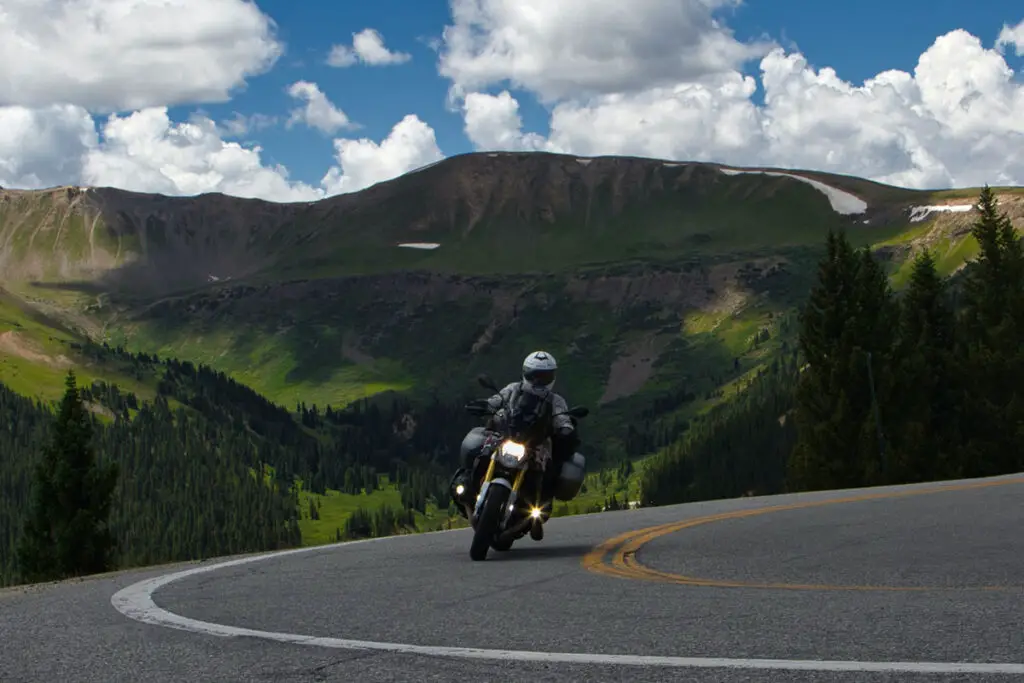 Independence Pass is a section of State Highway 82 that spans 32 miles from Twin Lakes to Aspen, Colorado.
This scenic route follows a narrow, winding road that takes you through the heart of the Rocky Mountains and rewards you with breathtaking views of peaks, valleys, and mountain lakes. It becomes even more of an eye candy during fall, as aspen trees lining up the pass turn a dazzling shade of gold.
Like most other byways in this guide, its terrain is generally rugged and mountainous, with vertical gains ranging from 8,000 to 12,095 feet (2,438 to 3,686 MASL).
Motorcycle-accessible areas include (but are not limited to) the following campgrounds — Difficult, Weller, Lost Man, Twin Peaks, Lakeview, White Star, and Parry Park. The Sawatch Range, Roaring Fork Valley, Twin Lakes, and historic mining towns like Leadville are some sights to enjoy while riding.
5. Peak-to-Peak Highway
Aside from boasting beautiful scenery, aspen trees, and wildlife, this route has a trivial story behind its nomenclature. Its name denotes the highway route traveling from north to south between Estes Park and Black Hawk, along the backbone of the Front Range mountains and through State Highways 72 and 119.
The 55-mile roadway has access to the Arapaho and Roosevelt National Forests and Indian Peaks Wilderness, which are great venues if you plan to do more than just motorcycle riding. It also passes by numerous peaks over 14,000 feet high, although its highest elevation at Ward is less than 9,600 feet (2,926 MASL).
Some of the best views along the Peak to Peak Highway include the overlooks at Rocky Mountain National Park and the summit of St. Vrain Mountain, which offer panoramic views of the surrounding mountains and vistas. Nederland, Brainard Lake Recreation Area, and the beautiful St. Malo's Chapel on the Rock are other scenes to look forward to on this route.
6. Grand Mesa Scenic Byway
The Grand Mesa Scenic Byway is a 63-mile route along the top of Grand Mesa in the state's western region and is known as the world's largest flat-top mountain. Naturally, it is deemed by many enthusiasts as one of the best adventure motorcycle rides in Colorado.
The byway starts in the town of Cedaredge and climbs up to the top of Grand Mesa, spanning across the mountain top before descending down gentle hills on the other side of the same-name town.
Note, however, that there are some steep grades on the way down from the peak of the mesa. That said, being cautious when descending is highly advised.
Areas surrounding this scenic byway offer numerous opportunities for hiking, fishing, and camping (among others). There are also many small towns and historical sites — like the Powderhorn Ski Resort, the Lands End Observatory, and the Vega State Park — along the route to pique your interest.
7. Guanella Pass Scenic Byway
Guanella Pass is a 22-mile paved thoroughfare considered one of the best twisty roads in Colorado. The road starts in Georgetown and reaches an elevation of 11,669 feet (3,556 MASL) before descending to the town of Grant.
Its mountainous terrain provides picturesque landscapes of forests, meadows, and alpine tundra. It is easily accessible and is suitable for all vehicles and road-going two-wheelers.
The pass features steep grades and sharp curves that are enjoyable yet challenging to navigate — something that most enthusiasts look forward to apart from the stunning views of Mount Bierstadt and Mount Evans. Likewise, there are campgrounds, hiking trails, and picnic areas along the route if you are going for the ultimate off-roading experience.
8. Colorado River Headwaters Scenic Bay
This byway is probably one of the most significant motorcycle rides you will ever experience. The end of this 80-mile path marks the confluence of the Colorado and Blue Rivers, with the latter being a tributary of the former.
This trail begins at the base of Rocky Mountain National Park and follows the course of the state-named river, passing diverse landscapes of canyons and alpine meadows.
Unlike most paved thoroughfares in this guide, the entirety of the trail includes dirt paths and rocky trails in the mix. As a rider, you will experience a wide variety of terrain — from flat and easy to sharp and bumpy. Hence, good physical fitness and adeptness to challenging terrain are almost required. The same goes if you frequent the place for hiking.
This scenic bay is rated as a Class 1-3 trail (meaning it is generally suitable for beginners with basic hiking skills and experience). However, certain sections of the route call for more advanced skills in both hiking and motorcycle riding. But do not let these details deter you, as breathtaking sights, soothing hot springs, and natural waterfalls await you on this adventure.
9. San Juan Skyway
This 233-mile loop starts and ends in Durango, Colorado, passing through small towns, historic sites, and the San Juan Mountains. The paved road has steep inclines, switchbacks, and challenging terrain, with stunning views of 14,000-foot peaks, mining sites, and ghost towns.
Food, lodging, and campsites are available in major towns such as Durango, Silverton, Ouray, and Telluride. Smaller towns also offer campgrounds and RV parks, but it is best to stay within the localities above if you want to make the most out of your riding experience.
10. Mount Evans Scenic Byway
The Mount Evans Scenic Byway is a 28-mile paved road winding through the Colorado mountains and reaching a peak altitude of 14,130 feet (4,306 MASL). It starts in Idaho Springs and ends at the summit of Mount Evans.
This narrow road features steep inclines and sharp curves (and some sections without guardrails), making it challenging for drivers not used to driving their two-wheelers in the mountains.
Notable features of the Mount Evans Scenic Byway include the Mount Evans Observatory, Mount Goliath Natural Area, Summit Lake, Chicago Creek Overlook, and Echo Lake Park. Throughout the route, there is an abundance of wildflowers, wildlife sightings, and alpine tundra.
For food and lodging, head over to Idaho Springs, Evergreen, Morrison, and other nearby towns.
11. Kebler Pass
Kebler Pass is a 30-mile gravel road that winds through the Elk Mountains from Crested Butte to Paonia, taking motorcyclists through the Gunnison National Forest and West Elk Wilderness Area. The terrain includes steep slopes and switchbacks, which can be challenging for occasional motorheads.
Notable features of Kebler Pass include stunning views of the West Elk Mountains, alpine lakes and meadows, historic ranches, aspen groves, and wildlife. Meanwhile, its best views can be seen from the pass summit, Lost Lake, Lake Irwin, and the Castles.
Depending on your budget and preferences, you may choose from The Lodge at Mountaineer Square in Crested Butte or The Inn at Tomichi Village in Gunnison (among other nearby establishments) for food, lodging, and campground options.
12. Colorado National Monument
Encompassing over 32 mi2 of canyons, mesas, and valleys, this monument is near Grand Junction and can be accessed via the 23-mile Rim Rock Drive. It is characterized by narrow canyons with steep walls and impressive sandstone formations.
The serpentine roadway has a peak altitude of 7,028 feet (2,142 MASL), sharp curves, and steep drop-offs in some sections.
Motorcycle enthusiasts frequent this location as it never fails to provide an exciting and thrilling riding experience, regardless of a rider's skill level.
Another draw of this place is that it is less crowded than other motorcycle-accessible routes in the state (including the ones enlisted here). But the cherry on top would have to be the geological formations and stunning views of this popular destination.
Special Mentions
Lizard Head Pass — offers stunning views of the San Juan Mountains and has a challenging, twisty road perfect for experienced riders. The pass also provides access to several popular scenic byways and historic towns, making it a must-see destination for motorheads visiting the region.
Unaweep-Tabeguache Scenic Byway — provides a stunning perspective of crimson rock formations and towering canyons. The byway also offers access to several outdoor recreation areas, including hiking trails, fishing spots, and rock climbing destinations, making it a great destination for outdoor adventurers.
Top of the Rockies — has some of the most spectacular scenery in the state, all of which can be enjoyed while touring. The route is also a favorite among seasoned riders due to its challenging twisties and sharp turns.
Silver Thread Scenic Byway — a one-stop destination for off-roading enthusiasts who are into fishing, hiking, and other equally engaging outdoor recreational activities.
Best Adventure Motorcycle Rides in Colorado
Black Canyon of the Gunnison
Great Sand Dunes National Park
Cottonwood Pass
Rio Grande Scenic Railroad
Silverton to Lake City
Motorcycle Rides in Colorado Springs
Gold Belt Tour Scenic Byway
Phantom Canyon Road
Rampart Range Road
High Drive
Motorcycle Rides Near Durango, Colorado
Mesa Verde National Park
The Alpine Loop
Durango to Moab
Best Twisty Roads in Colorado
Aside from Million Dollar Highway, Peak to Peak Highway, Trail Ridge Road, and Guanella Pass, another noteworthy motorcycle ride falling under this category is Poudre Canyon Highway.
This 40-mile stretch between Fort Collins and Walden is well-known for its challenging twists and turns along the Cache la Poudre River. Views of cliffs and stunning rock formations await at the end of this winding road.
Pointers on Motorcycle Riding in Colorado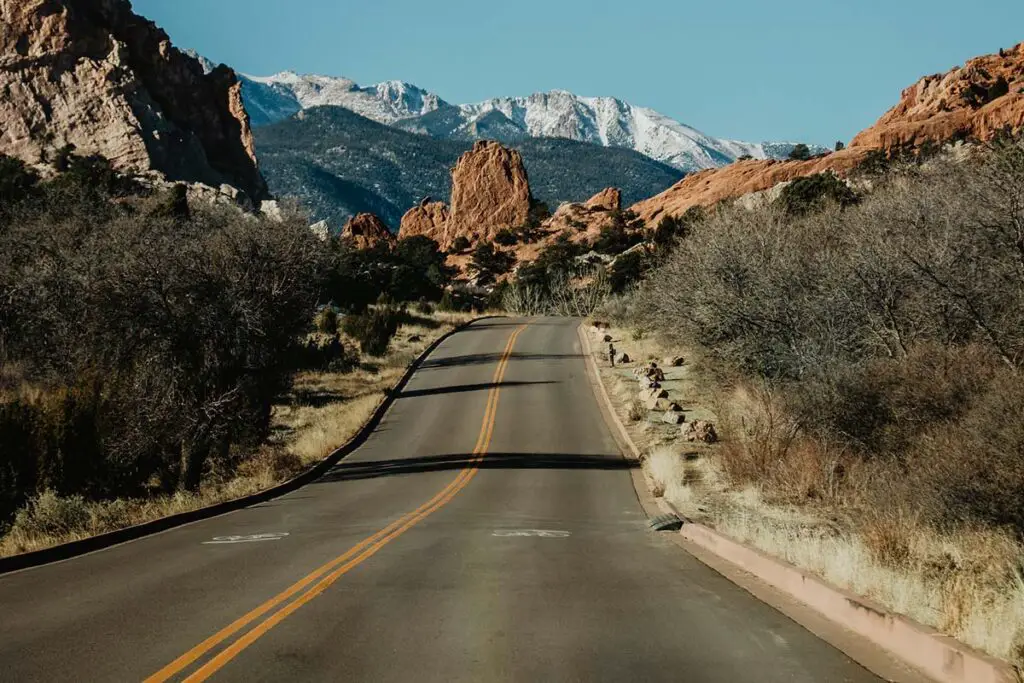 For more information on trail guidelines, operating hours, and the like, always check with the state's Tourism and Department of Transportation offices. You may also reach out to local motorcycle clubs and organizations for more details regarding these scenic byways.
Motorcycle riding in most destinations is typically allowed between May and September. However, some roadways like Garden of the Gods, Denver Mountain Parks, Red Rocks Park and Amphitheatre, and Highway 82 (over Independence Pass) are open year-round, weather permitting. Heavy snow and high winds can occur during this period, so always bring an emergency kit and gear up accordingly.
In any of these thoroughfares, visiting motorheads should be aware of the potential for altitude sickness at high elevations. Drinking plenty of water and taking frequent breaks will help you acclimate to the altitude.
Wildlife such as elk, deer, and bighorn sheep are common along the road or in dense forests, so motorheads should be extra cautious and keep a safe distance. It is wise not to disturb these animals or their habitat when making a stopover or taking a break. Also, be prepared for potential encounters with bears and mountain lions.
For trail-rated thoroughfares, dress accordingly for changing weather conditions and be careful when navigating river crossings, steep drops, and rocky terrain.
Be patient when riding in any of these destinations — especially the really popular ones — as the roads can get crowded during peak season.
Most (if not all) roads have steep grades, narrow lanes, and sharp turns or curves, which can be hazardous and challenging for some drivers. As such, strictly follow all posted speed limits and warning signs to ensure you and other riders have a safe and enjoyable journey.
Conclusion — Best Places to Ride a Motorcycle in Colorado
To summarize, let's go over the best motorcycle rides in Colorado once again:
Trail Ridge Road
Million Dollar Highway
Pikes Peak Highway
Independence Pass
Peak-to-Peak Highway
Grand Mesa Scenic Byway
Guanella Pass Scenic Byway
Colorado River Headwaters Scenic Bay
San Juan Skyway
Mount Evans Scenic Byway
Kebler Pass
Colorado National Monument
The best motorcycle rides in the Centennial State not only celebrate the art of motorcycle riding but also reinforces things that Colorado is known the world over for — Rocky Mountains and outdoor recreation.
And if you are blessed enough to pull off a 4-day motorcycle trip, you just might be able to grab a couple of craft beer growlers to enjoy when you get home!