Best Japanese Motorcycle Brands (Most Reliable)
Disclosure: We may get commissions for purchases made through links in this post.
In the past, two-wheelers created outside western production lines have been shunned by the general public. Buyers discriminated against these motorbikes for their allegedly cheap design and subpar build quality.
However, a growing consumer consciousness has led many motorcycling enthusiasts to shift from the familiar to the unsung — in other words, from European and American offerings to Japanese motorcycle brands.
But savvy enthusiasts don't go for just any model. They choose brands like Honda, Suzuki, Kawasaki, and Yamaha (a.k.a. The Big 4). Each caters to the needs and whims of any rider and does so expertly.
Today, we will delve into the individual strengths of these name brands and highlight their most recent offerings. This article will also teach you a thing or two about what makes two-wheeled machines revolutionary.
Looking for a trusty pair of wheels that can tackle varying terrain, won't quit, and with an affordable price point? You're in luck, as we have got your best options covered.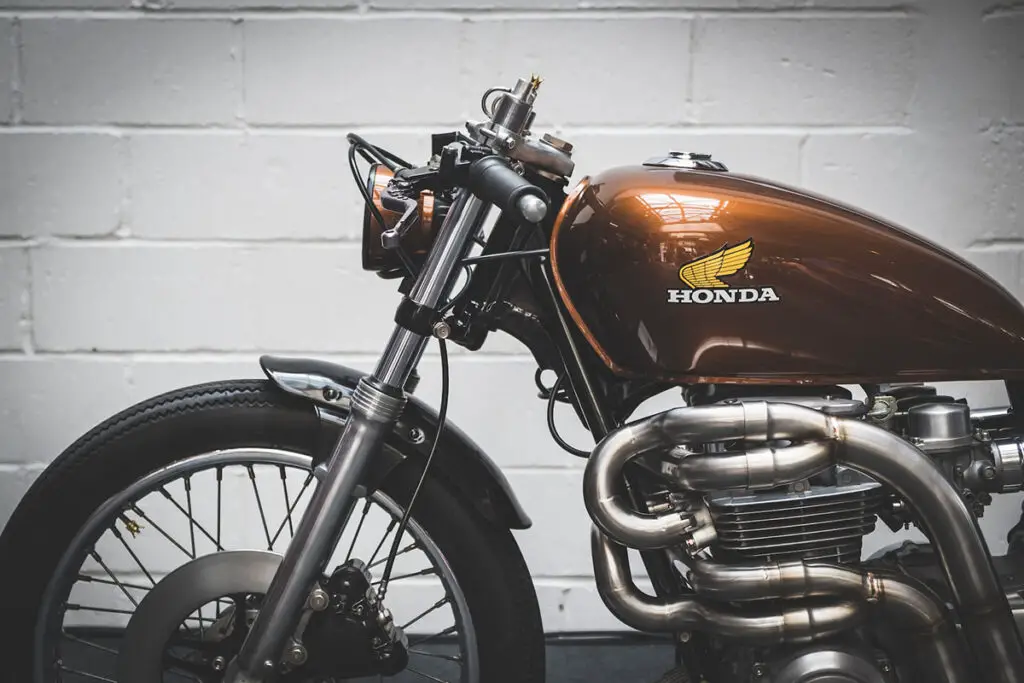 The Motorcycling Realm and Japan's Big 4
When asked about the most reliable Japanese motorcycle brand, most gearheads would think of one of these firms — Honda, Suzuki, Kawasaki, or Yamaha.
Although more Japanese manufacturers are producing/distributing two-wheelers in the domestic and international landscapes, only these name brands have secured their foothold in the motorcycling scene with their strong global presence.
Honda
Honda first sold motorcycles in Japan in 1949, with the Dream Type-D model (a.k.a Model D, Dream D). This happened two years after the firm created the 50cc A-Type and only a year since the Honda Motor Company was officially incorporated.
Despite this early start, it took a full decade before the Japanese OEM exported the 1958 C100 (a.k.a. Super Cub) to Europe and, later, to the United States.
Suzuki
Next in line is Suzuki, who began selling its 36cc Power Free model in 1952. Post-war consumerism played a major role in the success of this prototype model and its successors.
But like Honda, it took 11 years before the Hayabusa maker exported the 1963 Colleda COX to the United States. As if that were not long enough, the European market did not get a taste of the company's offerings until 1965 with the T20 Super Six.
Kawasaki
As for Kawasaki, there is a bit of contestation around the first-ever motorcycle sold by the firm in Japan. Some sources say it's the 1954 Meihatsu 125 Deluxe — a BSA Bantam spin-off with a 47-mph top speed rating and a 123cc 2-stroke power mill.
Meanwhile, others claim it is the air-cooled, single-cylinder 1963 B8M — the first bike produced by the OEM following the Kawasaki-Meguro merger, sold both locally and in North America.
Yamaha
Yamaha was the last of the Big 4 to release motorcycles in the local market — six years after Honda did and immediately after it parted ways with its parent company. The Japanese firm began its motorcycling journey with the YA-1 Model (a.k.a. Red Dragonfly).
While the motorcycle sold within the same year the Yamaha Motor Company was founded, it took half a decade more before the Red Dragonfly reached American shores. Conversely, the European market began importing the Yamaha YDS-1 in 1960.
Motorcycle Breakthroughs
Collectively for these Japanese motorcycle brands, the two-wheeler that placed them on the map was not their debut offering. Their respective flagship models came much later, with Yamaha beating the rest of the OEMs to it with the 1968 Yamaha DT-1.
Honda followed suit with the revolutionary CB750, first introduced in 1969. Dubbed by Cycle Magazine as "the most sophisticated production bike ever," this model laid the blueprint for modern superbikes with its innovative design, 5-speed forward transmission, and large-capacity inline-4 engine.
Kawasaki joined the 'clash' with the 1972 Kawasaki Z1 three years after. The "Big Zed" is not only considered the world's first superbike and a forerunner of present-day incarnations but also the first Japan-made two-wheeler to use a DOHC power mill on a production bike — shaking its European counterparts to the core.
The last to join the proverbial battle of the giants was Suzuki with its 1976 GS750. Highly regarded by serious and casual riders, this sport-touring thumper boasted front disc brakes, 63 hp, and a top speed rating estimated over 123 mph (198 km/h). It was one of the fastest mass-produced bikes during its heyday.
Best-Selling Bikes in Japan
If you're guessing that a colossal liter-class thumper like the Suzuki GSX-R1000 would have the honor of being named the best-selling Japanese motorcycle of all time, think again. The highest-grossing Japanese bike of all time is actually Honda's Super Cub.
This trailblazer (which helped the firm debut in the international market) has sold over 100 million units worldwide, surpassing the total sales of iconic cars like the Toyota Corolla and Volkswagen Beetle by at least 56 million units.
Other best-selling Japanese motorcycles worth noting are as follows:
Yamaha VMAX: All-time highest-grossing Japanese bike over 400cc
Honda Gold Wing: All-time highest-grossing Japanese bike over 900cc
Yamaha YZF-R125: Highest-grossing in the last 10 years
Yamaha MT-07: Highest-grossing bike over 400cc in the last 10 years
Yamaha FJR1300: Highest-grossing bike over 900cc in the last 10 years
Top Motorcycle Picks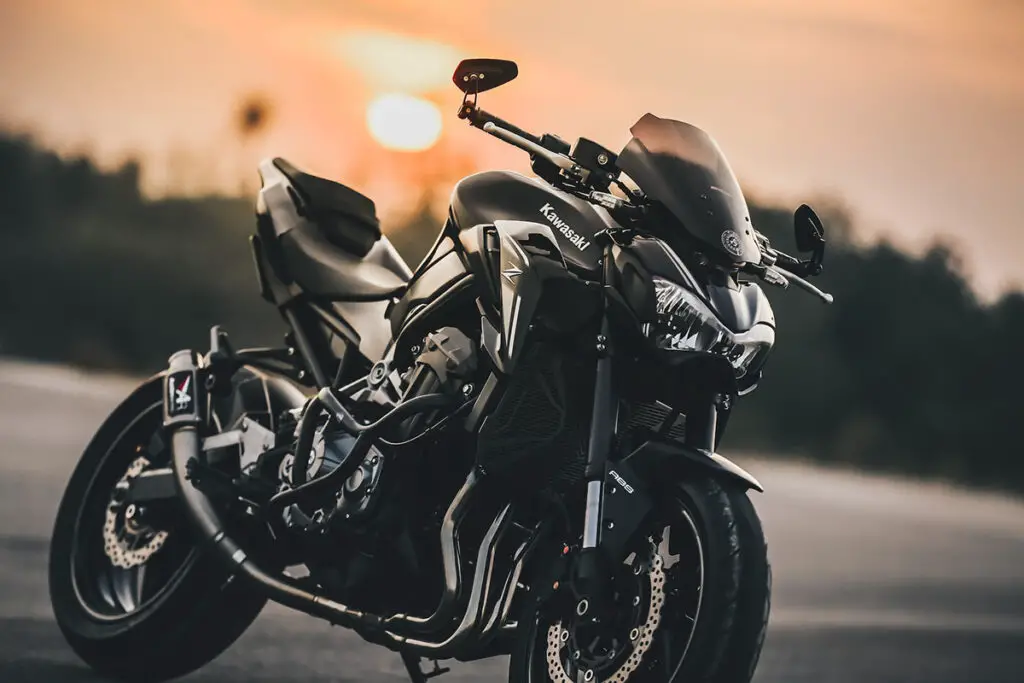 Japanese motorcycle brands have come a long way since they entered the international arena in 1949. And thanks to the unwavering pursuit of excellence exhibited by these manufacturers, their product offerings are now preceded by an undeniable, commanding reputation.
They currently dominate most (if not all) two-wheeler sub-segments, challenged only by equally formidable firms like Aprillia, BMW, Husqvarna, and KTM and emerging companies Energica, Beta, and Zero.
Establishing the different formulas these Japanese OEMs have in developing their motorbikes is crucial to understanding why some consumers gravitate towards specific makes and models.
Though one's choice of motorcycle would almost always be biased, a brand's ability to entice consumers into a purchase has a lot to do with capitalizing on, and embedding observed consumer preferences into the design of their two-wheelers.
Case in point, below are the most popular suggestions per segment (according to motorcycling experts and online publications). Although non-exhaustive, this table enlists tested-and-proven two-wheelers (some of which fall under two or more categories):
Standard/Naked
Honda – CB1000R; CB650R
Suzuki- GS1100S Katana; SV650
Kawasaki – Z H2; Z900; Z1000 R; Z H2; Z400
Yamaha – MT-10; MT-07
Sportsbikes
Honda – CB750; VFR750R RC30; CBR900RR
Suzuki – GSX-R750
Kawasaki – Ninja ZX-10R; Ninja H2; ZX Series
Yamaha – YZF-R1; YZF-R6
Cruisers
Honda – Rebel 1100, CMX500; Shadow Spirit 750 C2, 1100
Suzuki – Boulevard M109R BOSS; VS1400 Intruder
Kawasaki – Vulcan S; Vulcan 750; Vulcan 500 LTD
Yamaha – V-MAX; V-Star Series; Bolt R-Spec  
Tourers
Honda – Venture; Gold Wing
Suzuki – Cavalcade
Kawasaki – Voyager; Concourse 14
Yamaha – FJR1300  
Sport-Tourers
Honda – ST1300; NT 1100; VFR800
Suzuki – GSX 1300 R Hayabusa; GSX-S1000 GT
Kawasaki – ZZR1200
Yamaha – Super Ténéré 1200; Tracer 7, 9 GT  
Off-Road
Honda – XR Series (50cc to 400cc)
Suzuki – DR-Z400; RM Series (50cc to 450cc)
Kawasaki – KX Series (60cc to 450cc)
Yamaha – YZ Series (80cc to 450cc)  
Dirt/Track
Honda – CRF Series; CRF230F; CR480R
Suzuki – DR-650; RM125; TM250
Kawasaki – Ninja; KX250, 450; 500SS Mach III; KZ 900
Yamaha – YZ & WR Series (50cc to 450cc)  
Dual-Sport/ADV 
Honda – Africa Twin; CB500X; CRF300L  
Suzuki – DR-Z400 (base); V-Strom 650, 1050XT  
Kawasaki – Versys-X 300; KLR 650
Yamaha – Ténéré XT660Z, 700; XT1200Z Super Ténéré ES  
Supermoto  
Honda – CRF450/R
Suzuki – DR-Z400SM (modified)
Kawasaki – KLX 300SM
Yamaha – WR125X; WR250X; WR450F; YZF450
Youth  
Honda – Super Cub; CRF110F, 150F  
Suzuki – RM85; DR-Z50  
Kawasaki – KX65, 85; KLX110R/L 
Yamaha – YZ125; PW50; TTR Series
As early as 2020, the Big 4 has planned to collaborate in launching their respective EV projects. The plan includes a joint "e-Yan Osaka" trial (source: WebBikeWorld), which aims to make chargeable battery packs for EV bikes interchangeable across all Japanese motorcycle brands.
Other than this initiative, the firms have yet to launch electric motorcycles. Kawasaki, for one, has 10 EV bikes in the pipeline, projected to commence in 2025.
Dissecting a Top-Notch Motorcycle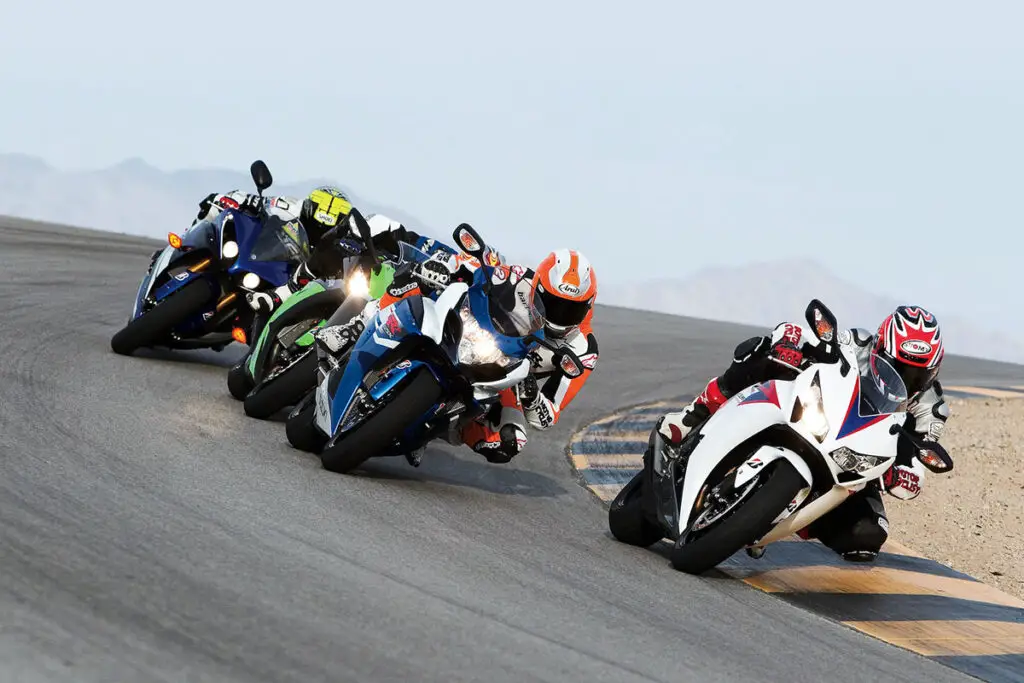 Every time I read automotive journals and blogs, I always find it fascinating when a cutaway diagram is included in the material. It doesn't matter if it's the inner workings of a high-spec engine or a fouled spark plug — there is something remarkable about visually representing a mechanism.
Herein lies the problem — it would seem folly (if not counterintuitive) to do the same for abstract concepts. So in this section, I will enumerate the qualities that make a motorcycle the most reliable in lieu of schematics.
Be warned — I will not detail specific requisites or the need to achieve a particular UTGQ mark (as is the case with choosing tires). Instead, the ensuing list will focus on what to expect from a first-rate two-wheeler:
Superior Design
Japanese motorcycle brands belonging to the Big 4 are known globally not only for their affordable price point but also for their top-notch design.
And rightfully so — their artfully-crafted offerings typically have fewer reliability issues than those inadequately designed. This is because aerodynamics, quality of material, accessibility, form, and function are all taken into account in the motorcycle's framework.
However, a reliable two-wheeler is more than a mere collection of well-designed components. It is a cohesive system where all parts function harmoniously and are integrated.
This synergy between the various motorcycle elements lends to these motorcycles' characteristically smooth and efficient on-road performance.
Quality Build
Durable construction is an undeniable quality of top motorcycle brands. It is not enough that their two-wheelers have a robust drivetrain or a slew of safety and comfort-enhancing features. These motorcycles must withstand the test of time and tough riding conditions.
In relation to durability, most manufacturers produce thumpers constructed from high-tensile steel, aluminum, titanium, magnesium, polymers, or carbon fiber.
Fairings are commonly made of ABS plastic or fiberglass. Hand grips are typically leather or rubber. Meanwhile, seats are either a synthetic leather or neoprene type filled with open-cell polyurethane foam.
Advanced Technology
The presence of advanced tech features is another facet where motorcycles are created unequal. But contrary to popular belief, its inclusion is not always a deliberate decision on the OEM's end to deprive motorheads of a few creature comforts.
That said, not all offerings from Japanese motorcycle brands would have ABS, Traction Control System, or digital instrumentation that goes beyond the analog speedometer and odometer.
In truth, some blueprints simply cannot do with too many electronic shenanigans — lest they take away from the motorcycle's overall efficiency.
Take dirt bikes, for example. Because they are primarily intended for off-road use, these two-wheelers mostly have little to no sophisticated tech that could add to their complexity, weight, and maintenance needs.
Incredible Power-to-Weight Ratio
A priority for many recreational riders and racing enthusiasts, this attribute is something where discretion should be exercised. The power-to-weight ratio is a double-edged sword — while a higher ratio translates to better top speed and acceleration, it also means more strain on engine components and the motorcycle as a whole.
For reference, here is a non-exhaustive rundown of what is considered generally impressive power-to-weight ratios specific to different piston displacements.
Note that these values do not only apply to Japanese motorcycle brands. (In relation to this list, I will use PWR and hp/Kg to mean power-to-weight ratio.):
50cc: 1 hp/5 Kg or 0.2 hp/Kg
100cc: 1 hp/4 Kg or 0.25 hp/Kg
250cc: 1 hp/3 Kg or 0.33 hp/Kg
300cc: 1 hp/2.5 Kg or 0.4 hp/Kg
450cc: 1 hp/2 Kg or 0.5 hp/Kg
700cc: 1 hp/1.5 Kg or 0.67 hp/Kg
900cc: 1 hp/1.2 Kg or 0.83 hp/Kg
1,000cc (liter-class): 1 hp/Kg
Bikes with this specific performance measurement usually demand more frequent valve adjustments, oil changes, and upkeep. Hence, it would make sense to expect more hours in the garage and long-term reliability as trade-offs when choosing motorcycles with a higher power-to-weight ratio.
There are, however, a few exceptions to this premise. Non-liter-class Japanese motorcycles like the Yamaha YZF-R6, Kawasaki Ninja ZX-6R, and Honda CBR650R all have a PWR between 1.04 hp/Kg and 1.09 hp/Kg while being lauded for their uncompromised speed, fuel efficiency, and reliability.
Unrivaled Fuel Economy
Typically, the first four items would have been enough to aptly sum up the attributes of brand-new motorcycles. But when it comes to pre-loved two-wheelers, this other facet forms part of essential considerations (and should become part of your checklist too).
At face value, fuel efficiency has nothing to do with a bike's ability to perform consistently without breakage or need for frequent repairs. But if your thumper was bought secondhand, it may indirectly signify its dependability (or the lack thereof).
Many owners with used bikes exhibiting poor fuel economy typically discover a compromised power mill or other mechanical issues as the culprit behind the said behavior.
The case isn't the same for all Japanese motorcycles, however. After all, gas mileage figures are contingent on engine design, fuel/carburetion system, construction, and application/sub-segment of the bike. Nonetheless, expect good fuel mileage if you have a Honda CB500F, Yamaha YZF-R3, or Suzuki GSX250R, as their respective OEMs designed these machines with fuel economy in mind.
I did not include high-performance figures, braking ability, or safety features in the list. These other factors can be pretty subjective at times. Safety features, for instance, would not matter at all to an off-road enthusiast or dirt biker.
Inversely, the absence of such may create a bad 'reliability' impression with less experienced riders who see motorcycling as more of a recreation than a sport.
Conclusion — The Big 4: Most Reliable Japanese Motorcycle Brands
Assessing the reliability of a motorcycle is contingent on the intended application, rider preferences, and priorities. There is also the greatest variable — budget — to account for.
I cannot overstate these factors. There are way too many instances of Japanese motorcycle brands being badmouthed — all due to failed expectations resulting from an application-motorcycle mismatch. Sadly, the latter remains an 'oversight' some owners seldom own up to despite being inarguable.
The only way around this loophole is to ground one's decision-making on riding conditions and driving behaviors — doing so will make it easier to narrow down the options for motorcycles.
By utilizing the information and advice presented here, selecting a top-notch two-wheeler should be much more straightforward. I trust that after reading this guide, you can now choose a suitable Japanese masterpiece to ride.