Harley-Davidson Ironhead: History & Review
Disclosure: We may get commissions for purchases made through links in this post.
Flat tracking, drag racing, hill climbing — name it, and you'll find the Harley Ironhead engine at the heart of these performance-oriented applications. This statement may no longer be true today. But this proudly American engine dominated these landscapes between the '50s and the early '80s. And in doing so, it earned its special place in Harley-Davidson's and motorcycling history.
The Harley-Davidson Ironhead is a retronym referring to an engine layout produced by the U.S. firm between 1957 and 1985. This powerplant succeeded the KHK engine, had a top speed of 110—143 mph (177—230 km/h), and was the 1st OHV mill produced by HD for its Sportster line.
Mechanical simplicity, racing heritage, and customizability are only some praiseworthy characteristics of this notable mill configuration. If you want to discover its capabilities further, stick around as we delve into the brief but in-depth history of the Harley-Davidson Ironhead engine.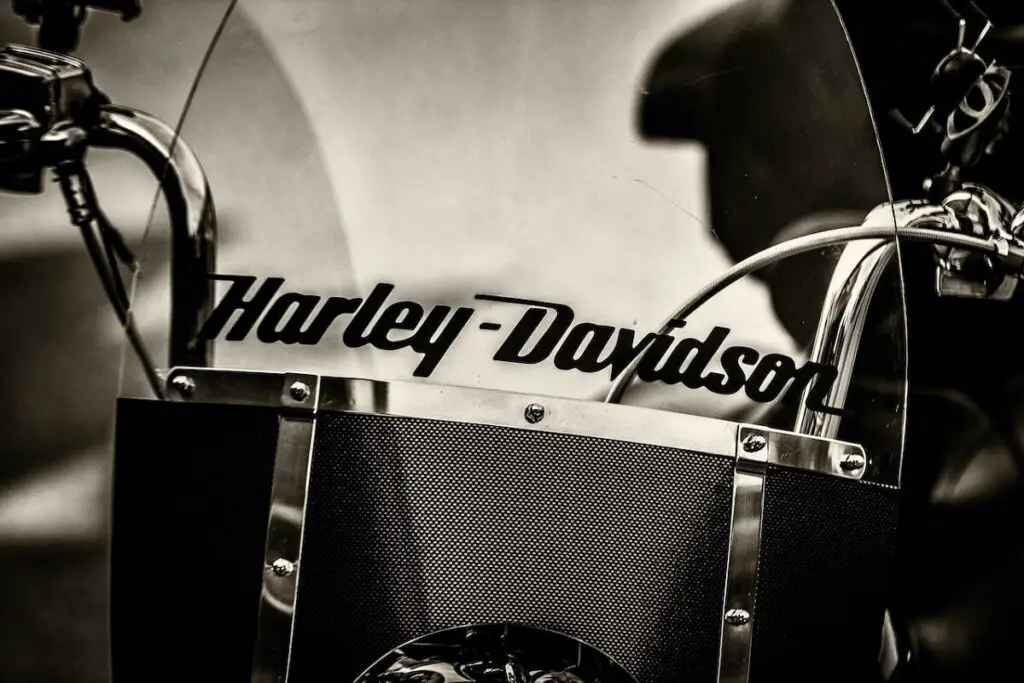 The Infamous "Waffle Irons"
Given how the human brain is inherently wired to remember flaws more than strengths, the label above is probably how the Harley-Davidson Ironhead engine is most popularly known (followed by being mistaken as a 3rd generation FLH power mill). But there is more to this engine's iron cylinder heads than its absurd alias.
Yet, it makes sense for the Ironhead to be mixed up with the FLH series, given that it was launched halfway through the production of the Panhead to the end of the Shovelhead era. Specifically, that's between 1957 and 1985. And it didn't help that the Evolution or EVO engine (the successor to the Shovelhead) replaced it as the standard powerplant in all Sportster and XR models until 2004.
Note that this power mill's chronological appearance is important since not all HD motorcycles with XL and XR prefixes have Ironhead engines. For Sportster models, it would be safe to say that all XLH and XLCH versions from 1957 to 1985 sported the Harley-Davidson Ironhead. But for XR models, only the Harley-Davidson XR750 (1970—1980) and Harley-Davidson XR-1000 (1983—1984) did.
Friend or Foe?
The latter part of the Sportster's Ironhead era was when the 'waffle irons' moniker was coined. Case in point, problems reported by owners during this phase drove the transition from Harley Ironheads to the EVO engine in 1986.
In addition to limitations in power and performance, riders mainly complained of heat dissipation issues. Interestingly, the issue was more rampant with XR-750 models than Sportster iterations.
The association of this predicament with the unseeming label was somewhat ironic. The reason is the Harley Ironhead's distinctive design. This powerplant had a horizontally split crankcase (resembling the grid pattern of a waffle iron), meant to allow for better heat dissipation instead of constricting it. On its own, the Harley-Davidson Ironhead engine couldn't have caused such a problem.
What actually made heat dissipation issues materialize was the power mill's V-Twin configuration. Yes, the placement of the engine's crankcase lent to a compact design and a lower center of gravity, contributing to the Sportster's narrow profile and maneuverability. However, the engine cylinder's proximity to the rider's legs also meant significant radiant heat that can be felt from the cylinders while riding.
This infamy eased up in later years. The term' waffle irons' no longer signified the two-wheeler's setbacks. Instead, it had gained popularity within HD's following and the entire riding community to mean the Harley-Davidson Ironhead engine's unique characteristics and had since been used affectionately.
Design Improvements
The Harley-Davidson Ironhead engine started with an 883cc (53.9 in3) displacement in 1957, increasing to 1,000cc (61 in3) in 1972 and then to 1,200cc (73.2 in3) in 1977.
It also showcased an improved valve design and upgraded valvetrain components, such as valves, springs, and rockers, compared to pre-1957 Sportster models with a side-valve configuration. The OHV design allowed for better airflow, more efficient combustion, and increased power output.
In addition to its already class-leading single four-lobe cam, the Harley Ironhead engine underwent further improvements in camshaft design, including changes to lift, duration, and timing. These improvements helped optimize valve function and efficiency.
The switch to the Harley Ironhead power mill helped dampen HD engines' "Milwaukee vibrator" reputation. This is all thanks to the Ironhead's rigid frame mounting, which worked wonders in the motorcycle's comfort and overall stability compared to the previous rubber-mounted engine setup.
A gear-driven oil pump was introduced to the Harley Ironhead's oiling system in 1971 to help improve its lubrication efficiency and overall reliability.
The breather system on the Ironhead was also refined in the same year to enhance crankcase ventilation and reduce oil mist, leading to better oil cleanliness and a reduced risk of oil leakage.
In 1972, the cooling fins on the Ironhead engine were redesigned and optimized to improve heat dissipation, helping manage engine temperatures and preventing overheating. The fins specifically received a denser fin arrangement, modified shape and configuration, and increased surface area (for more contact with the surrounding air).
In 1977, the power mill's cylinder heads were upgraded from cast iron to aluminum alloy, providing better heat dissipation and reduced weight. The change also translated to enhanced cooling capabilities.
Although not exclusive to Sportster models, the Ironhead benefitted from electronic ignition replacing the traditional points-based ignition systems in the '80s. The former lent to improved starting, reliability, and overall ignition performance.
Updates to the Ironhead's carburetor design included improved fuel metering and better atomization for optimal fuel-air mixture, resulting in enhanced fuel efficiency and improved throttle response.
The Harley-Davidson Ironhead received various transmission improvements throughout its production run. These upgrades included refined gear ratios, upgraded shift forks, stronger materials, and enhanced shifting mechanisms that aided in better overall transmission performance.
Ironhead-equipped Harley-Davidson motorcycles also got an advanced exhaust system (view on Amazon) and enhanced charging system to augment design and functional changes made to the engine.
Revised headers, mufflers, and exhaust routing improved exhaust flow and optimized backpressure, while improved voltage regulation and a larger-capacity alternator ensured better battery charging and electrical system performance.
Sportster 50th Anniversary Edition
The 2007 Sportster 50th Anniversary Edition was a special commemorative model released by Harley-Davidson to celebrate 50 years of the Sportster lineup and mark a significant milestone for the iconic motorcycle series. This model featured exclusive design elements and classic styling cues with chrome accents and was offered in a Mirage Orange Pearl/Vivid Black color scheme.
Although based on the Sportster 1200 Custom platform (meaning it no longer had the Ironhead engine), this limited-edition trim is still worth mentioning as it pays tribute to the enduring legacy of the Ironhead-equipped Harley-Davidson Sportster series. Its exclusivity and unique aesthetic make it a highly-coveted choice among hardcore HD enthusiasts and collectors.
Harley Ironhead Variations and Models
Between 1957 and 1985, at least seven configurations of Harley-Davidson Ironhead engines were produced. These iterations were made available in Standard, tactical, cafe racer, and special edition trims, all falling under the XL/XLC/XLCH/XLS Sportster label (except for the two race-oriented XR models mentioned earlier). Click here and revisit my Harley FLH Meaning & History article if you want to read further on all HD engine variants.
| Model Name | Suffix/Identifier |
| --- | --- |
| 1957—1985 Sportster | XL |
| 1988—2003 Sportster Hugger | XLH883 |
| 1986—present Sportster 883 | XL883 |
| 1998—2009 Sportster 883 Custom | XL883C |
| 2005—2010 Sportster 883 Low/Super Low | XL883L |
| 2009—2020 Sportster 883 Iron | XL883N |
| 1988—present Sportster 1200 | XL1200 |
| 1996—present Sportster 1200 Custom | XL1200C |
| 2006—2011 Sportster 1200 Low | XL1200L |
| 2007—2012 Sportster 1200 Nightster | XL1200N |
| 2004—2008, 2016—present Sportster 1200 Roadster | XL1200R |
| 1996—2003 Sportster 1200 Sport | XL1200S |
| 2012—2016 Sportster Seventy-Two | XL1200V |
| 2007 Sportster 50th Anniversary Edition | XL50 |
| 1957—1965 Sportster (for Army and Military Police) | XLA |
| 1958—1971 Sportster Ironhead 'Competition Hot' Model | XLCH |
| 1977—1979 Sportster Cafe Racer | XLCR |
| 1979—1985 Sportster Roadster | XLS |
| 1970—1971 Sportster 750cc Alloy Head Racing Model | XR-750 |
| 1983—1984 Sportster 1,000cc w/ XR Head and Engine Components | XR1000 |
| 2008—2012 Sportster 1,200cc w/ XR Head and Engine Components | XR1200 |

(Source: Low Brow Customs)
Harley Ironhead Years to Avoid
Despite its unfitting moniker and vintage layout, there isn't a specific year to avoid with the Harley-Davidson Ironhead engine. This is because its older V-Twin configuration is proving to be a more robust design than most power mills fitted into modern-day motorcycles. If there is any particular year to approach with caution, it would be 2004 and 2014 Sportsters but not for the reasons you think.
2004 Sportsters, besides not having the iron cylinder heads, have returned to a rubber-mounted engine layout. This means excessive engine vibration is back and could potentially mar the bike's overall reliability.
Conversely, 2014 Sportsters reportedly have clutch slippage and premature wear. However, it doesn't necessarily follow that all same-year production models exhibit the same problems.
Experts' Advice on Harley Ironheads
Like any other classic motorcycle, purchasing a two-wheeler with a Harley-Davidson Ironhead engine is a decision not for the faint of heart.
While the power mill's configuration is formidable, it is also care- and labor-intensive. However, these requisites are to be expected since the engine technology is nearly 65 years old — no wonder it's such a hit with DIYers and mechanically-savvy riders!
Here are some pointers for the prospective buyer. They are guaranteed to help those new to the used-bike market. But for pros and collectors, it wouldn't hurt to have some soft reminders:
While aftermarket support is available, it often comes at a higher cost. To add, some parts are more difficult to source than others and may warrant a lot of patience and research.
A trade-off for the Harley Ironhead's unique characteristics is the need for more frequent and regular maintenance compared to newer engine designs. Note that upkeep includes adjusting valves, addressing oil leaks, and maintaining proper timing and carburetion (among other things).
For earlier models without electric starters, you may need to familiarize yourself with the starting procedure and ensure the electrical system is in good working order.
If you are into speed, you may not appreciate the power mill's less rumbly sound, lower power output, and other performance limitations.
While not the heaviest of all HD engine layouts, it is on the heavy side, ranking 7th out of 11 HD power mill configurations produced so far.
Although riding an Ironhead-equipped two-wheeler isn't necessarily agricultural, remember that its engine components may show signs of wear and aging earlier than you would like. Its frame, suspension, brakes, and other critical components require thorough checking before purchase.
Conclusion – Harley Ironhead Review
Boasting a stellar track record and a pivotal role in the rise of the chopper culture is one thing. But for an HD blueprint to be inclusive? Now, that's something else! Interestingly, both are naturally expected of a Harley Ironhead engine — alongside more frequent upkeep and a good working knowledge of its mechanisms.
Understandably, these demands can be a tall order for both newbies and seasoned riders. Plus, giving the motorcycle its well-deserved TLC doesn't end with these simple tasks. But in exchange for owning such a timeless, history-rich two-wheeled machine, believe me — I'll take it any day.