2003 Harley Davidson Sportster 883 Specs & Review
Disclosure: We may get commissions for purchases made through links in this post.
It took almost two decades for Harley Davidson to finally embrace reinvention for one of its mainstay lineups. A force of habit, perhaps – but thankfully, the firm came to its senses. With the advent of cheaper, more efficient Japanese counterparts, HD realized that revisiting the 2003 Sportster 883's mechanical design was long overdue and highly necessitated.
The 2003 Harley Davidson Sportster 883 is the label's 18th-year release and the final year for the frame-mounted Evolution engine. Regarded as one of the best beginner-friendly bikes, it features six trim packages, modded gear ratios, improved fuel mileage, and impressive performance figures.
The slew of Sportster 883 options offered in 2003 signaled the end of an era of declining consumer trust and the beginning of better things to come. Because in the next few years that followed, the label became one of the best HD motorcycle offerings of all time. That said, continue reading to learn more about the specifications, features, and lowdowns of the 2003 Harley Davidson Sportster 883.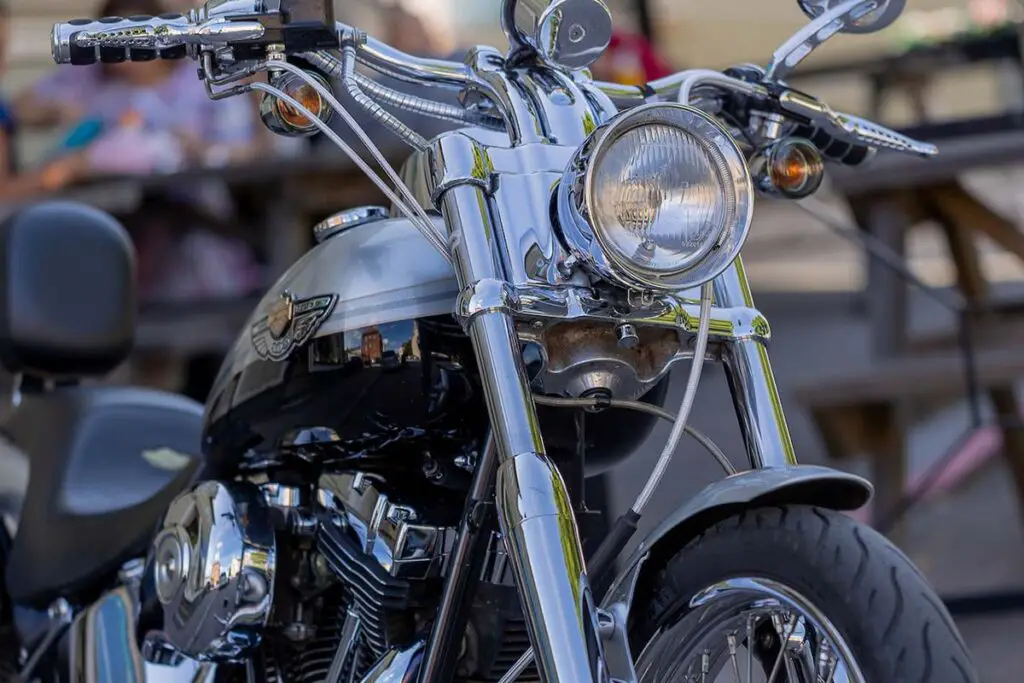 The End of the Sportster Stigma
There are two things that the Sportster lineup is well-known for – its long-standing reputation (hey, it has been around since 1957!) and its ridiculous monikers like "Waffle Irons" and "Milwaukee Vibrator." Sadly, the latter has better recall than the former.
The good news is Harley has finally decided to do something about its plummeting reliability in 2004, leaving the 2003 Harley Davidson Sportster 883 as one of the last HD motorcycles to suffer the "infamous engine vibrations."
This is not to say that 2003 Sportster models were not up to snuff. The OEM released quite a number of trims for consumers to enjoy (albeit these two-wheelers still had frame-mounted power mills). As with previous-year iterations, the 2003 lineup offered the following selections:
XLH883 Standard (1986-2003 models)
XLH883 Custom (1999-2003 models)
XLH883 Hugger (1987-2003 models)
XL883R Roadster (2002-2003 models)
XLH883 Deluxe (1986-1995 models)
Custom and Deluxe trims had two-seater layouts, while Standard, Hugger, and Roadster versions had single saddles. Hugger bikes eventually became XL Low models, and Custom trims were fitted with rubber-mounted engines beginning in 2004. Roadster models sported spoked rims, blacked-out chassis and engine, and a 2-into-1 exhaust (view on Amazon).
2003 Harley Davidson Sportster 883 Specs & Features
Engine
An air-cooled, transversely-mounted 45° V-twin engine with an OHV-pushrod design brings the Sportster 883 to life. It has a bore-stroke ratio of 76.2 x 96.8 mm (3.000 x 3.812 inches) and a 9.0:1 compression ratio (8.8:1 for Custom trims).
Piston displacement is 883 cm3 (53.9 in3), delivered by a 40-mm CVK Keihin carburetor with an enrichner and accelerator pump. A dry-sump lubrication and dual exhaust systems help regulate the air-fuel mixture.
Below are the carb jetting for the different Sportster models:
| Sportster Model | Main | Pilot |
| --- | --- | --- |
| U.S. | #160 | #42 |
| California | #170 | #42 |
| HDI | #190 | #42 |
| Switzerland | #190 | #42 |
Overall, the engine configuration yields the following performance figures:
| Description | |
| --- | --- |
| Top Speed* | 93.2–110.6 mph (150–178 km/h) |
| Horsepower (at crankshaft 95/1/EC)* | 47.6 hp (35 kW) @ 6,000 RPM; 57 hp (42.5 kW) @ 6,000 RPM |
| Maximum Torque* | 67 Nm (6.83 kg-m, 49.4 ft-lbf) @ 4,400–4,500 RPM; 72 Nm (7.34 kgf-m, 53 ft-lbf) @ 4,500 RPM |
| Fuel Economy (combined average) | 45–55 mpg (4.3–5.2 L/100 km) |
| Approximate Tank Range | approximately 168 miles for a full fuel tank |
* Lower-limit values are based on data from Mbike.com (XLH883 Sportster 2003) and 
TotalMotorcycle.com
 and are meant for XL and XLH trims; upper-limit values are from the owner's manual
Fuel & Lubrication
Tank capacity is 12.4 L/3.3 USgal (inclusive of 1.8 L/0.5 USgal of reserve) of unleaded premium gasoline with a minimum PON 91/RON 95 Octane rating. The use of fuel variants with no more than 15% MTBE or 10% ethanol and same-spec reformulated/oxygenated types of gasoline (RFGs) are permitted.
Lube-wise, the 2003 Harley-Davidson Sportster 883 has the following requirements:
| Description | |
| --- | --- |
| With filter change | 2.8 L (3.0 US qts.) |
| Transmission oil change | 0.95 L (32 oz.) |
| Front fork oil (wet) | 0.27 L (9.0 oz.) |
| Front fork oil (dry) | 0.30 L (10.2 oz.) |
OEM-prescribed lubrication is SAE 20W-50 Harley-Davidson 360 Motor Oil. Other viscosity grades such as SAE 10W-40, 50, or 60 diesel engine oil meeting JASO T903 MA, MA1, MA2 standards and with designations of CF-4, CG-4, CH-4, or CI-4 are allowed for use following ambient temperatures above 40° to 80° F (4° to 27° C).
(Tip: Take care not to use oil variants containing friction modifiers that could potentially damage motorcycle clutches and power mills. Also, make sure the bike is not supported on a side stand when doing oil level checks, as engine oil readings will be incorrect.)
Drivetrain
A 5-speed, constant-mesh foot-shift transmission with a multi-plate clutch assembly and oil-bathed diaphragm spring handle power, while a final belt drive (with a 1-N-2-3-4-5 gearshift pattern) controls wheelspin.
The '03 Sportster 883s received modified gear ratios to make for a more evenly spaced RPM drop between 1st and 2nd gears and from 3rd to 5th. This gearing, in turn, lends to better fuel mileage and less noise when the engine is in action.
Refer to the table below for the bike's stock transmission gear ratios:
| Description | US & HDI / Switzerland* |
| --- | --- |
| Primary Sprocket (Engine) | 35 |
| Primary Sprocket (Clutch) | 56 |
| Primary Drive Ratio | 1.60:1 |
| Final Sprocket (Transmission) | 27 |
| Final Sprocket (Rear Wheel) | 61 |
| Final Drive Ratio – Standard, Hugger models | 2.29:1 |
| Final Drive Ratio – Deluxe models | 2.26:1 |
| Overall Gear Ratio – I | 9.71 / 9.05 |
| Overall Gear Ratio – II | 7.12 / 6.60 |
| Overall Gear Ratio – III | 5.18 / 4.85 |
| Overall Gear Ratio – IV | 4.26 / 3.96 |
| Overall Gear Ratio – V | 3.61 / 3.25 |
* Switzerland models for HD's Sportster 883 were only produced from 1993 to 1996
Ignition
2003 Harley Davidson Sportster 883 trims have a non-adjustable electronic CDI (Capacitor Discharge Ignition) with an ignition timing of 20° BTDC (approximately 7.5° BTDC with VOES disconnected) and an electric starter with a backup mechanical recoil.
Like its liter-class namesakes, these bikes require an HD-6R12 spark plug with an electrode gap of 0.038–0.043 inches (0.9–1.1 mm). Meanwhile, an A.C. alternator with a rated output of 19–26 VAC per 1,000±50 RPM serves as its charging system. See the table below for fuse details:
| Fuse | Amperage |
| --- | --- |
| Main Circuit Breaker | 30 A |
| Accessory, Ignition, Lighting, Instrumentation | 15 A |
A sealed 12V 19 Ah/(10 HR) battery augments the Sportster's electrical and lighting assembly. The battery could have a format of either YTX20HL-BS or YTX20L-BS with assembled dimensions of 175 x 87 x 155 mm (6.88 x 3.44 x 6.12 inches – L x W x H).
Depending on your battery management system (view on Amazon), charging takes about 15 minutes up to two hours. In case of wear or damage, the stock battery can be replaced with a Yuasa YTX20HL-BS High-Performance, Maintenance-Free Battery (view on Amazon).
Tires & Brakes
Laced wheels are fitted with 19-inch tires at the front and 16-inch tires at the back. Each has a respective front-and-rear cold-tire pressure of 207 kPa and 248 kPa, with the rear requiring adjustment to 275 kPa for 2-up seating or when hitting GVWR/maximum load. Depending on the trim and market, knobbies may either be tube-type or tubeless, as seen in the tables below:
| Tube-Type | Front | Rear |
| --- | --- | --- |
| Type | Dunlop D401 Elite S/T | Dunlop D401 Elite S/T |
| Size | MH90-21 56H | 130/90-16 |
| Wheel Diameter | 21 inches | 16 inches |
| Rim Width and Contour | T21 × 215 TLA | T16 × 3.00 D |
| Tube Size | 3.00-21 | MT90-16 |
| Tubeless | Front | Rear |
| --- | --- | --- |
| Type | Dunlop D401 Elite S/T, K591 S&FR Elite SP | Dunlop D401 Elite S/T, K591 S&FR Elite SP |
| Size | 100/90-19, 100/90-V19 | 130/90-16, 130/90-V16 |
| Wheel Diameter | 19 inches | 16 inches |
| Rim Width and Contour | T19 × 2.15 MT | T16 × 3.00 D |
| Valve Stem Hole Diameter | 0.45 in. (11.4 mm) | 0.35 in. (8.9 mm) |
As for brakes, dual hydraulic discs with 11.5-inch (292-mm) rotors, front dual-piston calipers, and a rear single-piston caliper provide the Sportster 883 stopping power.
To prevent contamination, the manufacturer recommends only silicone hydraulic DOT 5 brake fluid when assembling or servicing brakes. The Sportster's tire-and-wheel assembly aptly compensates for the lack of ABS, although loyalists would have appreciated including the feature as a standard.
Suspension
Enclosed in a Sportster 1200-adopted tubular steel frame are 39-mm spring-controlled, hydraulically dampened telescopic front forks and a twin-sided rear swingarm with coil-over, preload-adjustable shocks. These suspension units offer respective wheel travels of no more than 4.0 inches at the front and 2.0 inches at the back, making for poor bump absorption and taking away from the two-wheeler's off-road drivability.
Dimensions
Overall dimensions of the 2003 Harley Davidson Sportster 883 standard and Deluxe trims are 88.1 x 33 x 49.5 inches (2,238 x 838 x 1,257 mm – L x W x H), with approximately ±0.50–6.06% variance compared to Custom, Hugger, and Roadster versions.
The wheelbase is 60 inches (1,524 mm), while the minimum ground clearance is 6.7 inches (170 mm), which is better than Harley's very own Dyna series. The saddle height is 28 inches (711 mm) and comfortably sits riders of all shapes and sizes.
Depending on trim, dry weight ranges from 220 Kg (484 lbs.) to 228 Kg (503 lbs.). Meanwhile, wet weight with fluids is approximately 235 Kg (518 lbs.).
Respective front and rear GAWRs (Gross Axle Weight Ratings) are 160 Kg Kg (353 lbs.) and 270 Kg (595 lbs.), totaling a 948-pound GVWR that applies to all Sportster models. For reference, vehicle weight labels are on the two-wheeler's frame steering head.
Exterior
From its inception in 1988, the Sportster did not receive a lot of restyling and modifications. Although the bike offered a considerable number of trims and color options, all versions were superficially the same. Power mills were frame-mounted, instrumentation was a bit outdated, and overall styling was classic (this is, by no means, a bad thing).
The visuals were clean, and the ergos were comfortable. Had it not been for the inadequate suspension components, handling and maneuverability far exceed the look of the 2003 Harley Davidson Sportster 883.
Cost of a 2003 Harley Davidson Sportster 883
| Year – Model – Trim | List Price | Retail/Trade-In Values |
| --- | --- | --- |
| 2003 Harley-Davidson XL883 Anniversary | $6,145 | $1,575 – $2,070 |
| 2003 Harley-Davidson XL883 Hugger Anniversary | $6,605 | $1,695 – $2,230 |
| 2003 Harley-Davidson XL883R Anniversary | $6,795 | $1,830 – $2,410 |
| 2003 Harley-Davidson XL883C | $7,245 | $1,975 – $2,600 |
| 2003 Harley-Davidson XL883C Anniversary | $7,690 | $2,080 – $2,735 |
(Source: Nada Guides)
As for auction listings, the price range is from $2,750 to $10,000 with stock paint, 2-up seats, aftermarket handlebars (view on Amazon), and approximately 2,000–30,328 miles on the tach.
Used bikes worth $4,500 and up typically have low to moderate mileage, studded leather seats (view on Amazon), and pristine body paint and are often Hugger, Custom, Roadster, Low, or 2003 Harley-Davidson Sportster 883 100th Anniversary editions. Cycle Trader and Smart Cycle Guide listings include some of the most well-kept Sportsters.
Credit-worthy Qualities of the Sportster 883
Some say there is much to be had with the "small" 883-cc Sportster. Meanwhile, others praise the two-wheeler for its versatility and on-/off-road prowess. It is to be expected, as these machines are naturally a "love me or hate me" type of motorcycle.
Below is a non-exhaustive list of 2003 Harley Davidson Sportster 883 pros and cons that prove this point:
Performance figures keep lots of motorheads happy, especially when riding with a group
The suspension provides a balance between comfort, compliance, and performance
Huge aftermarket support; easily accessible knowledge and replacement parts
Upgradable to a 1,200-cc machine when the need for more power arises
Much better fuel mileage than its 1,200-cc namesake
The XLH883's belt drive is manageable and low maintenance
Some trims have mags instead of spoked wheels, which lots of die-hard motorheads prefer
Saddle height and composition are adequate for city driving and cruising
If you are into classics, it is one of HD's best-looking (not to mention best-sounding) motorcycles
A great touring bike for long-distance riding or anytime you need that extra oomph
Consumer Wish List:
ABS as a standard feature
Lighter overall motorcycle weight
An improved front and rear wheel travel
More comfortable saddle and ergonomics
Upgraded stock shocks and fuel tank capacity
Dual hydraulic discs instead of single rotors at the front
Although considered a beginner-friendly bike, it is not ideal for the novice rider
About Harley-Davidson
Harley-Davidson, Inc. (a.k.a. Harley, H-D, or HD) is an American company highly-revered for its contributions to the motorcycling industry. Referred to as the Milwaukee Giant, it was founded in 1903 by the Davidson brothers and William S. Harley.
Undeniably a trendsetter, the firm gave rise to custom two-wheelers such as bobbers and choppers and changed motorcycle styling forever. From the exclusive manufacture of single-cylinder bike models, HD has grown its plethora of product offerings to include scale models, accessories, toys, and even apparel.
Among its most popular lineups are the Dyna series and the 2003 Harley Davidson Sportster 883 models – the forerunner of modern-day liter-class Sportster iterations.
Conclusion – 2003 Harley Davidson 883 Sportster Review
Despite its imperfections, the 2003 Harley Davidson Sportster 883 can be summed up in three terms – balanced, timeless, and approachable. For the experienced rider, it is a good all-rounder that affords them the joys of all-day cruising and daily commute.
For the gutsy beginner, it is a blank canvas where they can challenge themselves in aggressive riding within safety limits. All in all, the two-wheeler is a fitting finale to a long history of Waffle Irons and Milwaukee Vibrators and a precursor to the new-and-improved HD Sportster series.