Yamaha RX100 Specs and Review
Disclosure: We may get commissions for purchases made through links in this post.
While most big-name brands spent their energy and resources on developing the biggest, baddest two-wheeled machine that can rip through racetracks and freeways, Japanese OEMs like Yamaha had their sights on solving real-world problems. Congested city streets and gridlock weren't unbeknown to Asian motorheads, and the Yamaha RX100 was the perfect solution to these problems.
The Yamaha RX100 is a commuter sports motorcycle produced by the Japanese firm from November 1985 to March 1996. Featuring a 14-second quarter-mile record, nostalgic styling, and a capable 98cc engine, the RX100 was the perfect bike for casual riders, drag racers, and minibike enthusiasts.
With its powerful 2-stroke engine, unmatched agility, and iconic design, the Yamaha RX100 has and continues to leave an indelible mark on motorcycle enthusiasts worldwide. So stick around and join me as we delve into this legendary machine's history, specifications, and timeless allure.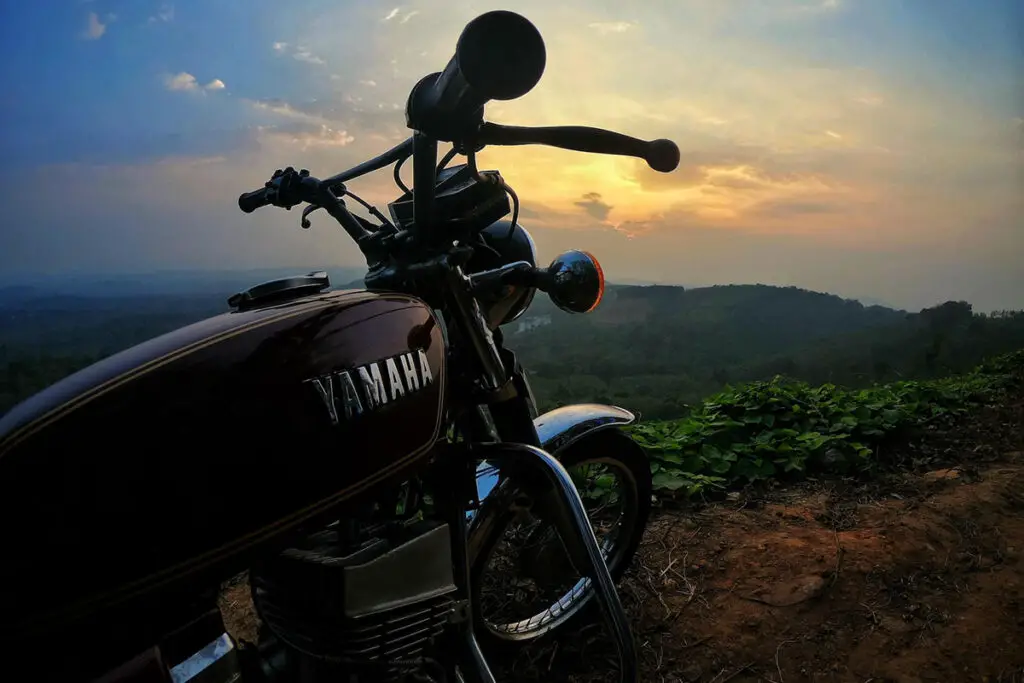 Yamaha RX100 — Born Out of Adversity
Sold in approximately 21 countries in South Asia, Southeast Asia, and the Middle East, the RX100 is one of the few Yamaha bikes exclusively targeted at non-US markets (thanks to the inspiring success of Suzuki's AX 100). Whether it was due to market demand, more lenient emissions regulations, or a mere business strategy, the reason behind this decision is left to speculation.
The Yamaha RX100 initially earned widespread acclaim because of its agile nature and impressive power-to-weight ratio. However, it soon became increasingly popular due to its drag racing capabilities. Riders installed expansion chambers, optimized head porting, fine-tuned the engine, adjusted sprocket ratios, and altered wheel sizes (to name a few).
Customization options only became more extensive throughout the bike's production run. They included upgraded air filters, larger carbs, race-grade pistons, CDI systems, an added 5th gear, enhanced suspension damping, and tire-and-wheel assembly.
These mods and the two-wheeler's conversion from a 6V to a 12V electrical system — only solidified the thumper's reputation as the "best 100cc bike ever built for mass production."
Yamaha RX100 Specs & Features 
Engine
This commuter sportsbike comes to life via an air-cooled, gasoline 7 port torque induction 2-stroke OHC power mill. This engine has a perfect square 50 × 50 mm (1.969 × 1.969 inches) bore-stroke ratio, a 6.7:1 compression ratio, and a port-controlled intake and exhaust valve design. Engine displacement is 98 cm3 (5.980 in3), delivered by a Mikuni VM20 carburetor.
Overall, this engine configuration lends to the following performance figures:
| Description | |
| --- | --- |
| Yamaha RX100 Top Speed | 62 mph (100 km/h), fully conditioned |
| Horsepower | 11 PS/10.8 bhp (8.1 kW) @ 7,500 RPM |
| Maximum Torque | 10.45 Nm (1.07 kgf-m, 7.7 lb-ft) @ 6,000–6,500 RPM |
| Fuel Economy* | 58.8–105.8 mpg (2.2–4 L/100 km, 25–45 kmpl) |
| Approximate Tank Range | approximately 164–296 miles, full fuel tank |
* Values from 
Wikipedia
Fuel & Lubrication
The RX100 has a separate Yamaha Autolube system, a proprietary lubrication system utilizing a rotary (positive-displacement) oil pump.
Recommended engine oil is 1.3 L (1.4 US qt) of SAE 20W-40 or 20W-50 Servo 2T Supreme or its equivalent, with a minimum API grade of SJ, meeting JASO T903 MA standards. Transmission-wise, it requires 0.65 L (0.7 US qt) of Servo Super 30 during periodic oil changes and 0.7 L (0.74 US qt) at disassembly.
The fuel tank's capacity is 10.5 L/2.8 USgal. of regular gasoline or petrol, with a minimum PON 87/RON 91 Octane rating (as specified in the manual). However, the two-wheeler runs better on unleaded gasoline since the latter has been proven to reduce the likelihood of engine damage and emissions issues.
Drivetrain
A 4-speed constant mesh return system (left-foot operated) and a wet, multi-disc clutch assembly deliver power to the ground for the RX100. Meanwhile, a 420 O-ring chain (110 links including joint) like RK 420MXZ Chain 420×110 (view on Amazon) handles wheel spin. The two-wheeler's manual transmission has a 1-N-2-3-4 (one down, three up) shift sequence, enabling swift and seamless shifting.
For reference, the stock transmission gear ratios are below:
| Description | |
| --- | --- |
| Primary Reduction Ratio | 3.895 (74/19, helical gear) |
| Transmission Gear Ratio – 1st | 3.182 (35/11) |
| Transmission Gear Ratio – 2nd | 2.000 (30/15) |
| Transmission Gear Ratio – 3rd | 1.368 (26/19) |
| Transmission Gear Ratio – 4th | 1.000 (23/23) |
| Final Reduction Ratio | 2.600 (39/15) |
Ignition & Electricals
The motorcycle features a CDI (Capacitor Discharge Ignition) Magneto system and a kick-starter with an electrical advancer. Ignition timing is 5°–10° BTDC @ 1,200 ± 50 RPM (initial "F" mark) and 20° ± 1.5° BTDC @ 5,000 RPM (full advance). As for spark ignition, the bike employs an NGK BP7HS plug with an electrode gap of 0.7–0.8 mm (0.028–0.031 inch).
Light distribution is handled by a 25W/25W semi-sealed beam headlight, a 5/18W tail/brake light, four 10W flasher lights, and 3W park and indicator lights.
A flywheel Magneto is its charging system, although the rated output is unspecified in the owner's manual. Earlier production models had a 6V electrical system, upgradable to 12V, provided the installation of a 12V upgrade kit, a compatible battery format, and a new charging regulator (view on Amazon).
Tires & Brakes
Stock tires consist of tube-type knobbies measuring 2.50-18 (4 PR) at the front and 2.75-18 (4 PR) at the rear. They are mounted on steel spoked wheels measuring 1.50×18 each.
Cold-tire pressures are 150 kPa (1.5 kgf/cm2, 22 psi) and 193 kPa (2.0 kgf/cm2, 28 psi) — with the rear requiring adjustment to 220 kPa (2.0 kgf/cm2, 32 psi) for pillion riding. Finally, leading and trailing drums complete the RX100's tire-and-wheel assembly.
TIP: To know if your Yamaha RX100 was released in Japan or India, examine its braking system components. Models produced in Japan had disc brakes, while Indian releases had drum brakes, front and rear.
Suspension
Enclosed in a double-cradle tubular frame design (27.5° caster angle; 90 mm/3.5 inches trail) are conventional Kayaba front telescopic forks and a 5-way adjustable rear swingarm. Each unit has oil-damped coil springs and a respective wheel travel of 4.3 inches (110 mm) and 2.9 inches (75 mm).
The bike's 1,240-mm/48.8-inch wheelbase and 145-mm/5.7-inch ground clearance try to compensate for its short-travel (not to mention basic) suspension layout. But given the RX100's high center of gravity, it may not be as straightforward to overcome these setbacks nor execute aggressive cornering or quick directional changes on the thumper.
Dimensions
Overall dimensions are 80.3 x 29.1 x 41.3 inches (2,040 x 740 x 1,050 mm — L x W x H) for Yamaha RX100s sold through most of Asia. The seat height is 765 mm (30.1 inches). Meanwhile, curb weight (unladen) is 103 Kg (227 lbs) — 24 Kg/53 lbs. heavier than Yamaha's own RT100.
The payload limit is 162 Kg/357 lbs. (within range of same-class motorbikes). Factoring in this value, we can estimate its GVWR (Gross Vehicle Weight Rating) to be around 265 Kg (584.2 lbs.) — a combination of the thumper's curb weight, full tank and fluids, rider/passenger weights, cargo, and accessories.
Exterior
On the outside, the Yamaha RX100 features streamlined bodywork, sleek side panels, angular headlights, a step-up saddle, and a teardrop fuel tank — all suggestive of distinctive, timeless aesthetic enthusiasts love.
True to its commuter sportsbike DNA, the bike has minimal instrumentation but spends more time on accompaniments that matter — like its spoked wheels and upswept exhaust (view on Amazon). Most production models sported vibrant color schemes, which included Metallic Black, Cherry Red, Peacock, and Blue.
Yamaha RX100 Price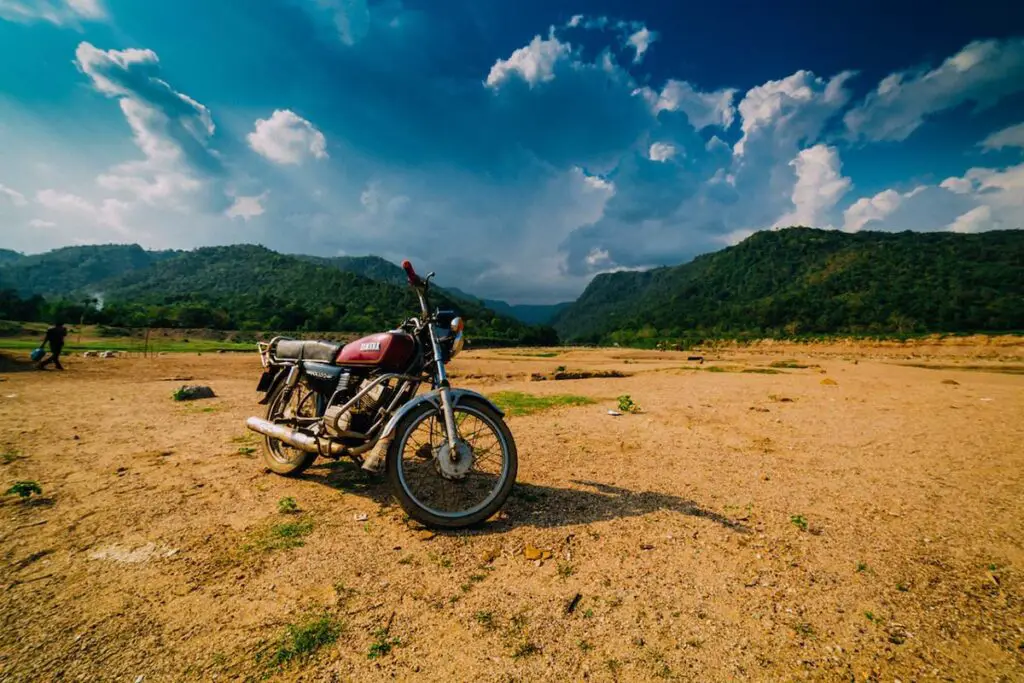 The original MSRP for the Yamaha RX 100 was an estimated $845 to $1,130 during its launch in different South Asian and Middle Eastern markets. With inflation factored in, the bike would be valued between $2,380 and $3,185 if sold brand-new today. However, this is far from happening as the two-wheeler was never sold in the US or North America.
The only reason enthusiasts get to enjoy the 98-cc motorcycle is thanks to the used-bike market. Because of the resurging interest in lightweight but capable minibikes, the Yamaha RX100 has found itself a steady following decades after the cease of its production. You will see this thumper being auctioned for as low as ₹16,000.00 ($193) to an average of Rs. 61,000 ($738) in different trader and reseller sites.
About Yamaha
Yamaha Motor Company Limited, a well-known Japanese manufacturer, is a powerhouse in motorsports. The firm has also gained worldwide recognition for its brainchild ideas in the ATV, watercraft, and off-road industries.
Founded in 1887 as a reed organ and piano manufacturer, Yamaha parted ways with its parent company to focus on motorcycle production. It established its foothold in the said landscape not long after — setting new benchmarks with its endeavors while introducing groundbreaking two-wheelers like the Yamaha RX100.
Conclusion — Yamaha RX 100 Review
In conclusion, the Yamaha RX100 remains an iconic motorcycle that has captivated the hearts of gearheads worldwide. Its impressive power, responsive handling, and reliable performance have made it a beloved choice not only for Asians but also for Westerners.
From its exhilarating performance on the open road to its memory-invoking design, this little thumper will provide a sense of freedom and euphoria that resonates with riders of all skill levels.