Harley FLH Meaning & History: Harley Davidson
Disclosure: We may get commissions for purchases made through links in this post.
The Harley FLH lineup is one of the longest mainstays in Harley-Davidson's touring category. Introduced in 1941, the series delivered many 'firsts' that laid the groundwork for present-day HD tourers. Given its massive influence on the segment, it would be interesting to know more about its history, evolution, and model progression.
The FLH identifier in HD motorcycles can mean one of two things. First, it could pertain to "Hydra-Glide," the first variation of FLH Harleys. Or it could signify "high compression," referring to the bike's bumped-up horsepower of 60 hp. Which meaning goes with the suffix depends on its version.
While recent iterations such as the Street Glide FLHX and Road Glide FLTRX are popularly known by the general public, the older Harley FLH boasts a more compelling presence that earned it the reputation of being among the best motorcycles of all time — as you will later learn more about in this article.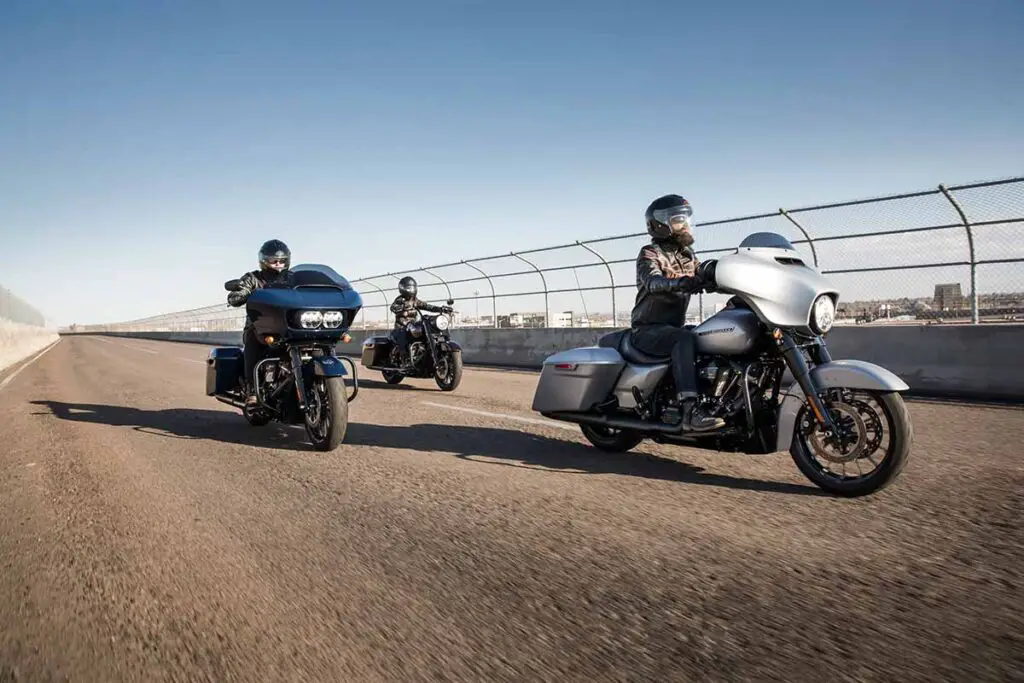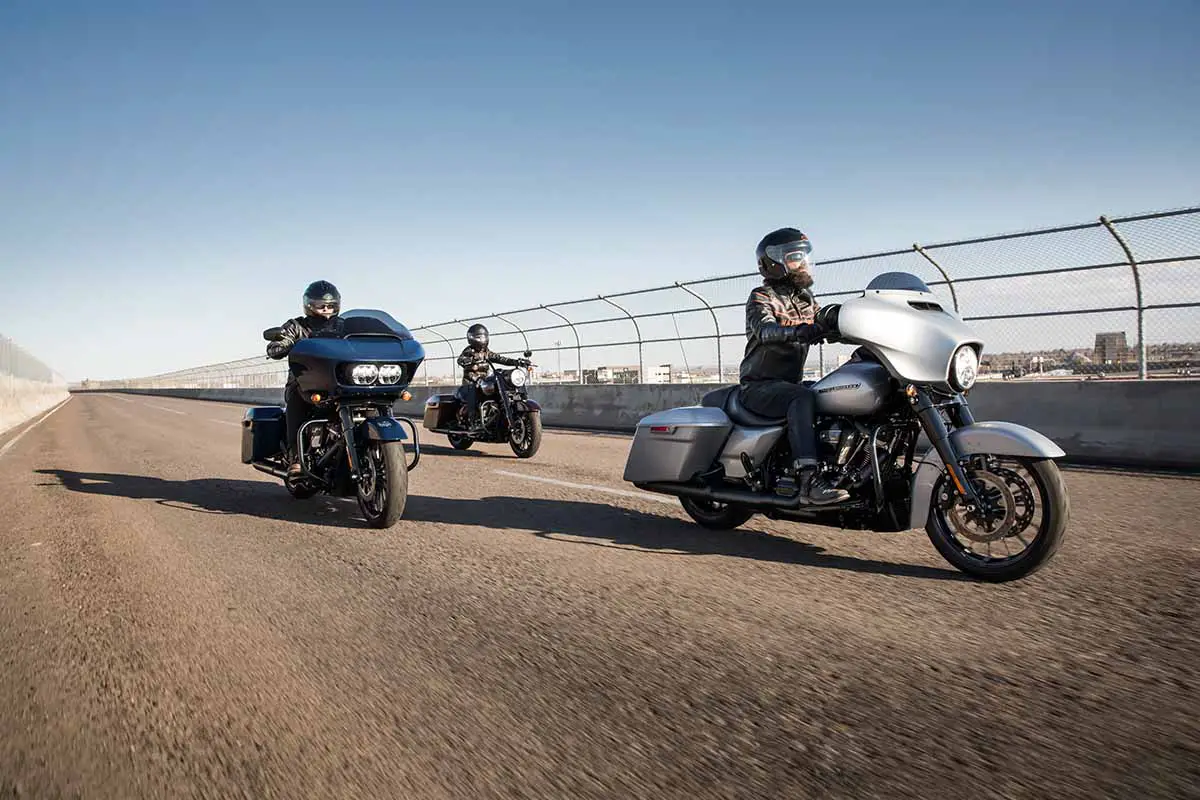 A Glimpse into Harley Davidson FLH History
Manufactured by the Milwaukee giant, the Harley FLH belongs to one of HD's touring motorcycle lineups. The said series originated in 1941 under the FL designation.
It came to its own in 1949 with the launch of the Hydra-Glide model (the name of which takes after its hydraulically damped telescopic forks).
Two other models — the Duo-Glide and Electra-Glide — were released in the market later on. FLH Harleys also saw changes to the engine design (alongside other remarkable upgrades) throughout the lineup's production run.
Let's Start with the Engines
Before the inception of Harley FLH models, the original FL motorcycles were equipped with an engine version known as "Knucklehead" (a.k.a. Harley Fist).
This power mill had knuckle-shaped (hence the name) rocker boxes, an OHV-pushrod design, and a piston displacement of 1,210 cm3 (73.8 in3). Knuckleheads were in use on HD large-frame two-wheelers for another seven years.
By 1948, the Knucklehead was replaced with "Panhead" power mills. These engines were redesigned to include aluminum cylinder heads and self-adjusting hydraulic lifters (view on Amazon). Due to its improvements, this engine version was utilized until 1966 — covering all Hydra-Glide and Duo-Glide models.
Panheads carried over to the debut year of Electra-Glide models before being switched to "Shovelhead" engines. These new power mills came standard with electric starters and, eventually, a larger 1,300-cc displacement in 1978.
The improved piston displacement was made available alongside the original 73.8 in3 engine before the latter was discontinued three years after.
For each of these engine versions, significant enhancements were introduced and made standard. Below are the accompanying benefits of each engine type:
Knucklehead (1941—1947)
Sported a distinctive valve cover shape that made it easy for enthusiasts and owners to classify the engine
Put an end to the problematic side-valve or "Flathead" engine that preceded it
Engine design incorporated a pumped (dry sump) recirculating oil system instead of a drip feed (in some cases, the rider even had to add oil to the crankcase manually).
Had considerable design improvements that rectified valve spring breakage, poor rocker lubrication, and top-end oil leakage linked to 1931 and earlier versions of the power mill
Panhead (1948—1966)
New engine design successfully overcame overheating problems associated with Flatheads
The cooling material of the cylinder head was changed from cast iron to aluminum, giving the engine thrice its capacity for heat conductivity.
Hydraulic clearance adjusters were incorporated into the top portions of the pushrods to offset the aluminum heads' increased heat expansion and reduce the need for valve clearance adjustment
Single-piece valve covers (where the engine's retronym was derived from) were intended to solve oil containment problems, while felt blanket-covered rocker gears aimed to reduce valve noise.
Models beginning in 1955 boasted a 60-hp power output and new top-end cases with sturdier main bearings.
The penultimate year of the engine for the Harley FLH saw increased horsepower and a higher compression ratio (albeit not enough to yield a decent power-to-weight ratio for the almost 800-pound two-wheeler)
Shovelhead (1966—1984)
Supported increased weight resulting from revised rear suspension and addition of electric start while maintaining bike performance
Shallower combustion chambers aided in cooling the engine and mated well with higher compression ratios.
1969 models and onward had generators replaced with alternators
By 1970, kick start was removed from all HD motorcycles with an FL designation.
At the onset of the '80s, countermeasure parts were produced to offset oil consumption and other issues stemming from the sub-par quality of engines produced in the late '70s
Engine redesigned to tolerate higher-than-stock compression ratios and be more compatible with low-lead fuel variants post-1977
Final belt drive (view on Amazon), a redesigned chassis, and a new 5-speed gearbox were adopted, starting with the 1980 Harley Davidson FLH.
Harley FLH Variations
For Harley Davidson motorcycles, the first letter (sometimes, the first two letters) typically designates the type of engine, frame, and front end of the two-wheeler. But for FLH Harleys, in particular, the name of the motorcycle changed while the suffix remained the same.
Tech enhancements customarily signified by changes to the latter were reflected in the name part instead. It was also the first time for the Milwaukee OEM to deviate from using an alpha system when naming their motorcycles.
Between 1941 and 1984, three variations were produced under the FLH designation — the Hydra-Glide, Duo-Glide, and Electra-Glide.
Hydra Glide (1949—1957)
The Hydra Glide had a 1,200-cc displacement with a 7.0:1 compression ratio, ran a top speed of 100 mph, and spewed 50 hp (36.8 kW) @ 4,800 RPM. It was equipped with a Panhead engine with a foot clutch and hand shifter.
By 1952, the clutch-shifter configuration was reversed. And in the following year, refinements to the bike's power mill yielded improved performance figures of 60 hp (44.1 kW) @ 4,800 RPM and a top-speed rating of 105 mph (169 km/h).
Duo Glide (1958—1964)
What was new with this production model was the addition of dual hydraulic rear suspension units with 3-way adjustment and rear brakes (hence the name). The variation also featured a sprung seat, enhancing rider comfort. The engine version used was the Panhead up until the model's final year.
The foot-shift/hand-clutch option that originally supplemented the foot-clutch/hand-shifter mechanism became standard in Duo Glide versions. It was also around this period that FL-suffixed motorcycles remained the lone large-frame offering of Harley Davidson.
Of the initial Harley FLH variations, the Duo-Glide is considered among HD's most beautiful two-wheelers with its chromed frame (and parts) and Panhead engine. Conversely, it also sported quirky features, such as a speedometer with all zeroes omitted.
Electra-Glide (1965—1979)
The initial year of the Electra-Glide utilized the Panhead engine but with an electric starter (view on Amazon). Because of this new tech, the first half of the motorcycle's name changed from Duo to Electra. Furthermore, this particular FLH Harley necessitated frame modifications to accommodate its 12V battery.
The Electra-Glide was the only variation model to transition through two different engine versions. In its second year into production, the model was equipped with the newer Shovelhead power mill, giving it a 10% increase in horsepower, among other benefits.
The "Batwing" fairing became available on Electra-Glides in 1969. While this fork-mounted fairing was promising at first (being easily removable), later-year iterations were not as lucky with the feature.
In 1977, HD released a Harley FLH Electra-Glide Confederate Edition clad in the fuel tank, fender decals, and commemorative paint. Only 44 units of this special-edition bike were produced, making it hard to come by even in auctions.
Electra-Glide Sport (1977—1984; 1989—1993)
A forerunner to the current Harley FLHR, this naked-style bike was released during the above periods. Earlier versions of this motorcycle had 2-into-1 cigar mufflers, which eventually changed to same-side dual exhausts (view on Amazon) for later-year models.
Harley FLT vs FLH (Tour Glide vs. Electra-Glide)
Although the initial Harley FLT (a.k.a. Tour Glide) falls under the FL designation, it is not a Harley FLH model. Perhaps, what makes many motorheads think this is that the bike was sold alongside the Electra-Glide in 1980.
However, it is a different story for its successor — the Harley FLHT introduced three years after the Tour Glide. This later iteration utilized the FLT frame while adopting the FLH's batwing fairing (among other components and features specific to the said model).
Other FLH Harley Models
After the Hydra-Glide, Duo-Glide, and Electra-Glide, the number of Harley FLH variations increased, as follows:
| Model Name | Suffix/Identifier |
| --- | --- |
| CVO Street Glide | FLHXSE |
| CVO Ultra Classic Electra-Glide | FLHTCUSE |
| Electra-Glide Classic | FLHTC |
| Electra-Glide Sport | FLHS |
| Electra-Glide Standard | FLHT |
| Electra-Glide Ultra Limited | FLHTK |
| Electra-Glide Ultra Limited Low | FLHTKL |
| Road King | FLHR |
| Road King Classic | FLHRCI |
| Road King Custom | FLHRSI |
| Street Glide | FLHX |
| Street Glide Special | FLHXS |
| Street Glide Trike | FLHXXX |
| Tri-Glide | FLHCUTG |
| Ultra Classic Electra-Glide | FLHTCU |
| Ultra Classic Electra-Glide Low | FLHTCUL |
(Source: Lowbrow Customs)
Conclusion – Harley FLH Meaning & History
Although some motorheads deemed these bikes lacking during their time, Harley FLH motorcycles now enjoy renewed appreciation and respect from casual riders and enthusiasts. Thanks to earlier design imperfections, Harley-Davidson challenged itself to produce better and more sophisticated engine versions to fit into its "Big Twins" and large-frame two-wheelers.
Because of the lineup's numerous developments, consumers can now get their hands on upgraded iterations of this certified classic. That said, jump the gun and make that purchase the next time you see a Harley with the FLH identifier being sold!