Moped vs Scooter: What's the Difference?
Disclosure: We may get commissions for purchases made through links in this post.
Nowadays, it would be unwise to decipher a moped versus a scooter based on looks alone, as these machines have intertwined histories and styling cues.
As proof of this, they both share modern innovations and a step-through frame. Even recent mopeds now sport a leg shield and floorboard — features once exclusive to the scooter.
That said, what is the difference between mopeds and scooters? And how do we pick them apart?
The main difference between scooters and mopeds is their maximum speed and engine displacement. On average, a moped cannot go over 50 ccs and 31 mph (50 km/h). A scooter can have up to 750 ccs and go up to 110 mph (177 km/h), depending on trim and sub-segment.
To the untrained eye, telling these two-wheelers apart can prove unexpectedly challenging. It also does not help that some scooters are made available in the 50-cc class, and 130-cc mopeds are permitted in some states.
But do not worry; this guide will enlighten you on the subject — as it covers the interesting histories of these machines that birthed their dissimilarities.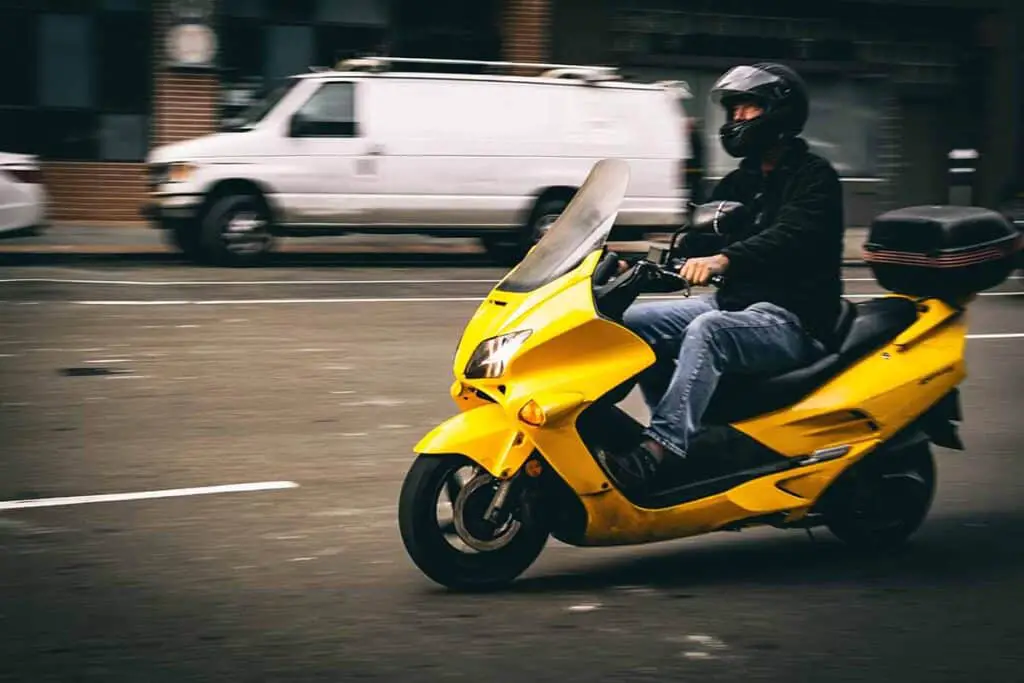 Defining Mopeds & Scooters
Mopeds and scooters are a couple of motorcycle classifications that fall on the lower end of the displacement spectrum. These two-wheelers are light, nimble, and perfect for driving through small spaces. But while they are both motorized and share an easily accessible step-through frame, they differ in many other facets.
By definition, mopeds are low-powered two-/three-wheeled machines that do not go over 50 ccs and have a 25—35 mph speed rating. Some jurisdictions also have a power output limited to 3 hp (2.2 kW).
Certain countries like Canada and Indonesia set a higher speed limit of 43 mph and 62 mph (respectively) for mopeds but still keep within the displacement ceiling.
Meanwhile, scooters are like mini motorcycles with as much as 750 ccs of displacement and a speed rating exceeding 75 mph (or more for sport-class scooters). Functionally, they are much better than children's bikes but still behind dirt bikes in performance.
Some countries, however, have more than one type. The U.S., for instance, has 'motorized scooters' taking after the original scooter design with a speed limit of 15 mph.
Mixing Things Up
People nowadays use the terms "moped" and "scooter" interchangeably. And whether they do it inadvertently or otherwise, the reason is quite understandable. The current styling and function of these machines tend to overlap and, in some cases, seem almost identical.
Note that the operative word here is 'almost' — meaning key differences exist between these motorized wheelers. Before we delve into their dissimilarities, however, let's first briefly revisit the history of each and how they charmed the youth of yesteryears.
Scooters, Industrialism, and the First World War
Scooters are a fascinating mode of transportation born during controversial times. These two-wheeled machines reaped the rewards of the Industrial Revolution while witnessing the rise of women's activism and many other societal changes. Its earliest iterations date back to 1912 — before the onset of WWI.
The first mass-produced scooters, called Autopeds, came about in the latter part of 1915 and were produced in Long Island, New York, until 1921. But their forerunners — the 1894 Hildebrand & Wolfmüller and 1908 Auto-Fauteuil motorcycles — were already in the market for over a decade.
These prototypes looked like proper motorbikes, with the Auto-Fauteuil sporting an armchair instead of a saddle (view on Amazon).
While the German scooter turned out to be a financial failure, its French counterpart continued to sell for another two years, inspiring an entire fleet of 1st generation scooters. Unfortunately, production of these wheelers halted in 1930 due to World War ramifications and a hefty price tag (among other things).
Autopeds and Autogliders
New York-produced Autopeds were the most successful of these ventures — seen as a symbol of wealth and status and a perfect getaway by juvenile delinquents and city gangs.
The use of the scooter was so widespread that it was also produced under license by German OEM Krupp from 1919 until 1922. Of equal popularity is the Autoglider, manufactured by Birmingham-based Townsend & Co. within the same period.
Salsbury, Elmore & Cushman
The years 1936 to 1968 saw the advent of 2nd generation scooters. During this boom, the Salsbury Motor Glide (a.k.a. Imperial Rockets) — the first-ever scooter to use CVT and feature a seat atop an enclosed drivetrain — came to fruition.
This model influenced all other scooters that followed suit, including the more tactical and centrifugal-clutch-equipped Cushman Airborne.
These 2nd generation stars found their way on East Asian shores and inspired Japanese aircraft companies to use surplus military parts to keep their businesses afloat. The Fuji Rabbit by Nakajima Aircraft Company and the Mitsubishi Silver Pigeon series were the most notable of these adaptations.
Production of Motor Glides ran until 1948, surpassed by the Cushman lineup in 1965. However, both trailblazers were outlasted by their Japanese counterparts, which lasted until 1968.
Fallen Industries and the Reign of Italia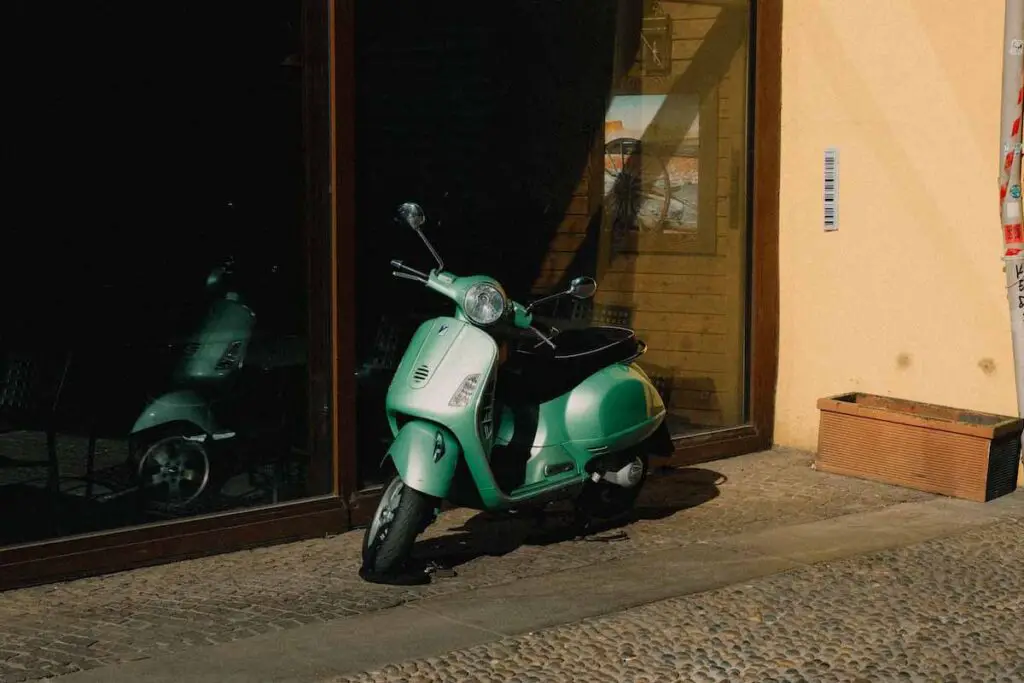 The 3rd generation of scooters flooded the streets from 1946 to 1964, with a powerhouse shift from the U.S. to Europe. Piaggio's Vespa and Innocenti's Lambretta from Italy led the pack and salvaged what was left of dismantled aircraft and aviation industries in their regions.
Germany's Heinkel and Messerchmitt did the same, with the latter producing its own Heinkel Tourist — considered the "Rolls-Royce" of scooters — alongside Vespas until 1964.
European firms that joined the scooter craze introduced many nouveau design concepts in their patents. Piaggio, for one, moved the gearshift lever to the bars and replaced the drive belt with an engine placed near the rear wheel.
The OEM also swapped the front forks for an arm to support the front wheel (view on Amazon). The wheels were made smaller, the wheelbase shortened, and a leg shield was added.
The continued evolution of scooters beyond 1964 was initially fueled by an economic revival in war-torn countries more than a desire to compete in the market.
The great war may have already been over during the '50s. But collectively, affected nations did not begin to truly recover until after 1979.
Other Notable Scooters Throughout History (Pre—1977)
1938 Cushman Auto Glide with 4hp, Husky engines, and optional headlight
1938 Moto Scoot with 1.5 hp and aired tires (only 10 units still exist today)
1946 Doodle Bug (sold by Iowa-OEM Beam) with 1.5 hp
1949 Indian Stylemaster featuring a 2-up seat, chrome jet age bumper, and art-deco styling (only two units exist today)
1954 Terrot Scooterrot sporting fashionable color schemes and an enclosed body, marketed towards women
1954 Motobecane Mobylette (a.k.a. the Moby) featuring a bike-style frame, fork tubing, and rimmed tires; dubbed the "finest mopeds in the world."
1955 Maico Mobil with touring perks such as built-in spare tire and underseat storage, protective windshield, and dual seating
1957 Triumph Tessy (a 125-cc scooter with only 200 units imported to the U.S.)
1957 Zündapp Bella, with its 200-cc engine and 60-mph top speed rating, designed to compete with Vespa
1960 Harley Topper, Harley-Davidson's only attempt at the scooter segment
1961 Victoria 115 sported a mid-century European design and was referred to as "The Tin Banana."
1962 Cezeta 502 (a rare breed designed by Czech motorcyclist and engineer Jaroslav Frantisek Koch) with its 175-cc power mill, 8-hp rating, and 50-mph top speed
1969 Lambretta DL by Italian firm Innocenti with its Dell 'Orto carb, 8.7-hp rating, 63-mph top speed, and svelte, sporty-ish look
1971 Pak-Jak with its three-wheel assembly, electric starter, and floating suspension
Mopeds, Post-WWII Austerity, and the '70s
With a slightly younger history, mopeds (a.k.a. Cyclemotors, Autocycles, Wilfreds) came into existence amid the three generations of scooter mania.
They were fitted with the following engines — Mosquito (ITA), Hilfsmotor (GER), VeloSolex (FR), or Cyclemaster (UK). But it was not a motorcycle segment created from the ground up. Rather, mopeds were defined as such mainly for the safety of underaged riders.
Before vehicle safety regulations, mopeds had no displacement, power, or speed restrictions. Structurally, they were bicycles equipped with a helper motor either at the rear or in front.
These motors were 98 cc on average and could be fitted to pedal-driven two-wheelers with compatible teething. One example is the French VeloSolex, which sold 8 million units in 70 countries.
Given their light weight, fuel efficiency, and price point, the first wave of mopeds grew increasingly popular immediately after WWII. They were a great mode of transport for folks with no need for speed or those who could not afford vehicles.
Moreover, they appealed to the youth, who often upturned these machines beyond their limits and drove around recklessly.
This 'custom' sub-culture continued well into the '60s and the Glam Rock era, resulting in good business for aftermarket outfitters and a more satisfied clientele.
But with improved economic conditions, the market demographic lost wage-earning owners as more adults shifted to vehicles for work and travel. This change led to an erratic dip in sales and insanely upturned mopeds putting many riders at risk on high-speed roads.
Glam Rock Upset and the Sixteener Specials
To curtail the aftermath of lenient ownership and licensing requirements, different countries passed state laws standardizing the configuration and proper use of mopeds.
British Prime Minister Ted Heath was among the first to do so in 1971. U.S. President Jimmy Carter followed suit by incorporating mopeds into the nation's energy program in 1977 and positioning it as a workaround to the repercussions of the 1973 Oil Crisis.
Governments have anticipated that restrictions on speed, power, and displacement would take a toll on moped sales across the globe. However, the craze had already caught on to a point where state laws were no longer a deterrent.
Unsurprisingly, OEMs launched a new breed of high-tuned, pedal-equipped, law-compliant mopeds (a.k.a. Sixteener Specials) following the implementation of these regulations.
Other popular models launched elsewhere included the sporty Yamaha FS1-E (a.k.a. Fizzy) with its Candy Gold paint scheme and extra 10 mph accessible via an easy-to-perform mod, the Suzuki AP50, and the Honda SS50.
Arguably, however, the last two possess more monkey bike than moped characteristics (not to mention that their top-speed rating is 50—55 mph).
The 1977 legislation soon became the undoing of mopeds, more so when the effects of the Oil Crisis eased. By the early '80s, the distinction between small-displacement scooters and mopeds was blurred, and many consumers did not see the need for both motorcycles in their garages when they had the same function.
Scooter vs Moped: What Is the Difference?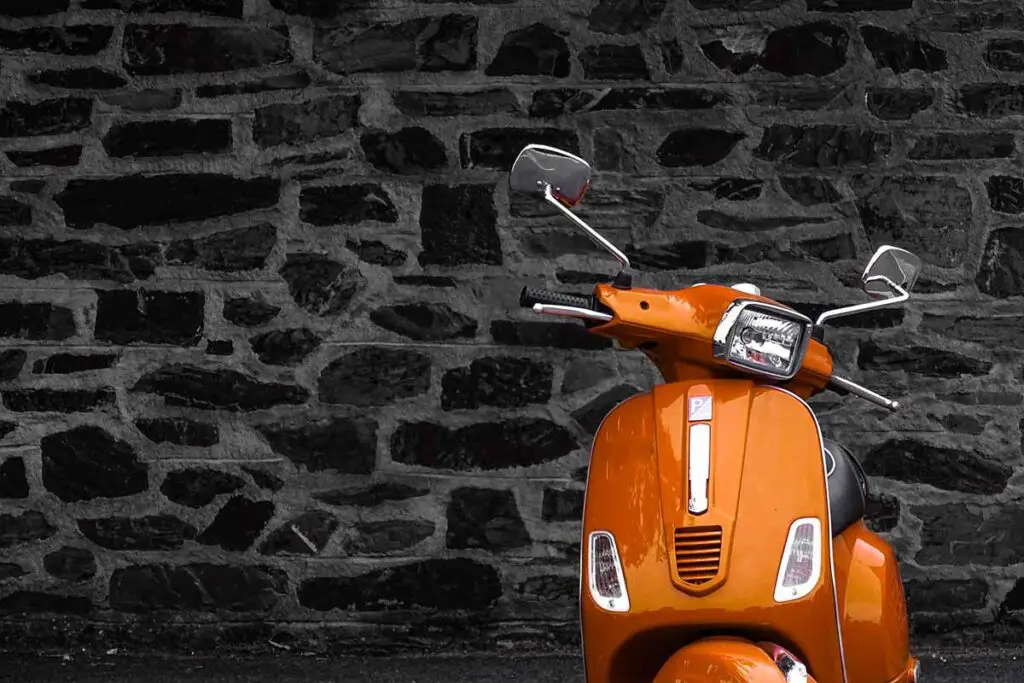 Now that we have covered the history of each, let us delve into what sets these bike classifications apart. Note that I have only included the most apparent differences in the table below (everything else can be checked against your state or township's transit regulations):
Moped vs Scooter Comparison:
| Parameter | Scooter | Moped |
| --- | --- | --- |
| Signature Design | Step-through frame with an integrated platform and leg shield | Step-through frame (traditionally with pedals until 1977); requires no clutching or shifting after the drive system is engaged |
| Application | Short-distance travels; city driving; may join highway traffic contingent on displacement. | Bike lanes; crosstown conveyance; regular country roads between cities (highways, freeways, and tollways are off-limits) |
| Displacement | 50 cc (for short trips or recreation); 150 cc (for longer recreational ventures); 250—750 cc or higher (for competitive sports and racing) | 50 cc or lower (although Greece have 125-cc variations, while Kansas allows up to 130 cc) |
| Motor Rating | 200—5,000 Watts (0.3—6.7 bhp/PS) if electric | 2—3 bhp (1.5—2.2 kW); 200 Watts, 0.3 bhp/PS (AUS) or 5.4 bhp/4 kW (FIN, SWE) if electric; 0.80 bhp/0.6 kW rated generators (JAP) |
| Maximum Speed | 110 mph (177 km/h) or higher | 16—43 mph (25—70 km/h); 62 mph or 100 km/h (IND) |
| Power Transmission | Fuel-fed variants typically use a throttle-controlled CVT, sometimes paired with an automatic centrifugal clutch; electric units have a controller linked to the throttle and battery, making power delivery to the wheels possible. | Fuel-fed variants typically use a throttle-controlled CVT, sometimes paired with an automatic centrifugal clutch; electric units have a controller linked to the throttle and battery, making power delivery to the wheels possible. |
| Safety | Homologated helmets (view on Amazon) are mandatory. | Homologated helmets are mandatory. |
| Fuel Efficiency | 60—125 mpg (1.9—3.9 L/100 km) | 130 mpg (1.8 L/100 km) |
Other Differences
In some places, mopeds have weight and wheel diameter restrictions. There is also more than one type of moped — hence different licensing requirements — in countries like Denmark and Germany. But overall, registration, insurance, and safety gear are non-negotiables.
Additionally, passengers are allowed on a moped only if the bike has been registered as a 2-up. In Russia, pillion riding on a moped is strictly prohibited.
As for scooters, they are treated the same way as riding a motorcycle. Hence, registration, insurance, and licensing requirements are roughly the same.
However, there are exceptions for electric kick scooters like Segway Ninebot MAX Electric Kick Scooter (view on Amazon), as some countries do not require a driving license or registration to use them.
Depending on your location, a 50-cc scooter may be legally classified as a moped. Should that be the case, refer to the "moped" column for driving requisites associated with your two-wheeler.
Conclusion – Moped vs Scooter: What's the Difference?
If we were to point out the difference between these two-wheelers, the most apparent would be the presence (or lack of) design restrictions. But if we were to tell them apart, the easiest way would be by their displacement.
Mopeds are legally defined as any two-/three-wheeled (sometimes four-wheeled) vehicle having an internal combustion engine with a cylinder capacity not exceeding 50 ccs and a motor rating not exceeding 6 bhp (4.5 kW). Conversely, a scooter would go beyond that displacement and power limitation.
Ultimately, preferring one over the other boils down to the user and the intended application. If the bike is intended for a youngster in the family, then refer to the pointers in this guide and pick out a moped. But for licensed, experienced drivers, a scooter would be more appropriate.