Harley Davidson Shovelhead History & Review
Disclosure: We may get commissions for purchases made through links in this post.
The Harley Shovelhead is the engine version used the longest by Harley-Davidson in its pre-1990 touring segment. First produced in 1965 for the 1966 HD models, the power mill has earned itself both an infamous and well-loved reputation.
Whether odd engineering decisions or Harley's turbulent partnership with AMF is to blame is left for you to discover in today's article.
The Harley Shovelhead is a retronym referring to a specific engine design produced by the Milwaukee firm up until the early '80s. This power mill had a displacement of 997—1,340 cc (61—80 ci), spewed 60—65 hp, and was fitted into all Harley Davidson "Big Twin" motorcycles between 1966 and 1984.
Though sometimes undervalued, the Harley Shovelhead is undeniably integral to HD's long list of engines — from the 1909 Atmospheric power mills to modern-day Milwaukee-8s. Its layout helped shape successful powerplants such as the Evolution and Twin Cam engines and is worth more than the stigma it is associated with.
If anything, the Shovelhead signifies HD's break from its comfort zone — a feat well deserving of respect.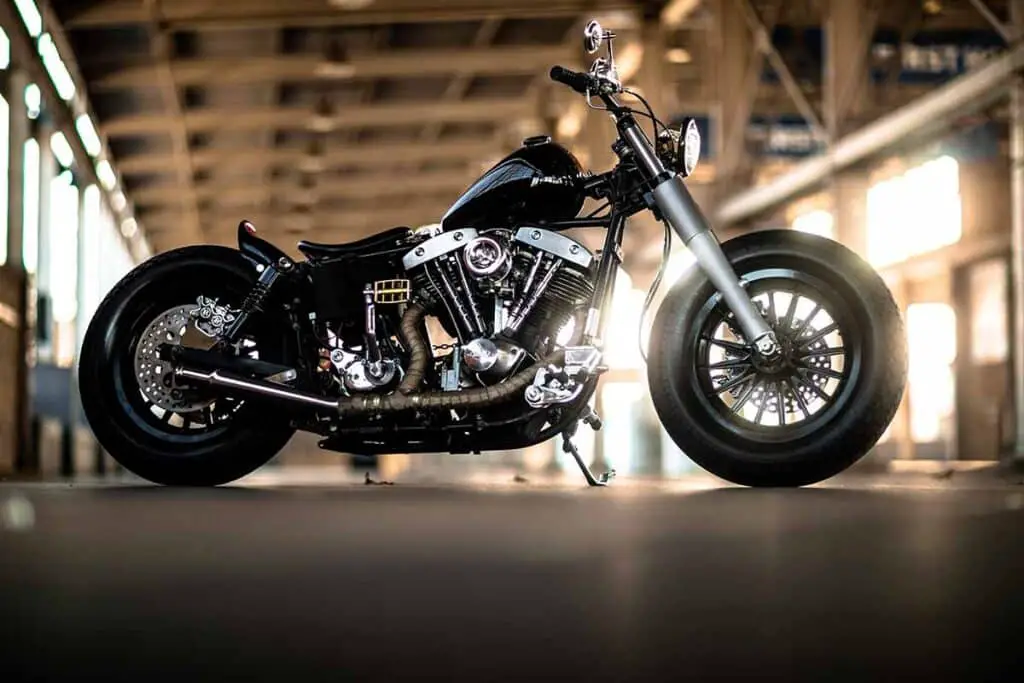 The Arrival of the Shovelhead
Not too long ago, I wrote about the Harley FLH history and briefly described the evolution of the firm's Big Twin engines in that piece.
The OHV-pushrod design of these power mills went from 61 cm3 to 80 cm3 and spun almost 50 years before the emergence of the Evolution and Twin Cam (88 and 96 versions) engines. The Shovelhead was the 3rd generation of these engine blueprints.
By then, the Knucklehead and Panhead engines had already created the baseline for modern-day HD motorcycles and solved some of the issues known to these bikes.
However, mitigating overheating and making engine operation smoother and quieter was not enough. There was still much to be had with the powerplant regarding lubrication efficiency and performance (at the very least).
Keeping Abreast
To adapt to more modern two-wheelers of the day, Harley Davidson introduced the Shovelhead in the latter part of the '60s.
The then-new layout retained all the bells and whistles of the Panhead. It was meant to be tough as nails and designed to improve oil containment, power, and cooling with its enhancements.
One other thing that prompted the creation of the Shovelhead was the increasing heftiness of Panhead-equipped Harleys. While these older motorbikes were by no means dated, their power-to-weight ratio was below adequate.
Even without comparison to its cheaper Japanese counterparts, this fact was undeniable, and a problem Harley Davidson recognized.
To give fresh-off-the-line units the oomph needed to compete more effectively in the market, offset added weight from upgraded suspension components, and support a new electric starting system, HD made the following revisions to its engine (source: Rider Magazine):
Big Twins received new aluminum-alloy "Power Pac" heads vaguely resembling the back end of a shovel (hence, the name), resulting in a considerable lift in power output.
The new Shovel-like head design came with rocker-arm pivot points engineered into the casting versus bolt-on roller-type aftermarket options — augmenting the head material switch to aluminum alloy and making for enhanced durability and power.
An Unseemly Retronym
Unlike its predecessors, the Shovelhead appears to be quite an unsuitable moniker.
Visually, the Knucklehead and Panhead rocker boxes (view on Amazon) looked every part of their description. But that was not the case with the Shovelhead, barely resembling an upended coal shovel.
Naturally, this is up for debate (and an amusing one at that, if you skim through HD-dedicated forums). I can only assume that for the American firm, it was a great marketing tactic for consumer recall and an easy way to distinguish engine layouts from one another.
The 1978 Harley Davidson Shovelhead
Tons of conspiracy and blame theories surround the Harley Shovelhead era — so much so that TopSpeed Magazine deemed it "The Dark Days of Harley Davidson."
Some folks sharing this sentiment blame the HD-AMF (American Machine & Foundry) partnership. Others point their fingers at poor marketing and the rushed production of motorcycles in the late '70s.
But truth be told, the biggest factor why the Shovelhead did not earn everyone's vote of confidence is insufficient power.
Harley Davidson had long recognized this impediment but only acted on it in 1978 (much to purists' dismay). From the original 74-incher, the engine was bored to 80 cm3 (81.8 cm3 in real life) and given steel struts, a thicker base, and one less fin.
The same-year FLH models became the guinea pig for the new mill, giving these bikes a rating of 60 hp @ 5,500 RPM.
Harley Shovelhead Variations
Between 1966 and 1984, at least eight production models of Harley Davidson's Big Twins were produced and fitted with the redesigned Shovelhead engine. These iterations consisted of the Dyna Super Glide, Super Glide, Low Rider, Electra Glide, Tour Glide, Sturgis, FXR series, and Police trim packages.
Of all these variations, the Electra Glide, Tour Glide, and first two years of the FXR series stand out the most, while the 1971 Dyna Super Glide proves to be the most collectible. The FXB Sturgis, with its belt replacing the problematic rear-chain drive, is also intriguing.
Electra Glide (1966—1979)
The FLH variation (formerly known as Duo-Glide) was renamed during its debut to signify the addition of an electric starter (view on Amazon) in its arsenal. It also underwent frame modifications to accommodate a 12V battery, which supplemented the then-new starting system.
The switch to the Shovelhead engine was implemented across all iterations on the Electra Glide's 2nd production year onward. The new power mill design boasted stronger valves and pistons and a shallower combustion chamber.
These changes improved the bike's cooling mechanism and reportedly gave it a 10% increase in power output and a 26% increase in sales.
On top of its redesigned engine, the Electra Glide received further component upgrades in the next few years. The most prominent of these included upgrading the charging system to an alternator (view on Amazon) and making the "Batwing" fairing a visual trademark beginning in 1969.
44 units of the 1977 Harley Davidson FLH Electra-Glide Confederate Edition were launched during the Shovelhead era — although its engine displacement of 997 cc or 61 ci resembled E-models back in the day more than it did the production models at that time.
Tour Glide (1979—1984)
Sold alongside the Electra Glide series, this variation featured a 5-speed forward transmission and a larger chassis.
According to Rider Magazine, it had a frame-mounted dresser (fairing) and an interesting steering arrangement where the steering head was hidden behind the fork tubes. On the downside, it sported an enclosed final chain drive that made tire servicing a pain.
The Tour Glide series was also among the last few models fitted with the slightly bigger 80 ci Shovelhead engine. It enjoyed a 5-year run before being replaced by the same-displacement, rubber-mounted Evolution power mill.
FXR Series (1982—1983)
This Shovelhead-equipped series was HD's first step to producing two-wheelers that appealed to the younger market. It was also one of the firm's attempts to challenge its Japanese counterparts, increasing in popularity and presence. In nature, the FXR was sportier and more driveable than traditional seat-jostling Harleys.
Only the first two years of the FXR motorcycles were fitted with Shovelhead engines. But overall, seven distinct models (as seen below) were produced under this label before its resurgence in 1999:
1983 FXRT Sport Glide
FXRP Police Model
1984 FXRS Low Glide
1985 FXRC Low Glide Custom
1986 FXRD Sport Glide Deluxe
1987 FXLR Low Rider Custom
1988 FXRS Low Rider and FXRS-SP Sports Model
Harley Shovelhead Models
Since the FLH reign encompassed earlier engine transitions, it is unsurprising that most of the Shovelhead-equipped Big Twins were launched alongside these motorcycles.
Below is a non-exhaustive rundown of Shovelhead models and their corresponding production years — based on my previous Harley FLH article and further online research.
(Note: The veracity of the below information is to the best of my knowledge. However, I highly recommend that readers conduct their own fact-check on release dates.)
| Model Name | Suffix/Identifier |
| --- | --- |
| 1966 Electra Glide | FLB/FLFB |
| 1966—1969 Electra Glide Super Sport | FLHB/FLHFB |
| 1971 Dyna Super Glide | FXD |
| 1971—1978 Super Glide, Kick Start | FX |
| 1974—1984 Super Glide, Electric Start | FXE |
| 1977—1984 Electra Glide Sport | FLHS |
| 1978—1980 Shovelhead Harley Davidson Low Rider | FXS |
| 1979—1984 Tour Glide | FLT |
| 1979—1984 Tour Glide Classic | FLTC |
| 1980—1982 Sturgis Belt | FXB |
| 1983 FXR Sport | FXRS |
| 1983 FXR Touring | FXRT |
| 1984 Electra Glide Classic | FLHTC |
| 1984 Electra Glide Standard | FLH/FLHT |
| 1984 Harley Shovelhead Mexico Police | FLHP/FLHPI |
| 1984 Harley Shovelhead Chain-drive Police | FLHTP/FLHTPI |
(Source: Low Brow Customs; JD Power)
Harley Shovelhead Years to Avoid
Ideally, there is no such concept as' years to avoid.' Given the advanced technology and huge aftermarket support for motorcycles nowadays, a mechanically-inclined enthusiast would do well with any decent two-wheeler — even if it was plagued with the following problems in its previous life:
Oil containment issues resulting in oil burning in the combustion chamber, overheating, and loss of power
Engine overheating particularly causes valves to stick open and accidentally touch the pistons.
Steering and handling problems caused by an engine-weight-suspension imbalance
The cylinder head (view on Amazon) design still requires modifications, despite OEM enhancements throughout the engine's production run.
However, we cannot deny that a manufacturer's R&D impacts the longevity and prestige of a motorcycle line (and an engine layout, at that) immensely. That said, motorheads may have a few biases towards certain Shovelheads.
1969—1977
If you are a sucker for that authentic Harley Davidson quality, it would be best to steer clear of Shovelheads produced during the HD-AMF partnership.
While AMF was Harley's financial savior, it did not do the Milwaukee firm any good that the company with control of its operations knew little about properly marketing motorcycles to the appropriate audience.
During the said period, AMF cut down production costs and employee compensation. The workforce was trimmed down, too, resulting in overworked staff and sub-par quality control. Eventually, this compelled the remaining workers to go on strike.
Aggravating the situation was the 1973 Oil Embargo. Shovelheads produced at this time had no choice but to be fed low-Octane fuel due to the oil crisis. Engine knocking became more pronounced in these power mills as a consequence.
As if these circumstances were not enough, the effects of the oil crisis lingered until the late '70s.
Although positive consequential changes did not take place in Harley Davidson's production processes and R&D until 1981 (when William G. Davidson bought back the company), 1978 to 1980 were not necessarily problematic years.
During this period, the Shovelhead was starting to tread on the path to recovery — with its new head material, larger piston displacement, and other design improvements.
Experts' Advice on Shovelheads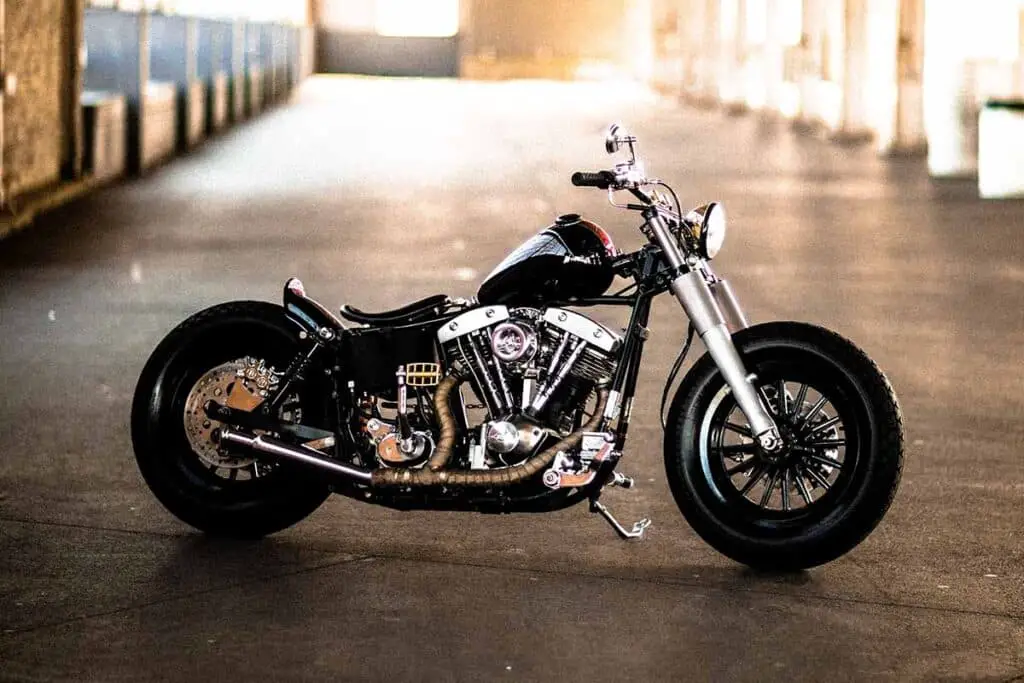 As a used-bike patron, there are at least two things you should be looking into when appraising any two-wheeler. One is the condition of the engine (stock or new). Another is the number of previous owners (the less, the merrier).
In the case of the Harley Shovelhead, its production year bears some weight due to the details I have shared above.
Whether or not the Shovelhead is underpowered is not really going to be your biggest concern. After all, no one opts for a motorcycle that does not fit one's lifestyle and driving habits. This, however, does not necessarily mean that potential power gains should be immaterial to making your decision.
There is a proven formula to achieving this on a Harley Shovelhead. Since it is a classic, you should attempt to increase its power in a specific order.
Mods should begin with the cylinder head, compression, and then cams. If still unsatisfied, augment these changes with bottom reinforcement (to support higher RPMs), higher-ratio roller rockers (view on Amazon), and other relevant shenanigans.
Conclusion – Harley Davidson Shovelhead History & Review
The Harley Shovelhead era may have been a time of interesting engineering choices for Harley Davidson, but not without desired outcomes.
Ideation of this engine blueprint down to its production was slow and sometimes painful. Nonetheless, it was a much-needed process for the American firm to experience.
Had it not been for innovative Japanese offerings and consumer demand for more reliable, powerful bikes, Harley would not have had reason to reinvent the engine.
And had it not been for the design flaws and performance shortcomings identified during this period, the powerplant found at the heart of all HD motorcycles would not have morphed into what it is today.