Motorcycle Throttle Not Snapping Back (10 Common Reasons)
Disclosure: We may get commissions for purchases made through links in this post.
The failure of a motorcycle throttle to snap back is a significant concern for motorheads due to its impact on control and safety. A throttle that does not return to its idle position can result in unintended acceleration and compromised maneuverability, posing a risk to the rider and other people on the road. In this article, let us delve into this issue by focusing on its top causes.
So, what exactly is the culprit behind a motorcycle throttle not snapping back?
There is no singular cause for a motorcycle throttle not to snap back in place. Various factors, such as mechanical issues, cable hiccups, and improper maintenance, can lead to this predicament. In addition, variables like aggressive handling and exposure to the elements also tend to exacerbate the problem.
Here is a more detailed rundown of the reasons behind a motorcycle throttle not snapping back:
Sticky Throttle Grip
Grimy or Rusted Throttle Tube
Resistant or Damaged Throttle Cable
Miscalibrated Cable Tension
Damaged Throttle Return Spring
Malfunctioning Throttle Position Sensor
Gummed-Up Carburetor Slide
Faulty or Impaired Cable Housing
Stuck Idle Speed Adjustment Screw
Twisted Grip or Handlebar
By ensuring proper lubrication and regular maintenance of moving and friction-prone components, many of these causes can be prevented. Meanwhile, others may entail regular visual inspection and potential repair or replacement.
In either circumstance, preventing a motorcycle throttle from not snapping back starts with the proper installation of components, as well as correct cable routing and tension adjustment — all of which we are going to cover here.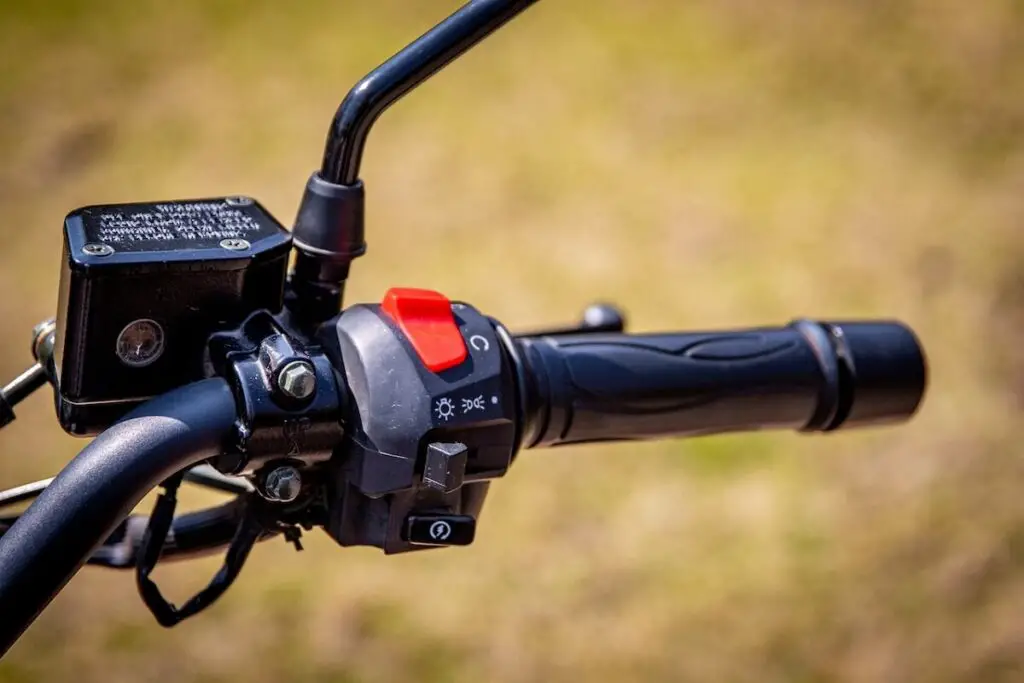 Reasons Behind Sticky Motorcycle Throttle
A non-responsive motorcycle throttle can be a serious safety concern. It may lead to loss of control, difficulty maneuvering, and potentially dangerous situations. There are several underlying causes for this issue, ranging from mechanical problems to cable issues or even improper maintenance.
With that said, here are the most common reasons behind a motorcycle throttle not snapping back that you should be familiar with:
1. Sticky Throttle Grip
One of the most common causes of a non-responsive throttle is a sticky throttle grip, where the rubber on the grip becomes worn or damaged. But while this can hinder the smooth movement of the throttle tube (preventing it from snapping back), note that it is not exclusive to this symptom. Often, a sticky throttle grip can be detected as early as when a rider experiences difficulty in throttle control or an increase in throttle effort.
As to what causes a throttle grip to become sticky, it usually trickles down to damaged throttle cables, lack of lubrication, or accumulation of debris and dirt — all of which are a given when riding out in the open and exposed to the elements.
Nonetheless, it is in these situations that motorcycle care becomes crucial. For instance, placing an Oxford CV333 Stormex Motorcycle All-weather Cover (view on Amazon) on your two-wheeler when not in use will effectively prevent premature motorcycle throttle wear from taking place.
Indeed, extra motorcycle care goes a long way in preventing throttle mishaps from happening — provided that the symptom is spotted early on. Otherwise, you may need to get rid of visible buildup or obstructions in the grips, replace faulty throttle cables, or clean and replace the throttle tube when found excessively worn or damaged.
2. Grimy or Rusted Throttle Tube
Closely linked to item #1 in this list, a plugged throttle tube may result in not only your motorcycle throttle not snapping back but also your throttle feeling resistant or giving off an uneven response. That is because, over time, the throttle tube can accumulate dirt, grime, or corrosion, leading to a rough or obstructed surface.
The ensuing resistance, in turn, prevents the throttle from returning to its resting position. The same is true if the throttle tube is worn or damaged (usually due to physical damage, impact collision, and environmental factors like harsh weather conditions or prolonged exposure to UV rays).
The causes of a corroded throttle tube are similar to a sticky throttle grip — with the addition of moisture and corrosion, as earlier established. Hence, the best way to rectify this cause is to first visually inspect the impacted component, clean the throttle tube thoroughly, and remove any signs of corrosion where they appear.
Some motorheads use fine-grade sandpaper or an emery board to gently remove any rust formation spotted. Meanwhile, others go for an appropriate cleaning solution. Either method is permissible, provided they are done correctly and followed by applying a protective coating or spray on the affected areas (to help prevent future corrosion).
3. Resistant or Damaged Throttle Cable
A few things could go wrong with your two-wheeler's throttle cable (view on Amazon) — it could either become bent or develop friction. The first scenario typically occurs following improper routing or an on-road accident. Meanwhile, the second situation usually happens due to improper lubrication or cable wear and tear.
Improper cable routing can create unnecessary bends or tension, impeding the throttle's ability to properly return to its resting position. Conversely, improper lubrication (either inadequate levels or an incorrect lubricant type) can lead to excessive friction, hindering throttle movement. As for cable wear and tear, it is an inevitable part of motorcycle riding and an outcome that should be anticipated and addressed accordingly.
For any of these aggressors, you only have two ways to resolve them: adjust the cable tension (which fixes superficial cable alignment issues) or replace the throttle cable altogether (if severely compromised or worn).
Of course, performing regular inspections, proper lubrication, and correct cable routing is still the way to go. But even the best of us can miss out on these preventative practices too.
4. Miscalibrated Cable Tension
Sometimes, the throttle cable tension may be adjusted incorrectly — either too tight or too loose. If it is the former, the throttle may not return easily to its resting position. If it is the latter, it may not engage properly when released. In both scenarios, the throttle cable may feel sluggish, delayed, or uneven when operated.
While cable maladjustment is often attributed to an incorrect initial cable tension during installation or maintenance, it can also result from cable stretching or a misaligned throttle housing (view on Amazon). The throttle cable is bound to stretch over time as it is constantly being used. On the other hand, an improperly seated throttle housing (or damaged tube bearings) could be causing the cable tension to go out of spec.
Visually inspecting and checking the cable tension is usually all there is to diagnosing the problem and ensuring that your motorcycle's throttle cable is not to blame for your non-responsive throttle. From there, it is just a matter of adjusting anything that is not up to spec or replacing the cable entirely if found excessively frayed, damaged, or stretched.
5. Damaged Throttle Return Spring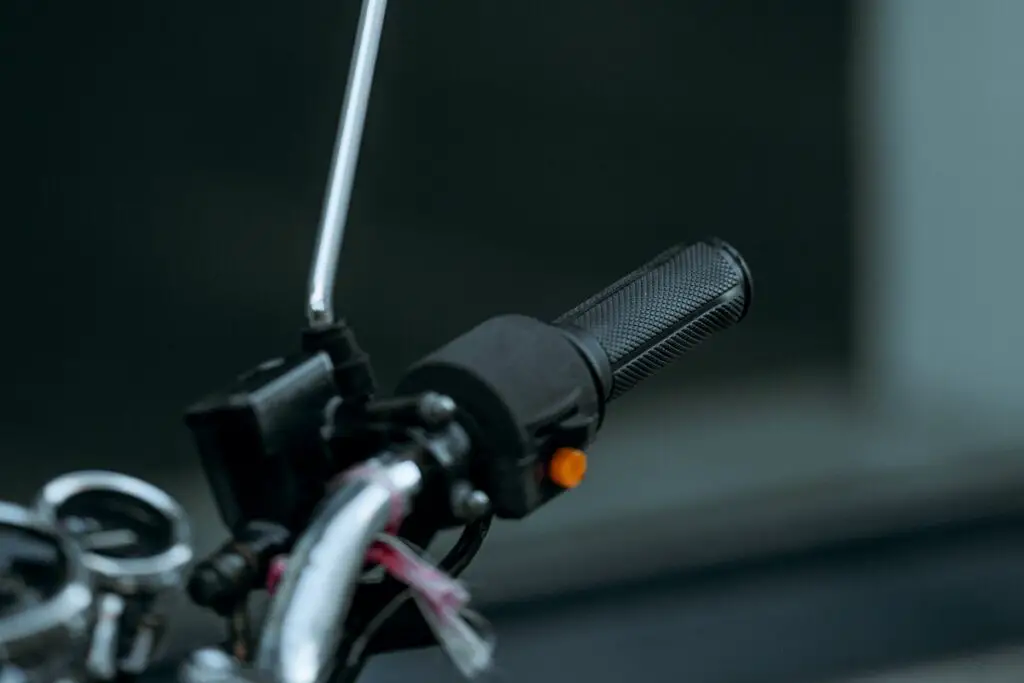 The throttle return spring is probably one of the most significant components of your throttle, as it is responsible for returning the latter to its closed or idle position. When this spring becomes damaged or broken, the throttle body loses its elasticity and remains open until it is manually drawn back via the foot-operated throttle pedal or through the assistance of gravity. Either way, your motorcycle throttle not snapping back by itself is to be expected.
Three things can cause the throttle return spring to become compromised — normal wear and tear, corrosion, and mechanical stress or damage. The first two are natural aftermaths of frequent exposure to the elements and motorcycle usage. Meanwhile, the third one is more of an outcome of negligence (if not a certain disregard) toward properly handling your two-wheeler's throttle assembly.
Usually, visual inspection is recommended if you suspect the throttle return spring to be at fault. But unlike with cable tension issues, you cannot simply re-adjust the spring tension to spec. At any time that you discover the return spring is damaged or has lost its tension, replace it immediately. While at it, check the rest of your throttle assembly, and repair defective components as needed.
6. Malfunctioning Throttle Position Sensor
More recent motorcycle models are equipped with TPS (Throttle Position Sensor) that relays the exact position of the throttle to the bike's ECU. If the TPS malfunctions or provides incorrect readings, it can disrupt the communication between the throttle and the control module. As a result, it prevents necessary feedback for proper throttle control from reaching the ECU.
Your motorcycle throttle not snapping back is not the only behavior your two-wheeler will exhibit when this is the case. Riders often experience erratic throttle response and a lack of throttle control first, even before the motorcycle throttle gives out. The trigger is usually traced back to electrical connection issues, faulty sensor calibration, or sensor wear/damage.
Hence, it is important to check for DTCs (Diagnostic Trouble Codes) using a diagnostic scan tool at the first sign of a malfunctioning TPS. Doing so will provide a readout of any TPS-related fault code and further insight into the issue. Once done clearing out error codes, inspect electrical connections and ensure proper sensor calibration.
7. Gummed-Up Carburetor Slide
In motorcycles with a carburetor, the throttle slide can become sticky or dirty due to varnish buildup or inadequate cleaning (among other things). When this happens, the motorcycle throttle can fail to snap back effectively — alongside sluggish throttle responsiveness and display of erratic or uneven engine performance.
Note that the reasons behind an obstructed carburetor slide are not limited to residue buildup alone. Inadequate air filter and fuel system maintenance and the use of stale fuel turn out to be more popular culprits compared to the former.
You can clean a gummed-up carburetor slide using a commercial carb cleaning product or solution. But before you do, it is strongly recommended that you do a throttle movement assessment first to ascertain that the blockage in the carb is not caused by an actual obstruction.
8. Faulty or Impaired Cable Housing
Functionally, the cable housing is similar to the throttle housing — except for the component it protects. The latter houses the throttle grip and throttle tube, both of which are connected to the handlebar. On the contrary, the cable housing protects the throttle cable.
A compromised cable housing is more commonly associated with accidental damage and inadequate maintenance rather than normal wear and tear. If you find this unbelievable, just visit motorcycle-dedicated forums, and you will have your proof. It is easier to mishandle or neglect maintenance of the cable housing (albeit inadvertently) than to wait for it to deteriorate naturally.
9. Stuck Idle Speed Adjustment Screw
Typically located on the carburetor or throttle body, the idle speed adjustment screw can become stuck or improperly adjusted. And much like a defective throttle return spring, this occurrence can impact the throttle's ability to return to idle smoothly — resulting in the motorcycle throttle not snapping back.
This issue shares some similarities with the rest of the items here, like the fact that it is signified by more than one symptom. But unlike other causes, identifying a faulty idle speed adjustment screw is relatively straightforward. In addition to an unresponsive throttle, gearheads are likely to experience challenges adjusting the idle and observe high or fluctuating idle speeds.
Having said that, it is crucial to be religious with cleaning, lubricating, and adjusting your motorcycle's idle speed adjustment screw. It would also help to inspect other components and see if they could be directly or indirectly causing the adjustment screw to get stuck.
Any component discovered worn or damaged should be immediately replaced. Additionally, extra caution should be exercised during idle speed adjustment to ensure the screw and its mechanism stays damage-free.
10. Twisted Grip or Handlebar
Before you pin the blame on issues with the TPS or throttle cable, know that that rough throttle movement you have been dealing with for a while now is not confined within these triggers. In fact, it is more likely that your motorcycle throttle not snapping back is due to improper installation or an accidental impact. After all, your hand grips and bars are more exposed to external elements than the throttle cable and tube housed inside their respective casings.
But even if you have never had an accident or hit an on-road obstacle, the throttle grip or handlebar on our two-wheeler can still become twisted or misaligned. Normal wear and tear is the top culprit behind this — frequent motorcycle riding and aggressive maneuvering of your bars and grips are enough to create resistance over time and prevent the throttle from returning to its resting position.
The only way to go about this situation is to replace the erring component. You can choose bars or grips made from aluminum, composite materials, or rubber with reinforced inserts, as they are the least prone to accidental damage and premature wear. It would also help to inspect both components periodically for signs of misalignment, twisting, or damage. You can then address any issues to prevent further complications.
In rare cases, there may be an issue with the throttle control mechanism itself. This can be from wear and tear, manufacturing defects, or damage. Whichever the case, it is crucial to address the underlying cause promptly to ensure rider safety and optimal performance. Note that professional inspection may be necessitated for accurate identification and repair.
Conclusion — Motorcycle Throttle Not Snapping Back
In summary, here are the most common reasons behind a motorcycle throttle not snapping back:
Sticky Throttle Grip
Grimy or Rusted Throttle Tube
Resistant or Damaged Throttle Cable
Miscalibrated Cable Tension
Damaged Throttle Return Spring
Malfunctioning Throttle Position Sensor
Gummed-Up Carburetor Slide
Faulty or Impaired Cable Housing
Stuck Idle Speed Adjustment Screw
Twisted Grip or Handlebar
Indeed, preventive maintenance and careful handling go a long way in keeping throttle-related issues at bay. However, these practices will not make your thumper impervious to outcomes that could adversely affect its throttle responsiveness.
Be prepared for the inevitable by consulting your owner's manual for OEM-approved diagnostic methods. Go for high-quality parts when doing replacements. It also would not hurt to outsource installation and repairs to a qualified mechanic — especially if you are not that mechanically savvy with your motorcycle's throttle control mechanism.