10 Best Motorcycle Rides in Maine
Disclosure: We may get commissions for purchases made through links in this post.
With 17 million acres of forest, 5,000 miles of coastline, and a wealth of rivers and lakes, Maine offers motorcyclists a stunning and unspoiled scenic paradise. While most visitors flock to the coastal regions, those seeking solitude can venture north or inland for a refreshing escape from the crowds.
Either that or they can straddle their trusty two-wheeler and explore the state's natural wonders. And for this purpose, this guide has some of the best route suggestions!
The best motorcycle rides in Maine include the Acadia-Bar Harbor Loop, Mount Desert Island Loop, Northern Route 201, and the Grafton Notch. More trails can be found in Bethel, Newry, Brunswick, Camden, and near state parks and national forest areas.
These locations are mainly situated near the New Hampshire-Maine border. And among the many motorcycle-accessible trails awaiting discovery in the state, here are 10 of the best motorcycle rides in Maine:
Acadia National Park — Bar Harbor Loop
Rangeley Lakes Scenic Byway
Grafton Notch Scenic Byway
Northern Route 201
Boston to Maine (Coastal Routes)
Dover, NH to Poland, ME Loop
Mount Desert Island Loop
Route 113 Border Cruise
Thomaston to Lincolnville Beach
Bethel to Evans Notch
Without a doubt, Maine's rugged coastline and mildly mountainous interior provide a foundation for some of the best motorcycle roads in the Eastern US. Add the dense forests, lakes, and waterways covering more than half of the state's territory, and you have gorgeous surroundings to pair with undulating roads.
But do not simply take my word for it! If you have not been to this side of the Americas, then it is time to plan your next motorcycle ride in this region.
Best Motorcycle Rides in Maine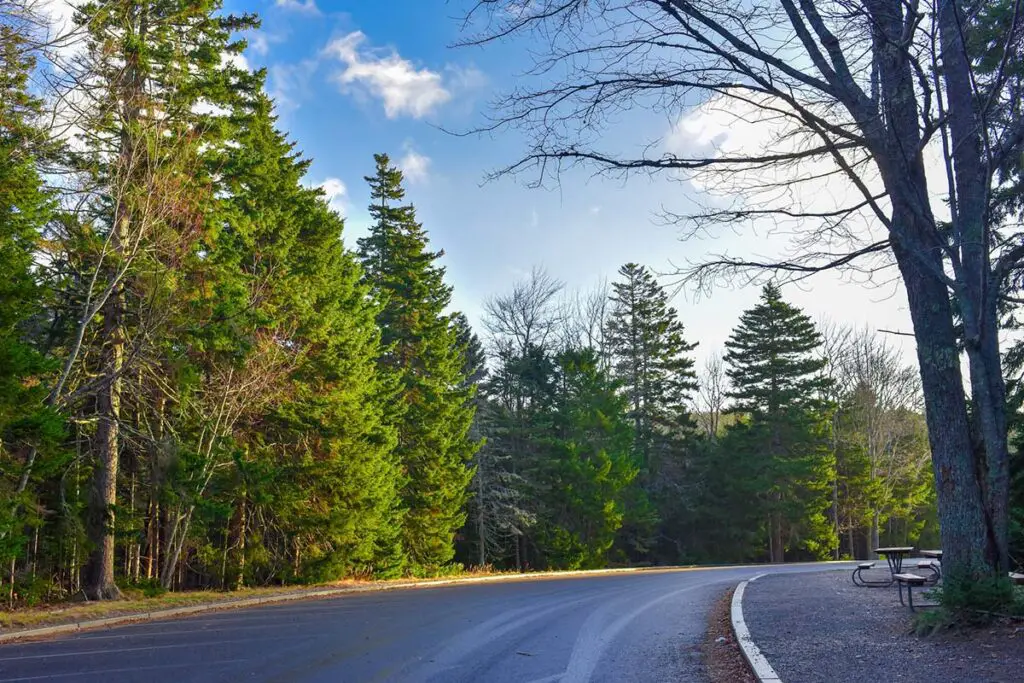 1. Acadia National Park — Bar Harbor Loop
Arguably the top motorcycle trail in the state, this 27-mile loop is situated southeast of Mount Desert Island, with its trailhead located in Bar Harbor, Maine. From there, riders hop onto Route 233 (a.k.a. Eagle Lake Road), going west before taking one of the turns leading south to the actual lake. Some continue onto Route 3 (a.k.a. Sound Drive), where incredible coastal sceneries abound.
The loop mainly consists of well-maintained paved roads, with its peak elevation at 1,530 feet (or approximately 466 MASL) atop Cadillac Mountain. But panoramic views aside, motorheads are also guaranteed access to great restaurants, accommodations, and even a visitor center given its proximity to Bar Harbor (considered by many to be somewhat a "tourist trap" with its brew pubs, shopping nooks, and quaint coffee shops).
Overall, this motorcycle trail is a motorhead's paradise and a hit with nature enthusiasts as it offers a unique blend of rugged mountains, weaving roads, and coastal beauty. It is open year-round, although some roads may be closed during winter or inclement weather. Entrance fees into the park are minimal. Meanwhile, park rules and speed limits are for strict observance.
2. Rangeley Lakes Scenic Byway
A thrilling motorcycle trail that winds through the breathtaking landscapes of western Maine, the Rangeley Lakes Scenic Byway offers motorcyclists a captivating journey with its 88 miles of sweeping curves, picturesque lakeside views, and stunning mountain vistas.
Trail difficulty is rated easy to moderate, and the byway's terrain is predominantly made of paved roads — some with two lanes providing mostly smooth riding conditions, occasionally interspersed with minor bumps. Its lowest elevation is 1,504 feet (458 MASL), while its peak is 2,890 feet (880 MASL) at the Height of Land overlook.
Notable landmarks along the route include the Rangeley and Mooselookmeguntic Lakes. Riders can also expect a lot of fishing spots and wildlife viewing within the area.
With this spot as your destination, planning all-day rides is no hassle as there are plenty of pump stations, accommodations, and eateries like the famous Chicken Coop Restaurant, where you can grab grub and re-energize.
3. Grafton Notch Scenic Byway
Situated six miles east of Bethel and 17 miles west of Rumford, this scenic byway offers 93 miles (woods loop) of stunning views of forests, waterfalls, and mountains. Its trailhead is located in Newry, Maine. But contrary to popular belief, it does not encompass the entire Appalachian Trail from Springer Mountain, Georgia, to the northern point of Katahdin.
The terrain here is varied, with many ups and downs and a few twisties — mostly good roads but with a few rough spots along the way. Road surfaces become more level beginning on Route 16, with sweeping turns along the river.
The lowest elevation is 426 feet (129 MASL), while the peak is 2,204 feet (671 MASL) at Moose Cave. The Screw Auger Falls, Old Speck Mountain, Step Falls Preserve, and Spruce Meadows (picnic area with fewer people) are other places of interest you will see along the way.
From Newry, motorheads take Route 26 through Grafton Notch State Park — sometimes crossing into as far as Errol, New Hampshire. If you decide to go this route, continue south on Route 16, down to Berlin, and onto Gorham, NH. Take US Highway 2 across the New Hampshire-Maine border and onto Bethel (your starting point and the end of the scenic loop).
4. Northern Route 201
Otherwise known as the Kennebec-Chaudiere International Heritage Corridor, this route spans 235 miles, covering its trailhead location in Brunswick to Quebec City in Canada. Its difficulty rating is easy-to-moderate, while its terrain mostly consists of pavement with scenic stretches along the Kennebec River.
Historic sites, waterfalls, cultural attractions, and white-water rafting are some things you can include in your itinerary if going for more than just two-wheeled cruising. Fort Halifax, Old Canada Road Scenic Byway, and Moxie Falls are other attractions worth stopping for.
If you intend to traverse the entire route length, ensure you are prepared with your border crossing requirements. Additionally, plan while considering weather conditions and traffic congestion during the peak riding season.
5. Boston to Maine (Coastal Routes)
The 112-mile coastal route from Boston to Maine is another sought-after motorcycle trail in the state. With its trailhead in Boston, frequenters take I-93N to the Tobin Bridge to join Route 1N. From this point, they can take 95N leading to Portsmouth to save time or go through Danvers, MA, so as not to miss the smaller towns.
Predominantly, the roads are good. However, motorheads should be wary of grating on some of the bridges and mysterious speed bumps on some portions of the main roads. Other than that, the views are undeniably spectacular!
Everything from city skylines to the beach is scenic, enough to forget the brutal traffic during summer. Not to mention that the smaller towns are surrounded by vast forests, fields, and marshes.
6. Dover, NH to Poland, ME Loop
For frequenters of this 170-mile route, the journey commences in the vibrant town of Dover. From there, they ride towards the scenic roads leading into the heart of picturesque Poland in Maine. Do not be confused by some online sources reporting that the trailhead location of this loop begins in Milbridge and ends in Eastport, as that is not the case.
The motorcycle trail is rated moderate, with paved roads and some winding and hilly sections. Vista-wise, the trip starts in typical mill towns, moving into rolling farmland, open roads, and wooded areas as the ride progresses.
Notable landmarks in the area mainly consist of state parks, hiking trails, and lighthouses. Gas stations, food joints, and accommodations are also in abundance.
There are many ways to navigate this route. But one suggestion is to begin north on Route 108 from Dover, NH, to Rochester. From there, continue east on Route 11 into Maine, passing through Sanford, Emery Mills, and other cities beyond West Newfield and Limerick.
Stay on this route, ride to Poland, then veer south on Route 26 to Gray. From Gray, take Route 4 & Route 202 south to Alfred. Continue on the former pathway to South Berwick, then west on Route 4. After which, circle back to Dover, New Hampshire.
7. Mount Desert Island Loop
To embark on this captivating 35-mile motorcycle ride:
Go to Trenton and continue to Hulls Cove, where the entrance to Acadia National Park awaits.
Enter through the Hulls Cove entrance and follow Paradise Hill Road, seamlessly transitioning into Jordan Pond Road upon crossing state Route 233.
Stay on this path until you reach the turnoff for Cadillac Summit Road (where you can ascend Cadillac Mountain).
From this summit, return to Jordan Pond Road, retracing your steps until you encounter the split for Park Loop Road. This road will guide you around the southern part of the island, gradually curving northward until its merger with Main Street on State Route 3. This point is close to Bar Harbor and is the perfect pitstop to rest your legs, grab food, and immerse yourself in local attractions.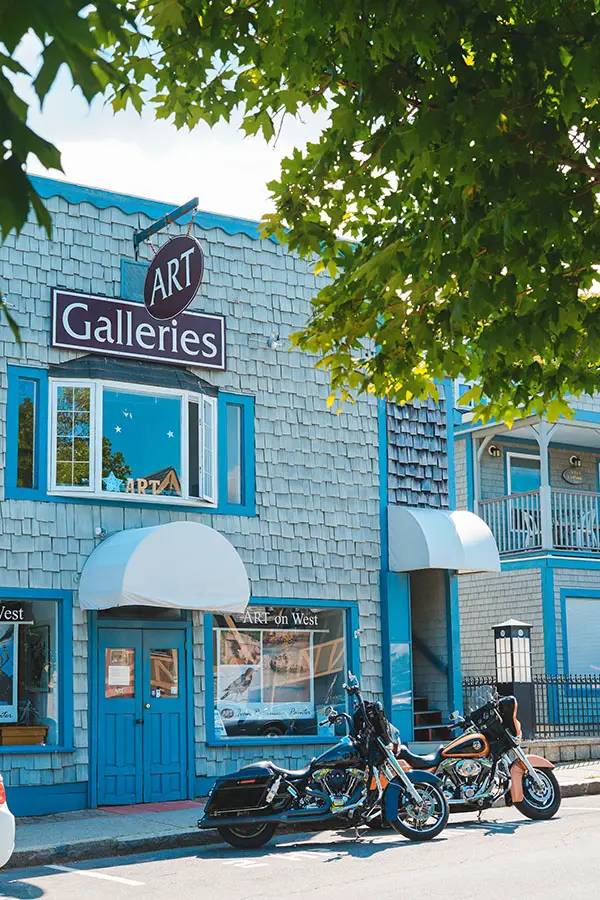 8. Route 113 Border Cruise
Although short, this 28-mile route from Gilead to Fryeburg is intriguing and exquisitely scenic. As a rider, you will enjoy leaning into the twists and turns of this tree-canopied highway as you pass through the White Mountain National Forest.
It also takes you along the state line between Maine and New Hampshire. And once in Fryeburg, you will be rewarded with mouth-watering pastries and a fresh cup of Fair Grounds Coffee or an ice-cold smoothie.
9. Thomaston to Lincolnville Beach
Starting at the intersecton of Atlantic Highway 1 and Route 131 (Oyster River Road), this trail goes through the charming little town of Hope. A section of it also crosses over Hatchet Mountain for some nice country elevation. Numerous turns will take you through Camden Road, High Street, and Belfast Road — all the way to Ducktrap Road and Slab City.
It takes about an hour at moderate speeds to cover this trail (probably longer if you pause for some sightseeing). Amusingly, most riders find themselves held up in Camden, where most of the food spots and tourism opportunities are situated.
The ride itself is reminiscent of the nostalgic New England countryside and a great way for enthusiasts to step back from the hustle and bustle of the city. Views are rural and often dotted with farms. Once you arrive in Lincolnville, you can visit wildlife preserves or state parks, do watersports, or take a walk on the beach to unwind.
10. Bethel to Evans Notch
This motorcycle trail is the ultimate road trip for avid riders. The fresh, glass-smooth pavement is nestled under a lush deciduous canopy, offering a picturesque journey above the mesmerizing pools and sculpted flumes of the Wild River.
As you approach Evans Notch, there is a gradual ascent that will bring you to the pinnacle at mile 25, where you will be greeted by towering granite walls adorned with birches and soaring peregrine falcons.
Moderate in difficulty, this 70-mile round-trip trail combines paved and gravel roads, offering diverse terrain for motorcycle enthusiasts. Between its lowest elevation at 432 feet (131 MASL) and highest point reaching 2,680 feet (816 MASL) at Speckled Mountain, the Grafton Notch section stands out as the most scenic stretch.
Notable Landmarks
When navigating this track, explore notable landmarks such as the renowned Sunday River Ski Resort and the awe-inspiring White Mountain National Forest. There are also many other points of interest in the area — hiking trails, scenic overlooks, and swimming holes — waiting to be discovered.
Alternate Route
Most of these trails entail riding up to the Maine coast. But if you find the prospect of sitting through toll traffic for hours troublesome, there is an alternative way into the state from Boston. You need only start in Andover, MA head north on Route 125 into New Hampshire and through Epping.
From this point, take Route 155 and continue until reaching Dover. From Dover, take Route 9 north into Maine, crossing Route 1 and leading directly to Wells Beach. You then have two options from Wells Beach — ride south to touristy Ogunquit or continue north on Route 9 to reach Kennebunkport.
Overall, this alternative route keeps you to small towns and forest roads and lets you avoid the shore until you reach your destination. But if you have other destinations in mind, you can get on Route 202 from Dover. It runs parallel to I-95 but with considerably less traffic. More importantly, it allows you to cut over to your preferred destinations.
Special Mentions
Bangor to Calais (94 miles, 1 hour and 45 minutes riding time)
Sugarloaf Scenic Byway (53 miles, 1.5 to 2 hours riding time)
Katahdin Woods and Waters Scenic Byway (89 miles, 3 to 4 hours riding time)
Livermore Falls Loop (133 miles, 3 hours and 9 minutes riding time)
Lake Androscoggin ADV Loop (22 miles, 34 minutes riding time)
Note that this is different from the 55-mile Androscoggin River Byway on Route 26
Conclusion — Motorcycle Rides in Maine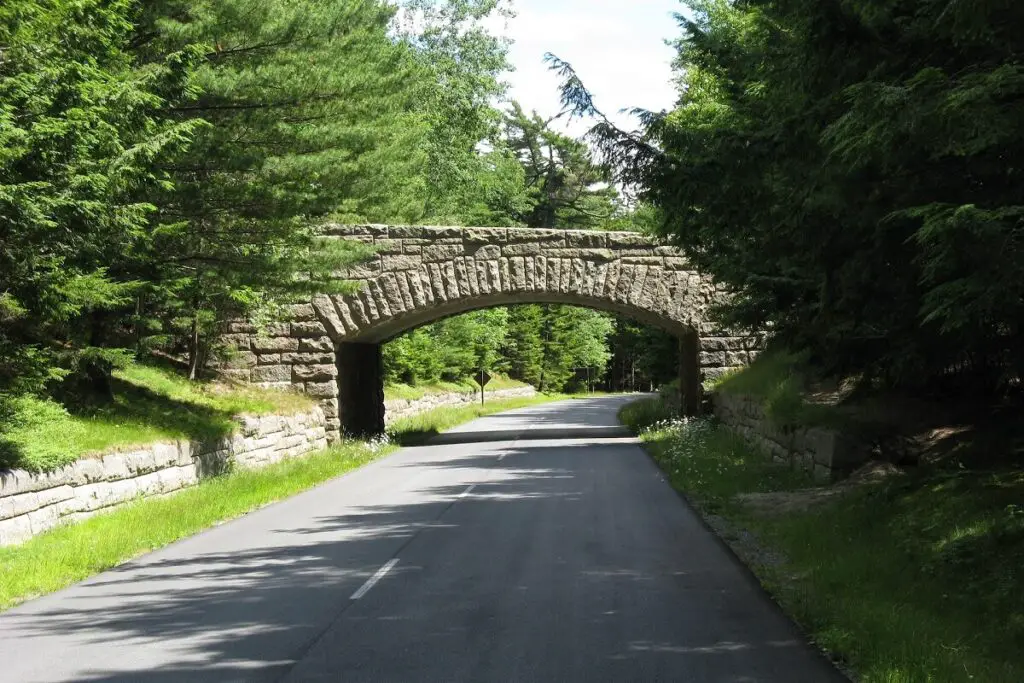 To recap, let's go over the top places to ride motorcycles in the Pine Tree State once again:
Acadia National Park — Bar Harbor Loop
Rangeley Lakes Scenic Byway
Grafton Notch Scenic Byway
Northern Route 201
Boston to Maine (Coastal Routes)
Dover, NH to Poland, ME Loop
Mount Desert Island Loop
Route 113 Border Cruise
Thomaston to Lincolnville Beach
Bethel to Evans Notch
The best motorcycle rides in Maine not only highlight picturesque vistas, deciduous canopies, and nostalgic New England but also celebrate the marriage of modern amenities and rural festivities.
When you ride on these trails, you are surrounded by expansive landscapes, peaceful waves, and a simple yet invigorating way of life. If you find these joys worth looking forward to, then make sure to plan your next two-wheeled adventure in the wonderful state of Maine!