Harley-Davidson 107: Common Problems
Disclosure: We may get commissions for purchases made through links in this post.
The Harley-Davidson 107 (more popularly known as the Milwaukee-Eight or M8) is an engine layout introduced by the American firm in 2017 to succeed its Twin Cam engine. It featured a modern design, improved performance, and enhanced cooling capabilities. While the power mill is revolutionary, it is far from perfect. And in this guide, we will explore its top predicaments.
From flimsy components to oil-related irregularities, these issues can be quite vexing. Especially for riders new to the Milwaukee subculture, these challenges can put a huge dent on your long-awaited Harley riding experience. Thankfully, familiarization with these problems is half the battle won.
So for your reference, here are the most common Harley 107 problems:
Engine Oil Consumption
Oil Pump Issues
Wet Sumping
Oil Aeration
Inadequate Cam Chain Tensioners
Flawed Crankshaft
Engine Overheating
Slow or Cold Starting
These setbacks should not deter you from getting an M8-equipped Harley-Davidson. Overall, it is a great machine that has proven its mettle since its launch. But if you want to make an informed decision before purchasing, read more about Harley 107 problems.
Harley Davidson 107 Problems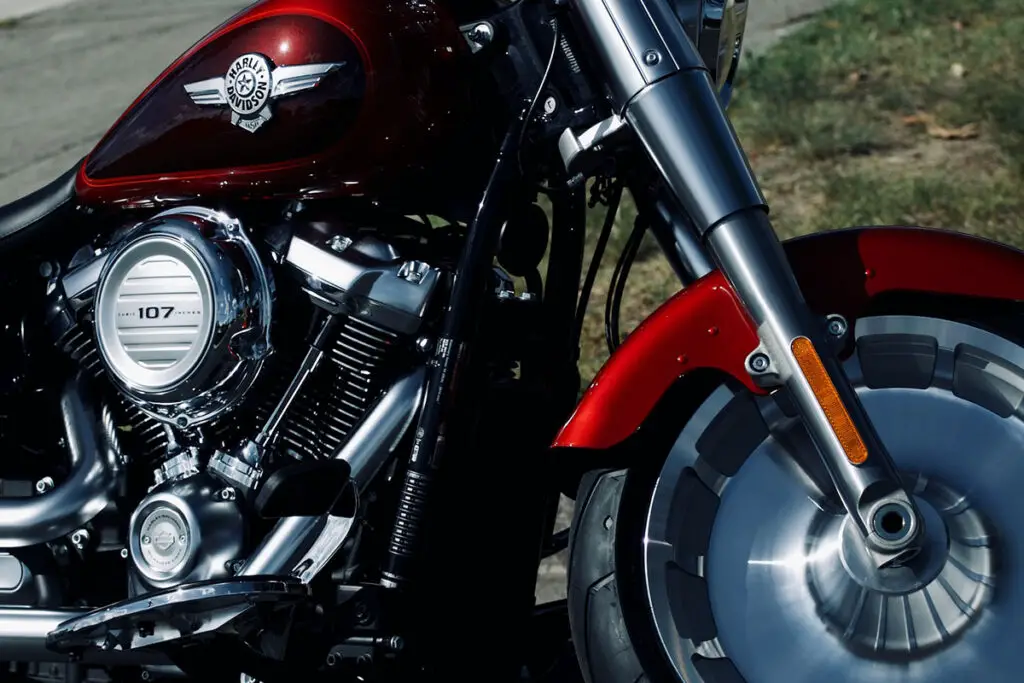 1. Engine Oil Consumption
According to HD headquarters, the acceptable amount of oil usage after an engine break-in for a Harley 107 is a quart of oil every 1,000—1,500 miles. However, where it goes is unclear and beyond most owners. Experienced HD loyalists, however, will tell you that this is wrong and should never be considered acceptable.
Some speculate that the oil ends up in the filter, crankcase, or catalytic converter (view on Amazon). Others surmise that the fluid gets past rings, valve guides, and valve seals. Between these two sets of components, the latter has repeatedly proven to be the more common culprit behind the engine's excessive oil usage.
2. Oil Pump Issues
The 2nd most prevalent problem of the Harley-Davidson 107 is that it suffers from significant oil pump issues linked to lower-quality cam chain tensioners. The deteriorated plastic components of these tensioners can cause severe blockages within the oil supply chain, resulting in disrupted oil flow to the engine. There are cases, too, where oil pump issues manifest when oil consumption problems are missed or left unattended.
While tracing back to the problem source can go many routes, the most common causes attributed to an oil pump issue mainly revolve around the following scenarios:
Cam chain tensioner failure (more on this in #4)
Bad oil pump design
Poor oil quality and maintenance
Bad sending unit
Manufacturing defects
As such, you will need to upgrade your motorcycle's oil pump (or replace it altogether) if you decide to perform a Stage 2 upgrade or something more intricate. Doing so not only future-proofs your engine from further oil irregularities but also enhances oil circulation and engine performance. A Fueling OE+ Hydraulic Cam Chain Tensioner Conversion Kit 7089 (view on Amazon) may also be warranted.
3. Wet Sumping
This Milwaukee-Eight issue occurs when oil from the oil tank flows into the engine crankcase (whenever the motorcycle is at rest or parked for an extended period). For the benefit of first-time Harley owners, this oil accumulation is known as "wet sumping" — a problem resulting from factors such as the design and operation of the oil pump and check valve system.
When a motorcycle is not in operation, the oil can seep past the check valve and accumulate in the crankcase, leading to excessive oil levels. This, in turn, can result in problematic outcomes, including increased pressure, oil foaming, lubrication inefficiency, oil leakage, and crankcase breathing issues.
4. Oil Aeration
If you are a Harley fanatic, I assume you are all too familiar with this problem. Oil aeration occurs when wet sumping keeps recurring without any preventive measures. But we cannot attribute it to oil anomalies alone — oil foaming can be triggered by aggressive riding behaviors, too (although, for the most part, it has to do with inadequate oil supply and high oil temperatures).
Consequences of oil aeration may include diminished engine performance, increased oil consumption, reduced oil pressure, and potential damage to vital engine components. It can also result in erratic oil levels, making accurate oil level measurement and maintenance challenging.
To address this issue, Harley-Davidson has implemented various measures in succeeding Harley 107 power mill iterations, like improved oil cooling and oil breather systems. The company has also mated these enhancements using high-quality, high-performance engine oils and strict adherence to recommended service intervals.
5. Inadequate Cam Chain Tensioners
The primary issue with the Harley 107 engine lies in the design of its cam chain system. The design is considered subpar, utilizing plastic shoes that ride on the cam chains (prone to deterioration and wear). Despite introducing a new hydraulic tensioning system in later-year iterations of the engine, this issue persisted as the former is not exactly a long-term solution.
Unlike a spring-loaded or hydraulic type, plastic variants cannot take as much stress from the pinion shafts. They require regular inspections and frequent changes every few miles. If they disintegrate, the metal-to-metal contact in the shaft will generate heat issues and engine failure. A hydraulic cam chain tensioner conversion kit (view on Amazon) may help mitigate these outcomes.
6. Flawed Crankshaft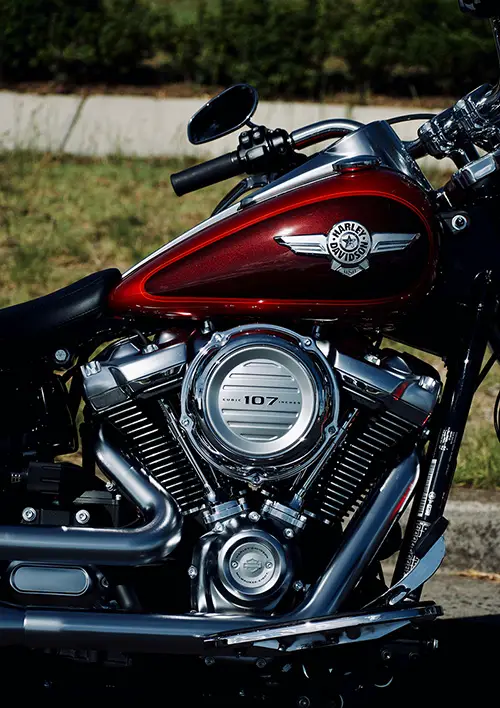 The pressed-up crankshaft was one of the biggest Harley 107 problems, even with the Twin Cam 88s. Unsurprisingly, it is attributed to HD assembling engine models this way to save on production costs.
Sadly, this crank design resulted in a complete engine breakdown in less than 2000-3000 miles. Moreover, the rear spline shaft would push down on the left flywheel, causing misalignment and leading to crankpin shift or bend and engine failure.
Shifting or breaking the crankpin, in particular, can harm the cam system and other components. To resolve this, locating and removing the broken pin is necessary. Mechanical experts often advise replacing the entire unreliable crankshaft as the primary solution.
7. Engine Overheating
Outside of cam chain tensioners, oil pump issues are also associated with the restricted nature of the pump itself. Specifically, the factory-assembled oil pump in a 107-ci M8 can only accommodate a Stage 1 kit. Attempting to do stage upgrades beyond this tier is almost guaranteed to result in engine overheating, as the component is inadequate for the task at hand.
The only workaround to this dilemma is to auto-update the oil pump when doing a Stage 2 upgrade or higher. Doing so will not only mitigate overheating proclivities of the engine but also help optimize its cooling capabilities, lubrication, and overall performance.
8. Slow or Cold Starting
Lastly, the most common Harley 107 problems involve cold starts. These problems can arise due to inadequate fuel atomization, improper fuel mixture, or insufficient spark during ignition. Note, however, that the predicament is not confined to these scenarios, as slow or cold starting can stem from issues related to fuel delivery, ignition, and engine management systems.
In colder temperatures, fuel may not vaporize effectively, leading to incomplete combustion and difficulty igniting the fuel-air mixture. This can result in prolonged cranking, rough idling, or engine stalling. While this is common for most vehicles, the Milwaukee-Eight engine is unique in that its oil-related issues exacerbate the mill's cold starting difficulties.
In this list, items #3 and #4 can impact the oil's viscosity and consistency, affecting its ability to provide adequate lubrication and protect the engine during startup. Thankfully, using viscosity-appropriate oil and addressing oil pump issues (among other things) have proven to help alleviate idling, cranking, or engine hiccups during cold starts.
For any of these Harley 107 problems, it is imperative that you accurately diagnose whether the issue you have identified is inherent or borne out of a wrongly executed modification. As with most Harley-Davidson motorcycles, owners tend to order a slew of aftermarket parts and bolt-ons for DIY installation even before riding their bikes off the showroom floor.
Remember, not everyone is savvy about motorcycle mechanics. So if you have or are interested in a secondhand unit, it is highly likely that your Harley and its engine have been mishandled in the past. It is easy to blame reliability issues on the two-wheeler.
Testing for Problems — Initial Steps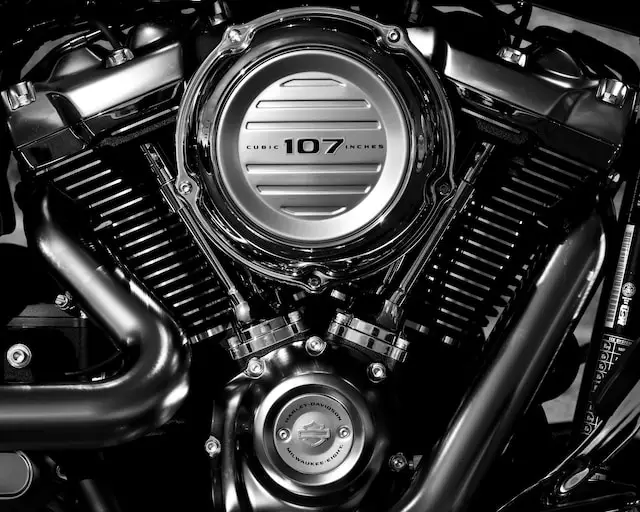 Testing for specific problems on a Harley 107 power mill requires a combination of diagnostic procedures and tools. And while the owner's manual is still your best reference for resolution, here are some general guidelines for testing the issues mentioned in this guide:
Engine Oil Consumption: Monitor the oil level regularly and observe if there is a significant decrease between oil changes. Also, conduct a visual inspection for oil leaks around the engine and exhaust system.
Oil Pump Issues: Check the oil pressure using a mechanical or electronic gauge like OTC Tools 5610 Transmission-Engine Oil Pressure Tester (view on Amazon). Compare the reading to the OEM's specified range to identify any irregularities.
Wet Sumping: Observe if excessive oil accumulates in the crankcase during periods of inactivity. Measure the oil level after the motorcycle has been sitting for some time and compare it to the recommended level.
Oil Aeration: Scrutinize the engine oil for signs of foaming or air bubbles. This can be done by examining the oil on the dipstick or using an oil inspection window if available.
Inadequate Cam Chain Tensioners: Keep an ear out for abnormal noises from the cam chain area, such as rattling or clattering sounds. Also, inspect the cam chain tensioners for wear or damage.
Flawed Crankshaft: Be attentive to symptoms like excessive vibrations, knocking noises, or engine misfires, as they may indicate a flawed crankshaft. Whichever your findings are, pair them with a thorough inspection by a qualified mechanic for a more definitive diagnosis.
Engine Overheating: Monitor the engine temperature gauge or use a diagnostic tool to read the actual engine temperature. Check for coolant leaks, malfunctioning cooling fans, or clogged cooling passages.
Slow or Cold Starting: Pay attention to the cranking speed and the time it takes for the engine to start. Consider factors like battery condition, fuel delivery, ignition system, and potential fuel or air intake issues.
Conclusion — Harley-Davidson 107 Problems
To recap, here are the most common Harley 107 problems once again:
Engine Oil Consumption
Oil Pump Issues
Wet Sumping
Oil Aeration
Inadequate Cam Chain Tensioners
Flawed Crankshaft
Engine Overheating
Slow or Cold Starting
Bear in mind that this problem list is non-exhaustive. Nonetheless, the information shared here should enable you to decide whether to swap that engine or buy a pre-loved Harley-Davidson with a 107ci M8 power mill.
And while the acclaimed M8 has yet to redeem itself, its inception is no mistake. After all, this layout laid the groundwork for succeeding and future engine blueprints of Harley-Davidson motorcycles, which are powerful and reliable.