10 Best Motorcycle Rides in Florida
Disclosure: We may get commissions for purchases made through links in this post.
Describe the Sunshine State, and you have the perfect setting for a lovely motorcycle cruise — vast farmlands, diverse terrain, the spatter of waves from the sea, and a brightly lit sky on the horizon.
These elements not only bring people closer to nature but also make any hobby utterly enjoyable. Add breathtaking scenery, a visit to the beach, and wildlife sightings to the mix — and one's day-long ride suddenly becomes quirky and magical.
The best motorcycle rides in Florida are spread in all regions of the state, with greater concentrations found in Florida Keys, Central Florida, and South Florida. Well-known thoroughfares include the Ozello Trail and Seven Mile Bridge and designated trails within the Ocala National Forest.
Approximately 40,000 miles of public routes and over 12,000 miles of state-maintained roads and highways are available for two-wheeling. Out of this lot, here are Florida's top 10 best motorcycle rides:
Ozello Trail Ride (State Route 494)
Tamiami Trail (U.S. Highway 41)
Florida Keys Scenic Highway
Motorcycle Loop Trailhead in Ocala National Forest
Gulf Coast (Casey Key)
Green Swamp Loop
Sugarloaf Mountain Ride
Ormond Scenic Loop
Scenic SR-13
County Road 476 (Citrus County 476)
Best Motorcycle Rides in Florida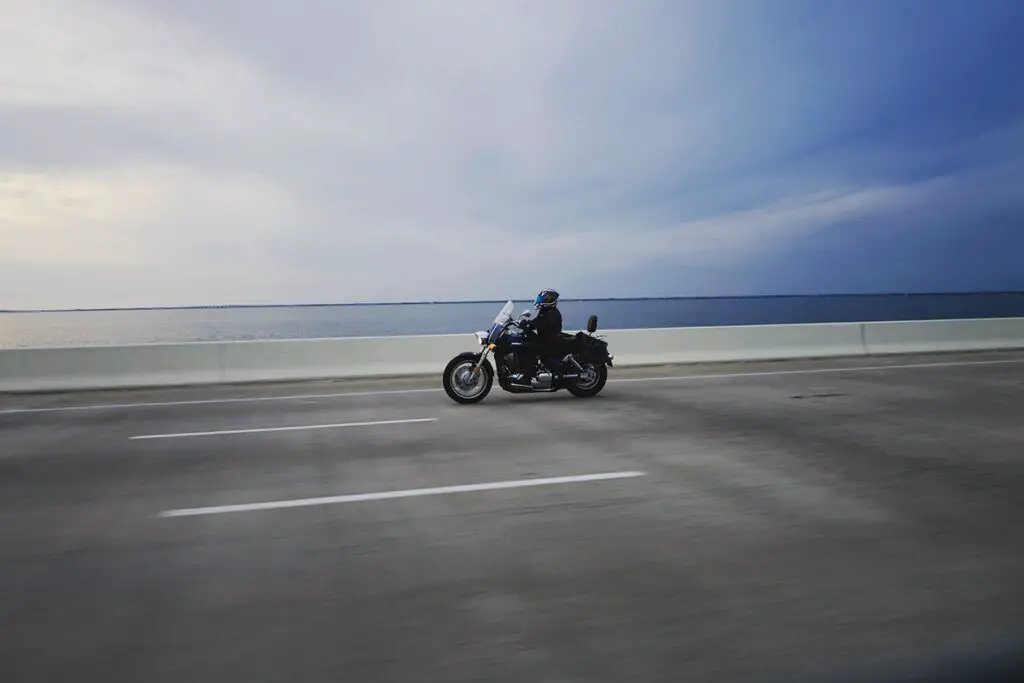 1. Ozello Trail Ride (State Route 494)
Starting in Crystal River off U.S. Highway 19, The Ozello Trail Ride is approximately 12 miles (19.3 km) long and coins its name from its trailhead endpoint. It runs through a mixture of hardwood hammocks, pine flatwoods, and saltwater marshes with a peak elevation of about 50 feet (15.2 MASL). This pathway is mostly flat but has some sections that novice riders may find challenging, making it an easy-to-moderate ride.
The most scenic sections of this hidden gem north of Tampa are along the Gulf of Mexico and through the coastal wetlands, while the most difficult are the narrow and winding stretches through the evergreen forests. These challenging segments may have potential obstacles, such as fallen trees or debris.
Notable landmarks include the Crystal River National Wildlife Refuge, Pepper Creek and Mason Creek nature trails, and the fishing community in Ozello. Seafood restaurants offering al fresco dining and kayak and canoe rentals are also available if you would like to fully experience the area.
Open year-round, this motorcycle trail only necessitates that you be at least 16 years old and have a valid driver's license. Additionally, follow all traffic laws and regulations and ride responsibly. Other than these requisites, accessing the breathtaking Ozello Trail Ride requires no permits or entrance fees — only that you secure a parking spot along the trail to pause and savor it all in.
2. Tamiami Trail (U.S. Highway 41)
The Tamiami Trail is a relatively easy motorcycle ride from Tampa to Naples. It is roughly 275 miles (442.5 km) long and runs through various terrain and wooded and urban areas.
Riders go here to enjoy scenic views while passing through the Everglades and Big Cypress National Preserve (among other landmarks). Although generally flat, the route becomes more challenging as you approach the city due to heavy traffic and multiple crossroads.
In addition to the Everglades, the Tamiami Trail weaves through several nature reserves, parks, and rivers. Among them are Fakahatchee Strand Preserve State Park, Shark Valley, Myakka River, and the Tamiami Canal. But there is more to this bike trail than sightseeing, as it is surrounded by many shops, hotels, and restaurants where you can sample the best of Tampa, Miami, and Naples.
Regulations and age restrictions in this route are the same as the first two thoroughfares in this list. It is also open year-round, so you can plan your motorcycle trip accordingly. But when you do, I suggest that you seriously account for climatic forecasts since the trail may be closed in the event of a hurricane or during inclement weather due to its proximity to the Atlantic Ocean.
3. Florida Keys Scenic Highway
The Florida Keys Scenic Highway is a popular thoroughfare that runs along the Florida Keys shoreline, starting in Key Largo and ending in Key West. This 113-mile route (181.8 km) offers stunning views of mangroves and the ocean on each side and is considered an easy drive with a peak elevation of only 18 feet (5.5 MASL).
The Seven Mile Bridge is one of the most scenic sections of the highway, while the stretch between Key Largo and Marathon has several challenging sections due to narrow roads and high traffic. Other points of interest along the way include the John Pennekamp Coral Reef State Park, the Turtle Hospital, Bahia Honda State Park, and the Ernest Hemingway Home and Museum.
Online sources may show "Miami to Mile Zero," "Miami to Key West," or "Overseas Highway" as popular results when researching Florida Keys Scenic Highway — that is because they are the most frequented segments of this key location. Miami to Mile Zero, in particular, starts from 2nd Avenue and spans approximately 174 miles.
If you are planning your next two-wheeled adventure, you would be happy to know that it is open year-round (although it tends to fill up quickly during peak season).
No need to pack a lot for this trip, as there are plenty of gas stations, restaurants, and shops en route. You only need a valid driver's license — no permits and entrance fees — to access the Florida Keys Scenic Highway.
4. Motorcycle Loop Trailhead in Ocala National Forest
While the Ocala National Forest is predominantly known as a venue for ORVs and dirt bikes, this protected area has a specific spot designated for road-going two-wheelers. The Motorcycle Loop Trailhead (as it is called) is within the national forest and accessible from State Road 19.
This 49-mile pathway (78.9 km) is considered moderate difficulty, with deep-sand sections that may prove challenging for beginners. It is split into two segments — a 14-mile motorcycle-only trail and another 35-mile ORV/OHV-shared trail — with diverse terrain, including forests, sand, and mud.
The route is considerably more elevated than state highways, with its lowest elevation at 70 feet (21 MASL) and peak elevation at approximately 190 feet (58 MASL).
Because the state forest is well sought after by nature lovers and off-roaders, it can quickly fill up (especially during peak camping and riding seasons). Moreover, most enthusiasts spend the night in primitive campgrounds — like Clearwater Lake Recreation Area and Big Scrub Campground — within the forest.
Don't worry if you cannot secure a campsite within forest grounds, as there are campsites, restaurants, and pump stations in the nearby towns of Astor, DeLand, and Umatilla.
There is no entrance fee into the national forest but a charge per rider and vehicle. As of this writing, it costs $10 per adult and $5 per kid 15 years and under. Camping fees are $10 per RV and another $10 per additional vehicle. Should you wish to avail of a 3-day, 7-day, or annual pass, visit the USFS website for up-to-date rates and other information.
5. Gulf Coast (Casey Key)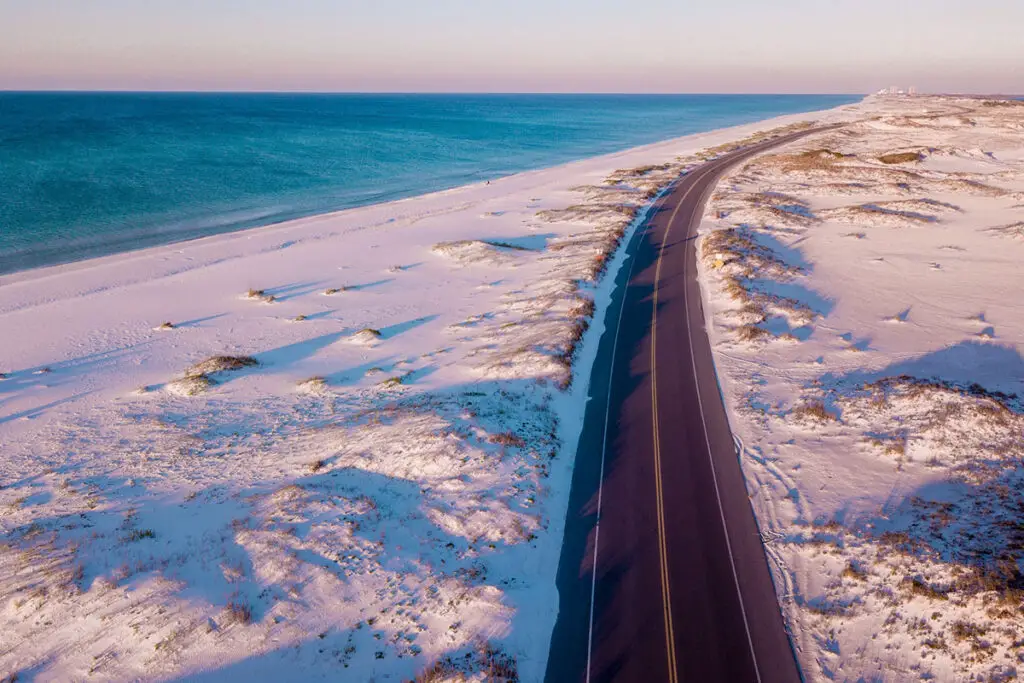 Manatee/Sarasota County Coastline
37 miles from Manatee Public Beach to Nokomis Beach, Manatee/Sarasota County Coastline is a paradise for the certified motorhead beachcomber.
Starting west of Bradenton and using Interstate 75 as a landmark, follow Gulf Drive south to Longboat Key and St. Armands Circle for a quick grub. Then, exit via John Ringling Causeway and take Bayfront Drive to U.S. Highway 41 for an oceanside cruise to Casey Key.
Another way to ride is to begin your journey from Blackburn Point (if you are heading south) or Albee Road (if you are heading north). Either way, you will not miss out on the amazing views of charming abodes and immaculate scenery that line Florida's west coast.
Simply taking in the scenery already feels magical. But if you want to truly rejuvenate, pack your swimwear and flip-flops and drive to Nokomis Beach for a rewarding dip in seawater and sand.
U.S. Highway 98
U.S. Highway 98 is a picturesque road stretching over 140 miles along the Gulf Coast, from Pensacola to Panama City Beach. It provides a pleasant ride on paved terrain with panoramic coastline views and easy access to state parks, such as St. Andrews State Park and Henderson Beach State Park.
Visitors can expect gas stations, restaurants, and accommodations but should be aware of traffic congestion during peak season and narrow lanes in some areas. The trail is accessible for all ages and requires no permits or fees, only compliance with traffic laws and speed limits. Designated parking areas are available along the route.
State Road 30A
State Road 30A is a 28-mile scenic highway that winds through beach towns along the Gulf Coast, including Seaside, WaterColor, and Rosemary Beach.
Motorcyclists love this route for its paved terrain, breathtaking views, and numerous points of interest. Visitors also enjoy its art galleries, boutique shops, and beach access points, with plenty of nearby restaurants and accommodations.
Withlacoochee State Forest Loop
The Withlacoochee State Forest Loop has its trailhead locations in Citrus, Hernando, and Pasco Counties. Its length is approximately 46 miles (74 km), beginning north of Tampa and Lutz and passing through Brooksville, Route 98, Interstate 75, and Highway 50. The paved trail offers beautiful views of the natural surroundings, with detours leading to delicious seafood, wildlife viewing, and fishing.
Sanibel Island
Sanibel Island houses several motorcycle-accessible roads running through the island, including Periwinkle Way and Sanibel Captiva Road. These pathways offer stunning views of the island's natural beauty and access to many beaches and attractions.
6. Green Swamp Loop
The Green Swamp Ride is a scenic yet twisty motorcycle trail with views of wetlands, pine flatwoods, and cypress domes that peaks at 50—150 feet (15—45.7 MASL) and spans roughly 72 miles (115.8 km). The main trailhead is at Thrasher Drive in Polk City and offers restrooms, picnic areas, and a bike wash.
The trail features a mix of muddy terrain, sand, steep hills, and water crossings passing through Highway 33 and the Green Swamp Wilderness Preserve. Access-wise, riders must be at least 16 years old and have a daily use permit to ride.
7. Sugarloaf Mountain Ride
The 30-mile Sugarloaf Mountain Ride starts and ends in Clermont and winds through hilly terrain with steep inclines and descents. The challenging route offers stunning views of Lake Apopka and the surrounding countryside and passes through Montverde (home to several notable landmarks).
En route, riders can enjoy scenic parks like the Ferndale Preserve and Lake Louisa State Park, suburban landscapes, and several natural areas. Riders of all skill levels will appreciate its beauty and picturesque Orlando skyline — more so atop the mountain at 312 feet (95 MASL) — although caution should be exercised when traversing steep hills and tight curves on this motorcycle ride.
8. Ormond Scenic Loop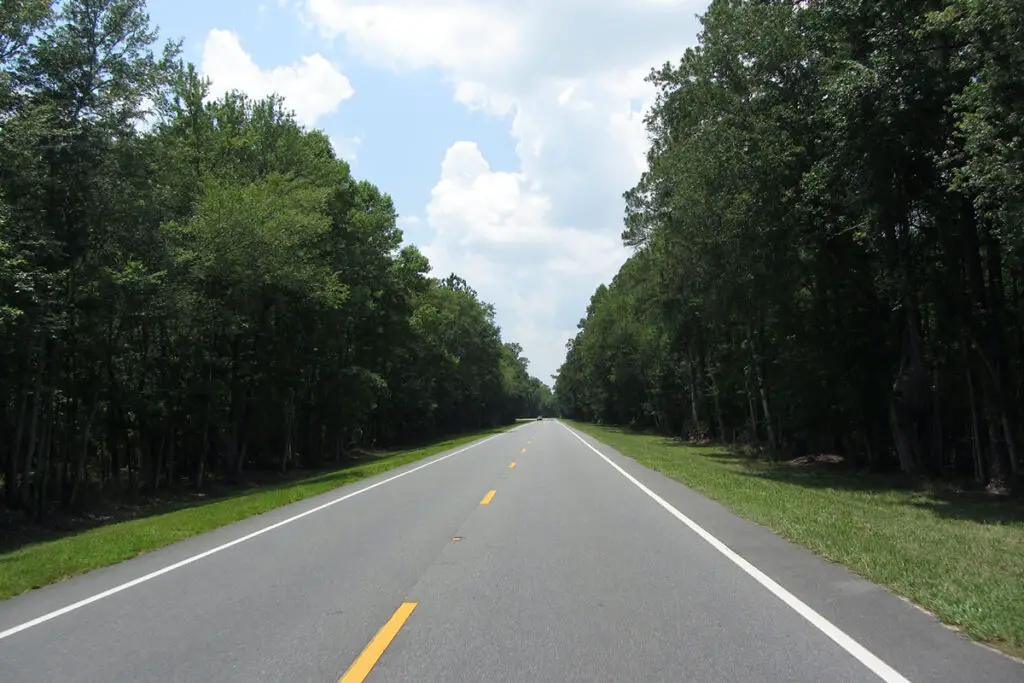 The Ormond Scenic Loop is a must-ride for any motorhead or cycling enthusiast. Beginning and ending in Ormond Beach, FL, the 32-mile loop offers breathtaking views of the Tomoka River, Halifax River, and the Atlantic Ocean.
The ride is generally easy, with flat terrain and a few gentle hills. However, some narrow roads could put riders on edge. Also, expect some twisty roads near the Tomoka River.
Featuring the A1A Scenic and Historic Coastal Byway and Old Dixie Highway, this loop is popular during Daytona Biketoberfest. The trail is also situated just north of Daytona Beach. Its proximity to its namesake is why some online search results may show "Daytona Loop" (From Ormond Beach To Port Orange) instead of Ormond.
During the ride, you will pass by several landmarks and interesting detours, including the Tomoka State Park, Bulow Plantation Ruins Historic State Park, and Ormond Beach Historical Society & Museum.
Towns nearby have amenities like pump stations and restaurants (among others). The loop also offers views of several natural areas and designated parking spots in the above state parks.
While there are no specific age restrictions to enter this pathway, children should be accompanied by an adult and wear appropriate safety gear. All riders should follow the rules of the road and be mindful of other vehicles and pedestrians. And like the rest of the thoroughfares in this guide, Ormond Scenic Loop is open year-round but may have seasonal hours or closures.
9. Scenic SR-13
The scenic SR-13 is a great place for two-wheelers and can be accessed from the north and south. From the north, you can take I-295 toward the SR-13 in Jacksonville. From the other end, take SR-207 off of Hastings, FL. The southbound route begins as a 6-lane highway, eventually dwindling down to a 2-lane country road. Northbound, the route will be more or less the opposite.
The starting point of this motorcycle ride is the convergence of SR-16 and SR-13, where the trail intersects with the 260-mile St. Johns River-to-Sea Loop. From this point to Flagler County, the route stretches approximately 42 miles (67.6 km). The road is mostly paved and flat, with minor rough spots and gentle curves in some sections.
Apart from scenic views of the St. Johns River, the SR-13 is particularly known by motorheads for the natural scenery and historic sites along the 300-mile river.
Points of interest include the town of Green Cove Springs (which features a historic spring and park), the old county courthouse, and the Clay County Historical Society Museum. Another notable landmark is the St. Johns River Power Park, which has a panoramic overlook and picnic area.
When traversing the busy roads from Hastings to Fruit Cove, motorheads should be cautious of other vehicles, especially at intersections and when passing through towns. There are no age restrictions, but having a valid driver's license and following all traffic laws and regulations is a must.
10. County Road 476 (Citrus County 476)
Citrus County Road 476 stretches 30 miles (48.3 km) through the same-name county, beginning at U.S. Highway 41 and ending at State Road 44.
Its mostly flat and straight terrain includes some curves and hills, making it an easy and enjoyable ride. The road's lowest point is approximately 20 feet (6.09 MASL), while its peak elevation is around 80 feet (24.4 MASL). Motorheads can experience magnificent views of the surrounding countryside and rural farmlands as they travel this route.
Several points of interest along Citrus County Road include parks, lakes, natural areas, and small towns and communities. The Withlacoochee State Forest, the Floral City Heritage Hall Museum, and the historic Floral City are some of the area's notable landmarks and attractions.
Plenty of gas stations, restaurants, and lodging options are nearby. However, extra caution is strongly advised when weaving through heavy traffic and narrow, congested roads.
Conclusion — Best Motorcycle Rides in Florida
To recap, let's go over the best motorcycle rides in Florida once again:
Ozello Trail Ride (State Route 494)
Tamiami Trail (U.S. Highway 41)
Florida Keys Scenic Highway
Motorcycle Loop Trailhead in Ocala National Forest
Gulf Coast (Casey Key)
Green Swamp Loop
Sugarloaf Mountain Ride
Ormond Scenic Loop
Scenic SR-13
County Road 476 (Citrus County 476)
The best motorcycle trails in the state celebrate not only the beauty of Floridian surroundings but also the joy of year-round riding.
What's not to love about a long cruise with wonderful detours, beautiful beaches, and a sampling of the local cuisine? So if you've long been contemplating but haven't been to any of these amazing places, now is the time to make that long-coveted trip happen!