Do Motorcycles Have Cruise Control?
Disclosure: We may get commissions for purchases made through links in this post.
Midway through the Industrial Revolution, trailblazer James Watt developed the cruise control system for steam engines. Decades later, the technology was carried over to automobiles and, eventually, two-wheelers. Fast-forward to the current millenia, regular motorbikes have yet to receive this speed-sustaining, comfort-enhancing feature.
This brings many to question, "Do motorcycles have cruise control?" And if yes, "Since when?"
Motorcycles have had cruise control since 2021 (although official announcements about the feature have broken out as early as 2018). The system is currently offered in high-end production models, but there are plans to make it standard in mid-class motorcycles in the near future.
Only a handful of two-wheelers (mostly liter-class bikes) have the control system as a standard inclusion. Most motorcycles have yet to receive such an advantageous (not to mention costly) upgrade.
Nonetheless, it is worth understanding how the feature works. You never really know when you can purchase a cruise-control-equipped thumper or add the option to your existing ride.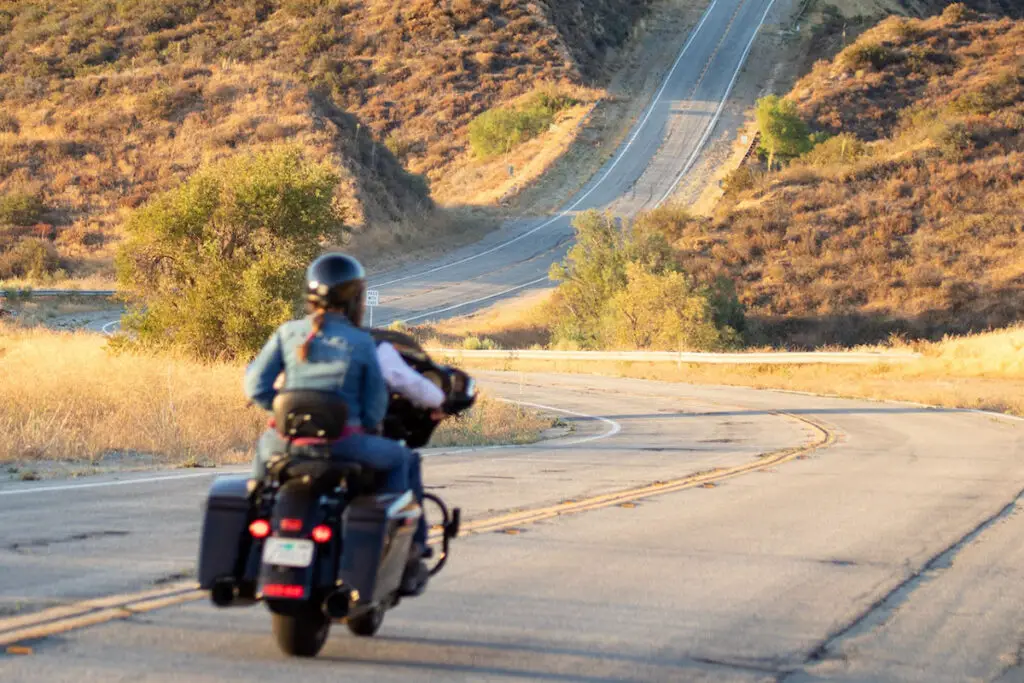 What Is Cruise Control?
According to Collins Dictionary, cruise control is a system that automatically maintains a vehicle's speed by controlling the accelerator.
Kia defines it as a feature that maintains a set speed without having to use the accelerator. Once the speed has been selected, the vehicle will go at that speed.
Both descriptions correctly capture what the feature essentially does for a motorized vehicle. The only difference between a motorcycle and an automobile is that for the former, cruise control is embedded into the hand grips (view on Amazon) as opposed to the accelerator pedal.
Cruise control works best in situations with very few stops and turns for a driver to negotiate. This is why the feature has been implemented not only on high-end cars but also on passenger vehicles and road-going motorcycles.
History
The prototype of cruise control was utilized as early as the late 1700s in steam engines. It did not find its ways into vehicles until the early 1900s — in a Wilson-Pilcher car, where the driver set the chosen speed using a lever on the steering column. But the cruise control we know today was pioneered by the blind Mechanical Engineer Ralph Teetor in 1948.
Amusingly, the said technology was born out of Teetor's frustration from the up-and-down driving speed of his patent attorney and friend, Harry Lindsay, whom he used to ride with.
Thanks to that somewhat annoying experience, Teetor patented his brainchild (originally called the 'Speedostat') in 1950, and American Motors Corporation (AMC) introduced the technology to the market in all its Cadillac offerings in 1965.
Moreover, his electro-mechanical invention spawned modern-day digital technologies like hazard anticipatory breaking, active lane control, and GPS driving directions.
Bringing the 'Speedostat' to Two Wheels
It took another half century before cruise control got applied on motorcycles. The first to adopt the technology was a 1994 Honda VFR750 configured by Tony and Frank Guymer in 1996.
The feature back then still had an automotive design. But thanks to the advent of the cable interface unit or CIU, safely applying conventional cruise controls meant for cars on two-wheelers became possible.
As for adaptive cruise control, Ducati was the first company to announce that a Bosch ACC (Active Cruise Control) system would be standard in some of its high-end models, including the Ducati Multistrada V4.
Similar announcements followed suit from BMW and KTM — with the 2021 BMW R 1250 RT and 2021 KTM 1290 Super Adventure S at the receiving end of the safety feature.
Do Motorcycles Have Cruise Control?
As evidenced by the preceding section, present-day motorcycles do have cruise control (though not all). This system is seldom pre-installed in two-wheelers because it is still seen as a matter of luxury (if not a limiting add-on by experienced motorheads).
It is usually big-displacement touring models set up with this nifty feature from the factory. Entry-level 250ccs and 450cc speedsters have yet to be equipped with cruise control as standard.
Different Types of Motorcycle Cruise Control
Motorcycle Cruise Control Throttle Lock
When cruise control was still exclusive to automobiles, throttle locks were utilized as a workaround on motorcycles. Throttle locks are mechanical devices fitted on the handlebars, allowing a rider to 'lock the throttle' at a desired position.
Functionally, they have no control over engine or road speed. Nor can they adjust the throttle to keep the speed constant. Their only similarity with an authentic cruise control feature is that they allow riders to momentarily rest their hands during long rides.
There are many versions of this mechanism. The most common are mount-to-throttle sleeve locks activated using the thumb. Rubber grip throttle locks employing the forefinger and thumb come next.
Last but not least are mount-to-bar throttle locks featuring a compact design that takes minimal space on the handlebars.
Cruise Assist Device
Not to be confused with a throttle lock, a cruise assist device (view on Amazon) is an easy-to-install paddle that enables riders to maintain throttle control of their motorcycle.
This aim is achieved by supporting a relaxed hand and reducing wrist fatigue while allowing smoother throttle operation. More specifically, the device permits resting one's palm on the attachment — resulting in a steady hold of the throttle.
Conventional Cruise Control
The simplest form of a full-on cruise control feature, regular cruise control can maintain the engine or road speed set by the user. However, it cannot increase or decrease the said speed since it does not come with any sensor.
Older versions come in the form of a twisting kit affixed at different points to set a certain speed (most models still have this layout). Meanwhile, newer ones work electronically and come in the shape of a handlebar button.
Electronic Cruise Control
An ECC or Electronic Cruise Control works the same way as a conventional type but is a more intelligent system. Its main difference from the latter is that it has a control and computer unit connected to the motorcycle's fuel injection, throttle system, and speedometer.
ECC reads the speed inputted by the driver, matches it with the speedometer, then "manages the fuel supply to the engine to maintain the set speed."
Motorcycles with Adaptive Cruise Control
Adaptive cruise control (or ACC) s a more advanced technology that shares similar functions with an ECC but has radar sensors to boot.
The added radar technology helps detect vehicles in front of the motorcycle and judges the distance it needs to maintain between the thumper and the said vehicle. Additionally, the radar sensors catch data should the vehicle ahead accelerate or decelerate (hence, the term 'adaptive').
Currently, more than five versions of this mechanism are in widespread use in motorcycles. Aftermarket companies like Atlas Throttle Lock (view on Amazon), Omni Cruise, and Kaoko have innovative takes on cruise control kits that motorheads can choose from based on budget and preferences.
These options include brake-away motorcycle cruise control, front brake lever, bar-end weight, throttle grip, throttle-open system, throttle forward, throttle tube, throttle position, and throttle housing systems.
Cruise Control for Motorcycles — Benefits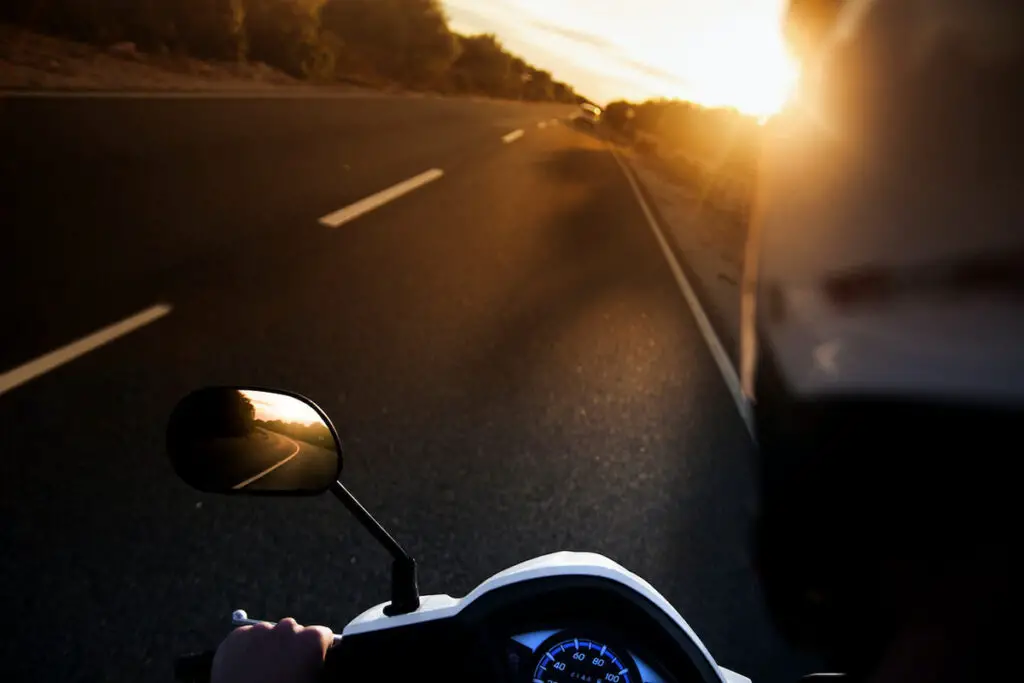 Motorcycle cruise control is more than just a speed-sustaining feature. Below are some other advantages that motorheads get to enjoy by having the mechanism included in their stock setup or added as an option:
Boost Fuel Economy
Regardless if your motorcycle is petrol or diesel-fed, having cruise control helps improve its fuel efficiency by an average of 7—14% (values may vary depending on the capacity and size of your engine).
This is because cruise control maintains a continuous, steady speed, which translates into minimal fluctuations in acceleration and deceleration.
Reduce Fatigue
Touring motorcycle owners can attest to this — excitement and energy levels are bound to wear off the longer a ride gets. This is especially true for touring enthusiasts who drive for hours on end.
Thankfully, those highway journeys will no longer be as painful as they used to be. With cruise control, you can save your legs from dreadful cramps alongside reducing cognitive and wrist fatigue.
Avoid Speeding
If you typically traverse freeways known to have a lot of police and highway patrolmen, cruise control helps ensure you and your motorbike do not go over the speed limit.
This may not be necessary for some riders. But for those who tend to inadvertently increase their speed over the course of a main thoroughfare or highway, the speed-sustaining feature is extremely helpful.
Reduce Engine Wear
Alongside fatigue, another advantage of cruise control is how it mitigates engine wear. Understandably, the riding community is divided in this sentiment.
But when used correctly, cruise control is anything but bad for your power mill. In fact, it reduces transmission wear and tear since it cuts back on manual acceleration at extended periods (while the feature is in effect).
Improve On-Road Safety
Aside from rider comfort, cruise control assures more acceptable safety levels against earlier motorcycle models. Driver error leading to accidents is one of the things that it helps prevent since the motorcycle is set to a specific speed that does not exceed highway or interstate limits.
Adaptive cruise control, in particular, continuously monitors engine RPMs and speed signals. These two facets are then adjusted according to changes in terrain, lending to improved bump absorption on uneven surfaces and speed reduction on slick surfaces when needed.
Reduced rider fatigue is also a big plus in keeping riders safe on paved roads. Without horrendous leg and wrist cramps, motorheads can focus on traffic and controlling their two-wheelers.
Should the need arise for their reflexes to work their magic in steering them away from trouble, they would be able to do so.
How Does Cruise Control Work on a Motorcycle?
As explained in previous sections, cruise control works to maintain your motorbike speed sans driver input.
In older mechanical setups, the system is activated via a cable connected to an actuator. But in newer thumpers with throttle-by-wire layouts, the feature comes to life electronically.
This is where ECC and ACC systems are based, with either type facilitating deceleration or acceleration depending on the target speed set by the driver.
Between conventional and adaptive cruise controls, the former enables one to set a specific speed that remains constant until the mechanism is deactivated.
With the latter, however, the system does more than sustain speed — motorcycle speed and (following) distance are automatically adjusted according to traffic ahead via millimeter-wave radar with a 100-meter range.
Cruise control also adjusts contingent on a motorcycle's lean angle (albeit with certain limitations). The Ducati ACC system, for instance, can continue to function up to a lean angle of 50°.
This complex condition is made rather simple — thanks to the mechanism's intuitive nature.
Key Pointers Before Engaging Cruise Control
Evaluate driving conditions on your intended route. Factors to consider should include on-road obstacles and weather conditions.
Build your speed to at least 30 mph (48 km/h) without constant stopping before activating the feature.
Once you have reached your desired motorcycle speed, switch on the cruise control system. After setting the feature, you can rest your hand from doing a death grip for a short while.
If using your thumper's cruise control system for the first time, make sure to refer to your handbook and locate the feature buttons (or levers). This way, you will not fumble around aimlessly when the need for cruise control arises.
Do not use cruise control when negotiating steep inclines or descents. The reason for this is that you may end up slower or faster than the rest of the on-road traffic — a potential cause for unforeseen accidents. In tricky situations like these, you are better off manually controlling the speed of your motorcycle.
Top Motorcycle Brands with Cruise Control
Given the origin of this groundbreaking feature, it is expected of beginner riders to wonder, "Are there motorcycles with cruise control?" As a matter of fact, there are — and they are top-of-the-line offerings from their respective manufacturers (as seen in the non-exhaustive table below):
| OEM | Model |
| --- | --- |
| Harley-Davidson | Harley Davidson Road Glide 1999 Harley Davidson Road King 2021 Harley Davidson Sportster S |
| BMW* | BMW K 1600 GTL 2013+ BMW R1200 GS BMW S1000XR |
| Ducati* | 2022 Ducati Multistrada V4 Ducati 959 Panigale 2017+ Ducati XDiavel |
| KTM | 2021+ KTM 1290 Super Adventure S 2022 KTM 890 Adventure R |
| Yamaha | Yamaha MT-09 Tracer 9 GT+ 2013+ Yamaha FJR1300 2016+ Yamaha FZ-10/MT-10 |
| Honda | 2021+Honda Rebel 1100 Honda Goldwing Honda ST1300 |
| Kawasaki* | 2021 Kawasaki ZX-10R 2022 Kawasaki Ninja H2 SX SE Kawasaki Ninja 1000SX |
| Suzuki | Suzuki Bandit 1250S 2022+ Suzuki GSX1300R Hayabusa |
* These manufacturers all use a Bosch system classified as ARAS or radar-based assistance systems
Conclusion — Do Motorcycles Have Cruise Control?
In summary, motorcycles do have cruise control. However, the feature's utilization is not as prevalent with two-wheelers as in cars. There is good reason behind this disparity, and that is because the dynamics of motorcycle riding are way different than those in vehicles.
Among the aspects of motorcycle cruise control still being perfected is how radar technology calculates following distance for two-wheelers riding in tightly-packed, staggered formations. Another facet is how fast a bike resumes its speed after a complete halt.
Ultimately, motorcycle cruise controls are speed aids and not emergency braking systems. As much fun as they are to have, it is ill-advised to completely rely on them.