Kawasaki Ninja ZX-7R (Specs and Review)
Disclosure: We may get commissions for purchases made through links in this post.
While the riding community is all about inclusivity, certain motorcycles simply cannot cater to all skill levels. These two-wheelers exude a somewhat daunting vibe, are hefty and aggressive, and demand riders with pretty much the same characteristics. Most modern liter-class behemoths fall under this category, as well as the likes of the Kawasaki ZX-7R.
Produced from 1989 to 2003, the Kawasaki ZX-7R is a sport-oriented motorcycle that succeeded the venerable GPZ900R. The 748cc Ninja featured an aggressive, full-faired aesthetic, a broad, usable powerband, an inline-4 engine, and a 167-mph top speed rating.
Despite its production ending two decades ago, the ZX-7R is recently gaining popularity. It may be due to being part of Kawasaki's best-selling lineup for several years. Or it could be because of the sportbike's impressive track record — both on the street and in competitive racing.
Whatever the case, it is best to stick around and learn more about this exhilarating ride in today's article.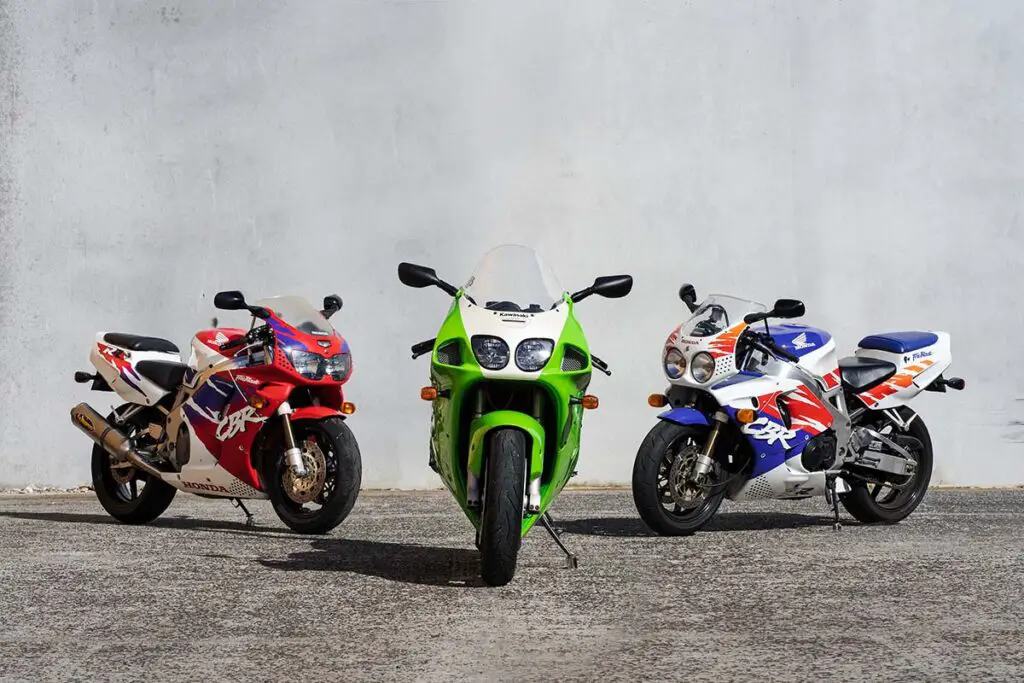 Kawasaki's "750 Ninja"
The Kawasaki Ninja ZX-7R is the road-going version of the award-winning homologation special Kawasaki ZX-7RR. The motorcycle's production spanned from 1989 to 2003, although the ZX7R specifically covered only the last eight years of this run.
Initially, the designation of the two-wheeler was ZXR-750R (except in the U.S.) — it was eventually dropped in all markets and changed to the ZX-7R beginning in 1996.
First unveiled in September 1989 at the Cologne Motorcycle Show in Germany, the ZX7R was designed as a successor to the GPZ900R (hailed by Cycle World as "Superbike of the Year" in 1984). Given its illustrious ancestry, motorheads worldwide welcomed the two-wheeler with much enthusiasm.
Except for some minor 'asks,' the Kawasaki ZX7R did not disappoint. Like its predecessor, the high-performance sportbike had an inline-4 power mill, aerodynamic styling, full-fairing bodywork, and highly-acclaimed on-road performance and handling. It also had a similar suspension setup and a displacement not too far from the GPZ900R's 908cc engine.
2003 Kawasaki ZX7R Specs & Features
Engine
The Kawasaki Ninja ZX7R is brought to life by an electric starter and a 16-valve, 4-stroke DOHC engine with a piston displacement of 748 cm³ (45.6 in³). The bore-stroke ratio is 73 x 44.7 mm (2.874 x 1.761 inches), while the compression ratio is 11.5:1.
Four CVKD38 carburetors mated to a liquid cooling system handle the air-fuel mixture. But depending on the trim and market, the power mill may be fitted with four FVKD41 Keihin carburetors.
All in all, this engine configuration lends to the following performance figures:
| Description | |
| --- | --- |
| Horsepower* | 134.6 bhp (99 kW) @ 11,800 RPM; 104—109 bhp (77.5—81.3 kW) @ 11,500 RPM |
| Maximum Torque* | 81 Nm (8.2 kgf-m, 59.7 lb-ft) @ 9,800 RPM; 71—76.5 Nm (7.2—7.8 kgf-m, 52.4—56.4 lb-ft) @ 9,000 RPM |
| Top Speed* | 167.8 mph (270 km/h); 150—163 mph (241—262 km/h) |
| Fuel Economy (average) | 40—44 mpg (6.4—7.1 L/100 km, 17—18.7 kmpl) |
| Fuel Tank Range | approximately 190—209 miles, 305.8—336.4 km |
 * Lower-limit values provided by Wikipedia; upper-limit values courtesy of Mbike.com
Fuel & Lubrication
The tank capacity is 18 L/4.8 USgal (inclusive of 2.2 L/0.58 USgal of reserve) of unleaded gasoline. Recommended Octane rating is at least PON 86/RON 90.
Lube-wise, the Ninja ZX7R has a forced lubrication (wet-sump) system with the following oil requirements:
3.6 L (3.8 US qt) — after disassembly
2.6 L (2.7 US qt) — coolant capacity
OEM-prescribed engine oil is SAE 10W-40 4-stroke engine oil with a minimum API certification of SJ meeting JASO T903 MA standards. Other viscosity grades specified in the owner's manual are permissible following changes in ambient temperatures, altitude, and riding conditions.
Drivetrain
A 6-speed constant-mesh transmission and a clutch assembly (wet, multi-disc) deliver power to the rear wheel. A #530 O-ring chain handles wheelspin and may be replaced with a same-spec chain like a D.I.D. 530ZVMXG-160L Super Street X-Ring Chain (view on Amazon). As for gearing, here are the stock gear ratios for the 2003 Ninja ZX-7R:
| Description | Other Markets | California Model |
| --- | --- | --- |
| Primary Reduction Ratio | 1.754 (93/53) | 1.754 (93/53) |
| Transmission Gear Ratio — 1st | 2.857 (40/14) | 2.375 (38/16) |
| Transmission Gear Ratio — 2nd | 2.000 (36/18) | 1.894 (36/19) |
| Transmission Gear Ratio — 3rd | 1.619 (34/21) | 1.619 (34/21) |
| Transmission Gear Ratio — 4th | 1.391 (32/23) | 1.409 (31/22) |
| Transmission Gear Ratio — 5th | 1.222 (33/27) | 1.291 (31/24) |
| Transmission Gear Ratio — 6th | 1.103 (32/29) | 1.200 (30/25) |
| Final Reduction Ratio | 2.687 (43/16) | 2.625 (42/16) |
| Overall Drive Ratio (Top Gear) | 5.203 | 5.527 |
Ignition & Electricals
The sportbike's ignition system is a battery and coil (transistorized ignition) type with a timing of 10° BTDC @ 1,100 RPM (initial "F" mark) or 45° BTDC @ 5,000 RPM (electronically advanced).
Ignition timing for California models is just lower by 5° BTDC in both full advance and initial "F" mark. An NGK CR9E or Nippon Denso U27ESR-N spark plug with a 0.7 – 0.8 mm (0.028 – 0.032 inch) electrode gap is responsible for spark ignition. For hot-weather riding, use an NGK CR8E or ND U24ESR-N instead.
To power electronic accessories and lighting, production models use a maintenance-free YTX12-BS battery (view on Amazon). A triple-phase A.C. generator with a rated output of 336 W @ 5,000 RPM serves as its charging system.
12V 45/45 W high-low headlight beams, an 8 W taillight, and a 27 W brake light provide the motorcycle with superior and even light distribution.
Tires & Brakes
Stock tires consist of tubeless radials measuring 120/70ZR17 (58W) at the front and 190/50ZR17 (73W) at the back. Depending on the trim and market, the tire brand may be any of the following:
Dunlop D204
Bridgestone Battlax BT-50 — can be replaced with the Hypersport S22 variant (view on Amazon)
Pirelli MTR
Metzeler Mezi
Michelin Hi-Sport
Dunlop Sportmax D204 Type 1 — can be replaced with the Q3 Plus variant (view on Amazon)
Recommended cold-tire pressure is 230—250 kPa (2.3—2.5 kgf/cm², 33—36 psi) for the front tire and 250—290 kPa (2.5—2.9 kgf/cm², 36—41 psi) for the rear These values can be adjusted based on payload, terrain, and riding conditions.
Dual semi-floating 320-mm front discs with dual 4-piston calipers and a single 230-mm rear disc with a single-piston caliper complete the bike's tire-and-wheel assembly and provide it with strong halting power.
Suspension
Enclosed in a lightweight, twin-spar aluminum frame (25° caster angle, 99 mm/3.9 inches trail) are 43-mm conventional front telescopic forks and a rear UNI-TRAK® linkage system with preload-adjustable gas-charged shocks. Each unit offers 120 mm/4.7 inches and 135 mm/5.3 inches of front and rear wheel travel.
The wheelbase is 1,435 mm/56.5 inches, paired with 105-mm/4.13-inch ground clearance. The turning radius is unspecified in the manual but is relatively tight and agile.
Dimensions
The overall dimensions of the ZX 7R are 2,090 x 740 x 1,130 mm (82.3 x 29.1 x 44.5 inches – L x W x H). Dry weight ranges from 200–203 Kg (441–448 lbs.), with California releases being 1 Kg/2.2 lbs. heavier.
Seat height is an estimated 790 mm (31.1 inches) – comfortably accommodating beginner to advanced riders. Handlebars, on the other hand, are slightly narrower than the width of the sportbike at 720 mm (28.3 inches).
For a more aggressive riding position, install clip-on handlebars like Qiilu Motorcycle Handlebars (view on Amazon). When doing the swap, check if the new bars require adjustments to other components like cables and brake lines.
Exterior
The Kawasaki ZX7R is offered in two color options — a bright, almost fluorescent Pearl Blazing Orange and a sophisticated and more subdued Metallic Phantom Silver. Both hues complement the bike's sharp lines, aggressive bodywork, and classic supersport design.
The pointed front fairing is sleek and blends seamlessly into the fuel tank. Meanwhile, a sharp tail section houses the turn signals and LED tail light.
How Much Is a ZX7R?
The original MSRP for this sportbike ranged from $9,499 to $10,099 (or approximately $16,566 to $18,273 if sold brand-new today and with inflation factored in). The 2001 model was the most expensive of the lot. But shortly after that year, the bike's list price was reduced to match its MSRP in 2000.
Auction listings, on the other hand, are worth between $9,350 and $69,978. Pre-1996 models in near-mint condition tend to fall on the higher end. These pricier units make for a good investment and collectible. Otherwise,' 96—'03 versions (which keep their value well) should suffice as a daily driver or occasional adventurer.
Recommended Mods
Although the Ninja ZX-7R is tuned for sport-oriented riding out of the crate, savvy motorheads opt to tweak the two-wheeler to correct some of its observed shortcomings. Secondhand ZX7Rs are often subjected to these adjustments due to variables such as age, abuse, or lack of upkeep:
Fuel injection conversion kit to improve fuel efficiency and throttle response
Quickshifter for seamless upshifts without clutching
Slipper clutch for enhanced control during downshifts
LED lighting for modernization and improved visibility
Adjustable rear sets to improve rider ergonomics and control
High-performance exhaust system for increased power and better sound
Marchesini rims to shed weight off the rear wheel (which weighs 36 lbs. stock!)
Brembo braking system (including master cylinder) for improved stopping power and control
FP ignition advancer and jet kit (if stock gearing has been tweaked)
Inverted forks for improved handling and suspension performance (for older models)
'92 swingarm and '96 bearing sleeve (with a custom spacer) to replace the '96 (and up) swingarm
3rd party rear shock for improved suspension performance and adjustability
Aftermarket support for stock parts like exhaust pipes, wheels, and race fairings (among other things)
A custom paint job or graphics kit to personalize the motorcycle's appearance
About Kawasaki
Kawasaki Heavy Industries Ltd. (KHI) is a well-known manufacturer of industrial engines, all-terrain vehicles, and motorcycles like the Kawasaki Ninja ZX7R.
Founded in 1896 in Tokyo as a shipyard, KHI shifted to motorcycle production and has since evolved into a prominent player in the automotive industry.
Kawasaki remains a leader in high-performance products and services, showcasing over a century of competence and proficiency by providing heavy equipment and other offerings.
Conclusion — Kawasaki Ninja ZX7R Review
Riding a Kawasaki ZX7R is an exhilarating experience that can only be described as a harmonious blend of precision, agility, and power. From its aerodynamic bodywork and responsive handling to its powerful engine and impressive suspension system, this machine offers nothing but a true sense of speed and control.
Overall, the Kawasaki Ninja ZX-7R delivers on both style and substance, making it a highly-coveted mid-size two-wheeler for serious gearheads and off-roading enthusiasts alike.