Honda CG125 Motorcycle (Specs and Review)
Disclosure: We may get commissions for purchases made through links in this post.
For over four decades, the Honda CG125 has been a classic and iconic motorcycle known for its simplicity and durability. Originally intended for developing countries, this motorcycle has grown increasingly popular in recent years for its cost-effectiveness, fuel efficiency, and ease of maintenance. This article offers an in-depth look into this gem of a bike, exploring its rich history and timeless design.
Introduced in 1976, the Honda CG125 is a standard/naked motorcycle hailing from the firm's extensive line of commuter bikes. Featuring an air-cooled OHV engine, 124cc displacement, and 11 bhp output, this thumper is easy on the learner yet considered quite peppy and swift for its class.
Rapid acceleration, sure-footed handling, and an overall forgiving nature are but a few of the many endearing qualities of this classic motorcycle. But if you want to know how much of a charmer it is, stick around and read up on this old-school all-rounder.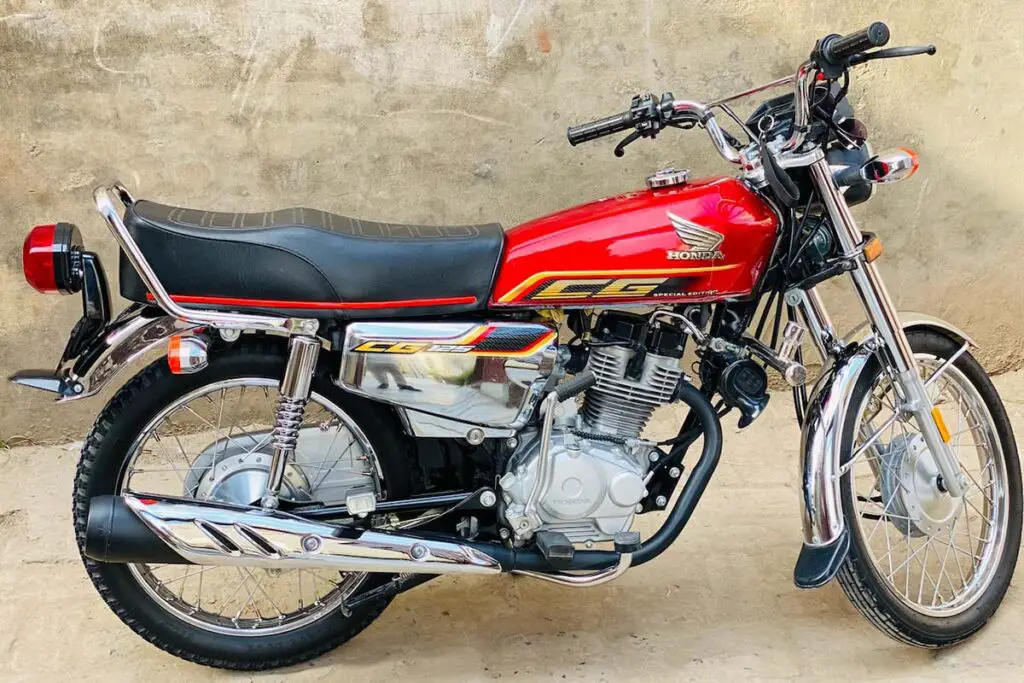 About the Honda CG 125
The Honda CG125 (or Honda CG) is a vintage commuter adopted from the Honda CB series and targeted at developing countries. Released in Japan in 1976, this classic two-wheeler eventually found its way to Asian, South American, and European markets in the early '90s. Honda produced the original version of this thumper until 2008, although it is still in circulation in some markets outside of Europe and the U.S.
Mechanically, the CG125s were like the CB125 (except for their top ends). Rather than an overhead cam, the former utilized overhead valves — to address, in part, the problems associated with overworn camshaft bearings. The other reason was that the switch to an OHV layout made for minimal servicing, as the configuration was augmented by a washable foam air filter, and fully enclosed chain, and pushrods.
Nuances and Improvements
1985: Electricals were upgraded from 6V to 12V in the UK, resulting in more efficient power delivery and better overall reliability.
1989: Japan replaced the point ignition system with a more advanced CDI system. The same upgrade was rolled out to other countries. By 1993, all CG125 production models were equipped with CDI ignition systems.
2001: Electric start was added to the label, completely replacing the original kick-start mechanism by 2004 (in the European market, at least). The new starting system gave riders an easier and more convenient way to power the bike.
Design and functionality
2004: The CG 125 saw major changes to its design and functionality, which included the following:
A more effective disc brake replacing the front drum brake
Handlebars raised by 16 mm.
New instrument cluster featuring a fuel gauge, providing motorheads with more accurate and convenient information about fuel levels
Tank capacity increased from 12 L to 13.5 L, affording the bike a slightly longer range between visits to the pump station.
Neimann-style steering head lock and new, up-to-date lines became standard.
Pillion footrests were removed from the rear swingarm and mounted on the bike's frame.
Styling updates that gave the two-wheeler a more contemporary and sleek appearance
Dropping the fully-enclosed chain in favor of a lighter and more aesthetically pleasing chain guard
Provisions for an optional sidestand made available
2009: The power mill for units released in Brazil reverted back to the old overhead cam layout, with a smaller bore but longer stroke (from 56.5 x 49.5 mm to 52.4 x 57.8 mm).
CG125 CDi versions in the Chinese market sport an electric start, a 5-speed gearbox, and fuel injection.
The Wuyang version of the CG125, in particular, had a 9.2:1 compression ratio, 10 bhp (7.3 kW) @ 8,000 RPM, 9.5 Nm of torque @ 6,500 RPM, and an unrivaled fuel mileage of 130.7 mpg (1.8 L/100 km).
1976 Honda CG125 Specs & Features
Engine
The air-cooled, 4-stroke Honda CG125 power mill is transversely mounted with an OHV layout and hemispherical combustion chamber. Engine displacement is 124 cm3 (7.56 in3), the compression ratio is 9.0:1, and the bore-stroke ratio is 56.5 x 49.5 mm (2.224 x 1.949 inches).
A Keihin PB-type carburetor handles the air-fuel mixture with a piston-valve design alongside a traditional air filter element and single exhaust pipe.
| Description | |
| --- | --- |
| Horsepower | 11—12 bhp (8.2—8.9 kW) @ 9,000 RPM, depending on market 11.15 bhp (8.2 kW) @ 8,500 RPM (Mbike.com) |
| Maximum Torque | 9.8 Nm (kgf-m, 7.2 lb-ft) at 7,000 RPM (Motorcycle Reviews) |
| Top Speed | 57.8—65 mph (93—105 km/h) |
| Fuel Economy (average) | 70.6—95 mpg (2.48—3.33 L/100 km, 30—40.4 kmpl), stock; 81.2—120 mpg (1.96—2.90 L/100 km, 34.5—51 kmpl), modded; 130.7 mpg (1.80 L/100 km, 55.6 kmpl), Wuyang version |
| Fuel Tank Range | approximately 186—250 miles, 299—402 km |
Fuel & Lubrication
The tank capacity for the bike is 10 L/2.64 USgal (inclusive of 2L/0.53 USgal reserve) of premium unleaded gasoline or petrol with a minimum Octane rating of PON 91.
Lubrication-wise, the Honda CG125 has a wet-sump system consuming 1 L (0.26 USgal) of SAE 10W-40 4-stroke motor oil (with an API grade of at least SJ meeting JASO T903 MA standards). Other viscosity grades specified in the manual are permissible following ambient temperature and changes in altitude and riding conditions.
Drivetrain
A 5-speed constant-mesh transmission and a wet, multi-plate clutch assembly deliver power to the rear wheel. A #428 chain like DID 428VX Professional O-Ring Chain – 120 Links (view on Amazon) handles wheelspin and may be replaced with a corresponding chain size. Front-rear sprocket ratio is 15/34T, translating to a 2.267:1 final reduction ratio.
For reference, see the stock gear ratios below:
| Description | |
| --- | --- |
| Primary Reduction Ratio | 4.055:1 (18/73T) |
| Transmission Gear Ratio — 1st | 2.769:1 (13/36T) |
| Transmission Gear Ratio — 2nd | 1.882:1 (17/32T) |
| Transmission Gear Ratio — 3rd | 1.450:1 (20/29T) |
| Transmission Gear Ratio — 4th | 1.174:1 (23/27T) |
| Transmission Gear Ratio — 5th | 1.000:1 (25/25T) |
Ignition & Electricals
The motorcycle came to life with a battery-powered point ignition and kick-start mechanism. Ignition had a timing of 20° BTDC @ 1,800 RPM (initial "F" mark) and 35° BTDC @ 3,000 RPM (full advance). Its electrical system was wired to 6V until 1985 when the shift to 12V was first implemented in European releases.
Its charging system was a flywheel generator with a rated output of 81 W @ 6,000 RPM, while a Yuasa 6N6-3B battery powered lighting and electronic accessories.
An NGK D8ES-L7D8EA or Nippon Denso X24ES/X24ES-U spark plug (with an electrode gap of 0.6—0.7 mm or 0.024—0.028 inches) is responsible for spark ignition. If worn or fouled, it can be replaced with same-spec Iridium variants (view on Amazon).
Tires & Brakes
Factory knobbies consist of 2.50-18 4-ply and 3.00-17 4-ply rubber mounted on 1.40-18 and 1.60-17 rims. Recommended cold-tire pressure is 25 psi (1.75 kgf/cm2) at the front and 28 psi (2.00 kgf/cm2) at the back — although the rear pressure will have to be increased to 40 psi (2.80 kgf/cm2) when riding with a passenger or max load.
In case of wear or puncture, stock tires can be swapped out for same-size radials. As for brakes, the original CG 125 models used leading, internal-expanding drums (later changed to hydraulic discs in some markets) to provide halting power.
Suspension
Enclosed in a tubular diamond frame with a monocoque spine are 30-mm front telescopic forks and a rear swingarm. These short-travel suspension units provide wheel travel of 108 mm (4.25 inches) and 70 mm (2.76 inches).
The wheelbase measures 1,200 mm (47.2 inches), coupled with a ground clearance of 135 mm (5.3 inches). A 1.9-m turning circle renders the CG125 unequaled in congested situations since it can turn on a dime in its own length.
Dimensions & Capacities
Overall dimensions are 1,840 x 735 x 1,025 mm (72.4 x 28.9 x 40.4 inches – L x W x H). The seat height is 755 mm (29.7 inches) and can comfortably accommodate petite to medium-built riders.
Dry weight is 95 Kg (209.4 lbs.), while curb weight is an estimated 106 Kg (233.7 lbs., unladen). GVWR is approximately 280 Kg (617 lbs.), inclusive of curb weight, accessories, and a payload not exceeding 150 Kg (330 lbs.).
Exterior
A vintage-y commuter bike on the surface, the CG125 was made available in a multitude of colors during its incoming year, as follows:
Candy Sapphire Blue
Candy Ruby Red
Candy Garnet Brown
Candy Gold
Light Ruby Red
Tahitian Red
Special Silver Metallic
Wing Blue Metallic
Parakeet Yellow
Light Green Metallic
It also featured a teardrop-shaped fuel tank, angular side covers, and a round headlight. However, the range of colors listed above did not apply to all regions. Some markets offered the two-wheeler in only one or two color schemes, while others had special graphics and decals.
Other notable styling cues included a chrome fender like Suuonee Motorcycle Front Fender (view on Amazon), a rectangular taillight, and a low-slung exhaust. The instrument panel was uncluttered and featured a speedometer, odometer, and indicator lights.
Overall, the Honda CG125 design was pragmatic and functional, with an appeal that transcended rider skill and time.
How Much Is a Honda CG125?
The original list price of the Honda CG 125 was estimated at ¥183,000 ($675) when it was first launched in Japan. MSRP slightly went up to ¥198,000 two years after.
Incremental rate increases in listing and resale prices have been observed since — with the final-year model valued at around $1,800 to $2,000 in some markets, including parts of South America, Asia, and Africa.
Honda launched four CG125 trims throughout the bike's production run. Here are the approximate list prices per trim, depending on the market and region they were sold:
1983—1986 Honda CG125ES: around ¥190,000 to ¥210,000 (or $1,100 to $1,550)
1993 Honda CG125E: around ¥170,000 (or $1,350)
2001 Honda CG125E: around $1,600 to $1,800
1999—2003 Honda CG125M1/M2: around $1,600 to $1,900
2004—2008 Honda CG125C: around $1,800 to $2,000 (starting at €3,068 in the UK)
As for releases outside Japan and North America, the original list price ranged between £550 in the UK and NZ$1,300 in New Zealand. Nowadays, you can purchase secondhand CG125s for an average of $870—$1,950, with older vintage-y or tech-loaded models costing more.
Pricier models have upgraded aesthetics, lower accumulated mileage, an electric starter, or a more comprehensive instrument panel. In contrast, units sold for cheap typically have minor scuffs and blemishes on the fenders and plastics.
Honda CG125 Lowdowns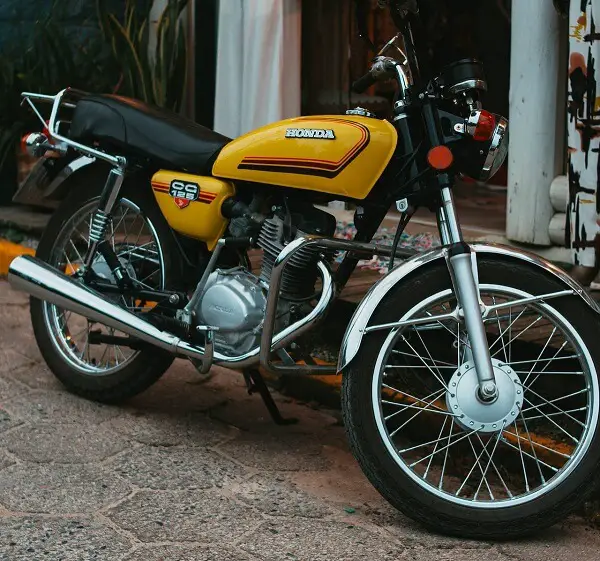 Despite being widely recognized as "the ultimate commuter bike," the Honda CG 125 is not impervious to flaws. Here are some highlights and drawbacks of the two-wheeler you need to be aware of — more so if you are seriously considering this daily commuter as your next purchase:
Pros
Despite its small displacement, the Honda CG125 is a robust machine capable of withstanding daily use and adverse conditions. The bike also offers adequate braking performance for its class.
It also has a classic, timeless design and aesthetic, rendering the motorcycle popular and relevant for decades beyond its final run.
The bike is fuel-efficient and capable of providing a gas mileage ranging from 70.6—120 mpg (1.96—3.33 L/100 km, 30—51 kmpl), which makes it an affordable option for commuters.
Maintenance is easy, requiring only diligent, on-time oil changes and other periodic maintenance needs involving simple parts and accessible components.
It is cost-effective and beginner-friendly, making it the perfect choice for learner riders.
Comfortable, agile, and lightweight, the CG 125 is easy to handle and maneuver and suitable for long journeys and daily commutes. Its diminutive size makes it simple to steer through city traffic, making it a practical choice for urban driving.
In stock form, the CG 125 does not come with a rear luggage rack or carrier. However, they are optional and can be added later on (provided the maximum load limit of the bike is not breached).
Older but near-mint CG125 models are potentially pricier compared to recent-year trims. Nonetheless, all production models keep their resale value well due to the label's reliability and popularity.
The original version of the CG 125 arguably had more durable parts than later-year iterations.
Its simplicity makes it the ideal base bike for custom builds or small-displacement cafe racers.
Cons
Unlike the Benly, the Honda CG125 is not a powerful bike and only spews 11 bhp (8.2 kW) @ 9,000 RPM. While the bike is still capable of gentle pillion riding, its low power output limits its use for highway cruising or off-road adventures.
Except for the Wuyang and Sundiro versions of the Honda CG125 in China, all other existing models are not modernized. Only the WY125-19 and SDH125-7E designations have these three components in each unit — a redesigned fuel-injected power mill, electric start, and 5-speed transmission.
The thumper can be loud, with noise levels around 70—75 dB at idle and up to 85—90 dB at higher RPMs. This can be a nuisance for those living in quiet neighborhoods, as residential areas in the U.S. typically hang around 45—55 dBA per EPA standards.
Cold-starting on models with the OHV layout is tricky and only made worse with gloves on, as it feels awkward to hook your finger over the top and round the back of the choke lever (unless you have done it so many times the exact position of the choke lever is already engrained in your head).
The Honda CG125's limited suspension and top speed will fall short of expectations for riders who prefer more aggressive and faster two-wheelers. Some owners have reportedly blown a fork seal under heavy braking or when riding with a passenger.
Being an older two-wheeler, the CG125 does not have modern features such as ABS or fuel injection. In some markets, the bike does not even have a rev counter or tachometer, which may be a dealbreaker for some riders.
The bike may have limited availability outside of South Asia and Southeast Asia. This can make it difficult for riders and enthusiasts to access the CG125, even if procuring it through the used-bike market.
Although lightweight and agile, doing wheelies on the bike is not advisable since the cush drive bushings in the rear wheel are quite problematic to replace.
Given its carbureted power mill, the bike would require a bit of choke when cold-starting.
A small fuel tank means more frequent refueling on longer trips.
About Honda
Honda is a Japanese corporation that produces motorcycles, automobiles, and power equipment. It also manufactures generators, lawnmowers, and outboard motors while focusing on research and development of hybrid and electric powertrains.
Founded in 1948, it became the largest motorcycle manufacturer in the world in the 1960s. Today, Honda is highly-regarded as a global powerhouse known for its high-quality, reliable vehicles and timeless motorcycles like the Honda CG125.
Conclusion — Honda CG 125 Review
All in all, the Honda CG125 is a dependable workhorse widely used across the globe. From North America to Asia (and everywhere in between), this thumper has proven its reliability and toughness.
It can perform its duties even in the harshest conditions, running smoothly and consistently and thriving on sparse upkeep for years on end. So if you are looking for a reliable sweet little ride, look no further than the CG125!