Best Motorcycle Rides in Texas: Guide
Disclosure: We may get commissions for purchases made through links in this post.
The Lone Star State offers motorcycle riders a diverse and exceptional road trip experience. With its vast territory spanning over 270,000 mi2, altitudes reaching 8,749 feet (2,667 MASL), and 624 miles of the Gulf of Mexico shoreline, Texas has it all. From rugged mountains to breathtaking landscapes, let's discover the best motorcycle rides in Texas in today's article.
The best rides include Twisted Sisters, the Devil's Backbone, State Park Road 4, and the Gruene-Fredericksburg-Bandera Loop. More roadways can be found in Texas Hill Country, Piney Woods, Panhandle Plains, Gul Coast, and the Big Bend Area.
Many motorcycle-accessible trails are waiting to be explored in the Lone Star State. But for now, here are 14 of the best motorcycle rides in Texas:
Twisted Sisters & Three Sisters
Big Bend Scenic Loop
River Road
Highway 149 (a.k.a. FM149)
State Park Road 4
Devil's Backbone
Marble Falls to Tom Hughes Park
Texas 39 (a.k.a. Llano River Loop)
Willow City Loop
Route 87 (a.k.a. West Highway 87)
Caprock Canyons Loop
Gulf Coast Cruise
Davis Mountains Scenic Loop
Gruene-Fredericksburg-Bandera Loop
Most scenic byways in Texas almost likely conclude with wildflower-adorned landscapes and spectacular views of the Guadalupe River or the Rio Grande. Either that, or motorheads enjoy pit stops with rustic amenities, good food, and live bands.
Consider one of these highly-rated locations when planning for your next two-wheeled adventure. You will be guaranteed fun times and an unforgettable, immersive experience in nature when you do.
Best Motorcycle Rides in Texas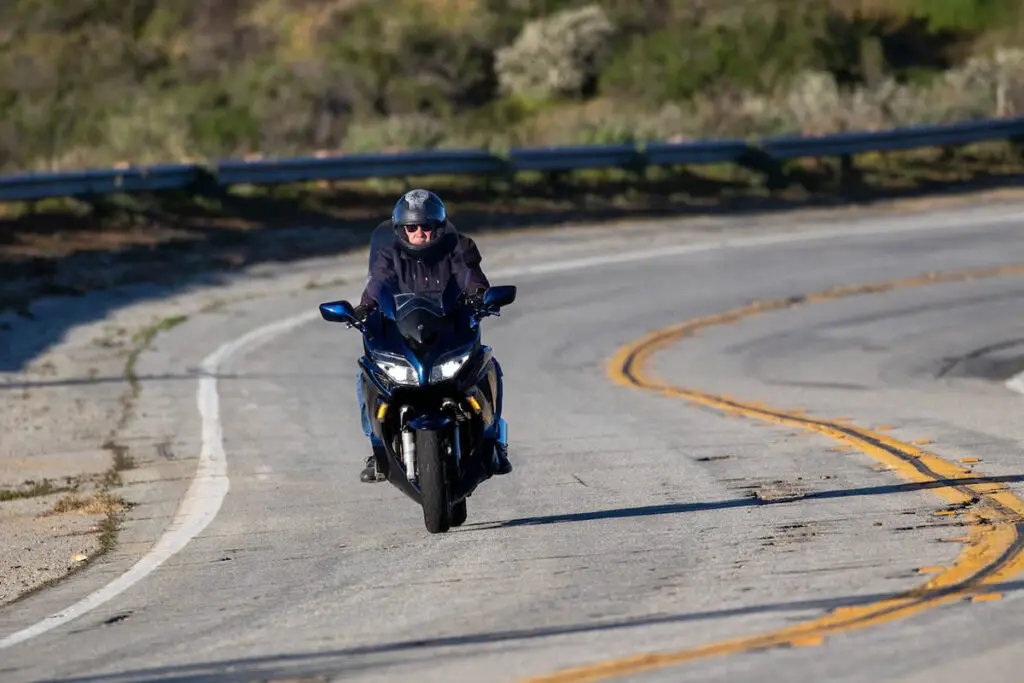 1. Twisted Sisters & Three Sisters
This exhilarating trail — considered one of the best motorcycle rides in Texas — begins in the charming town of Leakey. It is approximately 100 miles and allows riders to enjoy its scenic beauty.
Note that the Twisted Sisters and Three Sisters are not the same trails (although called interchangeably). I listed them together because these routes are intertwined and pass through the same ranch roads.
Beginner to advanced riders can ride along twisting roads adorned with rolling hills and captivating curves in what locals call the Tail of the Dragon. There are also canyons, jagged, steep hills, and sheer drop-offs that provide an adrenaline-pumping experience. One 15-mile stretch of the loop contains around 65 curves that will test the banking expertise of any enthusiast.
Expect elevation changes that range between 1,200 and 2,300 feet as you traverse this captivating route. From that high point, you will be greeted with scenic overlooks, river crossings, and historic towns while descending into the valleys.
Some notable attractions to look forward to are the Medina River, Lost Maples State Natural Area, and Garner State Park. There are also many gas stations, restaurants, and lodging options in Leakey, Medina, Vanderpool, and nearby towns.
There are no entrance fees nor permits and barely any stringent restrictions imposed on these loops (accessible via Ranch Roads 335, 336, and 337) — except for speed limits and state traffic laws.
Overall, both motorcycle trails are relatively safe. However, sharp curves, potential wildlife encounters, surroundings, and vista pop-ups can distract beginner motorheads.
2. Big Bend Scenic Loop
One of the best Texas motorcycle rides, the Big Bend area spans approximately 150 miles and is scenic and spectacular. From west to east, the ride starts on Farm to Market Road 170 (FM170, a.k.a. Lonesome Highway) from Lajitas in Study Butte and eventually ascends into the mountains.
The terrain is diverse, consisting of desert landscapes, mountain roads, steep grades, and river canyons. The lowest and highest elevation points vary between 2,000 and 6,000 feet (609—1,828 MASL).
The route's finale follows the Rio Grande to the breathtaking Santa Elena Canyon Overlook. The Chisos Basin area is also en route, featuring winding switchbacks and monumental rock formations to ride through. The entire scenic loop is already gratifying. But if you want to extend your journey, you can continue to ride to the nearby Big Bend National Park.
3. River Road
The motorcycle trail is 1 of 2 popular destinations for FM170 due to the same isolated but picturesque route running along the Rio Grande. It is approximately 120 miles (one-way), with its trailhead from New Braunfels to Garner State Park and back.
The term is used interchangeably with FM170 and Lonesome Highway. But depending on which local you ask, they may or may not refer to this scenic route as River Road.
The difficulty rating is "intermediate," with rollercoaster-like elevation points between 600 and 1,500 feet (182—457 MASL). Curvy roads, steep inclines, and sharp turns comprise the trail's terrain, with the Rio Grande River and state park views as its highlights.
Other notable landmarks include the Guadalupe River, Canyon Lake, and Garner State Park. As for amenities, several gas stations, restaurants, lodging, and camping sites are available in the abovementioned areas.
4. Highway 149 (a.k.a. FM149)
Arguably the "best little stretch of riding in the whole Houston area," Highway 149 offers a captivating journey through picturesque landscapes and scenic roadside beauty. It spans approximately 75 miles, from the town of Anderson to the city of Carthage in Panola County, northeast of Montgomery.
FM149 winds through the southernmost edge of the Sam Houston National Forest — where tall, majestic pine trees abundantly line up the trails — and consists of rolling hills, lush greenery, and charming rural scenery.
But while it offers a delightful riding experience, it is known (albeit more popularly) as a scenic route connecting to nearby motorcycle-accessible trails like the Texas Forest Trail, Davy Crockett National Forest Trail, and Sabine National Forest Trail.
Riding is typically permitted year-round and warrants strict adherence to speed limits and local traffic rules. But still, check for any seasonal restrictions or temporary closures before heading to this side of Anderson.
5. State Park Road 4
This 16-mile, 30-minute scenic ride begins near the quaint town of Burnet, with a stretch of gently rolling terrain that leads up to an exhilarating descent from a magnificent hill — treating riders to breathtaking panoramic views of the valley.
You would ride along the mighty Colorado River, passing through beautiful Cavern State Park, Inks Lake State Park, and the picturesque Balcones Canyonlands National Wildlife Refuge.
The elevation along the highway varies between 800 and 1,200 feet (243—365 MASL) and showcases the region's diverse topography. It is best visited during bluebonnet season (from March to early May) when the Texas bluebonnet and other wildflowers blanket the surrounding landscape.
The entire route is accommodating to all riders and is very calming. If anything, its only downside is that it is too short — but all the more reason for frequenters to return for seconds.
6. Devil's Backbone
The Devil's Backbone Trail in Texas is a legendary scenic route that winds through the picturesque Texas Hill Country, offering riders an unforgettable journey amidst breathtaking landscapes and thrilling twists and turns.
Spanning approximately 122 miles, this beautiful trail follows Ranch to Market Road 32 and Ranch Road 12, providing motorcyclists with an exhilarating experience showcasing the region's natural beauty.
Of its 122 miles, the Devil's Backbone Scenic Drive is the most popular among gearheads and riding enthusiasts. This segment spans approximately 50 miles from Wimberley to Blanco. Trail difficulty is rated "intermediate," with elevation ranging from 1,000 to 1,500 feet.
Meanwhile, the topography is shared with the rest of the trail — consisting of lush valleys, limestone cliffs, narrow ridges, thrilling hairpin turns, and sweeping bends.
7. Marble Falls to Tom Hughes Park
Even at only 58 miles, this motorcycle trail does not fall short of offering a fun challenge for experienced riders. It starts at Four Points and carves its way around the Colorado River north of Austin, Texas.
In-training motorheads are guaranteed to appreciate the fairly-new pavement along Anderson Mill. Meanwhile, serious gearheads will surely enjoy its serpentine twists and demanding turns.
8. Texas 39 (a.k.a. Llano River Loop)
TX-39 is another great road and among the well-known Texas motorcycle rides in the western part of the state. Located in the picturesque countryside of northwest San Antonio, this route runs parallel to Route 16, offering riders a fantastic journey with its abundance of twists and turns and scenic landscapes — like the breathtaking views of the Guadalupe River. You may also want to take a southern turn onto 187 towards Vanderpool to explore the fascinating Lone Star Motorcycle Museum.
Its starting trailhead is in Hunt, Texas, a charming town located in Kerr County. From there, TX-39 winds through the captivating countryside, leading two-wheelers on an unforgettable and soul-enriching 50-mile adventure. Riders of varying skill levels will appreciate that the route offers moderate difficulty — combining gentle curves with occasional twisties to keep things engaging and enjoyable.
9. Willow City Loop
Like Park Road 4, Willow City Loop is known for its bluebonnet-laden roadside distractions that make touring adventures more unforgettable. This trail, in particular, is a few miles outside of Fredericksburg and spans 21 miles.
Terrain-wise, it offers a unique combination of small, rural backroads with incredible scenery and several crossroads or intersections. Given its color-splashed views, this motorcycle trail is packed with sightseers on weekends, holidays, and during most of the spring.
10. Route 87 (a.k.a. West Highway 87)
Texas State Highway 87 is one of the best motorcycle roads in eastern Texas. It is a captivating road trip stretching 76 miles and offers diverse experiences and scenic beauty. The trailhead location begins in Dalhart and extends to Port Arthur. It is known for its moderate difficulty, with occasional twists and turns to add an element of excitement to the ride.
Although varying, the terrain along Route 87 showcases the vastness of Texan landscapes. Elevation ranges — from the lowest point near the coast to the highest point in the Panhandle region — create a visually appealing ride.
Meanwhile, stunning vistas of rolling hills and the countryside provide motorheads peace and calm while cruising straightaways and winding roads. The loop takes an average of 1.5 hours to cover but may take longer, depending on how enthralling you find the riding experience.
11. Caprock Canyons Loop
The Caprock Canyons Loop is a captivating motorcycle route that offers an exhilarating journey through the scenic beauty of the same-name state park and the surrounding area.
Its trail begins and ends at Caprock Canyons State Park in Quitaque, Texas, with its entirety spanning approximately 80 miles (100 miles per other online sources), providing an immersive experience of the region's natural wonders.
The terrain consists of winding roads, twists, and occasional steep inclines and is moderately challenging. Nonetheless, its difficulty is a worthy trade-off for the many off-roading activities one can do alongside motorcycle riding, such as hiking, visiting scenic overlooks, and sighting wildlife.
Folks planning to traverse this trail should gear up for high-altitude riding (the peak elevation of the loop is between 2,000 and 3,500 feet or 609—1,066 MASL). No need to worry about getting there, as the motorcycle trail is accessible via State Highway 86 and Farm to Market Roads 1065 and 3256.
12. Gulf Coast Cruise
With its starting trailhead in Galveston, the Gulf Coast Cruise extends approximately 150 miles (one-way) and is best for motorheads-cum-beach-lovers. The route is at sea level and relatively easy to navigate, with coastal roads and gentle curves comprising most of its terrain.
Amenities are never a problem, as the trail is close to pump stations, restaurants, and lodging options. It is accessible via State Highway 87 and FM457 and passes through Galveston Island in Matagorda Bay, where beaches, fishing spots, and historical sites abound.
13. Davis Mountains Scenic Loop
The Davis Mountains Scenic Loop spans 75 miles, offering a captivating journey through the majestic Davis Mountains. Formed by ancient volcanic activity, these mountains boast towering peaks reaching 8,000 feet (2,438 MASL) and vibrant, verdant hills. The striking contrast between the mountains and the surrounding flat countryside is awe-inspiring.
For motorheads, the journey starts from the delightful city of Fort Davis. This charming destination offers a wealth of attractions, including the 2,700-mile Davis Mountains State Park and extending to the renowned Marfa Lights Viewing Station and the Chihuahuan Desert.
Throughout the route, deep canyons, colorful wildflowers, and native wildlife make the hour-and-a-half trip more than worthwhile.
14. Gruene-Fredericksburg-Bandera Loop
This motorcycle ride in the Cowboy State features 239 miles of spectacular views, twisties, and tarmac. There is no singular loop trail that connects all three locations. However, two state highways make traversing this loop possible.
Gruene (in historic New Braunfels) and Fredericksburg (80 miles west of Austin) are joined by State Highway 46 (SH 46), a major highway in Texas that runs east-west and provides a direct route between the two points.
Meanwhile, Fredericksburg and Bandera are connected by State Highway 16 (SH 16) — a north-south highway that runs through the Texas Hill Country and continues south towards Bandera. This highway makes it convenient to travel from Fredericksburg to Bandera and vice-versa.
The loop's starting and endpoint trailheads largely depend on the specific trail or destination chosen within these areas. But you are guaranteed bountiful shopping, dining, and historical sites, whichever you prefer.
In the first part of the loop (Gruene to Fredericksburg), you get to pass by the National Museum of the Pacific War and Fredericksburg Wineries and Vineyards. In the second half, the sceneries become more rustic, with avenues for swimming, canoeing, dancing, and live music.
Special Mentions
The Lizard's Tail (30 miles, west bank of Lake Worth)
North Dallas Twistys (48 miles, Denton and McKinney)
El Paso Lower Valey Mission Trail to Ft. Hancock (46 miles, El Paso)
Rocksprings Loops (257 miles, Texas Hill Country along the Nueces River)
Hill Country Run (80 miles, Austin to Marble Falls)
Piney Woods Loop (approximately 150 miles, Huntsville)
Paluxy Heritage Park Loop (50 miles, Glen Rose)
Central Texas Hill Country Loop (about 200 miles, San Marcos)
Ponderosa Loop (60 miles, Concan)
Lost Pines Loop (80 miles, Bastrop)
Texas Independence Trail (approximately 200 miles, Washington-on-the-Brazos)
Conclusion — Best Motorcycle Rides in Texas
In summary, let's go over the best places to ride motorcycles in Texas once again:
Twisted Sisters & Three Sisters
Big Bend Scenic Loop
River Road
Highway 149 (a.k.a. FM149)
State Park Road 4
Devil's Backbone
Marble Falls to Tom Hughes Park
Texas 39 (a.k.a. Llano River Loop)
Willow City Loop
Route 87 (a.k.a. West Highway 87)
Caprock Canyons Loop
Gulf Coast Cruise
Davis Mountains Scenic Loop
Gruene-Fredericksburg-Bandera Loop
The best motorcycle rides in the Lone Star State highlight nature, rural landscapes, and flowers abloom and celebrate the rustic way of life Texan folks are known for. If you find these simple joys in life resonate with you, give it a go and head to the Cowboy State for your next motorcycle adventure!