Kawasaki vs. Yamaha Motorcycles: Comparison
Disclosure: We may get commissions for purchases made through links in this post.
It is unsurprising for riders to compare Kawasaki and Yamaha motorcycles (both are Japanese-made and reputable). And as fate would have it, their scrutiny only gets more stringent with time. Nowadays, however, build quality and brand reputation are no longer the sole determinants of the better motorbike — as you are about to discover in this guide.
There is no definitive answer as to which one is better. If you want a no-frills two-wheeler, Kawasaki is your best bet. But if you aspire for something more balanced and refined, then Yamaha is the way to go.
Ultimately, choosing one over the other is a matter of need, priority, and preference. Surely, there are dissimilarities between these two respected brands. But if you are to choose correctly, you need to fully understand these nuances and how they contribute to your desired riding experience.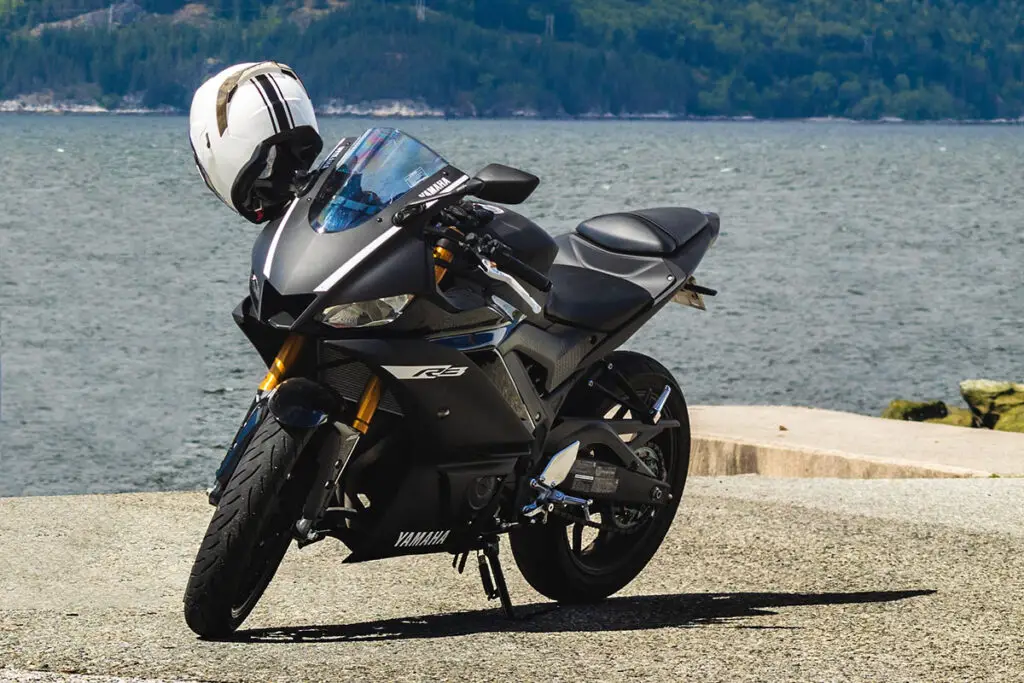 History of the Giants
Yamaha and Kawasaki are the last Japanese manufacturers to join the 'Big 4' and have been competitors since the 1960s. Both firms entered the landscape in the mid-'50s but only gained traction in international markets a few years after. Like Honda and Suzuki, these companies have a strong reputation for producing top-caliber, high-performance motorcycles that appeal to a plethora of riders.
Over the years, Kawasaki and Yamaha motorcycles have competed and outperformed each other in various motorcycle racing series (MotoGP and World Superbike included).
The healthy rivalry not only pushed both OEMs to continually hone their designs but also helped cement their status as powerhouses in the motorcycle arena. Furthermore, it led to collaborative projects between Yamaha and Kawasaki, such as developing the TMAX 530 maxi-scooter in 2012 and standardizing replaceable batteries for their forthcoming electric motorcycles.
Kawasaki vs. Yamaha: Pros & Cons
Reliability
Determining the more reliable offerings between Kawasaki and Yamaha motorcycles depends on context. You may gravitate more towards a Yamaha if you want a trusty road-going thumper. Conversely, a Kawasaki would prove more durable on rougher terrain.
If you want a supermoto, either is a good go-to option. But if I were completely honest, Suzuki has this last niche in the bag.
Handling
While it is true that one's perception of handling is (for the most part) subjective, this facet is not something that Yamaha and Kawasaki motorcycles are on equal footing on.
Kawasaki motorcycles are known for their sporty and aggressive handling, making them a tad more popular among experienced riders pushing the limits of their riding skills (and their two-wheelers!). In contrast, Yamaha bikes are renowned for their well-rounded handling, making them a more viable option for a spectrum of riding styles and expertise.
This is not to say that Kawasaki motorcycles are not as balanced. Again, assessing a bike's well-roundedness is not as precise as calculating fuel mileage. On the contrary, it relies heavily on road conditions and a rider's skill level — making it largely preferential.
Versatility & Travel Options
Kawasaki and Yamaha are roughly on the same page with respect to the diversity of their product offerings. Both OEMs offer standout production models in all motorcycle sub-segments.
From classic naked bikes to edgier supermotos, these Japanese firms have it all. (For further reading, I recommend this other article on the best Japanese motorcycle brands.)
| Description | Kawasaki | Yamaha |
| --- | --- | --- |
| Standard/Naked | Z900, Z650, Z400 | MT-07, MT-09, XSR900 |
| Sportbikes | Ninja ZX-10R, ZX-6R, Ninja 400 | YZF-R1, YZF-R6, YZF-R3 |
| Cruisers | Vulcan 900 Classic, Vulcan 1700 Voyager | Star Venture, Bolt R-Spec, V Star 250 |
| Tourers | Concours 14 ABS, Vulcan 1700 Voyager | Star Eluder, FJR1300, Super Ténéré |
| Sport-tourers | Ninja 1000SX, Versys 1000 | Tracer 900 GT, Tracer 700, FJ-09 |
| Off-road | KX & KLX series | YZ motocross & WR trail bike series |
| Dirt/Track | KX & KLX series, KX500 | YZ motocross & TT-R trail bike series |
| Dual-sport/ADV | Versys-X 300, KLR650, KLX230 | Super Ténéré, WR250R, XT250 |
| Supermoto | KLX 300SM | YZF450, WR450F |
| Youth | KLX110, KX65 | PW50, TT-R50E |
| Electric | Kawasaki EV Endeavor (concept bike) | PES1, PED1 (concept bikes) |
If anything, the main difference is that Yamaha beat Team Green in releasing mass-produced e-motorcycles. The former graduated from its 'concept e-bike' phase long before Kawasaki did and launched its line of electric scooters — the Yamaha e-Vino in November 2020 and the Yamaha E01 beginning in mid-2022 in Europe, Japan, and other Asian markets.
Safety & Comfort
Regarding motorcycles, the safer ride is always the one with Traction Control, ABS, and terrain-specific drive modes (to name a few). The same concept applies to rider comfort, except that you look for cushioned seats, all-weather hand grips like Kuryakyn 6261 Motorcycle Handlebar Accessory (view on Amazon), and carefully designed ergos. It does not matter if the motorcycle is a Kawasaki or Yamaha as long as the two-wheeler has these features.
Fuel Efficiency
Because we are pitting motorcycle brands and not specific production models against each other, it would be extremely difficult to make a definitive comparison between the two.
Fuel mileage, just like handling, is contingent on powertrain specs, gearing, riding style, road conditions, augmenting components, and maintenance (among other factors). These attributes differ immensely based on the sub-segment.
Nevertheless, both manufacturers offer two-wheelers designed to be more fuel-efficient than most of their competition. Kawie's Ninja 400 and Z400, for instance, are well-known for their above-par fuel economy. The same is true for Yamaha's YZF-R3 and MT-03.
Note that fuel-efficient models are not limited to these examples. That said, it is best to research specific and same-spec models when comparing the fuel mileage of these brands.
Design & Storage
When comparing the two Japanese manufacturers on this facet, it is only fair to exclude tourers, sport-tourers, and 'next-gen' superbikes since these types are all about design and functionality. Whether OEMs admit it or not, superbikes and tourers often get the best aesthetics and most well-thought-of storage options — followed by flagship adventure and naked bikes.
If you think the most you will get is under-seat storage, even that is not guaranteed. The abundance (or lack) of storage options and other creature comforts hinges on the specific model and type of motorcycle you plan to buy or already own. You are less likely to get an under-seat for more utilitarian off-road/dirt bikes (mostly Kawasakis) versus street-legal half-liter models.
You can remedy this deficit by opting for aftermarket accessories. However, add-ons do not always solve this problem (and it has nothing to do with aftermarket support).
The absence of a rear carrier or tie-down points, provisions for saddlebags (view on Amazon) and top boxes, and super high-clearance exhaust and rear ends are a few design flaws detrimental to increasing storage options on your two-wheeler.
Customization
Personalizing Yamaha and Kawasaki motorcycles is another variable impossible to qualify with a simple "better" or "worse." Not only is this feat budget-defined, but it is also subject to the availability of aftermarket parts and the extent of a bike's upgradeability. How good or bad an upgrade turns out does not just hinge on the price tag of tire brands or suspension components.
Any mods done will only make sense if they improve the inherent strengths of the motorcycle while ensuring they are suited to the rider's needs and whims. These 'strengths' include ground clearance, gearing, and articulation (to name a few). Not all motorcycles are created equal in these areas — meaning any customization effort will have to be done within the confines of the bike's mechanical design.
Price Point
Japanese bikes are cheaper than their Western counterparts (this fact I am certain of). But between two of the 'Big 4' firms, the difference in listing price is somewhat negligible.
This is not always the case, of course (especially with flagship and trailblazer labels). Case in point, many motorheads agree that Kawie offerings are generally more affordable than Yamaha's — unless you got your eyes locked on the Kawasaki Ninja H2R, which retails for $50,000 — $56.500.
Shared Benefits & Drawbacks
Benefits
Kawasaki and Yamaha motorcycles are renowned for their high-performance engines, making them popular choices among speed enthusiasts.
They have a reputation for reliable motorcycles requiring minimal maintenance and are less likely to incur unexpected breakdowns.
Both can withstand harsh conditions and rough terrain, making them great choices for adventure riding.
Kawasaki and Yamaha bikes hold their resale value pretty well, increasingly growing in popularity as a sound investment.
The manufacturers of these thumpers are constantly pushing the boundaries of motorcycle technology to improve their patrons' riding experience.
Most production models offer distinctive, eye-catching designs that allow motorheads to express their individuality without a full-blown facelift.
Repairs and customization are made easier — thanks to the ready availability of parts and accessories.
Dedicated communities serve as a refuge and well of information for all riders (especially beginners), making riding more enjoyable and promoting inclusivity in the process.
Drawbacks
High-performance Kawasaki and Yamaha motorcycles with advanced technology may require expensive maintenance, which can be a bummer for upkeep-allergic riders.
High-performance models (or even standard ones with large-displacement engines) are expected to have increased fuel costs.
Exhaust systems on some Kawasaki and Yamaha models can be noisy, which some riders may find undesirable (if not non-compliant with noise restrictions in their region).
Some motorcycles are heavy for their class, making maneuvering in tight spaces or at low speeds difficult. The Kawasaki Vulcan 900 Classic (weighing 619 lbs./281 Kg) and Yamaha V Star 950 Tourer (weighing 721 lbs./327 Kg) are examples of these bikes.
Insurance costs for higher-end Kawasaki and Yamaha motorcycles are pricier than their same-class counterparts.
Certain Kawasaki and Yamaha iterations do not offer as much space or comfort as desired by passengers, rendering them unfit for pillion riding.
Kawasaki and Yamaha do not have a lot of options for electric bikes. Most offerings are currently under 400cc and with unremarkable horsepower and torque.
Conclusion — Yamaha vs. Kawasaki: Which is Better?
Objectively, a very thin line separates Kawasaki and Yamaha motorcycles (provided you compare same-class models), making it confusing for some to pick favorites. But subjectively, a high price tag or an unappealing facade would be more than enough to make people gravitate towards either motorcycle brand.
Whichever decision-making process you have, choose a motorcycle you can trust — one that can grow with you as you gain experience and expertise.