Yamaha VMAX 1200 (Specs and Review)
Disclosure: We may get commissions for purchases made through links in this post.
If someone asked me how best to describe the Yamaha VMax 1200, I'd quote Motorcycle Classic's Chris Macmahan. For him, the VMAX was "an unapologetic two-wheeled hot-rod. It was the undisputed king of the boulevard and the most American bike ever to come out of Japan." These were his words when he reviewed the iconic wheeler in 2007, and they still hold true today.
The Yamaha VMax 1200 is a power cruiser bike produced by Yamaha from 1985 to 2007. This motorcycle boasts a 70° V-type DOHC mill, 119 horsepower, VBOOST technology, and hot-rod mannerisms. It is the inspiration behind the YCCI-controlled VMAX 1700.
A timeless aesthetic, drag-race-inspired acceleration, and undeniable power are some praiseworthy attributes of the Yamaha VMAX 1200. Know more about the bike that laid the groundwork for Yamaha's muscleheads as you continue to read today's guide.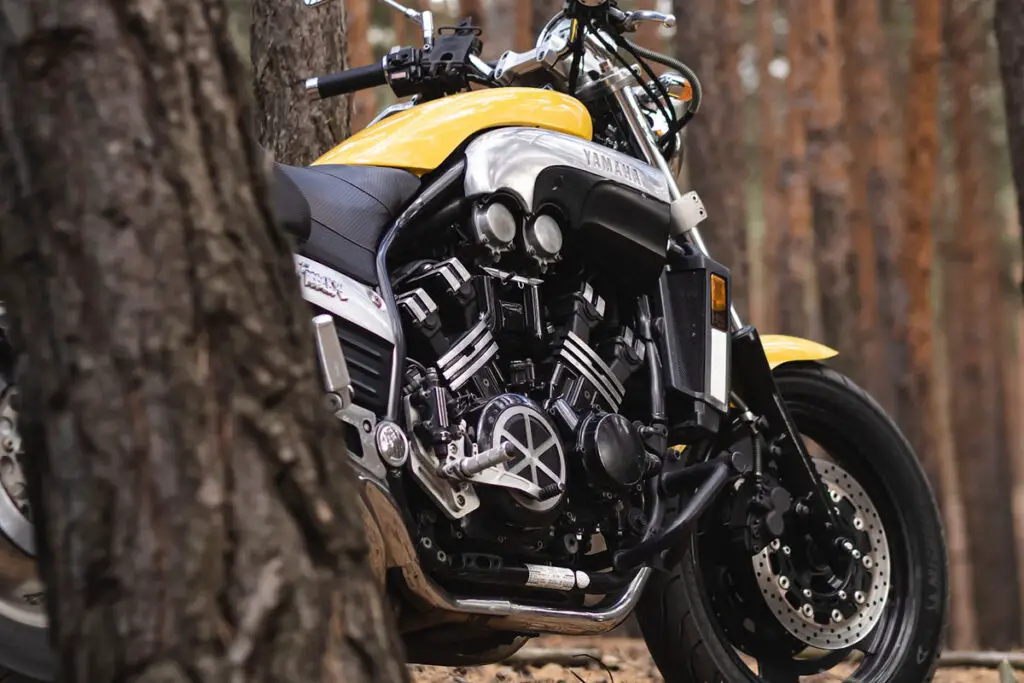 The Forerunner of Yamaha Muscle Bikes
In another article, I mentioned that "the genesis of the Yamaha VMAX 1700" started when a group of engineers went on an R&D trip to the U.S. and observed drag racing and the performance of American favorites on straights. This bike, the Yamaha VMax 1200, was 'that genesis.' And we've got Atsushi Ichijo, Akira Araki, and the team to thank for its inception.
Unlike the tremendous effort put into the conceptualization and design of the bike, however, what ensued after its launch was somewhat anti-climactic. From the time the VMAX 1200 was deemed "Bike of the Year" by Cycle Guide during its debut, nothing else exciting happened to the two-wheeler.
It received no upgrade or modification except for larger-diameter forks and other safety-related enhancements in 1993. And yet, it continued to have incremental rate increases year after year.
Perhaps, there was nothing to tweak in the make and design of the two-wheeler. Some folks may disagree and bring up the inadequately-cushioned saddle and soft suspension. But honestly, these are probably the only negatives about the VMax.
The two-wheeler's sleek, aggressive look, strong power output, and seat-handlebar-footpeg relationship (among other advantages) carry more weight and are better remembered by the label's enthusiasts and loyal following.
1995 Yamaha V-Max 1200 Specs & Features
Engine
A liquid-cooled, 4-stroke DOHC engine with a 70° V-type quad-cylinder arrangement brings the 11th installment of the VMax 1200 to life.
It has a 76 x 66 mm (2.992 x 2.598 inches) bore-stroke ratio and a 10.5:1 compression ratio, with piston displacement still at 1,198cc (73.1 in3). Four 35-mm constant-velocity Mikuni BDS35 carburetors handle the air-fuel mixture with 4-into-1-into-2 exhausts and a foam air filter.
Fuel & Lubrication
Fuel tank capacity is 15 L (3.96 USgal, inclusive of a 3-L/0.8-USgal reserve) of regular gasoline with a minimum PON 87/RON 91 Octane rating — similar to its bigger-displacement namesake, the Yamaha VMAX 1700. Lube-wise, the VMAX utilizes a trochoidal oil pump and has a wet sump system with the following requirements:
Total amount: 4.7 L (4.1 Imp qt, 5 US qt)
Periodic oil change: 3.5 L (3.1 Imp qt, 3.7 US qt)
With oil filter replacement: 3.8 L (3.3 Imp qt, 4 US qt)
Recommended engine oil is SAE 10W-30 (at 15 °C/60 °F or lower) or 20W-40 (at 5 °C/40 °F or higher) of Yamalube 4 or its equivalent. Same-spec variants should have a minimum API grade of SJ meeting JASO T903 MA standards.
Other OEM-recommended multigrade oils are permissible following changes in ambient temperature, altitude, and riding conditions, provided they are not mixed with chemical additives.
Drivetrain
A 5-speed constant-mesh manual transmission and a wet, multi-disc clutch assembly (with a spar gear primary and a shaft drive secondary reduction system) deliver power to the wheels.
Its powertrain components, featuring a high-tensile Chromoly steel, forged aluminum pistons, aluminum alloy clutch plates (view on Amazon), and an '83 Venture Royale configuration, were adopted by its bigger-displacement sibling. The distinct powertrain layout offered a balanced power delivery with strong torque and smooth performance.
For reference, see the stock gear ratios below:
| Description | |
| --- | --- |
| Primary Reduction Ratio | 1.775 (87/49) |
| Transmission Gear Ratio — 1st | 2.529 (43/17) |
| Transmission Gear Ratio — 2nd | 1.772 (39/22) |
| Transmission Gear Ratio — 3rd | 1.347 (31/23) |
| Transmission Gear Ratio — 4th | 1.076 (28/26) |
| Transmission Gear Ratio — 5th | 0.928 (26/28) |
| Secondary Reduction Ratio | 2.851 (21/27 x 33/9) |
Ignition & Electricals
A transistorized coil ignition system with a timing of 3° BTDC @ 1,000 RPM (initial "F" mark) / 43° BTDC @ 9,000 RPM (full advance) and a vacuum-and-electrical advancer type awaken the Yamaha VMAX 1200.
An NGK DPR8EA-9 or ND X24EPR-U9 spark plug with a 0.8–0.9 mm (0.031–0.035 inch) electrode gap is responsible for spark ignition. Meanwhile, a Hitachi FL130.04 A.C. magneto generator, with a rated output of 14 V/25 A @ 5,000 RPM, serves as its charging system.
A 12V 16 Ah/(10 HR) YB16AL-A2 battery aids in powering electronics and lighting. In case of wear or damage, this stock battery is replaceable with a similar format to a Yuasa YUAM22162 YB16AL-A2 Battery (view on Amazon), provided assembled dimensions are 207 x 71.5 x 164 mm (8.12 x 2.81 x 6.44 inches — L x W x H).
Tires & Brakes
Cast-aluminum wheels are fitted with Bridgestone or Dunlop tires (view on Amazon), measuring 110/90-V18 at the front and 150/90-V15 at the back. These factory knobbies are tubeless and require a front cold-tire pressure of 235 kPa (2.4 kgf/cm2, 34 psi) and a rear cold-tire pressure of 255—271 kPa (2.6—2.8 kgf/cm2, 36—40 psi), depending on whether the payload is within or beyond 90 Kg (198 lbs.).
As for brakes, the bike has 6-piston, radial-mount front brake calipers and triple-disc brakes. The rear unit, in particular, has a 2-piston caliper serving as its clamp. While the hydraulic discs are adequate, the thumper could have benefited from ABS.
Suspension
Enclosed in a diamond frame (29° caster angle; 119-mm/4.7-inch trail) are 40-mm front Kayaba forks and a rear monoshock with adjustable preload and rebound damping (upgraded to dual Kayaba shocks for later-year incarnations). These suspension units provide a respective front-rear wheel travel of 140 mm (5.5 inches) and 100 mm (3.9 inches).
Other facets affecting the motorbike's handling and maneuverability are a 1,590-mm/62.6-inch wheelbase, 2.8-meter/9.1-foot turning radius, and 145-mm/5.7-inch ground clearance.
Dimensions & Capacities
Overall dimensions are 2,300 x 795 x 1,160 mm (90.6 x 31.3 x 45.7 inches — L x W x H). Meanwhile, seat height is 765 mm (30.1 inches), slightly shorter than the Yamaha VMAX 1700. While the multi-piece saddle accommodates medium to tall riders, it grows increasingly uncomfortable the longer the ride gets. It doesn't even matter if one is riding solo or with a passenger.
Capacity-wise, the bike's wet weight is 274 Kg (604 lbs., including fluids and a full gas tank), with California releases just heavier by 1 Kg. Maximum payload is 225 Kg (496 lbs.) across all production models.
GVWR (Gross Vehicle Weight Rating) is an estimated 499—500 Kg (1,110—1,102 lbs.) — a combination of the curb mass, rider/passenger weights, accessories, and cargo. For touring applications, a rear top box like LESANM 45L Motorcycle Top Case (view on Amazon) may help improve storage.
Exterior
The Yamaha V-Max 1200 showcases a distinctive styling that exudes power and aggression. Its design cues reflect a blend of retro and futuristic elements, creating a timeless aesthetic.
At the front, the motorcycle boasts a bold and angular headlight assembly, complemented by a beefy fuel tank that seamlessly integrates into the overall design. Flowing lines continue towards the rear, where an exposed power mill and a sculpted tail section add to the bike's dynamic appearance.
Yamaha 1200 VMAX Price
During its launch, the Yamaha VMAX 1200 sold for an MSRP of $5,299 (around $14,940 if sold brand-new today and with inflation factored in). This value quickly rose to $8,299 after eight years (despite just adding larger-diameter forks to the motorbike).
Rate increases were not so incremental since, only coming to a temporary standstill in 1997. But at the time, the VMAX 1200 already had a 5-digit resale value until its final year when it sold for $11,199.
Apart from the 2005 Craft GK V-Max, the VMAX did not release any special trim throughout its production run. And rightfully so, this limited-edition trim more than compensated for the lack of special trims, as it was custom-ordered and pretty elusive even to the highest bidder (no more than 30 units were produced). The body kit and suspension parts were an extra ¥3.78M (£26,100) on the base price (excluding fitting and additional fees).
Nowadays, you can buy pre-loved VMAX 1200s in the used-bike market for $515—$3,365 (low-to-average retail, per JD Power data). 1990 to pre-2000 models keep their values well, with secondhand bikes in good working condition selling for $5,245—$7,775.
But if you want a near-mint classic, try your luck hunting for '85 models. Auctioned units from the bike's debut year sell for as much as $13,770!
Yamaha VMAX 1200 Pros and Cons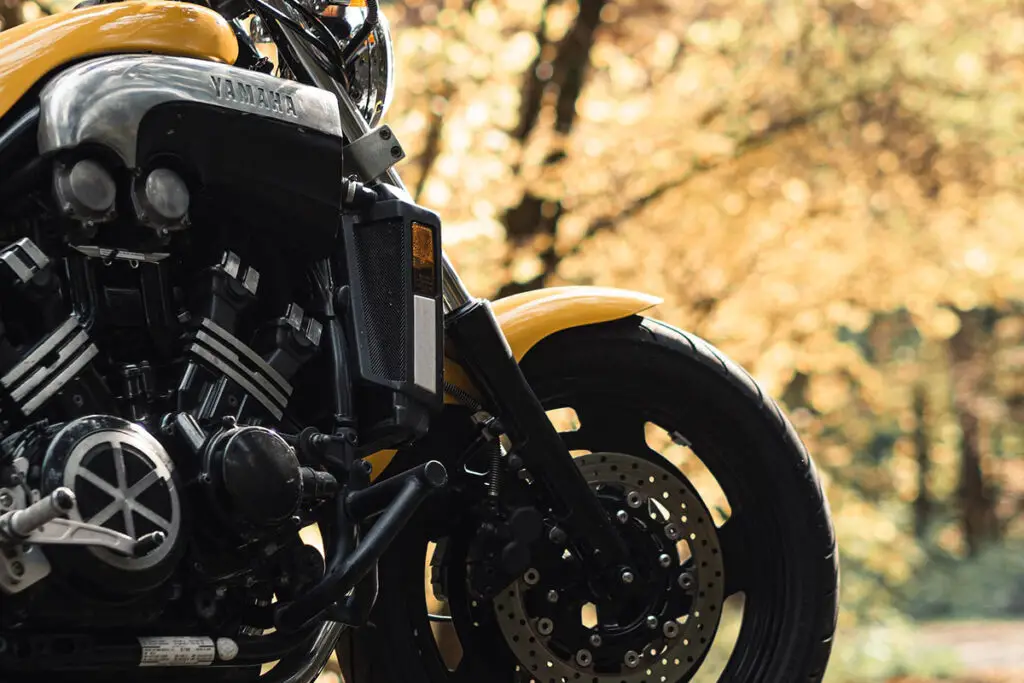 Although the Yamaha VMAX 1200 has been hailed as the "King of the Boulevard" by motorcycle enthusiasts, riders, and the media, it has its flaws. In this section, let's go over the highlights and drawbacks of this powerful (but somewhat deficient, according to naysayers) trailblazer:
Pros
The Yamaha VMAX 1200 sets itself apart from other cruisers with its commanding 70° V4 engine, delivering an impressive 119 bhp of horsepower and a striking, aggressive design.
Its V4 mill and counterbalancer combo effectively suppresses vibration that could cause numbness in your extremities or a tingling sensation in your backside.
During its production, no other same-class machine can compete with the VMAX 1200's synergy of weight, shaft drive, and formidable power.
Low-speed maneuvering poses no challenge, as the steering feels effortlessly light and manageable at crawling speeds.
In 1993, the VMAX received an upgraded larger-diameter fork to enhance stability and reduce high-speed wobbling and drifting.
With its long wheelbase and wide rear tire, the VMAX offers exceptional stability and superior traction on the road.
Equipped with dual 298-mm front disc brakes and a 282-mm rear disc brake, the VMAX ensures outstanding stopping power and responsive braking performance.
The peculiarities of the bike's fuel system provide not only entertainment value for unsuspecting beginners but also add a sleek, streamlined appearance to the bike. The hidden fuel cap, for instance, minimizes the risk of tampering or theft for riders.
The fuel reserve/petcock switch is on the right handlebar, allowing for easy control and switching between fuel modes without riders removing their left hand from the bars and fumbling for the lever.
Cons
Despite its highly-engineered mechanical components and long-standing design, the Yamaha VMAX 1200 is considered somewhat overpriced.
Its non-standard-cruiser riding position might make hanging onto the bike during hard acceleration slightly unmanageable for less experienced riders.
The bike's low ground clearance and limited suspension travel make it less suitable for navigating rough roads and speed bumps. Its front forks can do better with higher suspension rates.
Long-distance touring may not be ideal due to limited comfort, range, and the potential discomfort of high exhaust temperature in hot weather.
While the VMAX 1200 excels in straight-line performance, its turning ability is compromised. It is not as steady in fast turns compared to its competitors.
It is not recommended for pillion-riding or inexperienced riders.
The bike's weight makes it less suitable for inclined surfaces, unstable terrain, and tight urban turns.
The VMAX 1200 can generate heat around the legs, particularly noticeable at stop lights or in heavy traffic.
The quick wearing of toe clips and the absence of a windshield (view on Amazon) or fairing result in subpar wind protection.
Customizing the VMAX 1200 and adding ample storage can be challenging due to limited aftermarket support.
About Yamaha
Yamaha Motor Company, Ltd., an esteemed Japanese "Big 4" member, is a global powerhouse in personal watercraft and motorsports. Founded in 1955, it parted ways from its parent company to focus on motorcycle production, leveraging its metallurgical expertise with its groundbreaking contributions to the automotive industry.
During the '60s, Yamaha fearlessly ventured into international markets, earning accolades decades later for their customer-centric approach and introduction of remarkable models. The Japanese firm's unwavering commitment to pushing the boundaries of motorcycle design and performance still holds true in its time-honored offerings like the Yamaha VMAX 1200.
Conclusion — Yamaha 1200 VMAX Review
The Yamaha VMAX 1200 may not have perfectly cracked the secret formula behind muscle cars and .44 Magnums, but it did get a healthy dose of it. So much so that reinvention was thrown to the winds for 22 years on this bike.
The two-wheeler had linear power, unbeatable straight-line acceleration, and rugged charms to boot — all characteristic of the American hot rod that Akira Akari and his team aspired for.
Initially, the VMAX aimed to beat Honda's 1983 Magna. And attempting to do so, it came up with something even better. This makes the VMAX 1200 not only a story of success but also of ingenuity and sheer perseverance, qualities that are inherent in both the bike and its die-hard riders.