2006 Suzuki Boulevard C50 Specs and Review
Disclosure: We may get commissions for purchases made through links in this post.
When it comes to choosing motorcycles, personal preferences are often extremes. One of two outcomes usually happen – people go for either a vintage or a cutting-edge two-wheeler. However, there is a population of consumers looking for something that sits right in the middle of these polarities. And if you belong to this demographic, the 2006 Suzuki Boulevard C50 should flawlessly fit the bill.
The 2006 Suzuki Boulevard C50 (a.k.a. Volusia) was the 6th installment of the VL800 series first unveiled at the Daytona Bike Week in 2001. This cruiser featured impressive performance figures, Suzuki Dual Throttle Valve System (SDTV), electronic fuel injection, and American-cruiser styling cues.
'Fuel-efficient,' 'comfortable,' and 'versatile' are words that can only begin to scratch the surface when describing the 2006 Suzuki Boulevard C50. Continue reading to learn more about this classic motorcycle.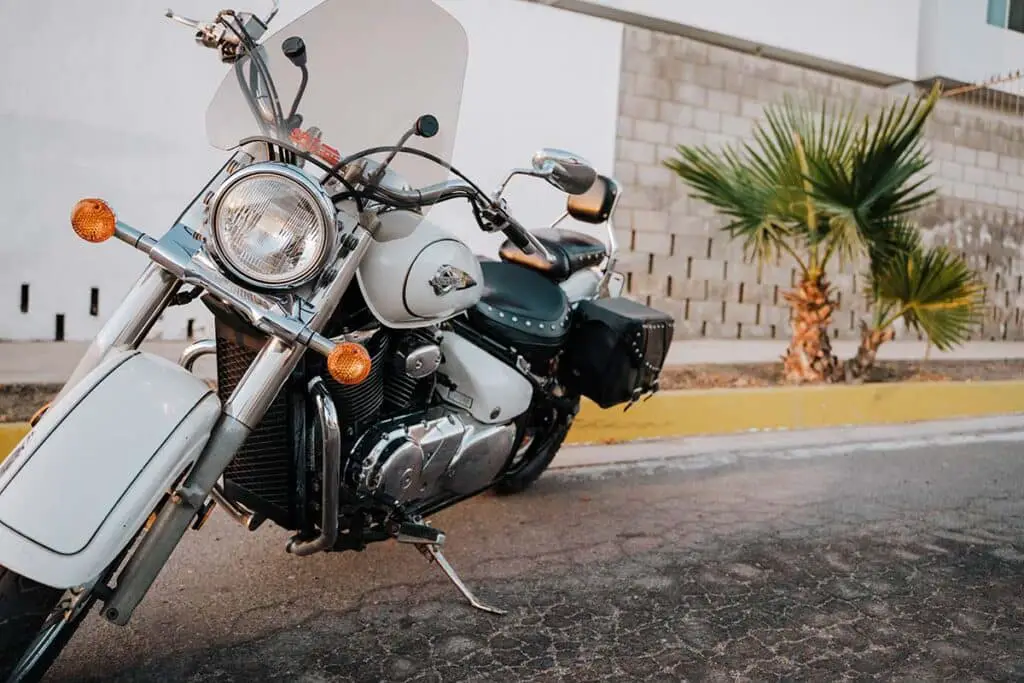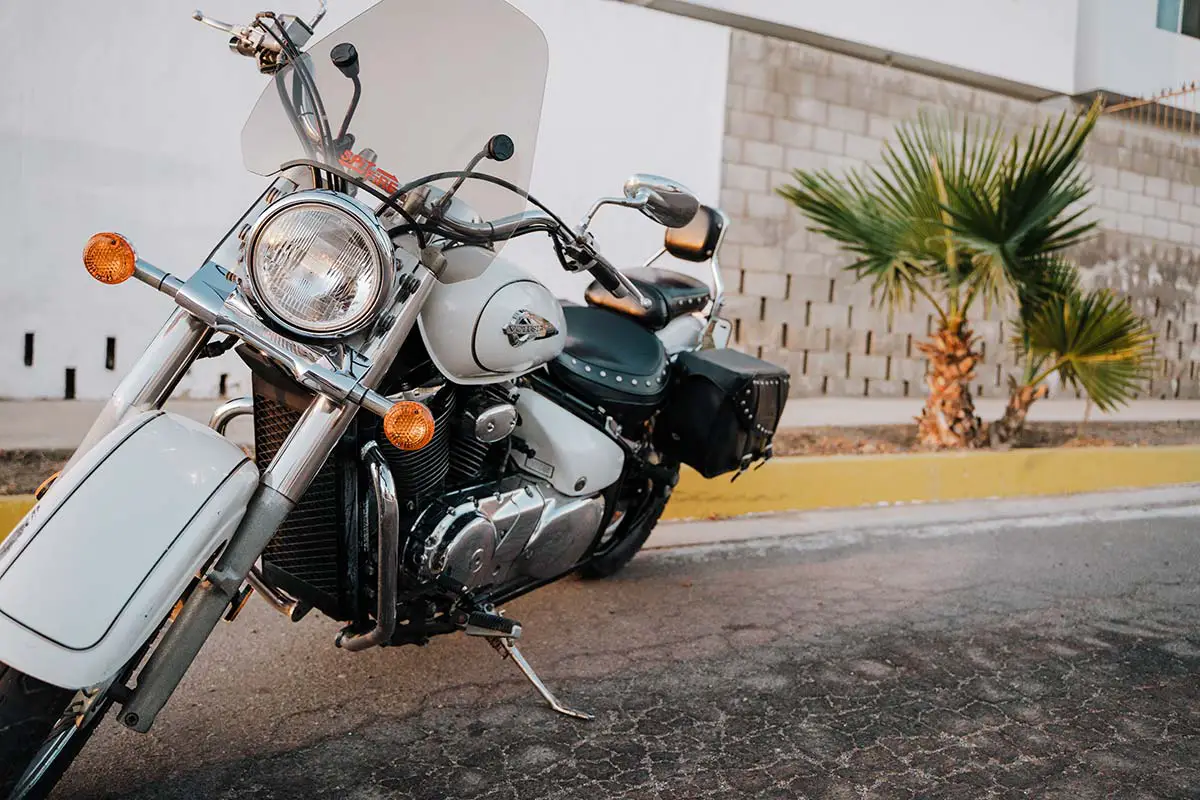 Ruler of the 800 Class
Producing the best-selling metric motorcycle in the market may sound incredulous, even for a big-name band like Suzuki. However, this is not just the manufacturer's self-proclamation. According to Motorcycle Cruiser, the Suzuki Boulevard C50 was the best-selling cruiser in the 750-cc to 900-cc category in 2008. And I can only assume that the bike received the same warm welcome two years earlier.
The 2006 Suzuki Boulevard C50 (formerly the Volusia 800 or VL800) is the 2nd year of the label producing fuel-injected iterations and the only entry Suzuki has in the motorcycling landscape's cruiser segment.
Seemingly unassuming, the two-wheeler bests its same-class counterparts with its comfort levels, roominess, big-bike manners, styling, and performance. The only competition that came close to challenging the C50 on its turf was Kawasaki's Vulcan 900, which came out in 2009.
2006 Suzuki Boulevard C50 Specs & Features (VL800)
Engine
The Suzuki Boulevard C50 is powered by a liquid-cooled 45° V-Twin 4-stroke SOHC engine. It has a bore-stroke ratio of 83 x 74.4 mm (3.268 x 2.929 inches). Piston displacement is 805 cm3 (49.1 in3), with a compression ratio set to 9.4:1.
Drawing inspiration from the GSX-R sportbikes, the Mikuni BDSR34 carb used on '01 models was swapped out for electronic fuel injection, and a 34-mm throttle body beginning in 2005 to handle the air-fuel mixture. Air filtration is delivered by a non-woven fabric element.
Overall, this new power mill configuration lends to the following performance figures:
| Description | Performance Figure |
| --- | --- |
| Top Speed | 90–105 mph (145–169 km/h) |
| Horsepower (at crankshaft 95/1/EC)* | 45.1 hp (33.6 kW) @ 4,000 RPM |
| Maximum Torque* | 62 Nm (6.3 kg-m, 45.7 ft-lbf) @ 4,000 RPM |
| Fuel Economy (combined average) | 40–56 mpg (4.2–5.9 L/100 km) |
| Approximate Tank Range | approximately 151 miles for a full fuel tank |
* Values provided are from 
Motorcyclespecs.co.za
Fuel & Lubrication
Tank capacity is 15.5 L (4.1 USgal, including a reserve of 1.5 L/0.4 USgal) of unleaded gasoline with a PON 87/RON 91 rating or higher (especially for bikes released outside of North America). This fuel quantity has been reduced by 2.5 L compared to earlier iterations of the VL800.
Lubrication-wise, the C50 has the following requirements:
| Description | Requirement |
| --- | --- |
| Oil change | 3.0 L (3.2 US qts.) |
| With filter change | 3.4 L (3.6 US qts.) |
| Overhaul | 3.7 L (3.9 US qts.) |
| Final gear oil | 200–220 ml (6.8 oz.) |
| Front fork oil (each leg) | 412 ml (13.9 oz.) |
For best results, use the 2006 Suzuki Boulevard C50 oil type SAE 10W-40 Suzuki Performance 4 Motor Oil or other variants with a minimum SJ grade meeting JASO T903 MA/MB standards.
Other multi-grade oils specified in the manual – 10W-30, 10W-50, 15W-40, 15W-50, and 20W-50 – are permissible following changes in ambient temperatures and riding conditions.
Drivetrain
A 5-speed constant-mesh manual transmission delivers power to the wheels for the 2006 Suzuki Boulevard C50. A final shaft drive handles wheelspin, with the 5th gear ratio set high to make for "relaxed highway cruising." without dampening the two-wheeler's off-road capabilities.
Shifting is smooth, with no buffeting, and only requires minimal clutch effort. Low and mid-range pull has enough power to get the bike to drive past its counterparts, although a 6th gear would have enhanced the C50's drivability.
Here are the stock gear ratios for the C50 Boulevard:
| Description | Ratio |
| --- | --- |
| Primary Reduction Ratio | 1.690 (71/42) |
| Secondary Reduction Ratio | 1.000 (30/30); 1.133 (17/15) |
| Transmission Gear Ratio – Low | 2.461 (32/13) |
| Transmission Gear Ratio – 2nd | 1.631 (31/19) |
| Transmission Gear Ratio – 3rd | 1.227 (27/22) |
| Transmission Gear Ratio – 4th | 1.000 (25/25) |
| Transmission Gear Ratio – Top | 0.814 (22/27) |
| Final Reduction Ratio | 3.503 (17/15 × 34/11); 3.090 (34/11) |
Ignition
The C50 is brought to life by a fully transistorized electronic ignition system with a timing of 5° BTDC @ 1,100±100 RPM (initial "F" mark). It has a triple-phase A.C. generator with a rated output of 350 W @ 5,000 RPM serving as its charging system and a 12V 36 kC 10 Ah/(10 HR) battery powering lighting and electronic accessories.
A 32-bit ECM precisely controls ignition timing and fuel injectors. Meanwhile, an NGK DPR7EA-9 or ND X22EPR-U9 spark plug with a 0.8–0.9 mm (0.031–0.035 inch) gap is responsible for spark ignition.
The recommended battery for the 2006 Suzuki Boulevard C50 is an FTX12-BS/Yuasa YTX12-BS battery with dimensions of 6.00 x 3.44 x 5.12 inches (excluding wire harness and mounting accessories).
Although this format shares the same polarity with a YTX9-BS battery, interchanging the two is ill-advised since the latter has a lower amperage rating. Instead, opt for a same-spec aftermarket battery like Banshee YTX12-BS LiFePO4 Battery (view on Amazon) when looking for a replacement.
See the below tables for fuse and lighting assembly details:
| Fuse | Wattage |
| --- | --- |
| Main | 30 A |
| Ignition | 15 A |
| Headlight, Signal, Meter, Power Source | 10 A |
| Lighting | Wattage |
| --- | --- |
| Headlight | 12V 60/55 W; 12V 60/55 W + 4W (EU) |
| Brake/Taillight | 12V 21/5 W |
| Turn Signals (front) | 12V 12/5 W; 12V 21 W (EU & Australia) |
| Turn Signals (rear) | 12V 21 W |
| Position/Parking Light | 12V 5 W |
| Speedometer, Turn Signal Indicator, Neutral, High-beam, Fuel Indicator, Oil Pressure/Water Temperature | LED |
Tires & Brakes
Factory rubber consists of IRC GS-23F/RW 130/90–16 M/C 67H (view on Amazon) and IRC GS-23R/RW 170/80–15 M/C 77H tires. These tube-type knobbies mount on J16 M/C × MT 3.00 (front) and J15 M/C × MT 4.00 (rear) spoked rims.
They also require a cold-tire pressure of 200–225 kPa (2.00–2.25 kgf/cm2, 29–33 psi) at the front and 250 kPa (2.50 kgf/cm2, 36 psi) at the rear, depending on the trim.
300-mm (11.8-inch) front hydraulic discs and a 180-mm (7.1-inch) rear drum provide the C50 halting power and complete its tire-and-wheel assembly.
Suspension
Enclosed in a cradle-type steel frame with color-matching side covers (33° 20′ caster angle, 141 mm trail) is a front suspension consisting of oil-damped telescopic front forks offering 140-mm/5.5-inch wheel travel. At the back, an oil-damped linkage with spring preload adjustability and a 105-mm/4.1-inch wheel travel can be found.
The steering angle is 25° 20′ while the turning radius is 3.0 m (9.8 feet). Minimum ground clearance is a miserly 140 mm (5.5 inches), mated to a 1,655-mm (65.2-inch) wheelbase. 
Dimensions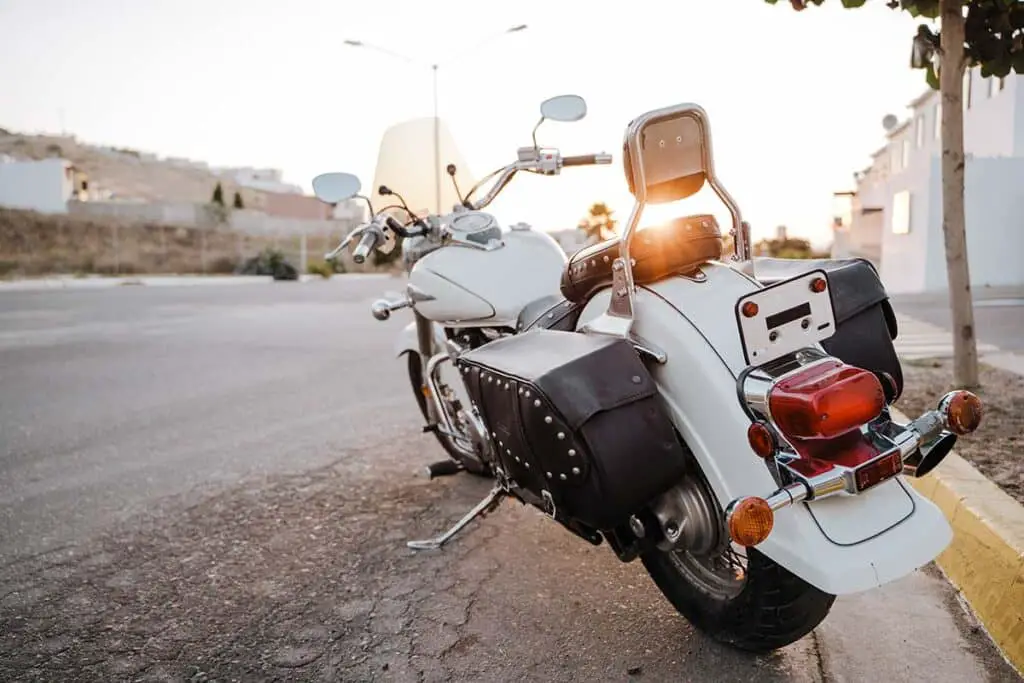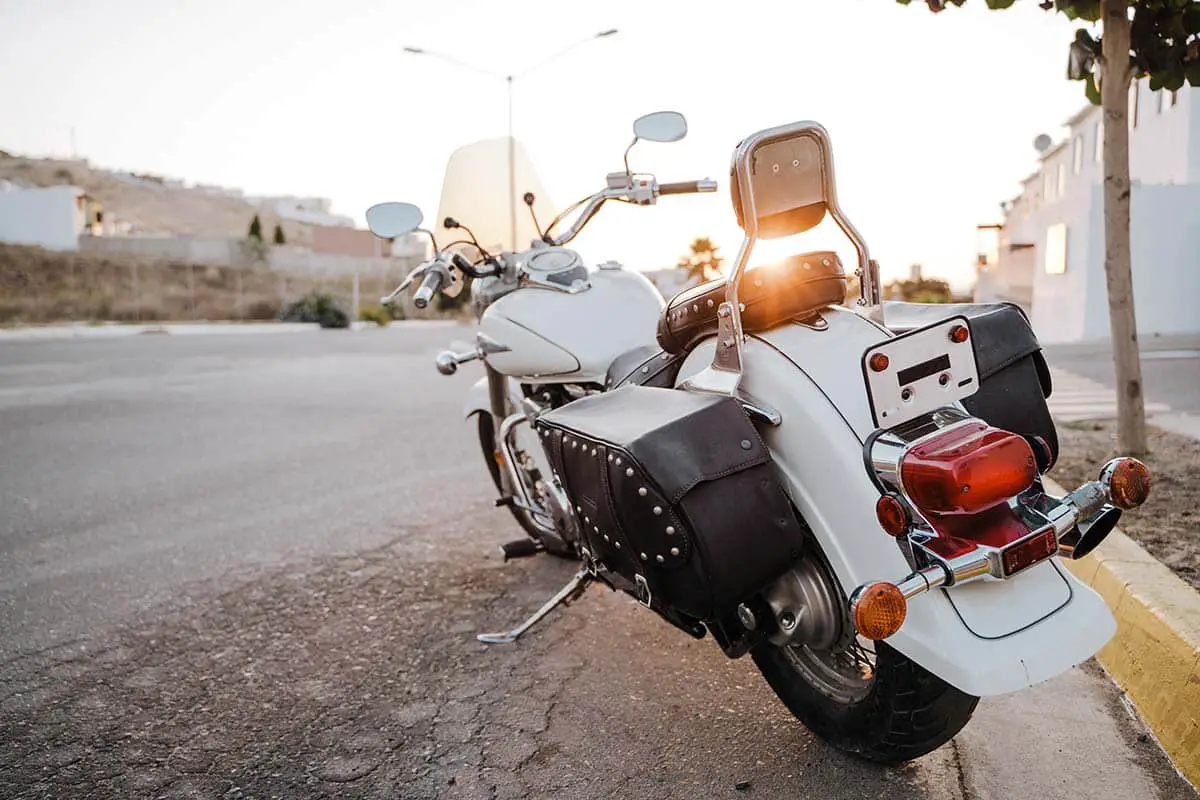 Overall dimensions are 98.8 x 38.8 x 43.3 inches (2,510 x 985 x 1,100 mm – L x W x H), with side mirrors included in the width measurement. The seat height is 27.6 inches (700 mm) and can accommodate riders of all sizes and skill levels.
Dry weight is 239 Kg (526.9 lbs.), while curb weight is approximately 246–251 Kg (542.3–554.2 lbs.). Unfortunately, GVWR (Gross Vehicle Weight Rating) is unspecified in the owner's manual.
Exterior
Interestingly, the 2006 Suzuki Boulevard C50 has slightly bigger dimensions than the larger-displacement GSF1200. It is wider and has a longer wheelbase than the latter.
Superficially, the two-wheeler takes its styling cues from American cruisers – with its "kicked-out front end and pullback handlebars." Depending on the trim, the C50 may be blacked out or fitted with chrome-plated rims and spoked wheels.
Some signature features characteristic of the C50 include a spacious, plush 2-up seat, teardrop fuel tank, buckhorn-style handlebars (view on Amazon), valance fenders with sculpted ends, a bobbed rear end, and forward-mounted floorboards.
If you wish to raise the classic two-wheeler's comfort levels or give it more character, 2006 Suzuki Boulevard C50 accessories like Grasshopper Limited Drivers Backrest (view on Amazon), skeleton-skull hand levers, or Baione Staggered Shortshots Full Exhaust Pipe Kit (view on Amazon) would be perfect additions.
Worth of a 2006 Suzuki Boulevard C50
| Year – Model – Trim | List Price | Retail/Trade-In Values |
| --- | --- | --- |
| Suzuki C50BK6 Boulevard (Black) | $6,699 | $2,160 – $2,845 |
| Suzuki C50K6 Boulevard (Two-Tone) | $6,799 | $2,160 – $2,845 |
| Suzuki C50CK6 Boulevard | $7,099 | $2,290 – $3,010 |
| Suzuki C50TK6 Boulevard (Touring) | $7,949 | $2,270 – $2,985 |
(Source: JD Power)
Out of all the 2006 Suzuki Boulevard C50 iterations, the Touring version was the most expensive and sold for $7,949 (roughly $11,703 if purchased brand-new today). The package included studded seats and saddlebags, white wall tires, a windshield, and a passenger backrest.
Suzuki C50TK6 aside, the rest of the models were pretty basic, with black or two-tone color options. B.O.S.S. (Blacked-Out Suzuki Special) and Special-Edition trims did not come around until 2014.
2006 Suzuki Boulevard C50 Known Problems
A blanket observation I have had with motorcycles shifting from carburetors to electronic fuel injection is that they seem to be plagued with fuel system or electrical-related problems during the first few years of sporting their new tech. It seems the same is true for the 2006 Suzuki Boulevard C50.
That said, let us take a closer look into the top three problems associated with this fuel-injected two-wheeler:
Engine Backfiring
Backfiring tops the list of most common issues linked to the C50. Owners noticed that the 800-cc motorcycle has a propensity to "crop up" after years of service. Initially, riders may hear a loud bang or popping sound while driving or when the engine is running.
It usually turns out that a fouled or defective spark plug is responsible for the concerning noise. However, the issue could also stem from worn air filters, non-working fuel injectors, or a misfiring ignition coil.
Starting Difficulties
Rough starting is another known issue of the fuel-injected Suzuki Boulevard C50. And typically, the reason behind it is a clogged or dirty fuel injector or filter. Because electronic fuel injection manages fuel delivery and consumption more accurately than carburetors, it is natural for the system to be more exacting.
That said, motorheads accustomed to using low-quality fuel or not checking the condition of their fuel system are likely to experience recurring rough starts more frequently than others.
Charging Problems
Although Suzuki C50 batteries reportedly have charging problems, the issue is not exclusive to the bike. Fortunately, it is one of the easier items to address in this list (provided the battery problem is not too far gone and the alternator is not compromised).
Usually, a full-blown inspection of the battery will reveal if there is an issue with installation, the terminals or connectors, or the voltage regulator. Depending on the problem source identified, you may have to clean, repair, or replace relevant electrical components.
Other reported issues with the Suzuki C50 are as follows:
Excessive piston slap at 800 miles (an anecdotal issue and usually happens with carbureted C50s)
Cam chain tensioner being an issue at 30,000 miles
The need for new clutches at 10,000 miles
In truth, these issues predominantly result from the natural wear and tear (if not poor handling and upkeep) of the 2006 Suzuki Boulevard C50. If promptly addressed (or better yet, avoided altogether), these known problems are quite negligible and should not deter you from taking a liking to or purchasing the classic two-wheeler.
About Suzuki
Suzuki Motor Corporation (or Suzuki) is one of the "Big 4" Japanese manufacturers that disrupted the almost-perennial reign of British and American OEMs in the motorcycling industry. Founded in 1909 in Hamamatsu, Japan, the firm was originally a loom-weaving business before it ventured into small-car manufacturing in 1937.
That change in product offering proved to be a significant step in the direction of automotive, as the company has not looked back since. From producing small cars in the late '30s, Suzuki included motorized bicycles in its plethora 15 years after. More than half a century later, it launched its fuel-injected cruiser motorcycle, the 2006 Suzuki Boulevard C50.
Conclusion – 2006 C50 Suzuki Boulevard Specs & Review
The 2006 Suzuki Boulevard C50, if anything, is an antithesis of the concept that balance is boring. With this 800-class motorcycle, you get the proverbial 'best of both worlds' – a nostalgic, warms-your-heart feel and aesthetic and modern, state-of-the-art technology.
It is no wonder the C50 is deemed the best-selling metric motorcycle in the market by savants and its loyal following alike. Suzuki obviously did (and continues to do) something right with the classic two-wheeler.