2001 Buell Blast 500 Specs and Review
Disclosure: We may get commissions for purchases made through links in this post.
While most big-name flagship motorcycles cater to more experienced riders, there are only a handful of two-wheelers like the 2001 Buell Blast 500 that do the reverse. From its inception, this bike had one goal – to bring as many new motorheads as possible to the doors of Buell and Harley-Davidson dealers. Whether or not it succeeded in this endeavor is left for you to discover in this guide.
The 2001 Buell Blast 500 is a 492-cc motorcycle produced by Buell Motorcycle Company from 2000 to 2009. This mid-class bike features an air-cooled Sportster-inspired engine, impressive Showa suspension, and Surlyn composite body panels. It boasts up to 46 Nm of torque and a 98-mph top-speed rating.
These performance figures may be laughable by today's standards. But they are the perfect setup for a beginner learning the ropes of motorcycling or even for a long-rested hobbyist wanting to get back into weekend cruising. If the 2001 Buell Blast piques your interest, read on and learn more about its specs and other praiseworthy attributes in this article.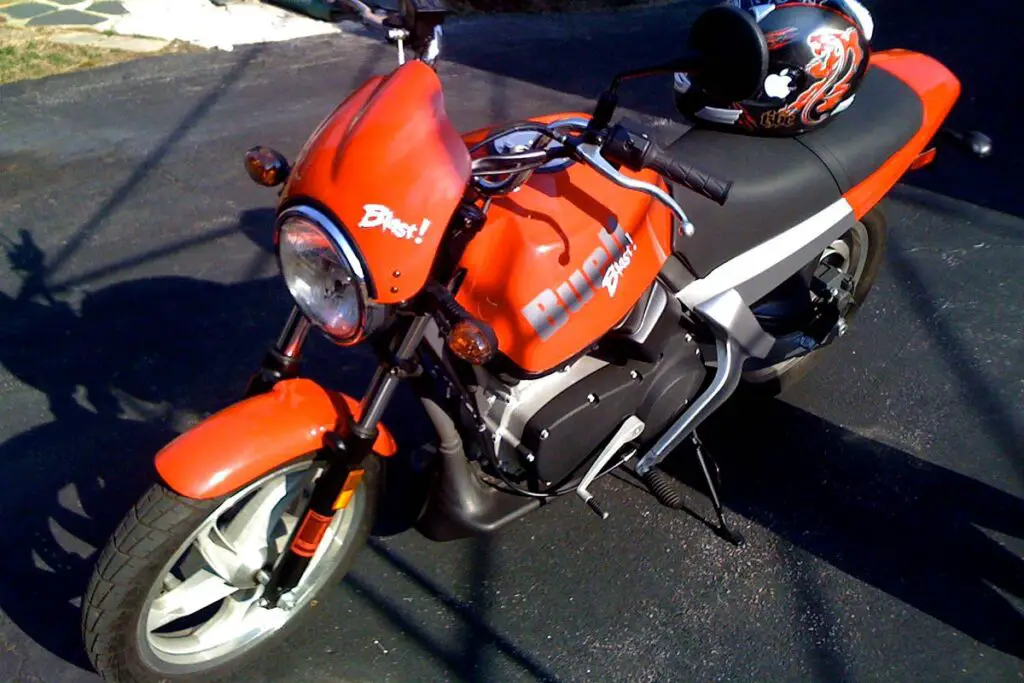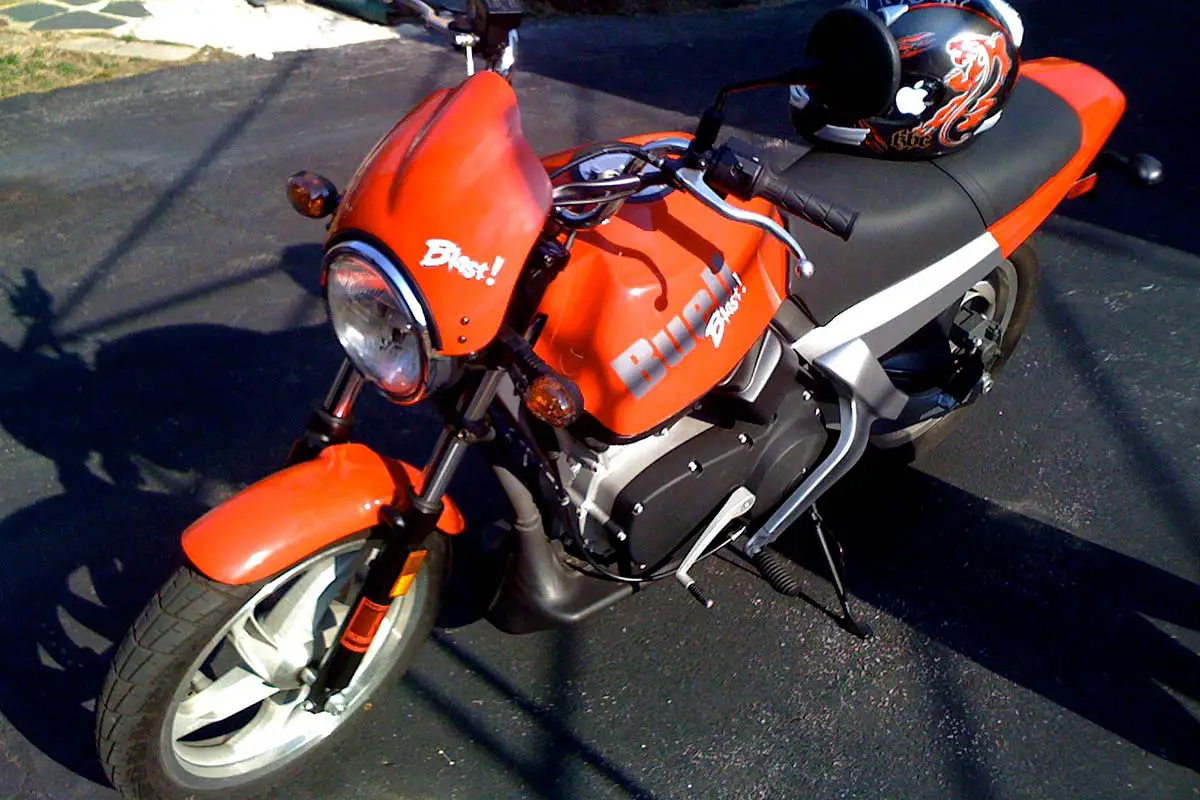 Harley's Bold, Entry-Level Bike
For those riding long enough, you have probably already read Big Twin Magazine's 2017 article. And if you did, you would instantly recognize that the above description is inspired by a line or two in Steve Anderson's write-up.
In that feature, Anderson pointed out how powerhouse Harley-Davidson (widely known for its cafe racer following and lovers of the piston slap) had long since contemplated venturing into the beginner scene. In 2000, the manufacturer finally broke ground with the launch of the mid-class Buell P3-Blast.
"Why launch it under Buell and not under Harley?" you might ask. You see, the answer is quite simple. The Blast intended to bring new customers into Buell and Harley dealerships – hence the decision to brand it under Buell.
Additionally, the package the 500-cc bike offered was nowhere near what Harley's loyal followers deemed customary. Unlike its signature big-bore machines like the 1990 FLSTF Fat Boy and the Sportster 48, the Blast was "small and inexpensive" and aimed at learners instead of advanced riders – a refreshing but unusual marketing strategy coming from HD.
Oversimplification or a Mishmash of Trade-offs?
Since its launch, many motorcycling publications have described the Blast as an oversimplified Sportster. This statement is true to an extent, given the bike's adopted power mill and spartan features. While learners appreciate its beginner-friendliness and everything else it offers, some experienced riders scoff at its simplicity.
Even Anderson's feature hints at the motorbike's restricted capabilities resulting from the cost savings in its design and manufacture – despite highlighting the Blast as "a motorcycle that is fully capable of pleasing a new motorcyclist without insulting an experienced one" towards the end of his article.
Objectively, the 2001 Buell Blast is no mishmash. Cost-effective, oversimplified, or not, a tremendous amount of thought goes into conceptualizing a product and having those concepts come to fruition. Creating motorcycles and specifically designing the Blast is no exception.
By no means is it easy to combine a single mill, lightweight chassis, and shortened suspension at half the usual cost and end up with more-than-passable on-road and off-road performance.
2001 Buell Blast 500 Specs & Features
Engine
An air-cooled, 4-stroke single-cylinder OHV engine with a bore-stroke ratio of 88.8 x 79.4 mm (3.500 x 3.125 inches) brings the 2001 Buell Blast to life. It has a hydraulic valvetrain with a self-adjusting lifter and a Sportster-inspired air cleaner assembly.
Piston displacement is 492 cm3 (30 cu-in), producing a horsepower of 30 hp (22.06 kW) @ 6,500 RPM. A 40-mm constant-velocity Keihin carburetor with a compression ratio of 9.2:1 handles the air-fuel mixture and lends to the machine's fuel efficiency.
Overall, this engine configuration lends to an unofficial top speed of 65–98 mph (105–158 km/h) and a maximum torque of 36.6 Nm (3.73 kgf-m, 27 ft-lb) @ 3,200 RPM. Later-year models seem to have increased their power output to 34 hp (24.8 kW) @ 7,500 RPM and torque to 40.7 Nm (4.1 kgf-m, 30 ft-lb) @ 3,200 RPM.
Fuel & Lubrication
Fuel tank capacity is 10.6 L (2.8 USgal) of unleaded gasoline with a minimum PON 87 rating. This quantity provides a fuel mileage of 3.4–3.7 L/100 km or 64–70 mpg (source: Wikipedia; Popular Mechanics).
Conversely, the required capacity for the Blast's force-feed pressure type lubrication system is 1.89 L (2.0 US quarts), which is stored in an oil reservoir found in the frame backbone.
This system has an oil pump consisting of a feed and 'scavenge' set (otherwise referred to as a gerotor gear) set that seldom needs servicing but would need a replacement once you reach the 0.004-inch limit.
Drivetrain
A manual, 5-speed constant-mesh transmission (with a 1-N-2-3-4-5 gearshift sequence) and a wet, multi-plate clutch assembly deliver power to the ground for the 2001 Buell Blast. The bike employs an 18-mm wide Kevlar-toothed belt drive but can convert to have a 520 or 530 O-ring chain (view on Amazon).
However, it will need a few elements, such as adjuster slots to the swingarm, a chain tensioner, and an adapter plate for the rear sprocket. If you plan to go for larger bike wheel sizes, it is best to do these conversions together.
Here are the stock gear ratios of the 2001 Buell Blast:
| | |
| --- | --- |
| Engine Sprocket* | 35 |
| Clutch Sprocket* | 56 |
| Primary Drive Ratio | 1.60:1 |
| Transmission Gear Ratio (1st) | 2.69 (12.74) |
| Transmission Gear Ratio (2nd) | 1.85 (8.77) |
| Transmission Gear Ratio (3rd) | 1.43 (6.79) |
| Transmission Gear Ratio (4th) | 1,18 (5.60) |
| Transmission Gear Ratio (5th) | 1.00 (4.74) |
| Transmission Sprocket* | 27 |
| Rear Wheel Sprocket* | 80 |
| Secondary Drive Belt* | 139 |
| Final Drive Ratio | 2.96:1 |
* number of teeth
Ignition
This 500-cc beginner-friendly motorbike has an electronic CDI and an electric starter system. Ignition timing is 20° BTDC/18° BTDC (WOT) @ 1,200 RPM (initial "F" mark) and 45° BTDC/35° BTDC (WOT) @ 6,000 RPM (full advance), with a 10R12 plug responsible for spark ignition. An A.C. alternator with a rated output of 19-26 VAC per 1,000 RPM serves as its charging system. Required fuses and lighting are as follows:
Electrical System
| | |
| --- | --- |
| Main Circuit Breaker | 30 A |
| Light Fuse | 15 A |
| System Fuse | 15 A |
| Key Switch Fuse | 15 A |
| Accessory Fuse | 7.5 A |
| Ignition Fuse | 7.5 A |
Lighting
| | |
| --- | --- |
| Headlight (High/Low) | 60/55 W x 1 |
| Tail/Brake Light | 5/21 W x 1 |
| Turn Signal Lamps (Front/Rear) | 10 W x 4 |
| (In speedometer) High Beam, Turn Signal, Oil Pressure, Neutral | Non-replaceable LED |
Based on the owner's manual, the Blast uses a 12 VDC, 12 Ah/(10 HR) battery with a 200 CCA (Cold Cranking Amps) rating and assembled dimensions of 150x87x145 mm. Acceptable formats are GYZ16H (GYZ series), YTX14H-BS (high-performance AGM), and YTX14-BS (AGM).
Batteries like Banshee YT14B-BS/BT14B-4 Lithium-Ion Battery (view on Amazon) used on liter-class motorcycles would be a perfect fit.
Tires & Brakes
Factory tires consist of Dunlop K330 100/80-16 50s front tires (view on Amazon) and Dunlop K330 120/80-16 60s rear tires mounted on cast-aluminum wheels. Recommended cold-tire pressure range is 193–207 kPa (1.97–2.11 kgf/cm2, 28–30 psi) but can adjust to 220–248 kPa (2.24–2.53 kgf/cm2, 32–36 psi) if the gross vehicle weight is maximized.
As for brakes, 320-mm twin hydraulic front discs with dual-piston calipers and a 220-mm single hydraulic rear disc provide the 2001 Buell Blast halting power and complete its tire-and-wheel assembly.
One thing to note is the 2001 Buell Blast's "innovative wheel design," which eliminates the need for carriers since the brake rotors and final-drive pulley attach directly at bosses cast into the wheel spokes instead of the hub. Because the design reduces braking torque normally transmitted through attachment points, it allows the use of lighter mounting hardware.
Suspension
The front suspension consists of 37-mm Showa® USD forks. Meanwhile, the rear has a twin-sided swingarm and non-adjustable Showa® gas-charged shocks. The suspension units offer no compression and rebound damping adjustability so as not to discourage nouveau riders.
The stock suspension setup is soft at both ends and may not be suitable for country roads or more technical terrain. The wheelbase is 55.3 inches (1,404 mm), and the minimum ground clearance is 129.5 mm (5.1 inches).
Dimensions
The length and width measurements of the Blast are 77.8 x 29.3 inches (1,980 x 740 mm – L x W). The standard seat height measures 27.5 inches (698 mm) but can adjust to 25.5 inches (648 mm). This enables smaller riders to comfortably plant their feet on the ground during stop-and-go traffic.
The bike's curb weight is 172 Kg (380 lbs.), load capacity is 181 Kg (400 lbs.), and GVWR is 353 Kg (780 lbs.) – inclusive of rider/passenger weight, cargo, and accessories.
Exterior
Enclosed in a rectangular HSLA steel backbone frame (25° caster angle, 86-mm/3.4-inch trail) are internal engine components.
Tough Surlyn composite body panels with molded-in colors in red, blue, and black make up the front fender, fly-screen fairing, tail section, and fuel tank shroud. It is the same material used on the bumper covers of some Chrysler vehicles.
The beauty of these panels is that scratches and grazes would not automatically call for a repaint, as they can be buffed away – unlike in other motorcycles.
2001 Buell Blast Value
The original MSRP for this 500-cc motorcycle ranged from $4,395 to $4,899. It increased by about $50 yearly (or $500 for its outgoing production model). Price increases only happened four times throughout the bike's lifecycle – in 2003, 2006, and during its final two years.
Even with these price changes, a brand new Buell would still be $300–$800 less than Team Green's flagship two-wheelers and at least $1,000 cheaper than Honda's CR500R1.
In the used-bike market, the 2001 Buell Blast remains competitive. Different trader and auction sites show resale values falling between $725 and $2,950. Most of these pre-owned bikes are sold in the Great Lakes or Mountain West regions of the U.S., some scattered in New York, Missouri, Washington, and Texas.
Expect these units to have a few bumps and scratches and an average of 6,000 miles on the clock. Note – be cautious of Craigslist listings as some are overpriced.
Buell Blast 500 Pros and Cons
Pros
The 2001 Buell Blast is competitively priced, even against the offerings of the Japanese Big 4.
Designed with beginner riders in mind, the motorbike does not have any feature that might prove too intimidating or complex for new owners.
Moving through city traffic and parking lots is more convenient by handling mannerisms, quick steering geometry, and light weight.
The Blast's mill shares parts and tooling with the tested-and-proven Sportster.
Its size caters to shorter or smaller riders.
The body panels' molded-in color reduces the need for a full paint job on secondhand motorbikes.
Given its stark specs and engine design, the 2001 Buell Blast still offers a decent power output of 30 hp (22.06 kW) @ 6,500 RPM.
This small machine is equipped with an automatic choke, making starts easier.
Compared to larger-displacement Buells, shifting gears on the Blast is more precise.
Its tight clutch pull makes quick highway-speed pulls comparable to a Sportster Iron 883.
Cons
Despite its intended purpose, consumers never really recognized the Blast as a stepping stone to a larger-displacement Harley or Buell model.
Performance differences between bigger-bore motorcycles and the Blast become apparent when riding at speeds above 80 mph (129 km/h).
Contrary to popular belief, the Blast's Sportster-inspired power mill is not interchangeable with the latter.
Vibration is felt in the saddle and through the handgrips at low speeds.
Some riders may find the upright riding position unfavorable. Similarly, heavier riders may find the seat foam too thin or inadequate (especially for long drives).
Factory suspension offers no adjustments, which may be a bummer for the more skilled adventurer with a proclivity for unfrequented paths.
Due to its simplistic features, the 2001 Buell Blast 500 is easy to outgrow and is ill-suited for in-training aggro-riders.
Some owners find the belt-driven transmission to be outdated and erratically unreliable.
Instrumentation does not include a tachometer.
About Buell
Buell is a subsidiary of Harley-Davidson headquartered in Grand Rapids, Michigan. It is the maker of the 2001 Buell Blast 500. Established in 1983, Ex-HD engineer Erik Buell, initially an AMA Formula 1 racer, started the firm.
When the Formula 1 event was canceled, it led the former motorcycle racer to focus his energies on producing road-legal and racing-inspired two-wheelers. Since then, Buell has made the RW 750 Road Warrior, X1 Lightning, and Buell 1125RR and continues to add innovative motorcycles to its armada of product offerings.
Conclusion – 2001 Buell Blast 500 Review
In today's multi-cylinder-dominated market, the continued presence of the 2001 Buell Blast 500 may seem inconsequential. But for those who know better, the existence of this entry-level bike is of the essence. As engine design and creature comforts become more advanced by the second, the market also grows its tendency to alienate the novice crowd from the motorcycling scene.
That, if anything, is the last thing savvy manufacturers and motorheads would wish to happen. Inclusivity is necessary for the motorcycling industry (or any other field) to thrive. And this is where the 2001 Buell Blast steps in.