Kawasaki Vulcan 1700 Nomad (Specs and Review)
Disclosure: We may get commissions for purchases made through links in this post.
In the realm of touring motorcycles, the Kawasaki Vulcan 1700 Nomad has earned a reputation as a formidable cruiser that combines power, comfort, and style. With its sleek design, robust performance, and long-distance capabilities, the Nomad has become a popular choice among riders seeking an unforgettable touring experience. This article will delve into the history, specs, and lowdowns of this standout two-wheeler.
The Kawasaki Vulcan 1700 Nomad is a light-duty touring motorcycle produced by the Japanese firm from 2009—2014. Formerly marketed as Kawasaki's flagship long-distance tourer, the bike features sleek lines, simplistic paint schemes, impressive performance figures, and a classic, timeless aesthetic.
Getting acquainted with the current icons of the touring landscape entails familiarity with the likes of the Nomad. Read on and let this guide loop you in on the competencies and other interesting facts about the time-honored Kawasaki Vulcan Nomad 1700.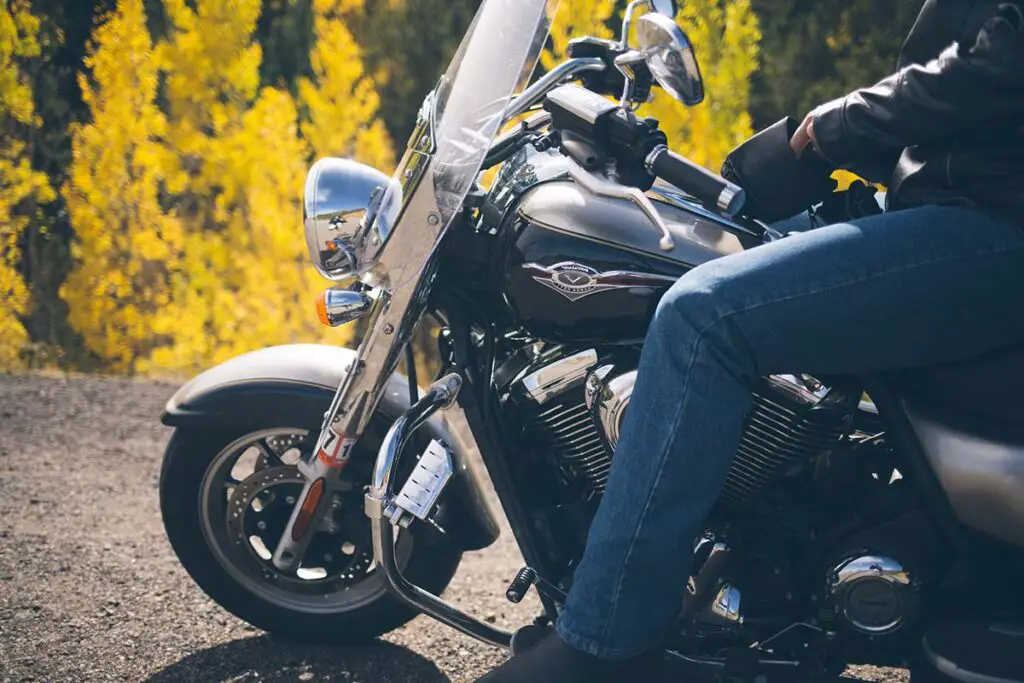 The 1700 Nomad — A Touring Legend
The Kawasaki Vulcan 1700 Nomad is 9th in the line of Vulcan motorcycle launches and the 2nd largest displacement from the series. Building upon the legacy of its predecessors, the Nomad made its debut in 2009 and has since embraced a classic cruiser aesthetic while incorporating modern engineering advancements.
Its release marked a significant milestone for Kawasaki, as the company sought to capture the hearts of long-distance touring enthusiasts. Throughout its production run, the Nomad has undergone various updates to enhance its performance and riders' overall riding experience — with the most significant improvements taking place a year after its launch.
In 2010, the bike underwent a series of notable changes. Beneath its reimagined exterior lay a "lighter, stiffer, and more compact frame" that helped accentuate its redesigned side panels, exhaust system (view on Amazon), rear fender, and taillight assembly. More importantly, this enhanced framework augmented the two-wheeler's performance and handling.
Because of these qualities, the Nomad continues to charm enthusiasts from all walks of life almost a decade after its production ceased. Without a doubt, this cruiser-tourer's loyal following is proof that you do not need a speed demon or a super-aggressive machine to savor the open road and enjoy riding.
2009 Kawasaki Vulcan Nomad 1700 Specs
Engine
A liquid-cooled 4-stroke SOHC V-Twin power mill powers the Kawasaki VN1700C9F. It has a bore-stroke ratio of 102 × 104 mm (4.016 × 4.094 inches), a compression ratio of 9.5:1, and an engine displacement of 1,700 cm³ (103.7 in³).
All production models of this touring legend are fuel-injected, with 42-mm throttle bodies and dual Mikuni EACW42 fuel injectors. However, only CAL and SEA models have evaporative emission control systems consisting of oxygen sensors, canisters, and separators.
Overall, this engine layout lends to the following performance figures:
| Description | |
| --- | --- |
| Top Speed | 115 mph (185 km/h) |
| Horsepower | 73.4 PS (54 kW) @ 5,000 RPM |
| Maximum Torque | 136 Nm (13.9 kgf-m, 100.3 lb-ft @ 2,750 RPM |
| Fuel Economy | 35—45 mpg (6.3—8.1 L/100 km, 15—19 kmpl) |
| Approximate Tank Range | approximately 184—237 miles, 296—381 km |
Its power and torque outputs increased by approximately 10—12% compared to its 1500-cc sibling. Meanwhile, the top speed rating increased by 7.5%.
Fuel & Lubrication 
Fuel tank capacity is 20 L (5.3 US gal) of high-quality unleaded gasoline with a minimum PON 87/RON 91 rating, supplemented by an in-tank, friction-type fuel pump. Lubrication-wise, the Nomad has a Forced lubrication (semi-dry-sump) system with the following requirements:
Without filter change: 4.1 L (4.3 US qt)
With filter change: 4.3 L (4.5 US qt)
When completely dry: 5 L (5.3 US qt)
Recommended engine oil is SAE 10W-40 with a minimum API grade of SJ to SM, meeting JASO T903 MA/MA1/MA2 standards. Other viscosity grades specified in the owner's manual are permissible following changes in altitude, ambient temperature, and riding conditions.
Drivetrain
This tourer has a 6-speed (close-ratio) constant-mesh manual return shift system and a multi-disc wet clutch assembly. It also utilizes a belt-drive system for power transmission to the rear wheel. This powertrain layout is mated to a digital-memory-type ECU with a built-in IC igniter and sealed with resin, lending to the bike's advanced engine management and precise ignition timing.
Stock transmission gear ratios:
| Description | |
| --- | --- |
| Primary Reduction Ratio | 1.515 (50/33, chain) |
| Transmission Gear Ratio — 1st | 3.077 (40/13) |
| Transmission Gear Ratio — 2nd | 1.900 (38/20) |
| Transmission Gear Ratio — 3rd | 1.407 (38/27) |
| Transmission Gear Ratio — 4th | 1.143 (32/28) |
| Transmission Gear Ratio — 5th | 0.967 (29/30) |
| Transmission Gear Ratio — 6th | 0.806 (29/36) |
| Final Reduction Ratio | 2.250 (72/32) |
| Overall Drive Ratio | 2.746 @ Top Gear |
Ignition & Electricals
A battery and coil (transistorized) ignition and electric starting system bring the Vulcan 1700 Nomad and its accessories to life. Ignition timing is 0° BTDC @ 950 RPM (initial "F" mark) and 32° BTDC @ 4,250 RPM (full advance).
An NGK ILZKAR7B11 with an electrode gap of 1.0—1.1 mm (0.039—0.043 inch) is responsible for spark ignition. Meanwhile, a triple-phase A.C. alternator (view on Amazon) with a rated output of 46.8 A/14V @ 5,000 RPM serves as its charging system.
A 12V 18 Ah/(10 HR) FTZ16-BS sealed battery aids in powering the two-wheeler's electronics and lighting assembly. In case of wear or damage, this stock battery is replaceable with compatible high-performance AGM formats like YTX20CH-BS batteries — with assembled dimensions of 150 x 87 x 161 mm (6.00 x 3.44 x 6.34 inches — L x W x H), sans wiring harness and mounting accessories.
Tires & Brakes
Cast-aluminum alloy wheels have 130/90-B16 M/C 67H front tires and 170/70-B16 M/C 75H rear tires. These factory knobbies are tubeless Bridgestone Exedra models — G721 at the front and G722 at the back.
Recommended front and rear cold-tire pressures are 200 kPa (2.0 kgf/cm2, 28 psi) and 250 kPa (2.5 kgf/cm2, 36 psi), respectively. The rear, however, requires adjusting to 280 kPa (2.8 kgf/cm2, 40 psi) if payload is between 97.5 Kg (215 lbs.) and 180 Kg (397 lbs.)
In the event of puncture or wear, you may swap out the original rubber for Michelin Commander IIs (view on Amazon) for the front, and Shinko 777 Cruiser Blackwall Motorcycle Tire for the rear — both are great aftermarket options for touring applications.
As for brakes, triple hydraulic discs with dual-piston calipers — measuring 300 mm (11.8 inches) front and rear — provide the Nomad with stopping power. Although highly unlikely, expect slight variations in diameter based on specific trim packages of the motorcycle.
Suspension
Enclosed in a tubular, double-cradle steel frame (30° caster/rake angle; 169 mm or 6.7 inches trail) are 43-mm front telescopic forks and a rear swingarm. These suspension units provide a respective wheel travel of 140 mm (5.5 inches) and 80 mm (3.2 inches). There is much to be had regarding the front suspension's settings. Thankfully, the rear unit offers 4-way rebound damper adjustability.
Other elements affecting the two-wheeler's overall handling and maneuverability are its 1,665-mm (65.5-inch) wheelbase, 140-mm (5.5-inch) ground clearance, and 3.3-meter (10.8-foot) turning radius. Its long wheelbase and smaller-than-average turning radius, in particular, enhance stability and improve agility in tight spaces while boosting rider confidence.
Dimensions & Capacities
The overall dimensions of the Vulcan 1700 Nomad are 2,500 x 1,025 x 1,465 mm (98.4 x 40.3 x 57.7 inches). Meanwhile, the rest of the trims' dimensions are within ± 2% of these figures. There are slight variances in these measurements depending on the market. For instance, Australian units are a tad narrower at 995 mm (39.2) — similar in width to the 1500cc Kawasaki Vulcan.
Seat height is 730 mm (28.7 inches) and remains consistent across different trims within the same production year. Nonetheless, specific variations may have different aesthetics or additional features that could make the saddle height feel taller or shorter for some riders.
In terms of stock curb weight, the two-wheeler tips the scale at 378 Kg (833 lbs.), with a weight distribution of 168 Kg (370 lbs.) at the front and 210 Kg (463 lbs.) at the rear. Conversely, GVWR is an estimated 568—576 Kg (1,252—1,270 lbs.) — including a full fuel tank and fluids, rider/passenger weight, cargo, and accessories.
Exterior
The Kawasaki Vulcan 1700 Nomad boasts a stylish, classic cruiser design emphasizing its touring capabilities and commanding presence on the road. Its exterior combines nostalgic touches with modern elements, appealing to riders who value elegance, functionality, and power.
A large, sculpted fuel tank complements the Nomad's muscular and robust visage and provides ample fuel capacity for extended rides. The front end is characterized by a wide, chromed headlight housing and a prominent front fender that adds a touch of nostalgia. For some models, chrome accents continue throughout the bike, contributing to its standout visual.
US and California releases are typically blacked out, while European models have more chrome accents. However, the general styling of the tourer is not limited to these descriptions, as the lineup released four trim packages during its debut.
For the most part, ABS-equipped iterations mirror the same styling cues as the base models. In contrast, the Classic and Limited-Edition trims offer a more vintage appearance, with the latter throwing in unique paint schemes, special badging, and exclusive accessories.
Cost of a Vulcan 1700 Nomad
At its launch, the original MSRP of the Vulcan 1700cc Nomad was $14,399, with hefty rate increases of $300—$800 per year. This price hike came to a temporary halt in 2012 when the two-wheeler retained its $16,099 list pricing until the following year.
In 2014, however, ABS-equipped versions were introduced to the market, effectively replacing the more modest base models — cause for the touring motorcycle's price to go up to $17,499. As for its low-to-average retail price, values range from $3,270 to $7,595 (per JD Power data). Between the original standard model and the more-recent ABS iterations, the latter models seem to keep their value better.
When looking up MSRP information online, note that the Vulcan 1700 Nomad was only produced and sold until 2014. Anything past that period would be its same-displacement cousins: the Classic, Classic LT, Voyager, and Vaquero trims.
Kawasaki Vulcan Nomad 1700 Problems
While the 1700cc Nomad is generally regarded as a reliable and well-built motorcycle, there have been a few reported issues that owners and riders alike have encountered. Here are the five most prevalent problems that have been mentioned in Vulcan-dedicated forums:
Clutch Slippage
Some riders have reportedly had instances of clutch slippage on the Vulcan 1700 Nomad. This issue could result in a loss of power transmission (the last thing you would want to happen when cornering, going uphill, or overtaking on the freeway).
Addressing the issue may require adjustment or replacement of the affected clutch. However, regularly inspecting and maintaining the clutch system is still the best way to ensure proper operation.
Fuel Pump Failure
Another commonly reported fault, fuel pump failure, can leave riders stranded on the road or in remote locations (posing a significant inconvenience and potential safety hazard).
Symptoms of this failure include difficulty starting the bike, stalling, and power dips while riding — all of which should be promptly addressed to ensure proper fuel delivery and reliable motorcycle operation.
Electrical Problems
These irregularities can range from intermittent to complete electrical failures. Malfunctioning lights or gauges and failures affecting the operation of essential systems (such as ignition-impacting mishaps) are a couple of examples that if not tended to right away, can worsen and potentially lead to poor on-road visibility, starting difficulties, or a complete shutdown.
Brake Issues
Although the motorcycle's braking system components are robust, some riders expressed concerns over this aspect of the Vulcan 1700 Nomad. Reported issues include soft brake feel, excessive brake noise, and uneven brake pad wear (to name a few).
It is not clear in the forums if these anecdotal instances are limited to non-ABS iterations. Regular inspection and care are still recommended for post-2013 or ABS-equipped models.
Overheating
A few owners have mentioned challenges related to engine overheating on the 1700-cc Vulcan Nomad. While this is probably the least prevalent scenario in this list, it is one of the costliest when put off or disregarded. Not only can overheating warp components, seals, and gaskets, but it can also reduce performance or, worse, result in engine failure or damage.
It is important to note that while these problems have been reported by some owners, they do not necessarily affect every Vulcan 1700 Nomad out there.
The best course of action is to address any concerns with a reputable Kawasaki dealership or an experienced motorcycle mechanic capable of diagnosing and resolving these specific issues. Regular upkeep and diligent attention can also help reduce the chances of facing these challenges, promoting a seamless and pleasurable riding experience.
About Kawasaki
Kawasaki Heavy Industries, Ltd., a renowned Japanese motorcycle manufacturer and one of the pillars of the Japanese "Big 4," has been at the forefront of the industry for decades. With a rich history of producing high-performance motorcycles, the company has established itself as a trusted brand among riders worldwide.
The Kawasaki Vulcan 1700 Nomad exemplifies Kawasaki's commitment to delivering exceptional motorcycles that cater to the needs of touring enthusiasts.
Conclusion — Kawasaki Vulcan 1700 Nomad
For riders seeking an unforgettable touring experience, the Kawasaki Vulcan 1700 Nomad is an impressive option. Its highly-coveted qualities make it a formidable cruiser that can tackle interstate roads and highways with ease.
With its rich history, robust specifications, and competitive pricing, the Nomad has become a top choice in the touring motorcycle segment. So whether you are embarking on a solo adventure or enjoying the open road with a passenger, the Kawasaki Vulcan 1700 Nomad promises to deliver an unforgettable journey.