Harley-Davidson XR1200 (Specs and Review)
Disclosure: We may get commissions for purchases made through links in this post.
Whether you're a motorcycle collector, rider, racer, or simply looking for personal transportation, I'm sure you're curious whether the Harley XR1200 is a worthy investment. Yes, it's manufactured by one of the well-renowned brands, but it doesn't mean it's the best option for everyone.
So, what does the Harley XR1200 have to offer? This Harley-Davidson creation has a design inspired by one of its famous dirt-track motorcycles, the XR750. It has a retro style and features and specs that allow it to perform on tracks and roads and ensure it's a perfect fit for a number of users.
To help you decide whether purchasing the HD XR1200 Sportster is worthy enough and meets your specific needs and lifestyle, let's have an in-depth look at the motorcycle's interior and exterior features. Let's also dive deep into its specs to ensure the most technical motorcycle enthusiasts have the necessary information. Lastly, I will provide answers to some common questions about the motorcycle to have a better idea of the unit.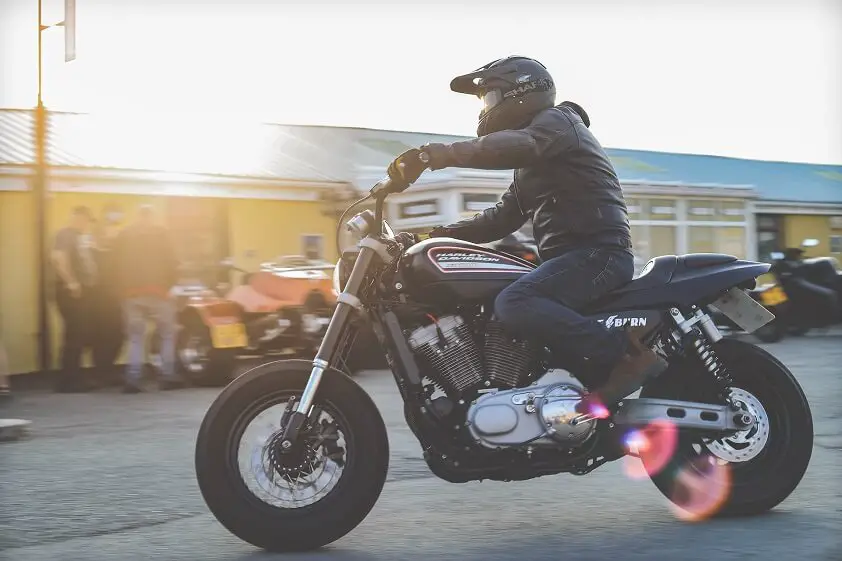 Harley XR1200 Exterior Features
The moment you lay your eyes on the Harley-Davidson XR1200, you can conclude that the brand stayed through to the unit's marketing slogan: "Inspired by the racing line." From its style and size to its handlebars, seat, and equipment, the XR1200 won't disappoint.
Overall Design
This sporty, muscular-looking motorcycle by Harley-Davidson has a size and weight that plays between small and large and heavy and light, respectively. This feature assures that riders of all skill levels can drive it around with ease.
The motorcycle's slender, plastic-made rear fender, fuel tank, and small crude mirrors perfectly match its thin, sporty seat. The same goes for the installed thin, chrome-finished exhaust covers.
As motorcycle enthusiasts and experts, you will quickly be reminded of a standard Sportster once you see the XR1200's rear shocks and small, stylish headlight held by aluminum-made clamps.
Equipment-wise, the XR1200 is as basic as it can be to stay true to its clean but stylish retro design and Sportster name. It has an analog tachometer, a small LCD speedometer, an analog fuel indicator, and basic switch-on controls for light indicators.
But don't be fooled by this simplicity; the small instrument cluster is designed to provide sufficient wind protection!
Tires
The tires installed in a motorcycle not only affect its stability and overall performance but also add to its aesthetics.
You'll love that the XR1200 has Qualifier tires that are manufactured by Dunlop, a well-established brand. They're not just quality tires but are also accessible for easy replacement.
Some might find that these tires seem too little for the unit's weight. While it's true, the tires efficiently stick to the motorcycle's tarmac.
Ergonomics
With a comfortable, thin seat height of nearly 30 inches, the Harley-Davidson XR1200 is comfortable to ride, whether you're short or tall. Add that to the unit's well-placed, wide, blacked-out, dirt-track-bend handlebars that prevent uncomfortable wrist bends.
Reaching the handlebars won't also be an issue, whether you're short or tall, thanks to the seat's upright design and neutral positioning. I also would like to note that the grips installed are a bit smaller than other cruiser bikes, allowing for better and more comfortable control and improved feedback.
The non-adjustable clutch and brake levers also have a shape that can nicely fit several hand sizes.
How about the Harley XR1200's lean angle that plays a significant role when parking or stopping on the roadside? The motorcycle won't disappoint you either! It will lean perfectly on its left side, like with most Harley-Davidson creations. 
Harley XR1200 Interior Features
While the motorcycle's exterior features ensure excellent maneuverability and comfort, that won't matter if it fails to perform on the track, even on the road. That said, here are the key interior features of the Harley-Davidson XR1200:
Engine, Transmission, and Suspension
Equipped with an air-cooled V-twin Evolution V45 engine combined with a large downdraft, airbox fuel injection system, precision-cooled cylinder heads, large oil cooler, and performance cams, the XR1200 won't fail you in terms of performance.
The non-adjustable fork isn't disappointing either. It ensured the XR1200 doesn't see-saw or wallow back and forth when you transition from throttling to braking and vice versa. In addition to that, it also provides sufficient damping.
If that's not enough, the adjustable twin shocks are attached to a swingarm made from cast aluminum for a smooth, firm ride when you're in sports mode.
How about the gearbox or transmission, you might ask? Well, it performs smoothly, although quite mechanical. It engages with extreme precision, and finding the neutral gear will never be a problem.
Clutch and Brake
A motorcycle's performance won't be enough without a good set of brake and clutch systems. With the XR1200's wide clutch lever that's classic to the brand, you're assured of a clean getaway from each stop. Actuation is also light enough for comfort and safety.
When it comes to the brakes, the motorcycle has an impressive stopping power. Hence, whether it's an anticipated or sudden stop, you're sure that your Harley XR1200 won't fail you.
Exhaust System
The XR1200's exhaust system has a maximum volume capacity of around seven liters for improved performance and breathing. Its catalyzer has been fitted between the mufflers and headers.
Emission-wise, it meets the Euro 3 standard.
Problems Expected From the Harley-Davidson XR1200
Like most motorcycles (or products), the Harley XR1200 isn't perfect. It has its own share of drawbacks that you should make a note of before purchasing it for yourself or a loved one.
For instance, the seat is a bit thin, which can be problematic for riders or users who are on the heavy side of the weighing scale. Some of you might also not like the fact that its rear-facing sides and tank are made of plastic materials.
It's also worth noting that the clutch and brake levers are non-adjustable. You'll also find that front and back suspensions have a fair share of limitations.
You'll also notice that a bit of harsh transfer through the motorcycle's chassis is created when it comes into contact with huge square-edged bumps and potholes. Since the XR1200 has a short suspension travel and the forks tend to blow through the stroke quickly, there's a noticeable hard hit felt through its handlebars and chassis.
Another issue that racers might face is the XR1200's rear tire isn't well-suited for too abrasive racing tracks. Some users complained that it can get torched completely after several laps. This can also be due to the fact that the tire carries about sixty percent of the motorcycle's total weight.
Harley XR1200 Summary of Specs
Now, let's get to the more technical aspects of the Harley-Davidson XR1200: its specs. Here's a quick summary of what has been specifically installed into the motorcycle to serve as your quick reference:
Exterior Specs
| Features | Specs |
| --- | --- |
| Frame Type | Steel-made tubular with a double cradle, circular sections, and cast junctions |
| Dry Weight | 562 lb (254 kg) |
| Seat Height | Laden: 741.60 mm (29.20 in)Unladen: 774.70 mm (29.32 in) |
| Ground Clearance | 147.20 mm (5.80 in) |
| Front Tire | 120/70ZR18 Dunlop Qualifier D209F |
| Rear Tire | 180/55ZR17 Dunlop Qualifier D209 |
| Wheelbase | 1518.92 mm (59.80 in) |
| Rake | 29.3° |
| Trail | 5.11 mm (129.794 in) |
Interior Specs
| Features | Specs |
| --- | --- |
| Fuel Capacity | 3.51 gal (13.29 liters) |
| Load Capacity With Full Tank | 410 lb (185.97 kg) |
| Engine Type | Air-cooled, four-stroke V-Twin |
| Valve Train | OHV with two valves per cylinder |
| Carburetor or Fuel Injection System | Electronic Sequential Port Fuel Injection (ESPFI) |
| Bore x Stroke | 88.90 x 96.80 mm (3.50 x 3.81 in) |
| Compression Ratio | 10:1 |
| Displacement | 1202 cc (73.25 cu in) |
| Transmission | Five-speed |
| Primary Drive | Chain, 57/34 ratio |
| Final Drive | Belt, 68/28 ratio |
| Front Suspension | Non-adjustable, inverted 43 mm (1.69 in) Showa, USD forks |
| Rear Suspension | Twin, coil-over, spring-loaded Showa hydraulic shocks; 88.90 mm (3.5 in) wheel travel |
| Front Brake | Two 292 mm (11.49 in) discs with Nissin four-piston calipers |
| Rear Brake | Single, 260 mm (10.23 in) disc with a Nissin one-piston caliper |
| Clutch | Cable-operated, eight-plate, wet  |
| Top Speed | 122 mph (196 kph) |
| Maximum Horsepower | 90 bhp at 7,000 RPM |
| Maximum Torque | 74 ft-lb (100 NM) at 3700 RPM |
FAQs About the Harley XR1200
At this point, some of you might have already decided whether to start looking for a Harley-Davidson XR1200 Sportster.
But wait! While the specs and features introduce you to what you can expect from Harley-Davidson XR1200, answers to some common questions related to it ensure you're well-informed about it. Hence, here are some pieces of information worth knowing about the motorcycle:
What years did Harley make the XR1200?
Harley-Davidson manufactured the Sportster XR1200 from 2007 to 2012. Here's a fun fact: the XR1200 is the first Harley-Davidson motorcycle exclusively launched in Europe but was later introduced to the American market.
When was the Harley XR1200 discontinued?
Production of the Harley XR1200 was, unfortunately, discontinued in the year 2013 because of the low demand for the model. It's assumed that its style and design didn't meet the expectations of most motorcycle enthusiasts.
Even though overall, it performs well on most roads and tracks, some still find that it lacks enough power.
How much does the Harley XR1200 Sportster cost?
Undoubtedly, there are no longer brand-new XR1200s available in the market. The good news is that collectors, enthusiasts, and those who want to own or gift the motorcycle can find well-maintained, even upgraded, second-hand units.
Price-wise, it will depend on the unit's specific year model, condition, and maintenance record. However, expect that the XR1200 can be a bit pricey because it's considered a rare find. In fact, the price continues to increase as of writing.
That said, expect to pay between £6000 and £16,000 or from $4,000 to $11,000 for a second-hand X1200 Sportster.
How to upgrade my Harley-Davidson XR1200
The XR1200 was never upgraded, but it doesn't mean you can't improve it by replacing some parts and/or adding accessories.
Most users aren't content with the noise and power it produces, so they install a free-flowing air flier and exhaust cans. Of course, you're not limited to those. You can always replace the small side mirrors with bigger ones. Perhaps replace the basic headlight with a bigger, modern one.
Is the Harley XR1200 a Worthy Investment?
From roads to tracks and mountainous trails, the Harley-Davidson XR1200 Sportster is a companion you would want to have. Its easy maneuverability, ergonomic design, straightforward features, stability, and rideability will ensure you can drive comfortably and safely.
Just make sure you don't drive onto huge potholes and square-edged bumps and on too abrasive roads and tracks. Of course, don't forget to accessorize for your own safety. Wear appropriate motorcycle rider attire like a durable, waterproof riding jacket (View on Amazon) and a full-face helmet with a dual visor (View on Amazon).
Also, keep your XR1200 in good condition by ensuring you don't miss out on regular maintenance schedules and protecting it from harsh conditions like rain and snow. Consider purchasing a waterproof motorcycle cover (View on Amazon) if you don't have a covered garage.
References: