Honda VFR 750 Interceptor (Specs and Review)
Disclosure: We may get commissions for purchases made through links in this post.
1986 saw the emergence of two greats – the big-shot Ron "Rocket" Haslam, who finished 3rd in the Transatlantic Trophy Race at Donington Park, and the Honda VFR 750. The successful stint of the VFR750 on the tracks not only added to Haslam's already blossoming Grand Prix career but also solidified the bike's covetous track record. Even now, this award-winning two-wheeler is part of many enthusiast's 'wish list' – and this guide will enlighten you on why it is so.
Highly-regarded as one of Honda's veritable jewels, the Honda VFR 750 (a.k.a. Interceptor) is a sport-tourer produced from 1986 to 1997. This bike featured a liquid-cooled V4 engine, single-sided swingarm, unrivaled performance figures, and a slew of ride-enhancing cosmetic and mechanical upgrades.
A much-improved spin-off of the VF700/750F models, the Honda VFR 750 was designed to resolve its predecessor's "chocolate camshaft" problems and help redeem the Japanese manufacturer's declining image. And boy, did the sportbike do so wonderfully! So much so that it has won Cycle World's Best Sportbike Award for six consecutive years. It is also a benchmark for modern-day street bikes equipped with more advanced technology.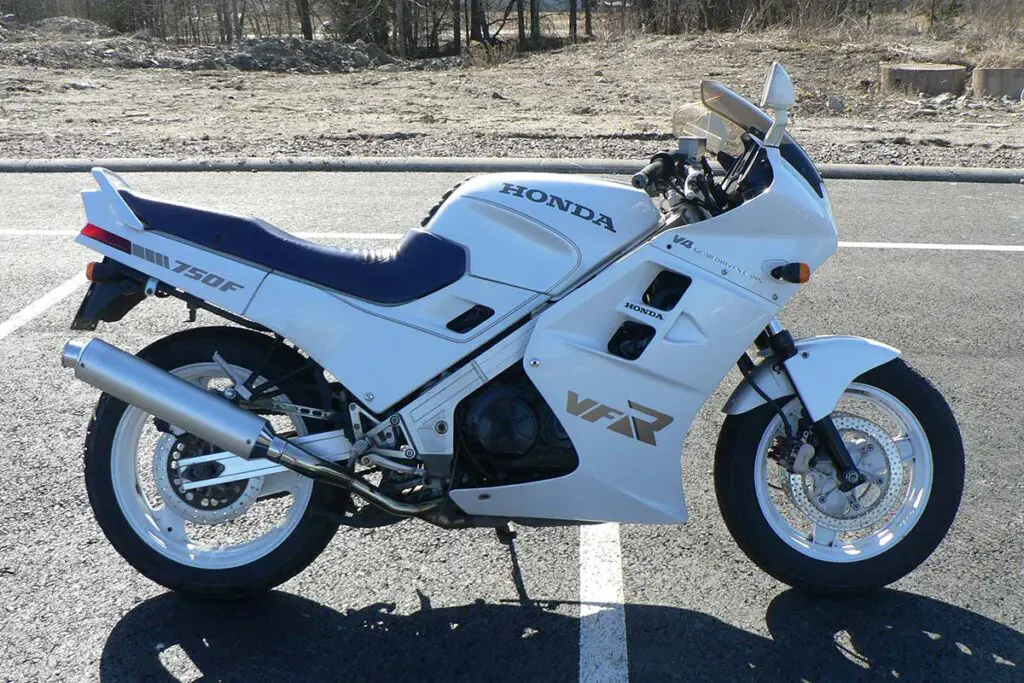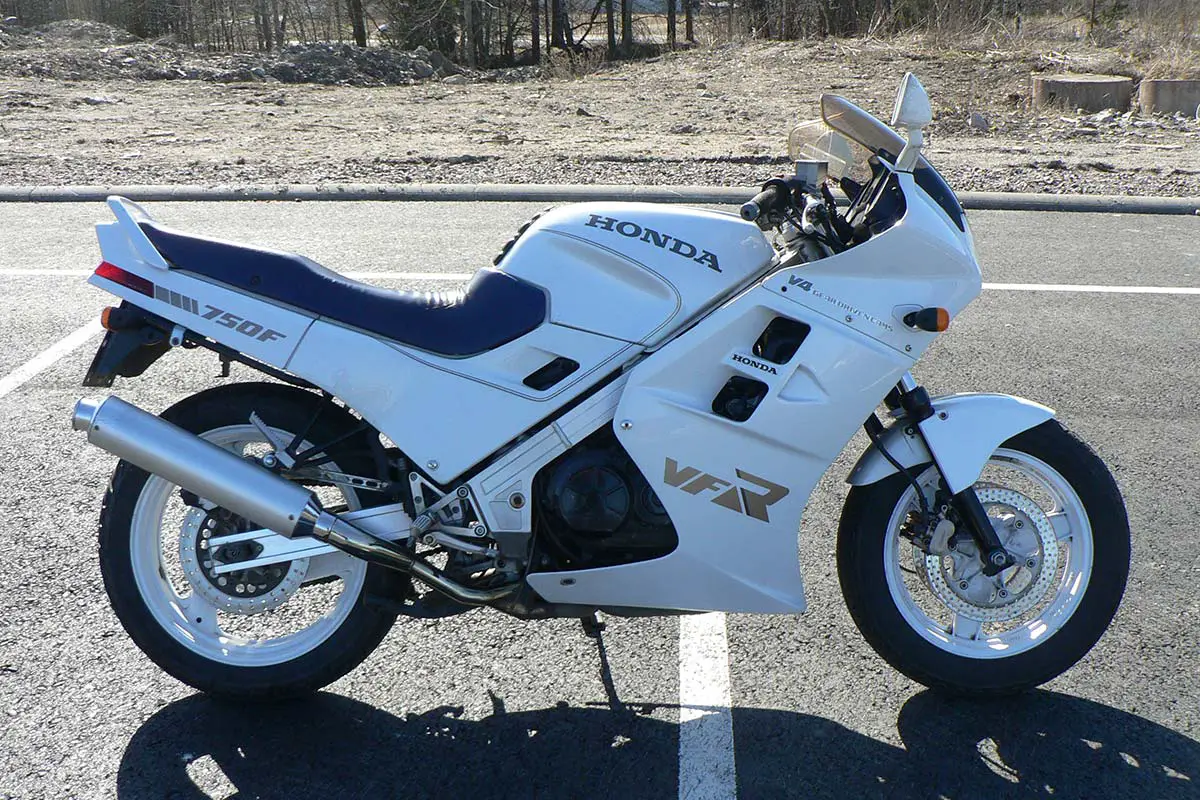 The Best Years of V-Four Racing
The motorcycling industry considered the 12-year production run of the Honda VFR750 as the best years of the VFR series. And it's all thanks to the standards the 1986 Honda VFR 750 Interceptor had set. The late-'80s motorcycle was ground-breaking, to say the least – with its fully-faired styling, bucket tappets, aluminum twin-spar chassis, and then all-new V4 engine.
Though never intended as a factory racer, the VFR750 did exceptionally well on the tracks (even in stock form). It made the top ten in major tournaments like the Suzuka 8-Hour Race and AMA Superbike Championship (to name a few). Because of these accomplishments, the sportbike unsurprisingly sold like hotcakes, well into its final production year.
The Honda VFR 750 Interceptor
While the 1986 Honda VFR750F is the most celebrated of all models in the series, it isn't the first to use the name Interceptor. This designation is from the Honda V45 or VF750C Magna.
Alongside the VF750S Sabre, it is from where the concept of the VF750F and the '86 VFR750 model derived. That said, you can say the latter is a 3rd generation Interceptor.
There's a very good reason behind this bike's high-quality build – and that's to address the flaws of its predecessor. What made the preceding VF750F popular wasn't its 45° inclined V4 mill or 5-speed gearbox. Rather, it was its bad reputation for cam wear issues, earning itself the moniker "chocolate camshaft."
The Infamous "Chocolate Camshaft"
Many motorcycling publications wondered if the problem stemmed from the Sabre's old chain final drive being mated to the new DOHC, resulting in excessive (not to mention accelerated) camshaft wear and fragmented cam chain tensioners.
Honda did release a series of TSBs (as well as perform minor engine alterations at the time) in an attempt to correct the issue, all the while speculating whether oil-starved cams or careless valve adjustment caused it.
Finally, the OEM zeroed in on the culprit. The sportbike's camshaft towers were fitted with ready-stock locating caps and merely "milled out to accept the camshaft." This discovery explained the valvetrain's compromised mechanical integrity (resulting in chocolate cams) and called for a complete overhaul of the bike.
The result was the 1986 VFR750F – a new design that adopted the VF1000R's "cassette" gear-driven valvetrain. It used a revised power unit, bucket tappets, and a new perimeter alloy beam frame and had 6th gear reinstated.
Model Improvements
1988: Front and rear rims (16 and 18 inches, respectively) were evened out to 17-inch wheels. Cosmetic changes like minor fairing adjustments were also added.
1990: The bike's forks, chassis, and wheels were redesigned to keep its styling up-to-date. A brand-new single-sided swingarm replaced the original double-sided rear unit, adding approximately 17 Kg to the wheeler's overall weight.
1994: Several cosmetic changes were made to shed weight off the CFR750 and improve its handling. Plus, a center stand was made standard.
Due to its high-spec build and racer-like handling, it's only natural for the VFR 750 to be in the same ranks as the best superbikes of its time. For ardent motorcyclists, the VFR750 was arguably the next best thing since the launch of the Kawasaki Z1B.
Honda VFR 750 Specs & Features (1990 – 1996 Models)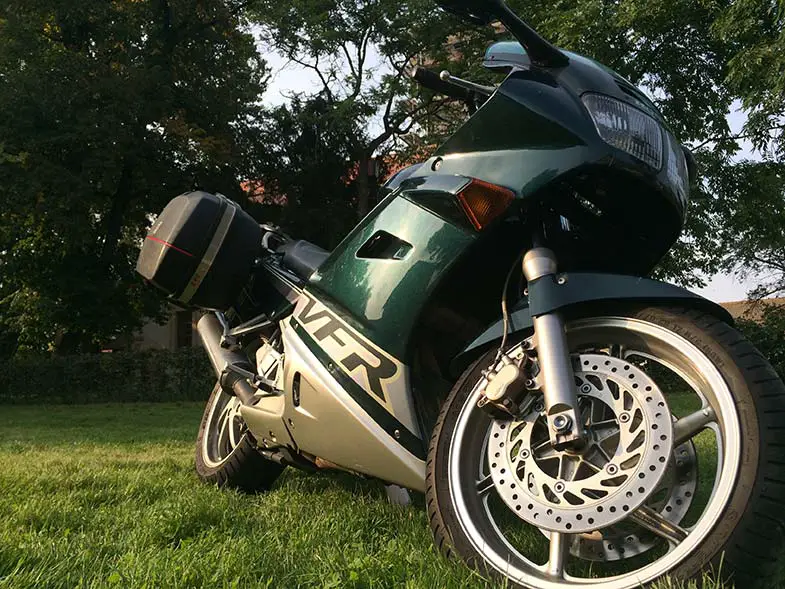 Engine
A liquid-cooled, 4-stroke DOHC aluminum alloy engine with 90° V4 cylinder arrangement and electric starting system brings the Honda VFR750 to life.
Engine displacement is 748 cm3 (45.6 in3), compression ratio is 11.0:1, and bore-stroke ratio is 70 x 48.6 mm (2.76 x 1.91 inches).
Air filtration is an oiled paper element. Four 36-mm constant-velocity Keihin carbs handle the air-fuel mixture. For 3rd Generation VFR750s, carburetor size was reduced to 34 mm.
Top Speed and Horsepower
The top speed is 144–150 mph (232–241 km/h), 102.7–112 hp (76.6–81.8 kW) @ 10,000–11,000 RPM horsepower, and 74 Nm (7.5 kgf-m, 54.6 ft-lb) max torque.
In particular, Japanese releases of the VFR750R spewed 76 bhp (later derestricted to 118 bhp for other markets). Nonetheless, these performance figures are generally better than its 800-class successor.
Fuel & Lubrication
The lubrication system is a Forced pressure and wet sump with a trochoid-type oil pump. Capacities are:
2.9 L (3.1 US quarts, at draining).
3.1 L (3.3 US quarts, at oil filter change).
3.8–4.0 L (4.0–4.2 US quarts, at disassembly).
Use of SAE 10W-40 Honda GN4 or HP4 (without moly) or its equivalent with a minimum SJ API grade meeting JASO T903 MA/MB standards is highly recommended. Other multigrade oils are permissible, following ambient temperatures.
Fuel-wise, capacity is 19–21 L of unleaded gasoline with a rating of at least PON 87/RON 91. This fuel tank capacity yields 39.2 mpg or 6.0 L/100 km gas mileage. Gasohol variants are permitted, provided they contain no more than 5% MBTE, 10% ethanol, or 5% methanol.
Drivetrain
Power comes from a 6-speed constant-mesh transmission and a hydraulically-operated wet, multi-plate clutch assembly with a left-foot operated return shift system. A DID50VA6 or RK50HFO chain with 122 links handles wheelspin. If worn out or damaged, swap it out for an aftermarket #530 O-ring chain.
This "cassette" gear-driven valvetrain (adopted from the VF1000R) used a 180° crank instead of 360°. It was a good move for the '86 VFR750, as it successfully redeemed the otherwise tarnished reputation of the preceding VF series.
For reference, here are the stock transmission gear ratios of the Honda VFR750. These gear ratios are similar to the bike's 782-cc successor, except for gears III to VI:
| | |
| --- | --- |
| Primary Reduction Ratio | 1.939 (64/33) |
| Transmission Gear Ratio (1st) | 2.846 (37/13) |
| Transmission Gear Ratio (2nd) | 2.062 (33/16) |
| Transmission Gear Ratio (3rd) | 1.631 (31/19) |
| Transmission Gear Ratio (4th) | 1.333 (28/21) |
| Transmission Gear Ratio (5th) | 1.154 (30/26) |
| Transmission Gear Ratio (6th) | 1.036 (29/28) |
| Final Reduction Ratio | 2.688 (43/16) |
| Gearshift Pattern | 1-N-2-3-4-5-6 |
Ignition
The ignition system is a full transistor ignition paired with an electric starter motor and a timing of 15° BTDC at idle ("F" mark). A triple-phase A.C. alternator with a rated output of 13.5 – 16V @ 5,000 RPM serves as its charging system, while an NGK CR8EH9/CR9EH9 or Nippon Denso U24FER9/U27FER9 spark plug with a gap of 0.8-0.9 mm (0.031–0.035 inch) is responsible for spark ignition.
A 12V 10Ah/(10 HR) YTX12-BS battery (view on Amazon) with assembled dimensions of 150 x 87 x 130 mm (6.00 x 3.44 x 5.12 inches) powers the sportbike, lighting, and electronic accessories (if any). Meanwhile, the VFR750R (RC30) requires a YTX9-BS battery format.
Tires & Brakes
Factory tires consist of 120/70 VR17-V250 or 120/70 ZR17 (view on Amazon) front and 170/60 VR17-V250 or 170/60 ZR17 rear tires. They mount on 3.50-17 and 5.50-17 spoke cast rims. These tires used to be 110/90-16 at the front and 130/80-18 at the rear. They were evened out, beginning with the 1990 production models.
OEM-recommended cold-tire pressure is 250 kPa at the front and 290 kPa at the back – regardless of passenger weight (either solo or two-up).
Depending on year and trim, the tire brand used on the bike was either Bridgestone, Dunlop, or Michelin. Even the tire construction differed between 2nd and 3rd Generation versions. For instance, '90 VFR750s were fitted with Bridgestone Cyrox-19F tires, while '93 models had Bridgestone BT54F/54R Radials.
Finally, triple hydraulic discs (twin 296-mm discs with dual-piston calipers at the front and a lone 256-mm disc with a dual-piston caliper at the back) provided the sport-tourer stopping power.
Suspension
Enclosed in a diamond frame (26° caster angle; 99–100 mm/3.9 inches trail) are 41-mm Showa cartridge-style telescopic forks at the front and a Pro-Link single-sided swingarm with preload and rebound damping adjustment at the back.
Each suspension unit provides a respective front and rear wheel travel of 140 mm (5.5 inches) and 130 mm (5.1 inches) – slightly better than the VFR800's. The wheelbase is 1,470 mm (57.9 inches), while ground clearance is a miserly 130 mm (5.1 inches).
The initial wave of VFR750s in 1986 sported front forks with an anti-dive feature and a dual swingarm with remote hydraulic preload adjustment. This rear suspension setup later changed to the single-sided swingarm described above, the Pro-Arm cast alloy derived from the ELF race-bike.
The new swingarm not only gave the VFR750 a distinct, sporty look but also permitted rear-wheel removal without taking off the drive chain and rear axle – lending to a simpler, worry-free chain adjustment.
Dimensions & Capacities
There are slight variances in overall dimensions between 1st/2nd and 3rd Generation Honda VFR 750s. '90–'93 models measure 2,180 x 700 x 1,185 mm (85.8 x 27.6 x 46.7 inches). Meanwhile, '94–'97 models measure 2,125 x 720 x 1,185 mm (83.7 x 28.3 x 46.7 inches – L x W x H).
Apart from the bike's width, its seat height and footpeg height remained unchanged across all models – at 800 mm (31.5 inches) and 350 mm (13.8 inches), respectively.
Capacity-wise, earlier models are at least 5-Kg heavier than 3rd Generation iterations. Dry weight was initially 216 Kg (476 lbs.) but reduced to 210–212 Kg (463–467 lbs.). Similarly, curb weight trimmed down from 240 Kg (529 lbs.) to 236–238 Kg (520–523 lbs.).
The weight loss helped improve the sportbike's handling. However, it also took away from its payload capacity – from 189 Kg (417 lbs.) to 175 Kg (386 lbs.). Canadian releases had a slightly higher weight capacity limit at 179 Kg (395 lbs.).
Exterior
The 1986 Honda VFR750F Interceptor had the raciest color scheme of all the VFR750 models. This batch of 1st Generation bikes had three-tone fairing and bodywork – Fighting Red with Shasta White and Candy Aleutian Blue – with a white-on-red "VF750" fairing decal and a solid red front fender. However, body color for the other batch of 1st Gen VFR750s ('90 models) tamed down to a monotone Italian Red with gold wheels, a gray saddle, and twin-bulb headlamps.
2nd Generation Honda VFR 750s (1991 – 1993) offered customers more color options.
'91 versions were practically 1990 production model replicas.
'92 models were finished in Granite Blue Metallic (Black) with metallic gray wheels, a gray seat, and a VFR" logo in silver.
'93 iterations had a Pearl Crystal White hue with white rims, a "Honda" logo on the lower cowl, a "VFR750F" logo on the rear cowl, and a wing logo on the fuel tank.
3rd Generation VFR750s (1994 – 1997) only came in Pure Red, except for Canadian releases made available in Silver. These models received a redesigned framework, which lasted until the sportbike's outgoing year.
Honda VFR750 Price
Depending on year and trim, the list price for the Honda VFR 750 ranges from $5,298 to $14,998. The 2nd Gen VFR750R has the heftiest price tag ($14,998 or $32,550+ if valued today). The $9,700 difference covers titanium connecting rods, a redesigned chassis, a brand-new (but heavier) single-sided swingarm, and other superbike-oriented features – the likes of which weren't present in the 1986 Interceptor but only seen on exotic race bikes of the decade.
| Year – Model – Trim | List Price | Retail/Trade-In Values |
| --- | --- | --- |
| 1986 Honda VFR750F Interceptor | $5,298 | $425 – $3,140 |
| 1990 Honda VFR750F | $6,998 | $570 – $4,585 |
| 1990 Honda VFR 750R | $14,998 | $1,655 – $54,285 |
| 1991 Honda VFR750FM | $6,998 | $595 – $5,200 |
| 1992 Honda VFR750FN | $7,299 | $650 – $5,455 |
| 1993 Honda VFR750F | $7,399 | $685 – $5,740 |
| 1994 Honda VFR750 | $8,399 | $710 – $6,125 |
| 1995 Honda VFR750FL | $8,699 | $845 – $4,800 |
| 1996 Honda VFR750FT | $8,999 | $955 – $5,260 |
| 1997 Honda VFR750FV | $9,299 | $1,075 – $5,915 |
As for resale values, current pricing ranges fall between $425 and $6,125 for standard trims. The VFR750R (a.k.a RC30), on the other hand, can sell for a high-retail average of $54,285 since only 3,000 total units were released for the said production racer all over the world (Nada Guides data).
In 2018, a mint Honda VFR750R with approximately 14,000 miles on the odometer sold for $92,000 at Bonhams' Auction in Las Vegas, Nevada. And a 1989 model complete with a tool kit and a paddock stand was bought for a staggering $130,000.
The Venerable RC30 (Honda VFR750R)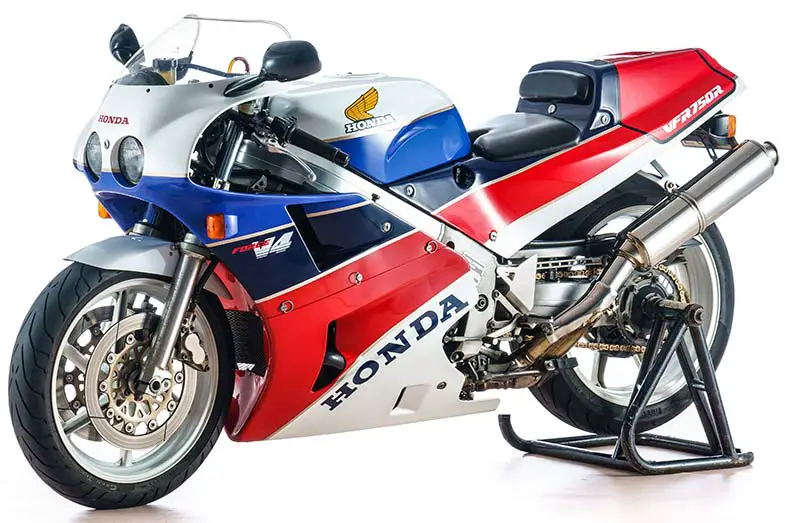 The Honda VFR 750R (RC30) is considered the race-bike version of the VFR750. It signaled Honda's entry into the World Superbike Championship (WSBK) and inaugural win in 1988.
Honda engineers drafted its design with the prestigious Suzuka 8-Hour Endurance Race (which was then recently opened to street-based 750-cc motorbikes) in mind, not the WSBK. And although the OEM won the said event three years in a row with factory racers based on the '83 Honda VF750F Superbike engine, the RC30 ironically felt more adept in WSBK than in Suzuka.
While it may seem similar to the '86 VFR750F on the outside, its parts are entirely different from its road-legal namesake. After all, the RC30 is an FIM homologation special. It has roller bearings supporting the camshafts, with the cams driving the valves directly via shim-and-bucket. Titanium connecting rods and dual-ring pistons reduce friction and piston weight.
RC30-Exclusive Parts
Other RC30-exclusive parts are as follows:
43-mm conventional Showa cartridge forks (compression and rebound adjustable)
Quick-release axle clamps for faster wheel changes in endurance racing
Left-mounted 4-into-2-into-1 exhaust pipe
Fiberglass bodywork
Triple Nissin disc brakes
170/60 ZR18 rear radials (front tire is the same size as the 1986 VFR750F)
RVF cycle parts, titanium valves, magnesium cases, and flat-slide carbs – specific to the VFR750R 6X
Instead of a separate oil cooler, a heat exchanger dissipates heat from engine oil to the coolant radiator. Supplementary parts such as the starter, oil pump, water pump, and fuel tank are unique to the bike.
Furthermore, the crankshaft is kept at 360°, similar to older Honda factory racers. Performance figures are also stellar, with the top speed at 153–188 mph (246–302 km/h) and horsepower at 118–135 bhp @ 11,000–13,000 RPM for EU and U.S. markets (the extremely rare 6X representing higher performance values). Only 3,000 units of the bike were built and sold around the world.
About Honda
Honda Motor Company Ltd. is a world-renowned Japanese conglomerate that traces its humble beginnings to motorized bicycles with surplus engines. Known for its industry-leading offerings, the firm was founded in 1946 by Soichiro Honda in a small garage in Hamamatsu, Japan.
From selling mass-produced piston rings, it has evolved into an automotive powerhouse – offering an armada of products including mopeds, scooters, electric automobiles, and high-performance motorcycles like the Honda VFR750.
Conclusion – Honda VFR 750 Review
Whether it's due to Honda's "open checkbook approach" or its desperation in resolving previous design flaws, one thing's for sure — the manufacturer did right with the Honda VFR 750. Not only is the sportbike a segment classic, but it's also one of the finest street-legal racers ever produced.
Riding either an RC30 or an'86 VFR750F will give you an unforgettable and rewarding riding experience, with only your choice of tires and driving skills limiting the amount of enjoyment you are guaranteed.