Honda CB350RS (Specs and Review)
Disclosure: We may get commissions for purchases made through links in this post.
The Honda CB350RS is probably one of the most sought-after 350cc production models in the modern motorcycle landscape. And no, it is not the same machine as the Highness DLX or DLX DualTone. This is the case not only because of its exclusivity in India but also because of its no-nonsense functionality and neo-retro charms. If you're not quite acquainted with this road-going bike, let this guide fill you in on the offerings of this game-changer.
Launched in 2021, the Honda CB350RS is a touring/city bike succeeding the classic '72 CB350 model. It boasts modern powertrain features, neo-retro styling, well-balanced ergonomics, and sporty swag.
Slowly but surely, the Honda CB350RS is gaining popularity even with enthusiasts outside India. In just a little over two years since its launch, there has been an increase in demand for the two-wheeler's distribution in other markets.
Whether or not Honda will heed this clamor has yet to unfold. And while the riding community waits, let's take time to delve into the competencies of this emerging road icon.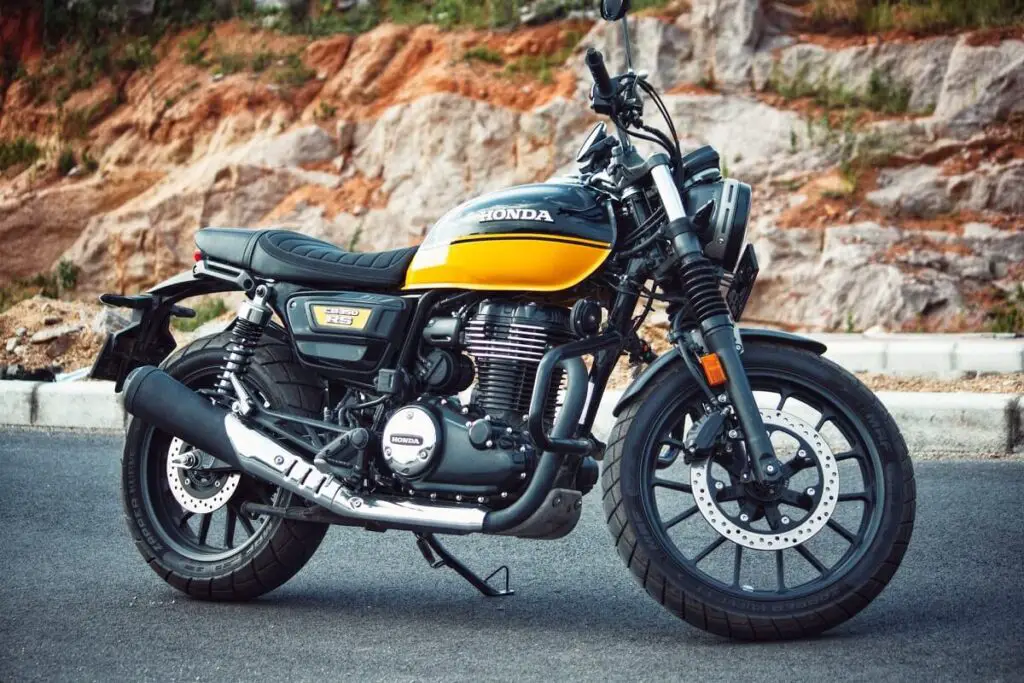 The Evolution of Honda's Parallel Twin
For sure, the Honda CB350RS (short for 'Road Sailing') is not the last installment of the Japanese firm's CB (Commuter Bike) series. Nonetheless, it signifies the continuous improvement of Honda's motorcycle technology and is the perfect marriage of the nouveau and the classic. And we're not just talking about styling — this fusion is also evident in the two-wheeler's mechanical components.
While the look and feel of the motorbike are largely nostalgic, it is equipped with modern features such as dual-channel ABS, assist and slipper clutch, and PGM-FI. And yet, it has almost-spartan instrumentation.
However, the dash panel is, by no means, inadequate. Riders are still supplied with critical information while riding, such as average and real-time mileage, riding speed, and battery voltage information.
Origin-wise, the CB350 label has been around since 1968. It debuted pretty successfully, with three versions — CB350K, CB350G, and CB350F — released within this period and the bike reaching its sales peak in its 4th year in 1972. However, this success was not enough to save the thumper from the 'monotony trap.'
Honda had to go back to the drawing board with the CB350. While its neo-retro charm was still a hit, many riders were looking for something sportier and slightly more aggressive. Considering these inputs, the bike finally made its grand comeback as the Honda CB350 H'Ness and Honda CB350RS after close to fifty years.
Improvements Post–1973
The Honda CB350RS showcases a more contemporary and aggressive design language, featuring sharper lines, a sleeker fuel tank, and modern detailing. It also benefits from improved build quality and overall fit and finish.
In favor of the RS badge, the motorcycle acquires an expanded seat (for improved rider and passenger comfort) while maintaining an unchanged seat height of 800 mm.
The introduction of a broader handlebar positioned 44 mm further from the rider results in a slightly leaned-in riding posture.
Rearward footpeg relocation by 11 cm (with a 1.2 cm height increase compared to the H'ness) establishes a delightful blend of sportiness and comfort.
Modern lighting elements, including LED lighting, are incorporated into the bike's design for improved visibility and aesthetics.
The redesigned exhaust system features a sportier and more streamlined appearance than the classic CB350 design.
Fuel tank capacity increased by 5L compared to the '70s iterations.
Honda CB350RS Specs & Features
Engine
The Honda CB350RS has an air-cooled, 348cc single-cylinder 4-stroke SI power mill with PGM-FI technology. The bore-stroke ratio is 70 x 90.5 mm (2.756 x 3.563 inches), and the compression ratio is 9.5:1.
Piston displacement is 348cm³ (24.1 in³), remaining untouched since the two-wheeler's inception in 2021 (other online sources claim it was launched alongside the Honda CB350 H'Ness the year before).
Overall, this engine configuration lends to the following performance figures:
| Description | |
| --- | --- |
| Top Speed | 74.6—83.9 mph (120—135 km/h) |
| Horsepower | 21 PS (15.5 kW) @ 5,500 RPM |
| Maximum Torque | 30 Nm (3.06 kgf-m, 22.1 lb-ft @ 3,000 RPM |
| Fuel Economy (CTY/HWY)* | 35—36/38—39 mpg (6.5—6.7/6—6.2 L/100 km) |
| Approximate Tank Range* | approximately 138—154 miles, 477—527 km |
* 
Some sources
 say the average mileage of the Honda CB350RS can reach 83 mpg or 35 kmpl, translating to an approximate fuel tank range of up to 328 miles or 527 km.
Fuel & Lubrication
The fuel tank capacity is 15 L (3.96 USgal) of unleaded gasoline. Lube-wise, the motorbike has a Forced pressure (wet sump) system that requires 2 L (2.1 US quarts) of Honda GN4 SAE 10W-30 or 5W-30 4-stroke motor oil or its equivalent.
Drivetrain
A 5-speed, constant-mesh transmission and self-start system bring the CB350RS to life. Meanwhile, drive is fed to the rear wheel via the 5-speed gearbox, assist, and slipper clutch assembly. A main shaft coaxial balancer helps with weight management — supplementing the motorcycle's flexibility and lightweight feel.
Unfortunately, online references for the bike's stock gear ratios are a bit obscure. As such, I highly recommend reverting to your owner's manual for specifics.
Ignition & Electricals
Similar to its powertrain components, there is little information about the bike's electrical and ignition system. Most reviews and references specify that the motorcycle utilizes a 12V 6AH/(10 HR) battery and LED for its lighting assembly. Spark plugs are assumed to be NGK (but may have a Nippon Denso or Iridium variant, provided the OEM-recommended heat range is met).
According to Yuasa's 2020 Powersport Battery Catalogue, the CB350RS' predecessor used a YB12A-A battery (view on Amazon) format. While the motorcycles in question have the same displacement, I strongly advise checking this information against the owner's manual to ensure compatibility.
Tires & Brakes
Stock rubber consists of tubeless tires like Michelin Commander II measuring 100/90-19 57H (view on Amazon) at the front and 150/70-17 69H at the rear. There are conflicted opinions about the thumper's chunky, 150-section rear tire. Some riders are happy with it, while others think it is an overkill. Nonetheless, these knobbies mount on Y-shaped alloy wheels.
On the other hand, braking duties are handled by a 310-mm front disc with twin-pot Nissin calipers and a 240-mm rear disc with a single-pot caliper of the same make. The braking bite of these brake discs is perceived to be lacking. Thankfully, standard features like Traction Control and dual-channel ABS come to the rescue.
Suspension
Enclosed in a split-type duplex frame are telescopic forks at the front and hydraulic dual shocks at the rear (with limited adjustability). Each suspension unit provides 130 mm (5.1 inches) and 100 mm (3.9 inches) of front and rear wheel travel, respectively.
The wheelbase is 1,441 mm (56.7 inches), while the minimum ground clearance is 168 mm (6.6 inches), lending to the bike's superb handling mannerisms.
Dimensions & Capacities
The overall dimensions for the Honda CB350RS are 2,171 x 804 x 1,097 mm (85.5 x 31.7 x 43.2 inches). Recent-year iterations have a slightly narrower profile at 782 mm (30.8 inches). Meanwhile, seat dimensions (L x H) remain unchanged at 800 x 640 mm (31.5 x 25.2 inches), and is true for all production models.
Regarding curb weight, the CB350RS tips the scale at 179 Kg (394.6 lbs.) and is 2 Kg lighter than the same-category H'Ness. This weight savings lend to the two-wheeler's better power-to-weight ratio.
Exterior
The Honda CB350RS shares a similar silhouette with the classic CB350 but boasts distinctive design elements. These include a headlamp ring, bellows on the front forks, eye-shaped LED winkers, blacked-out mechanical components, a stitched tuck-and-roll saddle, and a dual-tone fuel tank with stripes. It also offers a choice between two color options: Radiant Red Metallic and Black/Pearl Sports Yellow.
The chrome CB 350 RS badging on the quarter panels stands out, while the upswept black exhaust with chrome heat shields adds a touch of sportiness. The engine is elegantly finished in glossy black with chrome accents.
Notably, the LED taillight is discreetly positioned beneath the seat, complemented by side-mounted grab rails. Optional wider leg guards, a mudguard, a tank pad, and footpegs enhance customization possibilities.
How Much is a Honda CB350RS?
The original MSRP of the Honda CB350RS was between Rs 1.96 lakh and Rs 1.98 lakh (ex-showroom, Delhi). That would be approximately $2,385 to $2,400 in USD if it were sold in the said market. Unfortunately for North Americans (and even Brits), the two-wheeled machine was exclusively launched in India.
As a fairly new release, the CB350RS is not yet that prevalent in the used-bike market, limiting many avid followers from getting their hands on this gem of a bike.
Consequently, many motorheads hope the two-wheeler will eventually be released in Europe, the US, and other Asian countries. The riding community has yet to receive such news from Honda. However, what is clear is that the lineup will continue to be part of the firm's offerings until 2025.
Lowdowns of the 'Road Sailing' Honda
Pros
The two-wheeler is undeniably good-looking, with a rider triangle and seating stance most gearheads and owners appreciate.
Engine performance is smooth and refined, with little to no vibration felt from the motorcycle.
It comes with Traction Control and ABS that add to the bike's reliability and tremendously help in potentially precarious situations.
Agile and confidence-inspiring, the motorcycle is among the go-to thumper not only for less experienced riders but also for enthusiasts.
Because of its riding dynamics, the Honda CB350RS is easy to tip into corners and feels pretty much like a street naked.
Weight management on the bike is brilliantly executed, thanks to its main shaft coaxial balancer, making the bike feel lighter than it weighs (except when pushing it up inclines).
It has fatter knobbies, front and back, a clear advantage over the classic CB350 and CB350 H'Ness released in India.
The saddle is "neat and scrambler-like," simpler than on most 350ccs but still contoured and capable of comfortably accommodating pillion riding.
Meanwhile, its tail section is edgy and looks fantastic.
Cons
For a bike of this stance, Honda could have done better in giving it more than just 21 bhp or horsepower.
Although seemingly flawless, the Honda CB350RS lacks top-end power required for riding at speeds over 100 mph (160 km/h). To add, some riders may feel the need for a 6th gear (even if a stock CB350RS is geared tall).
The braking performance is good, but it feels like its initial bite is missing.
The CB350RS can do better with softer suspension settings that can absorb bumps with ease. Nonetheless, the stock setup does inspire confidence and improve overall handling.
Instrumentation is somewhat primitive and does not include a tachometer.
The tank recess is quite narrow and may be uncomfortable for riders taller than 5'8″.
Riders after superior light distribution may not find the bike's LED lighting assembly to their liking.
Side mirror coverage is inadequate and typically warrants an aftermarket replacement. The same is true for its factory mudguards.
The sound from the factory horn is pitiful, only compensated by the bike's distinct exhaust growl.
Necessities like a USB charger and Bluetooth connectivity are non-existent on this motorcycle. The same goes for storage (although the bike offers a helmet lock).
There is an apparent lack of spares and aftermarket support, especially in towns far from the exclusive distributor of the Honda CB350RS.
About Honda
Honda Motor Company Ltd. is an esteemed global automotive leader and among the pillars of the illustrious Japanese "Big 4." Known for its ingenuity and cutting-edge offerings, Honda has garnered widespread acclaim (much like the exemplary Honda CB350RS).
The firm has come a long way from its humble beginnings in the Art Shokai garage in Japan. Over the past 75 years, it has transformed from manufacturing piston rings to attaining its current powerhouse status.
Honda continues to assert its influence and prestige across diverse automotive sectors through significant contributions to electric vehicles (EVs), energy solutions, power equipment, and high-performance motorcycles.
Conclusion — Honda CB350RS Review
One of the most common questions not quite addressed by this guide is whether or not the Honda CB350RS is a good beginner bike. And truth be told, the answer to this is contingent on the skill set and bravado of the learner.
It would be safe to say that most beginners will find the mannerisms of the CB350RS considerably forgiving. But it would be those brave, in-training aggro-riders that will learn the fastest and get the most out of straddling this Harley-esque retro-chic two-wheeler.