2009 Kawasaki Ninja 250R Specs and Review
Disclosure: We may get commissions for purchases made through links in this post.
Although no longer available in North American and European markets, consumers and loyalists continue to clamor for the 2009 Kawasaki Ninja 250R. This motorcycle may be classified as a learner bike, but no one can deny its formidable nature. Herein lies the bike's dilemma. Because it still has a ways to go in acceleration and power, motorcycling experts could not quite agree on whether the 250R is a sport-class or a performance bike.
The 2009 Kawasaki Ninja 250R is the 14th-year installment of the Ninja 250, first introduced to the market in 1986. This sport bike features dual 30-mm Keihin carburetors, a 97-mph real-life top speed rating, and GPZ250-adopted suspension and brakes. It currently enjoys a 37-year production run.
This guide will cover the specifications and lowdowns of the 2009 Kawasaki Ninja 250R. It should help establish whether the Ninja lives up to its reputation as a respected pocket sport bike or if it is just a glorified, sport-oriented two-wheeler.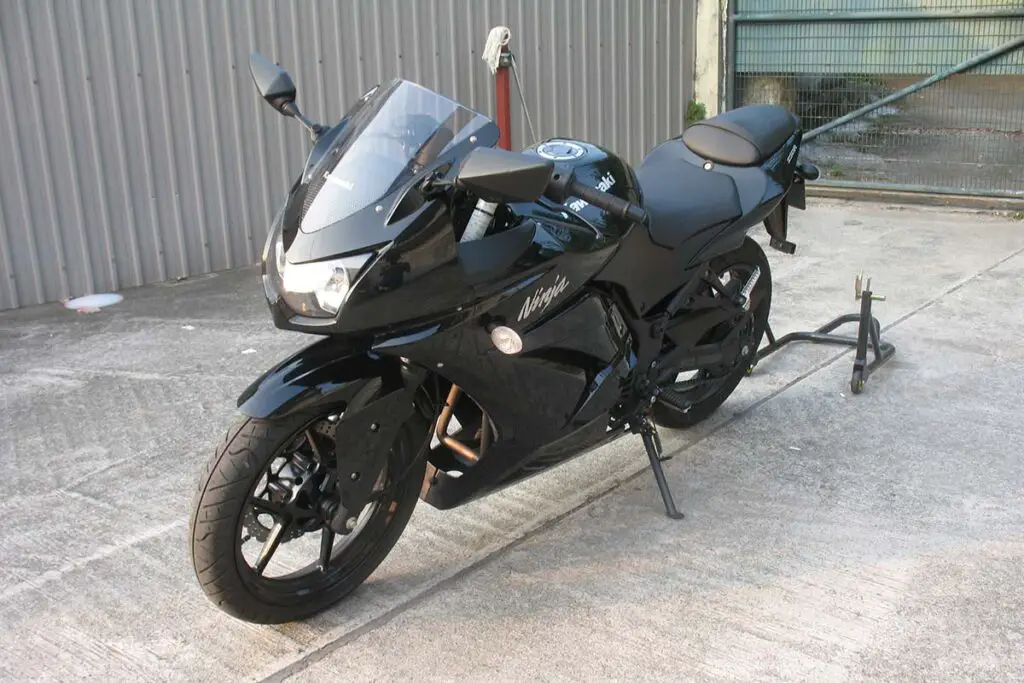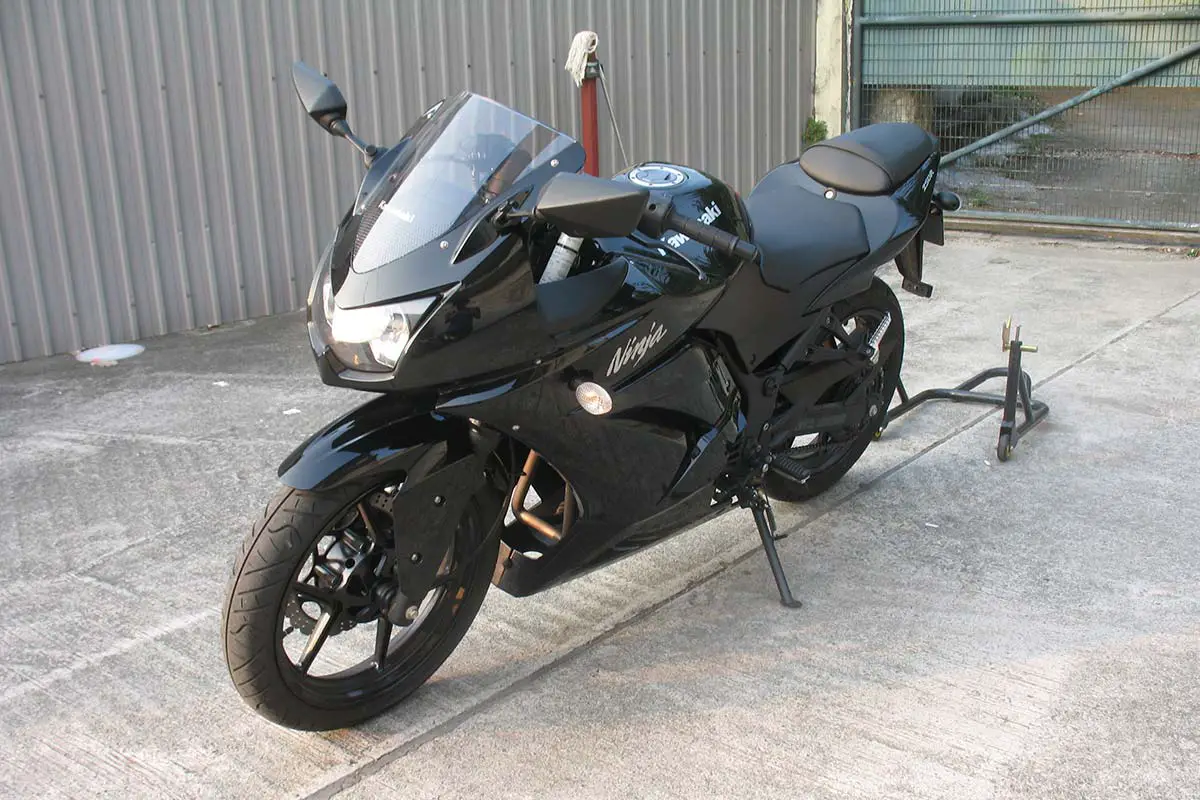 About the Kawasaki Ninja 250R
The 2009 Kawasaki Ninja 250R or EX250 is the 6th model installment of the 250R label first introduced in 1986. This machine hails from Kawasaki's Ninja series, considered by enthusiasts as one of the best offerings in the sport bike category. The Ninja currently enjoys a 37-year reign, with its most recent iterations sold in Japan and Indonesia.
2008–2012 models (the 2009 Ninja 250R included) were especially well-loved by consumers, as these models received the lineup's most extensive redesign in two decades since its inception. Full fairing and modern exterior panels bring the bike's styling up to date. Internally, the power mill's compression and torque output have been lowered, lending to an overall improvement in engine responsiveness and a 30% lift in midrange performance.
One downside to the multi-market release of the Kawasaki Ninja 250R is the disparity in carburetion systems. The U.S. J-models are equipped with dual Keihin carburetors, while bikes sold in Europe, Brazil, and Thailand have electronic fuel injection. Not only do the carbs result in lower fuel economy, but they also give the 2009 250R Ninja a considerable weight gain of 10 Kg (22 lbs.) versus its predecessors.
2009 Kawasaki Ninja 250 Specs & Features (EX250)
Engine
The Ninja 250R (known outside North America as the GPX250 or ZZR 250) comes to life via a liquid-cooled, twin-cylinder 4-stroke DOHC engine and an electric starting system. It has a bore-stroke ratio of 62 × 41.2 mm (2.44 × 1.62 inches) and an 11.6:1 compression ratio.
Piston displacement is 249 cm3 (15.2 in3), supplemented by 2009 Kawasaki Ninja 250R carburetors – dual diaphragm-type CVK30 Keihin carbs – that handle the air-fuel mixture.
The above engine configuration lends to a 2009 Kawasaki Ninja 250 top speed of 94.9–110 mph (152.7–177 km/h), a maximum horsepower of 32–45 bhp (23.9–33.5 kW) @ 11,000 RPM, and a torque output of 21.7–24 Nm (2.21–2.45 kgf-m, 16–17.7 lb-ft) @ 9,500–10,000 RPM. The upper limit values of these performance figures apply to units sold outside of the United States.
Fuel & Lubrication 
Fuel tank capacity is 18 L (4.8 US gal, no reserve indicated in manual) of regular unleaded gasoline with a PON 87/RON 91 octane rating. This capacity yields an average combined gas mileage of 52.3–76 mpg (3.7–4.5 L/100 km, per Fuelly and other sources).
Fuel variants should contain no more than 15% MTBE (Methyl Tertiary Butyl Ether), 16.7% TAME (Tert–Amyl Methyl Ether), or 17.2% ETBE (Ethyl Tertiary Butyl Ether). If using oxygenates or gasohols, only use blends with no more than 10% ethanol or 5% methanol.
Lubrication-wise, the 2009 Ninja 250 has a Forced lubrication (wet sump) system with the following engine oil requirements:
| Description | Quantity |
| --- | --- |
| Without oil filter cartridge replacement | 1.3 L (1.4 US qt) |
| With oil filter cartridge replacement | 1.6 L (1.7 US qt) |
| At draining or when completely dry | 1.7 L (1.8 US qt) |
Recommended engine oil is SAE 10W-40 with a minimum API grade of SJ or SL meeting JASO T903 MA, MA1, or MA2 standards. Other multigrade oils specified in the manual are permissible following ambient temperature and other factors affecting riding conditions.
Drivetrain
Its 6-speed wide-ratio transmission and wet, cable-actuated multi-plate clutch assembly deliver power to the wheels. The latter handles shifting, along with a #520 O-ring chain like RK Racing Chain 520XSO-106 (520 Series) Steel, 106 Link (view on Amazon) controlling wheelspin.
The seemingly GPZ250-modified motor shares several features with bigger-displacement GPX bikes. It sports a valve gear that dramatically improves the bike's intake efficiency and a gear-driven balancer that keeps inherent vibrations at a minimum.
| Description | Ratio |
| --- | --- |
| Primary Reduction Ratio | 3.087 (71/23) |
| Final Reduction Ratio | 3.214 (45/14) |
| Transmission Gear Ratio – I | 2.600 (39/15) |
| Transmission Gear Ratio – II | 1.789 (34/19) |
| Transmission Gear Ratio – III | 1.409 (31/22) |
| Transmission Gear Ratio – IV | 1.160 (29/25) |
| Transmission Gear Ratio – V | 1.000 (27/27) |
| Transmission Gear Ratio – VI | 0.893 (25/28) |
| Overall Drive Ratio | 8.859 (Top gear) |
Ignition
It has a TCBI with an electronic advance and an electric starting system, with an ignition timing of 10° BTDC @1,300 RPM (initial "F" mark) and 35° BTDC @4,000 RPM (full advance). A triple-phase A.C. alternator serves as its charging system, while a 12V 8Ah/(10 HR) YTX9-BS battery (view on Amazon) powers lighting and electronic accessories.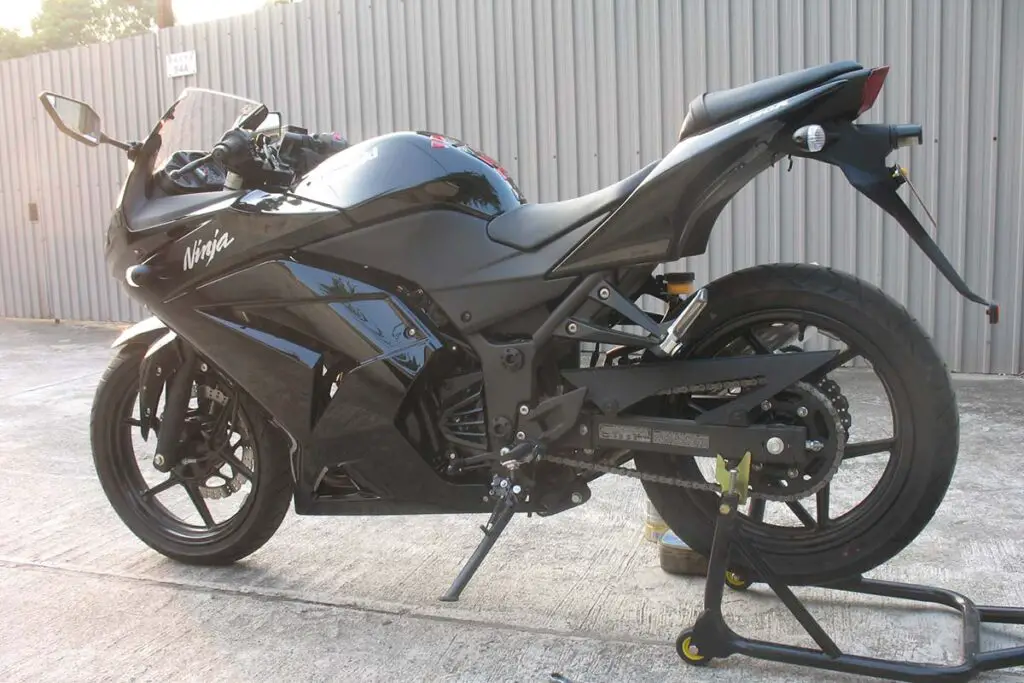 Battery dimensions are 150 x 87 x 105 mm (6.00 x 3.44 x 4.19 inches – L x W x H) and should not be interchanged with YTX7A-BS battery formats used on 2008 Ninja 250R models. For battery care and longevity, using any of these OEM-recommended chargers – OptiMate III (view on Amazon), Yuasa 1.5 Amp Automatic Charger, or Battery Mate 150-9 – will tremendously help.
Tires & Brakes
Factory tires consist of 17-inch tubeless tires. The tire brand could be IRC, Bridgestone, or Dunlop, depending on where the bike was released. Recommended cold-tire pressure for the front is 200 kPa (2.00 Kgf/cm², 28 psi) and 225 kPa (2.25 Kgf/cm², 32 psi) for the back – these values could be slightly adjusted to match changes in terrain and riding altitude.
| OEM Tire Brand | Front | Rear |
| --- | --- | --- |
| IRC "RX-01F/R" TL | 110/70-17 M/C 54S | 130/70-17 M/C 62S |
| Bridgestone "BT-45F/R" TL | 110/70-17 M/C 54H | 130/70-17 M/C 62H |
| Dunlop "GT501FG/R" TL | 110/70-17 M/C 54H | 130/70-17 M/C 62H |
In case of wear or damage, Ninja owners highly recommend switching to Pirelli Sport Demons (view on Amazon) – these front tires are a tad wider but the closest size match to stock knobbies out of all aftermarket options. They also strongly advise against using front tires for the rear, as it requires flipping the front tire backward, dramatically reducing wet-weather handling.
As for brakes, a single 260-mm front disc and a 230-mm rear disc (each with twin-piston calipers) complete the Ninja's tire-and-wheel assembly. The diameter of these hydraulic discs shows differently on Motorcycle.com and other online publications – 290 mm (11.4 inches) at the front and 220 mm (8.7 inches) at the rear.
Suspension
Enclosed in a tubular diamond steel frame (26° caster angle; 82-mm/3.2-inch trail) are 37-mm Kayaba telescopic front forks and a UNI-TRAK® twin-sided swingarm with a gas mono-shock. These suspension units offer a respective wheel travel of 140 mm (5.5 inches) and 130 mm (5.1 inches), with the rear suspension providing 5-way preload adjustment. Non-US releases put forward no suspension adjustment – either front or back.
Nonetheless, handling is uncompromised since the chassis and brake system compensate for the lack of suspension adjustment. Wheelbase measures 1,400 mm (55.12 inches) and road clearance 130 mm (5.12 inches). The owner's manual does not specify the bike's turning radius.
Dimensions
Overall dimensions are 2,085 x 715 x 1,110 mm (82.09 x 28.15 x 43.70 inches – L x W x H). Meanwhile, the two-wheeler's seat height is 785 mm (30.91 inches, unloaded). While its saddle height is similar to its bigger-displacement successor, the bike is longer than the Ninja 300. (However, some online sources state that the seat height ranges between 775 – 780 mm/30.5 – 30.7 inches.)
In terms of the 2009 Kawasaki Ninja 250R's weight, dry mass is 152 ± 0.6% Kg (335 lbs.), while curb mass is 170 Kg ± 2.3% (374.8 lbs., including fluids and a full gas tank). The maximum load limit is 170 Kg (375 lbs.) and includes rider and passenger weights, cargo, and accessories. On the other hand, GVWR (Gross Vehicle Weight Rating) is estimated at 345 Kg (760.6 lbs.).
Exterior
The 2009 Kawasaki Ninja 250 features an all-new bodywork that gave it a fresh, "big bike" look and put it at the forefront of the 250-class sport bikes. Its ergos are best in class, with very comfortable positions for the seat and handlebars. The Ninja has footpegs for both driver and passenger and two helmet hooks to boot, although it is not the best motorcycle for a two-up layout if you are 5.0 lbs. away from hitting the maximum load limit.
2009 Ninja 250s were made available in Special Edition Lime GreenSunbeam Red, Candy Thunder Blue, and Metallic Diablo Black. The GPX250 was exclusively finished in black and red livery. A fender eliminator kit will be a great purchase if you want to improve the two-wheeler's overall styling and sportiness further.
If you use it for frequent two-up riding, getting a high-performance exhaust to help ease challenges in acceleration would be ideal, given the extra rider weight.
Cost of a Kawasaki 2009 Ninja 250R
2009 Kawasaki Ninja 250R Pricing
| Trim | List Price | Retail/Trade-in Values |
| --- | --- | --- |
| Kawasaki EX250J9FA Ninja 250R (US) | $3,999 | $1,655 – $3,500 |
| Kawasaki Ninja 250R Special Edition MY10 | $4,099 | $1,700 – $3,050 AUD |
| Kawasaki Ninja 250R (CA) | $4,699 CAD | $1,000 – $3,310 CAD |
| Kawasaki Ninja 250R Special Edition (CA) | $4,849 CAD | $1,000 – $3,310 CAD |
(Prices are in USD unless specified)
In the used-bike market, resale values for the Kawasaki Ninja 250R (2009) fall between $1,655 and $3,500. These secondhand units typically come with aftermarket goods such as a smoked windshield, high-performance exhaust, new battery, and flush-mount turn signals. Conversely, some may have a broken odometer, missing brake reservoir and rear lights, or slight cosmetic damage.
Kawasaki Ninja 250 Pros and Cons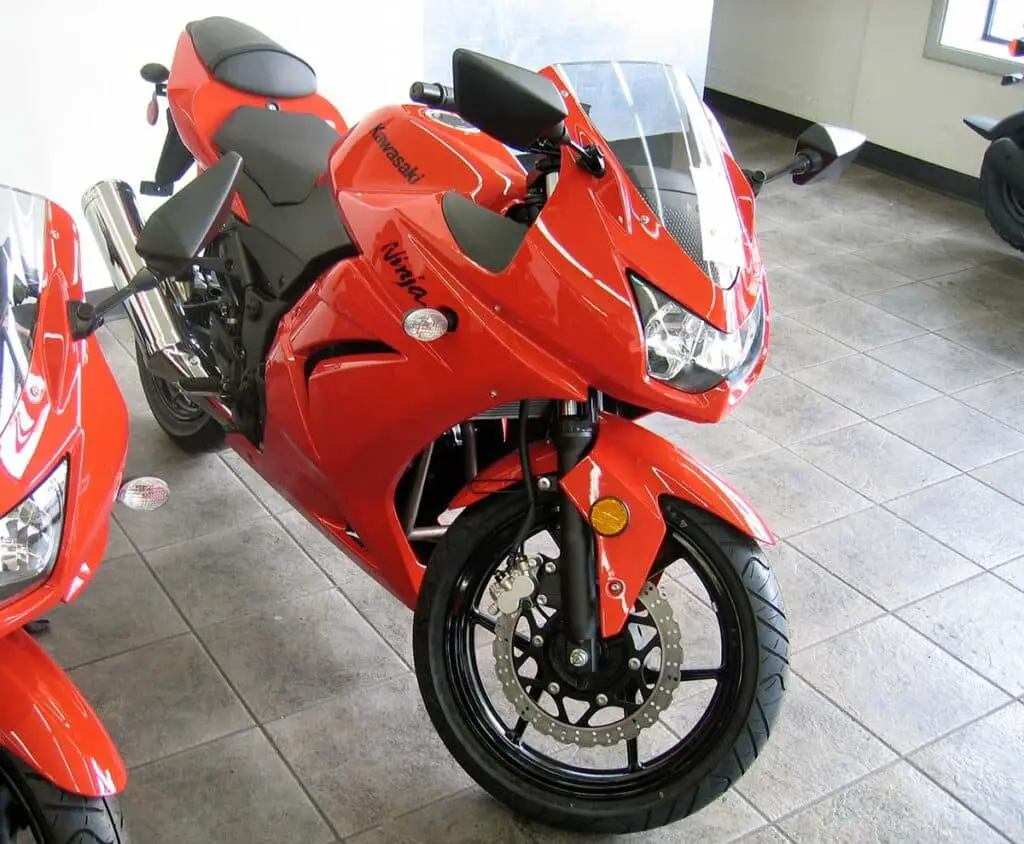 While many motorcycling enthusiasts consider the 2009 Ninja 250R as Kawasaki's best-selling sport bike, it is not without room for improvement in design and function. That said, let us review some of the bike's highlights and drawbacks in this section:
Pros
The Ninja 250R's handling and power are impressive, maintaining interstate speeds effortlessly and hitting higher speeds without hesitation.
It has a beginner-friendly, forgiving nature that fosters fun and boosts rider confidence.
High-speed turns and slow-speed maneuvers are a blast on this sport bike. Moreover, it quickly grabs as it revs, letting the driver stay in full control during the entire ride.
Throttle responsiveness is flawless – thanks to its motor that thrives on revs regardless of shift points. Plus, a bar-mounted choke makes cold starts more convenient.
Its low stock gearing gives it the mechanical advantage to keep up with slow-crawling city traffic.
Beautiful overall styling and a full-faired bodywork put this motorcycle above its competitors within the same price range.
Feel and feedback from the Ninja's tire-and-wheel assembly are good. Meanwhile, braking performance goes over and beyond its performance category.
The two-wheeler's Uni-Trak® rear suspension linkage makes for smooth handling despite the absence of suspension adjustment.
Many owners find the upgrade to 17-inch knobbies and better instrumentation (including a functional fuel gauge) a huge improvement over the previous model.
Cons
Handling and acceleration suffer for two-up riding (though this may be true on a case-to-case basis).
The bike can sustain highway speeds of 60 or 70 mph. But given the nature and intrinsic "buzzing" of its twin-cylinder motor, it may not be ideal for long periods of highway travel.
Controls will not require you to be heavy-handed. But if you want optimum performance from the sport bike, rowing up and down through its 6-speed gearbox is required.
The 6th gear feels more like an overdrive gear, as the Ninja "will not rev beyond 12,000 RPM in top" despite not having a rev limiter (this applies to both U.S. and non-US models).
For some models, factory IRC Road Winner bias tires tend to restrict the bike's sport-riding performance due to reduced stability when cornering.
To maintain its slim profile, the bike's full fairing was made so narrow that it provides no weather protection for the rider's upper body and extremities.
The bike can do better with more legroom for six-foot-tall riders.
About Kawasaki
Kawasaki Heavy Industries Ltd. (KHI) is a world-renowned leader in industrial engines, heavy equipment, all-terrain vehicles, and motorcycle production. The Japanese firm traces its humble beginnings back to a shipyard in Tokyo, where it began operations in 1878. However, the company was not officially established until it went public as Kawasaki Dockyard Co., Ltd in October 1896.
It took another 70 years before Kawasaki withdrew from the shipbuilding industry and ventured into other fields. This decision to diversify the company's expertise gave birth to many breakthrough product offerings – including the 2009 Kawasaki Ninja 250R.
Conclusion – 2009 Kawasaki Ninja 250R Review
In truth, determining the best category for the Ninja 250R is widely subjective and usually based on one's intended application. Those who manage to use it frequently for pillion riding or on the freeway can easily say it is one reliable daily commuter.
On the other hand, others who rip it through the tracks without encountering any snags can conclude that it is true to its classification as a sport bike. There will be endless contestations around this topic – same as there are endless ways to get the most out of the motorcycle.
Naturally, the bike's performance will be limited in some areas like speed and power. But even these two facets depend on specific rider needs. If you are not after face-ripping momentum or horsepower capable of tearing your engine apart, the 2009 Kawasaki Ninja 250R will be more than adequate for your idea of a fun ride.