Honda CB125R Review (Specs, Pros & Cons)
Disclosure: We may get commissions for purchases made through links in this post.
In the motorcycle realm, the Honda CB125R is a versatile and attractive option for beginners and experienced riders. With its blend of neo-classic aesthetics and modern features, this small-displacement street bike has earned its spot as one of the favorites in the CB lineup. In this article, let us explore the key specs and praiseworthy features of the Honda CB125R.
Unveiled in 2017, the Honda CB125R came from one of Honda's more illustrious and longest-running lineups. In 2021, it acquired a fresh engine and substantial front suspension upgrades, keeping it at the head of the entry-level pack.
Throughout this guide, we aim to uncover the strengths that set the Honda CB125R apart from its predecessors and higher-displacement namesakes. That said, continue reading and discover more about the Honda CB125R and whether it aligns more with the nostalgic Benly or big-bike CBR ideal.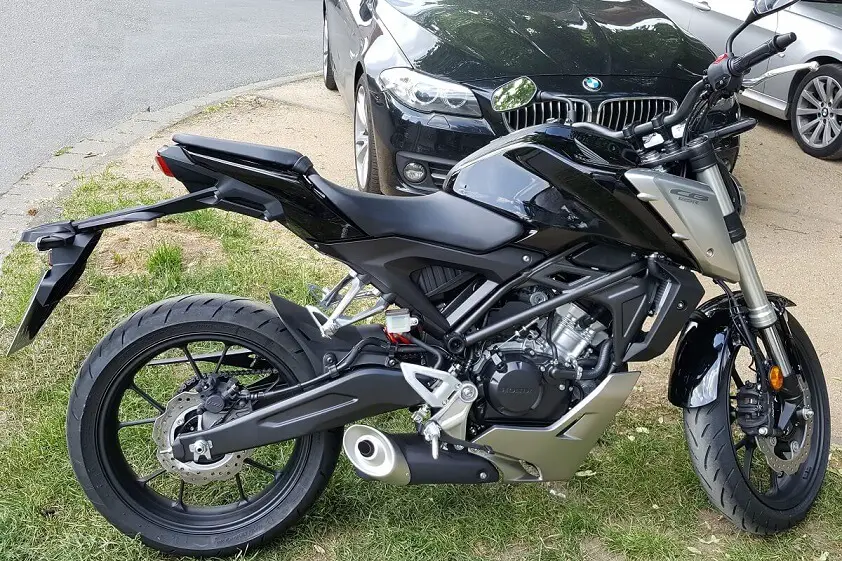 A Modern 1967 Benly, Or Is It?
The Honda CB125R unveiled at the EICMA in December 2017, is a naked cruiser-sport motorcycle mainly targeted at European markets. It gained popularity not only for its improved engine layout and power output but also for its sport-oriented yet beginner-friendly features.
Like most post-2010 incarnations of the CB series, the CB125R still sported that 'café-racer-brat-bike aesthetic.' However, what is different is that it no longer requires a street-bike conversion — because it already is one!
While I did make a reference to the revered 1967 Honda CB 125 Benly, in no way do these two-wheelers have the same engine configuration. If anything, the only aspect shared between the two is their piston displacement. Everything else differs — from the cylinder arrangement to the styling and power output. Despite these differences, the newer CB125R pays homage to the vintage motorcycle.
2021 Honda CB125R Specs & Features
Engine
The Honda CB125R's liquid-cooled, 4-stroke DOHC power mill has a PGM-FI (Programmed Fuel Injection) "fed through a revised inlet duct, air cleaner connector tube, and resonator."
Piston displacement is 124.5 cm3 (7.6 in3), the compression ratio is 11.3:1, and the bore-stroke ratio is 57.3 x 48.4 mm (2.26 x 1.91 inches). The two-wheeler's bore and stroke have been slightly modified, and the engine is Euro5-compliant for this year.
Overall, this engine configuration lends to the following performance figures (which almost mirror those of earlier versions of the Honda CB 125):
| Description | |
| --- | --- |
| Top Speed* | 62.8—81.4 mph (101—131 km/h) |
| Horsepower* | 14.8 bhp (11 kW) @ 10,000 RPM |
| Maximum Torque* | 11.6 Nm (1.2 kgf-m, 8.5 lb-ft) @ 8,000 RPM |
| Fuel Economy* | 83.8—110.3 mpg (2.1—2.8 L/100 km, 35.5—46.9 kmpl) |
| Approximate Tank Range | approximately 223—294 miles, 358—473 km |
* Lower-limit values are from 
Motorcyclespecs.co.za
Fuel & Lubrication
The oil capacity for this neo-sports bike is the following:
After draining: 1.3 L (1.4 US qt)
After disassembly: 1.5 L (1.6 US qt)
OEM-recommended lubrication is SAE 10W-3- of Honda 4-stroke motorcycle oil with an API grade of SJ or higher, meeting JASO T903 MA standards. Oils marked as "Energy Conserving" or "Resource Conserving" are not to be used on the two-wheeler.
Fuel-wise, the CB125R is gasoline-fed and requires 10.1 L/2.67 USgal of unleaded petrol with an Octane rating of at least 91 RON. Gasohol fuel variants can be used on the motorcycle, provided they are E10 fuels or contain no more than 10% ethanol.
Permissible MTBE (Methyl Tert-Butyl Ether) and methanol content is unspecified in the owner's manual. As such, staying away from these gasohols is highly advised.
Drivetrain
A 6-speed constant mesh transmission and a multi-plate clutch assembly with coil springs, and a left-foot operated return shift system deliver power to the rear wheel. A Daido DID 428VI3 chain with 134 links handles wheelspin. It can be replaced with a corresponding 428 O-ring, roller, or X-ring chain (view on Amazon) — although an O-ring sealed chain is preferred.
For reference, here are the Honda CB125R stock transmission gear ratios:
| Description | |
| --- | --- |
| Primary Reduction Ratio | 3.260 |
| Transmission Gear Ratio — 1st | 3.083 |
| Transmission Gear Ratio — 2nd | 1.941 |
| Transmission Gear Ratio — 3rd | 1.500 |
| Transmission Gear Ratio — 4th | 1.227 |
| Transmission Gear Ratio — 5th | 1.041 |
| Transmission Gear Ratio — 6th | 0.923 |
| Final Reduction Ratio | 3.200 (48/15T) |
Ignition & Electricals
CB125Rs come to life with a digital CDI system and electric starter. The bike's electrical system was wired to 12V, and a triple-phase alternator served as its charging system. An NGK MR9C-9N or Nippon Denso U27EPR-N9 spark plug with an electrode gap of 0.8—0.9 mm (0.031—0.035 inches) is responsible for spark ignition and can be replaced with same-spec standard or Iridium variants if faulty.
The recommended battery is a 12V 5Ah/(10 HR) YTZ6V battery with assembled dimensions of 113 x 70 x 106 mm (4.45 x 2.76 x 4.17 inches — L x W x H). This battery augments the power supply to the full-LED lighting assembly and electronic accessories (if any). It can be replaced with a similar format or a YTZ7S battery (view on Amazon) in case of wear or damage.
Tires & Brakes
Stock tires consist of 110/70R17M/C 54H and 150/60R17M/C 66H tubeless radials mounted on 17M/C x MT 3.00 and 17M/C x MT 4.00 Y-spoke cast aluminum rims. In case of tire failure, they can be substituted with Dunlop Sportmax GPR 300 (view on Amazon), with the tire size depending on which tire needs to be replaced.
Recommended cold-tire pressure for these knobbies is 200 kPa (2.00 kgf/cm2, 29 psi) for the front and 225 kPa (2.25 kgf/cm2, 33 psi) for the rear. These values do not change regardless of doing solo or pillion riding.
As for brakes, the bike uses a single 296-mm hubless, floating front disc (with a radial-mounted 4-pot Nissin caliper) and a single 220-mm rear disc (with a single-piston caliper). These brake system components are augmented by ABS that "works through Inertial Measurement Unit" or IMU.
Suspension
Enclosed in a lattice-style, tubular, and pressed steel frame (24° 12′ caster angle, 90.2 mm/3.5 inches trail) are 41-mm Showa SFF-BP (Separate Function Big Piston) USD front forks and an irregularly shaped rear swingarm. Each suspension unit offered "spring rate and damping changes" and provided a respective wheel travel of 120 mm (4.7 inches) and 126 mm (5 inches).
Other handling-affecting elements are the two-wheeler's wheelbase of 1,345 mm (53 inches), minimum ground clearance of 140 mm (5.5 inches), and turning radius of 2.3 meters (7.5 feet).
Dimensions & Capacities
Overall Honda CB125R dimensions are 2,015 x 820 x 1,055 mm. The seat height is 816 mm (32.1 inches). It can comfortably accommodate tall riders, but it might be a tad challenging for motorheads with a 32-inch or shorter inseam.
Fat, bar-style handlebars are relatively similar to the already semi-raised bars of its' commuter bike' namesake, allowing for a slightly more relaxed riding position than the aggressive crouch of a pure sportbike. Nonetheless, you can replace the stock bars with clip-on variants (view on Amazon) for a more 'leaned in' stance.
Capacity-wise, the two-wheeler's curb weight is 130 Kg (287 lbs.). Its maximum weight capacity is 180 Kg (397 lbs., unladen). These values give the cruiser-sport bike an estimated GVWR of 310 Kg (683 lbs.) — a total of its passenger/rider weights, a full fuel tank and fluids, 8 kg luggage capacity, and accessories.
Exterior
As mentioned in my article on the Honda CB125, the CB125R looks like "a cross between a neo-sport café racer and a Honda Grom." Compared to the early '70s and '80s incarnations of the series, the machine sported an undeniably revamped exterior and was made available in the following color schemes:
Pearl Smoky Gray
Matte Gunpowder/Black Metallic
Candy Chromosphere Red
Matte Jeans/Blue Metallic
The CB125R's industrial-minimalist styling paired well with its bold but simplistic character. Details such as the bike's modern LCD instrumentation, rear mudguard mount, "dual-bar light signature," and predominantly blacked-out engine and chassis highlight this dynamic and give the cruiser-sport bike a premium feel. Moreover, the inverted forks and rims feature a gold anodized finish that gives the bike its extra visual oomph.
How Much Is a Honda CBR 125R?
Sources for the original list price of the Honda CB125R is a bit obscure. But according to the Bike Market, it is between £2,900 and £4,400 (depending on the year model). Private and part-ex resale values also seem to fall within this pricing range — albeit slightly cheaper.
Auction-wise, list prices have a slightly higher upper-limit value at approximately €2,535—€5,525 (£2,193—€4,781). These pre-owned units are typically in good working condition. They often come with 3rd party add-ons, such as new handlebars, saddle, or a rear top box (view on Amazon). Additionally, these secondhand bikes have moderate to little cosmetic damage (usually just minor scratches and scuffs here and there).
Honda CB125R — Pros and Cons
Although the Honda CB125R is already a competitive road-going cruiser-sport bike, it is not without imperfections. Here are the lowdowns of the CB125R you need to be aware of:
Pros
Stylish Design: The Honda CB125R boasts a café-racer-inspired design with clean lines and modern accents. This gives it a sporty, sophisticated look that turns heads on the streets.
Fuel-Efficient: Equipped with a fuel-efficient engine, the CB125R ensures you'll spend more time on the road and less at the pump station. It is an economical choice as a daily commuter.
Agile Handling: With its nimble frame and responsive handling, the CB125R excels in urban environments, navigating through congested traffic and tight corners effortlessly.
Beginner-Friendly: The CB125R is an ideal entry-level motorcycle. It offers user-friendly controls and a more upright riding position that helps instill confidence in less experienced riders and learners.
Braking Capabilities: Suspension and chassis improvements on the CB125R successfully eradicated complaints about the motorcycle's brakes feeling spongy.
Cargo: Honda increased the rear luggage capacity from 3 Kg to 8 Kg, further enhancing the bike's functionality.
Cons
Limited Power: As a small-displacement motorcycle, the Honda CB125R may not satisfy power-hungry riders seeking high-speed thrills or highway cruising.
Pillion Space: While enjoyable for solo rides, the limited pillion space on the motorcycle might not be as accommodating for passengers during extended journeys.
Affordability: Although not extremely pricey, the asking price of the Honda CB125R is just too much for the average consumer.
About Honda
Honda Motor Company Ltd., a renowned Japanese motorcycle manufacturer, has a history of producing iconic motorcycles that have left a lasting impact on the industry.
The CB series, which debuted in the 1960s, inspired the modern Honda CB12R. It has become a symbol of the company's commitment to innovation, reliability, and delivering motorcycles that cater to various rider skills and preferences.
Conclusion — Honda CB125R Review
The Honda CB125R encapsulates the spirit of the CB series and aptly marries classic charm with contemporary functionality. Its stylish design and beginner-friendly features make it an attractive choice for those stepping into the world of motorcycling.
While its power might not cater to all riding styles, the small-displacement machine is a practical and trendy option for urban commuting and beyond, delivering agility and enjoyment.
As Honda continues to refine and innovate its CB lineup, the CB125R remains a strong contender in the market, continuously appealing to gearheads seeking a chic ride that stands the test of time.