Honda CBR 250R vs Kawasaki Ninja 250R
Disclosure: We may get commissions for purchases made through links in this post.
From entry-level 250ccs to speedster 450ccs to liter-class road monsters, manufacturers have come full circle to marketing 250-class thumpers like the Honda CBR 250R vs Kawasaki Ninja 250R.
Not only are they more economical choices, but they also handle pretty well on the road. Daily commuters and learner riders living in busy areas would be better off riding one of these highly capable two-wheelers.
Both motorcycles are categorically dual-sport bikes, though they differ in almost all other facets. The Kawasaki Ninja 250R is more sport-oriented, while the Honda CBR 250R is more easygoing. Application-wise, the former can rip through circuits, while the latter works best as an everyday road bike.
Notwithstanding dissimilarities, both the Honda CBR 250R vs Kawasaki Ninja 250R scream ingenuity, pleasure, and purpose. These quintessential two-wheelers push the concept of convenient transportation while being ridiculously fun on highways and backroads.
Let us delve into the individual fortes of these motorbikes in providing memorable riding experiences. Because by the end of this guide, you should be able to select which encounter you are looking forward to savoring.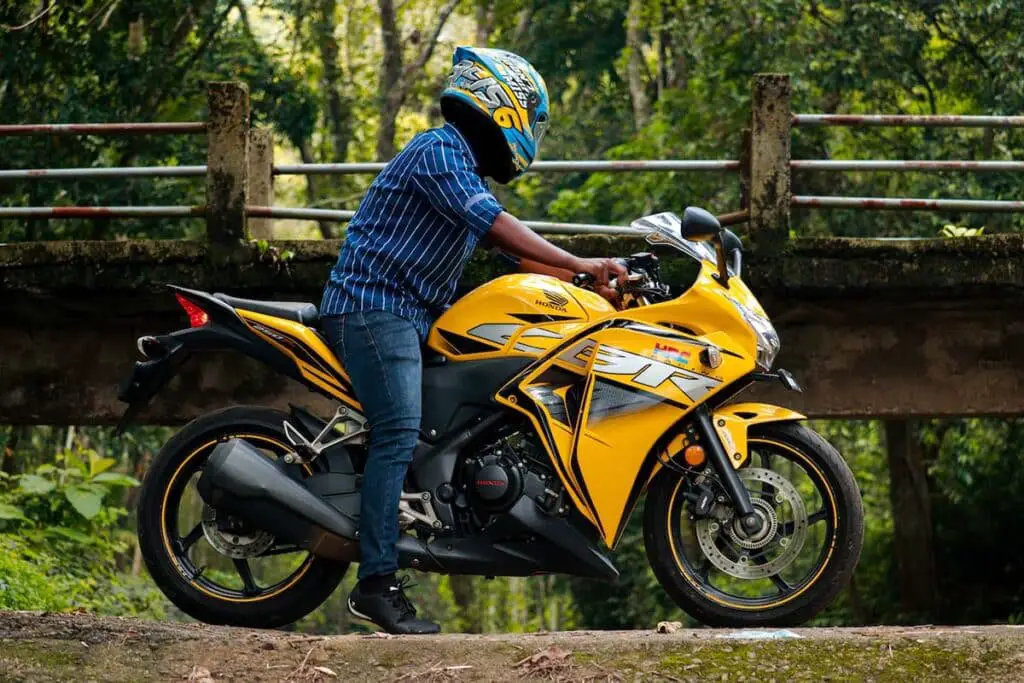 About Honda and Kawasaki's 250Rs
The Honda CBR 250R vs Kawasaki Ninja 250R — two iconic thumpers that shook the motorcycling scene during their debut. Both are lightweight, aggressive, capable, and with more than their fair share of accolades and tournament wins.
These two-wheelers were launched 25 years apart. But in the used-bike market, they are often pitted against each other.
Team Red's 250cc CBR makes for a great learner bike and is approved by several motorcycling instructors and enthusiasts.
It has a classic look and feel to it, provides chock-loads of torque, and is quick-revving. Plus, it ranks high on maneuverability — with mannerisms that are not too daunting nor too conservative.
Meanwhile, Team Green's Ninja 250R is a crowd favorite and many an ardent follower's go-to entry-level bike. Hailing from the illustrious Kawasaki Ninja series, it is among the best offerings by a manufacturer in the sport bike category.
The two-wheeler is well-received in North American and European markets and well-loved by the riding community.
CBR 250R vs Ninja 250R Specs & Features
Engine
Both motorcycles share the same piston displacement of 249.4 cm3 (15.2 in3) and are fitted with a liquid-cooled, 4-stroke DOHC mill. They also have almost similar torque and power outputs (though at different RPMs).
The Honda CBR 250R is fuel-injected — hence, the longer bore and stroke. Surprisingly, the Ninja 250R is more fuel-efficient despite being carbureted.
| Description | 2011 Honda CBR 250R | 2009 Kawasaki Ninja 250R |
| --- | --- | --- |
| Engine Type | 4-stroke, single-cylinder DOHC | 4-stroke, twin-cylinder DOHC |
| Carburetion Type & Fuel | PGM-FI, 38-mm throttle body | Dual diaphragm-type CVK30 Keihin carburetors |
| Bore-Stroke Ratio | 76 x 55 mm (2.99 × 2.17 inches) | 62 × 41.2 mm (2.44 × 1.62 inches) |
| Compression Ratio | 10.7:1 | 11.6:1 |
| Top Speed | 83.8–104.4 mph (135–168 km/h) | 94.9–110 mph (152.7–177 km/h)* |
| Horsepower | 24–26 bhp (17.9–19.4 kW) @ 8,700 RPM | 32–45 bhp (23.9–33.5 kW) @ 11,000 RPM* |
| Torque | 21.7–23.9 Nm (2.21–2.43 kgf-m, 16–17.6 lb-ft) @ 6,500 RPM | 21.7–24 Nm (2.21–2.45 kgf-m, 16–17.7 lb-ft) @ 9,500–10,000 RPM* |
| Fuel Mileage | 40—104 mpg (2.3—5.9 L/100 km) | 45—105 mpg (2.2—5.2 L/100 km)* |
* Upper-limit values apply to units sold in non-U.S. markets
Fuel & Lubrication
The fuel requirement for these entry-level motorcycles is regular gasoline (unleaded) with a minimum PON 87/RON 91 Octane rating. OEM recommendations can be found in the owner's manual. Nonetheless, you may use other fuel variants that meet manufacturer standards.
Variants in question should have no more than 15% MTBE (Methyl Tertiary Butyl Ether), 16.7% TAME (Tert–Amyl Methyl Ether), or 17.2% ETBE (Ethyl Tertiary Butyl Ether). If using oxygenates or gasohol blends, ethanol content should be less than 10% and methanol less than 5% (or preferably zero).
Lubrication-wise, 250cc CBRs and Ninjas share a Forced lubrication (wet sump) system. See the table below for fuel and engine oil requirements:
Description
2011 Honda CBR 250R
2009 Kawasaki Ninja 250R
Tank Capacity
13 L (3.4 USgal)
18 L (4.8 USgal)
Oil Type & Capacity*
1.4 L (1.5 US quarts, at draining)
1.5 L (1.6 US quarts, filter change)
1.8 L (1.9 US quarts, disassembly)
1.3 L (1.4 US quarts, at draining)
1.6 L (1.7 US quarts, filter change)
1.7 L (1.8 US quarts, disassembly)
Recommended engine oil is SAE 10W-30 for the Honda and SAE 10W-40 for the Kawasaki thumper. Either should be a 4-stroke oil with a minimum SJ, SL, or SM API certification and meeting JASO T903 MA/MA1/MA2 standards.
Other viscosity grades mentioned in the manual are permissible following changes in ambient temperature, altitude, and riding conditions.
Drivetrain
Testers have found the Honda CBR 250 R more favorable when carving corners and cruising smoothly at lower RPMs.
The Ninja should have stolen the spotlight with its power advantage over its counterpart. However, it requires some wrist workout before you get into the meat of its powerband.
Despite this drawback, the Ninja's mountain-road capabilities are undeniable. It has no problems passing commuter buses or downshifting in urban traffic — same with the 250cc CBR.
Both motorbikes come to life via a 6-speed constant-mesh wide-ratio transmission. A wet, cable-actuated multi-disc clutch assembly delivers power to the ground, while a #520 O-ring chain like Renthal R3-3 SRS 520 Off-Road Chain-120 (view on Amazon) handles wheelspin.
| Description | 2011 Honda CBR 250R | 2009 Kawasaki Ninja 250R |
| --- | --- | --- |
| Primary Reduction Ratio | 2.808 (73/26) | 3.087 (71/23) |
| Gear Ratio — 1st | 3.333 (40/12) | 2.600 (39/15) |
| Gear Ratio — 2nd | 2.117 (36/17) | 1.789 (34/19) |
| Gear Ratio — 3rd | 1.571 (33/21) | 1.409 (31/22) |
| Gear Ratio — 4th | 1.304 (30/23) | 1.160 (29/25) |
| Gear Ratio — 5th | 1.115 (29/26) | 1.000 (27/27) |
| Gear Ratio — 6th | 0.962 (26/27) | 0.893 (25/28) |
| Final Reduction Ratio | 2.714 (38T/14T) | 3.214 (45T/14T) |
| Overall Drive Ratio | N/A | 8.859 @ Top gear |
Ignition & Electricals
The older Ninja has a TCBI with an electronic advance and a timing of 10° B.T.D.C. @ 1,300 RPM (initial "F" mark) and 35° B.T.D.C. @ 4,000 RPM (full advance). Meanwhile, the CBR has a computer-controlled digital transistorized ignition with electronic advance.
Both have triple-phase alternators charging the entire bike and a 6 Ah/(10 HR) YTX7L-BS battery format — with assembled dimensions of 114 x 71 x 131 mm (4.50 x 2.81 x 5.19 inches) — powering electronic accessories and lighting.
Per the Yuasa Powersports Battery catalog, the stock battery can be substituted by a 7 Ah/(10 HR) YTZ8V battery (view on Amazon). But to be safe, consult your local technician for compatibility.
Tires & Brakes
Stock rubber for the Honda and Kawasaki 250s are 17-inch tubeless radials, with the CBR's rear tire being slightly larger than the Ninja's.
Both sport IRC tires (view on Amazon), although Kawasaki offers other tire brands like Bridgestone or Dunlop, depending on where the bike was released.
Front tires measure 110/70-17, while rear tires are 130/70-17 (Ninja 250R) and 140/70-17 (CBR 250R), respectively.
Finally, 296-/220-mm hydraulic single discs with 3-piston pin-slide calipers provide the CBR stopping power. The Ninja has a similar setup but with the front disc falling short of 4 mm in diameter.
Suspension
Although both quarter-liter rides use 37-mm damper-rod front forks and linkage-mounted (preload-adjustable) shocks, their suspension setup offers different benefits.
On the Honda CBR 250R, damping is better. On the Ninja, front-and-rear suspension travel is longer (at 140 mm/5.5 inches and 130 mm/5.1 inches versus its counterpart's 4 inches).
Wheelbase and ground clearance for both are comparable, with the low center of gravity augmenting the bike's superb handling mannerisms and on-/off-road stability. Unfortunately, the turning radius is unspecified in the owner's manual.
| Description | 2011 Honda CBR 250R | 2009 Kawasaki Ninja 250R |
| --- | --- | --- |
| Wheelbase | 1,370 mm (53.9 inches) | 1,400 mm (55.1 inches) |
| Ground Clearance | 145 mm (5.7 inches) | 130 mm (5.1 inches) |
| Caster Angle / Trail | 25° 30'; 98.6 mm (3.9 inches) | 26°; 82 mm (3.2 inches) |
Dimensions
Measurement-wise, the Honda CBR 250R vs Kawasaki Ninja 250R are almost identical, with the CBR being lighter by 4—8 Kg (8.8—17.6 lbs.). The latter also has a higher maximum load limit and GVWR than the Ninja.
| Description | 2011 Honda CBR 250R | 2009 Kawasaki Ninja 250R |
| --- | --- | --- |
| Dimensions (L x W x H) | 2,035 x 720 x 1,125 mm (80.1 x 28.3 x 44.3 inches) | 2,085 x 715 x 1,110 mm (82.1 x 28.1 x 43.7 inches) |
| Seat Height | 30.7 inches (780 mm) | 30.9 inches (785 mm) |
| Curb Weight | 162—166 Kg (357—366 lbs.) | 170 Kg (375 lbs.) |
| Payload Capacity | 217—219 Kg (478—483 lbs.) | 170 Kg (375 lbs.) |
| Estimated GVWR | 379—385 Kg (835—849 lbs.) | 345 Kg (760.6 lbs.) |
* California releases are ± 0.6% heavier than those sold in other markets
While weight is immaterial in urban driving, it may be a concern if the bike is used for track days or racing. Luckily, you can shed roughly 20 lbs. off a Ninja 250R by simply removing some (or all) of the below:
Headlight, gauges, and front fairing stay: 6.5 lbs.
Tail fairing, tail light, rear fender (including turn signals and license plate), center stand: 6 lbs.
Sidestand, interlock switch, mounting plate: 2 lbs.
Tool kit, tray: 1.5 lbs.
Assorted locks, passenger pegs, and brackets: 0.75 lbs each
Horn, speedo cable: 0.5 lbs. each
Removing the stock airbox, exhaust (view on Amazon), and fairings and replacing them with aftermarket counterparts made of fiberglass or any other light material are optional but can reduce curb weight by a further 10 lbs.
Should you decide to go this route, consult your racing organization first to see if these changes are allowed.
Exterior
The most obvious difference between these two motorcycles is seen on the outside. Superficially, the Kawasaki Ninja 250R is chunkier, with its Lime Green color scheme, full fairing, and sporty-aggressive aesthetics.
The Honda CBR 250R, on the other hand, is more tamed and street-appropriate — with its trademark Honda Red bodypaint giving it a sober, fits-in-the-city vibe.
CBR vs. Ninja 250R Pricing Comparison
It has not been long since the Honda CBR 250R debuted, so its MSRP is still comparable with more recent 250-cc sport bike iterations. But for the Kawasaki Ninja 250R, it has been almost three decades since its inception (up until its displacement upgrade to 300cc in 2012).
Per JD Power data, base models of the CBR sold for $3,999 to $4,199 (plus $500 for ABS-equipped trims. The Repsol Edition in 2013 was valued at $4,599. Meanwhile, retail/trade-in and auction listings ranged between $1,700 and $4,500.
In like manner, base models of the Ninja between 1991 and 2012 sold for $2,999 to $4,499. A Limited Edition trim with special livery was given a price tag of $4,099.
Secondhand Ninjas, on the other hand, are valued between $800 and $4,995. There are posts of Ninjas for $400 or less, but they are usually sold for parts.
Pros and Cons — CBR 250R vs. Ninja 250R
Honda CBR 250R
Pros
Riders acclimate themselves to the bike's mannerisms pretty quickly, it's ridiculous
Has no problem surviving 80-mph freeway cruising speeds
Offers low-effort clutching and light steering
The engine is the first to make use of a plain-bearing crank in a single-cylinder mill
Not as maintenance-hungry as its counterpart, the Kawasaki Ninja 250R
Build quality is much better than most of its competition
Shares styling cues with the powerful Honda VFR1200F
Optional ABS is linked rear-to-front (meaning applying brakes will trigger the front)
Ergos allow riders to plant their feet firmly on the ground during halted traffic
Cons
The seat is comfortable but not enough to last you beyond 500 km of riding
It could do better with brakes, as only the front feels strong and progressive
Handlebar reach feels more comfortable on the Ninja 250R
It is not designed to function as a 2-up machine
Kawasaki Ninja 250R
Pros
Impressive handling and power lending to effortless interstate and high-speed riding
It has a confidence-boosting and forgiving nature despite its aggressive stance
Flawless throttle response
The 2-into-1 exhaust system contributes to the bike's smooth power curve and low-/mid-range torque
Automatic-adjusting cam chain tensioner reduces friction loss and mechanical noise
Low gearing proves advantageous in keeping up with slow-moving city traffic
Exudes "big bike" appeal due to its full fairing and bodywork
Braking performance is reliable
Hooks under the tail and passenger footpegs provide tie-down points for cargo
Its Uni-Trak® rear suspension linkage enables smooth handling despite the absence of suspension adjustment.
The thumper is a stickler for high-speed turns and slow-speed maneuvers (and a good one at that)
Cons
Not ideal for 2-up riding or extended periods of highway travel
Controls require riders wanting optimal performance to be heavy-handed.
Heavier, slower, and reportedly less powerful than its same-class counterparts
Stock radials restrict sport-riding performance and may need to be replaced if you are after cornering stability.
Earlier models were too chunky, while later incarnations were too slim — to the point where the bike's full fairing barely provided weather/rider protection.
The cockpit feels cramped, especially for lanky or taller riders.
Excessive shuddering felt at high speeds.
Shared Benefits & Drawbacks
Benefits
Naturally upright riding position that is slightly forward-slanting
Suitable for beginners and advanced riders alike
Beefy swingarm and well-balanced stiffness in the chassis
Can accommodate from simple to complex modifications
Drawbacks
Somewhat conservative horsepower figures tend to put second-rate driving skills on the spot.
Lacks fancy componentry like adjustable levers, radial-pump master cylinders, titanium exhausts, suspension clickers, and vacuum die-cast swingarms
Conclusion — Honda CBR 250R vs Kawasaki Ninja 250R
These thumpers are excellent bike choices, so all you have to do is choose. You can't go wrong with the Honda CBR 250R vs Kawasaki Ninja 250R — either is a great pick for the edgy beginner or the flashy urbanite.