KTM Duke 250 Specs and Review
Disclosure: We may get commissions for purchases made through links in this post.
The KTM 250 Duke is not your average quarter-liter street bike. Adapted from the 390 Duke and Super Duke models, it is rugged and straightforward yet sophisticated.
This two-wheeler is light and nimble but with big-bike appeal and mannerisms. Moreover, it is highly adept on both the tarmac and off-road.
One of the Austrian firm's entry-level offerings, the KTM Duke 250, is sandwiched between the Duke 200 and Duke 390. Featuring an underbelly exhaust, a PASC-assisted slipper clutch, UV-resistant paintwork, and dual-channel ABS, this wildcard offers so much more than its killer looks.
Apart from its undeniable charm, the KTM Duke 250 has repeatedly proven that it is king on surface streets and backcountry roads. And with loads of usable features, the sportbike has become the default two-wheeler for the avid enthusiast.
Uncertain if its roots make it better than other 200cc motorcycles? Read on and learn more about the KTM Duke 250, and discover what a supermotard looks like when tempered for the pavement.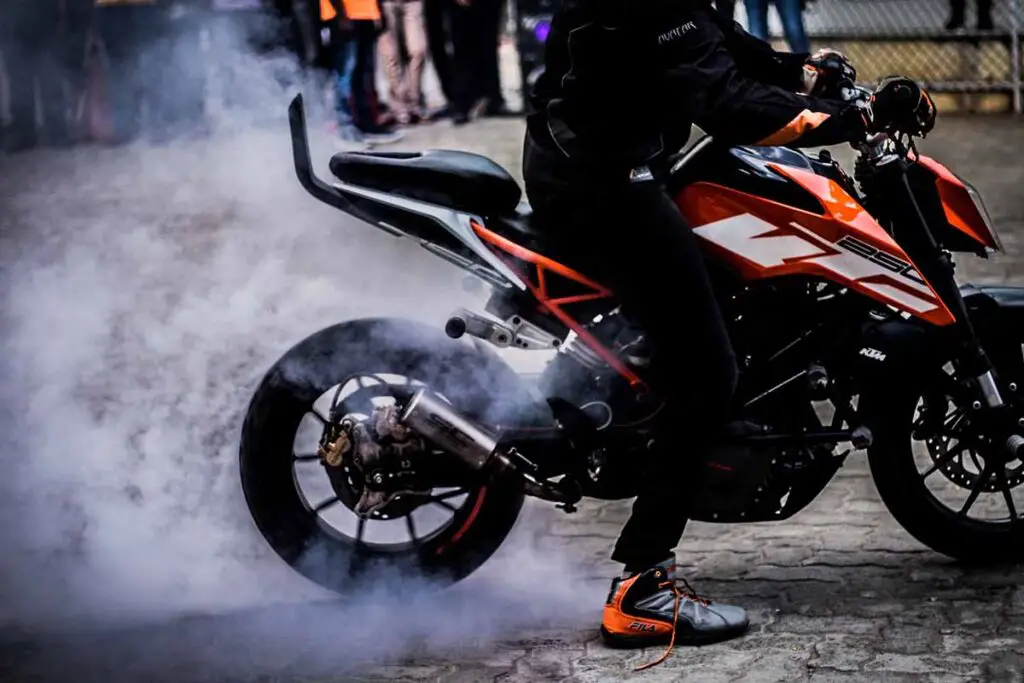 Team Orange's Bon Vivant
'Adrenaline junkie,' 'thrill chaser,' 'street czar' — there are many nicknames given to this sporty naked bike, and for good reason.
Despite its seemingly diminutive size, it stands out from the crowd due to its bold mannerisms and larger-than-life countenance. And riders expect nothing less from a KTM bike.
First launched in 2012 alongside its 200cc sibling, the Duke 250 is a naked motorcycle that continues to carry on the Austrian firm's legacy 18 years after entering the street-bike market. Yes, it still screams supermoto DNA, but it tames this genetics for road-legal use.
In hindsight, this kapchai has its 690cc predecessor to thank for getting the hang of things. After all, it took 12 years to perfect marrying hedonistic characteristics with function.
South Asian markets were the first to enjoy the capabilities of this two-wheeler. It was not offered in the U.S. until five years after, where it was welcomed with much gusto as a quarter-liter wildcard.
The Duke 250 was sharper, taller, lighter, and more appealing overall, besting even the Honda CB300F and Benelli TNT 300 Tornado.
KTM 250 Duke Special Edition
The Special Edition of the KTM 250 Duke was first showcased in 2018 at the 39th Bangkok International Motor Show at the Muang Thong Thani Center in Thailand.
Out of the crate, the SE model featured KTM's signature color scheme and tons of accessories, including engine-protecting frame sliders, orange hand guards (view on Amazon), and digital instrumentation with LED indicators.
But what sets this iteration apart from other Duke 250 models is its artsy, pattern-laden styling targeted at art-inclined riders. Unlike KTM's traditional black-and-orange paint scheme, this version boasted funky bodywork graphics, dual-finished front shocks, and multicolored rim stickers.
The two-wheeler's high-glossed front fascia, retro headlight unit (reminiscent of the 690 Duke), and stock black undertone tie all these details together.
All these perks included, the KTM Duke 250 SE sold for THB 179,800 (or approximately $5,717.64) in Thailand. This put the 250 Duke MSRP at an $800 markup compared to the Kawasaki Z250 and Yamaha YFZ-R3.
2022 KTM Duke 250 Specs & Features
Engine
The KTM Duke 250 uses a single-cylinder, 4-stroke OHC engine, and a liquid cooling system. The bore-stroke ratio is 72 x 61.1 mm (2.83 x 2.40 inches), the compression ratio is 12.5:1, and the piston displacement is 249 cm³ (15.19 in³).
Electronic fuel injection with a 38-mm throttle body handles fuel delivery and air-fuel mixture.
Overall, the above configuration yields the following performance figures:
| Description | |
| --- | --- |
| Top Speed | 91.9—99.4 mph (148—160 km/h) |
| Horsepower | 29.5 hp (30 PS, 22.1 kW) @ 9,000 RPM |
| Maximum Torque | 24 Nm (2.4 kgf-m, 17.6 ft-lbf) @ 7,500 RPM |
| Fuel Economy (if riding in higher gears and @ 6,000-7,000 RPM max) | 58.8—65.9 MPG (3.6—4.0 L/100 km CTY) 68.2—84.7 MPG (2.8—3.4 L/100 km HWY) |
| Fuel Tank Range (approximate values) | 208—233 miles, 334—374 km (CTY) 241—299 miles, 387—481 km (HWY) |
Fuel & Lubrication
Tank capacity is 13.4 L (3.54 USgal; reserve — 1.4 L/1.5 US quarts) of super unleaded gasoline with a PON 91 (minimum) or DIN EN 228 (ROZ 95) rating.
You may use E5 or E10 fuel variants with less than 5% Methyl Tertiary Butyl Ether and 10% ethanol (strictly no methanol), provided they meet OEM specifications.
Lube-wise, the Duke 250 has the following requirements:
| Description | Quantity |
| --- | --- |
| Engine Oil | 1.7 L (1.8 US quarts) |
| Coolant | 1.2 L (1.3 US quarts) |
| Fork Oil | 450 ml (15.2 fl. oz.) |
Recommended engine oil is SAE 15W-50 Motorex® — Formula 4T or its equivalent, with a minimum API grade of SJ meeting JASO T903 MA2 or ACEA standards. Other viscosity grades mentioned in the owner's manual are permissible following changes in altitude, riding conditions, and ambient temperatures.
Drivetrain
A 6-speed manual transmission mated to a mechanically-activated oil-bathed clutch delivers power to the rear wheel. Meanwhile, a 5/8 x 1/4″ 520 X-Ring chain (view on Amazon) controls wheelspin, supplemented by a non-switchable Bosch 9.1MB ABS.
Handling is smooth and confidence-boosting, with the sportbike allowing riders to shift up close to redline RPMs (typically the 8,000—9,000 range) without significant loss of acceleration or momentum.
See below stock gear ratios for reference:
| Description | |
| --- | --- |
| Primary Ratio | 30:80 |
| Transmission Gear Ratio — 1st | 12:32 (2.667) |
| Transmission Gear Ratio — 2nd | 14:26 (1.857) |
| Transmission Gear Ratio — 3rd | 19:27 (1.421) |
| Transmission Gear Ratio — 4th | 21:24 (1.143) |
| Transmission Gear Ratio — 5th | 23:22 (0.957) |
| Transmission Gear Ratio — 6th | 25:21 (0.840) |
| Secondary Ratio | 15:46 (3.067) |
Ignition & Electricals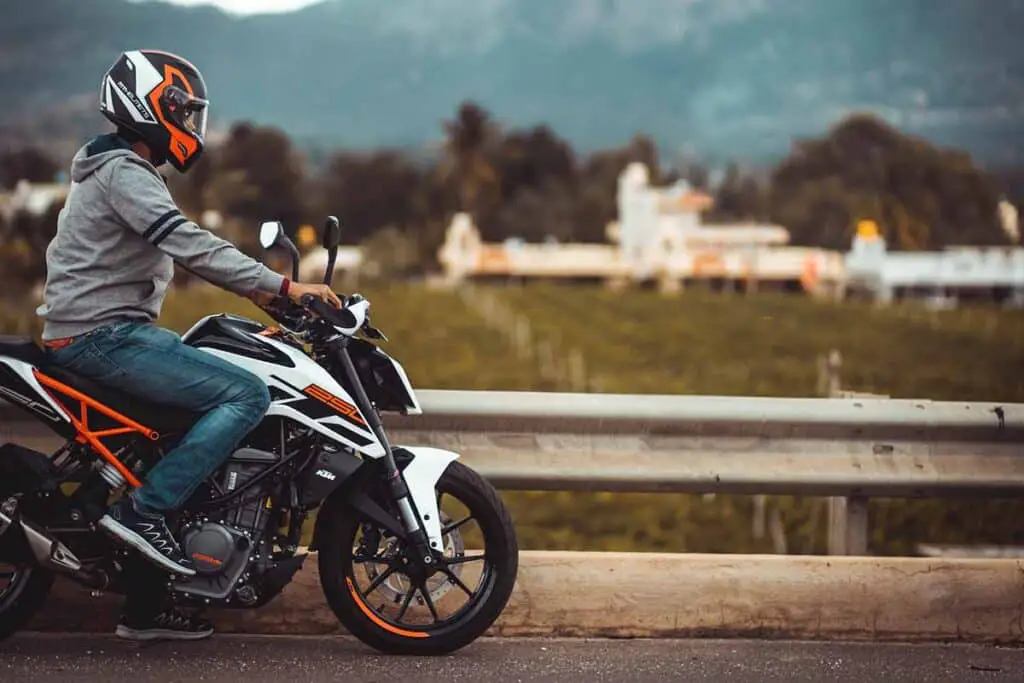 The KTM Duke 250 has a fully electronic ignition with digital adjustments and an electric starter. A 12V 230-watt alternator is its charging system, and an 8 Ah/(10 HR) maintenance-free YTX9-BS battery (view on Amazon) power electronic accessories and lighting.
A BOSCHVR6NEU spark plug with an electrode gap of 1 mm (0.04 in) is responsible for spark ignition.
The Duke's lighting assembly — from the sleek, retro headlight to instrumentation and turn signal lamps — consists of LED and links to a 15 A fuse. Meanwhile, its electricals are safeguarded by the respective fuses below:
| Fuse | Rating |
| --- | --- |
| Main Fuse (75011088030) | 30 A |
| ABS Return Pump (90111088025) | 25 A |
| Part #75011088015, Ignition Coil, Starter Relay, Fuel Pump | 15 A |
| ABS Hydraulic Unit (75011088010), Combination Instrument for Alarm System (optional)/Diagnostics Connector, ECU, Power Relay, Radiator Fan, Permanent Positive for Auxiliary Equipment (ACC1 front), Ignition Positive for Auxiliary Equipment (ACC2 front) | 10 A |
Tires & Brakes
Depending on the market where it was released, stock knobbies could have one of the following brands — Metzeler Sportec, MRF, or Michelin Pilot Street Radials (view on Amazon). Tire size and rating are the same across the board — 110/70 R 17 M/C 54H TL for the front and 150/60 R 17 M/C 66H TL for the rear.
Putting the sportbike to a halt are 320 mm (12.6 in) and 230 mm (9.06 in) front and rear disc brakes, augmented by respective Bybre 4-pot calipers and Bybre single piston.
Recommended cold-tire pressure is 200 kPa (2.04 kgf/cm2, 29 psi) on both knobbies for solo riding. However, the rear will have to be adjusted to 220 kPa (2.25 kgf/cm2, 32 psi) when riding with a passenger or under full payload.
Suspension
The suspension consists of 43-mm USD WP Apex telescopic front forks and WP Apex monoshock, enclosed in a powder-coated lattice frame made of Chromoly steel tubing. The steering head angle is 65° and is mated to a 185-mm/7.28-inch ground clearance and 1,357 ± 15.5 mm (53.43 ± 0.61 in) wheelbase.
Each suspension unit (front and rear) provides 142 mm (5.59 inches) and 150 mm (5.91 inches) of respective wheel travel.
The bike's suspension geometry is reliable overall. However, suspension travel was a tad better for its 2015 incarnation, with the front and rear offering 150 mm (5.91 inches).
Dimensions & Capacities
As customary of KTM, the overall dimensions of the 250 Duke are also unspecified in the manual. The wheelbase (mentioned above) and the seat height are the only measurements cited.
Without load, the saddle height is either 830 mm (32.7 inches, standard) or 805 mm (31.69 inches, low).
For weight limits and capacities, refer to the table below:
| Description | |
| --- | --- |
| Dry Weight | 154 Kg (340 lb.) |
| Curb Weight | 161 Kg (355 lb.) |
| Max. Front Axle Load | 125 Kg (276 lb.) |
| Max. Rear Axle Load | 210 Kg (463 lb.) |
| Max. Overall Weight | 355 Kg (783 lb.) |
Exterior
On the exterior, the sportbike looks every bit smashing — with its sharp lines and well-proportioned parts. It has a huge semblance to same-year 390 Dukes, except for its headlight assembly and odd-looking side mirrors.
Side-mounted Akrapovic slip-ons (view on Amazon) add to the two-wheeler's edginess. Instrumentation-wise, its digital kit is informative but comes in second to its bigger-displacement sibling.
KTM 250 Duke Pricing
Because the bike was first marketed outside the U.S., KTM 250 Duke list price sources tend to be obscure. Nonetheless, it had a retail value of ¥550,000 (or approximately $4,950) when showcased at the 43rd Tokyo Motorcycle Show in 2016.
The label did not have huge price increases during its production — even with the launch of its SE model in Thailand in 2018. For 2022, the 250cc sportbike was sold in Malaysia, beginning at RM 21,500.
Despite its mid-range price point, the 250 Duke keeps its value well. Auction and trader site listings for a secondhand unit typically sell for $4,300 (only $600 shy of its original MSRP).
You also would not see a lot of online postings about this bike — solid proof that many are unwilling to let go of the two-wheeler and that motorheads cherish it as a permanent part of their riding arsenal.
Lowdowns of the Duke 250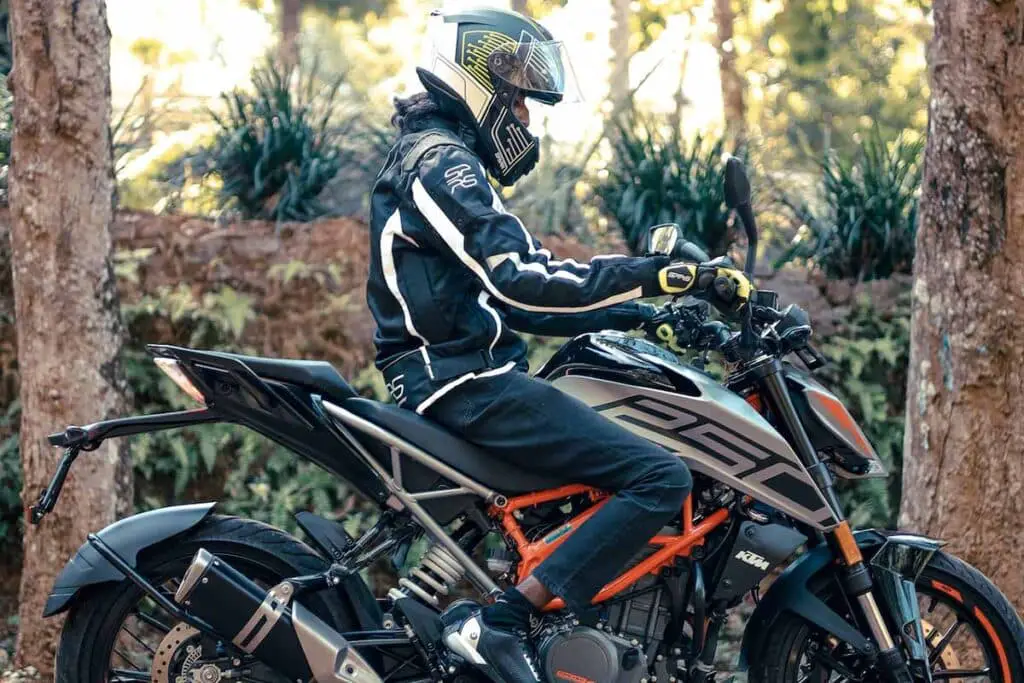 The KTM Duke 250 is no stranger to paved roads and other types of terrain and makes for a great urban driver and adventure companion. However, the bike's competencies are not entirely comparable to high renaissance art.
That said, below are a few salient points (some elaborated further) about the two-wheeler you should know:
Pros
Good for urban driving and long rides
Provides little to no lag in steering responsiveness
Reduces (if not eliminates) off-road unreliability, pillion riding discomfort, and the likelihood of side-faring damage
Factory knobbies offer sufficient road grip and can be improved further by upgrading to a Metzeler Sportec 110/70ZR-17 54W Front Tire (view on Amazon) if you do not have one already.
Prompts a more upright seating posture, meaning less body aches and more bike control for riders
With a bolted rear subframe that makes repair or replacement easier (in case the rear end incurs damage)
Does not charge for labor fees for the first three maintenance services on the bike (done at intervals of 1,000/5,000/9,500 km or 620/3,100/5,900 miles)
Cons
Unsuitable for open highway driving
Dual-channel ABS is non-switchable
Factory chain has a propensity to go out of tension or become loose more frequently than expected 
Noticeable vibration can be felt in pre-2016 models 
Instrumentation does not come with a TFT panel (although this could be a plus for non-tech-savvy riders)
Wider handlebars may impede the bike's ability to squeeze through tight traffic for some riders
It does not offer advantages akin to full-faired bikes
Performance
Overall performance of the KTM Duke 250 is stellar. It enables flawless shifts even in tricky situations.
Its tamed suspension geometry offers a smooth ride and can easily handle small potholes. However, patrons in South Asian countries have, in the past, complained about heating issues — in addition to anecdotal episodes of buffeting and slow acceleration.
Interestingly, most of these complaints came from India and Thailand, where the climate is characteristically warmer than European weather.
The heating issue allegedly occurs even if the bike is not ridden for more than 15 minutes. Some owners feel the heat in their legs unless they wear good quality riding boots like Leatt Brace Unisex-Adult Off-Road Motorcycle Riding Boots (view on Amazon) covering the length of their shins.
As if this were not bad enough, the issue is sometimes accompanied by a sporadic popping sound that can be disconcerting, especially for the nouveau rider.
Whether or not this is the main driver behind the issue is left for speculation.
Needless to say, KTM has picked up the matter and is currently working to resolve it. However, a permanent fix has yet to be implemented in the series.
Hopefully, the 2023 KTM Duke 250 for release in February will not have similar problems.
Fuel Mileage
KTM Duke 250 mileage is considerably lower than the 96.4 MPG (41 km/L, 2.4 L/100 km) reported by some online sources. Real-world mileage play around 58.8—65.9 MPG (25—28 km/L, 3.6—4.0 L/100 km CTY) and 68.2—84.7 MPG (29—36 km/L, 2.8—3.4 L/100 km HWY).
These figures tend to decrease further when raising revs between 8,000 and 11,000 RPM while riding in lower gears. Fortunately, KTM savants have determined the sweet spot for the Austrian bike, which is between 4,000 and 7,000 RPM.
Ride Quality & Comfort
Like its namesake, the saddle of the KTM Duke 250 is on the stiffer side, making it uncomfortable on longer rides. It is quite an upset for some ardent followers since this handicap offsets the two-wheeler's capacity for all-day riding.
The rigidness of the seat has been a problem associated with the Duke 390 too, so, surprisingly, the Austrian firm has done zilch to address it.
If you own a KTM 250 Duke and find this snag bothersome, you can avail of a SKWOOSH Classic Saddle Motorcycle Gel Seat Cushion (view on Amazon) as a quick fix. However, it would be much better if the OEM resolves this matter from their end.
Still, on the topic of comfort, seat height is another vital factor to consider. While its 32-inch saddle height effectively supports an upright riding position, it does not mate as well with the bike's weight distribution.
It can potentially scare off shorter riders from becoming patrons. Even riders taller than 5'8″ claim to have difficulty maneuvering the Duke in off-road trails and parking spaces because of these factors.
Tech and Riding Ergonomics
One of the (and perhaps, the greatest) selling points of the KTM Duke series is its unrivaled tech and riding ergonomics. The KTM Duke 250 stays true to this reputation and is packed to the teeth with high-end gauges and warning indicators (to name a few).
The thumper comes with an intelligent console that allows riders to set trips and monitor the overall health of their two-wheeler. This suite includes BS6-compliant 320-/230-mm front and rear brake discs and a dual-channel ABS with lean-angle sensitivity.
Conclusion — KTM 250 Duke Review
Despite its share of pitfalls, the KTM Duke 250 is among those bikes whose praiseworthy qualities overshadow its drawbacks. Compared to its competencies, its stiff-as-a-board seat, peculiar side mirrors, and average fuel mileage become inconsequential.
This does not change the fact that performance gains are not huge and could potentially deter consumers from upgrading. But then again, the KTM Duke 250's capabilities may have been intentionally underplayed — so as not to hog the spotlight from larger naked bikes.