2008 Harley Davidson Sportster 1200 Specs & Review
Disclosure: We may get commissions for purchases made through links in this post.
2008 saw the continuation of fantastic packages under the Harley Davidson Sportster 1200 label and the addition of an all-American trim – the XR1200. The latter had the same heart and styling as the other production models. But its exclusive oil-cooling system and robust power mill set it apart from the rest. Amusingly, it was not offered in North America until 2009, leaving consumers bewildered by Harley-Davidson's corporate direction.
The 2008 Harley Davidson Sportster 1200 is the 2nd installment of the Evolution® equipped models paired with the then-new Electronic Sequential Port Fuel Injection (ESPFI). It was made available in seven trims, including the 105th Anniversary Limited Edition and XR1200 exclusively sold in Europe.
Releasing such a package outside its "home court" was a pivotal and necessary step for the Milwaukee powerhouse. HD had to offset its plummeting home-market sales (among other things) by tapping into its export market. This is not to say that the firm left second-rate product offerings in the United States. To compensate for the absence of the XR1200, HD released two special-edition trims in its stead – the 105th LE Custom and Low Anniversary trims.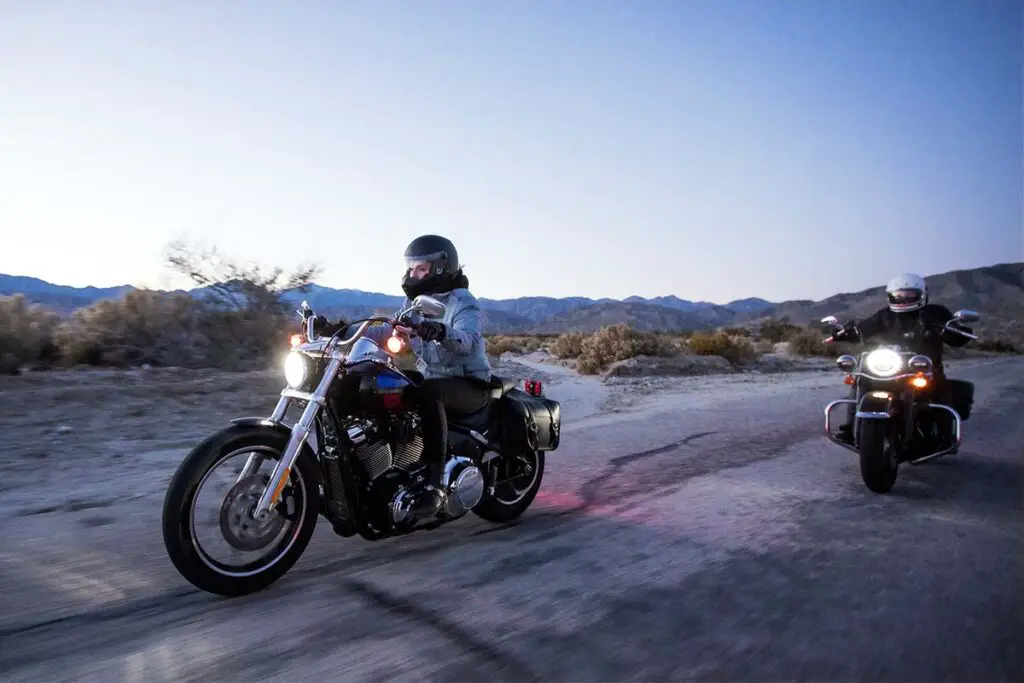 The 2008 Harley Davidson Sportster 1200
The 2008 Harley Davidson Sportster 1200 is the 19th-year installment of the highly-coveted series and the 2nd of Sportster 1200 models to receive Electronic Sequential Port Fuel Injection (ESPFI). Its Anniversary and XR trims are nothing like previous iterations, except for its rubber-mounted 45° inclined V-type 4-stroke Evolution® engine and overall aesthetic.
In celebration of its 100 years in motorcycling history, Harley created a range of eight Limited Edition Anniversary bikes across its new range. These bikes included the Custom and Low trims and flaunted a two-tone paint scheme and a special "105 years" badging, showcasing the two-wheeler's LE status. Superficially, these new releases may be sleeker but not exactly that different from base Sportster models.
2008 Harley Davidson Sportster 1200 Custom/Low 105th Anniversary Edition
A special trim commemorating the centennial of Harley-Davidson, the 105th Anniversary package features a new tank decoration and cloisonne, chrome-laced cast aluminum wheels, chrome lighting, and handlebars, polished fuel tank console, new graphics, and a blacked-out engine with chrome treatment. Color: Copperhead Pearl/Chrome.
2008 Harley-Davidson Sportster 1200 Specs (Custom & XR)
Engine
The '08 Sportster 1200 is the 2nd production model in the series to have an air-cooled, V-type 4-stroke Evolution® mill paired with Electronic Sequential Port Fuel Injection (ESPFI). For Custom trims, engine displacement remained unchanged at 1,199.5 cm3 (73.2 in3) – the same goes for bore-stroke and compression ratios, which stayed fixed at 3.50 x 3.81 inches and 9.7:1, respectively.
The introduction of the XR model in Europe was new for the Sportster lineup. While it retained most of the engine components and figures found in standard and Custom versions, the XR1200 had a slightly higher compression ratio at 10.0:1 and a Delphi/Dell'Orto EFI system. Piston displacement also increased to 1,203 cm3 (73.4 in3).
Above engine configurations lend to the same performance figures for Custom incarnations – a 110–140 mph (177–225 km/h) top speed, 90–107 Nm (9.19–10.9 kgf-m, 66.5–79 ft-lbf) @ 4,000 RPM torque output, and 58–68 bhp (43.25–49.6 kW) @ 5,500 RPM horsepower. Conversely, the XR1200 provided 100.5 Nm (10.2 kgf-m, 74.1 ft-lbf) @ 3,500 RPM claimed torque and an impressive 91 bhp (67.9 kW) @ 7,000 RPM of horsepower. The top speed rating is similar to Custom trims.
Fuel & Lubrication
Tank capacity for the Harley Davidson 2008 Sportster 1200 Custom is 4.5 USgal of high-grade unleaded fuel. Same-spec RFGs (reformulated/oxygenated gasoline) are okay to use, although zero-methanol variants are ideal.
Lube-wise, the capacities are 2.65 L (2.8 US quarts) and 0.95 L. Use of other multi-grade oils specified in the owner's manual is allowed, following riding conditions and outside temperatures.
Drivetrain
A 5-speed constant-mesh manual transmission and a wet, 8-plate clutch assembly deliver power to the ground. Like previous iterations of the Sportster, these systems mate to a primary chain drive (57/34) and final belt drive (68/28). The gearshift pattern is 1-N-2-3-4-5, with shifting made easy – thanks to an 8% reduced clutch effort that feels firm but without feeling heavy.
For Custom trims, gear-sprocket ratios from 2006 are retained. Meanwhile, XR versions show higher stock gear ratios – as seen below:
| Description | XL1200 – U.S. / Other Markets | XR1200 |
| --- | --- | --- |
| Primary Sprocket (Engine) | 38 | 34 |
| Primary Sprocket (Clutch) | 57 | 57 |
| Final Sprocket (Transmission) | 29 / 30 | 28 |
| Final Sprocket (Rear Wheel) | 68 | 68 |
| Transmission Gear Ratio – I | 9.315 / 9.004 | 10.782 |
| Transmission Gear Ratio – II | 6.653 / 6.432 | 7.702 |
| Transmission Gear Ratio – III | 4.948 / 4.783 | 5.728 |
| Transmission Gear Ratio – IV | 4.102 / 3.965 | 4.748 |
| Transmission Gear Ratio – V | 3.517 / 3.400 | 4.071 |
Ignition
The bike's ignition system is still the same non-adjustable electronic CDI (Capacitor Discharge Ignition) mated to an electric starting system with an auxiliary mechanical recoil. A 12-mm HD-6R12 spark plug handles the spark ignition with a 0.9–1.1 mm gap and a 16.3–24.4 Nm torque spec. For the XR1200, the spark plug electrode gap is slightly smaller, measuring at 0.035 inches (0.89 mm).
A single-phase alternator serves as the two-wheeler's charging system. This alternator is supplemented by a sealed and maintenance-free 12V 12 Ah/(10 HR) YTX14L-BS battery (view on Amazon).
Tires & Brakes
The XR1200 is fitted with flat-track-style D502F 120/70 ZR 18 (front) and D502 180/55 ZR 17 (rear) tubeless Dunlop tires. For all other Sportsters, D402F MH90-21 54H (view on Amazon) and D401 150/80 R16 71H knobbies (similar to last year's) mount on the front and back rims. Wheels consist of either cast aluminum or chrome, depending on the trim. The main difference with the XR1200 is that the front wheel comes with 4-piston Nissin calipers.
Respective front and rear cold-tire pressures for XL models are 206 kPa (2.1 kg-f/cm2, 30 psi) and 248 kPa (2.53 kg-f/cm2, 36 psi) for solo riding. Pillion riding, on the other, requires putting the rear tire pressure up to 275 kPa (2.81 kg-f/cm2, 40 psi). For the XR1200, recommended cold-tire pressure for the front is 248 kPa (2.53 kg-f/cm2, 36 psi) and 262–290 kPa (2.67–2.96 kg-f/cm2, 38–42 psi – solo/pillion) for the back.
As for its braking system, all other '08 trims – except for the XR1200 – retain 11.5-inch rotors. Custom trims still have dual front disc brakes with dual-piston calipers, while the others have single discs with a single-piston caliper. The XR1200 has the same-size disc as the XL1200C. However, the diameter of the rear brake disc is only 260 mm (10.2 inches).
Suspension
Enclosed in the XR1200's tubular steel frame (29.3° caster angle; 130 mm/5.1 inches trail) are 43-mm Showa USD telescopic front forks and dual Showa rear shocks with coil-over, dual-adjustable spring preload. Wheelbase and ground clearance measure 1,518.9 mm (59.8 inches) and 147.3 mm (5.8 inches). Meanwhile, front and rear wheel travel are 4.9 inches (125 mm) and 3.5 inches (90 mm). Refer to your service manual to verify if the XR1200 suspension is augmented by triple stabilizer links like other trim packages.
Dimensions & Capacities
The Custom Sportster's overall dimensions are 90.3 x 32.7 x 45.7 inches (2,293.6 x 830.6 x 1,160.8 mm – L x W x H), with seat height at 26.5 inches (loaded) and 29.9 inches (unloaded). Meanwhile, the XR1200's dimensions are 85.4 x 36.5 x 45.1 inches (2,169.2 x 927.1 x 1,145.5 mm – L x W x H), with the saddle sitting slightly higher at 29.2 inches when loaded.
XL1200C and XR1200 trims share the same front and rear GAWRs, measuring 152 Kg (335 lbs.) and 302 Kg (665 lbs.) – or a total of 1,000-pound GVWR. They also have similar shipping weights of 255 Kg (562 lbs.). The Custom's dry weight is 267 Kg (589 lbs., in running condition), while the XR1200 weighs 257.6 Kg (568 lbs.). Measurement variations between Custom and XR trims are within 6% and can be considered negligible.
Exterior
Color schemes available for the 2008 HD Sportster models are as follows:
Vivid Black
Pewter Pearl
White Gold Pearl
(New for 2007)
Dark Blue Pearl
Candy Red Sunglo
Sunset Yellow Pearl
Pacific Blue Pearl/Vivid Black
Crimson Red Sunglo/Candy Red Sunglo
Vivid Black/Mirage Orange Pearl
Copperhead Pearl/Red Hot
Golden Glow/Black Glow
Purple Haze
Anniversary Copper Pearl/Vivid Black
(Harley Davidson 1200 Sportster 2008)
Vivid Black
Mirage Orange Pearl
Pewter Denim
Although the XR1200 trims are not safe from the shudder characteristic of the Sportster lineup, the vibration goes away after 2,500 RPM. Angular handlebars and improved overall ergonomics make for an upright, sporty stance and a comfortable ride. 3-spoke wheels and Dunlop D209 Qualifiers give the bike an "assured handling" and "plenty of grip." Meanwhile, the 2-1-2 exhausts stacked on the right side of the two-wheeler are among the features that give it its trademark nostalgic appeal.
How Much Is a 2008 Sportster 1200 Worth?
Per Nada Guides data, list pricing for 2008 Sportsters ranged from $9,175 to $10,685. The sportier XR1200 was sold for £7,655 in Europe (approximately $10,033 in USD) and is 2nd to the least expensive trim package sold within that year. The street-legal Roadster is the most affordable of the lot in MSRP and current resale value.
| Trim | List Price | Retail/Trade-in Values |
| --- | --- | --- |
| XL1200R | $9,175 | $2,995 – $3,940 |
| XL1200L Sportster Low | $10,185 | $3,265 – $4,295 |
| XL1200N | $10,185 | $3,965 – $5,220 |
| XL1200C | $10,385 | $4,235 – $5,575 |
| XL1200L Sportster Low Anniversary | $10,485 | $3,445 – $4,535 |
| XL1200C Anniversary | $10,685 | $4,300 – $5,655 |
| XR1200 (only released in Europe) | £7,655 | £5,000 – £6,000 |
2008 Harley Davidson Sportster 1200 Problems 
Burdensome Electricals
From my previous article on the 2006 Harley Davidson Sportster 1200, the bolts and wire connections in any given Sportster trim are still bound to come loose. This occurrence could be due to natural wear and tear or more causal events like shuddering or corrosion. Whichever the case, the best way to address electrical issues is through periodic inspection and tightening of earth wires and other loose connections. Ensuring your battery is fully charged is equally important.
Fuel Injection Problems
The advent of the Electronic Sequential Port Fuel Injection (ESPFI) is both a blessing and a curse for the Sportster 1200 lineup. While it results in cleaner, more efficient combustion and improved fuel efficiency, its lean air-fuel mixture sometimes translates into misfiring, weak idling, or a snatchy throttle response. Any of these scenarios could happen to a seemingly flawless fuel system. Thankfully, they can be kept at bay with an aftermarket booster plug that takes care of fuel injection tuning.
Inadequate Suspension
The suspension system in Sportster models is barely considered a long-travel type. Even with the XR1200, you may find yourself standing on the pegs when traversing uneven or rutted terrain. Luckily, the XR1200's increased ground clearance helps compensates (in a big way) for the rear suspension setback. However, the same cannot be said for the rest of the production models.
Other Issues
Rocker box gaskets on these bikes eventually go bad (at approximately 2,000 miles), leading to oil leaks through the air cleaner. Clutch spacer plates also become worn and unusable at around 25,000 to 30,000 miles. For units sold in California, the carbon or charcoal canister can get plugged, creating a vacuum-like symptom. All these are a given but can be easily rectified through timely parts replacement.
About Harley-Davidson
Harley-Davidson, Inc. is a motorcycle manufacturer founded in 1903 by William S. Harley and the Davidson brothers. This American firm is best known for its nostalgic, groundbreaking machines like the 2008 Harley Davidson Sportster 1200. Because of its current foothold in the motorcycling landscape, it is rather hard to believe that HD saw its beginnings in a borrowed machine shop in Milwaukee. 
Conclusion – 2008 Harley Davidson Sportster 1200 Review
Even when laudable trim packages were released in the United States, HD's avid following cannot help but clamor for the XR1200. Although a clear allusion to the XR750, its qualities represent the kind of Sportster consumers had hoped for. The XR1200 had a beefier bottom end, more power, and better handling mannerisms.
While these traits are already in the 2008 Harley Davidson Sportster 1200 incarnations, they still appear to be a work in progress. That said, it may be high time for HD to reinvent the wheel and create products that cater to consumers' shifts in preference.