Honda CBR500R vs. Kawasaki Ninja 400: Review & Comparison
Disclosure: We may get commissions for purchases made through links in this post.
In the world of sportbikes, two iconic names stand out — the CBR500R and Ninja 400. Both machines have garnered legions of fans and earned their places in the hearts of motorcycle enthusiasts. In this article, let's dive deep into the differences and similarities between these two renowned sportbikes.
The CBR500R and Ninja 400 differ mainly in engine size, weight, and handling characteristics. The Kawasaki Ninja 400 excels in in-gear acceleration and is well-suited on the track and in tight spaces. Meanwhile, the Honda CBR500R shines in touring and offers a more balanced performance.
Despite their differences, these motorcycles combine reliability with a focus on sport-oriented performance. This means that both experienced riders and beginners can find satisfaction in riding either bike.
If you're struggling to choose your next motorcycle, keep reading to learn more about the individual competencies and lowdowns of these faired two-wheelers.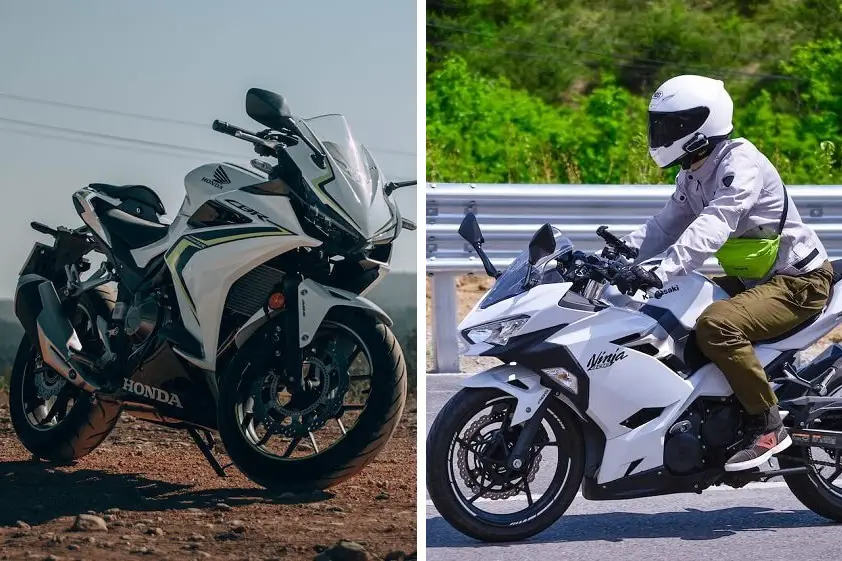 Kawasaki Ninja 400 vs. Honda CBR500R
The comparison between these two sportbikes is a frequent topic of debate due to several factors. Firstly, both thumpers cater to riders seeking a blend of performance and versatility. As such, their similarity in category and purpose sets the stage for direct comparisons as they serve similar riding niches.
Secondly, the Ninja 400 and CBR500R represent two distinct approaches within the sportbike segment. The former leans toward the entry-level sportbike market, offering a lightweight and high-revving machine accessible to newer riders while still providing thrilling performance. In contrast, the latter is positioned as a sport-touring option with a bit more displacement and torque, appealing to those looking for a balance between sporty performance and long-distance comfort.
While they aren't from the same manufacturer, the Ninja 400 and CBR500R both sport twin-cylinder DOHC power mills only 74cc apart. Put on differently-weighted chassis, this engine translates into disparities in handling, torque, and top-end performance. However, comparable elements between the two motorcycles don't end here, as you'll soon discover in the subsequent sections.
CBR500R vs. Ninja 400 Specs & Features (EX400G/H vs. CBR500R/RA Models)
Engine
Both sportbikes feature liquid-cooled, 4-stroke parallel twin-cylinder DOHC engines. They also share similarities like an electric starting system, fuel injection, and a paper air filter element.
Configuration-wise, the near-square bore-stroke ratio of the CBR500R translates to not only enhanced mid-range torque and responsiveness but also impressive performance figures and a huge advantage in fuel mileage. Meanwhile, the longer stroke of the Ninja 400 lends to its commendable high-speed performance and top-end power — making it well-suited for highway cruising or track racing.
| Description | EX400G/H | CBR500R/RA |
| --- | --- | --- |
| Carburetion Type | DFI®, 32-mm throttle bodies x 2 | PGM-FI®, 34-mm throttle bodies x 2 |
| Displacement | 399 cm³ (24.3 in³) | 471 cm³ (28.7 in³) |
| Bore-Stroke Ratio | 2.76 × 2.04 inches | 2.64 x 2.63 inches |
| Compression Ratio | 11.5:1 | 10.7:1 |
| Air Filtration | Wet paper filter | Dry paper filter |
| Top Speed | 105 mph (169 km/h) | 105—115 mph (169—185 km/h |
| Horsepower | 43.4 hp (31.9 kW) @ 9,900 RPM** | 47 hp (34.6 kW) @ 8,500 RPM |
| Torque | 33.3 Nm (3.4 kgf-m, 24.6 lb-ft) @ 8,250 RPM** | 42.9 Nm (4.4 kgf-m, 31.7 lb-ft) @ 7,000 RPM |
| Fuel Mileage | 51—65 mpg (3.6—4.6 L/100 km) | 71 mpg (3.31 L/100 km, claimed) |
**Source: 
2018 issue by Cycle World
Fuel & Lubrication
For these motorcycles, the manufacturer recommends using fuel with no more than 15% MTBE, 10% ethanol, or 5% methanol (provided they have appropriate cosolvents and corrosion inhibitors). You can also use same-spec Reformulated Oxygen Gasolines (RFGs) or gasohols.
As for engine oil, it should carry an API certification of SJ, SL, or SM and meet JASO T903 MA/MA1/MA2 standards. Additionally, avoid oils labeled as "Energy Conserving" or "Resource Conserving." You may choose other viscosity grades specified in the manual following changes in ambient temperatures, altitude, and riding conditions.
Description
EX400G/H
CBR500R/RA
Fuel Type & Rating
Unleaded gasoline, PON 87 or higher
Unleaded gasoline, PON 86/RON 90
Tank Capacity
14 L (3.7 USgal)
15.7 L (4.1 USgal)
Lubrication System
Forced lubrication (wet sump)
Oil Type & Capacity (Draining, Filter Change, Disassembly)
SAE 10W-40 4-stroke oil
1.6 L (1.7 US quarts, at draining)
2.0 L (2.1 US quarts, filter change)**
SAE 10W-30 Pro Honda GN4 4-stroke
2.5 L (2.6 US quarts, at draining)
2.7 L (2.9 US quarts, filter change)
3.2 L (3.4 US quarts, disassembly)
**Source: 
2018 issue by Cycle World
Drivetrain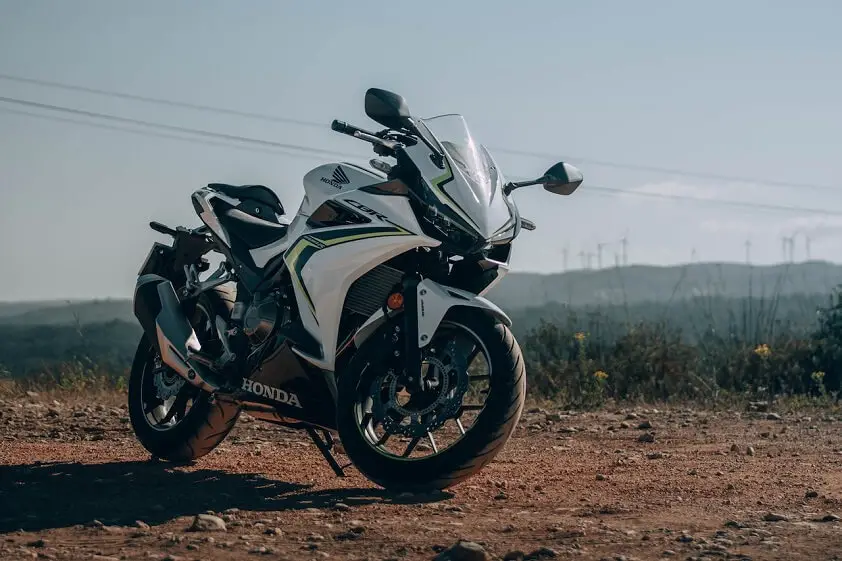 A 6-speed constant-mesh transmission brings the Ninja 400 and Honda CBR500R to life. A wet, multi-disc/plate clutch assembly sends power to the ground, and a #520 O-ring chain (view on Amazon) manages wheel traction. The CBR500R, in particular, utilizes a 112-link D.I.D. 520V0 chain. And since 2018, it has been compliant with stringent Euro-4 emission standards — just like its Ninja counterpart.
| Description | EX400G/H | CBR500R/RA |
| --- | --- | --- |
| Primary Reduction Ratio | 2.219 (71/32) | 2.029 (69/34) |
| Gear Ratio — I | 2.929 (41/14) | 3.285 (46/14) |
| Gear Ratio — II | 2.056 (37/18) | 2.105 (40/19) |
| Gear Ratio — III | 1.619 (34/21) | 1.600 (32/20) |
| Gear Ratio — IV | 1.333 (32/24) | 1.300 (26/20) |
| Gear Ratio — V | 1.154 (30/26) | 1.150 (23/20) |
| Gear Ratio — VI | 1.037 (28/27) | 1.043 (24/23) |
| Final Reduction Ratio | 2.929 (41/14T) | 2.733 (41/15T) |
| Overall Drive Ratio | 6.738 @ Top gear | 5.788 @ Top gear |
Ignition & Electricals
The electricals and respective components of these motorcycles are mostly unidentical, except for their lighting assembly (mostly LED) and charging system. Both sportbikes use a triple-phase A.C. alternator (although the rated output is unspecified in the owner's manual).
| Description | EX400G/H | CBR500R/RA |
| --- | --- | --- |
| Ignition | Battery & coil (transistorized, TCBI w/ digital advance) | Full-Transistorized Ignition System |
| Ignition Timing | From 10° BTDC @ 1,300 RPM to 40° BTDC @ 10,000 RPM | 6° BTDC @ 1,200 RPM |
| Battery Format | 12V 8 Ah/(10 HR) FTX9-BS | 12V 8.6Ah/(10 HR) FTZ10S |
| Battery Dimensions (L x W x H) | 150 x 87 x 105 mm (6.00 x 3.44 x 4.19 inches) | 150 x 87 x 93 mm (6.00 x 3.44 x 3.69 inches) |
| Spark Plug, Gap | NGK LMAR9G, 0.7–0.8 mm (0.028–0.031 inch) | NGK CPR8EA-9, 0.8–0.9 mm (0.031–0.035 inch) |
Tires & Brakes
Ninja 400 and CBR500R models feature radial-type, street-legal tires mounted on 17-inch wheels. The key distinction lies in the CBR500R's intentionally wider rims and tires, designed to accommodate its added heft.
Factory tires installed on these sportbikes are well-rated for driving speeds of at least 130 mph (210 km/h) and a load-bearing capacity of 212 Kg (467 lbs.) per tire. If properly taken care of, they can last for a very long time. But in the event of puncture or wear, the stock rubber can be swapped out for same-spec tires like Dunlop Roadsmart 3 Front Tire, 120/70-17 (view on Amazon).
Description
EX400G/H
CBR500R/RA
Tire Brand (F/R)
Dunlop SPORTMAX, GPR-300F N (F); GPR-300 N (R)
Dunlop D222F, Metzeler Roadtec Z8 Interact E
Front Tires
110/70R17 M/C 54H, tubeless
120/70 ZR17 M/C 58W, tubeless
Rear Tires
150/60R17 M/C 66H, tubeless
160/60 ZR17 M/C 69W, tubeless
Cold-Tire Pressure (F/R)
200 kPa (2.00 kgf/cm², 28 psi — front); 225 kPa (2.25 kgf/cm², 32 psi — rear)*
250 kPa (2.50 kgf/cm², 36 psi — front); 290 kPa (2.90 kgf/cm² , 42 psi — rear)
Rim Size (F/R)
17M/C × MT3.00 (F); 17M/C × MT4.00 (R)
17M/C × MT3.50 (F); 17M/C × MT4.50 (R)
Front Brakes
310-mm semi-floating disc w/ two-piston balanced actuation caliper
320-mm wave-style hydraulic disc w/ twin-piston calipers
Rear Brakes
220-mm petal disc w/ two-piston calipers
240-mm wave-style hydraulic disc w/ single-piston calipers
Engine Braking
ABS (Anti-lock Braking System, standard on some trims)
*Up to 180 kg (397 lb) load
Suspension
Regarding suspension, CBR500R and Ninja 400 models can be considered quite evenly matched. The differences between the two, particularly those affecting handling, are close to negligible (as evidenced in the table below). Interestingly, however, the smaller Ninja 400 seems to offer better suspension travel and maneuverability at low speeds or in tight turns.
Description
EX400G/H
CBR500R/RA
Wheelbase
1,370 mm (53.9 inches)
1,410 mm (55.5 inches)
Minimum Road Clearance
140 mm (5.5 inches)
Turning Radius
2.5 m (8.2 feet)
unspecified
Caster Angle / Trail
24.7°; 92 mm (3.6 inches)
25° 5'; 103 mm (4.05 inches)
Front Suspension, Travel
41-mm telescopic fork, 120 mm (4.7 inches)
41-mm telescopic fork, 110 mm (4.3 inches)
Rear Suspension, Travel
Uni-Trak® rear swingarm, 130 mm (5.1 inches)
Twin-sided Pro-Link® rear swingarm with 9-way spring preload adjustability; 120 mm (4.7 inches)
Dimensions & Capacities
Description
EX400G/H
CBR500R/RA
Dimensions (L x W x H)
78.3 x 28 x 44.1 inches
81.7 x 29.1 x 45.1 inches
Seat Height
30.9 inches (785 mm)
Curb Weight (Combined)
166 Kg (366 lbs., EX400G)*; 164 Kg (362 lbs., EX400H)*
192—195 Kg (423—430 lbs.)
Payload Capacity
176.9 Kg (390 lbs.)
168 Kg (370 lbs., Korea); 182 Kg (401 lbs., all other markets)
Estimated GVWR
354—356 Kg (780—785 lbs.)
360—363 Kg (793—800 lbs.)
* California releases are ± 0.6% heavier than units sold outside the state
Exterior
The Ninja 400 exhibits an aggressive and dynamic appearance, characterized by its angular front fairing with integrated LED headlights. Its split-seat design and minimalist tail section further contribute to its sport-oriented look. An underbelly exhaust system and iconic Team Green accents add to its distinctive, edgy aesthetic.
Conversely, the Honda CBR500R presents a sleek and aerodynamic appearance with its full fairing covering the engine and body. Integrated dual LED headlights and a sporty tail section enhance its character. A single-unit seat design ensures comfort for both rider and passenger and makes the two-wheeler well-suited for highway driving and longer journeys. Lastly, many color options allow patrons to choose a scheme that matches their preferences, making the CBR500R a versatile (not to mention visually appealing) sportbike.
How Much Are These Sportbikes?
Depending on the year and trim, the EX400's MSRP ranged from $4,999 to $5,899. ABS-equipped Ninja 400s, at the least, had a $300 premium compared to standard. Meanwhile, KRT (Kawasaki Racing Team) Editions were at least $500 more than the base model price. (For an extensive rundown of list prices and trade-in values until 2022, refer to my post on Kawasaki Ninja 400 vs. 650.)
The CBR500R, on the other hand, is pricier — $5,999 for the base model and $6,499 for the ABS package. Yearly rate increases for both versions are similar to the Ninja's. But because the sportbike has a bigger engine capacity and better build quality, it's understandably more expensive from the get-go. Its 2023 ABS model, for one, is priced at $7,299, with an average resale value for pre-loved units of up to $7,185 (jdpower.com).
Pros and Cons — CBR500R vs. Ninja 400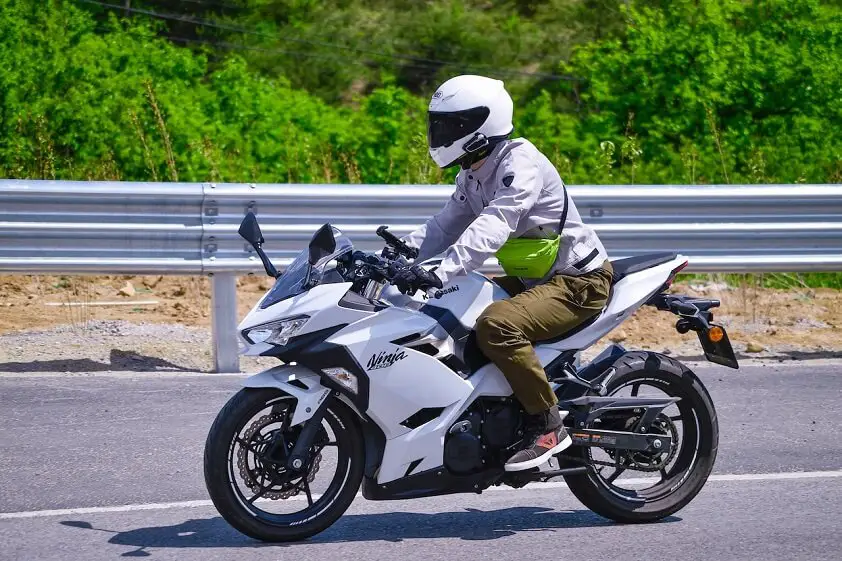 Honda CBR500R
Pros
The CBR500R produces peak torque at a lower RPM range, enhancing low-end and mid-range performance.
Its engine is smoother and has a slight edge in reduced vibrations.
Swingarm construction is downsized from a 2.3-mm to a 2-mm material for reduced unsprung weight and improved suspension.
Recent-year models upgraded to dual 296-mm front brakes (view on Amazon) — petal-cut hydraulic discs that work with twin-piston binders.
Cons
Because its peak power arrives at a relatively high RPM of over 8,000, the CBR500R requires higher revs for spirited riding.
Due to its taller gearing, the sportbike is outperformed by the Ninja 400 in in-gear acceleration in most situations, except at very low speeds and in 1st gear.
The lower rev limit of the CBR500R limits its ability to run with lower gearing.
Ninja 400
Pros
The Ninja 400's engine can rev approximately 3,000 RPM higher than the CBR500R, allowing for a broader powerband and better high-end performance. It also offers quick throttle response.
Thanks to its lower gearing, the Ninja 400 excels in in-gear acceleration, providing more thrust across a wide range of speeds and gears.
Its higher rev limit allows the motorcycle to use lower gearing while still achieving top speeds comparable to the CBR500R.
The Ninja 400's lighter weight and agile handling make it well-suited for spirited riding and maneuvering in various conditions.
Cons
The Ninja 400 has a smaller engine capacity compared to the CBR500R, resulting in less low-end torque.
Its peak torque is produced at a higher RPM range, requiring higher revs for optimal performance.
The 400cc Ninja's peak torque output is slightly lower than the CBR500R's.
While generally smooth, the Ninja 400 may exhibit some vibrations (though they are well-managed).
Shared Benefits & Drawbacks
Benefits
Engine Configuration: Both motorcycles feature parallel twin-cylinder engines, providing a good balance of power and efficiency.
Smoothness: Both engines are generally smooth, with manageable vibrations.
Great Bikes: Both the Ninja 400 and CBR500R are regarded as great bikes by their owners, offering enjoyable riding experiences.
Versatility: They are versatile motorcycles suitable for various riding styles and purposes.
Drawbacks
Differences in Power Delivery: Despite having similar peak power output, the two motorcycles deliver power differently due to their RPM ranges, potentially impacting riding characteristics and preferences.
Dips in Dyno Graphs: Both bikes exhibit dips in their dyno graphs during tests, although these dips are often close to negligible on the tarmac.
Modification Options: Owners may explore mods like ECU flashes or aftermarket components to enhance performance, as some of them may find the bikes' redline RPMs limiting.
Which is a Better First Bike?
There is no right or wrong when choosing between a Honda CBR500R and a Kawasaki Ninja 400 for a first bike. However, several factors may direct you to opt for one over the other. Of these considerations, your riding skill, intended application, and budget are among the most important. Any other facet outside these three (except for weight) is purely preferential.
Taking your riding skill into account is crucial, especially if you're gravitating towards the CBR500R. The reason is that it's a tier-2 sportbike — it's not your typical trainer due to its weight and engine displacement. You'll do well in choosing the CBR500R if you're upgrading from a 250cc or switching motorbike genres. But if you're a motorcycle virgin, you'd probably find the Ninja 400 more manageable.
Conclusion — Honda CBR500R vs. Ninja 400 Comparison
The Honda CBR500R and Kawasaki Ninja 400 have their strengths and unique characteristics. The CBR500R shines in low-end torque, comfort, and touring capabilities — an excellent choice for riders seeking a versatile sport-touring experience. On the contrary, the Ninja 400 impresses with its high-revving engine, agility, and track-ready performance — appealing to those who crave adrenaline-pumping rides and sharp handling.
Taking your pick between these two legendary machines ultimately boils down to riding style, preferences, and the type of adventure one seeks. Whether you lean more toward versatility or sporty prowess, one of these amazing choices is guaranteed to fit the bill!