Honda CRF250L Dual-Sport Motorcycle: Specs & Review
Disclosure: We may get commissions for purchases made through links in this post.
A testament to Honda's commitment to providing riders with motorcycles that excel on and off the beaten path, the Honda CRF250L has captured the hearts of motorheads worldwide since its inception. Thanks to its versatility, reliability, and affordability, the dual-sport machine has encouraged many nouveau riders to join the thriving off-roading and gearhead community.
The Honda CRF250L is a liquid-cooled 249cc dual-sport bike produced from 2012 to 2020. Characterized by its simplistic Enduro styling, CBR-adopted power mill, and rev-happy mannerisms, this novice-friendly machine is a go-to option for many commuters and occasional adventurers.
Despite its rather short 8-year production run, the Honda CRF250L is well-loved and continues to make waves in the used bike market. Curious how it keeps its loyal patrons close and charms beginner riders so well? Stick around as we delve into the intricacies surrounding this dual-purpose two-wheeler.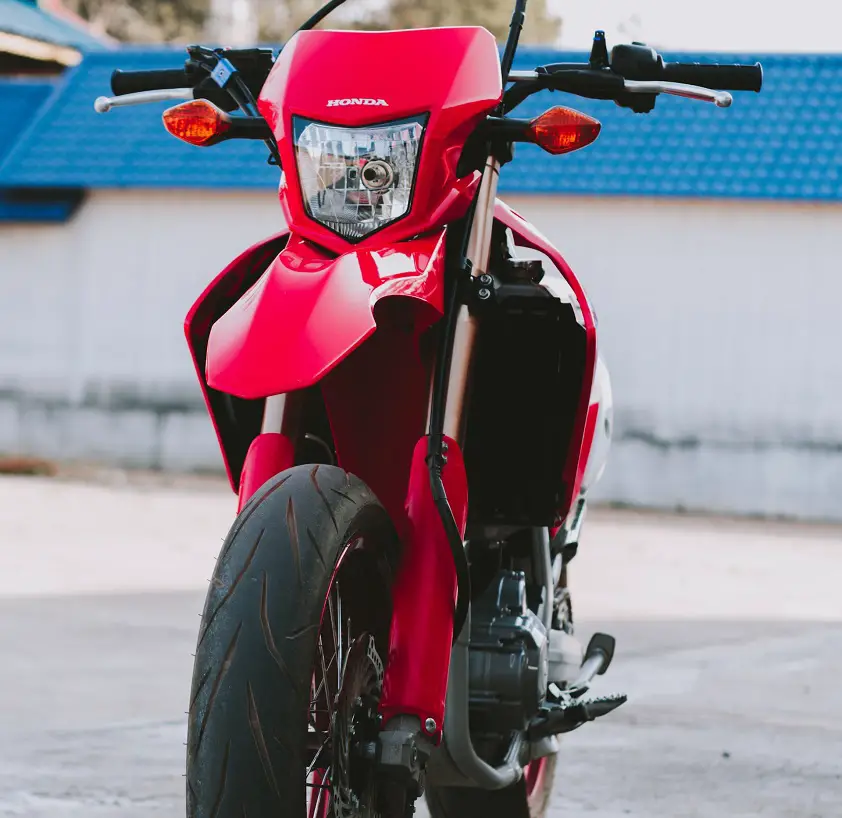 About the Honda CRF250L
The Honda CRF250L (model designations MD38/E and MD44) is a dual-sport motorcycle that hails from the CRF series. With an ancestry that traces back to the Trailblazer XL250, this two-wheeler was first released on May 14, 2012, for the 2013 model.
The road-going machine draws inspiration from Honda's very own CBR250R (which explains why the CRF250L shares a similar engine architecture). It is fitted with a high-efficiency, EPA/CARB-compliant DOHC single-cylinder engine that's fuel-injected and counterbalanced. The DOHC setup, alongside a roller rocker arm and a highly responsive short-stroke design, reduces engine rubbing and enhances performance.
While many skeptics and test riders critique its detuned engine and rev-happy ways, the CRF250L isn't all too bad on the tarmac and in parking lots in capable hands. It has good damping, ground clearance, an agreeable gearbox and clutch, and a "60-80 mph sweet spot." Of course, on-street still pales compared to off-road performance, which is the strong suit of this dual-sport.
2015 Honda CRF250L Specs & Features
Engine
The CFR250L roars to life via an electric starter and single-cylinder 4-stroke DOHC engine with a piston displacement of 249.6 cm³ (15.2 in³). Its bore-stroke ratio is 76 x 55 mm (2.992 x 2.165 inches), while its compression ratio is 10.7:1. Programmed Fuel Injection (PGM-FI) with a 36-mm throttle body, mated to a liquid cooling system handle air-fuel mixture and facilitate precise fuel delivery.
All in all, this power mill configuration yields the performance figures below:
| | |
| --- | --- |
| Horsepower | 22.8 hp (17 kW) @ 8,500 RPM |
| Maximum Torque | 22 Nm (2.2 kgf-m, 16.2 lb-ft) @ 6,750 RPM |
| Top Speed | 80 mph (130 km/h); 88 mph (141 km/h, modded) |
| Fuel Economy (average) | 63.2 mpg (3.7 L/100 km, 26.9 kmpl); 103.5 mpg (2.2 L/100 km, 44.3 kmpl @ 60 km/h constant speed on level road) |
| Fuel Tank Range | approximately 128.6 miles, 206.9 km |
Fuel & Lubrication
The tank capacity of unleaded gasoline is 7.7 L/2 USgal (inclusive of 1.5 L/0.4 USgal reserve). The recommended Octane rating should be at least a PON 86/RON 90 rating. Furthermore, fuel variants shouldn't exceed 15% MTBE, 16.7% TAME, 17.2% ETBE, 10% ethanol, or 5% methanol (although zero-methanol fuel is ideal).
Lube-wise, the Honda CRF250L has the following oil requirements:
1.4 L (1.5 US qt) — after draining
1.5 L (1.6 US qt) — with filter replacement
1.8 L (1.9 US qt) — after disassembly
OEM-prescribed engine oil is SAE 10W-30 of Pro Honda GN4 4-stroke oil (USA & Canada) or Honda 4-stroke oil or equivalent. Also, it shouldn't have an "Energy Conserving" or "Resource Conserving" label on the circular API service label. Other viscosity grades specified in the owner's manual are permissible for use following changes in ambient temperatures, altitude, and riding conditions.
Drivetrain
A 6-speed constant-mesh transmission (wide-ratio, return shift) and a multi-disc wet clutch assembly deliver power to the rear wheel. Meanwhile, a D.I.D. 520VF chain with a 25—35 mm slack and 106 links handle wheelspin. In the event of damage or wear, the latter may be replaced with a same-spec chain (view on Amazon). As for gearing, here are the stock ratios (the transmission redlines @ 10,500 RPM):
| Description | Other Markets |
| --- | --- |
| Primary Reduction Ratio | 2.807 |
| Transmission Gear Ratio — 1st | 3.333 |
| Transmission Gear Ratio — 2nd | 2.117 |
| Transmission Gear Ratio — 3rd | 1.571 |
| Transmission Gear Ratio — 4th | 1.304 |
From a 14/40T in stock form, some CRF250L owners modify their gearing to 13/42T and add an FMF exhaust to improve the top speed rating. Relative to this, savants strongly advise recalibrating the factory speedometer. Based on their experience, there's typically an 11—16% variance in performance figures from the stock speedo if this step is skipped or overlooked.
Ignition & Electricals
The dual-sport bike's ignition system is a computer-controlled digital transistorized type with electronic advance.
2015 CRF250Ls employ a 12V 6 Ah/(10 HR) YTX7L-BS battery (view on Amazon) to power up lights and electronics. The model's charging system isn't specified in the owner's manual — hence, the need to check with your local autoshop or the nearest dealership for accurate information.
The stock lighting assembly includes:
A 12V 60/55 W headlight.
A 12V 21/5 W brake/taillight.
Dual 12V 21/5 W front turn signals.
Dual 12V 21 W rear turn signals.
A 12V 5 W license plate lighting.
The main fuse is 30A, while other fuses are either 5A or 10A.
Tires & Brakes
Factory rubber consists of tube-type IRC GP-21/22 bias tires measuring 3.00-21 51P at the front and 120/80-18M/C 62P at the back. These tires have a recommended cold-tire pressure of 150 kPa (1.5 kgf/cm², 22 psi), front and back. Should you wish to swap them out for new ones, you can fit the front rim with a Bridgestone Trail Wing TW301 (view on Amazon).
Completing the thumper's tire-and-wheel assembly and handling its halting duties are Nissin hydraulic wave discs — a single rotor with dual-piston calipers at the front and another rotor with a single-pot caliper at the rear. These discs have a service limit of 3 mm (0.12 mm) each.
Suspension
Inside a steel frame and aluminum subframe (27° 35′ caster angle, 113 mm/4.4 inches trail), the Honda CRF250L features a plush suspension, offering excellent absorption of bumps and minor obstacles on mild trails. The front has 43-mm USD Showa telescopic forks, while the rear has a Pro-Link® mono-shock with adjustable preload.
Each suspension unit offers at least 9.4 inches (239 mm) of wheel travel. Other handling-affecting elements of the dual-sport are its 56.9-inch (1,445-mm) wheelbase, 7.6-foot (2.3-m) turning radius, and 10-inch (255-mm) minimum ground clearance.
Dimensions & Capacities
The overall dimensions of the CRF250L are 2,195 x 815 x 1,195 mm (86.4 x 32.1 x 47 inches), with the width encompassing the stretch of the handlebars (view on Amazon). As for saddle height, it's 875 mm (34.4 inches) tall and has proven beginner-friendly since it supports a more upright riding position.
The curb weight is 145 Kg (320 lbs.), the same as the bike's payload limit. These figures give the CRF250L an estimated GVWR (Gross Vehicle Weight Rating) of 290 Kg (640 lbs.) — consisting of rider/passenger weight, a full tank, fluids, cargo, and accessories.
Exterior
The Honda CRF250L boasts a rugged yet purposeful exterior reflective of its dual-sport nature. The styling is characterized by a blend of off-road aggression and practicality, further complemented by prominent, angular headlights at the front.
The two-wheeler's bodywork is well-sculpted, with clean lines and sharp angles highlighting its compact and maneuverable frame. A dual-texture finish improves its grip and aesthetics. Meanwhile, small details like its high-set fuel tank and carefully designed ergos make the two-wheeled machine suitable for various riding scenarios — off the beaten path or on urban roads.
Honda CRF250 vs. CRF250L
Although mixing them up is understandable, the Honda CRF250 and Honda CRF250L are distinct models catering to different riding preferences and needs. The primary difference between them lies in their intended use and design.
The Honda CRF250 is a motocross-oriented motorcycle for high-performance off-road racing and aggressive trail riding. It features a potent 250cc liquid-cooled engine with robust power delivery, making it ideal for competitive MX events.
The CRF250 employs top-tier suspension components, such as fully adjustable forks and shock absorbers, designed to handle various off-road terrains and offer precise control during jumps and fast-paced maneuvers. Most glaring of all is that the CRF250 is not street-legal and lacks the features required for on-road use, such as a horn, lights, and mirrors.
Conversely, the Honda CRF250L is a dual-sport motorcycle engineered for on- and off-road riding. Its 250cc engine is detuned compared to the CRF250, offering a more manageable and fuel-efficient performance suitable for recreational use and daily commuting.
This two-wheeler has a street-legal configuration with lights, mirrors, and other essential road safety features. Its suspension is tuned for comfort and adaptability, making it more practical for riders seeking a balance between urban driving and the occasional off-road adventure. It doesn't offer the same off-road performance and aggressiveness as the CRF250. However, the CRF250L's versatility makes it an excellent choice for riders who want to explore various terrains and environments.
Worth of a Honda CRF250L
The MSRP of the CF250L ranges from $4,499 to $5,199 (depending on model year), with incremental rate increases between 2013 and its final production year. If the bike were sold brand new today and with inflation factored in, that amount would be around $5,929—$6,167. For another $110, you can get a cycle cover from the dealer. But if you're looking for a different add-on, there's no need to worry since the bike has tremendous aftermarket support.
Secondhand units aren't doing too bad either, as the average resale value for the thumper is still within 30% of its original list price. Low retail is at $1,335, while mid-to-high retail is $4,625. On the Motorsports Universe website, you may even score a Rally Edition CRF250L for a little over $4,000.
When canvassing for a pre-loved CRF250L, be wary of units sold for less than $2,300. Although they may show minimal cosmetic damage, they're usually missing keys or in poor operating condition.
Benefits & Drawbacks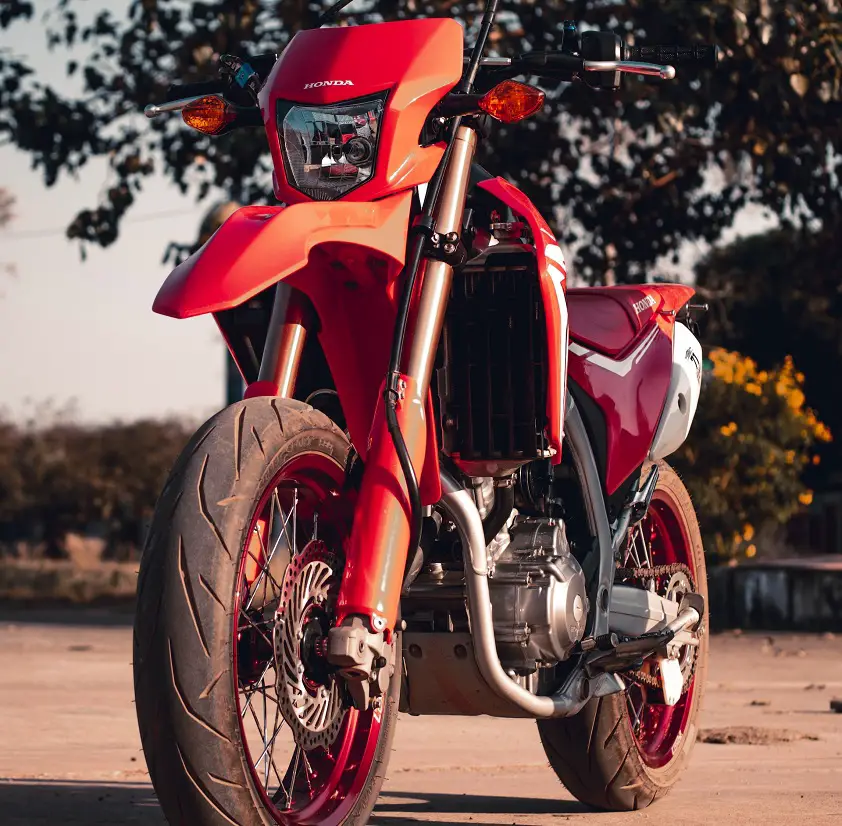 Pros
The CRF has been fuel-injected since 2012, meaning there are no carburetor-related issues to worry about.
Its engine is incredibly reliable and can withstand lots of abuse, making it a dependable choice for riders.
Although categorically a road-going two-wheeler, the CRF250L shines off-road — with a responsive throttle and suitability for low-speed, muddy, or gravel path riding — and is a popular choice for green lane riding.
Front and rear suspension units can be tweaked for improved rider comfort.
Leaning and turning are more convenient because of the motorbike's lower center of gravity.
The thumper's 43-mm telescopic front forks — although deemed an entry-level dual-sport by many motorheads — perform better on the trails than its same-class counterparts.
2017 CRF250L models are replete with design improvements. This was also the same year the CRF250L's Rally model was introduced. 
It lives up to its 'dual-sport' description by being both street-legal and lightweight.
The bike has generous service intervals, with valve-clearance checks required only at 16,000 miles. It's also easy and cheap to work on, making it a good option for DIY maintenance.
While not the crème de la crème in terms of handling, the CRF250L provides a sturdy base for customization and improvement.
Cons
The CRF250L is a tad too heavy for its class, weighing at least 20 Kg more than a 250cc dirt bike. This extra weight dampens its maneuverability on technical trails.
Factory suspension settings may be inadequate for riders weighing over 90.7 Kg (200 lbs.), especially if they're into aggressive trail riding.
Despite its CBR inspiration, the engine's performance is somewhat subdued. With 22.8 bhp and 22 Nm of torque, the CRF250L can heavily vibrate beyond 70 mph on the open road. It also doesn't help that the bike's odd wheel-size combination and soft suspension make it feel loose in bends.
Because of its rev-happy nature, the bike can be uncomfortable for long-distance highway riding.
The CRF250L's minuscule oil capacity can lead to oil running low if not monitored closely, potentially causing damage.
While generally reliable, typical issues of this dual-sport include occasional oil leaks, often caused by a gasket issue on the oil filter cover, and sump damage due to an over-tightened sump plug.
Modifying the front sprocket to lower gearing for off-road performance can reduce top-speed performance on pavement.
A product recall on certain 2018 CRF250L models (among other labels) was issued to address a faulty transmission mainshaft that may have been improperly machined during production.
About Honda
Honda, a Japanese manufacturer known for its innovation and precision engineering and part of the Big 4, has been a dominant force in the motorcycle industry for decades. With a legacy that includes iconic models like the Honda CB750 and the legendary Honda CBR series, the firm has consistently pushed the boundaries of motorcycle design and performance.
The Honda CRF250L exemplifies the company's commitment to maintaining its legacy of excellence in the dual-sport category. This dedication to producing outstanding motorcycles aligns seamlessly with Honda's broader focus, which extends to the large-scale production of garden equipment, marine engines, personal watercraft, power generators, and other products.
Conclusion — Honda CRF250L Dual-Sport 
The Honda CRF250L may be spartan in styling and performance, but it excels in the essential qualities of a lightweight dual-purpose bike. After all, it's known for its unwavering reliability, user-friendly nature, and a vast array of aftermarket accessories.
Whether exploring green lanes or seeking a dependable ride, the CRF250L holds its value well. This makes it an easy thumper to resell and a versatile choice for occasional adventurers and enthusiasts. With its reputation and off-roading capabilities, the CRF250L is not only a reliable choice for various riders but also a bike that stands ready for your next adventure whenever the mood strikes.