KTM 690 Duke Specs, Pricing, and Review
Disclosure: We may get commissions for purchases made through links in this post.
The KTM 690 Duke isn't your ordinary mid-class motorbike. For world-renowned KTM, this bike took its journey from dirt to the road. Simple and straightforward, it laid the foundation for the Austrian manufacturer's street-oriented motorcycles and is arguably the epitome of what a single-cylinder engine with optimal performance looks like.
One of the best naked bikes of all time, the KTM 690 Duke was KTM's first entry-level street bike and supermotard. It features a stark chassis, long-travel suspension, and optional ABS, and is widely recognized for its impressive use of the single-cylinder LC4 engine.
Great for back-country rides and daily commuting, the KTM 690 Duke is undoubtedly one of KTM's greatest testaments to continuous improvement and tech evolution. Its flexible yet precise handling mannerisms, no-fluff performance, and supermoto influence are but a few of its endearing qualities. Not sure if this Austrian-built wheeler tickles your fancy? Read on and discover more about this orange revolutionary.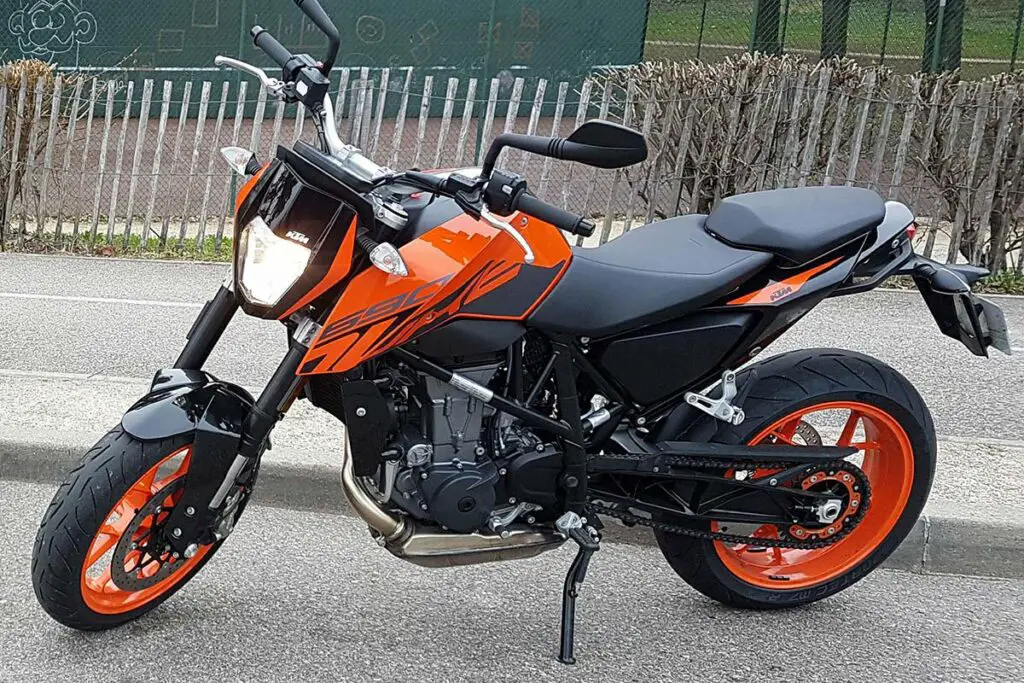 KTM's Supersport Royalty
First produced in 1994 as a 609-cc machine, the KTM 690 Duke is a naked motorcycle that signaled KTM's entry into the street-bike market. Initially, with predominant supermoto characteristics, the 690 Duke eventually evolved into a more street-oriented two-wheeler throughout its production. It received numerous design upgrades and lived through four generations, with the last two incarnations of the bike offering the latest 692-cc displacement.
The bike was initially KTM's entry-level motorcycle until the firm partnered with Bajaj Auto to produce smaller-displacement namesakes for non-U.S. markets, namely – the 125-cc, 200-cc, and 390-cc Dukes. In 2005, KTM further expanded the series by releasing the Super Duke, which covered the 999-cc and later 1,301-cc iterations of the product line. Being sandwiched between these categories cemented the KTM 690 Duke as a mid-weight product offering and the only one of its kind.
KTM 690 Duke R
Before reaching American shores, the KTM 690 Duke R was first released in Japan, Australia, Europe, and the UK in 2011. Out of the crate, the sportier R model was a hit with its higher-spec profile and overall design. Unlike the base version, the 690 Duke R has fully-adjustable WP 4860 ROMA forks and brakes that offer a much sharper bite (though it's the same make as the standard model). The footpegs and seat are also higher for a more aggressive riding position.
KTM Duke 690 Specs & Features (2010 – 2019 Models)
Engine
The KTM 690 Duke comes to life via a single-cylinder, 4-Stroke (LC4) OHC engine mated to a liquid cooling system (with a permanent coolant circulation by a water pump). During its incoming year, this power mill had a bore-stroke ratio of 102 x 80 mm (4.02 x 3.15 inches) and a compression ratio of 11.8:1 – with valve clearances almost comparable to the KTM 990 Adventure. Piston displacement was 654 cm³ (39.91 in³), and a Keihin EFI EMS with a 50-mm throttle body handled air-fuel mixture. All in all, this configuration makes for 72 bhp (53.69 kW) @ 8,000 RPM horsepower, torque output of 74 Nm (7.55 kgf-m, 54.6 lb-ft), and top speed of 120 mph (193 km/h).
The KTM 690 Duke R was the first to have a piston pin with DLC (or Diamond-Like Coating) in 2011 before this special coating became standard for the series. The compression ratio had slight adjustments in 2012 and 2016 – from 12.5:1 to 12.6:1 and 12.7:1, respectively. But, perhaps, the most significant upgrades were its increased displacement and bore diameter. The engine was bored to 105 mm in 2016, lending to valve longevity and increased power output. Likewise, piston displacement jumped to 690 cm³ (42.11 in³, Gen IV) for base models. Both mods contributed to increasing ponies to 75 bhp (55.93 kW) and the top speed to 135 mph (217 km/h, from TopSpeed Magazine).
Fuel & Lubrication
Tank capacity is 13.5 L (3.57 US gallons; reserve – 2.5 L/2.6 US quarts) of super unleaded gasoline with a minimum PON 91 or ROZ/RON 95 rating. You may use fuel variants containing less than 5% Methyl Tertiary Butyl Ether, 10% ethanol, or 5% methanol, provided they meet OEM specifications. Lube-wise, KTM recommends using Motorex products – specifically 1.7 L (1.8 US quarts) of SAE 10W-50 Power Synt 4T or 10W-60 Cross Power 4T engine oil, with an API grade of SJ+ meeting JASO T903 MA standards. Other multi-grade motor oils are permitted, following ambient temperature.
Drivetrain
A 6-speed, claw-shifted manual transmission mated to a hydraulically-operated APTCTM anti-hopping clutch in an oil bath delivers power to the ground. A 5/8 x 1/4″ 520 X-Ring chain (view on Amazon) handles wheelspin, supplemented by a switchable Bosch 9M+ ABS (optional on base models). Ride-by-wire throttle control, which not only helps improve fuel economy by approximately 10% but also manages the motorcycle's induction, is present in all KTM 690 Duke iterations.
| | |
| --- | --- |
| Primary Reduction Ratio | (36/79) |
| Transmission Gear Ratio (1st) | (14/35) |
| Transmission Gear Ratio (2nd) | (16/28) |
| Transmission Gear Ratio (3rd) | (21/28) |
| Transmission Gear Ratio (4th) | (21/23) |
| Transmission Gear Ratio (5th) | (23/22) |
| Transmission Gear Ratio (6th) | (23/20) |
| Secondary Reduction Ratio | (16/40T) |
Ignition & Lighting
The Duke has an electric starter (with automatic compression release) paired with a triple-mode digital ignition – this later changed to a fully electronic twin-spark ignition system. It also has a 12V 224-watt alternator (changed to 12V 300 watts in 2017) serving as its charging system. Lighting consists of a 12V 60W low/high-beam headlight, 10W brake/taillight, 5W parking light, and LED indicator lamps.
A 12V 8.6Ah/(10 HR) YTZ10S battery powers lighting and electronic accessories for 2008 to 2010 models. Meanwhile, 2013 versions and onward make use of either a 12V 10Ah/(10 HR) HTZ12A-BS or a 12V 8Ah/(10 HR) YTX9-BS battery format like a Banshee YTX9-BS Lithium Ion Battery (view on Amazon). Post-2011 models require NGK LKAR8BI-9 (inside) and NGK LMAR7A-9 (outside) spark plugs – each with a 0.9 mm (0.035 inch) gap.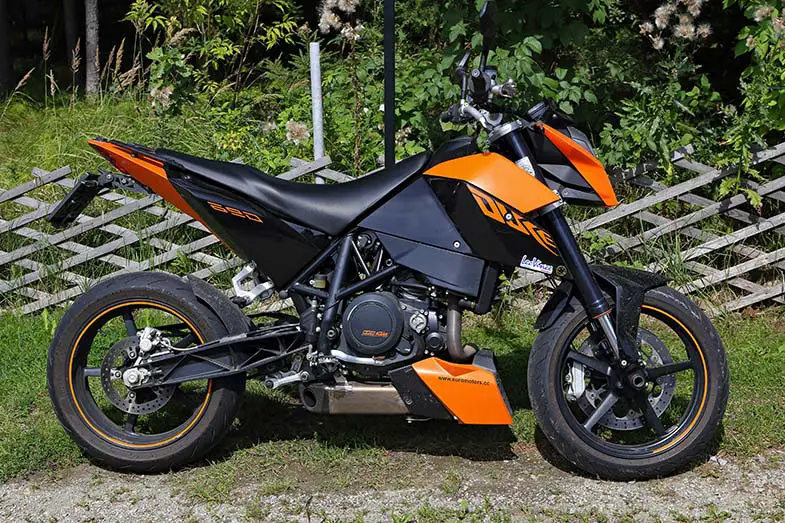 Tires & Brakes
Stock knobbies include ZR-rated 120/70 R17 M/C 58H front tires and 160/60 R17 M/C 69H rear tires on cast-aluminum wheels. Depending on model year or generation of the KTM 690 Duke, the tire brand used could either be Dunlop® Sportmax GPR Alpha 10 (2010), Michelin® Pilot Power (2011–2015), or Metzeler® Sportec M7 RR (2016–2019). Recommended cold-tire pressure ranges from 200 kPa to 220.6 kPa (2.04–2.25 kgf/cm2, 29–32 psi), with the right tire pressure depending on whether the bike is for solo riding or with a passenger.
To put the supermotard to a halt, a 320-mm disc with radially screwed Brembo® four-piston calipers is at the front, and a 240-mm disc with Brembo® single-piston calipers at the back. The brake system and its components complete the KTM 690 Duke's tire-and-wheel assembly and have remained unchanged throughout its lifetime.
Suspension
The suspension consists of 43-mm WP USD 4860 ROMA front forks and rear WP 4618 shocks with Pro-Lever deflector/linkage, enclosed in a powder-coated lattice frame made of Chromoly steel tubing with an aluminum sub-frame. Each unit provides 140 mm (5.51 inches) of wheel travel. On base models, front suspension changed to WP USD 4357 ROMA forks in 2012. The KTM 690 Duke R had a similar split-type WP USD 4357 ROTA by 2016. As a result of these alterations, wheel travel reduced to 135 mm (5.31 inches) – this remained unchanged until 2019.
The steering head angle is 63.5° but is held back by a limited turning radius. Minimum ground clearance (unloaded) is 155 mm (6.1 inches), mated to a 1,472-mm (57.95-inch) wheelbase. Ground clearance and wheelbase underwent several adjustments in 2012, 2013, and 2016. Within this period, ground clearance increased to 175–192 mm (6.89–7.56 inches), while wheelbase size cut down to 1,447–1,466 mm (56.97–57.72 inches). By 2019, the bike retained the higher end of these figures.
Dimensions & Capacities
Like all other KTM motorcycles, the overall dimensions of the 690 Duke are unspecified in the manual and the OEM website. But for shipping purposes, it would be safe to follow the shipping dimensions of the KTM 990 Adventure, which is a slightly larger bike. The measurements would be 210 x 110 x 70 cm (after taking off the stock handlebars, front wheel, and windshield to reduce volume). Otherwise, cargo companies measure bikes for dispatch without dismantling them.
Seat height measures between 835 mm (32.87 inches) and 865 mm (34.06 inches) – with the latter being true for Gen III and 690 Duke R models. Capacities also tend to fluctuate based on year and trim, with dry weight ranging from 148.5 to 152.5 Kg (327–336 lbs.) and rear axle load limit ranging from 200 to 220 Kg (441–485 lbs.). On the other hand, the front axle load limit and payload capacity are fixed at 150 Kg (331 lbs.) and 350 Kg (772 lbs.), respectively.
Exterior
In stock form, base KTM 690 Duke models are true to their moniker as 'naked' bikes. Except for the close-fit fenders, low-profile headlight housing, short-rise J.C. handlebars, firm saddle seat, and instrument display, the supermotard is Spartan. For a more comfortable setup and aggressive design, use the 'Track Pack' equipment package offered by KTM. In this package, you can clad your 690 Duke with KTM-esque wing fairings – along with receiving other add-ons.
Other standard inclusions are:
Wire-spoke wheels
Flip-up footpegs
Multicolored instrumentation
A mudguard (which also serves as a mount for the license plate holder, tag light, and rear turn signals)
And expectedly, body panels are made available in KTM's signature orange, white, and black.
KTM 690 Duke Pricing
List prices for the KTM 690 Duke ranged from $8,999 to $10,898, with the '09 model having the heftiest price tag. R models cost $1,000 more than the standard models. In the UK, the resale value of a used Duke 690 falls between £5,000 and £7,000 (sans extraneous fees). The 790 Duke replaced the series in 2019, although a 2022 version of the 690-cc naked bike sold in some Asian markets for $12,540.
Year – Model – Trim
List Price
Retail/Trade-In Values
2008 KTM 690 Duke
$9,498
$2,525 – $3,325
2009 KTM 690 Duke
$10,898
$3,570 – $4,700
2010 KTM 690 Duke
$10,598
$4,015 – $5,285
2013 KTM 690 Duke
$8,999
$4,030 – $5,305
2014 KTM Duke 690
$4,500 – $5,920
2015 KTM 690 Duke, ABS
$4,870 – $6,405
2016 KTM 690 Duke
$5,805 – $7,640
2017 KTM 690 Duke
$6,295 – $8,285
2018 KTM Duke 690
$6,820 – $8,975
(Source: Nada Guides)
Highs and Lows of Owning a Duke
Both the KTM 690 Duke and Duke R models are great for urban commuters on the road or as whippets on the tracks – that is a given. But just before you cement your decision on making this your next purchase, here are a few salient points about the motorcycle you should know:
Across all production models, the Duke's flat torque curve makes for smooth driving without tinkering much with the gear lever. Executing directional changes (and wheelies) are likewise very simple, regardless of driving in busy streets, country roads, or motorways. However, be prepared to experience buffeting on the latter and some engine vibration. There have been numerous complaints about it in the past. However, post-2016 releases seem to have already addressed this issue.
2016 production models were at the receiving end of serious updates, most of which were performance-enhancing. Revisions to the bore and stroke (boring the head 3-mm larger but reducing the stroke by 4.5 mm to sustain capacity), new pistons and crankshaft, redesign of the single-cam, and the addition of a slipper clutch boosted the motorcycle's power output by 7% and its torque by 6%. So if the budget is a non-issue and you'd want to get premium features even on a secondhand unit, you'd be better off with a Duke that's from 2016 onward.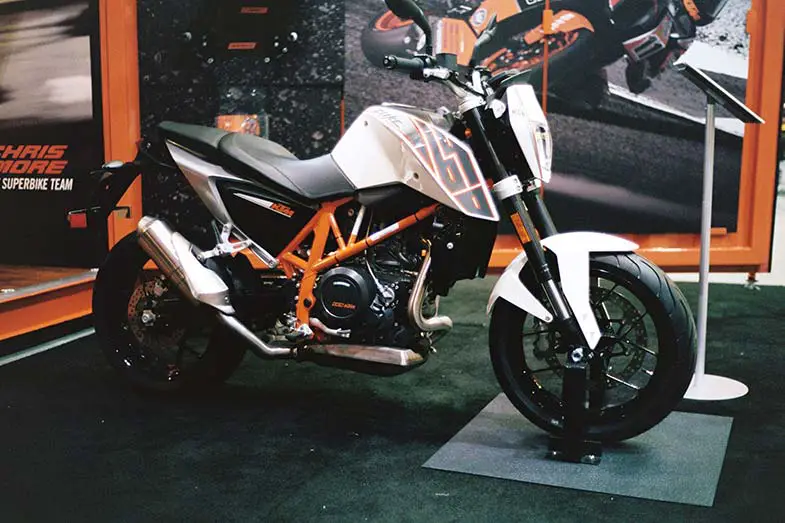 Ride Quality & Comfort
The saddle is as hard as a board and described as firm (not comfortable). And while the seating position is perfect for the city, maintaining a nearly upright posture when driving long distances can be tiring for some motorheads. Bone-stock, the motorcycle lacks any form of wind protection bone. When paired with the Duke's intrinsically compact nature, it is rendered quite unsuitable for touring.
The Duke's suspension performance has improved tremendously compared to the 390-cc KTMs. However, there is still much to be had in individual suspension components. Depending on the intended application, an R model may suit your needs better than a standard one would. The KTM 690 Duke R offers a fully-adjustable WP suspension and 15 mm more road clearance – must-haves for the tracks.
The ABS feature (a standard in Duke R versions) also comes with angle sensitivity, maximizing the use of the bike's 63.5° steering angle while making it easier for aggro-riders to pull off skids. Similarly, the Duke's braking system instills lots of confidence on various types of terrain, including mountainous roads. The front and rear Brembo calipers provide superb halting power on both track and pavement.
Equipment & Accessories
The stock silver end cap of the KTM Duke 690 serves its function but is somewhat boring. Luckily, adding an Akrapovic End Cap adds more character to the tailpipe and gives it a more refined rumble and deeper engine note – not to mention 2 bhp more. A full Akrapovic Exhaust System (view on Amazon) would even be better. But if you don't want to spend as much, the 2016 KTM 690 Duke R already comes with an Akrapovic end in stock form.
With base 690 Duke models, their included electronics are fairly decent. However, the R models' higher-spec electronics are far better and provide a wider array of information on the bike's main systems. Either way, the bike's instrumentation has many functions, including a speedo, tach, coolant temp, clock, and trip/odometer. However, it can be daunting for the non-savvy, as the TFT panel very much resembles an iPhone screen that you wouldn't want to mess with.
Personalizing your KTM 690 Duke is easy, as the Austrian firm sells bolt-on 'Power Parts' like rear sets, revised gear sprockets, billet parts, tail tidy, crash protectors, and suspension upgrades (to name a few). And while these optional add-ons are aplenty, KTM savants have discovered that all the naked wheeler really needs are grippy tires and a passionate rider. Anything else outside of these two is a matter of personal preference.
About KTM
KTM (Kraftfahrzeuge Trunkenpolz Mattighofen Aktiengesellschaft) is a powerhouse in the off-roading and racing landscapes and is the world's largest European motorcycle manufacturer. Founded in 1934, it began its journey as a car repair shop, going through highs and lows before its renaissance in 1992. Since then, the firm has continually produced highly-engineered industry trailblazers like the KTM 690 Duke. To date, KTM has 307 world championship titles and 13 global subsidiaries.
Conclusion – KTM Duke 690 Review
Many believe that with the KTM 690 Duke's redesign in 2016, all other naked singles became agricultural grade. Perhaps due to the lack of unforgivable faults in its features, the Duke was compared to less-expensive entry-level bikes like the ER-6N, SV650, and Fz-07. Despite the obvious difference in capabilities, buyers' consideration shifted from quality to price point – and this is where the mighty 690 Duke met its downfall.
I wouldn't dare say the above statement (although there may be some truth to it), knowing what lengths other OEMs go through to improve their motorcycles. But when it comes to material and design, the Austrian firm is evidently more uncompromising than its competition. This resolve is what makes KTM's products an automatic standout in the field – both in build quality and in value. And this is why having the opportunity to ride a KTM 690 Duke or Duke R comes at a (hefty) price.