2009 Harley Davidson Street Glide Specs & Review
Disclosure: We may get commissions for purchases made through links in this post.
Following the success of its Electra Glide label, Harley Davidson released its 2009 Street Glide models. These unadulterated iterations received an upgraded framework and improved Twin Cam 96 engine (which was only in its 2nd year of production).
Superficially, there's nothing too exciting about this wheeler. But performance-wise, it offered so much more than its earlier incarnations.
The 2009 Harley Davidson Street Glide belongs to one of several labels under HD's FLH series. Featuring ESPFI, air-adjustable rear suspension, and a revolutionary Twin Cam 96 engine, the Street Glide more than engrained its presence in the motorcycling and used-bike markets.
Because of its prestige and reliability, the 2009 Harley Davidson Street Glide can keep its value really well —making it one of the go-to touring motorcycles in the used-bike market (if not a great investment for collectors and enthusiasts).
But there is more to this thumper than its name and resale value. So stick around and continue reading this article to discover what else it offers.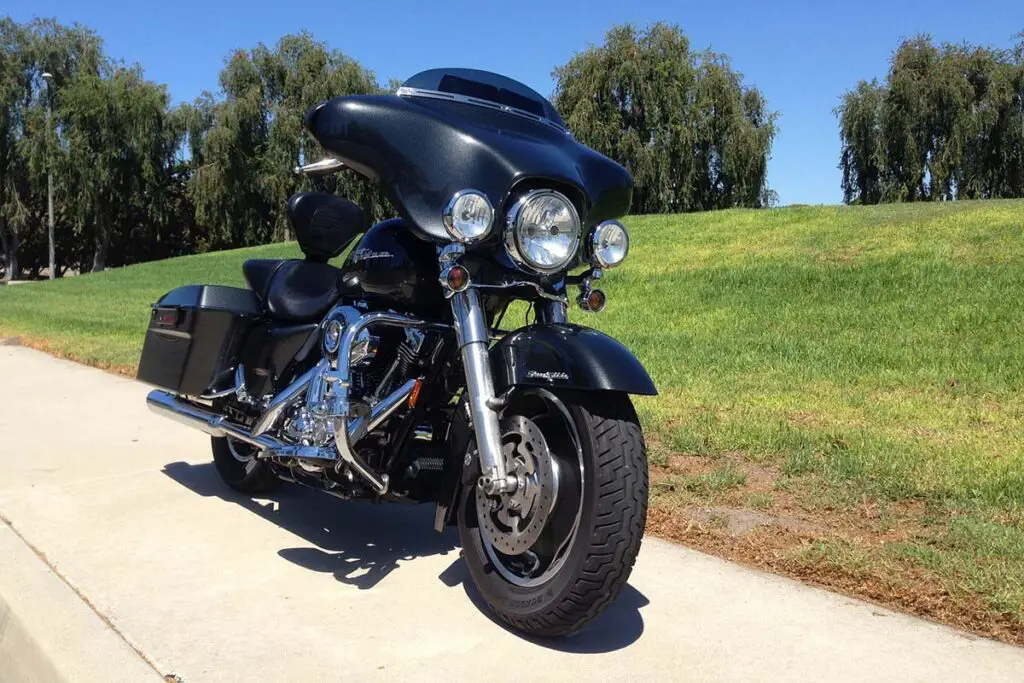 The Street Glide's Humble Beginnings
The 2009 Harley Davidson Street Glide is a 96-CI two-wheeler that hails from the original 1985 FLHX Street Glide produced by the acclaimed American manufacturer.
Right off the bat, the model wowed its soon-to-be patrons with its 4-stroke V-Twin® power mill and an impressive 5-speed transmission that spewed 50 hp (upgraded to a 6-speed gearbox and 66-hp in 2009). It adopted some design and styling cues from its predecessor, the Electra Glide series.
As its name suggests, the Street Glide was intended as the road-going offering of the Milwaukee giant. And sure enough, HD fulfilled this promise by ensuring the bike's configuration supported daily commutes and highway cruising.
It came with all the standard HD inclusions out of the crate, plus some creature comforts only found in Harley's more high-end touring production models.
Harley Davidson 2009 Street Glide Specs
Engine
An air-cooled, rubber-mounted Twin Cam 96-A® V-twin engine with an OHV-pushrod design brings the Harley Davidson Street Glide in 2009 to life.
It has a bore-stroke ratio of 95.25 x 111.25 mm (3.750 x 4.380 inches) and a 9.2:1 compression ratio.
Piston displacement is 1,584 cm3 (96.7 in3), with Electronic Sequential Port Fuel Injection handling air-fuel mixture.
Overall, the machine's engine configuration yields the following performance figures:
Description
Top Speed
90—104 mph (145—168 km/h, unofficial)
Horsepower
66 bhp (49.2 kW, unofficial)
Maximum Torque
125.6 Nm (12.8 kgf-m, 92.6 ft­lbf) @ 3,500 RPM — North America
122.3 Nm (12.5 kgf-m, 90.2 ft­lbf) @ 3,400 RPM — Other markets
117.8 Nm (12 kgf-m, 86.9 ft­lbf) @ 2,500 RPM — Japan
Fuel Economy (average)
36—43 MPG (5.5—6.5 L/100 km, 15—18 kmpl)
Fuel Tank Range (approximate)
240—258 miles, 386—409 km
Fuel & Lubrication
The tank capacity is 22.7 L/6.0 USgal (inclusive of 3.8 L/1.0 USgal of reserve) of unleaded premium gasoline.
Fuel variants with a minimum Octane rating of PON 91/RON 95 and no more than 15% MTBE (Methyl Tertiary Butyl Ether) or 10% ethanol are permissible. The same goes for reformulated or oxygenated gasoline (RFGs), provided they contain less than 5% methanol.
Lubrication-wise, the 2009 Harley Davidson Street Glide requires 3.8 L (4.0 US qt) of engine oil. OEM-recommended lubrication is SAE 10W-40 engine oil with designations CF-4, CG-4, CH-4, or CI-4 meeting JASO T903 MA/MA1/MA2 standards.
Multi-grade oils such as 20W-50, SAE 50, or SAE 60 may be used following changes in riding conditions or altitude and ambient temperatures (as detailed below):
| Viscosity | Ambient Temperature |
| --- | --- |
| SAE 10W-40 | Below 40° F (4° C) |
| SAE 20W-50 | Below 40° F (4° C) |
| SAE 50 | Above 60° F (16° C) |
| SAE 60 | Above 80° F (27° C) |
Drivetrain
A 6-speed, constant-mesh forward gearbox (a.k.a. Cruise Drive transmission) and wet multi-plate clutch handle power, while a final belt drive controls wheelspin.
Changes applied to the Twin Cam 88® to convert into the Twin Cam 96A/B in 2006 led to piston displacement improving by 9% and torque output by 8% — in addition to an EPA-compliant recirculating EFI and 700 new parts comprising the then all-new powertrain.
Finally, Anti-lock Braking System is a standard inclusion on all 2009 HD touring models.
For stock gear ratios, refer to the table below:
| Description | |
| --- | --- |
| Primary Sprocket (Engine) | 34 |
| Primary Sprocket (Clutch) | 46 |
| Final Sprocket (Transmission) | 32 |
| Final Sprocket (Rear Wheel) | 68 |
| Transmission Gear Ratio – 1st | 9.593 |
| Transmission Gear Ratio – 2nd | 6.650 |
| Transmission Gear Ratio – 3rd | 4.938 |
| Transmission Gear Ratio – 4th | 4.000 |
| Transmission Gear Ratio – 5th | 3.407 |
| Transmission Gear Ratio – 6th | 2.875 |
Ignition & Electricals
All Street Glide touring models have a single-fire, map-controlled spark ignition with a non-adjustable timing and an electric starting system. Like most FLH models, the label utilizes an HD-6R12 spark plug with an electrode gap of 0.038–0.043 inch (0.9–1.1 mm) and tightening torque specs of 16–24 Nm (1.66–2.49 kgf-m, 12–18 ft-­lbf).
A triple-phase alternator serves as its charging system. Meanwhile, a 12V, 28 Ah/(10 HR) battery with a 270 CCA (Cold Cranking Amps) rating supports the motorbike's lighting assembly and electronics.
The recommended battery for the two-wheeler is a YIX30L-BS or YB30L-B format. A 2009 Harley-Davidson Street Glide battery like KMG YIX30L-BS High-Performance OEM Replacement Battery (view on Amazon), with assembled dimensions of 166 x 126 x 175 mm (6.56 x 5.00 x 6.88 inches — L x W x H), would fit perfectly in any of the FLHX production models.
Tires & Brakes
Cast-aluminum wheels are fitted with tubeless Dunlop multi-tread radials — D407F D407F 130/80 B17 at the front and D407F 130/80 B17 at the back. Cold-tire pressure for both is 248 kPa (2.5 kg-f/cm2, 36 psi), with the rear requiring adjustment to 276 kPa (2.8 kg-f/cm2, 40 psi) for pillion riding.
As for brakes, triple hydraulic Brembo discs with 4-piston calipers a piece — dual 292-mm discs at the front and same-size lone disc at the rear — complete the Street Glide's tire-and-wheel assembly.
When servicing the assembly, silicone hydraulic DOT 5 brake fluids are highly recommended, as they have been proven to work best in preventing brake fluid contamination.
Suspension
Cartridge-style telescopic 41-mm front forks (view on Amazon) with damping and a twin-sided swingarm with air-adjustable shocks lend to the motorcycle's impressive handling mannerisms. These suspension units are enclosed in a tubular, mild-steel backbone/frame with dual downtubes (26° caster angle; 170 mm/6.7 inches trail).
All models feature air-adjustable rear suspension units, which augment the bike's 63.5-inch (1,614-mm) wheelbase and compensate for its miserly 4.7-inch (119.4 mm) ground clearance. Page 44 of the owner's manual details recommended air valve pressure for the rear depending on shock load.
Dimensions & Capacities
Overall dimensions are 95 x 39 x 38 x 52.2 inches (2,415 x 965.2 x 1,325.9 mm — L x W x H), making it roughly eight inches shorter than FLHT models. Length and width are shared with the latter, while its saddle height of 26.3 inches (668 mm) is the lowest of all Harley-Davidson touring iterations.
Front and rear GAWRs (Gross Axle Weight Ratings) are 227 Kg (500 lbs.) and 420 Kg (927 lbs.), totaling a 1,360-pound GVWR (Gross Vehicle Weight Rating). The shipping weight is 350.6 Kg (773 lbs.). These values are approximately 10.2% lighter than Harley's Electra Glide base models.
Exterior
Elements such as its chassis, engine mounts, swingarm, fenders, wheels, and exhaust system have all been redesigned for the year. The tail section, for instance, boasts of a bolt-on design that makes for a more seamless fit of the rear fender over the rear wheel.
Conversely, trademark features like the motorcycle's front end, teardrop fuel tank, and Tour-Pak have all been left untouched.
Slight adjustments contributed immensely to improved spacing and rider comfort while enhancing the bike's functionality. Notable examples of these changes are as follows:
A more rear-inclined pair of saddlebags give riders more legroom.
Revised exhaust positioning of the left and right exhausts (view on Amazon) reduces exposure to heat of the lower extremities.
The inclusion of a 40-watt Advanced Audio System by Harman/Kardon makes one's experience on two wheels more (if not already) enjoyable.
Cost of a 2009 Harley Davidson Street Glide
Per JD Power data, the original list price of the 2009 Harley Davidson Street Glide is $19,649. Average retail costs currently fall between $9,145 and $12,030.
These figures do not include chromed engine guards, a security alarm system, custom-built parts, and optional body paint (not to mention freight charges and other extraneous fees if bought from a dealership or motorsports firm).
As for reseller and auction listings, the price range is from $7,200 to $18,500, with racked-up mileage from 4,434 to 58,350 miles. Base models in good cosmetic and running condition typically exceed $10,000.
Meanwhile, units priced below $9,000 have either noticeable scuffs and scratches or very high mileage. Several of these secondhand touring machines can be found in Cycle Trader and MotoHunt, with most private sellers based in the central and western regions of the United States.
Lowdowns of the Street Glide® Series
Highlights
The redesigned chassis and rubber-mounting system lent to reduced flex and engine vibration and smoother driving.
A new ventilation system, paired with the iconic Batwing fairing and mid-rise windshield (view on Amazon), helped combat wind buffeting.
A factory-installed crash bar serves as added protection and an alternative footrest when cruising.
Street Glides featured better provisions for cargo — thanks to a revised Tour-Pak accessory system.
Aside from a four-speaker audio system, base models received a 4.3-inch touchscreen infotainment system (special editions had a larger 6.5-inch screen).
The slotted disc cast-aluminum wheels compensated for the bike's lower rear end, making for the bike's stability even during spirited riding.
Foibles
Despite receiving crucial upgrades, the 2009 Harley Davidson Street Glide models are still known for the following problems:

Faulty LCD screen
Weak fuel pump brakes
Failing clutch
Defective oil pump

Considering its inclusions, it is one of the pricier options in its class.
2009 Street Glide models do not have provisions for a later-date XM radio installation.
Although wind buffeting has been greatly reduced by the presence of the Batwing fairing, the fact that the latter is handlebar-mounted does not help (the issue could have been completely eliminated otherwise).
The saddlebags can be made better with handles that allow riders to conveniently carry the bags from the rear of their thumpers to their hotel room.
The air-adjustable rear suspension system tends to bottom out if not adjusted differently from its factory setting.
Consumer Wish List
Taller windshield (if dissatisfied with the protection provided by the factory-installed part)
Aftermarket fuel system to modify fuel mixture
De-catted head pipes for less heat
4″ Rineharts for that trademark Harley-Davidson sound
Supplementary oil cooling system
Highway pegs like Kemimoto Adjustable Foot Pegs with Flip-out Heel Rests (view on Amazon)
Chrome pieces for improved styling (completely preferential)
Driver and passenger backrests
Fat Bob rear fender
Rider's claw mount for your smartphone
About Harley-Davidson
Harley-Davidson, Inc. (or HD, Harley) is one of the few American manufacturers that have made an indelible mark in the hearts of general consumers and the riding community as a whole.
Boasting over a century's worth of expertise, the firm traces its humble beginnings to conceptualizing a loop-frame bicycle design that did not require pedal assistance to be put in motion.
Little did Harley and the Davidson brothers know that this initial act of breaking ground would seal their fate in the motorcycling industry. Their inclination for the nouvelle paved the way for the company's eventual success and is continued to this day with trailblazer ideas and product offerings like the 2009 Harley Davidson Street Glide.
Conclusion — 2009 Street Glide Harley Davidson Specs & Review
Agility, classic aesthetics, and superb riding mannerisms are but a few of the praiseworthy attributes of the 2009 Harley-Davidson Street Glide.
Yes, the thumper has room for improvement. But with its signature features and other standard inclusions, this machine more than lives up to its reputation and the Harley-Davidson legacy.
Overall, the Street Glide signifies dual functionality and enjoyable, carefree riding. It is as robust as its redesigned engine and as timeless as its styling.
Other motorheads may find it lacking and want more from this reputable label. But as a rider myself, there is nothing more that I can ask for in a touring motorcycle!