Yamaha YZF-R6 Specs and Review (Sport Bike)
Disclosure: We may get commissions for purchases made through links in this post.
Regarded as the 'most uncompromising track-oriented motorcycle,' the Yamaha YZF-R6 genuinely lives up to its reputation. Motorcyclists can attest to the bike's racetrack bias, given its proclivity to show its true colors only after 9,000 RPM and away from the tarmac. Interestingly, the R6 has recently shown an increase in popularity among learner riders contemplating taking home the street-retired beast.
Produced from 1999 to 2020, the Yamaha YZF-R6 is a 599-cc street bike that spawned the supersport segment. It was the first of its class to hit a horsepower above 100 bhp, feature a ride-by-wire throttle with 6-stage TCS, and debut the YCC-T and YCC-I systems.
The supersport is well-known for its high-revving and uncompromising nature – traits that led to its eight World Supersport Championships and endeared the middleweight speedster to its cult-like following. Due to its unrivaled performance and competencies, the R6 has enamored consumers (both on and off the tracks).
Unsurprisingly, motorheads were deeply saddened by the recent announcement that its production had ceased. But all hope isn't lost yet, as the R6 continues to thrive on racetracks and even in the used-bike market. That said, let this article loop you in on the prowess and other remarkable qualities of the Yamaha R6.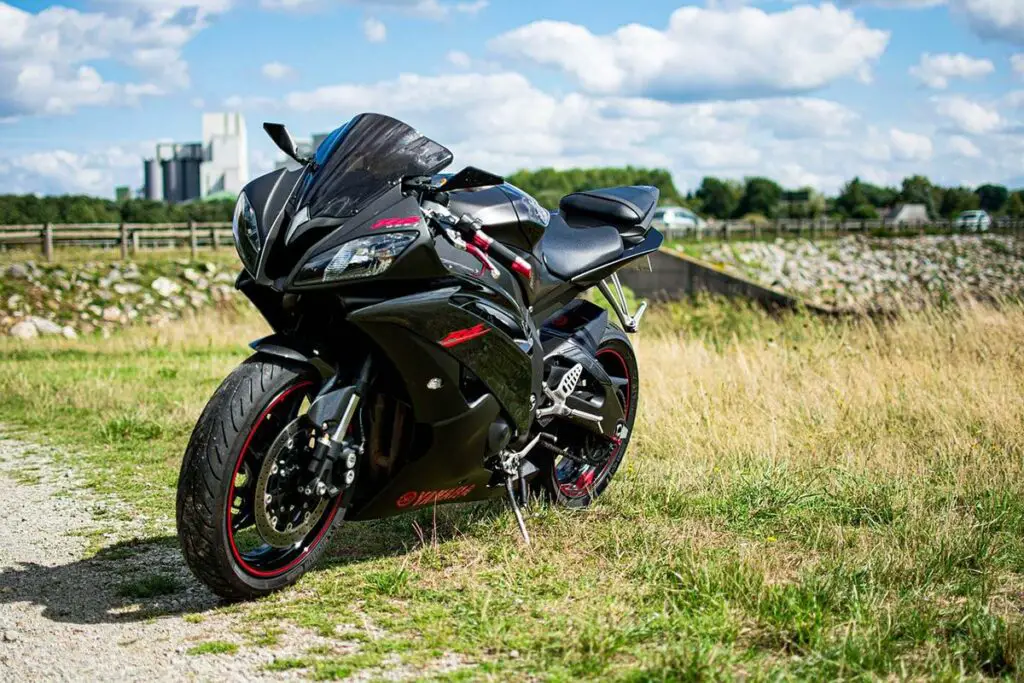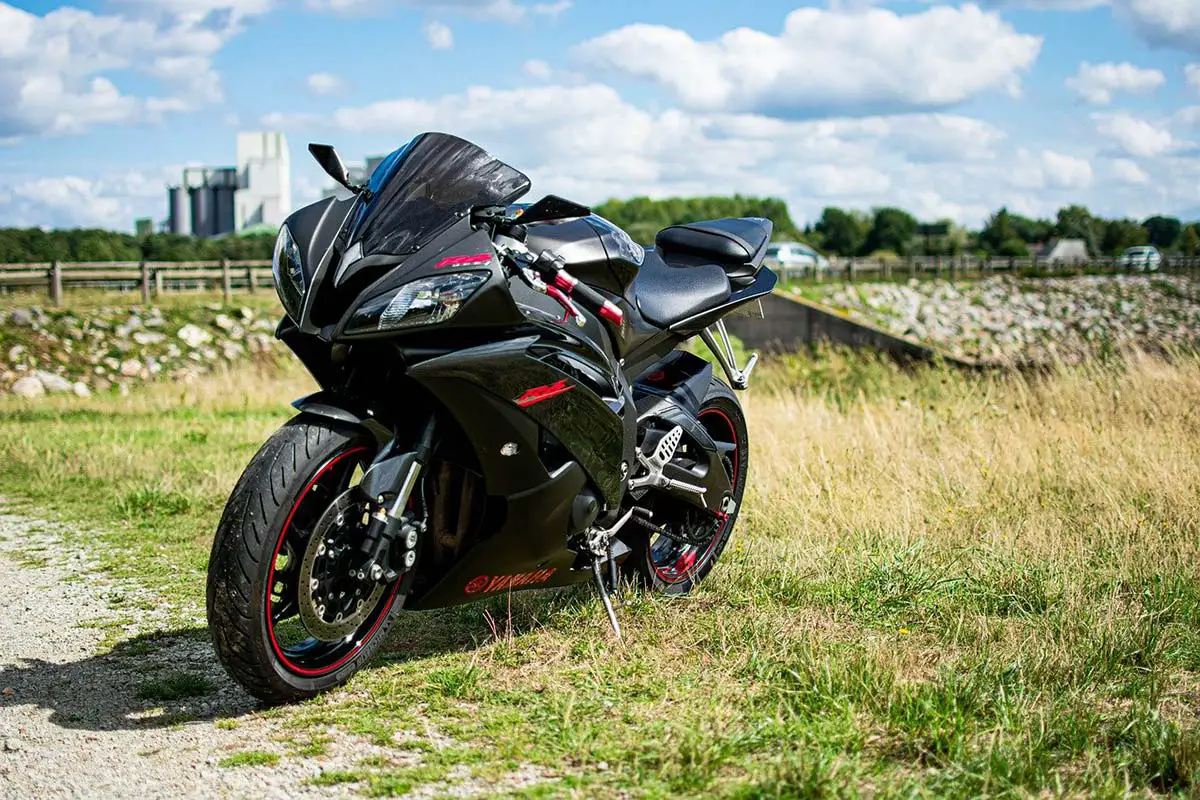 The Benchmark of Supersport Bikes
If you recall that one transfer student in your class who suddenly became peers with everyone in a week and excelled in all subjects, turning from a stranger into a class icon – well, that's exactly how the Yamaha YZF-R6 was like when it came out in 1999. Buff, powerful, and aggressive, the R6 easily stole everyone's hearts and inspired young souls to be the next Chaz Davies.
The Yamaha YZF-R6 is a 599-cc derivation of its superbike predecessor – the YZF-R1. It launched alongside its street-oriented sibling, the YZF600R. It was intended as a more approachable supersport iteration aimed at aggro-riders and even in-training novices who wanted to eventually ride on-track. The 600-class bikes offered monstrous power, an astronomical (albeit controversial) redline RPM, oozing sportiness, and lots of character.
Throughout its production, the Yamaha YZF-R6 underwent many revisions that kept its class-leading mannerisms at the forefront of its competition. Among these developments are its lighter frame (thanks to Controlled Filling Die-Cast technology and a redesign of the Deltabox III framework), new fuel injection mapping, revised exhaust canister, and improved aerodynamics – to name a few. Most of these upgrades occurred between 2003 and 2017.
Yamaha YZF-R6 Specs & Features (1999 – 2020 Models)
Engine
During its incoming year, the Yamaha YZF-R6 had a liquid-cooled, 4-stroke DOHC engine with four Mikuni CVRD37 carburetors feeding the engine its required air-fuel mixture. Bore-stroke ratio was 65.5 x 44.5 mm (2.58 x 1.75 inches), and compression ratio was 12.4:1. Engine displacement was 600 cm³ (36.6 in³). The cylinder arrangement was a forward-inclined, parallel 4-cylinder, mated to dry-element air filtration.
The YZF-R6 switched from Mikuni to Keihin carburetors from 2001–2002 before upgrading to fuel injection with a 41-mm Mikuni throttle body in 2003 (reduced to 38 mm for certain models). Its compression ratio was updated twice – first in 2006 (12.8:1) and second in 2008 (13.1:1). Similarly, the bore-stroke ratio was adjusted to 67 x 42.5 mm (2.64 x 1.67 inches) in 2006, along with other significant upgrades that impacted the motorcycle's power delivery and performance.
Depending on year and trim, the bike's engine configuration yielded the following performance figures – 73.7 kW (98.9 bhp) @ 12,500 RPM to 94.9 kW (127.3 bhp) @ 14,500 RPM horsepower, 57.2–61.7 Nm (5.8–6.3 kgf-m, 42.2–45.5 lb-ft) @ 10,500 RPM torque output, and a Yamaha YZF R6 top speed rating of 157–162 mph (253–260 km/h). Some publications report a top speed of up to 184 mph (296 km/h).
Fuel & Lubrication
Tank capacity for all model years and trims is 17 L (4.5 US gallons, 3.4 L/0.9 US gallon reserve included) of regular/unleaded gasoline with a minimum PON 87/RON 91 rating. EU releases require premium unleaded petrol (E10 fuel is permissible). Variants containing less than 5% MTBE, 10% ethanol, or 5% methanol are preferred for all markets, although fuel with no methanol content is much better.
Lubrication-wise, recommended capacity is either 3.5 L (3.7 US quarts, total amount), 2.7 L (2.9 US quarts, with filter change), or 2.5 L (2.6 US quarts, without filter change) of Yamalube SAE 20W-40 or 10W-30 engine oil or its equivalent. The minimum API grade should be SJ, meeting JASO T903 MA standards. Later-year models use SAE 10W-40 oil, but other viscosities are okay following ambient temperature. (Note: Post-2017 models sold in Europe require slightly lower engine oil quantities.)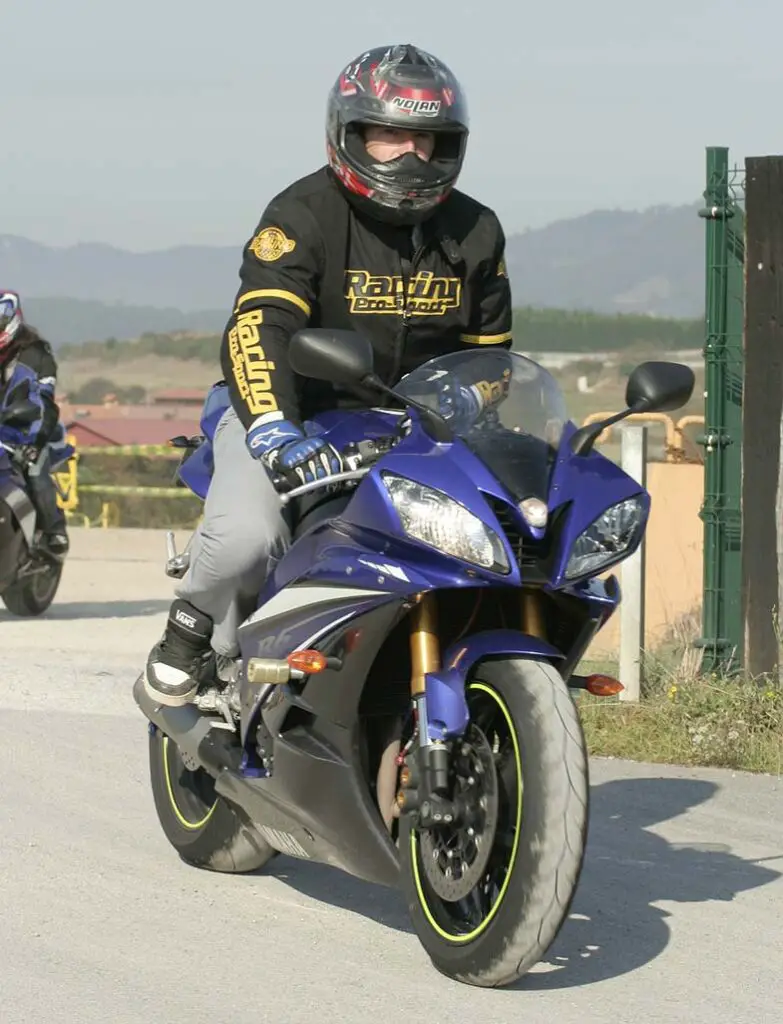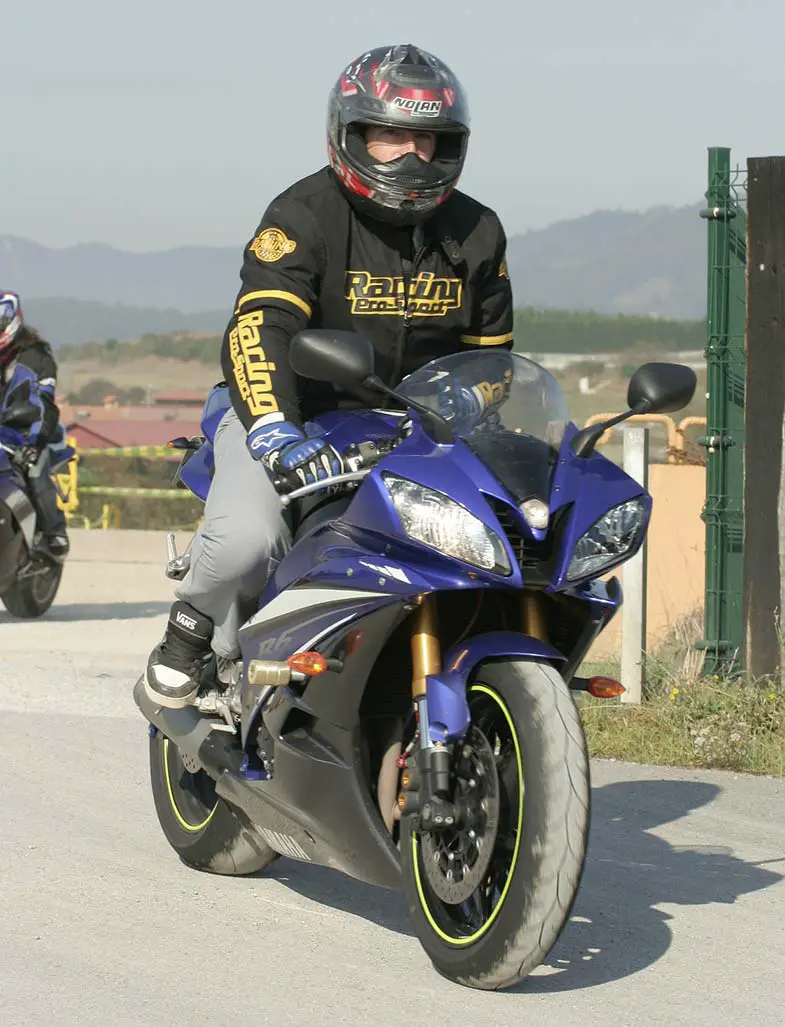 Drivetrain
A 6-speed, constant-mesh (close-ratio) manual transmission mated to helical gears and a wet, multi-disc clutch delivers power to the ground. The clutch has a rack-and-pinion release method and is left-hand operated. An RH2015/120 chain (120 links + joint) with automatic tensioning handles wheelspin. The original sprocket combination was 16/48T in 1999, adjusted to 15/46T for its 2022 track-only, GYTR iteration.
Yamaha gave the YZF-R6 YCC-T® (Yamaha Chip Controlled Throttle) & YCC-I® (Yamaha Chip Controlled Intake) in 2006, which improved not only the bike's fuel efficiency but also its powertrain. 2017 models and onward came equipped with a six-mode Traction Control System, Quick Shifter System, and ABS.
Description
1999
2020
Primary Reduction System
Spur gear
Primary Reduction Ratio
1.954 (86/44)
2.073 (85/41)
Transmission Gear Ratio (1st)
2.846 (37/13)
2.583 (31/12)
Transmission Gear Ratio (2nd)
1.947 (37/19)
2.000 (32/16)
Transmission Gear Ratio (3rd)
1.555 (28/18)
1.667 (30/18)
Transmission Gear Ratio (4th)
1.333 (32/24)
1.444 (26/18)
Transmission Gear Ratio (5th)
1.190 (25/21)
1.286 (27/21)
Transmission Gear Ratio (6th)
1.083 (26/24)
1.150 (23/20)
Secondary Reduction System
Chain drive (#532 O-ring)
Chain drive (#525 O-ring)
Secondary Reduction Ratio
3.000 (48/16)
(45/16)
Ignition
An electronic CDI (Capacitor Discharge Ignition) and electric starter bring the Yamaha YZF-R6 to life. The CDI system has a TPS and electrical advancer and a timing of 10o BTDC @ 1,700 RPM (initial "F" mark) and 55o BTDC @ 5,250 RPM (full advance). A Mitsubishi F4T366 A.C. magneto with a nominal output of 14V 320W @ 5,000 RPM serves as its charging system. All production models require an NGK CR10EK spark plug with a gap of 0.6–0.7 mm (0.024–0.028 inch) and 13 Nm (1.3 kgf-m) tightening torque.
To power lighting and electronic accessories, the first-year iteration of the R6 used a 12V 10 Ah/(10 HR) GT12B-4 battery, equivalent to a YT12B-BS format. Succeeding production models made use of a YTZ10S battery format. YZF-R6S trims, in particular, had YT9B-BS batteries. Finally, post-2017 YZF-R6 versions were equipped with a 12V 6Ah/(10 HR) YTZ7S battery.
All four battery formats are non-interchangeable. Refer to the table below for measurement differences:
| Format | Year Used | Assembled Dimensions |
| --- | --- | --- |
| 12V, 10 Ah GT12B-4/YT12B-BS (all) | 1999–2000 | 150 x 69 x 130 mm |
| 12V, 8 Ah YT9B-BS (R6S) | 2001–2009 | 150 x 70 x 105 mm |
| 12V, 8.6 Ah YTZ10S (all, except R6S) | 2006–2016 | 150 x 87 x 93 mm |
| YTZ7S (all, except R6S) | 2017–2020 | 113 x 70 x 105 mm |
Tires & Brakes
Stock rubber consists of tubeless 120/60 ZR17 (55W) front tires and 180/55 ZR17 (73W) rear tires. Depending on model year, the tire brand could either be Bridgestone BT56FE/RE/Battlax Hypersport S21 or Dunlop D207FJ/N/Sportmax D214. These tires mount on cast aluminum wheels measuring 17 x MT3.50 at the front and 17 x MT5.50 at the rear.
Recommended cold-tire pressure is 250 kPa (2.5 kgf/cm², 36 psi) for both tires, but pressure can be inflated or aired down depending on the intended use and riding conditions. Triple hydraulic discs (298 mm at the front and 220 mm at the back) provide the YZF-R6 halting power and complete its tire-and-wheel assembly. Dual front discs were upgraded to 310 mm for post-2017 models.
Suspension
Enclosed in a diamond Deltabox frame (24°, 81–97 mm/3.2–3.8 in) are 43-mm KYB® USD telescopic forks with 3-way adjustable shocks and a rear swingarm (link suspension) with 4-way adjustable KYB® piggyback shocks. Each setup provides 130 mm (5.1 inches) and 120 mm (4.7 inches) of wheel travel. Rear-wheel travel increased on the bike's 2nd year to 130 mm (5.1 inches) and saw slight fluctuations throughout its lifetime. It eventually evened out to 120 mm (4.7 inches) on both tires for its outgoing production model.
Like wheel travel and some suspension components, the R6 also had varying wheelbase, road clearance, and turning radius. Depending on year and trim, wheelbase ranged from 1,375 mm to 1,380 mm (54.1–54.3 inches), minimum ground clearance from 130 mm to 135 mm (5.12–5.3 inches), and turning radius from 3.4 m to 3.6 m (11.16–11.81 feet).
Dimensions & Capacities
Overall dimensions of the '99 YZF-R6 are 2,025 x 690 x 1,105 mm (79.7 x 27.2 x 43.5 inches – L x W x H). Units released in Norway, Sweden, Finland, Australia, and New Zealand are 50 mm (1.97 inches) longer than those sold in other markets. Seat height is 32.3 inches across all models and feels comfortable for mid-height and tall riders. Curb weight is 188 Kg (414.5 lbs.), while GVWR is 375 Kg (826.7 lbs.) – inclusive of a full fuel tank, rider/passenger weight, cargo, and accessories.
Conversely, the 2020 R6 model measures 2,040 x 695 x 1,150 mm (80.3 x 27.4 x 45.3 inches – L x W x H). Seat height and curb weight increase by 30 mm (1.18 inches) and 2 Kg (4.4 lbs.), respectively. Meanwhile, GVWR remains unchanged at 375 Kg (826.7 lbs.).
Exterior
From the get-go, the YZF-R6 screamed "supersport" in both design and function. It featured aggressive, full-faired bodywork and styling that only improved in the succeeding models (available in many color options). This ultra-sleek form is complemented by a sharp front profile, engine-revealing side cowlings, a centrally located Ram Air duct, and twin 55-watt H7 'cat eye' headlights. Finally, seat height and contour make for a cramped, racer-style riding position.
Is a Yamaha YZF-R6 a Good Beginner Bike?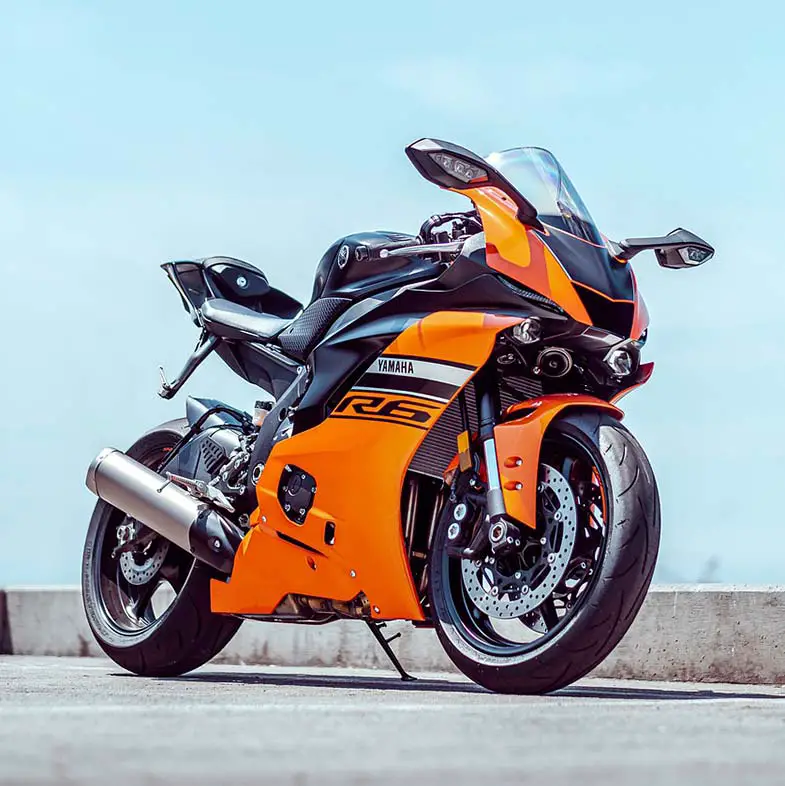 If you grew up watching Moto GP and WorldSBK and had been planning to own an R1 ever since, the Yamaha YZF-R6 may make sense as a beginner bike. After all, its engine is merely 60% the size of liter-class power mills, right? Well, guess what – there's nothing 'beginner' about this middleweight beast. It may seem like the logical 'stepping stone,' but it isn't. And if you don't quite agree, here are a few things you just might have overlooked:
Stability
While the R6 can zip through racetracks with confidence and ease, it isn't as stable at low speeds. And it's got its race-heavy design, steep rake, and narrow handlebars to blame for this. The supersport can feel twitchy for these same reasons and its inclination for high speeds (especially if you are not yet used to handling a bike).
High-Revving Power
Its high-revving power not only limits its application on-road but also its use as a 'practice' bike. It's just counter-intuitive to sustain driving the R6 at low revs, lest you should've gotten yourself a 350-cc motorbike to learn the ropes of motorcycling on instead.
Competencies
The bike's extreme competencies (not to mention speed) are more than enough of a temptation for novice riders to make a mistake when driving – a mistake that can make or break their commitment to riding motorcycles forever.
Comfort
Because the Yamaha YZF-R6 is tailored for track use, some of its styling components compromise rider comfort. The cramped riding position and feeling of being slung way too forward over the tank will not work for someone who's just learning how to ride a mid-class motorcycle. Nor will the bike's dry weight that can go up to 419 lbs. 
Unforgiving
The YZF-R6 is a very unforgiving bike, even when pitted against same-size counterparts. It also has certain peculiarities that wouldn't work well for beginner riders. For instance, seat height is almost similar to a liter-class BMW R and may be too high for some learners, not allowing them to plant their feet on the ground and avoid unnecessarily toppling over. You'll definitely need intermediate cornering/turning skills on this bike. 
Repairs
Although made of sturdy materials, a sports bike's fairings are pretty sensitive to falls and are likely to amount to high repair expenses when damaged. Even if a beginner swears by being overly cautious when riding, accidents are not 100% preventable. Moreover, the rider may feel constrained when practicing (for instance, avoiding gravel roads) because of thinking too much about keeping the bike in pristine condition.
Cost
Granted all the other bullet points are not an issue for you, there's one more downside to the Yamaha YZF-R6 as a beginner bike that is hard to dispute – its price tag. With post-2008 models all with 5-digit list prices, one can expect resale values to be equally hefty compared to other makes and models in the used-bike market. Even a 2010 model would cost half of the bike's original MSRP on average. Take note – this figure does not include proper riding equipment and insurance expenses.
This is not to say that getting a Yamaha YZF-R6 as a beginner bike is an absolute no-no for everyone. The award-winning mid-weight does provide an excellent training platform for serious riders and the like. But if you're an 'empty shell' who's starting their motorcycling journey from square one, going for a cheaper, secondhand alternative with a slightly smaller displacement will be a much better, long-term route. Not only will you have fewer inhibitions when you practice, but you'll also find it easier to let go of your in-training bike once you've gained enough confidence to take on more challenging sportbike classes.
Yamaha YZF-R6 Price
Original MSRP for 1999–2020 Yamaha YZF-R6s ranged between $7,999 and $12,199 or approximately $13,499 to $13,663 if valued today. The list price went up by $4,200 in a span of 20 years, equivalent to an incremental increase of $210 per year since its inception. The YZF-R6 seems to keep its value pretty well, as average resale pricing in the used-bike market range from $2,470 to $14,015. Yamaha's supersport bike continues to be sold as a track-only model for $18,399 – deliveries of which will commence in April 2022 for the U.S. market.
| Year – Model – Trim | List Price | Retail/Trade-In Values |
| --- | --- | --- |
| 1999 YZFR6L | $7,999 | $860 – $4,445 |
| 2000 YZFR6M | $7,999 | $1,010 – $4,535 |
| 2001 YZFR6N/C | $7,999 | $1,275 – $4,755 |
| 2001 Yamaha YZFR6SN/C (Champions Limited Edition) | $8,499 | $1,315 – $4,830 |
| 2002 YZFR6P/C | $7,999 | $1,875 – $2,470 |
| Yamaha YZF R6, 2003 Model | $7,999 | $2,320 – $3,050 |
| 2004 YZFR6S/C | $8,099 | $3,160 – $4,155 |
| 2005 YZFR6T/C | $8,399 | $3,610 – $4,750 |
| 2006 YZF-R6S | $8,199 | $3,410 – $4,490 |
| 2006 YZF-R6 | $9,199 | $4,310 – $5,670 |
| 2006 Yamaha YZFR6SPV | $9,499 | $3,760 – $4,945 |
| 2007 Yamaha YZFR6 (YZF-R6S, Red) | $8,299 | $3,900 – $5,130 |
| 2007 YZF-R6 (Blue) | $9,299 | $4,950 – $6,510 |
| 2007 YZF-R6 (Red, Silver) | $9,399 | $4,910 – $6,535 |
| 2008 YZFR6SXB/C | $8,299 | $3,950 – $5,195 |
| Yamaha YZF R6, 2008 Model | $9,599 | $5,180 – $6,815 |
| 2008 YZF-R6 (Yellow With Flames) | $9,799 | $5,250 – $6,905 |
| 2009 YZFR6SB/C (Raven) | $8,690 | $4,285 – $5,640 |
| 2009 YZFR6SYL/C (Team Yamaha) | $8,790 | $4,430 – $5,830 |
| 2009 YZF-R6 (Raven) | $9,990 | $5,640 – $7,420 |
| 2009 YZF-R6 (Team Yamaha) | $10,090 | $5,700 – $7,500 |
| 2009 YZF-R6 | $10,190 | $5,710 – $7,515 |
| 2010 YZF-R6 | $10,490 | $5,935 – $7,810 |
| 2011 YZF-R6 (Team Yamaha, Raven) | $10,690 | $6,115 – $8,185 |
| 2011 YZF-R6 (Red/Raven) | $10,890 | $6,150 – $8,090 |
| 2012 YZF-R6 (Team Yamaha, Raven) | $10,890 | $6,370 – $8,495 |
| 2012 YZF-R6 (White/Red) | $11,090 | $6,640 – $8,740 |
| 2012 Yamaha YZF-R6 World GP 50th Anniversary Edition | $11,390 | $7,120 – $9,370 |
| 2013 YZF-R6 (Matte Gray, Rapid Red, Pearl White) | $10,990 | $6,880 – $9,065 |
| 2013 YZF-R6 Team Yamaha | $11,190 | $7,120 – $9,370 |
| 2014 YZF-R6 (Matte Gray) | $10,990 | $7,655 – $10,075 |
| 2014 YZF-R6 (Rapid Red, Pearl White, Team Yamaha) | $11,190 | $7,270 – $9,835 |
| 2015 YZF-R6 (Raven, Pearl White) | $10,990 | $7,805 – $10,270 |
| 2015 YZF-R6 (Team Yamaha, Matte Silver) | $11,190 | $8,145 – $10,715 |
| Yamaha YZF R6 2016 (Matte Gray) | $10,990 | $8,390 – $11,040 |
| 2016 YZF-R6 (Team Yamaha, Matte Silver) | $11,190 | $8,965 – $11,795 |
| 2016 Yamaha YZF-R6 60th Anniversary Edition | $11,490 | $8,970 – $11,805 |
| Yamaha YZF R6, 2017 Model | $12,199 | $9,430 – $12,405 |
| 2018 – 2020 Yamaha YZF-R6 | $12,199 | $9,745 – $14,015 |
| 2022 Yamaha YZF-R6 RACE/GYTR | $18,399 | N/A |
(Source: Nada Guides)
Why Was the Yamaha R6 Discontinued?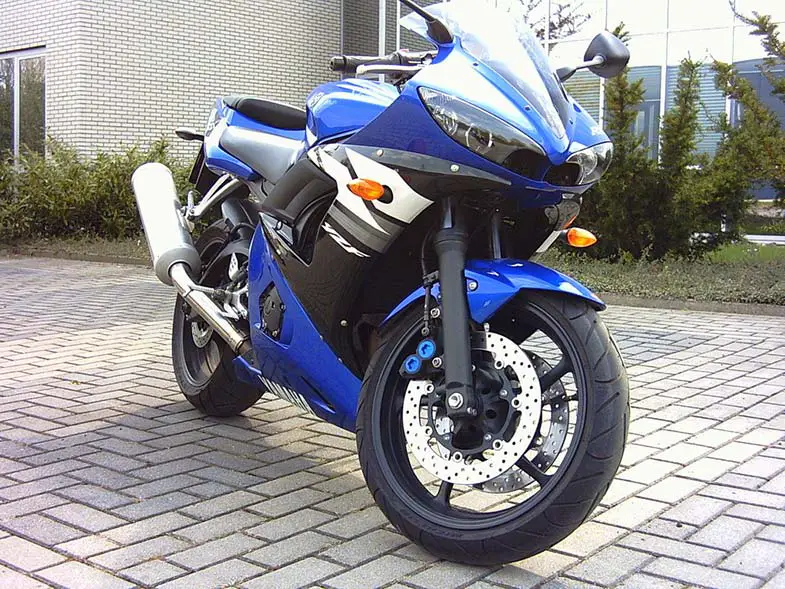 There are several explanations for the discontinuance of the Yamaha YZF-R6 as a road-legal two-wheeler.
One, the reign of liter-class sports bikes and adventure-tourers – not to mention the languishing state of global supersport sales – makes the 599-cc machine a tough sell.
Second, the R6's price point is so close to that of a 1,000-cc "crouch rocket" that motorcyclists who can actually spend choose to shell out more in exchange for bigger displacement.
Third, the increasing popularity of 800-/900-cc bikes continues to blur the line between supersport and liter-class segments while making the presence of 600-class machines seem redundant.
And fourth, Yamaha no longer sees the R6 as a viable end-user product given the anticipated impact of evolving global market trends, stricter (Euro 5) emission standards, and regulation-driven changes on the bike's production volumes.
GYTR Stage 1 Kit
Yamaha, however, didn't entirely trounce the iconic machine. The Yamaha YZF-R6 (now called Yamaha YZF-R6 RACE) continues to sell in Europe as of 2021 as a track-only model. It is a race-ready, supersport stock bike that can be made better suited for the tracks with the help of a GYTR Stage 1 kit that includes the following (Öhlins parts are also made available for further customization):
GYTR race cowling set
Titanium Akrapovič full race system
GYTR ECU set
GYTR wire harness set (with programmable ECU)
GYTR on/off switch
GYTR Interface cable
GYTR AIS (Air Intake System) plug set/block-off plates
GYTR ABS emulator
GYTR keyless fuel cap
GYTR seat cushion
Stainless steel brake line set for front and rear
Front brake lever guard
GYTR fully adjustable race rear set with optional reverse shifting kit
Rear sprocket guard (shark fin)
Sprocket drive 14T fits 520 chain conversion
Rear sprocket 45T fits 520 chain conversion
Sprocket nut set for 520 conversion
DID gold race chain 520 conversion
Rear paddock stand hooks
Paddock stand
We can only speculate on other undeclared reasons behind ceasing the production of the road-legal R6. But one thing is certain – Yamaha is now left with a huge hole in its sportbike lineup, having no twin-cylinder or middleweight supersport offering.
About Yamaha
Established in 1955, Yamaha Motor Company Ltd. took nearly 70 years from its founding before venturing into the automotive world. The Japanese firm first had to part ways with its parent company before beginning its journey in the automotive world. Yamaha became a game-changer in the motorcycling and ATV industries shortly after, wowing the market with technological breakthroughs like the Yamaha YZF-R6. Today, Yamaha is widely respected as an automotive powerhouse and continues to uphold its legacy with its armada of product offerings in multiple industries.
Conclusion – Yamaha YZF-R6 Review
With the Yamaha YZF-R6 exiting from the supersport scene, Yamaha lost not only a middleweight representation of the said series but also a two-wheeler that consumers have already learned to trust and live with for the past 20 years. With the sportbike continuing as a track-only offering, the riding community can only hope that the future of the Yamaha YZF-R6 is as equally bright (and exciting, if not better) as its yesteryears.