BMW K1300S Motorcycle (Specs and Review)
Disclosure: We may get commissions for purchases made through links in this post.
When it comes to high-performance two-wheelers, BMW is renowned for its sportiness, advanced technology, and exceptional features — and the K1300S is a prime example of such an offering. Produced in 2008 for the 2009 model, the K1300S was designed to meet emission standards, eradicate performance concerns, and address market demands.
The BMW K1300S is an iconic sport tourer that rivals same-class flagship bikes in tech, attributes, and presence. Boasting standard ABS, ESAOE II, and long-coveted design improvements, the K1300S is touted as having "one of the lightest engines of its size in the market."
This article will explore this legendary bike's strengths and weaknesses to understand why it's a favorite among motorcycle enthusiasts.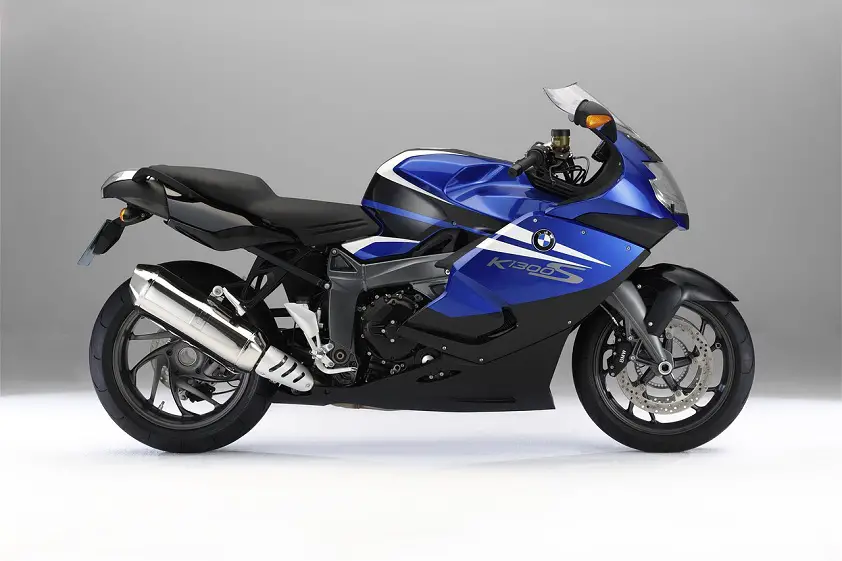 Form and Function — The BMW K1300S
The BMW K1300S has its roots tracing back to the 1980s when the German manufacturer introduced its K-series. Whether intentional or not, this product lineup marked a significant shift towards sportier and higher-performance motorcycles — much like the ones you see on the road today.
The K1200S, the forerunner of the K1300S, was introduced in the early 2000s and received widespread acclaim for its powerful inline-four engine, innovative design, and impressive handling. Building on this success, BMW launched the K1300S in 2009, taking sport-touring to new heights. The bigger-displacement motorbike took what already worked with the K1200S while addressing the problems inherent to its predecessor.
Design Improvements
The BMW K1300S retained many of the mechanical design and styling cues of its 1,200cc predecessor. However, it also showcased significant developments in its electronic, braking, and powertrain components (to name a few).
Below are some of the most significant updates that the two-wheeler offered general consumers and loyal patrons throughout its production:
Engine Displacement Increase
The K 1300 S boasted an engine displacement increase from 1,157cc to 1,293cc. This improvement made for a smoother and more harmonious torque curve, guaranteeing fluidity and powerful performance at various engine speeds. As if that were not enough, valve timing reset and modifications to the combustion chambers further enhanced the motorcycle's riding qualities. 
Balanced Weight Distribution
BMW also addressed the issue of a high center of gravity with the former K1200S by tilting the cylinder bank 55° to the front and positioning the trapezoidal-shaped radiator beneath the fairing. This design tweak not only lowered the center of gravity but also contributed to a balanced weight distribution. This change also enhanced the two-wheeler's stability and handling.
Improved Duolever Front-Wheel Suspension
An improved Duolever front-wheel suspension (featuring a forged aluminum alloy lower longitudinal arm) is among the key features of the BMW K1300S. It enhances suspension responsiveness and transparency while creating a tighter connection between pavement and rider due to the firmer spring/damper setup.
ESA II
The introduction of the 2nd-generation Electronic Suspension Adjustment (ESA II) system enables revheads to electronically adjust their suspension, providing clear customization options for various riding conditions.
Braking Technology
The BMW K1300S offered integral ABS as a standard feature (previously optional on the K1200S) alongside the EVO brake system — an established braking technology utilized in various BMW Motorrad models. These additions underlined safety and control while boosting rider confidence. 
Gearshift Assistant
Optional HP Gearshift Assistant, which allowed riders to shift up without using the clutch, provided smooth traction and forward thrust by briefly interrupting the motorcycle's ignition and fuel supply during shifting. Meanwhile, an Anti-Spin Control or ASC feature (also optional) prevented the rear wheel from spinning during acceleration.
Exhaust System
The exhaust system, with a 3-way catalyst for optimum emission control and exhaust butterflies for extra torque and a sporting sound, was fitted into the liter-class motorcycle. This muffler system weighed just around 10 Kg (approximately 20.7—22.9 lbs.), making it the "lightest and most compact exhaust system with a fully controlled catalytic converter in this segment of the market."
Optimized Seating Position
The sport tourer's seating position is optimized for a dynamic yet comfortable riding style, ensuring the rider feels at ease and in control during daily commutes or day-long rides.
Next-Gen Controls
Finally, the BMW K1300S featured next-generation switches and manual controls, a design improvement also implemented on other BMW motorcycles later on. Utilizing Moulded Interconnect Devices technology, these new switch units were smaller, more compact, and offered a clean design, enhanced functionality, and improved accessibility.
BMW K1200S Specs & Features
Engine
The K1300S is powered by a liquid-cooled, transverse-mounted, 4-stroke DOHC inline engine with a four-cylinder arrangement and angled 55° toward the front. This power mill has a bore-stroke ratio of 80 mm × 64.3 mm (3.150 × 2.531 inches) and a compression ratio of 13:1. Piston displacement is 1,293 cm3 (78.9 in3), an upgrade by 136cc from the K1200S' 1,157 cm3 (70.6 in3).
An electronic fuel injection system with 46-mm throttle bodies ensures precise fuel delivery and air-fuel mixture control. As the name suggests, this system — known as BMS-K (BMW Engine Management with Knock Control) — provides individual cylinder fuel injection and incorporates knock control. It excels in rapidly processing sensor data, offers self-diagnostic capabilities, and maintains a compact and lightweight design.
| Description | Specs |
| --- | --- |
| Horsepower | 175 hp (129 kW) @ 9,250 RPM; 107 hp (179 kW) @ 9,000 RPM* |
| Maximum Torque | 140 Nm (14.3 kgf-m, 103 lb-ft) @ 8,250 RPM; 118 Nm (12 kgf-m, 87 lb-ft) @ 3,750 RPM* |
| Top Speed | 124 mph (200 km/h, claimed) |
| Fuel Economy (average)** | 44.4 mpg (5.3 L/100 km @ 75 mph); 50 mpg (4.7 L/100 km @ 55 mph) |
| Fuel Tank Range*** | approximately 222.9—250 miles, 358.6—402 km |
* with OE Power Reduction
** data courtesy of 
Total Motorcycle
*** based on estimated fuel economy @ 55 mph and 75 mph
Fuel & Lubrication
The tank capacity of super unleaded gasoline is approximately 19 L (5 USgal, 4 L/1.1 USgal – reserve). North American-released units used fuel with a rating of 91 AKI (95 ROZ/RON), while those in Europe required a minimum rating of 93 AKI (98 ROZ/RON) — ratings based on German DIN 51600 standards.
Lubrication-wise, the K1300S has the following requirements:
3.5 L (3.7 US quarts): With filter change (unmarked container)
4 L (1.1 USgal): With filter change (larger marked container)
0.5 L (0.5 US quarts): Difference between Min and Max
For best results, BMW recommends SAE 5W-40 or SAE 10W-50 of Castrol Power 1 Racing Motorcycle Oil or its equivalent (view on Amazon), with a minimum API grade of SL, meeting international market standards. Avoid engine oil with molybdenum additives, as it can harm coated engine components. As specified in the manual, different oil viscosities may be used following changes in ambient temperatures, altitude, and riding conditions.
Drivetrain
The BMW K 1300 S features a claw-shifted 6-speed gearbox integrated into the engine housing. It works hand in hand with a multi-disc oil bath clutch, with optimized linings and modified plate-operating springs accommodating the increased power and torque of the power mill.
The gearbox is a cassette-type (similar to the K1200S), allowing for quick part exchanges and the interchangeability of gears with different ratios if needed. Meanwhile, the final drive has a maintenance-free, two-pivot shaft drive configuration (with bevel gears) characteristic of BMW motorcycles.
For reference, see stock gear ratios below:
| Description | Specs |
| --- | --- |
| Primary Reduction Ratio | 1.559 (92/59) |
| Transmission Gear Ratio — 1st | 2.294 (39/17) |
| Transmission Gear Ratio — 2nd | 1.789 (34/19) |
| Transmission Gear Ratio — 3rd | 1.458(35/24) |
| Transmission Gear Ratio — 4th | 1.240 (31/25) |
| Transmission Gear Ratio — 5th | 1.094 (35/32) |
| Transmission Gear Ratio — 6th | 0.971 (33/34) |
| Angle Drive | 1.045 (23/22) |
| Final Reduction Ratio | 2.818 (31/11T) |
Ignition & Electricals
This two-wheeler features an all-electronic ignition system managed by the ECU. It uses an NGK KR9CI spark plug with an electrode gap of 0.8–0.9 mm (0.031–0.035 inch) for spark ignition. Meanwhile, a triple-phase alternator rated at 580 watts serves as its charging system. The alternator is driven by the primary gear on the clutch, with the pre-shaft starter connected to the alternator drive gear.
12V 55-watt halogen H7 high-and-low-beam headlights, a 5-watt parking light, LED brake/taillights, the rest of the lighting assembly, and other electronics are powered by a 12V 12 Ah/(10 HR) high-performance AGM YTX14H-BS battery. It can be replaced by a same-spec power source like a Yuasa YUAM6RH4H YTX14H-BS Battery (view on Amazon).
Tires & Brakes
120-70 ZR17 and 190-55 ZR17 tires mounted on 3.5″ x17″ and 6.0″ x17″ front and rear cast aluminum spoked rims comprise stock knobbies. The wheels they mount on have an estimated 35% : 65% permissible load bias, front and back, and can support a combined payload of 206 Kg (454 lbs.) — provided the bike is equipped with appropriately rated tires like Michelin 87-92809 Tire Road 5 Rear 190/55 Zr17 (75W) Radials (view on Amazon).
As for brakes, hydraulically actuated triple discs — with 4-pot fixed calipers and floating brake discs at the front and dual-piston floating calipers and fixed brake disc at the back — provide the K1300S halting power and complete its tire-and-wheel assembly. Like all other BMW motorcycles, the front brake pad is made of sintered metal, while the rear is organic.
The recommended cold-tire pressure is 36 psi (2.5 bar) for the front and 42 psi (2.9 bar) for the rear, regardless if doing solo or pillion riding. However, adjustments are necessary if riding at 100 km/h or higher speeds. Expert advice is to increase cold-tire pressure by 0.1 bar (1.45 psi) for speeds between 100—120 km/h (62—75 mph). Beyond that range, incremental increases in tire pressure can start from 0.2 bar (2.9 psi).
Suspension
A Duolever (double leading link) front suspension and a BMW Motorrad Paralever are within a tubular steel frame. The front and rear units share an almost similar design — a central spring strut with coil pressure spring and single-tube gas-charged shocks like Newsmarts Universal Fit Pair Adjustable 13.5 Inch 340mm Shock Absorbers Nitrogen Suspension (view on Amazon). The main difference is that the rear suspension has a linkage system controlling the unit. Moreover, it offers an infinitely variable spring preload and rebound stage damping adjustability.
The BMW Duolever (front) offers a suspension travel of 4.9 inches (125 mm), with the BMW Paralever (rear) providing 5.3 inches (135 mm). This long-travel suspension enhances the motorcycle's overall ease of handling, versatility, and comfort.
Dimensions & Capacities
Overall dimensions are 86.5 x 35.6 x 48.1 inches (2,196 x 905 x 1,221 mm – L x W x H), distinguishing the BMW K1300S with its segment-leading lightweight construction. Saddle height ranges from 790—820 mm (31.1—32.3 inches), depending on whether it is unladen or with a low double seat. Meanwhile, the rider's inseam arc (heel to heel) is between 1,780 mm and 1,810 mm (70.1—71.3 inches), making the bike easier to straddle than an R1200RT.
GVWR (Gross Vehicle Weight Rating) is 460 Kg (1,014 lbs.) — a combination of a full tank and fluids, rider and passenger weight, cargo, 5-kg luggage carrier, and accessories. This figure considers the motorbike's empty DIN weight or curb mass of 254 Kg (560 lbs., ready for operation, 90% full tank capacity).
Exterior
The BMW K1300S exhibits a striking exterior design that seamlessly combines aesthetics, functionality, and aerodynamics. Among its key design elements is its modular fairing structure with a monocoque-like front end, gill-like openings strategically integrated into the panels, and an overall exterior allowing easy assembly and disassembly during servicing (among others).
Relative to this, its 4-into-2-into-1 exhaust system was made shorter and lighter than the previous model and features a 3-way catalyst for emissions control. An electronically controlled butterfly valve adjusts its manifold's cross-section, optimizing torque and power delivery while maintaining a sporty sound. Specific trims of the K1300S had an Akrapovic exhaust (view on Amazon) made of titanium and carbon fiber.
BMW K1300S Problems and Recalls
Engine and Engine Cooling (NHTSA Campaign #09V471000)
NHTSA received at least 56 complaints on this affecting 2009 K1300S models. The observed problem is a recurring issue with engine stalling.
According to online resources and forums, this dilemma reportedly occurs under various conditions, including coming to a stop, cruising, deceleration, and while the clutch is pulled in. The unwelcome situation happens intermittently and poses a safety risk, especially in traffic. However, multiple recalls and software updates have failed to resolve the issue.
BMW issued a product recall for 2,019 units of affected K1300 S and K1300 GT motorcycles in December 2009. Apart from updating the EMS software of the bike free of charge, the firm also warned against using poor-quality fuel, as it may lead to buildup within the throttle bodies. Airflow could be restricted when this happens, resulting in the engine stalling (especially at low RPMs, near idle speed, or when coming to a halt).
Fuel System Issue
Relative to the above, there's a problem with the K1300S' fueling system that results in the engine stalling intermittently during deceleration with the clutch fully engaged (particularly when there is no engine braking). This issue has occurred multiple times and is potentially related to a fuel injection mapping issue.
Similar to the above, no specific date nor actionable steps have been provided for a fix. Dealers contacted by bike owners have yet to receive a resolution from BMW's headquarters as of the posting of the said complaints.
Electrical System Glitch
Initial complaints of turn signal problems have been previously repaired under NHTSA Campaign Number 09V384000 (Electrical System). However, the failure recurred three years after the memorandum was put out, with no new information on resolving the persistent issue.
The most common symptoms of this problem are intermittent/failing turn signals and engine stalling. While we've already covered the latter in an earlier section, note that this case particularly happens when the clutch is engaged and fully rolling off the throttle. At least twice every 200 miles, the bike's power mill goes down to idle and stalls without warning, posing a dangerous situation (especially in heavy traffic).
Multiple attempts have been made to fix the problem, including ECU resets and software updates. Unfortunately, nothing has helped. In fact, the predicament is described as widespread across BMW's K-series (K1300S, K1300GT), with thousands of open cases reported to BMW North America.
Faulty Powertrain
The culprit behind the defective powertrain has yet to be established and addressed, according to affected owners. It also doesn't help that the symptoms pointing to the issue tend to overlap with the rest of the problems already mentioned. Hence, determining the cause of this issue may prove more challenging for inexperienced riders.
In case you haven't encountered this issue yet, it tends to happen while downshifting, coasting, or slowing down — especially in lower gears like 1st or 2nd (although it reportedly occurs in gears from 3rd through 5th). In this situation, the engine can unexpectedly stall, creating a safety concern in traffic or at intersections.
Fortunately, there have been no reported accidents related to this issue. Nevertheless, it's essential to address these potential powertrain defects, which could affect a broader range of internal systems.
Rear Wheel Linkage Issue (NHTSA Campaign #10V488000)
This recall pertains to a problem with corroded bearings in BMW motorcycles manufactured from 2005 to 2011 (approximately 11,826 units, including the K1300S). This corrosion can impact the movement of the link lever, potentially resulting in decreased control and handling and elevating the propensity for a crash. As part of their resolution that began in March 2011, BMW conducted free repairs for the affected vehicles.
Other recalls and issues not included in this guide have to do with handlebar switches (NHTSA Campaign #09V384000), suspension, and front brake system (NHTSA Campaign #09V202000). Information on these issues can be easily found online should you want to research further. They mostly apply to model year 2009. Nonetheless, it wouldn't hurt to check if you're eyeing a more recent pre-loved K1300S.
About BMW
Bayerische Motoren Werke GmbH, known as BMW, has a storied century-old history. The company began as an aircraft engine manufacturer in 1916. However, due to post-World War I restrictions on aircraft engine production set by international treaties, Bavarian Motor Works shifted its focus to motorcycles in 1923 and automobiles in 1928. The 1923 BMW R 32, their first motorcycle, laid the foundation for modern sport-touring motorcycles, including the BMW K1300S.
Conclusion — BMW K 1300 S Review
The BMW K1300S caters to thrill-seekers craving excitement on winding roads and riders seeking comfort and performance on long journeys. With its iconic design, powerful engine, and competitive price point ($4,015—$10,500 used), the bike continues to be a preferred choice for hardcore motorheads.
So, if you're searching for the ultimate sport-touring experience, the BMW K1300S should undoubtedly be on your radar. After all, this liter-class machine is the very definition of style and substance — with its revered on-road presence and rich history rooted in sport and innovation.