Triumph Thruxton 900 Specs and Review
Disclosure: We may get commissions for purchases made through links in this post.
Classic retro styling, pleasant handling, and engineering reliability — these elements are unquestionably characteristic of a Triumph Thruxton 900. Introduced in 2004, this two-wheeler provided novices and enthusiasts more than just a platform to indulge in their guilty pleasures.
Let us learn more about the British thumper whose ingenuity and modest assertion spawned a new breed of Western motorcycles.
The Triumph Thruxton 900 is a middleweight performance bike produced by the UK firm from 2003 to 2015. Featuring carbureted and fuel-injected engines, a 120-mph top speed, avant-garde chassis components, and classic styling, the motorcycle laid the foundation for modern-day café racers.
The saying "Imitation is the highest form of flattery" cannot be more accurate for the motorcycle, as industry rivals like Ducati and BMW mimicked its retro café racer recipe. And the fact that its design creativity was born out of adversity only makes it more meaningful to own this two-wheeler.
That said, read on and learn more about the history, specs, features, and praiseworthy qualities of the Thruxton 900 in today's article.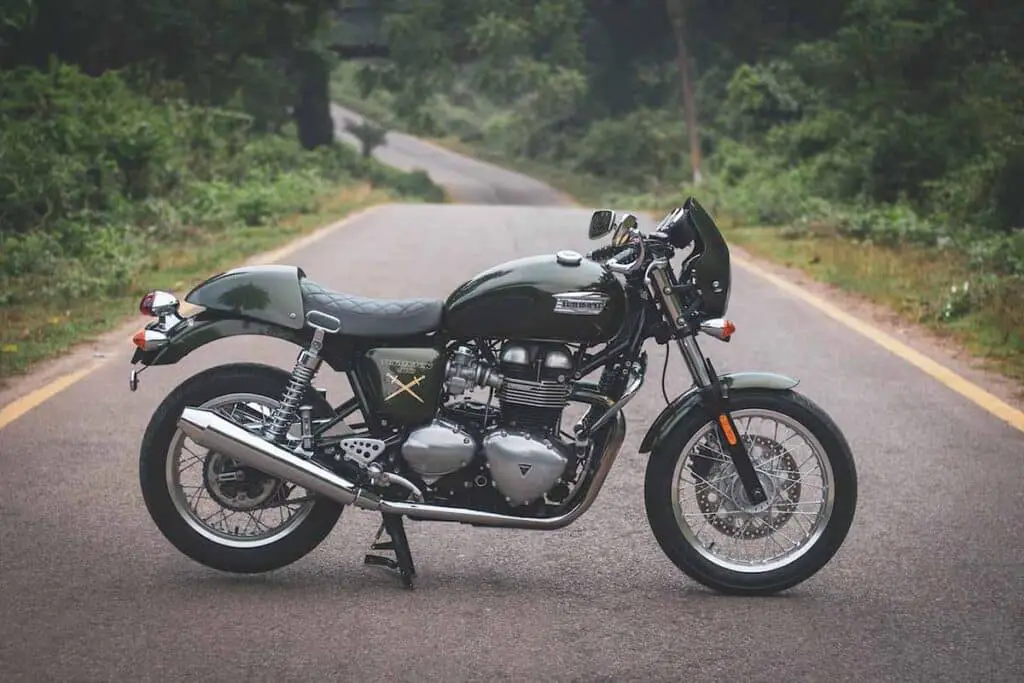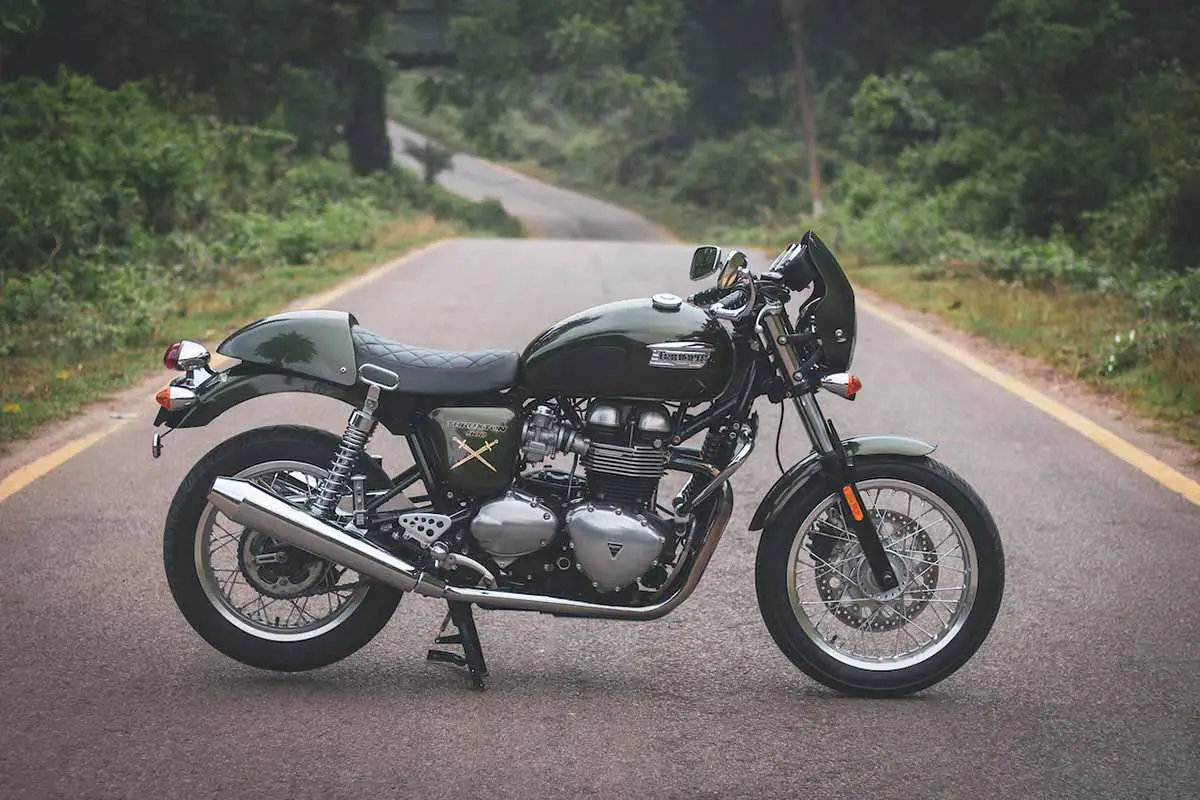 The Legendary Triumph Thruxton 900
The Triumph Thruxton 900 is the 2nd variation produced by the UK manufacturer since it was bought by John Bloor in 1983. Produced in 2003 for the 2004 model, the motorcycle pays homage to the company's success in the Thruxton Racing Circuit in England.
A cross between older Bonneville Roadsters and American Harley-Davidsons, the 900-class two-wheeler is currently recognized as the forerunner of modern-day café racers. And rightfully so — the thumper initially sported an air-cooled 360° twin, 2-into-2 reverse-cone exhaust silencers, rearset footpegs, and café racer modifications.
Up until 2008, the Thruxton 900's power mill was carbureted. The year after, the lineup received its biggest update (design and production-wise) when fuel injection was introduced, and the firm's Hinckley-based production facility switched to Thailand.
These changes made the two-wheeler's already tried-and-tested retro café racer formula more successful. It also enabled the series to survive until 2015, before the launch of the 1,200-cc Triumph Thruxton R, and for another four years before the release of the Triumph Thruxton RS.
Triumph Thruxton 900 Specs & Features 
(Note: All information in this section pertains to the 2009 iteration of the Triumph Thruxton 900.)
Engine
The Thruxton 900 has an air-cooled, 4-stroke parallel-twin engine. Bore-stroke ratio is 90 x 68 mm (3.543 x 2.677 inches), while the compression ratio is 10.2:1.
Piston displacement is 865 cm³ (52.7 in³). Multi-port Sequential Electronic Fuel Injection with a submerged electric fuel pump handles air-fuel mixture across all production models.
Overall, this engine configuration lends to the following performance figures:
| Description | |
| --- | --- |
| Top Speed | 115–120 mph (185–193.1 km/h) |
| Horsepower | 67.2 hp (50.1 kW, 68.1 PS) @ 7,400 RPM |
| Maximum Torque | 68.4 Nm (6.97 kgf-m, 50.4 ft-lbf) @ 5,800 RPM |
| Fuel Economy (average) | 45–48 mpg (4.9–5.2 L/100 km) @ 60–70 mph (96.6–112.6 km/h) |
Fuel & Lubrication 
The fuel tank capacity is 16.6 L (4.4 USgal) of unleaded gasoline with a minimum Octane rating of PON 87/RON 91 (or CLC/AKI rating). Unleaded fuel variants should contain no more than 15% MBTE or 10% ethanol.
Furthermore, leaded gasoline and methanol gasohol blends are ill-advised. They are not only illegal in some countries but are also likely to damage fuel system components and the catalytic converter.
Lube-wise, the two-wheeler has a wet sump lubrication system with the following requirements:
| Description | Quantity |
| --- | --- |
| Dry fill | 4.5 L (1.2 USgal) |
| Oil and filter change | 3.8 L (1.0 USgal) |
| Oil change only | 3.3 L (0.9 USgal) |
Recommended lubrication is SAE 10W-40 or 15W-50 Mobil 1 Racing 4T/Extra 4T (semi or fully synthetic) engine oil or its equivalent. API certification should be SJ–SL at minimum, meeting JASO T903 MA standards.
Other oils from the owner's manual are permissible, provided they have no chemical additives and are not mineral, vegetable, non-detergent, or castor-based variants.
Drivetrain
A 5-speed, constant-mesh, forward manual transmission (with a 1-N-2-3-4-5 gearshift sequence) and an electric starter combo bring the Thruxton 900 to life.
A wet, multi-plate clutch assembly delivers power to the wheels. The latter is supplemented by a DID #525 VM2 final chain drive with 106 links, including a joint that handles wheelspin.
For reference, the Thruxton 900 stock gear ratios are below:
| Description | |
| --- | --- |
| Primary Reduction Ratio | 1.74:1 (62/108) |
| Final Reduction Ratio | 2.39:1 (18/43T) |
| Transmission Gear Ratio – 1st | 2.73:1 (41/15) |
| Transmission Gear Ratio – 2nd | 1.95:1 (37/19) |
| Transmission Gear Ratio – 3rd | 1.55:1 (34/22) |
| Transmission Gear Ratio – 4th | 1.29:1 (31/24) |
| Transmission Gear Ratio – 5th | 1.07:1 (29/27) |
Ignition & Lighting
A digital electronic ignition system ignites the air-fuel mixture in the power mill alongside an NGK DPR8EA-9 spark plug. The plug responsible for spark ignition has an electrode gap of 0.8–0.9 mm (0.031–0.035 inch) and requires a tightening torque spec of 20 Nm (2.04 kgf-m, 15 ft-lbf).
As for its charging system, the 900-class bike uses an alternator with a rated output of 24A @ 2,000 RPM to 26A @ 4,000 RPM. It is augmented by a 12V 10 Ah /(10 HR) YTX12-BS battery (view on Amazon) with assembled dimensions of 150 x 87 x 130 mm.
For superior light distribution, the motorcycle has a lighting assembly consisting of 12V 60/55 W Halogen H4 headlamps, a 12V 5/21 W tail/brake light, and 12V 21 W turn signal lights. The setup is adequate but can do better with Supernova V.4 H4 HB2 9003 LED Headlights (view on Amazon).
Tires & Brakes
Factory tires consist of tubeless Metzeler ME33 100/90-18 at the front and Metzeler MEZ2 130/80-17 at the back. They mount on steel rims and require respective cold-tire pressures ranging from 227 kPa (2.3 kgf/cm2, 32.9 psi) to 282 kPa (2.9 kgf/cm2, 40.9 psi).
Finally, a 320-mm front disc and a 255-mm rear disc (both with dual-piston calipers) give the Thruxton 900 stopping power.
In case of puncture or wear, stock front-and-rear tires can be swapped out for same-size Metzeler Roadtecs (view on Amazon). These knobbies provide enhanced grip on slick roads and low-friction surfaces.
Suspension
Enclosed in a traditional twin-loop tubular steel frame (27.5° rake; 106.5 mm/4.2 inches trail) are telescopic front forks and a rear swingarm — each unit offering at least 4-way preload adjustability.
These suspension units are augmented by a 1,510-mm (59.4-inch) wheelbase and longer twin rear shocks, lending to quicker steering and pleasant handling.
Dimensions & Capacities
The overall dimensions of the Triumph Thruxton 900 are 2,150 x 950 x 1,120 mm (84.6 x 37.4 x 44.1 inches — L x W x H). The factory saddle sits relatively low at 790 mm (31.1 inches) and can accommodate mid-height to slightly taller riders.
Capacity-wise, the bike's dry weight is 205 Kg (452 lbs.), while curb mass is approximately 220 Kg (485 lbs.), including fluids and a full tank. GVWR is estimated at 420 Kg (925 lbs.) — a combination of maximum payload, rider/passenger weight, and accessories.
Exterior
Standard features include a raised rear end, adequately spaced footpegs, and lowered one-piece tubular bars. Tank-side knee pads and a tiny headlamp cowling enhance the touring platform and are optional.
All in all, these ergos make for the bike's increased riding comfort and support a sporty-ish riding position — albeit not that useful for all-day trips on the freeway.
Out of the crate, the Triumph Thruxton 900 sports a bobbed rear end, diagonally raised tailpipes, and classic styling cues. But for cleaner lines and a sleeker look, get a Triumph Thruxton R Fender Eliminator Kit by Rage Cycles (view on Amazon).
How Much Is a Thruxton 900 Worth? 
Per Motohunt listings, pre-owned Thruxton 900s sell for an average of $4,995–$9,188, with 1,576–18,672 miles on the tach. Conversely, the bike's price range on Aussie trader sites is between $7,899 and $49,000 AUD (sans government charges), with 2,380–58,870 km (1,479–36,580 miles).
A huge chunk of the listings are former dealer/showroom bikes. You can expect the two-wheeler to be in good working condition with little to no cosmetic damage.
Interestingly, most of the units sold in North America are models from 2012 onwards. While in other countries, the release year of the Thruxton 900 seems to be spread out.
In Europe, the Thruxton 900 is one of those wheelers that continue to dominate the used-bike market. Listing values fall between £4,595 and £6,695 (source: MCN).
Triumph Thruxton 900 Lowdowns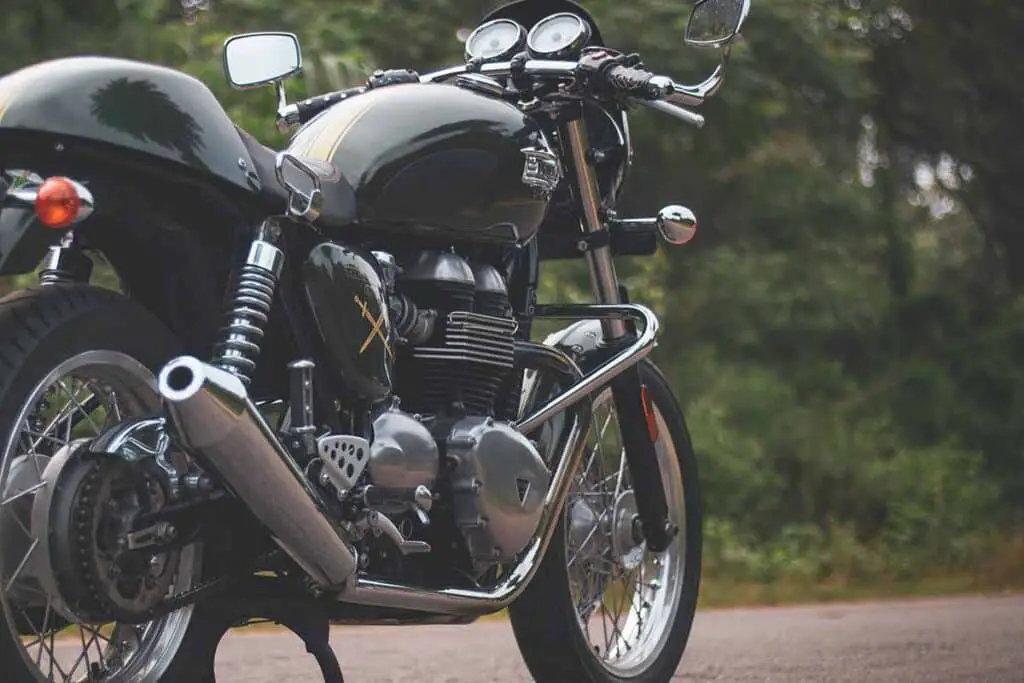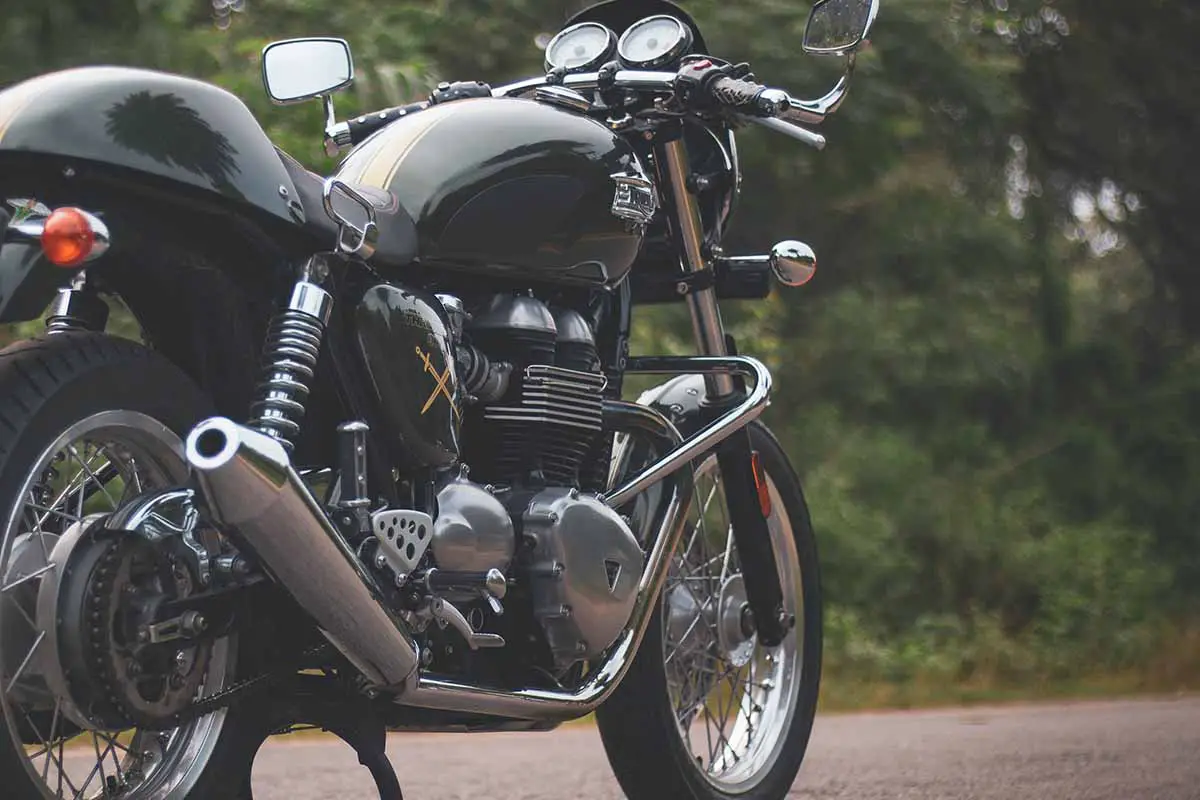 Pros
The Triumph Thruxton lineup feels at home on city streets and wide-open twisties.
Its considerable piston displacement and firing order create a thunderous noise characteristic of Brit café racers.
Beginning in 2009, the Thruxton 900 was at the receiving end of upgrades that enhanced its powerband and improved overall handling.
In 2016, Triumph Thruxton R and RS models were given a 6-speed gearbox, larger engine displacement, slip-assist clutch, Traction Control, and ABS — translating into better performance figures.
Driveline modes available on R and RS models — Rain, Road, and Sport — can be adjusted on the fly.
For post-2015 iterations, weight savings was achieved through enhancements such as new intake and exhaust porting, thinner engine casings, a magnesium cam cover, and high-lift cams.
The 900-class thumper retains that timeless charm and nostalgia, making it easy for riders to fall in love with it and be willing to do the work.
Its seat area is spacious and has a textured finish, adding to rider comfort.
Thanks to its low and narrow profile, the Thruxton 900 is "more than manageable and comfortable for most riders."
Cons
For its class, the Thruxton 900 is a tad heavy and lacks the torque and power output commensurate to its size and category.
Stock 2-into-2 exhausts are only fairly muted, urging enthusiasts and regular owners to replace them with aftermarket options or opt for the TOR (Triumph Off-Road) package.
Given its sparse weather/element protection, the two-wheeler can do better with a Dart Piranha Flyscreen (Black) Motorcycle Windshield (view on Amazon).
Although the bike's inclusive nature benefits smaller-built riders, those 6'2″ in height or taller may find their lower body cramped due to the two-wheeler's footpeg and handlebar placement.
Despite enhanced ergos and suspension adjustments, the Thruxton 900 still does not compare to modern-day sports machines. Some riders complain about the factory settings being too soft for what the bike is designed for.
R and RS versions of the Triumph Thruxton 900 do not have a quickshifter.
The bike's cosmetic surfaces are not as damage-proof as its counterparts.
Opting for color schemes other than Jet Black, Competition Green, Matte Storm Gray, or Matte Silver Ice comes at a premium.
Pillion seating is only available in the U.S.
Triumph Thruxton 900 Problems
Riders generally consider the classic motorcycle a good (not to mention novice-friendly) performance bike. But this is not to say that this trailblazer is without its flaws.
That said, let this section enumerate known issues associated with the Triumph Thruxton 900:
Sporadic shutdowns caused by the seat pan crushing the ignitor
Gearshift locking up
Fuel-starved power mill giving off electrical issue symptoms
Flimsy gaskets and casings only manifesting after a replacement part installation
Regulator/rectifier problems affecting 2006–2009 production models
Cam chain tensioner or stator failure problems
Whining noises from the engine
Persistent dead battery issues
About Triumph
Triumph Motorcycles Ltd. (formerly Triumph Engineering) is the largest UK-owned motorcycle firm. It is headquartered in Leicestershire, England, with major facilities based in Thailand.
Founded in 1983 as Bonneville Coventry Ltd., the company has been producing motorcycles way before its inception. But despite its century's worth of expertise, it went into receivership in the '80s as it could not keep up with the advanced tech and cheaper price points of Japanese OEMs.
Its momentary halt in the motorcycle business gave Triumph time to regroup and design new prototype models. By 1991, the UK manufacturer was ready to make a comeback.
Triumph has not looked back since and went on to become one of the industry's greatest contributors. Thanks to its resilience and unwavering spirit, consumers continue to see and enjoy iconic two-wheelers like the Triumph Thruxton 900.
Conclusion – Triumph Thruxton 900 Review
It may have been superseded by its 1,200-cc brethren with their ride-by-wire throttles, Brembo radial calipers, and Öhlins rear suspension. But the original Triumph Thruxton 900 — with its "less extreme" suspension geometry, traditional spoke wheels, and analog instrumentation — continues to hold its own and prove that less is more.
Nostalgic and impressive yet considerate, the Triumph Thruxton 900 is a testament to the fruits of resilience, careful planning, and intentional execution.
The two-wheeler is proof that despite the advent of cheaper and more tech-advanced Japanese motorcycles, the British are more than capable of competing — especially when their actions are not in haste.