Ducati Scrambler Sixty2 Specs and Review
Disclosure: We may get commissions for purchases made through links in this post.
Among modern-day 450-cc speedsters and trail kings, a few classics stand out due to their irresistible nostalgic charm and trademark design. Having been around for over five decades, these two-wheelers have undoubtedly stood the test of time and unrelenting consumer demand. One such example is the Ducati Scrambler Sixty2 — a resurgence of the 1960s Scrambler.
The Ducati Scrambler Sixty2 (a.k.a. DSS) is an entry-level naked bike produced from 2015 to 2020. It features indirect fuel injection, 115-mph top speed, and a Desmodromic valvetrain (among other things). Because of its many attributes, it has been hailed as the "most popular Ducati of all time."
Although the lineup has bumped up to liter-class thumpers, the 400-class Scrambler continues to thrive in the used-bike market. As if that were not enough, it can be had for a quarter of its original price!
Sounds too good of a deal to be true? Well, you better believe it! That said, brace yourself for many more surprises and helpful information as this article fills you in about the Ducati Scrambler Sixty2.
The Rebirth of the Ducati Scrambler
The original Ducati Scrambler was produced from 1962 to 1976, featuring narrow-case power mills and an overall design inspired by earlier Diana road bikes used in dirt-track racing. Piston displacement for these two-wheelers ranged from 125-cc to 450-cc, with the last four years of its production seeing R/T 350 and 450 models with desmodromic valves.
Almost half a century from its inception, the entire series was relaunched at the 2014 Intermot Motorcycle Show for the 2015 model. The revamped lineup was fitted with V-twin engines instead of singles and offered seven configurations, as follows:
| 2015 Models | Displacement |
| --- | --- |
| Ducati Scrambler Classic | 803 cm3 (49 in3) |
| Ducati Scrambler Urban Enduro | 803 cm3 (49 in3) |
| Ducati Scrambler Icon | 803 cm3 (49 in3) |
| Ducati Scrambler Flat Track Pro | 803 cm3 (49 in3) |
| Ducati Scrambler Full Throttle | 803 cm3 (49 in3) |
| Ducati Scrambler Italia Independent | 803 cm3 (49 in3) |
| Ducati Scrambler Sixty2 | 399 cm3 (24.3 in3) |
Of all the newly-released variations, the Ducati Scrambler Sixty2 was the only entry-level iteration.
Perhaps, the biggest change with these motorcycles is their intended application. No longer adapted to off-road riding, these new Scrambler models were made predominantly road-legal.
Even the Urban Enduro iteration — with its Enduro-oriented components and Pirelli MT60 dual-sport tires — can only go as far as occasionally tackling dirt trails and fire roads.
2017 Models
Two years after its relaunch, existing variations offered under the Scrambler label were updated to the following (the Urban Enduro and Flat Track Pro were replaced with the Desert Sled and Café Racer):
| 2017 Models | Displacement |
| --- | --- |
| Ducati Scrambler Classic | 803 cm3 (49 in3) |
| Ducati Scrambler Icon | 803 cm3 (49 in3) |
| Ducati Scrambler Full Throttle | 803 cm3 (49 in3) |
| Ducati Scrambler Café Racer | 803 cm3 (49 in3) |
| Ducati Scrambler Desert Sled | 803 cm3 (49 in3) |
| Ducati Scrambler Sixty2 | 399 cm3 (24.3 in3) |
In the years that ensued, a larger 1,100-cc lineup featuring Traction Control, updated instrumentation with a fuel gauge and meter, hydronic clutch, and triple driveline modes — all of which were lacking in the entry-level Scramblers — was introduced.
A Mix of History and Pop Culture
The 'Scrambler' designation is not exclusive to Ducati. British OEM Triumph beat the Italian firm to it when it released its same-name lineup in 2006.
But despite the 9-year lead, Triumph's initial attempt at reviving the Scrambler craze became close to negligible. And I can only think of one good reason this was the case — Ducati drew on influences that constituted more than the lineup's glorified past.
Ducati drew inspiration from all things great happening in the '60s and infused them into the concept that was soon to be the relaunched Ducati Scrambler Sixty2. The vibe and functionality of the small-capacity bike undoubtedly screamed skateboarding, surfing, and the Rolling Stones — elements of the underground scene that will forever appeal to younger (and young at heart) generations.
2020 Ducati Scrambler Sixty2 Specs
Engine
An air-cooled, longitudinal 90° L-twin 4-stroke engine with Desmodromic valves brings the DSS to life. Its piston displacement is 399 cm3 (24.3 in3), the compression ratio is 10.8±0.5:1, and the bore-stroke ratio is 72 x 49 mm (2.83 x 1.93 inches). Continental indirect electronic injection with a 50-mm throttle body handles fuel delivery.
Overall, the above configuration yields the following performance figures:
| Description | |
| --- | --- |
| Top Speed | 100—115 mph (160—185 km/h) |
| Horsepower* | 40.1 hp (29.5 kW) @ 8,750 RPM |
| Maximum Torque* | 34 Nm (3.5 kgf-m, 24.9 ft-lbf) @ 8,000 RPM |
| Fuel Economy (average) | 61 mpg (3.9 L/100 km) |
| Fuel Tank Range | approximately 190—225 miles |
*at crankshaft EU Regulation no. 134/2014 Annex X
Fuel & Lubrication
The fuel tank capacity is 14 L of premium-quality unleaded gasoline. Gasohol variants are permitted for use, provided they contain no more than 5% MBTE, 10% ethanol, or 5% methanol.
Lube-wise, the Ducati Scrambler Sxty2 has the following requirements:
| Description | Quantity |
| --- | --- |
| Sump and Filter | 2.9 L (0.77 USgal) |
| Front Forks | 480 ± 2.5 cm3 (29.3 in3) |
SAE 15W-50 Shell is the recommended engine oil — Advance Ultra Fully Synthetic Oil for the oil sump and filter and Shell Donax TA for the front forks, with a minimum API certification of SJ meeting JASO T903 MA/MB or ACEA standards.
OEM-recommended full-synthetic equivalents and other multigrade oils mentioned in the owner's manual are permissible, following changes in altitude, riding conditions, and ambient temperatures.
Drivetrain
A 6-speed constant-mesh gearbox and lever-controlled wet multi-plate clutch assembly deliver power to the ground for the DSS. ABS is standard in all iterations. And like most Ducati motorcycles, the bike also features a Desmodromic timing system.
Primary reduction is made possible via straight-cut gears, while final reduction is transmitted from the transmission to the rear wheel via a DID 520 VF chain measuring 5/8" x 1/4" and with 106 links + joint. The chain may be swapped out for a compatible #520 O-ring chain like DID 520VX3GB-120 High-Performance VX Series X-Ring Chain with Connecting Link (view on Amazon) in case of wear or damage.
For reference, see the stock transmission gear ratios below:
| Description | |
| --- | --- |
| Front chain sprocket/clutch gearwheel ratio | 2.281 (32/73) |
| Gearbox output sprocket/rear chain sprocket ratio | 3.200 (15/48) |
| Transmission Gear Ratio — 1st | 2.461 (13/32) |
| Transmission Gear Ratio — 2nd | 1.667 (18/30) |
| Transmission Gear Ratio — 3rd | 1.333 (21/28) |
| Transmission Gear Ratio — 4th | 1.130 (23/26) |
| Transmission Gear Ratio — 5th | 1.000 (22/22) |
| Transmission Gear Ratio — 6th | 0.923 (26/24) |
Tires & Brakes
Stock tires consist of tubeless front-and-rear Pirelli radials — 110/80-R18 M/C 58H (view on Amazon) and 160/60-R17 M/C 69H, respectively — mounted on ten-spoke, light alloy Brembo wheels with dual-piston calipers at the front. Recommended cold-tire pressure is 250 kPa (2.5 kgf/cm2, 36 psi), which applies to both and may be adjusted by 2.9—4.3 psi per individual tire contingent on terrain type.
As for brakes, floating 320-mm drilled hydraulic discs (front) and a fixed drilled 245-mm hydraulic disc (rear) provide the Ducati Scrambler Sixty2 with its halting power and complete its tire-and-wheel assembly.
Suspension
Enclosed in a tubular steel trellis frame (35° steering angle; 112 mm/4.4 inches trail) are 41-mm non-adjustable Showa front forks and a progressive rear linkage with adjustable spring preload. Both suspension units provide wheel travel of 150 mm (5.9 inches). The wheelbase is 1,460 mm (57.5 inches), while the minimum ground clearance is 182 mm (7.2 inches).
Dimensions & Capacities
All production models of the Ducati Scrambler Sixty2 have overall dimensions of 2,150 x 860 x 1,165 mm (84.6 x 33.8 x 45.9 inches – L x W x H), with the full length of the handlebars factored in.
Saddle height is 790 mm (31.1 inches) stock, 770 mm (30.3 inches) with a lower-seat accessory, and 810 mm (31.9 inches) with a high-seat accessory.
Footpeg height, which supports a sporty-ish riding position, is approximately 190 mm (7.5 inches) off the ground.
Dry weight sans fluids and battery is 167 Kg (368 lbs.), while curb weight with 90% of the fuel and in running order is 183 Kg (403 lbs.). Fully laden, the motorcycle weighs 365 Kg (805 lbs.) — just 25 Kg shy of Ducati's Monster 696. As with other Ducati motorbikes, GVWR (Gross Vehicle Weight Rating) is unspecified in the owner's manual.
Exterior
The Ducati Scrambler Sixty2 sports aggressive, sporty-ish lines, a fender-matching fuel tank, and a blacked-out engine and saddle. The motorbike has an Enduro-looking rear end. It has an upswept Termignioni exhaust, a contoured seat, side-view mirrors, and a high-clearance rear fender.
Its relatively low seat height, low footpegs, and wide handlebars lend to a very neutral upright position that instills confidence, enhances comfort, and gives the rider full control of the two-wheeler.
Colors Schemes:
Ocean Gray + charcoal black frame + Matte Black wheel rims
Atomic Tangerine + charcoal black frame + Matte Black wheel rims
Glossy Black + charcoal black frame + Matte Black wheel rims
Orange & Black livery
Ducati Scrambler Sixty2: Pros and Cons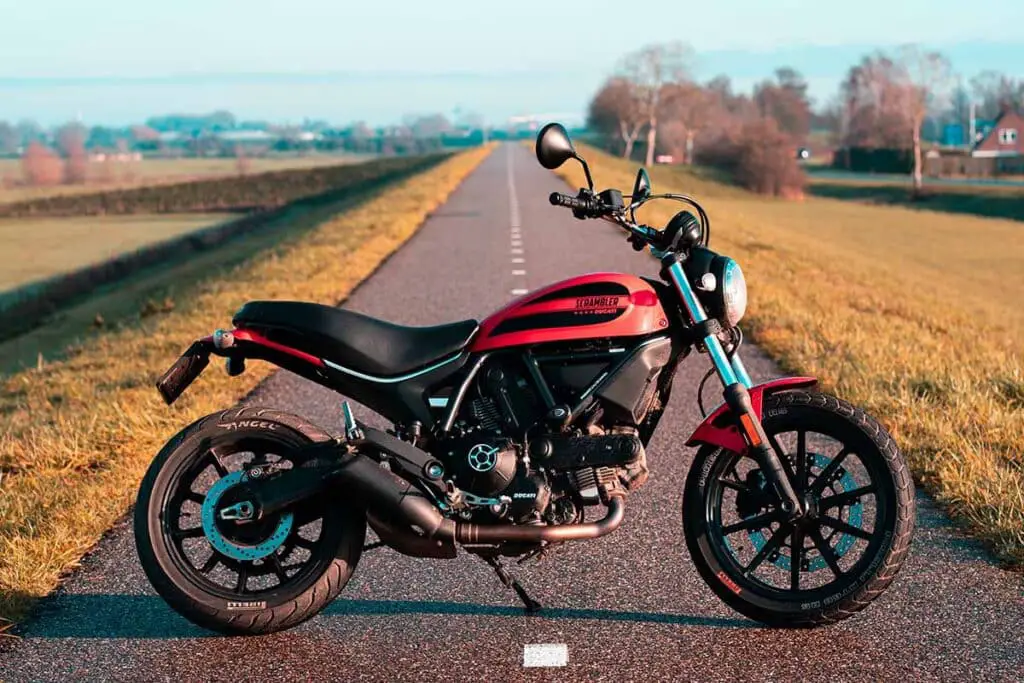 Pros
The Ducati Scrambler Sixty2 showcases spectacular detailing — from its upswept tailpipes and sculpted one-piece fuel tank down to its engine casing.
Great for city driving as well as late-night wheeling
Ergos add to the ease of maneuvering through city traffic.
The two-wheeler was designed with light off-roading in mind despite being predominantly street-legal.
A pair of lambda probes and a catalytic converter make the DSS Euro 4 compliant.
The DSS is a top choice by aficionados for custom builds.
Cons
The bike has a high proclivity for wheelies from the get-go.
The throttle is snatchy at low speeds, plus the clutch lever is heavy-handed.
Non-adjustable conventional front forks
Being a naked bike, the Ducati Scrambler Sixty2 provides no wind protection.
The upswept exhaust is more likely to get scratched when it comes in contact with riding boots.
Conventional front forks do not stand a chance in challenging trails and twisties.
Known problems of the small-capacity thumper include side-stand issues, a faulty clutch system, and excessive heat production.
Conclusion – Ducati Scrambler Sixty2 Review
Despite a few hiccups with some of its features and factory settings, the Ducati Scrambler Sixty2 still packs a punch regarding function and value for money. For less than $8,000 original list price, anyone can own and enjoy a two-wheeler of such premium quality.
However, many had hoped the motorcycle was more off-road oriented, having been inspired by the dirt trailers of the '60s. Unfortunately, this is not the direction the lineup is treading toward, so it may be a while before the DSS receives more favorable features and enhancements.