Kawasaki Ninja 500 Specs and Review
Disclosure: We may get commissions for purchases made through links in this post.
With its pipe-rack chassis, conventional suspension, and other downplayed components, it would be easy to classify the Kawasaki Ninja 500 as nothing but your average middleweight. However, knowing motorcycling enthusiasts would disagree. Countenance aside, the Ninja's performance figures compare to, if not outperform, flashier and heftier motorcycles – as you will soon learn in this article.
Produced from 1986 to 2009, the Kawasaki Ninja 500 is a rider-friendly motorcycle that not only spawned its own racing class but also took the beginner subsegment by storm. The 498-cc sportbike features a parallel-twin mill, a broad, usable powerband, and an aggressive bikini-faired aesthetic.
As Kawasaki's best-selling sportbike for several years, it is no surprise that consumers discover the Ninja 500 performs more sensibly on-road than most other bikes in its class. After all, it is well-known both as a formidable street bike and a preferred mount for road racing.
Sport-tourer ergonomics, a forgiving nature, unrivaled cost, and huge aftermarket support are only some of the wheeler's virtues that form part of its ongoing charm.
Find these attributes incredulous? Read on and discover more about what this classic motorcycle has to offer.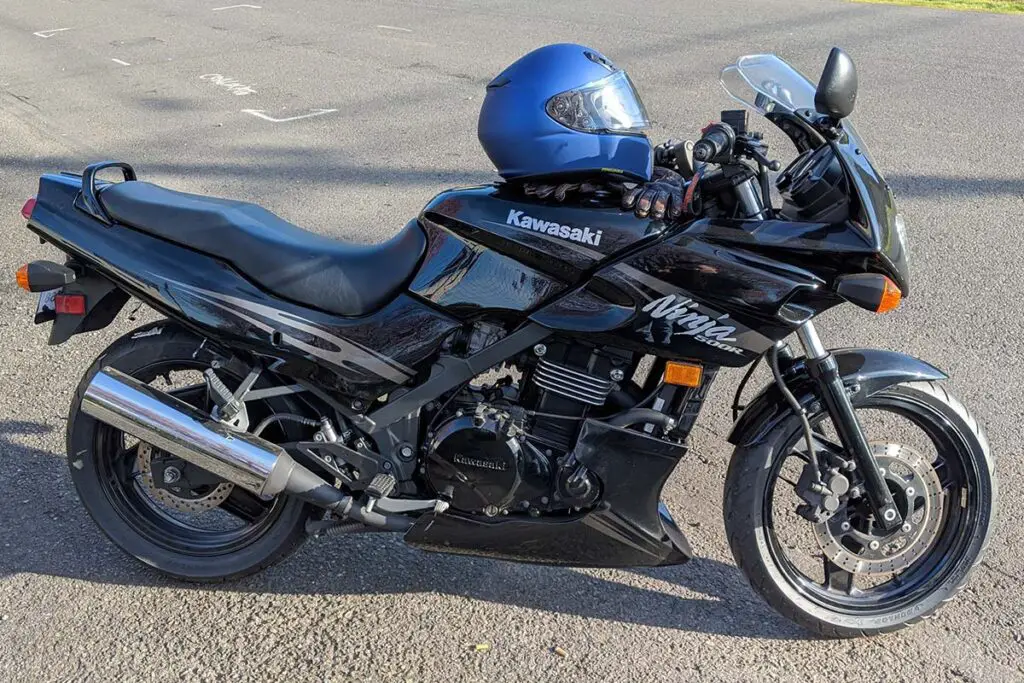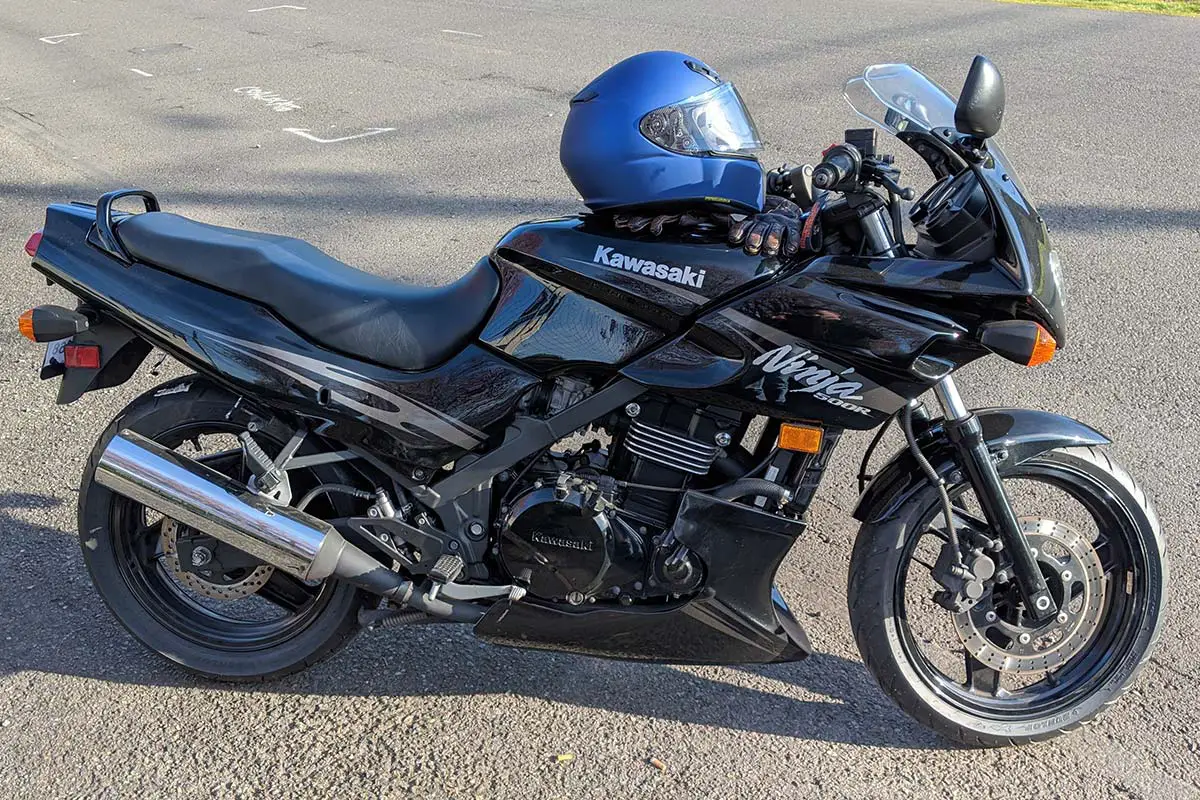 Team Green's "Middleweight Rocket"
Hailing from the two-cylinder segment of the legendary Ninja series, the 500-cc Ninja was born in the late '80s. 600-class two-wheelers were at a high, and teenage boys marveled at "the Honda Hurricane and Ninja 600 with their sexy full fairings, inline 4 engines, insanely high top speeds, and low quarter-mile times."
Honestly, there was no better timing for its launch. Despite all the rave about the legitimate 600-cc sportbikes, the larger-displacement machines simply failed to indulge the novice crowd. Whereas the Kawasaki EX500 appealed to more experienced motorcyclists while providing the perfect platform for in-training riders – a dualism that newbies and the entire riding community quickly grew (and continue) to love.
The Best Learner Bike
Arguably, it is. The Ninja 500 provides the perfect balance between forgiving mannerisms and a challenging ride – elements that can get any beginner up to speed in motorcycling. Aftercare-wise, it is easy to get familiar with the bike's parallel-twin engine assembly and its other nuances.
Its traditional horizontal-split casings make accessing the balancer shaft, crankshaft, and gearbox shafts manageable (even for a first-time motorbike owner).
The bike does have its flaws. Ninja-dedicated forums and a bit of reading reveal that owners wished the Ninja 500 had more perks to offer. Fuel injection, a stronger but lighter chassis, USD front forks, and improved brakes with ABS are but a few of consumers' most sought-after enhancements. Team Green did respond to this call but after almost a decade, with the 2018 Ninja 400.
Improvements Post-1993 (2nd Generation Ninja 500s)
Original 16-inch wheels were swapped out for wider 17-inch rims and accompanied by a larger swingarm.
Engine mods aimed at improving reliability such as changes to the alternator, cam chain tensioner, flywheel, and transmission
The rear drum brake was upgraded to a new hydraulic disc brake.
Suspension tuning was made firmer compared to the factory setup.
The updated instrument panel, dials, and front and rear fairing
Minor facelift and other cosmetic alterations, including hand grips, OE tires, and an all-new fairing
Alongside these upgrades, the sportbike's marketing name was changed from EX500 to Ninja 500 in 1994. Kawasaki also added the "R" suffix to its designation four years later. These revisions are immaterial to units released in Europe marketed as the GPZ500S.
2007 Kawasaki Ninja 500 Specs & Features
Engine
The Kawasaki EX500 is brought to life by a 4-stroke, counterbalanced parallel-twin DOHC engine. Bore-stroke ratio is 74 x 58 mm (2.91 x 2.28 inches), comparable to that of the Kawasaki Ninja® ZX™-6R. Piston displacement is 498 cm³ (30.4 in³), while the compression ratio is 10.8:1. Two semi-flat-slide Keihin CVK34 carburetors mated to a liquid cooling system handle the air-fuel mixture.
All in all, the above configuration lends to 49 – 51.76 Ninja 500 hp (36 – 38.07 kW, 49.7 – 52.5 PS) @ 9,000 – 9,500 RPM and a maximum torque of 42 Nm (4.3 kgf-m, 31 ft-Ibf) @ 8,000 RPM. 2009 Kawasaki Ninja 500s spewed up to 60 hp (43.7 kW) @ 9,800 RPM of horsepower and 46.1 Nm (4.7 kgf-m, 34 ft-lbf) @ 8,500 RPM of torque.
Pre-1993 EX500 engines reportedly had higher performance figures than post-2000 ones – the same can be said for European releases and redesigned Ninja 500Rs. The Kawasaki Ninja 500R top speed ranged from 110 mph (180 km/h) to 118 mph (190 km/h), depending on model year and market. However, the incoming-year model of the Ninja 500 topped out at 124 mph (199.5 km/h).
Fuel & Lubrication
Tank capacity is 18 L/4.8 USgal (inclusive of 2.2 L/0.58 USgal of reserve) of unleaded gasoline. This capacity yields an impressive fuel consumption of 48.5 – 64 mpg (3.68 – 4.85 L/100 km). Recommended octane rating is at least PON 87/RON 91, containing < 15% MTBE (Methyl Tertiary Butyl Ether), < 16.7% TAME (Tert-Amyl Methyl Ether), < 17.2% ETBE (Ethyl Tertiary Butyl Ether), < 10% ethanol, or < 5% methanol.
Lube-wise, the Ninja 500 has a forced lubrication (wet-sump) system with the following engine oil requirements:
2.8 L (3.0 US qt) – at draining
3.0 L (3.2 US qt) – with filter change
3.4 L (3.6 US qt) – after disassembly
OEM-prescribed lubrication is SAE 10W-40 4-stroke engine oil with a minimum API certification of SJ to SL meeting JASO T903 MA, MA1, and MA2 standards. Other viscosity grades such as SAE 20W-50, 20W-40, 10W-50, or 10W-30 are permitted for use following ambient temperatures.
Drivetrain
A 6-speed constant-mesh transmission (wide-ratio, return shift) and a wet, multi-disc clutch assembly deliver power to the ground. A #520 O-ring chain handles wheelspin and may be replaced with a corresponding #520 chain like an RK Racing Chain 520XSO – 104 links (view on Amazon).
As cited by Cycle Magazine in their January 1987 review of the Ninja 500, the sportbike takes many of its drivetrain components from the "454 LTD crankcase, clutch, oil and water pumps, cylinder head, and valve train – forked rockers with screw and locknut adjusters."
For reference, here are the stock gear ratios for the 2007 Ninja 500:
| | |
| --- | --- |
| Primary Reduction Ratio | 2.652 (61/23) |
| Final Reduction Ratio | 2.562 (41/16) |
| Transmission Gear Ratio – I | 2.571 (36/14) |
| Transmission Gear Ratio – II | 1.777 (32/18) |
| Transmission Gear Ratio – III | 1.380 (29/21) |
| Transmission Gear Ratio – IV | 1.125 (27/24) |
| Transmission Gear Ratio – V | 0.961 (25/26) |
| Transmission Gear Ratio – VI | 0.851 (23/27) |
| Overall Drive Ratio | 5.789 @ Top gear |
Note that both 5th and 6th gears of the Kawasaki Ninja 500 are overdrive. Additionally, the sportbike was purposely geared taller than the 454 LTD to reduce engine vibration and help keep the chain from dragging on the swingarm. However, note that this comes at the price of quarter-mile acceleration that is second-fiddle to FZ and 600-cc Ninja.
Ignition & Lighting
It comes to life via a microprocessor-controlled battery & coil (transistorized) ignition with a timing of 10° BTDC @ 1,200 RPM (initial "F" mark) or 37.5° BTDC @ 10,000 RPM (electronically advanced).
Furthermore, it requires an NGK DR9EA or Nippon Denso X27ESR-U spark plug with a 0.6 – 0.7 mm (0.024 – 0.028 inch) gap and torque spec of 14 Nm (1.4 kgf-m, 10.3 ft-Ibf). For cold-weather riding, an NGK DR8EA or ND X24ESR-U plug is advised.
To power electronic accessories and lighting, all model years of the Kawasaki Ninja 500 makes use of a 12V 12 Ah/(10 HR) YTX14AHL-BS battery (view on Amazon) with assembled dimensions of 134 x 89 x 166 mm (5.28 x 3.50 x 6.53 inches – L x W x H).
An A.C. alternator coupled with a solid-state voltage regulator serves as the bike's charging system. 60/55 W high-low headlight beams, an 8-watt taillight, and a 27-watt brake light provide the two-wheeler superior light distribution.
Tires & Brakes
Factory tires consist of tubeless 110/70-17 54H Bridgestone G549 or Dunlop K257FJ at the front and 130/70-17 62H Bridgestone G550 or Dunlop K275J at the back.
Recommended cold-tire pressure is 225 kPa (2.25 Kgf/cm², 32 psi) for the front tire and 250 kPa (2.50 Kgf/cm², 36 psi) for the rear – these can be adjusted based on terrain and riding conditions.
A 270-mm front disc with dual-piston calipers and a single hydraulic rear disc complete the Ninja 500's tire-and-wheel assembly and lend it its stopping power.
For Kawasaki Ninja 500Rs, they initially received 16-inch Bridgestone Excedra bias tires (view on Amazon), which later changed to 17-inch wheels like the rest of the label's iterations.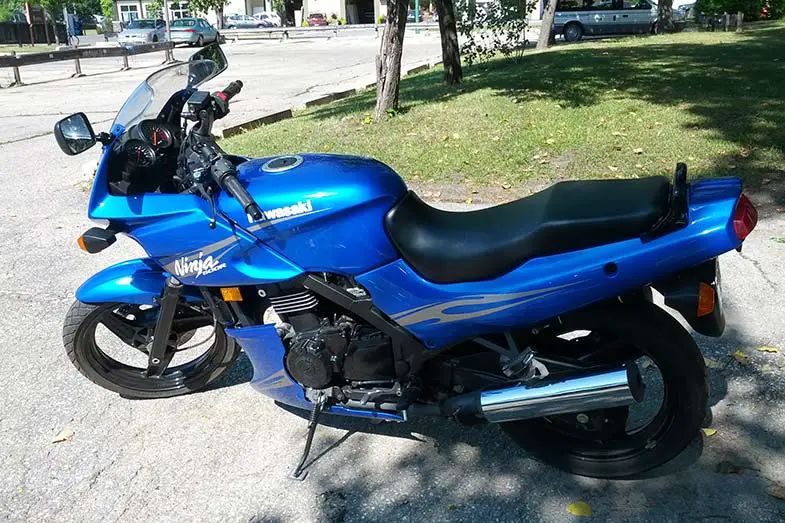 Suspension
Enclosed in a double-cradle down-tube frame (27° caster angle, 91 mm/3.6 inches trail) are 37-mm front telescopic forks (38 mm for Ninja 500Rs) and a rear UNI-TRAK® swingarm with preload-adjustable shocks.
Each unit (barely classified as long-travel suspension) offers 140 mm/5.5 inches and 100 mm/3.9 inches of respective wheel travel. The wheelbase is 56.5 inches, paired with 120-mm/4.72-inch ground clearance.
The turning radius is unspecified in the manual. It is assumed to be near that of the KX500, which measures 2.4 m (7.9 ft.).
Dimensions
Overall dimensions of the '07 model are 2,095 x 700 x 1,160 mm (82.5 x 27.6 x 45.7 inches – L x W x H). Dry weight is 176 Kg (388 lbs., California releases are 0.5 lb. heavier). Thanks to its compact engine enabling a low-and-forward position, seat height is approximately 770 – 775 mm (30.3 – 30.5 inches) – comfortably accommodating novice and more skilled riders.
Estimated payload capacity and GVWR are 189.8 Kg (418.5 lbs.) and 383.8 Kg (846 lbs.).
Exterior
It comprises a tubular steel frame and plastic body material in Team Green's signature hue, plus Blue, Metallic Violet, and a slew of other color options. Overall styling can be described as a more polished look of the 1984 GPZ900R but semi-naked. Instrumentation is simple at best (with only two trip meters) and in dire need of a clock and a low-fuel warning indicator (among other things).
Bikini fairings, a low height, a small upper fairing, and a narrow profile are characteristic of the all-rounder middleweight. But for an extra $92 back in 1987, buyers can avail of an optional lower cowling (more popularly known as the Kawasaki GPZ500S fairing).
Kawasaki Ninja EX500 Price (1987 – 2009)
| Year – Trim – Model Number | List Price | Retail/Trade-in |
| --- | --- | --- |
| 1987 EX500A1 | $2,899 | $300 – $2,065 |
| 1988 EX500A2/B1 | $3,249 | $365 – $2,140 |
| 1989 EX500A3/B2 | $3,399 | $365 – $2,295 |
| 1990 EX500A4/B3 | $3,449 | $390 – $2,480 |
| 1991 EX500A5/B4 | $3,529 | $415 – $2,855 |
| 1992 EX500A6/B5/C1 | $3,549 | $415 – $2,855 |
| 1993 EX500A7/B6 | $3,699 | $415 – $2,855 |
| 1994 EX500D1/E1/F1 Ninja 500 | $4,399 | $480 – $3,485 |
| 1995 EX500D2/E2/F2 Ninja 500 | $4,649 | $390 – $2,635 |
| 1996 EX500D3/E3/F3 Ninja 500 | $4,899 | $530 – $2,990 |
| 1997 EX500D4/E4 Ninja 500R | $4,999 | $600 – $2,925 |
| 1998 EX500D5/E5 Ninja 500R | $4,999 | $725 – $955 |
| 1999 EX500D6/E6 Ninja 500R | $4,999 | $750 – $990 |
| 2000 EX500D7/E7 Ninja 500R | $4,999 | $775 – $1,020 |
| 2001 EX500D8 Ninja 500R | $5,099 | $790 – $1,040 |
| 2002 EX500D9/E9 Ninja 500R | $5,099 | $815 – $1,070 |
| 2003 EX500D10/E10 Ninja 500R | $5,099 | $865 – $1,135 |
| 2004 EX500D11 Ninja 500R | $4,799 | $905 – $1,190 |
| 2005 EX500D12 Ninja 500R | $4,899 | $1,005 – $1,320 |
| 2006 EX500D6F Ninja 500R | $5,049 | $1,275 – $1,675 |
| 2007 EX500D7F Ninja 500R | $5,049 | $1,310 – $1,725 |
| 2008 EX500D8F Ninja 500R | $5,099 | $1,480 – $1,945 |
| 2009 EX500D9F Ninja 500R | $5,499 | $1,890 – $2,485 |
(Source: Nada Guides)
Recommended Modifications
The Ninja Kawasaki 500 is already tuned for aggressive riding out of the crate. However, mechanically savvy owners opt to tinker with the bike to correct some of its shortcomings. Secondhand Ninjas are especially known to run either too lean at minimum operating speeds or too rich elsewhere in their rev range.
Doing a FOG mod has proven to counter this flaw effectively. It is done by "drilling a 3rd hole in the airbox and adjusting the fuel mixture pilot screw." Beginner riders can do this modification without breaking a sweat but will have to take the motorcycle to a local shop for a carb sync. If they have the equipment to perform the latter, they can complete the FOG mod themselves.
Another minor mod is adding a fuel filter, as the sportbike does not come with one stock. In this case, you have two options – an inline spliced filter type and an actual alternative fuel filter specific to gravity feed pressures like APE RACING Universal Small 90° Fuel Filters (view on Amazon).
Between the two, the latter is preferable. Attempting the spliced type and getting its shape wrong would likely result in more serious carburetor problems (not to mention that procuring one can become tricky due to the absence of a part number).
About Kawasaki
Kawasaki Heavy Industries Ltd. (KHI) is a globally renowned manufacturer of all-terrain vehicles, industrial engines, and motorcycles like the Kawasaki Ninja 500. Founded in 1896 in a shipyard in Tokyo, the Japanese firm has come a long way from supporting shipping businesses to becoming one of the industry's powerhouses in various automotive fields and heavy equipment.
Kawasaki continues to earn respect, inspire awe, and manifest its century's worth of mettle and expertise through its plethora of high-performance products and services.
Conclusion – Kawasaki Ninja 500 Review
Putting one leg over a Kawasaki Ninja 500 can be best likened to a push-and-pull relationship. It will not offer everything you desire in a race-replica machine (not even its instrumentation comes close to mimicry). But it is forgiving and, more importantly, nurturing.
It is responsive and quick but not dangerously fast. To add, its low-tech components and simplistic features take away all the distractions and help keep you focused on the ride.
If these enticing qualities were not enough, you could get this sweet ride used for under $2,000! So if you're looking for a street sportbike you can use for both daily commutes and the occasional weekend tours, then look no further than the highly capable Kawasaki Ninja 500!