Honda CB100 Motorcycle Specs and Review
Disclosure: We may get commissions for purchases made through links in this post.
Commuter bikes are generally shunned for their restrictive powerband and handling difficulty, while their stark practicality helps win over riders. These qualities are on opposing ends of the spectrum. But once in a while, something with well-balanced attributes comes along. Such is the case with the Honda CB100 — an iconic commuter bike that marries simplicity and function.
The Honda CB100 is a lightweight two-wheeler under Honda's famed CB series. Featuring an air-cooled engine, a 5-speed gearbox, a 120-km/h top speed, and impressive mannerisms, this road-going motorcycle was produced from 1970 to 1973 in the U.S. and until 1985 in other markets.
Out of the crate, the Honda CB100 screams practicality, ease of use, and comfort. It is also adept off- and on-road, having been designed in the same vein as its bigger-displacement namesakes.
So whether you are learning the ropes of motorcycling, preparing for your next project build, or rekindling an old pastime, this cruiser-commuter — which you will learn more of in today's guide — perfectly fits the bill.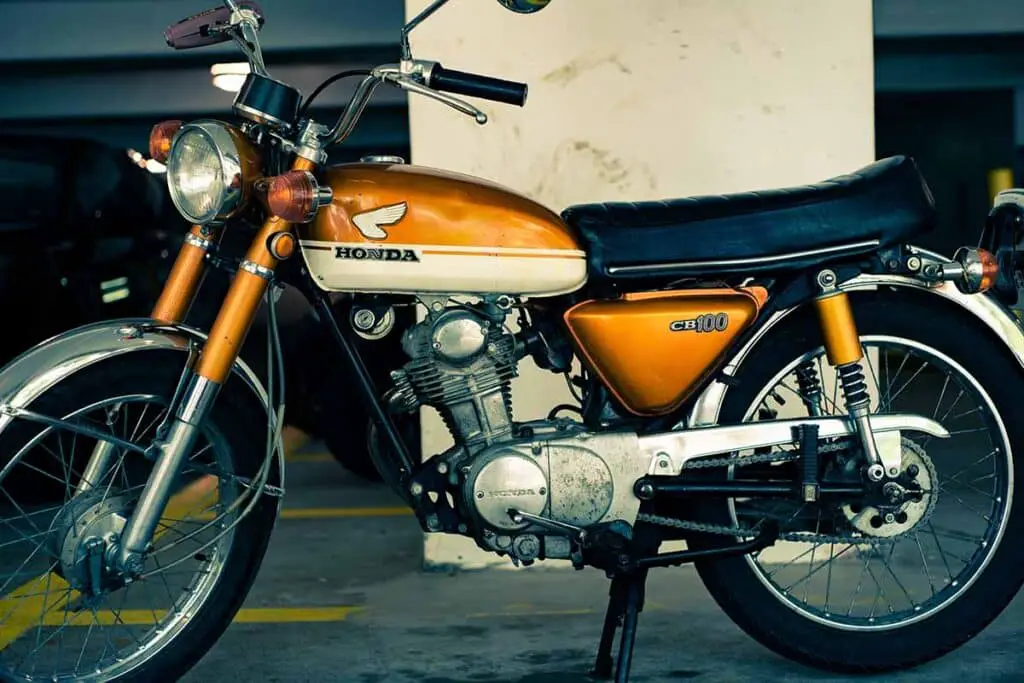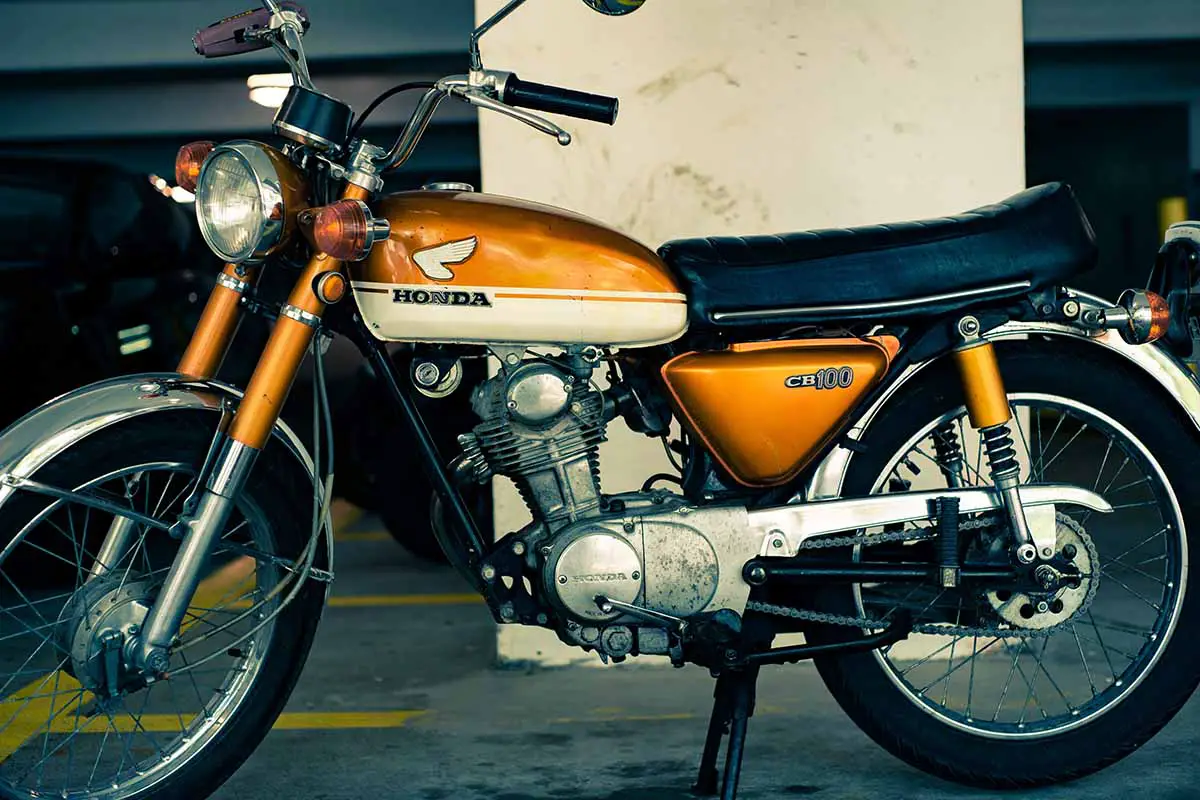 The 'Fender Strat' of Small Motorcycles
Even for the non-musically inclined, it is pretty easy to spot similarities between the Honda CB100 and the classic electric guitar. First, they both have a balanced design. Second, other manufacturers often emulate them due to their simplicity and function.
That said, it makes perfect sense for consumers to deem the CB100 analogous to the Fender Strat.
The Honda CB100 (a.k.a. SuperSport or SS) is an entry-level commuter motorcycle produced from 1970 to 1972 (for the 1973 model). Of the 82 production models under the CB (cruising/commuting) series, it has the 3rd-to-smallest displacement.
Despite its small stature and short-lived run, many riders have grown to love and respect the bike as a frugal city-wheeler.
Although it ceased production in 1972, the Honda CB100 continues to thrive in the motorcycling landscape — thanks to the continued manufacture of its clones worldwide. Today, it is one of the favorite project builds among aficionados — often made street-legal with Honda CB100 engine mods, a CB350 stator coil, and a 12V conversion.
Honda CB100 Specs & Features
Engine
The 4-stroke Honda CB 100 power mill is air-cooled with a single-cylinder arrangement. Engine displacement is 99 cm3 (6.04 in3), the compression ratio is 9.5:1, and the bore-stroke ratio is an almost-square 50.5 x 49.5 mm (1.988 x 1.944 inches). A piston-valve type, 22-mm Keihin carburetor handles the air-fuel mixture.
| Description | Performance Figure |
| --- | --- |
| Top Speed* | 68.4–74.6 mph (110–120 km/h), without speed governor |
| Horsepower | 11.5 hp (8.4 kW) @ 11,000 RPM |
| Fuel Economy | 80–95 mpg (2.48–2.94 L/100 km) @ 70 mph (112.6 km/h) on 1-up 65 mpg (3.62 L/100 km) @ 70 mph (112.6 km/h) at WOT** |
| Approximate Tank Range | approximately 130–190 miles for a full tank, depending on solo/pillion riding and speed |
* Upper-limit values courtesy of Return of the Cafe Racers
** Data courtesy of Eco Modder
Fuel & Lubrication
Air filtration is a filter-paper type mated to a wet sump lubrication system. The oil pump is a plunger type (similar to the Honda CB125), while the oil filter combines wire mesh and a centrifugal system.
Engine oil capacity for the bike is 1.0 L/2.1 US qts. of SAE 10W-30 4-stroke motor oil with an API certification of at least SJ meeting JASO T903 MA/MB standards. The use of other multigrade oils mentioned in the owner's manual is permissible but depends on riding conditions and ambient temperature changes.
The two-wheeler requires 7.5 L/2.0 USgal of unleaded gasoline.
Drivetrain
A 5-speed constant-mesh forward transmission delivers power. The final reduction system is chain-driven and may be replaced with a DID 428VX Professional O-ring Chain (view on Amazon) in case of wear or damage.
For reference, here are the bike's stock gear ratios:
| Description | |
| --- | --- |
| Primary Reduction Ratio | 4.055 |
| Transmission Gear Ratio – 1st | 2.500 |
| Transmission Gear Ratio – 2nd | 1.722 |
| Transmission Gear Ratio – 3rd | 1.333 |
| Transmission Gear Ratio – 4th | 1.083 |
| Transmission Gear Ratio – 5th | 0.923 |
| Final Reduction Ratio | 2.857 (14/40T) |
Ignition
Honda CB100s roar to life with a breaker-point ignition and kick-starting system. The electrical system is wired to 6V, with a single-phase Kokusan/Nippon Denki A.C. generator rated at 50 Watts @ 5,000 RPM output serving as its charging system.
A 6V 6 Ah/(10 HR) 6N6-3B battery powers lighting and electronic accessories. Meanwhile, an NGK D8ES spark plug is for spark ignition. The latter can be replaced with a compatible NGK DR8EIX Iridium IX spark plug (view on Amazon) of the same heat range if defective or worn.
The stock battery has assembled dimensions of 99 x 57 x 111 mm (3.88 x 2.25 x 4.38 inches, sans wire harness and mounting accessories). Should you convert the CB100's electricals to 12V with a 12V converter kit, a YTZ14S battery (view on Amazon) format would be compatible with the bike.
For lighting assembly details, see the table below:
| Lighting | Wattage |
| --- | --- |
| Headlight | 6V 35/25 W |
| Brake/Tail Light | 6V 17/5.3 W |
| Turn Signal Light | 6V 18 W |
| Instrumentation, Neutral, Turn Signal, High-Beam ndicator Lights | 6V 1.5 W |
Tires & Brakes
The stock tires consist of 2.50-18 4-ply and 2.75-18 4-ply knobbies that mount on 3.00-18 and 1.75-18 aluminum rims. They can be swapped out for CB125 stock tires or any other compatible 80/100-18 or 90/90-18 tires like Michelin City Pro Street Bias Tire — 90/90-18 57P (view on Amazon).
As for brakes, the CB100 utilizes 110-mm internal-expanding drums on both front and rear.
Suspension
Within a steel frame (64° caster angle, 75 mm/2.95 inches trail) are front telescopic forks with an aluminum-alloy under-cover and a rear pivoting swingarm — both paired with oil-damped shocks. The short-travel suspension is supplemented by a 5.7-inch/145-mm ground clearance and a 47.4-inch/1,205-mm wheelbase.
Dimensions & Capacities
Overall, Honda CB100 dimensions are 1,885 x 750 x 1,015 mm (74.2 x 29.5 x 40 inches — L x W x H). Seat height is unspecified in the owner's manual but is assumed to measure around 30 inches. Dry weight is 87 Kg (191.8 lbs.), while curb weight is estimated at 95.5 Kg (210 lbs., unladen).
Exterior
A condensed café racer on the outside, the Honda CB100 was made available in a multitude of colors, as follows:
Aquarius Blue
Crystal Blue Metallic
Black
White (with color inserts and chrome)
Light Scarlet Red
The bike was equipped with dual side mirrors, bright lighting assembly, a handy helmet holder, and big-bike safety features. Styling-wise, it did not receive major cosmetic or mechanical changes but had several color schemes to offer consumers and enthusiasts every year.
You can customize your CB100 by drawing inspiration from one of these café racers. My personal favorites are the custom builds by David and Sonya Lloyd (if you want a quirky and nostalgic design) and Chris Harter (if you want your bike to look compact but sporty).
Cost of a Honda CB 100
Information on the original MSRP of Honda CB100s is hard to come by online. But given that the CB 125s were initially sold for $640, I presume its 100-cc namesake would only be slightly cheaper than that amount.
Honda CB100 Pricing (1970 – 1973)
| Year – Model – Trim | Retail/Trade-In Values |
| --- | --- |
| 1970 Honda CB100K0 | $580 — $2,530 |
| 1971 Honda CB100K0 | $580 — $2,530 |
| 1972 Honda CB100K1 | $575 — $2,440 |
| 1973 Honda CB100K2 | $490 — $2,105 |
(Source: JD Power)
In the used-bike market, the average resale value for the CB100 Honda is from $1,799 to $2,750, while low retail is from $200 to $825. Bring A Trailer featured a '73 iteration in white paint with black and red graphics, lots of chrome, and 2,500 miles — sold in March this year for $5,500.
Mecum Auctions has a 1970 "Hendricks Collection" Honda CB 100 up for bidding in January 2023 in Las Vegas, Nevada. The Crystal Blue Metallic thumper still has its stock engine, saddle, and exhaust. The selling price is not posted on the site but is expected to be on the higher end of the price spectrum.
Honda CB100 – Pros and Cons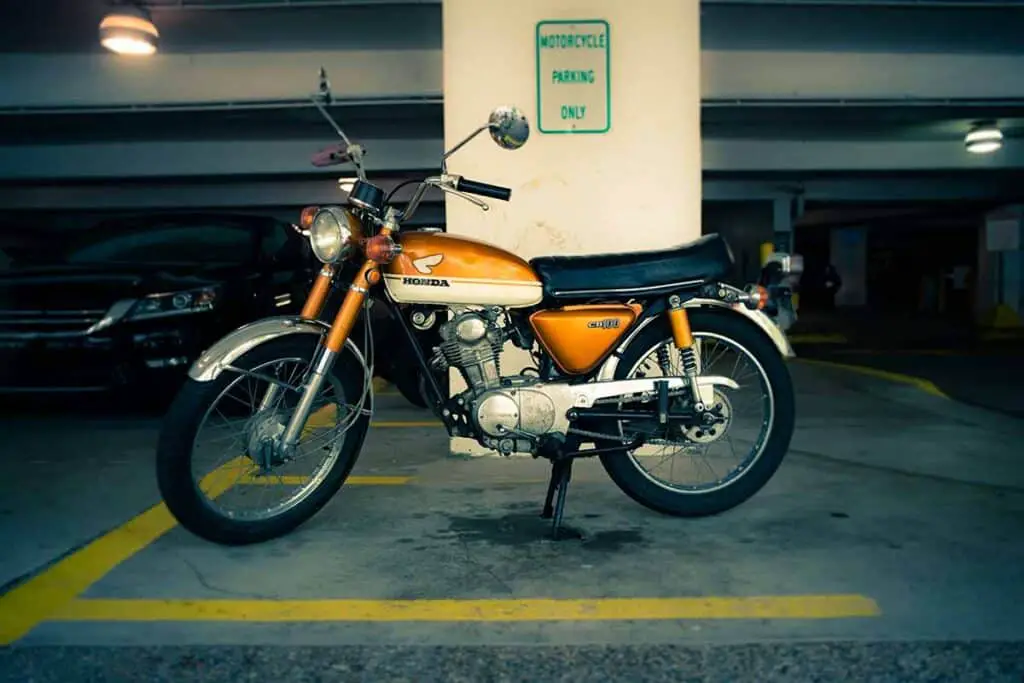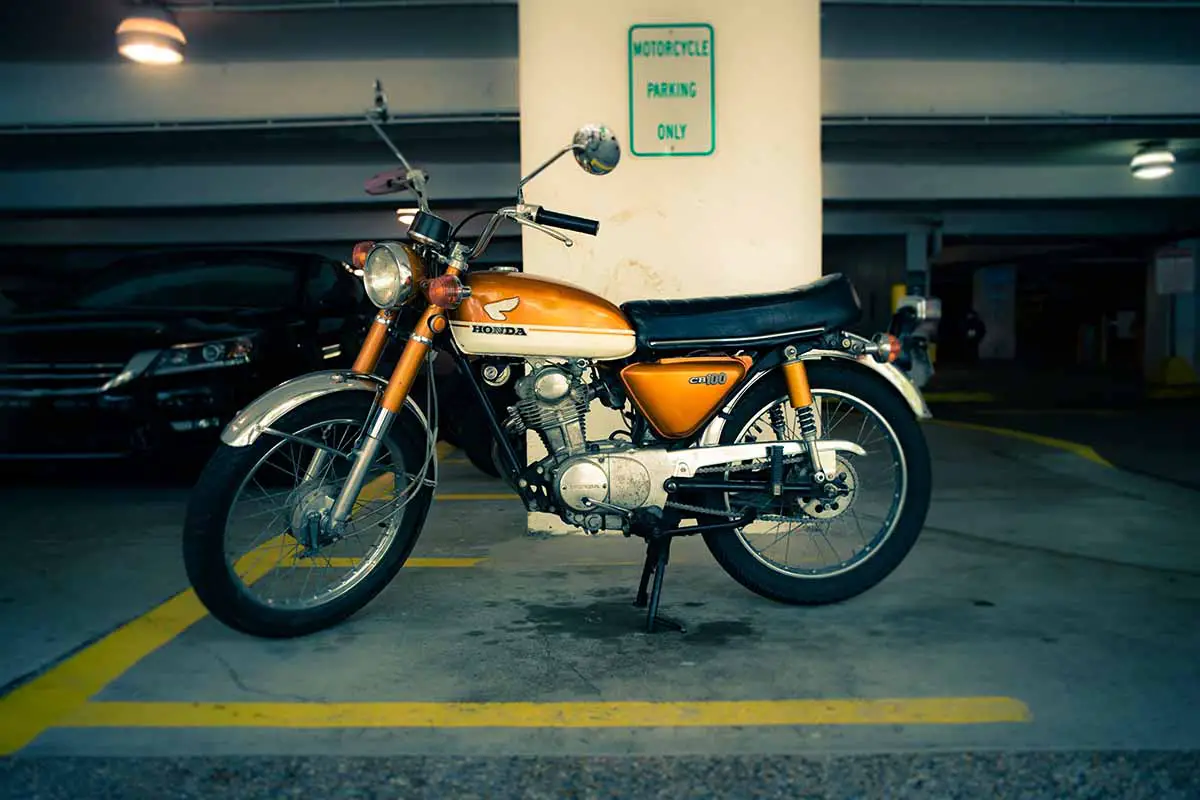 Pros
The bike is fuel-efficient, thanks to its light chassis and overall weight.
Being a single-cylinder 4-stroke, it only requires diligent and on-time oil changes and adherence to other periodic maintenance needs.
The two-wheeler's high range can be used not only in city traffic but also in off-roading.
It keeps its value well, with some pre-loved units sold for $2,500 on average.
Almost every owner agrees that the bike's handling is outstanding despite its conservative components.
Cons
The bike falls short on power output and speed (although this is rarely a concern for its huge following).
Some riders wish for better suspension geometry and hydraulic brake discs instead of expanding drums.
Its stock 6-volt electrical configuration makes it a bit laborious for street-bike conversion.
Although maintenance is generally hassle-free, an oil change is not as straightforward of a procedure on this as on its counterparts. If anything, it entails the steps detailed in the next section.
Honda CB100 Oil Change Procedure
Drain old oil by removing the drain plug and using a catch basin or oil pan.
Remove the kickstand, footpegs, and exhaust system to access the clutch cover.
Loosen screws on the clutch cover while ensuring they are not stripped.
After loosening the screws, remove the clutch cover to access the centrifugal oil filter.
(Optional) Tap the clutch cover with a rubber mallet if it doesn't come off easily.
Remove the gasket and save it for later if still in good condition.
Rid the centrifugal oil filter of sludge and any other contaminant buildup.
Once they are thoroughly cleaned, put the oil filter pieces back together.
Remove the filter screen cover and inspect it for metal filings or shavings.
Finally, polish the exhaust, footpegs, and kickstand before reassembling them.
About Honda
Honda Motor Company Ltd. is a multinational conglomerate known for its influence in motorcycling and other automotive industries. Established in 1946 in a small garage in Hamamatsu, Japan, the firm traces its humble beginnings back to mass-producing surplus engines and got into manufacturing highly-engineered motorcycles 13 years after its inception.
Honda has grown its plethora of offerings to include luxury automobiles, Formula 1 racing vehicles, mopeds, scooters, sport bikes, and vintage cruisers like the Honda CB100. All these products and more manifest the company's legacy and foothold as one of the world's greatest contributors in powersports, robotics, mobility, AI, and energy solutions.
Conclusion – Honda CB100 Motorcycle Review
In stock form, this classic two-wheeler is light, agile, and with superb handling mannerisms — attributes more than sufficient to get anyone on the road. Modded, it performs even better!
You may need an oil change kit, disc brake upgrade, engine mods, or 12V conversion to make it street-legal. But that is about the extent of your worries with the little thumper. If your goal is to enjoy and create memorable riding experiences, going to these lengths will be unnecessary on a Honda CB100!