Can You Ride a Motorcycle in the Rain? (12 Tips)
Disclosure: We may get commissions for purchases made through links in this post.
Riding a motorcycle in the rain is an inevitable part of a motorhead's life, especially for those who use their two-wheeler as a daily driver. However, riding in inclement weather while aiming to keep dry and arrive at your destination in one piece is more often troublesome than fun. This leaves many to ask, "Can you ride a motorcycle in the rain?" But personally, the more appropriate question is, "How?"
The best tip any experienced rider can give you on riding your motorcycle in the rain would entail getting a full-body motorcycle rain suit (alongside waterproof gloves, riding boots, and a balaclava mask). Depending on weather conditions, however, you may need to do more than wear protective gear.
Here are 12 tips for riding a motorcycle in the rain:
Have weather-appropriate, properly inflated tires
Take it easy on the throttle
Wear waterproof gear that keeps you dry and warm
Your gear should match your two-wheeler
Ensure your rain suit has reflective materials
Lengthen your following distance
Pay mind to the type of closure your rain gear has
Go for a breathable inner lining
See if your rain gear is intended for compact storage
Motorcycle rain suits should be easy to use
Steer clear of recently completed roadwork
Always find a dry line
Riding your two-wheeler in the rain is perfectly normal and sometimes necessary. This is why all-weather gear and traction controls in your bike were designed in the first place!
Nonetheless, remember that these protective suits and controls are merely precautionary measures — caution and pre-/post-ride bike care are still necessary to make your encounter with the slippery road safe and enjoyable.
Tips on Riding Your Motorcycle in the Rain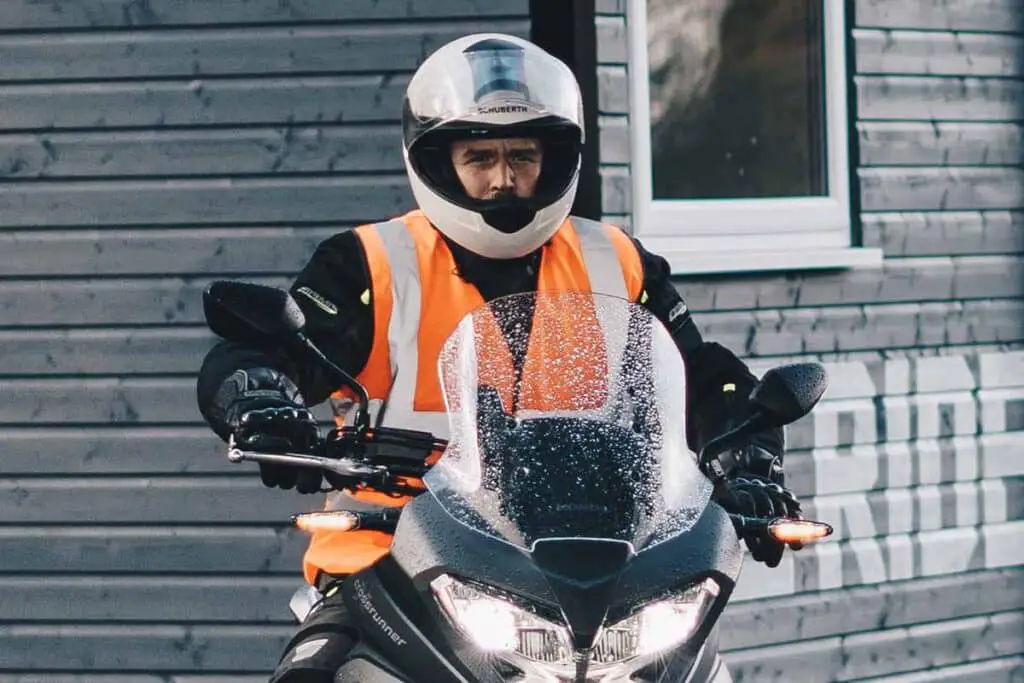 In this section, we will cover best practices and gear inspection tips that will make you ready for a wet yet fun riding experience:
1. Have Weather-Appropriate, Properly Inflated Tires.
Usually part of your pre-ride checklist, the condition and type of tires you have become exponentially significant when riding your motorcycle in the rain. Once you hit the road, you become heavily dependent on your knobbies for halting power and bike control.
All-season tires like Michelin Commander II Cruisers (view on Amazon) should suffice for light to moderate rain. But for harsher riding conditions, I recommend opting for a set of winter tires (or its equivalent).
While at it, inspect your brakes and the rest of your bike controls. Additionally, have an anti-puncture kit handy in case your tires incur some skid damage.
2. Take It Easy on the Throttle
Following your pre-ride inspection, the first order of business for riding your motorcycle in the rain is exercising caution and restraint. And when we talk about the latter, it ranges from having the right pair of gloves to controlled braking and cornering.
Unlike dry pavement, slick surfaces, intersections, and roundabouts are tricky (sometimes even devious) — one wrong move and you may send yourself flying feet away from your two-wheeler. That said, practicing patience when riding in the rain makes a world of difference.
3. Wear Waterproof Gear That Keeps You Dry and Warm
This motorcycle rain gear can be anything from a one-piece raincoat or a slip-on poncho to a full-on two-piece suit with matching rain boots and accessories.
The first set of options will suffice if you are in a tropical country with light to moderate rain showers. Otherwise, you will need something more thermal and enclosed for nasty weather.
4. Your Gear Should Match Your Two-Wheeler
This facet is quite important as many riders make the mistake of sometimes going for material over functionality. It is crucial to understand that specific types of motorcycle rain suits do not go well with certain two-wheelers.
For instance, it would be a bad idea to wear a one-piece raincoat if riding an 850-cc motorbike — as this mismatch will adversely affect your leg position and restrict movement.
5. Ensure Your Rain Suit Has Reflective Materials
Reflectors help keep you visible even in poor-visibility or 'white rain' conditions. So donning a rain suit with these trimmings will add to your safety on the road.
Ideally, the reflective materials should be placed across the chest, at the back, and around your legs — this way, other motorists can spot you easily.
However, this does not mean that reflectors on your rain suit are enough. Choosing motorcycle rain gear with bright neon colors (on top of reflectorized patches and trimmings) improves the prevention of potential on-road collisions and accidents.
6. Lengthen Your Following Distance
Now that you have the right gear and mindset, the next thing you should worry about is keeping safe as you ride. While a big chunk of this is attributed to patience, foresight also plays a big part.
Particularly, foresight comes into play in braking and watching out for slippery or "black oil" spots (among other things).
In the case of braking, remember to consciously make adjustments to how soon you should press the brake levers. If you normally come to a halt in 6 seconds on dry tarmac, make sure to extend that on slick roads and highways.
While we are on the subject, avoid closely tailgating the motorist in front of you. As for lengthening your following distance, heed the unofficial 8-10 second rule most motorheads follow. This allowance should give you sufficient time to avoid precarious situations when needed.
7. Pay Mind to the Type of Closure Your Rain Gear Has
Going back to your motorcycle rain gear, another thing to look closely into is the type of closure it has. This tip rides on the material vs. function debate, as tons of rain gear can look superficially appealing but fall short of providing inadequate water protection.
Between zippers and snap buttons, you should always go for zippers (more so if they have a Velcro snap to boot). The latter provides a greater degree of impermeability, whereas snap buttons have holes where water can eventually seep through — especially if you are riding in harsh weather conditions.
8. Go for a Breathable Inner Lining
One of the downsides to a well-enclosed motorcycle rain suit is that it can leave us feeling clammy inside. And if we are on our way to work or to meet up with friends, it is never a good idea to smell like damp gym socks. There are a couple of reasons behind this — one is the lack of cooling vents, and the other is a non-breathable inner lining.
The absence of both exacerbates the effect of PVC (polyvinyl chloride) plastic on our skin and clothes. This explains why an inner lining made of breathable mesh material is a must in any rain gear, especially the ones used for daily commutes or long rides.
Not all motorcycle rain gear is constructed from PVC, though. Others are made of Oxford nylon or a combination of PVC, polyurethane, and polyester, which are more breathable than most. Nevertheless, a breathable inner lining and strategically positioned cooling vents will improve rider comfort.
9. See if Your Rain Gear Is Intended for Compact Storage
In answering the question, "Can you ride a motorcycle in the rain?" you will need to determine the storability of your rain gear. Because if you cannot take your gear with you wherever you go, then the likely reply to this question would be, "No."
Most motorcycle rain suits are made of breathable, lightweight material. But it does not necessarily make them less cumbersome right away.
Generally, the thicker the material is, the more space it will consume when packed. So make sure you test this out if you can make an in-store purchase. Otherwise, carefully go through reviews if you decide to buy your motorcycle rain suit online.
10. Motorcycle Rain Suits Should Be Easy to Use
It can be easy to ignore this statement, but let's face it — we do not always leave our homes in 'full battle gear' and ready to brave any weather. More often than not, precipitation strikes when we least expect it (usually before we head home or while on the road).
I've experienced this too many times. And let me tell you, nothing beats motorcycle rain gear you can slip into in less than 10 seconds.
The material and closure type of your rain suit (among other things) play a crucial role in making this happen, which is why you should carefully think about your top motorcycle rain gear picks when deciding on a purchase.
11. Steer Clear of Recently Completed Roadwork
I strongly recommend you heed this advice if you are a beginner rider (or new to the area), and for good reason. The reason is that most experienced riders have reportedly found themselves making heart-stopping maneuvers or unceremoniously changing lanes in these areas.
And with many motorists doing the same all at once, that section of the road can quickly turn into one big ice rink that may put (and everybody else) in danger.
12. Always Find a Dry Line
Wet, slippery roads must never be treated as the daredevil's playground. Many riders might revel in the exhilaration and excitement. But those feelings will all be fleeting as soon as you hit a pothole (or another motorist).
The best way to avoid these catastrophic possibilities is to always keep an eye out for an adjacent dry area (usually where the car tire tracks have been).
Best Motorcycle Rain Gear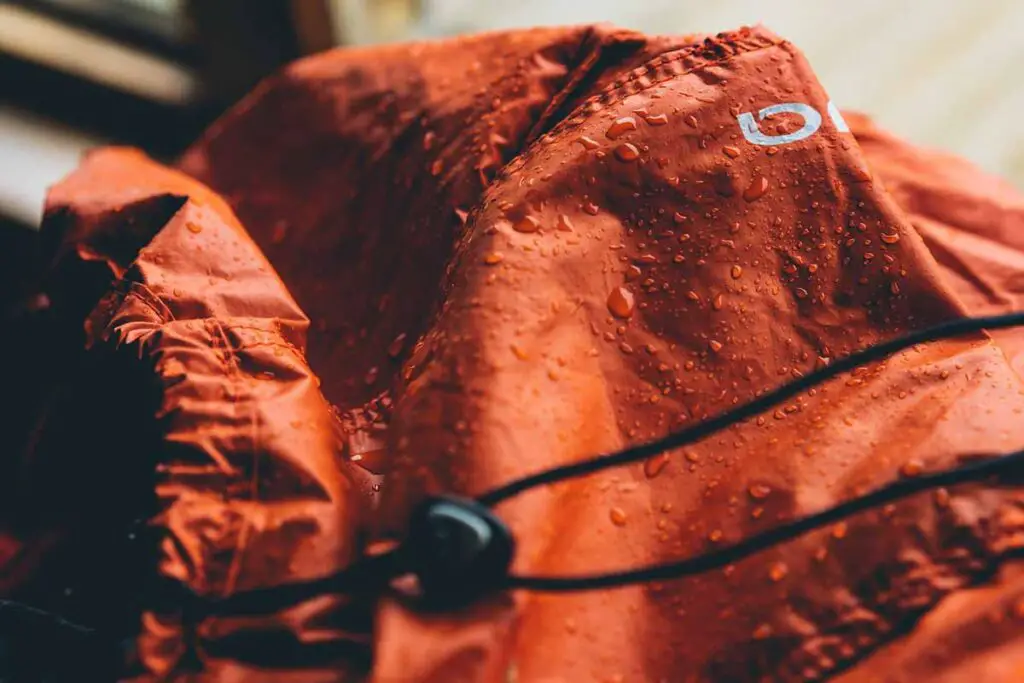 Tourmaster Defender
Tourmaster Defender 2.0 Two-Piece Rain Suit (view on Amazon)
Pros: Design includes a polyurethane-backed nylon shell, under-helmet hood, underarm vents, and suspenders — all of which promote airflow while keeping the rider waterproofed; Workmanship is seamless, and construction is of good material; Bright reflective strip offers an added safety feature
Cons: Pants are reportedly tight around the ankles, while zippers are flimsy; You may have to wear the pants first before your riding boots; Its thin, lightweight material warrants wearing something warm underneath the suit (especially when driving in cold, rainy weather)
Frogg Toggs
Frogg Toggs All-Sport Waterproof Rain Suit (view on Amazon)
Pros: This motorcycle rain suit is made from breathable, lightweight, and wind-resistant material; Areas such as the hood and waist are adjustable/removable; Snap-down zippers and elastic cuffs add to its weather-proofing; The suit feels comfortable and is easy to store, with pants long enough to cover your shoes
Cons: No pockets and reflective trim; Pants are quick to melt (be careful not to get it in contact with your exhaust)
Nelson-Rigg
Nelson-Rigg Stormrider Unisex Rain Suit (view on Amazon)
Pros: The motorcycle rain suit is constructed from soft polyester with PVC backing; Design includes large outer pockets and underarm cooling vents, adjustable cuffs with self-fastening tabs, and a hood with a soft corduroy inner collar; An over-the-zipper, full-length Velcro flap secures zippers in place and aids in leakage prevention; Elastic straps secure the hem of the pants around the rider's shoes
Cons: Zippers are prone to jam; The backside lining of the suit reportedly delaminates or becomes defective in just the first few rides in inclement weather
Viking Cycle
Viking Cycle Two-Piece Motorcycle Rain Gear (view on Amazon)
Pros: Comes with heat shield for calves, adjustable zipper pants, and Velcro cuffs (to name a few); Features 360° reflective panels, making for added on-road security; Its anti-sag material is a combination of 100% 600D polyester and polyurethane fabric; One of the few motorcycle rain suits that combine style and functionality
Cons: Its Velcro pant cuffs reportedly wear out early
Fly Racing
Fly Racing Two-Piece Men's Street Rain Suit (view on Amazon)
Pros: It is easy to wear — thanks to its slick inner liner and high-quality polyester shell construction; Removable shoe straps and a high waist design keep water from creeping up your legs and undercoat; Rear vents keep the rider drier, while reflective stripes on the chest, arms, and back logo make the rider stand out in poor-visibility conditions
Cons: Sleeves are reportedly big/loose around the wrists; The suit's design does not support adequate airflow; Zippers are flimsy and easy to catch onto fabric
Milwaukee Leather
Milwaukee Performance Men's Black Water-Resistant Rain Suit with Hi Vis Reflective Tape (view on Amazon)
Pros: Material is 100% Oxford nylon, with a full-side leg zipper making it easy for riders to slip into this motorcycle rain gear; Safety features include heat guards protecting the bottom half of the legs from tailpipe scorching and reflective tape placed on the chest, arms, and back; Available in orange, neon yellow, and gray
Cons: Material is not exactly flimsy but can easily rip if you are rough with donning the rain suit; Although the leg cuffs are elastic, they do not fit around the entirety of rider boots
HWK
HWK Motorcycle Rain Gear Jacket (view on Amazon)
Pros: Functionally, it is an all-weather jacket — its Reissa membrane and 600D Cordura fabric keep you warm during inclement weather while keeping you cool in the summer; It has a detachable thermal lining which adds to the rain suit's versatility and multiple waterproof pockets that keep valuables safe
Cons: Its mesh lining is not abrasion-resistant; It also comes at a slightly hefty price tag, even more expensive than other two-piece motorcycle rain suits
Sireck
Sireck Cold Weather Balaclava Mask (view on Amazon)
Pros: Originally meant for winter, meaning you can use it in inclement weather and when you go snowboarding; Fabric material is windproof, breathable, and water-resistant; Full head protection from the elements; Unisex design fits both men and women
Cons: It is not entirely waterproof, so it may not be ideal for heavy downpours or long drives in light to moderate rain; Not suitable for warm weather riding due to its stretchy fleece fabric
Timberland
Timberland Men's White Ledge Mid Waterproof Ankle Boots (view on Amazon)
Pros: Made of 1005 waterproof full-grain leather; Ideal for hiking, off-roading, and riding your motorcycle in the rain; Has a tall profile providing adequate support for your ankle; Multi-directional lugs on rubber outsole provide needed grip on slick surfaces; Available in earth colors and black
Cons: Not suitable for extremely wet environments or harsh weather riding; May not fit inside motorcycle rain gear or pants with tight leg cuffs
USHTH
USHTH Black Waterproof Rain Boot Shoe Cover with Reflector (view on Amazon)
Pros: Constructed from high-elastic PVC materials and is 100% oil and waterproof; Wide mouth can accommodate bulky riding shoes, and tall profile covers the entire shin; Can be used for hiking, fishing, farming, and many other applications; Has waterproof, anti-slide zippers and heel reflectors; Easy to clean and dry
Cons: Sizes only range from small to XXL for men and women — riders with larger foot sizes need to opt for other shoe cover brands
KLIM
Klim Carlsbad Off-Road Motorcycle Pants (view on Amazon)
Pros: Features 500D Karbonite Ripstop fabric, Gore-tex performance shell, and industrial-grade reflective materials; Sizes fit taller riders; Primarily used for off-road application, although the material is waterproof too 
Cons: Comes with a hefty price tag; Not suitable for extreme inclement weather
Special Mentions
Joe Rocket RS-2 Men's Hi-Visibility Rain Suit
Scoyco Two-Piece Motorcycle Rain Suit
Rev'It Nitric 2 H2O Rain Jacket and Acid H2O Rain Pants
Xelement Men's and Ladies' Two-Piece Motorcycle Rain Suit
Coleman PVC/Nylon Rain Suit (view on Amazon)
Investing in high-quality motorcycle rain gear goes a long way for hobbyists and enthusiasts. This is especially true if your equipment has safety and waterproofing features.
Motorcycle rain suits should pack small for storage. However, they cannot be too lightweight so as not to withstand harsh weather conditions.
Durable material with sturdy backing is a must-have in motorcycle rain gear. Reflective tape or stripes, heat-resistant panels, large pockets, storm flaps, cooling vents, and adjustable stirrups should also be non-negotiable.
Size, fit, weather adaptability, and comfort are other significant considerations.
Conclusion – Can You Ride a Motorcycle in the Rain?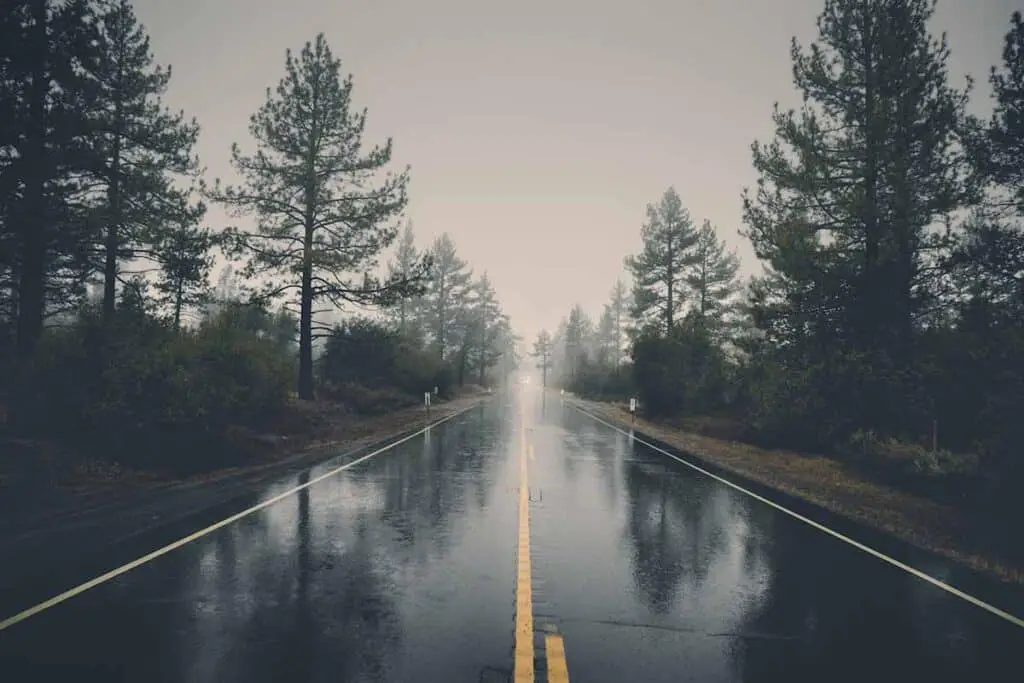 To summarize, below are 12 tips on riding your motorcycle in the rain:
Have weather-appropriate, properly inflated tires
Take it easy on the throttle
Wear waterproof gear that keeps you dry and warm
Your gear should match your two-wheeler
Ensure your rain suit has reflective materials
Lengthen your following distance
Pay mind to the type of closure your rain gear has
Go for a breathable inner lining
See if your rain gear is intended for compact storage
Motorcycle rain suits should be easy to use
Steer clear of recently completed roadwork
Always find a dry line
The list shared in this article is mostly about choosing the right motorcycle rain gear and heeding slick-road best practices. They are by no means exhaustive. But if you nail these tips down, post-ride motorcycle and gear care should be a piece of cake for you.
You need only clean your two-wheeler and hang your rain gear to dry once you get home, and you should be ready for your next slippery adventure shortly after.