Yamaha Virago 750 Specs & Review (XV750 Cruiser)
Disclosure: We may get commissions for purchases made through links in this post.
Cruiser motorcycles are comfortable bikes for paved roads, thanks to their excellent steering and seat design. The Yamaha Virago 750 is among the best examples that went through minor upgrades to respond to customer complaints. Although it's no longer in production, the bike is still popular among riders, collectors, and more.
The Yamaha Virago 750 is the model that pioneered the brand's Virago series, which has a design slightly different from the other bikes manufactured in the same timeline. It's a beginner-friendly, smooth-running mid-sized cruiser with a long, low, and lean style.
Let's detail its exterior and interior features and specifications to see what the Virago 750 really has to offer. It will also allow us to understand the minor changes made, as the unit has been produced for several years. We'll also provide answers to the common questions related to the Virago 750.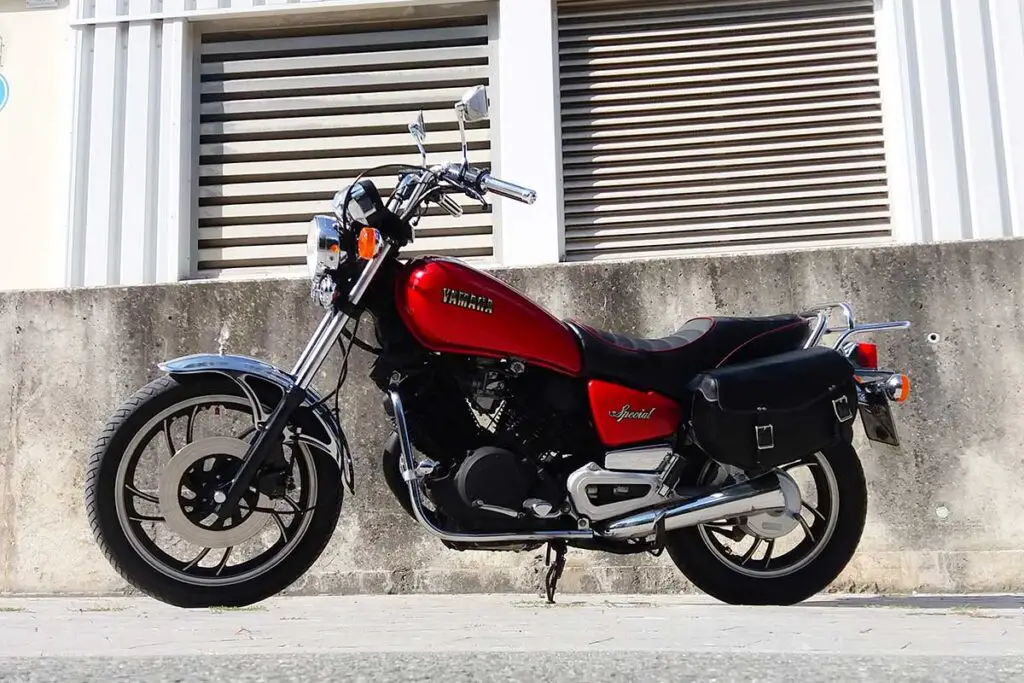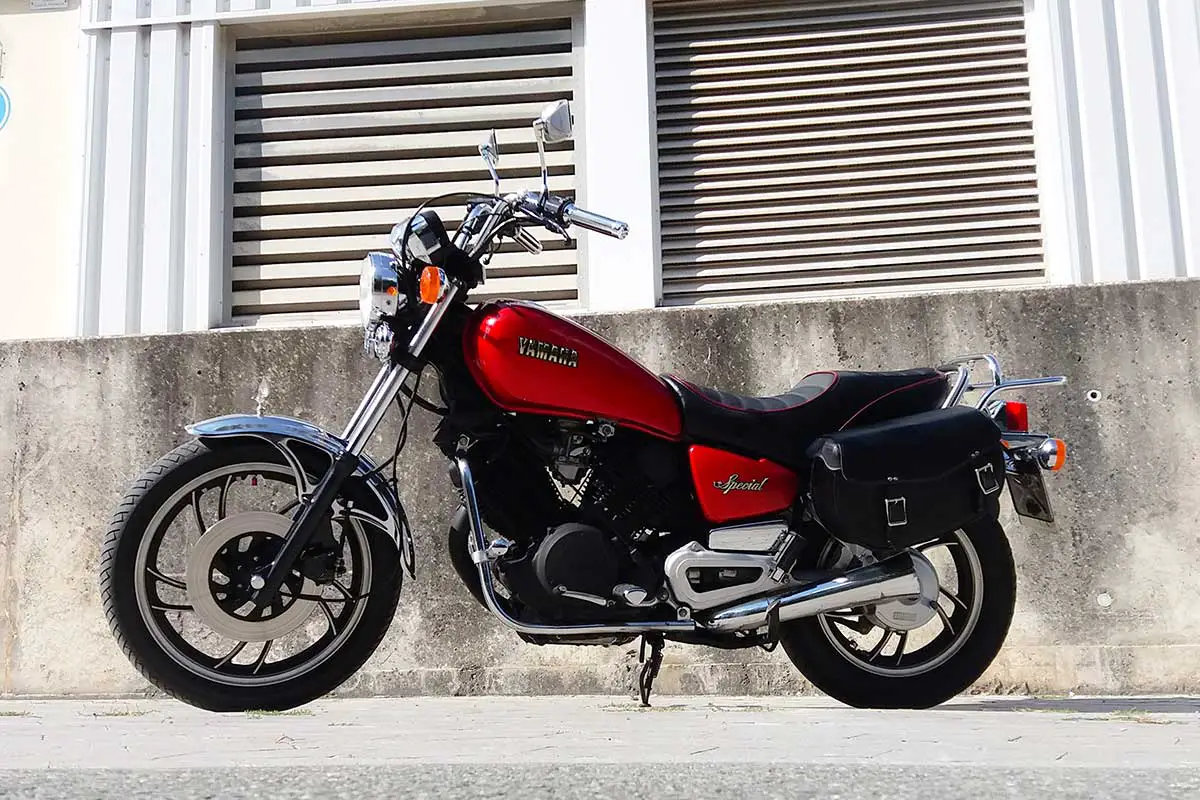 Yamaha Virago 750 Review
Yamaha is an established Japan-based company specializing in manufacturing and distributing lots of products, including motorcycles. They continue to innovate what they offer their customers through constant research and enhanced engineering and designing. They also offer genuine parts to ensure you can always replace and upgrade your ride.
The Virago 750 was considered the most innovative Yamaha bike in the early '80s. It's the reason why the brand continued producing several models for the Virago series, which most riders enjoyed and are still enjoying.
Like many other motorcycles, whether from Yamaha or other brands, the Virago 750 comes in several models, depending on the year of its production. Let's discuss the bike's main features, including the minor upgrades, to see how well it stands true to the brand's reputation and commitment to design some of the greatest motorcycles worldwide.
Interior Features
Understandably, the interior features of a motorbike will determine how well it performs on the road. Here are some of the things the Virago 750 has to offer:
Engine
Yamaha loaded the Virago 750 with a four-stroke, V8-type engine combined with a displaced, 75-degree rear cylinder. This feature ensures enhanced cooling, engine and wheel axle balance, and enough room for each of the two constant-velocity, 40-mm carburetors. These carburetors allow the bike to reach a maximum power of 55HP at 7000 RPM and up to 64.7 Nm of torque at 5750 RPM.
The low-RPM torque produced ensures convenient acceleration without affecting comfortable cruising. Reliability won't also be an issue. That's all thanks to the maintenance-free CDI ignition and automatic cam chain tensioner installed in the unit.
Suspension
The 1981 Yamaha Virago 750, 1982 Yamaha Virago 750, and 1983 Yamaha Virago 750 have a rear suspension with a solo-shock design. This was only common for racing and motocross bikes during those times, making the 750 the innovative street or cruiser bike. Additionally, you can tune the rear suspension easily, thanks to the dial-up-type spring rate adjustments and air-adjustable fork and rebound dampening features.
On the other hand, the motorbike has a coil spring, hydraulically dampened telescopic front suspension.
Power Delivery
Another great feature of the 750 engine is its contra-rotating design, which means the crankshaft turns in a direction different from the wheels. Thus, the power gets delivered from the 750 engine's crankshaft to its transmission through its straight-cut gear.
Fuel Capacity and Speed
As per the 83, 82, and 81 Yamaha Virago 750 fuel tank's capacity, it's around four gallons or 15 liters. Performance-wise, the vehicle runs at an average of 98.6 miles per hour or 13.44 seconds quarter mile based on recorded test results.
Transmission, Brake, and Clutch
The vehicle has a five-gear transmission installed right under its engine, plus a shaft drive requiring little maintenance. However, there were minor issues with the 81 Yamaha Virago 750 model's rear brake, as it's not as powerful as expected. Similarly, replacing its cartridge-style oil filter isn't as easy, and the starter was prone to failure and clunky.
On the other hand, the front brake is easier to manage and maintain and bites well. It's made of large dual-front discs and powerful calipers. The clutch is cable operated instead of hydraulically, allowing wide engagement points and good feedback.
Updates
The 1982 Yamaha Virago 750 Motorcycle has a better starter, with an updated voltage regulator and ignition switch and rebuilt fuel petcocks that are vacuum-operated. The later versions, such as the 1994 Yamaha Virago 750 and 1996 Yamaha Virago 750, came with a dual-shock suspension rather than the mono. The engine's outboard also has air filters with the addition of a chrome-based air cleaner cover.
Yamaha Virago 750 Specs
The below summarizes some of the most important interior specs of the Virago 750 for you to have a quick overview.
| Features | Specifications |
| --- | --- |
| Engine | Air-cooled, 75-degree V8, SOHC |
| Bore x Stroke | 83 x 69.2 mm or 3.26 x 2.72 inches |
| Fuel Capacity | 3 gals with 0.7 reserve or 11.35 liters with 2.65 liters reserve |
| Fuel Consumption | 39.75 miles per gal or 16.9 km/li |
| Maximum Power at 7,000 RPM | 55 HP or 41 kW |
| Maximum Torque at 5,750 RPM | 64.7 Nm or 47.74 lb-ft |
| Transmission | Five Speed |
| Final Drive | Shaft |
| Clutch | Wet, multi-plate |
| Front Brake | Dual Disc |
| Rear Brake | Single Piston |
Exterior Features
The motorcycle's exterior will help support the performance of the Virago 750 while giving it its signature look. Exterior features also define how comfortable the rider will be.
Overall Aesthetics
The Virago 750 is known for its sporty look, thanks to its teardrop-shaped gas tank, low, scooped saddle, and buckhorn bars. Its frame is made of stamped steel, which eliminated the need to rubber mount the engine.
Rider Comfort
Yamaha also made sure the engine's vibration gets isolated. They installed footpegs and pull-back, well-placed handlebars mounted with rubber. The vibration dampening works at certain speed levels, but the rider will feel the vibrations at a higher speed.
The bike also has a small and steeply-mounted kickstand. You'll also love that the wide seat has enough cushion for better comfort. It can also seat two individuals comfortably.
Plus, its height isn't too high from the ground, allowing short and young riders to rest their feet on the ground without issues. It would be a little inconvenient for taller riders since they'll have trouble reaching the brake lever, but it won't cause any trouble once they get the hang of it.
Tires and Wheelbase
The 1981 Yamaha Virago 750 and its succeeding models have tubeless tires and a tread-grooved center, so you can safely drive the bike on irregular pavements. It also has a 1,520-millimeter wheelbase that steers slowly and gives the bike a sufficient ground clearance.
Instrument Panel
Coming into the Virago 750's tachometer and speedometer, they both have a round face that allows you to read the display clearly. Both have pod housings plated with chrome. Another great thing is that the turn signals are self-canceling, ensuring you can drive conveniently and safely. Plus, the kill switch is at the side stand pivot.
Yamaha Virago 750 Specs
The table below summarizes the motorcycle's essential exterior features that you can refer to quickly as needed.
| Features | Specifications |
| --- | --- |
| Dry Weight | 496 lbs or 225 kgs |
| Wet Weight | 524.70 lbs or 238 kgs |
| Front Wheel | 145 mm or 5.70 inches |
| Rear Wheel | 100 mm or 3.7 inches |
| Front Tire | 100/90-19 |
| Rear Tire | 130/90-15 |
| Wheelbase | 1,520 mm or 59.8 inches |
| Rake | 32 degrees |
| Ground Clearance | 145 mm or 5.70 inches |
| Seat Height | 710 mm or 28 inches |
Yamaha Virago 750 Advantages
Lightweight
Fuel-efficient
Stylish, classic design
Easy to maneuver and operate
Perfect for beginners, youths, and short riders
Comfortable riding experience
Yamaha Virago 750 Problems
Not as comfortable for tall riders
Vibration at high speed
FAQs About Yamaha Virago 750
Let's cover some common questions about this model of the Yamaha motorcycle. These answers will ensure you know what you're getting your hands into.
What Years Did They Make the Yamaha Virago 750?
Yamaha produced the Virago 750 in two different timelines because of some regulatory changes, especially in the US.
As noted earlier, the first model of the Virago 750 was introduced in 1981, and production continued until 1983. The brand needed to halt its production due to new tariff rules.
These prevented motorcycles with an engine larger than 700cc from being imported. The USA has been of the biggest clients of Yamaha, so they introduced the 699cc bike to meet the tariff rules.
When the regulation was lifted, Yamaha resumed the production of the 750 in 1988. The brand continued producing the Virago 750 until 1998. After 1998, Yamaha introduced two new cruiser motorcycle lines to meet rider needs and changing regulations.
What Replaced the Yamaha Virago?
In relation to the previous information, the Yamaha Road Star and V-Star motorcycles replaced the Virago motorcycle line. These are mid-sized cruiser bikes that produce better torque and have more stroke and bore than the Viragos.
The V-Star bikes also have a stylish look and are very comfortable but are more recommended for intermediate and experienced riders. On the contrary, the Road Star or Wild Star is a beginner-friendly cruiser motorcycle.
Some individuals can get confused between these two bikes. To differentiate them, most Road Star models have air-cooled engines, while most of V-Stars' are liquid-cooled. Additionally, the cruising RPMs of V-Star models are higher than the Rodstar's.
What Is a 1995 Yamaha Virago 750 Worth?
The cost of the Virago 750 will depend on the unit's current condition and how well it was maintained. The 1995 model will have an average cost ranging from $750 to $1700. Some can be more expensive because some owners added modern upgrades.
Yamaha Virago 750 Review – The Verdict
The Virago 750 is one of the best options if you're looking for a reliable, comfortable, beginner-friendly bike to add to your collection or use on the road. You can maneuver it easily and ride and park it safely, especially if you're on the short side of the height scale.
This Yamaha bike is also well-balanced for more comfort and safety. Of course, you must not forget to wear the appropriate DOT-approved safety gear, such as a helmet (view on Amazon) and attire (view on Amazon).
Another great thing about the Virago 750 is that you can customize its parts if you want to upgrade. That said, make sure whatever part you install is compatible with the motorcycle so as not to compromise its performance.
Since Yamaha no longer produces this line of motorcycles or replaced them with two other lines, you'll only find second-hand units, so ensure you choose wisely. Check the maintenance record and whatever changes made by the owner. It's also best to have an auto-mechanic checked all its parts.