Honda Rebel 250 Specs and Review (Cruiser Bike)
Disclosure: We may get commissions for purchases made through links in this post.
Like most motorcycles or vehicles, the Honda Rebel 250 has a long history of upgrades, which is a good thing. That's because this means it's one of the best lineages, keeping some of its specs while improving some to meet changing needs and requirements. The latest model added to Honda's collection of motorcycles boasts features that will attract most riders.
So, what should you expect from the new Honda Rebel 250 Motorcycle? Most of the improvements made ensured the 250 meets fuel emission standards and A2 license requirements. It also has features that enhance comfort and stability while riding the vehicle without compromising style and aesthetics.
Let's have a quick look at the older Rebel 250 models and learn more about the latest Honda Rebel 250 specs and features to see if it matches your needs and lifestyle. We'll also answer some common questions regarding the new unit to help you make a more informed purchasing decision.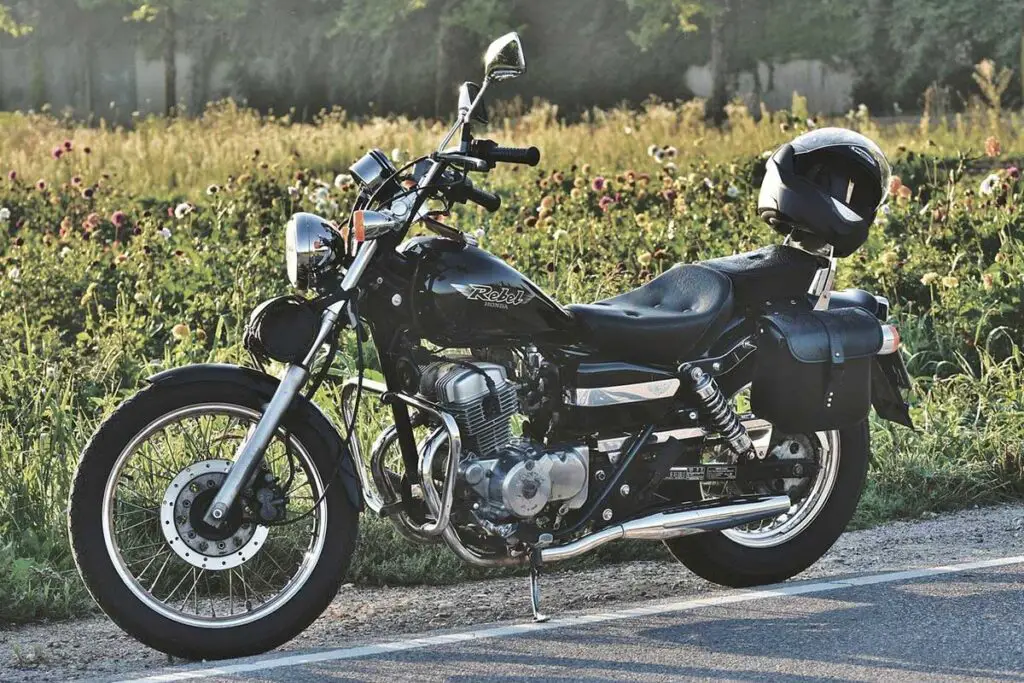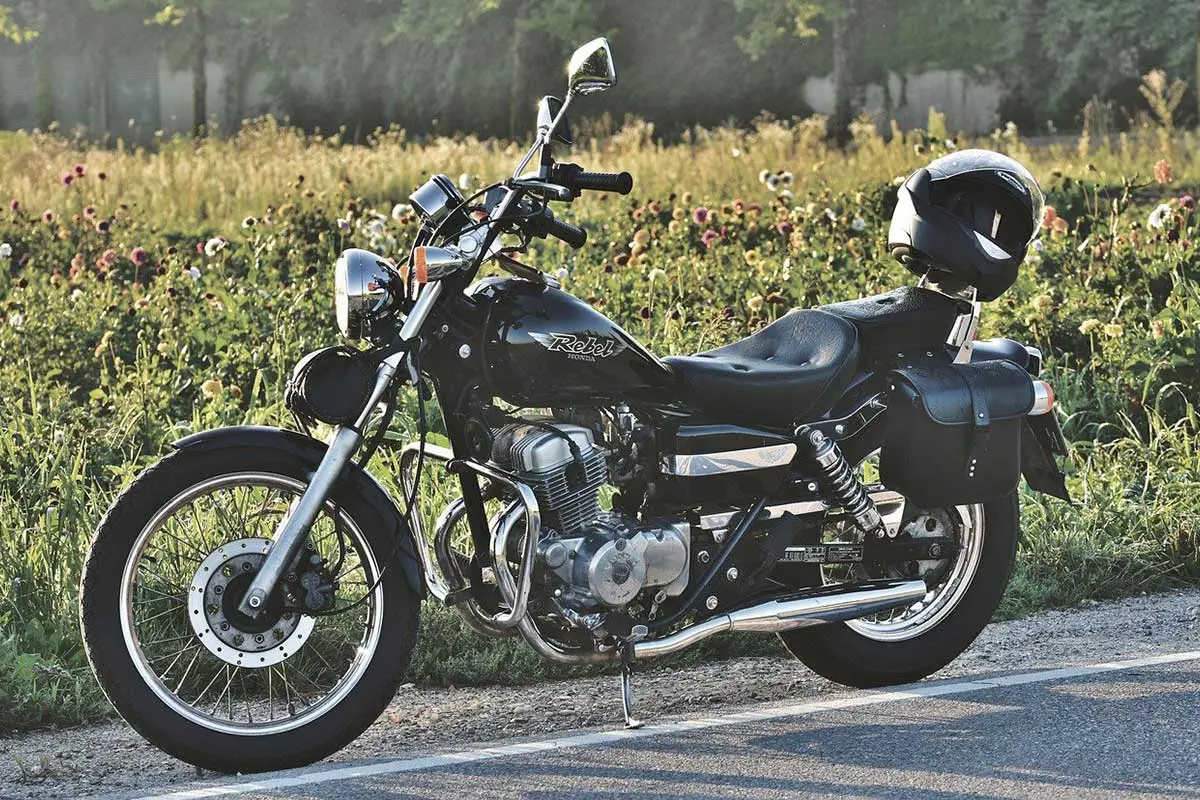 Honda Rebel 250 History and Popularity
The first model of the series was the 1985 Honda Rebel 250, also known as CMX250 or Peronist. Through the years, it's been one of the most fuel-efficient motorcycles in the market, with the average fuel consumption ranging from 52.0 to 62.6 miles per US gallon or 62.4 to 75.2 mpg (4.52 to 3.76 L/100 kilometers). The 1996 model is the best in this area, with a recorded average consumption of 62.6 miles per US gallon or 75.2 mpg (3.76 L/100 kilometers).
This Honda unit has also been commonly used for rider courses offered by training centers certified by the Motorcycle Safety Foundation. The District of Columbia's Metropolitan Police Department also used the Rebel 250 as their official vehicle. That's from the 1986 Honda Rebel 250 to the 2006 Honda Rebel 250 model.
Honda Rebel 250 Specs and Features
Exterior
As they say, "first impressions last," and it's no different when you look for a motorcycle that you can use or gift someone. That's why manufacturers ensure they produce units that have great exterior features. Regarding the new Rebel 250 model, here are what you'll expect from it:
Frame and Style
Currently, the Rebel 250 is available in three different matte colors: fresco brown, metallic armored silver, and metallic jeans blue. It has a steel frame with modern lines, minimum painting, and the classic Honda Rebel 250 bobber style.
The frame also has an innovative rear loop, separating the metal mudguard from the motorcycle's thick seat. Additionally, the footpegs' position allows correct riding posture and neutral, balanced steering.
Dimensions, Weight, and Accessories
The Rebel 250 maintains its low weight, making it a comfortable and easy-to-maneuver bike for short and young riders. Its low seat height ensures easy accessibility and keeps your feet flat on the ground for improved balance while backing up or parking.
Lights
The lights fitted in the motorcycle are all LED, with both the tail and turn signal lights having a bulb-type lamp, while the headlight is of the halogen type. The headlight is round with a 175mm lens and a die-cast aluminum mount. The tail light is thin and oval, while indicator lights have a diameter of 55mm.
The Honda 250 has a digital clock, odometer, speedometer, trip meter, and fuel gauge. As an upgrade, they included a gear position indicator that you can quickly view on its instrument console.
Suspension and Chassis
Suspension-wise, the front has a wide-pitched, erect, 41-millimeter fork, while the rear is of the swing arm type. You'll also find two dampers for a stabilized damping force.
The springs have also been optimized to ensure comfort while riding the bike, even on rough terrains. Honda paired these components with a reshaped clutch lever for easy shifting, which was an issue with some old models like the 1985 Honda Rebel 250 and even with the 2001 Honda Rebel 250.
The chassis' steel frame that holds the engine is surprisingly narrow, matching the unit's compact exterior. It has a 110-millimeter trail, a 30-degree rake, a 28-degree caster. You'll also find a tubular, steel-made, 45-millimeter swing arm that works well with the twin shock absorbers with a five-step pre-load setting, improved spring rate, and a reshaped rubber-made damper.
Tires and Wheels
The Rebel 250 has standard-sized tires and simple, crisp, cast-aluminum wheels. The front disc acts as a mirror of the spoke pattern, while the twin-piston caliper gets matched with a single-piston rear.
Table of Exterior Specs
The table below summarizes the most important exterior specs of the 2020 Rebel 250.
| Features | Specifications |
| --- | --- |
| Length | 2,205 mm or 86.81 in |
| Width | 820 mm or 32.28 in |
| Height | 1,090 mm or 42.91 in |
| Total Weight (With Fuel) | 329 lbs or 170 kg |
| Seat Height | 690 mm or 27 in |
| Minimum Ground Clearance | 150 mm or 5.91 in |
| Turning Radius | 2.8 meters |
| Wheelbase | 1,490 mm or 58.66 in |
| Front Wheel Spoke | 46.99 x 457.2 mm or 1.85 x 18 in |
| Rear Wheel Spoke | 69.85 x 381 mm or 2.75 x 15 in |
| Front Tire | 130 / 90-16M / C 67H |
| Rear Tire | 150 / 80-16M / C 71H |
| Front Rim Size Front | 16M/C x MT3.00 |
| Rear Rim Size Rear | 16M/C x MT3.50 |
| Rake | 30 degrees |
| Trail | 110 mm or 4.4 in |
| Front Suspension | Stanchions: 33 mm or 1.30 in stanchionsTravel: 116.84 mm or 4.6 in |
| Rear Suspension | Travel: 73.66 mm or 2.9 in |
| Front and Rear Brakes | Hydraulic; Optional ABS |
Interior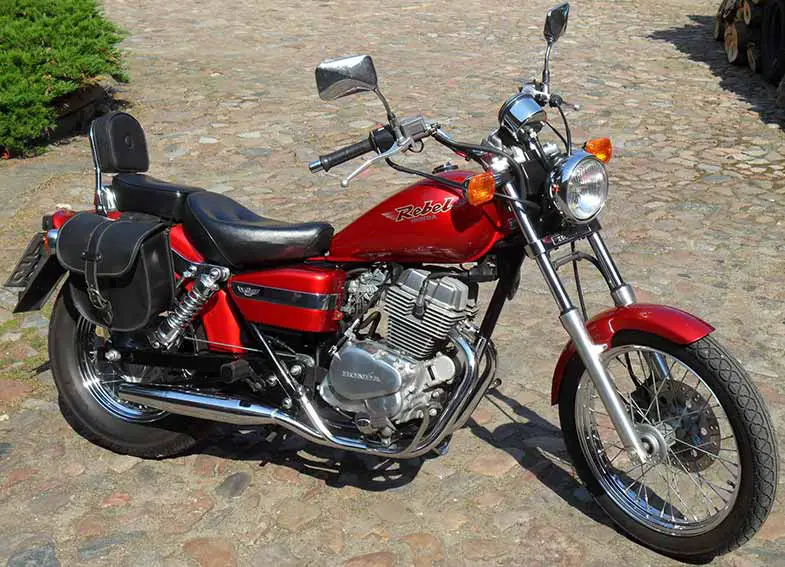 Great exterior features won't be enough even if they contribute to rider comfort, safety, and vehicle performance. The interior components also need to match them. Luckily, the Rebel 250 by Honda isn't just about nice exteriors, but the interior also has parts that stay true to the brand's good reputation.
Engine
Integrated with a single-cylinder, four-valve, four-stroke, DOHC liquid-cooled engine, the unit produces enough power at a certain speed. With that said, the Honda Rebel 250 top speed is at 79 mph or 127 kph.
The 250 engine has an improved fuel injection mapping, valves, and ignition timings. Instead of focusing on a high RPM performance, the Honda Rebel 250 carburetor has a torque-heavy output. This feature ensures linear and smooth delivery for every revolution range. In terms of lubrication, it's a combination of pressure-fed droplets.
Transmission
The motorcycle's six-speed transmission has been combined with a slipper clutch, so you'll experience effortless gear changes. In fact, the load in clutch lever operation is reduced by approximately 30%. If that weren't enough, the Honda Rebel 250 exhaust scrubs use up gas in its catalyzer, speeding up the transfer from the first chamber to the second one.
The gear ratios, from the first to the sixth, are:
3.416
2.250
1.650
1.350
1.166
1.038
In terms of reduction ratios, they are at 2.807 for the primary and 2.571 for the secondary.
Table of Interior Specs
Below is a table that details the essential interior specifications of the motorcycle.
| Features | Specifications |
| --- | --- |
| Displacement | 249cc |
| Valves Per Cylinder | 4 |
| Fuel Consumption | 34.1 km per liter |
| Bore x stroke | 76 x 55 mm or 2.99 x 2.16 in |
| Compression Ratio | 10.7: 1 |
| Torque | 22Nm at 7,750 RPM |
| Peak Power | 19kw (26HP) at 9,500 RPM |
| Carburetor | PGM-FI |
| Oil Capacity | 3.2 liters |
| Fuel Capacity | 11 liters |
| Clutch | Wet multi-plate coil spring |
| Final Drive | Chain |
Special Features of the Rebel 250 S Variant
The new Rebel 250 by Honda comes in two variants, the standard (discussed earlier) and the more expensive S variant. The features that make the S model different from the standard one are as follows:
An additional color choice, which is Matt Axis Gray Metallic
Headlight cowl with a smokescreen
Front fork boots and cover
Headlight cowl that matches the body's color
Sheet with brown-colored diamond-style stitching
How Much Is the Honda Rebel 250?
The new Rebel 250's price is at mid-range, which is around $5,500 to $5,800. For the older models, they're still usually between the $3,000 and $4,000 range. Just keep in mind that you must take the necessary precautions when buying second-hand units. Do your research, and it's best to look for a seller near you so that you can see the vehicle in person and have a professional mechanic check it.
Is a Honda Rebel 250 a Good Starter Bike?
Like the 2013 Ninja 300 by Kawasaki, the 2020 Rebel 250 is a bike highly recommended for beginning riders. It's a fact that tipping over is common for those starting to learn how to ride and drive a motorcycle because they still can't balance the bike properly.
The 2020 Rebel 250 unit has excellent stability and balance. Plus, its low ground clearance allows the rider to rest their feet flat on the ground, while the bike's low weight can help the rider support the bike.
That said, the rider's safety is still not assured when the bike tips over while it's moving, so it's always best to have an experienced rider with you while you practice. Also, you must not forget only to purchase and wear quality and DOT-approved motorcycle riding gear (view on Amazon).  
Can You Ride a Honda Rebel 250 on the Highway?
Like most 250cc bikes, you can safely and legally drive the bike on the highway. After all, based on the Honda Rebel 250 top speed, it meets most speed limits.
However, as some riders reported, you might have issues with splitting lanes. That's why it's more recommended for short-distance travels or commutes.
Still, some riders had no problems driving the motorcycle on interstate highways. Though, of course, they have years of riding experience.
Honda Rebel 250 Specs and Review: The Verdict
The Rebel 250 by Honda has features and specs that perfectly balance flexible output and physical size, making it a good training, beginner, and youth bike. Tall individuals might not be comfortable riding this bike, though, especially if you have long legs.
Nonetheless, overall, it's a reliable, fuel-efficient motorcycle perfect for both dirt and concrete roads. Plus, you won't need to worry about replacing parts, such as a Honda Rebel 250 carburetor and Honda Rebel 250 exhaust, if you're a DIYer since you can easily find one.
Always make sure you have a durable cover for cruiser-style motorcycles (view on Amazon) that will help protect your bike from environmental elements.