BMW R1200RT Sport Touring Motorcycle (Specs and Review)
Disclosure: We may get commissions for purchases made through links in this post.
Hailed in 2014 as the "Best Sport-Touring Bike of the Year" by Cycle World, the BMW R1200RT is a force to be reckoned with in the sport-tourer segment. Its handsome styling and unquestionable reliability are a sure-fire draw for motorcycle riders and enthusiasts. Not to mention that it was a notch above the already capable R1150RT model.
Produced from 2005 to 2018, the BMW R1200RT is an iconic motorcycle that rivals other BMW greats in advancements and reputation. Boasting a robust tire-and-wheel system, impressive performance figures, and optional ABS Pro and Dynamic ESAOE, the R1200RT is ideal for daily commutes and touring.
Throughout its history, BMW has consistently refined this model with cutting-edge motorcycle technology. But does the BMW R1200RT's powerful engine, remarkable handling, and rider-centric design suffice in solidifying its position as the ultimate touring machine? Let us find out in this article.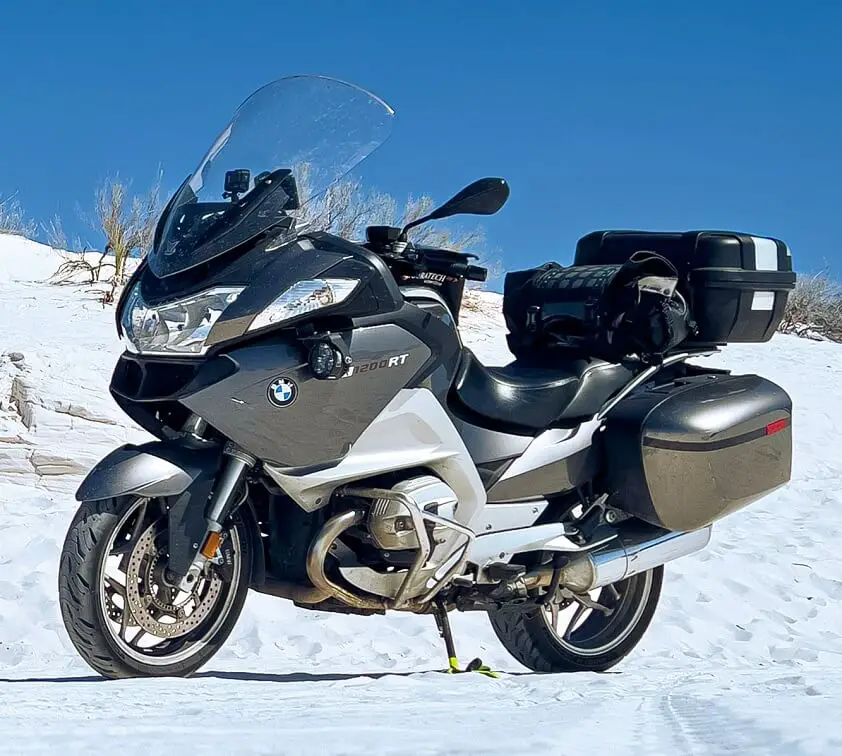 About the BMW R1200RT
The BMW R1200RT, part of BMW's iconic RT (Reise-Tourer, or travel tourer) family, was first introduced in 2005 as the successor to the R1150RT. Designed primarily for long-distance touring, this model quickly gained popularity among casual riders and enthusiasts due to its unmatched capabilities — somewhat expected of a series tracing back its beginnings to as early as the late '70s.
The immediate predecessor of this two-wheeler is the BMW R1150RT, a liter-class travel tourer with an air and oil-cooled (or "oilhead") engine, 6-speed gearbox, fully linked power-assisted ABS brakes, and two spark plugs per cylinder (or dual ignition). This motorcycle shares the platform with the R1100RT while boasting a larger power mill capacity and enhanced horsepower.
Over time, BMW has continuously enhanced the R1200RT, integrating cutting-edge technologies and innovations to ensure its foothold as a front-runner in the touring segment. The following section highlights key modifications in the bike's design, resulting in improved maneuverability and user experience.
Design Improvements
The 2005 BMW R1200RT showcased significant developments in power, weight reduction, electronic features, braking systems, and comfort over the R1150RT. Here are a few of those enhancements listed in detail:
The R1200RT received a substantial 15% power boost compared to its predecessor, resulting in improved performance and better acceleration.
BMW shed 20 Kg (44 lbs.) from the R1200RT's weight, making it more agile and easier to handle, particularly during cornering and maneuvering.
An optional Electronic Suspension Adjustment (or ESA) enabled riders to electronically adjust the suspension settings to suit varying preferences and road conditions, enhancing overall riding comfort and stability. The same is true for 2014 and subsequent models, except it was called Dynamic ESAOE.
The addition of an onboard computer provided riders with essential information, including mileage, ambient temperature, fuel consumption, and other vital data — making it easier to monitor performance.
Gearheads were offered a low seat and a lowered suspension, reducing the seat height to a minimum of 820 mm (32.3 inches) and allowing more riders to comfortably plant their feet on the ground at a stoplight.
The standard electrically operated windscreen became adjustable, allowing motorheads to customize its height according to their preferences while reducing wind turbulence during long rides.
2005 and 2006
2005 and 2006 BMW R1200RT models featured servo-powered ABS brakes with partial integration. This system allowed the rear brake pedal to apply the rear brake independently while the front brake lever applied both brakes simultaneously for more controlled braking.
Electronic Tire Pressure Monitor (or TPM) was introduced as an option in 2006.
2007
BMW removed the servo assist from the partially integrated brakes of the previous model and introduced a modernized and lighter ABS. Also, the Automatic Stability Control (or ASC) feature, which offered improved traction control, was made available as an option.
2010
BMW increased the R1200RT's torque to 119 Nm (88 lb-ft) for better low-end power and smoother acceleration. The engine was also upgraded to DOHC, a technology first used on the BMW HP2 Sport. Current and subsequent models featured minor revisions to the screen, cockpit designs, and switchgear.
2014
The travel tourer received an updated saddle, seating position, and a water-cooled version of the boxer engine. The latter upgrade improved heat management and made for a more consistent performance (not to mention a dyno-tested 113.5 bhp/84.6 kW). The frame was updated for improved maneuverability. Additionally, drive modes "Rain" and "Road" were made standard.
The fairing received updates to improve aerodynamics and wind protection, while the instrumentation was modernized for better visibility and information display. Also, the 2014 and subsequent models came with a central locking system that allowed remote control locking of both saddlebags for added convenience.
Introduced as an option, the Shift Assistant Pro allowed the motorheads to shift gears up and down without the clutch or throttle, improving gear changes during riding.
Offered as part of the Ride Modes Pro option package, the ABS Pro feature senses lean angles and adjusts intervention accordingly, providing improved real-time braking and cornering performance.
2015
The keyless ignition and locking option simplified the starting and locking process of the R1200RT, making it more convenient for the user.
2017
R1200RTs were fitted with a judder damper on the transmission output shaft to control shaking and vibration. These incarnations also saw upgrades to the selector drum actuator, transmission shaft bearing, and transmission shafts, resulting in smoother gear shifting and improved durability.
In addition to these design improvements, the BMW R1200RT also became the guinea pig for Variable Valve Timing (VVT), which BMW planned to introduce on its boxer engines in mid-2017.
The testing continued until 2018 and was rumored to be part of the mill design of motorcycles potentially succeeding the R1200RT. Its adoption was later confirmed in September of the same year with the R1250RT and the R1250GS in 2019.
2016 BMW R1200RT Specs & Features
Engine
The R1200RT is powered by an air-/liquid-cooled two-cylinder 4-stroke opposed-twin (spur gear-driven) DOHC engine with a balancing shaft. It has a bore-stroke ratio of 101 mm × 73 mm (3.98 in × 2.87 inches).
Piston displacement is 1,170 cm3 (71.4 in3), while the compression ratio is 12.5:1. An electronic fuel injection system with 52-mm throttle bodies facilitates precise fuel delivery and air-fuel mixture.
| Description | |
| --- | --- |
| Horsepower | 123.4 hp (92 kW) @ 7,750 RPM; 105.9 hp (79 kW) @ 7,750 RPM* |
| Maximum Torque | 125 Nm (12.7 kgf-m, 92.19 lb-ft) @ 6,500 RPM; 122 Nm (12.4 kgf-m, 89.98 lb-ft) @ 5,250 RPM* |
| Top Speed | 125—140 mph (201—225 km/h) |
| Fuel Economy (average) | 45.9—60 mpg (3.9—5.1 L/100 km @ 55 mph) |
| Fuel Tank Range | approximately 302—396 miles, 486—637 km |
* with OE Power reduction
Fuel & Lubrication
The tank capacity is 25 L (6.6 USgal, 4 L/1.06 USgal – reserve) of super unleaded gasoline. Units released in North America used fuel with a rating of at least 91 AKI (98 ROZ/RON), while those in Europe required a minimum rating of 89 AKI (95 ROZ/RON) — ratings of which are based on German DIN 51600 standards.
Lubrication-wise, the R1200RT has the following requirements:
| Description | Quantity |
| --- | --- |
| With oil filter replacement | 4 L (4.2 US qt) |
| From low to full level | 0.95 L (1 US qt) |
For top performance, BMW recommends SAE 5W-40 of BMW Motorrad Advantec Ultimate Oil or its equivalent with a minimum API grade of SL, meeting JASO T903 MA2 and ACEA standards.
Using engine oil with molybdenum additives is ill-advised, as it can attack coated components of the engine. Other viscosity grades specified in the manual are permissible contingent on changes in ambient temperatures, altitude, and riding conditions.
Drivetrain
A 6-speed, claw-shifted gearbox with helical-cut splines and an oil-bathed, multi-disc clutch assembly delivers power to the rear wheel. Meanwhile, the final drive is a shaft drive system with bevel gears. An ignition-cut rev limiter redlining @ 9,000 RPM keeps top speed and the motorbike within a safe, operable range.
For reference, see the stock gear ratios below:
| Description | |
| --- | --- |
| Primary Reduction Ratio | 1.000 (60/60) |
| Transmission Gear Ratio — 1st | 2.438 (39/16) |
| Transmission Gear Ratio — 2nd | 1.714 (36/21) |
| Transmission Gear Ratio — 3rd | 1.296 (35/27) |
| Transmission Gear Ratio — 4th | 1.059 (36/34) |
| Transmission Gear Ratio — 5th | 0.943 (33/35) |
| Transmission Gear Ratio — 6th | 0.848 (28/33) |
| Final Drive Ratio | 2.750 (33/12) |
Ignition & Electricals
An all-electronic, ECU-managed ignition system brings the R1200RT to life. An NGK LMAR8D-J spark plug with an electrode gap of 0.8–0.9 mm (0.031–0.035 inch) when new is responsible for spark ignition. Meanwhile, the bike's charging system is a triple-phase alternator rated at 540 W @ 5,000 RPM.
55-watt halogen H1/H7 headlights, a 5-watt parking light, LED turn signals, and other electronics are powered by a 12V 16Ah/(10 HR) YT19BL-BS battery like a Yuasa YUAM6219BL YT19BL-BS Sealed Battery (view on Amazon). This battery has assembled dimensions of 184 x 81 x 170 mm (7.25 x 3.19 x 6.69 inches – L x W x H, sans wiring harness and mounting accessories) and was later changed to a YTX20CH-BS format for the 2014–2018 year models.
Tires & Brakes
Stock rubber consists of 120-70 ZR17 (view on Amazon) and 180-55 ZR17 tires mounted on 3.5″ x17″ and 5.5″ x17″ front and rear cast aluminum wheels. These wheels have a 35.76% : 64.24% permissible load bias and should be at least a "W" (270 km/h) speed category if intended for touring applications.
As for brakes, hydraulically actuated, 320-mm floating twin discs with 4-pot radial monobloc calipers at the front and a fixed 276-mm disc with dual-piston floating calipers at the back provide stopping power and complete the BMW R1200RT tire-and-wheel assembly. The front brake pad is made of sintered metal, while the rear is organic — with a respective wear limit of 4 mm (0.15 inch) and 4.5 mm (0.18 inch).
Whether riding solo or with a passenger, the recommended cold-tire pressure is 36 psi (2.5 bar) for the front and 42 psi (2.9 bar) for the rear. But adjustments are necessary if traveling at 100 km/h or higher. For speeds between 100—120 km/h (62—75 mph), increase tire pressure by 0.1 bar (1.45 psi). Similarly, increase tire pressure by 0.2 bar (2.9 psi) for speeds above 120 km/h (75 mph).
Suspension
Enclosed in a tubular steel frame with a load-bearing drive unit and an aluminum subframe are telescopic front forks and a cast aluminum rear swingarm.
Bikes with Dynamic ESAOE have torsion springs, a header tank at the front, and a reservoir at the back — both of which come with electrically adjustable decompression and compression-stage damping. The front suspension offers 120 mm (4.7 inches) of wheel travel, while the rear suspension provides 135 mm (5.3 inches).
The BMW Telelever (front) has an anti-dive top fork bridge, an engine-mounted leading link, and a 37-mm central spring strut supported by the leading link and frame. Meanwhile, the BMW Motorrad paralever (rear) has a central spring strut with coil spring offering spring preload and rebound stage damping adjustability.
Dimensions & Capacities
The overall dimensions of the BMW R1200RT are 86 x 38.6 x 55.3 inches (2,185 x 980 x 1,405 mm – L x W x H). Saddle height ranges from 760—780 mm (29.9—30.7 inches, low) and 830—850 mm (32.7—33.5 inches, high).
Rider's inseam arc (heel to heel) is between 1,740 mm and 1,915 mm (68.5—75.4 inches), depending on the motorcycle's stock layout and suspension configuration. (Note that all these figures are without a rider, at unladen weight.)
GVWR is estimated at 495 Kg (1,091 lbs.) — a total of a full tank and fluids, rider and passenger weight, cargo, and accessories. This estimation takes into account the empty DIN weight or curb mass of 276 Kg (608.5 lbs. — ready for operation, 90% full tank capacity) without panniers (view on Amazon) and the maximum payload of 219 Kg (482.8 lbs.).
Exterior
The R1200RT boasts a sleek and modern design, showcasing a distinctive silhouette and aerodynamic fairing that exudes a commanding on-road presence. Its bodywork is meticulously crafted, seamlessly blending with the frame and accentuating the travel tourer's streamlined profile. The saddle complements the bike's overall aesthetics while ensuring maximum rider comfort during long trips.
Its fuel tank is strategically positioned between the rider's seat and the handlebars, providing a low center of gravity for enhanced stability and handling. On the tank's top center is a 5.7-inch TFT display providing motorheads with all the essential data while riding.
Color scheme-wise, the fuel tank generally ties well with the two-wheeler's overall styling. Factory finishes are typically available in the following hues:
2005-2006:
Biarritz Blue Metallic
Magnesium Beige Metallic
Dark Graphite Metallic
Titan Silver Metallic
Biarritz Blue / Dark Graphite (two-tone)
2007-2009:
Storm Grey Metallic
Ocean Blue Metallic
Light Grey Metallic
Ostra Grey Metallic
Piedmont Red Metallic
2010-2013:
Ostra Grey Metallic
Quartz Blue Metallic
Callisto Grey Metallic Matt
Midnight Blue Metallic
Polar Metallic
2014-2018:
Ebony Metallic
Callisto Grey Metallic Matt
San Marino Blue Metallic
Quartz Blue Metallic
Carbon Black Metallic
Alpine White
Cost of a BMW R1200RT
At its launch, the BMW R1200RT sold for an MSRP of $17,490 (approximately $27,320+ with inflation factored in). However, this went down to $17,050 in its 2nd production year. It had incremental rate increases in the years after — until BMW started putting out three trim packages instead of one from 2009 onward:
BMW R1200RT MSRPs from 2009 to 2018 —
Base: $16,800—$18,395
Standard: $17,755—$18,350
Premium: $18,995—$20,850
Of these versions, only base models sustained their MSRP from 2012 to 2013 and 2016 to 2017. Meanwhile, the other two had steady rate increases until the two-wheeler went back to solely offering the base package in 2016. As for low-to-average retail, a used BMW R1200RT price ranges between $2,670 and 13,520, depending on the motorbike's year and trim.
BMW R1200RT Recalls
Despite the BMW R1200RT generally being a formidable liter-class bike, it is not without flaws. According to the Vehicle & Operator Services Agency or VOSA in the UK, this travel tourer has been issued six different recalls covering the below components.
These complaints were logged between 2005 and 2006. However, it is best to check with your dealer or the VOSA or Consumer Reports websites (among others) for the specific R1200RT year models affected by these product recalls:
Flimsy Front Brakes
Specific year models were found to have unfavorable tolerances, causing strain on the brake lines, which could lead to leaks and hydraulic fluid escaping, potentially causing front brake failure.
To resolve this issue, BMW recalled affected R1200RT motorcycles and fitted them with brake lines more resistant to vibration and strain (along with improved geometry), minimizing stress in their installed positions.
ABS Failure
Under specific conditions — such as continuous ABS use or during left brake caliper removal for maintenance (i.e., tire changes) — the ABS might malfunction due to excessive pressure or incorrectly routed sensor cables.
To address this, affected machines received either a pressure restrictor in the hand brake control hydraulics or a rerouting of the sensor cable to prevent chafing against the brake disc and potential ABS failure.
Jammed Throttle Cable
For some R1200RT models, small objects could get stuck between the throttle valve stub and the engine block, potentially obstructing the throttle cable pulley's movement and posing a critical road hazard.
To address this issue, BMW recalled the affected machines and installed covers on the throttle cable pulleys to prevent such incidents.
Clutch Failure
There is a potential risk of certain clutch components coming loose while the motorcycle is in motion, which could result in these components puncturing through the engine block and posing a serious safety hazard to the rider.
To address this safety concern, affected vehicles were recalled to have their clutch assemblies replaced.
About BMW
Bayerische Motoren Werke GmbH (a.k.a. Bavarian Motor Works), a German manufacturer boasting a rich 100-year heritage, initially operated as an aircraft engine producer in 1916. However, following the constraints of the Treaty of Versailles on aircraft engine manufacturing, the company transitioned to motorcycle production in 1923 and, subsequently, into automobile manufacturing in 1928.
The 1923 BMW R 32, their inaugural motorbike, was the blueprint for modern-day touring motorcycles — including the renowned BMW R1200RT.
Conclusion — BMW R1200RT Review
For those who prioritize comfort, tech, and performance during long journeys, the R1200RT remains an excellent choice. So much so that despite its many drawbacks, the overall experience of straddling one of these iconic machines remains unmatched in the touring segment.
Whether you are exploring scenic routes or crossing continents, this two-wheeler ensures that the road ahead is nothing short of extraordinary — a guarantee befitting of the BMW R1200RT, which continues to stand as a paragon of touring motorcycles.