BMW K100 Specs and Review (The Flying Brick)
Disclosure: We may get commissions for purchases made through links in this post.
Being one of the most expensive brands, owning a BMW motorcycle might seem impossible for many. However, you can opt for a used BMW bike model, especially the older versions or series like the BMW K100. This particular model was one of the most popular upgrades of BMW when it was introduced.
But what exactly does the BMW K100 have to offer? The unit is available in several versions to meet the specific needs of different riders. They all have an upgraded engine that delivers sufficient power, enhanced speed, and fuel efficiency without compromising safety and comfort.
Let's discuss its most important features, including the minute differences between the available versions, to see which one works best for you. We'll also answer a few questions related to K100 to ensure you have enough knowledge about it before deciding to purchase.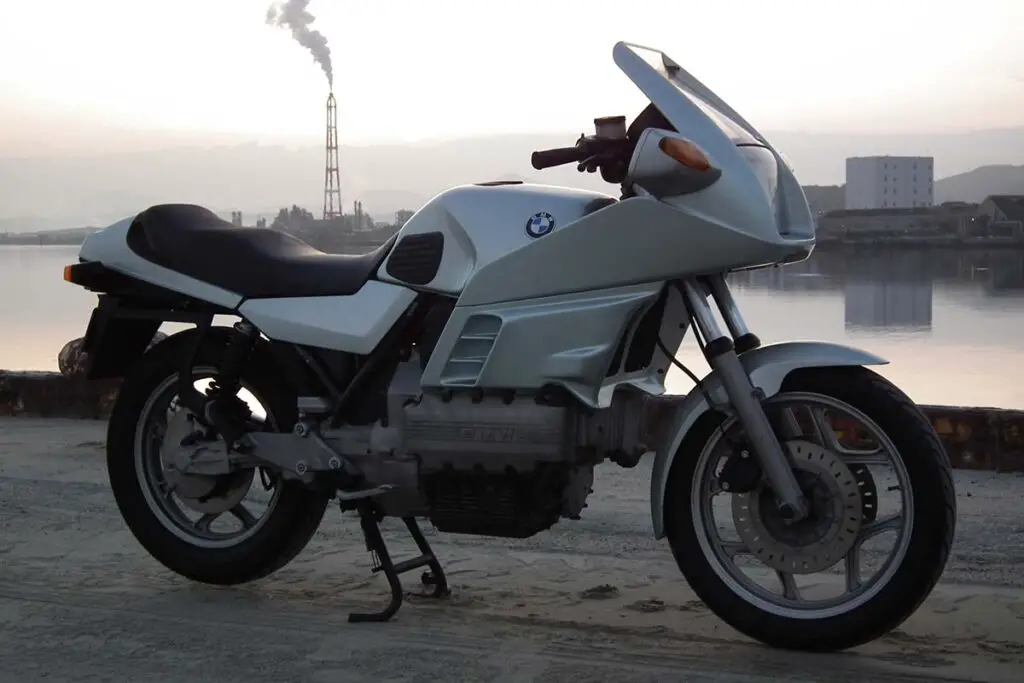 The BMW Brand
Bayerische Motoren Werke AG or BMW is a popular and well-established motorcycle and car manufacturer headquartered in Germany and with production and assembly factories in various countries. Most of their products come with a heftier price tag than their competitors, and for a good reason.
They're one of the top innovators in the industry, ensuring the use of quality materials, superior technology, and resource efficiency. Not only do they ensure they manufacture, design, and release units that meet or exceed standards, but they also make sure their products have standout features.
The K100 is among the best examples of BMW's innovativeness, as it's a motorcycle crafted to meet the stricter and newer fuel emission regulations in Europe and the USA at that time. It also helped the brand gain back its place in the industry. That's because Japanese brands started becoming more popular than BMW since their bikes had better speed.
BMW K100 Review
Manufactured from 1983 to 1992, the K100 by BMW has several variants, namely K100, K100 RS, K100 RT, and K100 LT. However, the LT was only added in 1986 and then completely replaced the RT in 1989. These variants only have minimal differences, which you'll learn more about as we discuss the bike's features and specs.
BMW K100 Engine
This bike's engine is the greatest upgrade from and boldest move made by BMW since they had to replace the boxer engine that made their bikes stand out for years. It has a liquid-cooled engine with a conventional and simple design, having two valves in each cylinder.
Added to that are the adjusted double overhead camshafts, considered advanced inline-4s during the bike's year of production. Still, BMW ensured it was more unique than their competitors' inline-4 engines, so they laid it down on its side.
Not only did it add to the bike's unique style, but it also ensured a lower center of gravity for a smooth and safe ride. Also, it only requires one 90-degree engine rotation or bevel drive instead of two, so more power reaches the bike's rear wheel.
You'll also appreciate that this BMW bike has a Bosch LE Jetronic fuel injection system that allows better power and torque while ensuring fuel economy. There's also sufficient power transfer from the engine to the road because the rear has a single-sided swingarm.
In terms of maintenance, you won't have to worry since a complete overhaul is possible without taking the whole block out of the motorcycle. That's because you can access the engine's top and cylinder head easily on the left side. The same goes with the crankshaft and crankcase that you'll find on the left side.
Transmission, Wiring, Battery, and Others
The bike's five-speed transmission also boasts ease of maintenance and easy accessibility. The gearbox for all variants also shifts perfectly but has a long travel path, but you can reach the fifth gear quickly. You'll also notice that the first gear engages quietly.
For the brakes, the bike has dual discs in the front, while the rear is of the single-disc type for the RT, and the rest has a single leading shoe drum brake. The later models also have ABS or anti-lock brakes. The clutch installed is cable-operated and dry, single-plated.
The bike has a 20Ah battery with high-capacity 460-watt alternators, but you can install a 30Ah if you prefer. With regards to its wiring harness, it has more lines than boxer-type models. Thus, you can easily and safely combine particular accessories, such as the hazard light, sockets, and heated grips.
You'll also love the fact that delicate parts like relays, connectors, control units, and fuses have complete protection. What's even better is that the bike has a maintenance-free ignition system.
Exterior
This BMW motorcycle has aluminum-made fuel tanks, a stainless steel exhaust, a Hella accessory plug-in system, alloy eight-spoke wheels, adjustable headlights, and self-canceling signal lights. You'll also appreciate the fact that BMW crafted the switches, instrumentation, and levers from scratch.
Windshield-wise, only the RT has an adjustable one. Some tall riders reported an issue with wind buffeting for the RS because of the small size of the stock windshield. Additionally, this version has lower handlebars.
Being the latest version of the K100 BMW, the LT has a more comfortable seat, a radio prep, and a top case. The rear wheels installed are also somewhat different. The RT and RS have a 17-inch wheel, while the other variants have an 18-inch wheel.
Among the most notable differences in the K100 BMW variants, though, is the fairing. It not only adds to the bike's aesthetics but also to its primary benefit: keeping the wind out when driving the bike at a high speed.
Here's a quick breakdown of the several variants:
K100: None; thus, it's also sometimes called the "Naked" unit
K100RS: Sports fixed fairing
K100RT: Full touring fairing
K100LT: Add-on "luxury touring" standard equipment; higher screen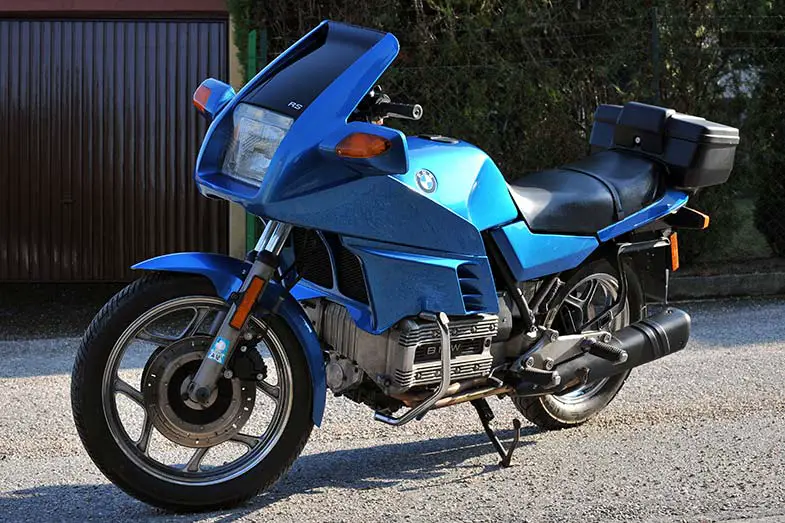 Table of BMW K100 Specs and Features (Interior)
Below are some of the most essential interior specs of the BMW K100 to serve as your quick reference and guide.
| Features | Specs |
| --- | --- |
| Engine | 987cc, water-cooled, four-cylinder |
| Maximum Torque | 86 Nm or 63 ft-lb or 8.8 kgf-m |
| Maximum Power Output | 90 HP or 65.6 kW at 8,000 RPM |
| Maximum Power Output (Rear Wheel) | 83.9 HP or 61.7 kW at 8250 RPM |
| Fuel Tank Capacity | 5.8 US gallons or 22 liters |
| Average Fuel Consumption | 38.3 US mpg or 16.3 km/liter or 6.1 liters/100km |
| Compression Ratio | 10.2:1 |
| Bore x Stroke | 67 x 70 millimeters |
| Transmission | Five-speed |
| Gear Ratio | First: 4.50Second: 2.96Third: 2.30Fourth: 1.88Fifth: 1.61 |
| Final Drive | Shaft |
Table of BMW K100 Specs and Features (Exterior)
Here's are some of the most essential exterior specs of the BMW K100:
| Features | Specs |
| --- | --- |
| Dimension (L x W x H) | 2220 x 960 x 1155 millimeters or 87.4 x 37.8 x 45.5 inches |
| Wet WeightK100 (Naked)RSRTLT | Various527 pounds or 239 kilograms548 pounds or 249 kilograms557 pounds or 253 kilograms623 pounds or 283 kilograms |
| Seat Height | 810 millimeters or 31.90 inches |
| Ground Clearance | 175 millimeters or 6.9 inches |
| Front Suspension | Telescopic fork equipped; hydraulic shock absorber |
| Rear Suspension | Monolever swingarm |
BMW K100 Price
Depending on the year model, mileage, and possible issues, a used unit's price ranges from $2,000 to $4,500. Although you'll find more expensive ones, these units have already gone through upgrades or customizations.
FAQs About the BMW K100
This BMW bike model has been in the limelight for years; in fact, the RS took the "Motorcycle of the Year" label four times. With a good sales record and such popularity, answers to common questions are best paired with your sound knowledge of the bike's features and specs for a more informed purchasing decision.
Why is the K100 BMW Also Known as Flying Brick?
This BMW bike gained the "Flying Brick" nickname because of how it looks and performs. Its engine appears like a giant box sitting at the bike's bottom. In terms of performance, most riders noticed that the bike could safely fly without requiring too much effort from the driver.
What is a BMW K100 Café Racer Style Bike?
Generally, café racers are owner-modified bikes meant for beginners and young riders and perfect for short-distance rides. Modifiers usually optimize their handling and speed and replace the seat (view on Amazon) for a more comfortable seating position.
The BMW Flying Brick is one of the most popular choices for individuals who love customizing bikes. You'll even find BMW K100 Café Racer Style Bike's being sold, perfect for those with no bike customization skills and experience.
What is the 1983 to 1985 BMW K100TIC Variant?
Apart from the variants mentioned, BMW also manufactured a limited edition K100 variant: the TIC. It was mainly used by the fire department, police, military, and hospitals. Its remarkable features included a taller first gear, higher-output alternator, and multiple wiring harnesses.
Is the BMW K100 Fast?
The Flying Brick definitely reaches a sufficient speed level; in fact, the basic K100 has an impressive 134 mph or 215 kph max speed even without a fairing. On the other hand, the RS can travel a max speed of 137 mph or 220 kph, thanks to its sleek aerodynamics.
Are BMW K Bikes Reliable?
Like any motorcycle, whether an old or a newer model, BMW's K series of bikes aren't free of issues. That said, they're reliable so long as you maintain them well and replace parts as and when needed. The good thing is BMW bike parts are highly available. No need to worry about your bike becoming completely non-functional just because of irreplaceable and non-upgradeable components.
How Well Does the Flying Brick Perform?
Whether it's warm or cold, starting the engine would require a few turns. You'll expect that the bike's choke lever will increase the speed gradually, thanks to its injection system.
In terms of idle speed, it stays at 1,000 RPM, while pull-trough begins at 1,300 RPM or about 21 mph or 35 kph. When it reaches the 49 mph or 80 kph level, though, you'll notice an engine vibration.
BMW K100 Review: The Verdict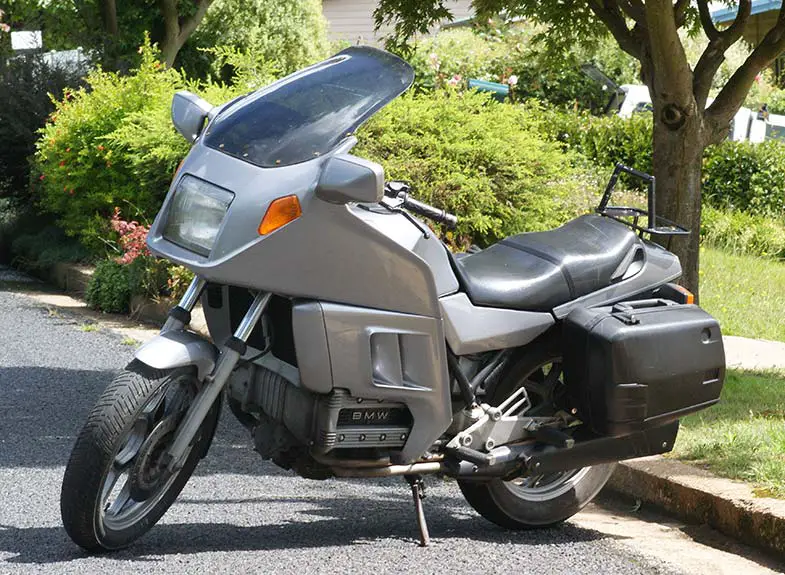 The easy-to-maintain, reliable, and highly customizable Flying Brick is evidence of BMW engineers' innovativeness and commitment to what their brand represents: providing premium services and products. They went through a thorough process to develop a unit that meets changing and stricter standards without totally giving up their brand's signature.
Overall, it's a worthy purchase as long as you keep in mind that you're mostly getting a second-hand unit. Thus, as always, make sure you check the unit thoroughly or let a professional do it before purchasing it. Doing so ensures you get your money's worth and safety.
Pair it with the right protective helmet (view on Amazon) and other gear, and you'll look like badass thanks to the bike's retro look. The gear also enhances your protection from untoward accidents or environmental elements. Lastly, don't forget to have your bike maintained regularly and ensure you protect it by using a weatherproof motorcycle cover (view on Amazon) when not in use.