Honda CB450 Specs & Review (The Black Bomber)
Disclosure: We may get commissions for purchases made through links in this post.
Before "the Godfather of modern superbikes" made headlines and placed Honda on the map, the Japanese firm first had the Honda CB450. At the time of its launch, this mid-class bike was practically Honda's biggest-displacement offering and signaled the company's brave entry into the Harley-Davidson territory. It is called by many names – Black Bomber, Dream, Hellcat, Dragon, and (my favorite) – The Prophet.
Introduced in 1965, the Honda CB450 was highly regarded as Honda's "first big twin" and the world's first mass-produced DOHC motorcycle. It featured torsion bars, twin 32-mm CV carbs, a 110-mph top speed, and technical innovation that bested its European counterparts.
Although the Honda CB450 didn't hit chart-topping sales during its launch, it accomplished something even greater. It opened the flood gates for other Japanese OEMs to enter the Harley-dominated big-bike market. Continue reading to discover more about the famed Black Bomber.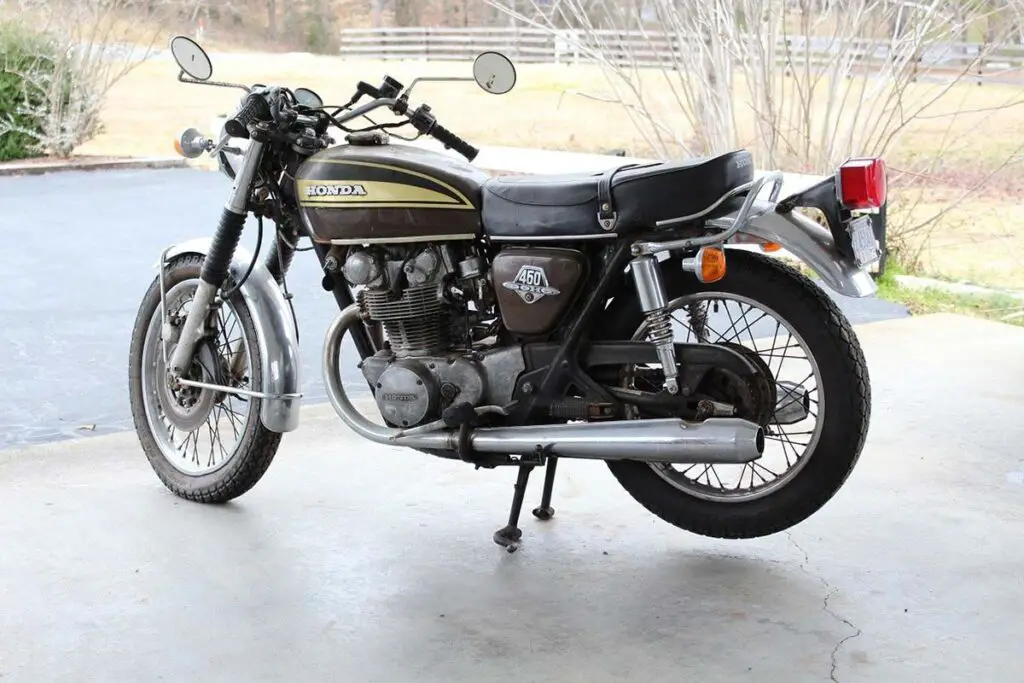 Meet the 'Prophet'
You may be wondering where this nickname originates. Well, it's pretty simple – the Honda CB450 foreshadowed the coming of the Honda CB750 Four and the modern motorcycle engine.
On a darker note, the bike's arrival also foretold the demise of most British motorcycle firms back in the day (hence, the moniker). In truth, however, it isn't the most popular alias of the 450-class bike but rather the Black Bomber (due to only being made available in black during its inception).
The Honda CB450 was first unveiled in the UK in September 1965, during a demonstration sprint at the Diamond Jubilee Brighton Speed Trials. After which, it took part in a motorcycle exhibit at the Brighton Metropole Hotel Exhibition Centre. Four years later, the Honda CB750 would also showcase in the same hotel.
Failed to Realize Potential
British OEMs deemed the motorcycle harmless at the time, failing to realize the wheeler's potential early and Honda's "emerging capacity" as a producer of high-performance, big-bore consumer bikes. But it didn't take them long to catch on, though.
After the CB450s started selling in the UK, they were banned from production races because of their DOHC advantage. But despite being aware of the difference in engine configuration, it seemed most of the competition didn't even bother to produce something on par with what Honda had to offer.
Needless to say, that inaction was what put the final nail on the British motorcycle coffin and began the latter's gradual spiral of doom. Not that the series of events automatically gave Honda soaring sales figures. In fact, it didn't. But what it did was cement Honda as a force to be reckoned with in the motorcycling industry and a more-than-worthy adversary to big-name manufacturers like Harley.
The Honda CB 450 Nighthawk
The Honda CB450 Nighthawk or CB450SC (SC short for Sport Custom) entered the motorcycling scene in 1982. This was after an 8-year hiatus since launching its Super Sport trim (and at the same time as its bigger-displacement namesake, the CB750SC).
The overall design of the Nighthawk deviated from the 1965 model in the sense that it was more customer-centric. Its concept came from an extensive user survey revealing what riders wanted in their two-wheelers.
Motorheads had hoped the introduction of the 450-class Nighthawk would add another ten years or so to the bike's production run. However, that wasn't the case. Since the Honda CB500 Four had been in the market as early as 1971, it would have been redundant if the Japanese firm could also keep the CB450 bikes around. That said, the 450-cc Nighthawk trims were only available until 1986.
1968-1986 Honda CB450 Specs & Features
Engine
The Honda CB450 has an air-cooled, 4-stroke DOHC V-twin mill. Compression ratio plays between 9.0:1 and 9.3:1, while dual 32-mm constant-velocity carburetors handle air-fuel mixture across all production models (some sources indicate 36-mm carbs).
Bore-stroke ratio was initially 70 x 57.8 mm (2.76 x 2.28 inches). It later changed to an over-square 75 x 50.6 mm (2.95 x 2.00 inches) to improve fuel delivery and airflow and allow the engine to rev higher.
Similarly, piston displacement started at 444 cm³ (27.1 in³) but eventually increased to 447 cm³ (27.3 in³) due to bore and stroke adjustments.
Overall, these configurations lend to an advertised top speed of 112 mph (180 km/h), a horsepower of 43 – 45 hp/32 – 33.5 kW @ 8,500 – 9,000 RPM, and a maximum torque of 37.4 Nm (3.8 kgf-m, 27.6 ft-lb) @ 8,500 RPM. Although the motorcycle has a high-revving nature, no one in CB450-dedicated forums has so far declared going beyond the 110-mph top-speed mark.
Fuel & Lubrication
Fuel tank capacity across all Super Sport trims is 12.5 L (3.3 USgal) of unleaded gasoline and a PON 87/RON 91 minimum rating. Only the K2 model had a 13.5-L/3.57-USgal fuel tank (though with the same reserve capacity of 1.8 L/0.5 USgal). '80s versions, on the other hand, had their tank capacity upgraded to 17 L (4.5 USgal), with a 3.5-L/0.92-USgal reserve.
Lube-wise, the CB450 has a Forced lubrication (wet sump) system and requires 2.8 – 3.0 L (2.9 – 3.2 US quarts) of Honda GN4 SAE 10W-40 motor oil or its equivalent. Other multigrade oils are permissible (as specified in the manual), provided they have a minimum API grade of SJ and meet JASO T903 MA/MB standards. Alternatively, the following single-grade oils are also allowed – SAE 30 (above 15°C/59°F); SAE 20 (0°C/32°F to 15°C/59°F); SAE 10 (below 0°C/32°F).
Drivetrain
During its launch, the CB450 had a manual 4-speed gearbox. It changed in 1968 with the introduction of the K-series (until 1974), which had a 5-speed, forward constant-mesh. It changed again in 1982, with the launch of the Nighthawk trims with their 6-speed constant-mesh transmission. These return-shift systems were left foot-operated and mated to a wet, multi-plate clutch assembly. A standard (non O-ring, clip-type) 530 drive chain handles power delivered to the wheels.
Below are the stock gear ratios covering '68 to '86 models:
| Description | 1968-1974 Honda CB 450 | 1986 Honda CB450S |
| --- | --- | --- |
| Primary Reduction Ratio | 3.304 | 2.960 (74/25) |
| Transmission Gear Ratio (1st) | 2.412 | 2.769 (36/13) |
| Transmission Gear Ratio (2nd) | 1.636 | 1.947 (37/19) |
| Transmission Gear Ratio (3rd) | 1.269 | 1.545 (34/22) |
| Transmission Gear Ratio (4th) | 1.000 | 1.280 (32/25) |
| Transmission Gear Ratio (5th) | 0.844 | 1.074 (29/27) |
| Transmission Gear Ratio (6th) | N/A | 0.931 (27/29) |
| Final Reduction Ratio | 2.333 | 2.250 (36/16) |
Ignition
Older CB450s have a points/condenser ignition compared to post-1974 models with CDI (Capacitor Discharge Ignition). Their alternators are on the left versus Nighthawk trims, which are behind cylinders (making a narrower profile possible for these later-year bikes).
The starting system is a kick-starter (changed to electric starter beginning 1968), and the required spark plug is either an NGK DR8ES/DR8ES-L or Nippon Denso X24ESR-U/X27ESR-U across all models. A 12V 12Ah/(10 HR) YB12A-A battery (view on Amazon) format with assembled dimensions of 134 x 80 x 160 mm (5.31 x 3.19 x 6.31 inches) works perfectly with any version of the motorcycle.
Tires & Brakes
The wheels have tubeless tires measuring 3.25-18 (4PR) or 100/90-18 56S at the front and 3.50-18 (4PR) or 110/90-18 61S at the rear. These stock knobbies have a recommended cold-tire pressure ranging from 200 kPa (2.0 kgf/cm2, 28 psi) to 250 kPa (2.5 kgf/cm2, 36 psi), depending on payload.
As for brakes, a single front disc and rear internal expanding shoes provide the motorbike its halting power and complete its tire-and-wheel assembly. In case of wear or damage, swap these tires out for the same-size Metzeler 100/90-18 V Lasertec F Tires (view on Amazon).
Suspension
The CB450 has a wheelbase between 1,300 mm and 1,405 mm (51.2 – 55.3 inches) and a minimum ground clearance ranging from 140 to 160 mm (5.5 – 6.3 inches). Rake is 27°, while trail is 107 mm (4.2 inches).
Enclosed in its diamond/semi-double-cradle frame (with a single downtube) are front telescopic forks and a rear swingarm. These suspension units offer 2-way damping adjustment and rear shocks with adjustable preload. The CB450's swingarm and short trail complement its high-speed performance and make it more stable overall.
Dimensions
Little to no difference can be spotted in overall dimensions between the Super Sport (1965-1974) and Nighthawk (1982-1986) trims of the CB450. L x W x H measurements for earlier models are as follows – 2,065 – 2,115 mm (81.3 – 83.3 inches), 775 – 830 mm (30.5 – 32.7 inches), and 1,090 – 1,150 mm (42.9 – 45.3 inches). Meanwhile, later-model dimensions are 2,110 x 705 x 1,085 mm (83.1 x 27.8 x 42.7 inches).
Depending on year and trim, the saddle height could be anywhere from 790 mm (31.1 inches) to 815 mm (32.1 inches). Comparing the '70s and '80s versions of the Honda CB450, the most noticeable difference apart from design would be the motorcycle's width. It was tamed down by at least three inches to improve performance and handling. The bike's reduced dry weight – from 186.9 Kg (412 lbs.) to 178 Kg (392 lbs.) – is only secondary.
Exterior
On the outside, the CB 450 shared the same aesthetics as that of the S90 and CD175 (source: Wikipedia). Some parts were either plated or sided with chrome. The prevalence of bob-jobs and chopper builds highly influenced the bike's overall feel at the time. Like the CB750, earlier models of the CB450 had front/rear turn signals, independent tach and speedo and were made available in 'candy' colors.
Pre-1982 models had flat-looking saddle seats and some with twin leading front shoes. Conversely, later-year models changed to a contoured seat and were also on the receiving end of rubber-gaitered front forks, a headlamp-mounted twin speedo kit, and a slimmer, redesigned fuel tank. These aside, styling differences (if any other) were close to negligible.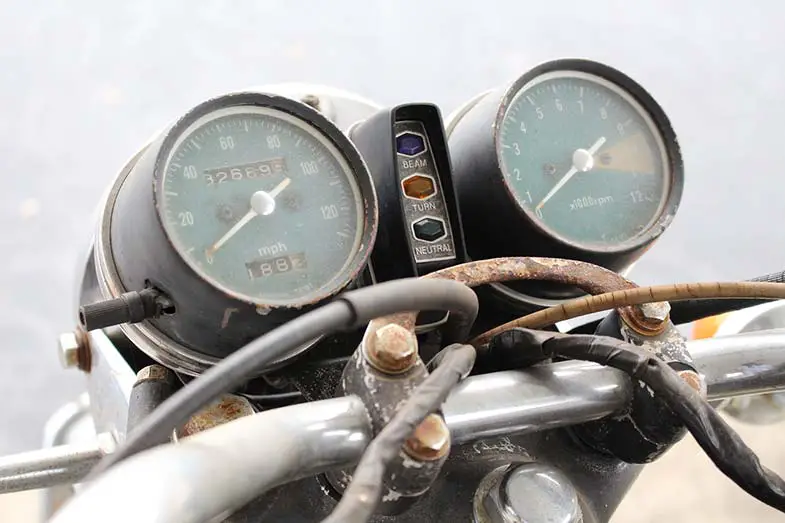 Honda CB450 Price
Sources for Honda CB450 list prices are a bit obscure. The motorbike seems to have been sold brand-new for £360 – £366 in 1966 in the UK (approximately £6,000 or $7,900+ if sold now). Per Nada Guides, the last two production models of the Honda CB450SC Nighthawk sold for $1,698 – $1,998 (or around $4,430 – $5,125 per current rates).
While these values are reasonable, they weren't considered affordable back in the day. For comparison, the Honda CB450 is just a few pounds/dollars shy of a 650-cc motorcycle. Consequently, this is one of the factors the two-wheeler's sales didn't skyrocket.
| Year – Model – Trim | Retail/Trade-In Values |
| --- | --- |
| 1965 Honda CB450KO Super Sport 450 | $1,285 – $9,980 |
| 1966 Honda CB450KO Super Sport | $1,235 – $9,755 |
| 1967 Honda CB450KO Super Sport | $1,235 – $9,755 |
| 1968 Honda CB450K0 Super Sport | $1,235 – $9,720 |
| 1968-1969 Honda CB450K1 Super Sport | $795 – $3,640 |
| 1969 Honda CB450K2 Super Sport | $660 – $3,170 |
| 1970 Honda CB450K3 Super Sport | $980 – $6,550 |
| 1971 Honda CB450K4 Super Sport | $980 – $6,550 |
| 1972 Honda CB450K5 Super Sport | $980 – $6,550 |
| 1973 Honda CB450K6 Super Sport | $490 – $2,440 |
| 1974 Honda CB450K7 Super Sport | $490 – $2,440 |
| 1982 Honda CB450T Hawk | $650 – $2,560 |
| 1982-1985 Honda CB450SC Nighthawk | $650 – $2,385 |
| 1986 Honda CB450SC Nighthawk | $270 – $1,715 |
(Source: Nada Guides)
About Honda
Honda Motor Company Ltd. is a global leader in motorcycling and multiple automotive industries and part of the Japanese "Big 4." This firm began as a concept formed inside the Art Shokai garage by Soichiro Honda.
Soichiro eventually founded the company in 1946 and worked his way through fixing race cars, mass-producing piston rings, automating military aircraft propeller production, and selling motorized bicycles with surplus engines to grow the business into what it is today.
Because of Soichiro's vision and hard work, Honda successfully established itself as a well-respected powerhouse in energy solutions, electric automobiles, and ground-breaking motorcycles like the Honda CB450.
Conclusion – Honda CB450 Café Racer
There's no denying that the Honda CB450 is a game-changer – both for Honda and motorcycle OEMs in general. The bike did have its flaws – some of which were deemed unforgivable by some riders. But it also had attributes that were light years ahead of its time. The Honda CB450 is everything its quirky monikers signify. It's only fitting that we pay it homage.