Honda Rebel 300 vs 500: Review and Comparison
Disclosure: We may get commissions for purchases made through links in this post.
When choosing a cruiser bike, it isn't surprising for riders to feel torn between the Honda Rebel 300 and 500. After all, both offer racing-inspired mills, impressive power delivery, and sporty suspension — hard-to-ignore attributes that form part of every prospective buyer's checklist. Situations like this naturally call for a clincher, and this is where today's guide comes in.
The main differences between the Honda Rebel 300 and 500 lie in their performance figures, engine, and exhaust. The Honda Rebel 500 offers more grunt and is a two-wheeler great for beginners. Its 300-cc sibling does better on winding roads and is more affordable.
Attempting to sum up the qualities of these motorcycles in a three-liner will never do them justice. Hence, it is only right to go over their specs, limitations, and competencies in more detail. Knowing what these bikes can do should enable you to take your pick between the Honda Rebel 300 and 500, as well as assess whether or not your choice aligns with your preferences and intended application.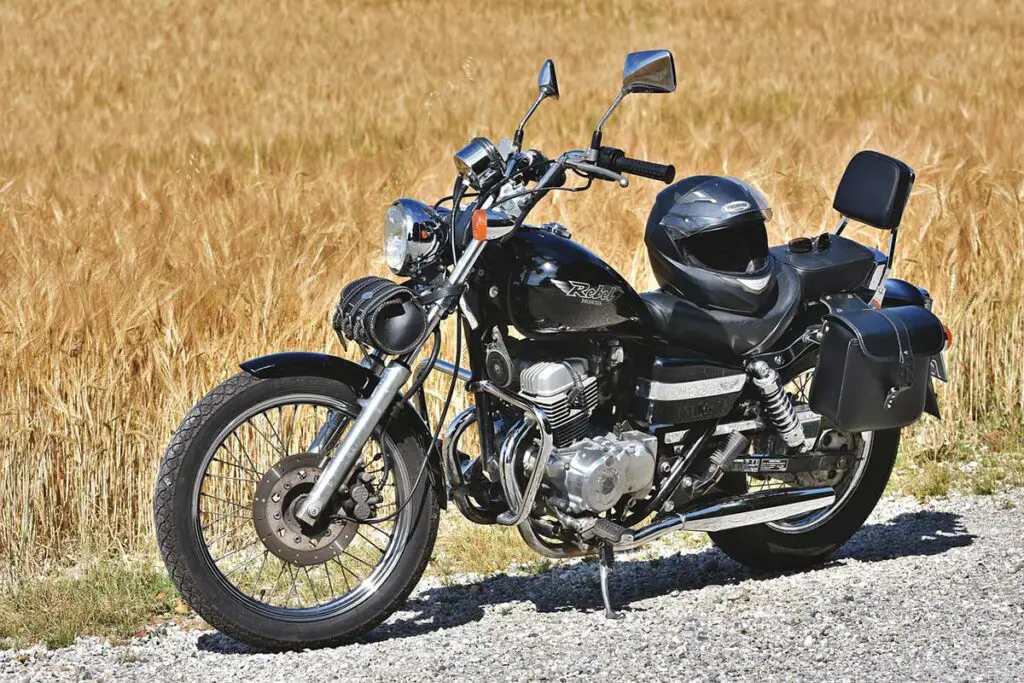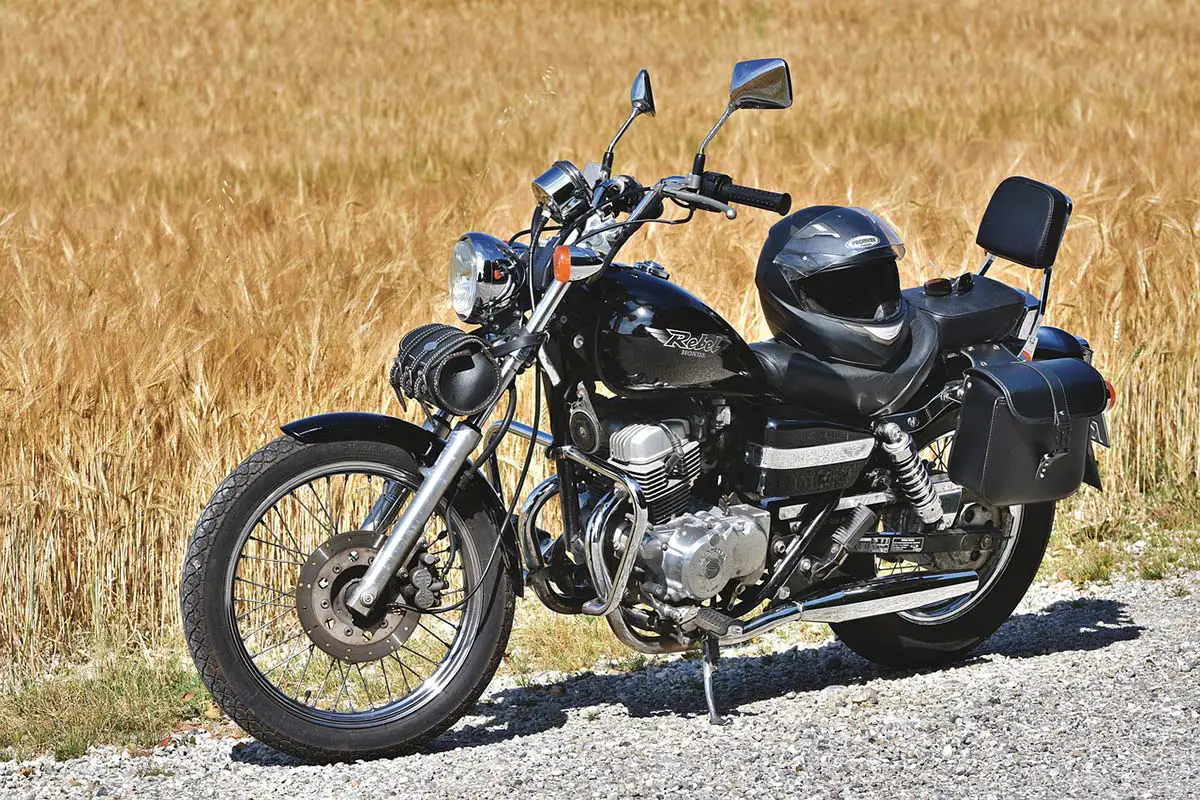 About the Honda Rebel 300 & 500
The Honda Rebel 300 and 500 form part of Honda's 3rd generation CM cruiser bikes. The lineup began with the 1978 CM185T Twinstar, although these modern-engine bikes are associated more with the 1985 CMX250. Both launched in the spring of 2017, and these newest additions to the Rebel series targeted beginner riders searching for forgiving, mid-sized motorcycles.
Both motorcycles sport an uncomplicated, minimalist design — that sleek yet rugged feel characteristic of a cafe racer/cruiser bike. They handle well on the road and exhibit more indulgent mannerisms than aggressive sportbikes.
Furthermore, these two-wheelers are incredibly reliable, with mills adopted from tried-and-tested sportbikes — the CB300F and CBR300R for the Honda Rebel 300 and the CB500F, CBR500R, and CB500X for the Honda Rebel 500.
Except for their engines and a few other details, the 300-cc and 500-cc Rebels share everything else — from the Harley-inspired styling down to the tires. They look so much alike that it would be difficult for the untrained eye to tell them apart. Especially for riders new to this motorbike class, the only way to effectively differentiate the two is to take each out for a ride.
Improvements Post-2019
Honda equipped all prod models with a new assist-and-slipper clutch design to reduce lever rigidity by approximately 30%. Meanwhile, its slipper function lessened rear-wheel skidding during aggressive deceleration.
Suspension forks received new internal buffing, with fork-leg oil levels adjusted accordingly. In addition, front and rear suspension units got stiffer springs, with the back providing more consistent damping (thanks to nitrogen gas shocks).
LED lighting from front to back allowed the Rebels to have a classic yet modern look. The headlight was made more compact, the rear lighting smaller, and the turn signals round.
The dash display was updated to show data on fuel consumption and transmission gear in use.
Specs & Features: Honda Rebel 300 vs 500 (CMX300A/500A)
Engine
The Rebel 500's displacement is almost twice that of the 300. Conversely, the Rebel 300 has an increased bore size, while the 500 has an almost-square bore-stroke ratio. Performance-wise, the bigger-displacement version is expected to provide better figures (including a Honda Rebel 500 top speed of 105 mph or 170 km/h) given its twin-cylinder mill.
| Description | CMX300A | CMX500A |
| --- | --- | --- |
| Engine Type | 4-Stroke single-cylinder DOHC | 4-Stroke parallel twin-cylinder DOHC |
| Cooling System | Liquid cooling | Liquid cooling |
| Carburetion Type & Fuel | PGM-FI, 38-mm throttle body | PGM-FI, 34-mm throttle body |
| Fuel Type & Rating | Unleaded gasoline, PON 86 or higher | Unleaded gasoline, PON 86 or higher |
| Tank Capacity | 2.96 USgal (11.2 L) | 2.96 USgal (11.2 L) |
| Displacement | 286 cm³ (17.4 in³) | 471 cm3 (28.7 in³) |
| Bore-Stroke Ratio | 2.99 x 2.48 inches (76 x 63 mm) | 2.64 x 2.63 inches (67 x 66.8 mm) |
| Compression Ratio | 10.7:1 | 10.7:1 |
| Oil Type & Capacity (Draining, Filter Change, Disassembly) | 1.4 L (1.5 US quarts) 1.5 L (1.6 US quarts) 1.8 L (1.9 US quarts) | 2.5 L (2.6 US quarts) 2.7 L (2.9 US quarts) 3.2 L (3.4 US quarts) |
| Top Speed | 85 mph (137 km/h) | 105 mph (170 km/h) |
| Horsepower | 25 hp (18.4 kW) @ 7,640 RPM* | 45.5 hp (33.5 kW) @ 8,500 RPM |
| Torque | 23.9 Nm (2.43 kgf-m, 17.6 lb-ft) @ 7,320 RPM* | 44.6 Nm (4.5 kgf-m, 32.9 lb-ft) @ 6,000 rpm |
| Fuel mileage | 57.8–71 mpg (3.31–4.07 L/100 km) | 67 mpg (4.22 L/100 km) |
*source: July 2021 issue of Cycle World
**required engine oil is SAE 10W-30 Pro Honda GN4 4-stroke oil, with SJ API grade and meeting JASO T903 MA standards
Drivetrain
| Description | CMX300A | CMX500A |
| --- | --- | --- |
| Final Drive | DID 520VF or RK 520KLO2 Chain (110 links) | DID 520VF or RK 520KLO2 Chain (112 links) |
| Primary Reduction Ratio | 2.807 | 2.029 |
| Gear Ratio – I | 3.416 | 3.285 |
| Gear Ratio – II | 2.250 | 2.105 |
| Gear Ratio – III | 1.650 | 1.600 |
| Gear Ratio – IV | 1.350 | 1.300 |
| Gear Ratio – V | 1.166 | 1.150 |
| Gear Ratio – VI | 1.038 | 1.043 |
| Final Reduction Ratio | 2.571 | 2.667 |
| Sprocket Size | 14/36T | 15/40T |
Up until 2019, the clutch assembly was a wet, multi-plate type. Now, a 6-speed constant-mesh transmission (no reverse gear) and assist-and-slipper clutch deliver power to the ground for these bikes. The latter works exceptionally well on both bikes and has aided in a 2.4-hp increase in the Honda Rebel 300. They are chain-driven and compliant with EPA, CARB, and BS6 (or BSVI) guidelines.
Ignition
Description
CMX300A
CMX500A
Ignition
Full transistorized ignition
Battery Format
12V 7 Ah/(10 HR) YTZ8V
Battery Dimensions
113 x 70 x 130 mm (4.44 x 2.75 x 5.12 inches – L x W x H)
Spark Plug, Gap
NGK SIMR8A9, 0.8–0.9 mm (0.031–0.035 inch)
NGK CPR8EA-9, 0.8–0.9 mm (0.031–0.035 inch)
Idle Speed
1,500 ± 100 RPM
1,200 ± 100 RPM
Charging System
Triple-phase A.C. alternator
Tires & Brakes
 Factory rubber consist of tubeless, bias-type Dunlop D404Q 130/90-16 67H (view on Amazon) front and D404FQ 150/80-16 71H rear tires mounted on cast aluminum/alloy rims (16 x 3.0 inches / 16 x 3.5 inches).
Cold-tire pressure for these knobbies is 200 kPa (2.0 kgf-cm2, 29 psi) but can be adjusted according to riding conditions and payload. A 296-mm disc at the front and 240-mm disc at the back – each with Nissin hydraulic calipers and ABS on SE trims – complete the Rebels' tire-and-wheel assembly.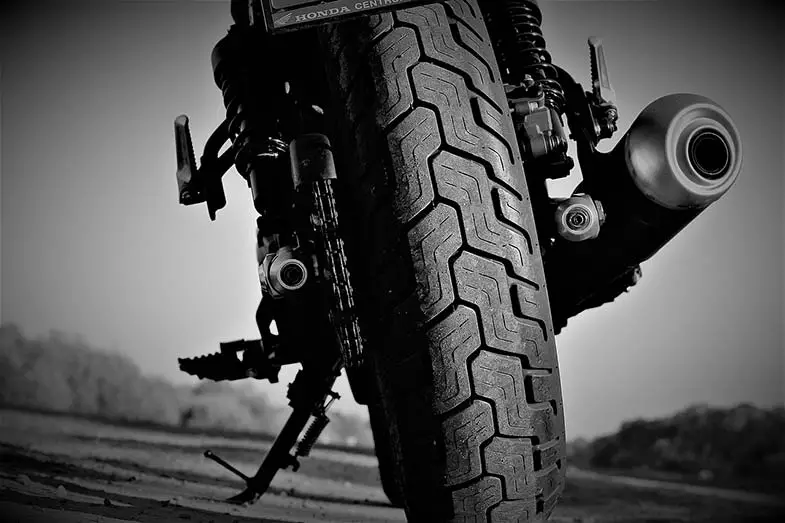 Suspension
Enclosed in a diamond-type frame (28° caster angle; 110 mm/4.3 inches trail) are 41-mm front telescopic forks and a rear swingarm with twin shocks. Each suspension unit provides 121 mm (4.8 inches) and 95 mm (3.8 inches) of wheel travel. The rear, in particular, comes with an adjustable spring preload.
Both cruiser bikes share a 58.7-inch (1,490 mm) wheelbase, a 9.2-foot (2.8 m) turning radius, and a low center of gravity. However, the Honda Rebel 300 has a slightly better road clearance at 5.9 inches (150 mm) versus the 500's 5.3 inches (135 mm).
Dimensions
The Honda Rebel 500 was made slightly longer than its 300-cc sibling to accommodate its parallel twin-engine, adding 20 Kg (44 lbs.) to its curb weight.
These aside, the two bikes look practically similar and even have the same maximum weight capacity. Gross Vehicle Weight Rating (GVWR) values provided below are only estimates and do not include the weight of accessories and other add-ons.
Description
CMX300A
CMX500A
Dimensions (L x W x H)
86.2 x 32.3 x 42.9 inches (2,190 x 820 x 1,090 mm)
86.8 x 32.3 x 42.9 inches (2,205 x 820 x 1.090 mm)
Seat Height
27.2 inches (690 mm)
Curb Weight
168 Kg (370 lbs.); 167 Kg (368 lbs. – Canada)
188 Kg (414 lbs.); 189 Kg (417 lbs. – Canada)
Payload Capacity
157 Kg (346 lbs.)
Estimated GVWR
336 Kg (740 lbs.)
356 Kg (785 lbs.)
Exterior
The Honda Rebel series offered more color options in the past compared to recent production models. Earlier trims were made available in many hues (examples below). Meanwhile, this year's releases only have four bodywork options – Pearl Organic Green, Matte Gray Metallic, Matte Silver, and Black.
2017: Matte Pearl White, Matte Silver Metallic, Black/Red
2018 to 2020: Matte Armored Silver, Graphite Black, Matte Blue Jeans Metallic, Matte Fresco Brown, Graphite Black Metallic
Nonetheless, the minimalism of these bikes is what many fanatics adore since it gives them the liberty to personalize their motorcycles. Others even keep the bikes' blacked-out, sophisticated look as is.
Stock, the Honda Rebel 300 vs 500 bikes already have plenty to look at. But should you want more edge, you can opt for the Honda Rebel 500 SE, which comes with a diamond-stitch saddle, fork boots, covers, and a headlight cowl – again, all black. An Akrapovic titanium slip-on exhaust (view on Amazon) would also tie well with the bikes' naked aesthetic.
How Much is a Honda Rebel?
The tables below show a complete rundown of Honda Rebel prices in North America. For the series' latest production models, expect to pay an extra $400 destination charge and $200 freight surcharge if you purchase either motorcycle from your Honda dealer.
Honda Rebel 300 Price
| Year – Model – Trim | List Price | Retail/Trade-In Values |
| --- | --- | --- |
| 2017 Honda CMX300H Rebel | $4,399 | $2,905 – $3,825 |
| 2017 Honda CMX300AH Rebel (w/ ABS) | $4,699 | $2,985 – $3,925 |
| 2018 Honda Rebel 300 | $4,449 | $3,065 – $4,030 |
| 2018 Honda CMX300AJ Rebel (w/ ABS) | $4,749 | $3,170 – $4,170 |
| 2019 Honda CMX300K Rebel | $4,499 | $3,335 – $4,385 |
| 2019 Honda CMX300AK Rebel (w/ ABS) | $4,799 | $3,490 – $4,595 |
| 2020 Honda CMX300L Rebel | $4,499 | $3,420 – $4,500 |
| 2020 Honda CMX300AL Rebel (w/ ABS) | $4,799 | $3,650 – $4,800 |
| 2021 Honda CMX300M Rebel | $4,599 | $3,505 – $4,610 |
| 2021 Honda CMX300AM Rebel (w/ ABS) | $4,899 | $3,805 – $5,005 |
| 2022 Honda CMX300N Rebel | $4,699 | N/A |
| 2022 Honda CMX300AN Rebel (w/ ABS) | $4,999 | N/A |
(Source: Nada Guides)
Honda Rebel 500 Price
| Year – Model – Trim | List Price | Retail/Trade-In Values |
| --- | --- | --- |
| 2017 Honda CMX500H Rebel | $5,999 | $3,855 – $5,075 |
| 2017 Honda CMX500AH Rebel (w/ ABS) | $6,299 | $4,030 – $5,300 |
| 2018 Honda Rebel 500 | $6,099 | $4,130 – $5,435 |
| 2018 Honda CMX500AJ Rebel (w/ ABS) | $6,399 | $4,500 – $5,920 |
| 2019 Honda CMX500K Rebel | $6,199 | $4,595 – $6,045 |
| 2019 Honda CMX500AK Rebel (w/ ABS) | $6,499 | $4,885 – $6,425 |
| 2020 Honda CMX500L Rebel | $6,199 | $4,710 – $6,200 |
| 2020 Honda CMX500AL Rebel (w/ ABS) | $6,499 | $4,950 – $6,510 |
| 2021 Honda CMX500M Rebel | $6,299 | $4,800 – $6,315 |
| 2021 Honda CMX500AM Rebel (w/ ABS) | $6,799 | $5,130 – $6,750 |
| 2022 Honda CMX500N Rebel | $6,399 | N/A |
| 2022 Honda CMX500AN Rebel (w/ ABS) | $6,699 | N/A |
(Source: Nada Guides)
Pros and Cons – Honda Rebel 300 vs 500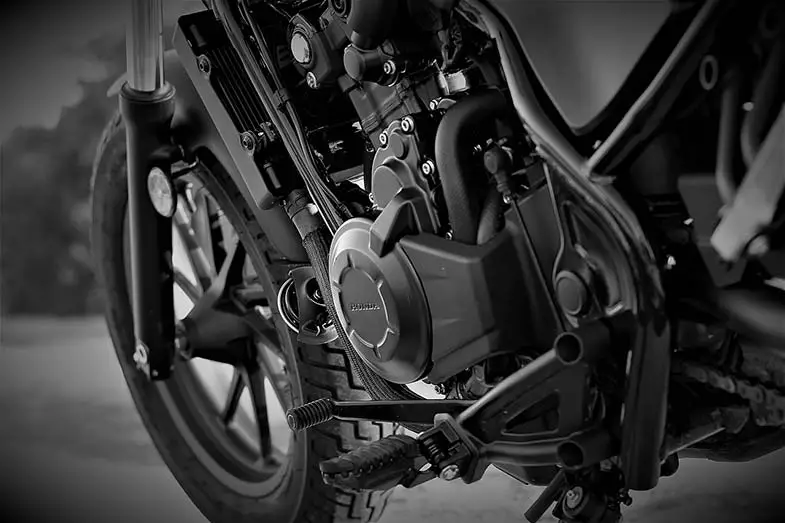 2017—2019 Honda Rebel 300
Pros
Although both Rebels are almost similar in dimensions, the Honda Rebel 300 is narrower compared to its big brother. Its skinnier profile aids in improving the bike's resistance to wind and brake performance, among other things.
It has better fuel mileage. Comparing a 2017 Honda Rebel 300 to its 500-cc (same-year) sibling, the former yields 71 mpg (3.31 L/100 km) versus the latter's 67 mpg (4.22 L/100 km) — both unofficial values.
Against competition like the 350-class Royal Enfield Meteor, it has produced approximately 28% more horsepower.
The Honda Rebel 300 is better suited for a 45-mph daily commute and freeway cruising. Brakes also stop sooner compared to its heavier sibling.
Cons
Many riders find the Rebel 300's overbuilt cooling and braking systems too extra, if not disadvantageous.
Despite being closely comparable to its bigger namesake, the Honda Rebel 300 is easy to outgrow and can hardly keep beginners pumped about riding beyond the 4th month.
Several CMX300s were included in Honda's 2019 product recall. Affected units had issues with the circlip on the transmission's main shaft that was prone to detach, potentially leading to gear misalignment and seizing of the rear wheel.
2017—2019 Honda Rebel 500
Pros
It inspires more confidence at highway speeds against the 300.
Compared to its smaller-displacement sibling, the 500's parallel-twin engine runs more smoothly and is twice as strong.
It feels more balanced than the 300 — thanks to its 44-lb add-on weight.
The Honda Rebel 500 performs splendidly at highway speeds and on interstate trips, sans handlebar vibrations sometimes felt on the 300-cc model.
Its 46-hp claimed power output compensates for its 408-pound weight (414 lbs. with ABS) while yielding a decent power-to-weight ratio.
Price-wise, the bigger-displacement Rebel provides a better bang for your buck.
Cons
The 500-cc Rebel's parallel-twin engine lends to its efficient power delivery but takes away from its spaciousness and fuel economy.
Its right footpeg feels awkward — a quirk that its 300-cc namesake does not have.
Some owners report the bike as producing a canny, cheap sound that serious motorheads may not find to their liking. Almost all starter bikes have this annoying sound — and it does not go away even after a year.
A 12V auxiliary socket is not standard.
Shared Benefits & Drawbacks
Benefits
Recent-year models of the 300 and 500-cc Rebels have upgraded to PGM-FI (fuel injection), dramatically improving combustion and fuel efficiency.
Factory-assembled single 296-mm disc with Nissin hydraulic caliper provides sufficient stopping power for both bikes.
Despite differences in engine and performance figures, the two bikes' dimensions are predominantly the same. This includes the "bobber-like swoop" of the 27-inch saddle, which is welcome news for new and recreational riders.
Both versions feel solid on or off pavement, shift and do U-turns effortlessly, and are a breeze to maneuver in parking spaces or the garage. They balance easily at low speeds and are responsive when cornering.
Lighter riders love that both Honda Rebels can handle highway speeds of 65-70 mph (105-113 km/h), though not in a headwind.
Per Honda engineers, these bikes spew 26 hp (CMX300) and 46 hp (CMX500), respectively. Cycle World Magazine can attest to this, having done its own Dyno test and obtaining a result of 25 hp @ 7,640 RPM for the 2021 Rebel 300. Superficially, these figures may seem unimpressive. Nonetheless, their real worth lies in the extra grunt they provide, especially for larger, heavier riders. 
Drawbacks
The Rebel's rigid saddle seems to be its biggest setback. Test riders attest to feeling increasingly uneasy the longer they ride the bike, eventually ending the day with sore bums.
Its ergonomic design lends to an almost-upright riding position, but only for medium-built to slightly tall riders. Anyone above 6'0″ in height would eventually find themselves "feeling cramped" after an all-day ride.
Users reportedly hear a coarse, buzzing noise from the front when the motorbikes reach high RPMs. It turns out this was due to the headlight housing on earlier models.
Beginners may find accessing the under-seat storage slightly confusing, as it is held in with friction-fit plugs. But once you grow familiar with the bike, you only need a hex key (found on the right-side panel) to remove.
The 300-cc and 500-cc Rebels do not have an oil filter, only a strainer screen that pops off come time for servicing.
A two-up layout is not standard but can be availed for an extra $140. The same goes for ABS, which adds a $300 premium on the bike's MSRP.
Aesthetic
Some users find its downplayed aesthetic charming despite not being as strikingly beautiful as the firm's very own CB400 Super Four. To Honda's defense, they intentionally gave the Rebel motorcycles a "minimalist, bare-bones styling" to encourage riders to personalize their two-wheelers. However, many followers wish the manufacturer had clad the CB-inspired mills in retro fashion.
Online forums show tons of motorcycle rebuilds incorporating square tanks, spoke wheels, and straight frames – further evidence of 'resurrecting-the-classics' being all the rage these days, especially in the U.S. market.
Finalizing the Verdict
In addition to the specs and competencies of these bikes, you also need to consider reliability, comfort, customization, and proximity to Honda dealers. However, this is where things can get pretty subjective. Usually, reverting to Honda-dedicated forums should help sort things out. But because discussions in these venues are heavily biased, anyone relying on these posts for input may end up more confuzzled (or simultaneously feeling "confused" and "puzzled") than before.
Each rider will have different priorities and preferences when selecting one bike over the other. Personally, the best way to resolve this predicament is to base your decision on your weight.
Why? Because many consumers do not realize that weight has a huge (if not the biggest) impact on the quality of the riding experience. A rider weighing less than 190 lbs. would likely have no problems touring suburbs or backcountry roads and pickup up speed beyond 80 mph on the expressway on a Rebel 300.
However, I imagine revheads built larger or riding with a passenger would answer differently. It makes perfect sense to go for the smaller-displacement cruiser if you are 200 lbs. or lighter. Otherwise, choose the Honda Rebel 500.
With the exception of displacement, price tag, and power, both bikes are on equal footing where it matters. Any other identifiable difference between the two would either be negligible or a result of extreme nitpicking.
Conclusion – Honda Rebel 500 vs 300 Review
Suggested mods on both the Honda Rebels include shedding off weight by removing superfluous parts like the full-steer rear fender. Doing so improves its power-to-weight ratio and upgrades the bike's look from a cruiser to a chopped bobber. Upgrading the factory seat to something plusher (and perhaps, getting a two-up kit while you're at it) is highly recommended.
The confidence-inspiring qualities of the Honda Rebel 300 and 500 are a testament to the product line's 36-year lock on the beginner cruiser market. Whether you go for the lightweight chassis or the stronger motor, you can never really go wrong with either of these quintessential bikes.
If you are the type to frequent the highway and push your motorcycle to its limits, then opt for the Honda Rebel 500. Otherwise, save those hard-earned dollars for embellishments and get the smaller-displacement Rebel.