Honda CBR250R Motorcycle (Specs and Review)
Disclosure: We may get commissions for purchases made through links in this post.
The world of motorcycling has witnessed countless iconic models that have etched their names in the archives of two-wheeled history. Among them is the Honda CBR250R. This versatile sportbike has long been a favorite among riders of varying skill levels and experience. In this review, we'll delve into the attributes that make the CBR250R a powerhouse in the world of motorcycles.
Unveiled in 2011 and sold for only three years in the US, the Honda CBR250R is a VFR-clad full-faired commuter bike hailing from the firm's long-standing CBR lineup. This dual-sport retains its parallel-twin engine layout while sporting an all-new SP trim and bumped-up performance figures.
Throughout this guide, we'll spotlight the qualities that make the Honda CBR250R ridiculously reliable and fun while setting it apart from its counterparts. Sportiness and sophistication are but a couple of things worth noting about this two-wheeler. That said, read on if you want to know more.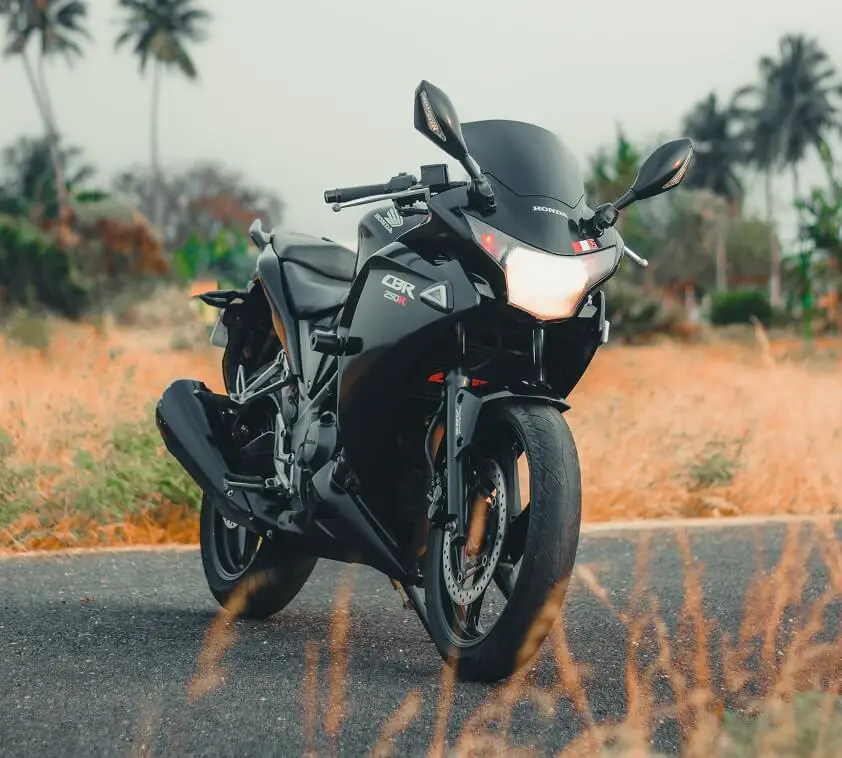 About the Honda CBR250R
The Honda CBR250R debuted in the 1980s, marking the beginning of a new era in sportbike design and innovation. The CBR series, to which the Honda CBR250R belongs, was introduced as a lineup of sport-oriented motorcycles emphasizing reliability, versatility, and performance. The series intended to cater to a wide range of riders, and the CBR250R perfectly embodies this ethos.
Over the years, the model has seen several iterations and improvements. A key factor contributing to its popularity is its accessible design, making it a favorite among nouveau riders. Its manageable weight, ergonomic riding position, and compact size make it ideal for commuting and spirited riding. And as if that were not enough, introducing fuel injection and ABS helps keep the CBR250R in line with evolving technology and market demands.
2011 Honda CBR250R Specs & Features
Engine
The Honda CB250R's liquid-cooled, 4-stroke DOHC power mill has a PGM-FI (Programmed Fuel Injection) carburetion system with a four-valve, single-cylinder arrangement. Piston displacement is 249.6 cm3 (15.2 in3), while compression and bore-stroke ratios are 10.7:1 and 76 x 55 mm, respectively.
The then all-new 250cc single is enclosed in a "twin-spar steel frame, wrapped in miniaturized VFR1200F bodywork" (as described by Motorcyclist) and yields the following performance figures:
| Description | Specs |
| --- | --- |
| Top Speed | 83.8–104.4 mph (135–168 km/h) |
| Horsepower* | 23.7 hp (17.7 kW) @ 9,900 RPM (rear wheel); 21.9 hp (16.3 kW) @ 8,500 RPM; 26.7 hp (19.9 kW) @ 8,500 RPM |
| Maximum Torque* | 12.7 lb-ft (17.2 Nm) @ 7,400 RPM (rear wheel); 14.65 lb-ft (19.86 Nm) @ 6,750 RPM |
| Fuel Economy | 40—104 mpg (2.3—5.9 L/100 km), 17—44.2 kmpl) |
| Approximate Tank Range** | approximately 137—357 miles, 220—574 km |
* Claimed horsepower and torque output can be found 
here
** 
Fuelly
declares 68 mpg average for the CBR250R
Fuel & Lubrication
The oil capacity for this neo-sports bike is the following:
After draining: 1.4 L (1.5 US qt, 1.2 Imp qt)
With oil filter change: 1.5 L (1.6 US qt, 1.3 Imp qt)
After disassembly: 1.8 L (1.9 US qt, 1.6 Imp qt)
OEM-recommended lubrication is SAE 10W-30 of Honda 4-stroke motorcycle oil with an API grade of SJ or higher, meeting JASO T903 MA standards. Refrain from using oils labeled "Energy Conserving" or "Resource Conserving" on the two-wheeler. Conversely, SAE 10W-40 mineral or full synthetic oil types are permissible.
Fuel-wise, the CB250R requires 13 L (3.4 USgal, 2.9 Imp gal) of unleaded gasoline with a minimum Octane rating of 91 RON. You can use gasohol blends on the motorcycle, as long as they are E10 fuels or contain ethanol levels of no more than 10%. The owner's manual doesn't specify allowable MTBE (Methyl Tert-Butyl Ether) or methanol content, so it's strongly recommended to avoid these gasohol variants.
Drivetrain
Power is transmitted to the rear wheel through a 6-speed constant mesh transmission coupled with a multi-plate, wet clutch assembly, featuring a left-foot operated return shift system. For managing wheelspin, a Daido 520VF or RK 520KLO chain with 108 links is employed. In case of wear or damage, the stock chain may be replaced with a same-spec 520 O-ring chain like Pro Taper Pro Series 520 Forged O-Ring Chain, 120 Link (view on Amazon).
Here are the Honda CBR250R's stock transmission gear ratios:
| Description | Specs |
| --- | --- |
| Primary Reduction Ratio | 2.808 (73/26) |
| Transmission Gear Ratio — 1st | 3.333 (40/12) |
| Transmission Gear Ratio — 2nd | 2.117 (36/17) |
| Transmission Gear Ratio — 3rd | 1.571 (33/21) |
| Transmission Gear Ratio — 4th | 1.304 (30/23) |
| Transmission Gear Ratio — 5th | 1.115 (29/26) |
| Transmission Gear Ratio — 6th | 0.962 (26/27) |
| Final Reduction Ratio | 2.714 (38/14T) |
Ignition & Electricals
The motorcycle ignites using a digital CDI (Capacitor Discharge Ignition) system with an electric starter. Its electrical setup operates at 12V, and its charging system is powered by a three-phase generator with a rated output of 340 watts @ 5,000 RPM. An NGK SIMR8A9 spark plug, with a gap of 0.8—0.9 mm (0.031—0.035 inches), handles spark ignition and can be substituted with standard or Iridium versions if fouled or defective.
The recommended battery for the CBR250R is a 12V 6Ah/(10 HR) YTX7L-BS battery. This battery augments the power supply to the full LED lighting assembly and electronic accessories (if any). In the event of wear or damage, it can be interchanged with a similar AGM or lithium format (view on Amazon).
Tires & Brakes
The factory-fitted tires are 110/70 17M/C 54S for the front and 140/70 17M/C 66S for the rear. These are tubeless IRC Road Winners installed on 17M/C x MT 3.00 and 17M/C x MT 3.50 cast aluminum rims. Should you encounter tire issues, you can switch them out for equivalent radials such as the Michelin City Grip 2 (view on Amazon), with the tire size depending on whether you're replacing the front or rear.
OEM-recommended cold-tire pressure for these knobbies is 200 kPa (2.00 kgf/cm2, 29 psi) for both front and rear. However, you may adjust the rear to 225 kPa (2.25 kgf/cm2, 33 psi) if riding with a passenger.
As for brakes, the two-wheeler uses a single 296-mm hubless, floating front disc and a single 220-mm rear disc. These brake components are enhanced by a radial-mounted twin-piston Nissin caliper, plus optional ABS that significantly improves braking capabilities. Later-year models feature 3-piston pin-slide calipers.
Suspension
Enclosed in a twin-spar, tubular steel frame (25° caster angle, 95 mm/3.7 inches trail) are non-adjustable 37-mm Showa front forks and a 5-way preload-adjustable Pro-Link twin-sided rear swingarm. Each suspension unit offers respective front-and-rear wheel travel of (4.7 inches) and (4.1 inches). While this setup complements the bike's excellent cornering clearance, it cannot hide the CBR250R's limited damping ability on rough canyon roads and similarly challenging surfaces.
Other handling-affecting elements are the two-wheeler's wheelbase of 1,369 mm (53.9 inches), minimum ground clearance of 145 mm (5.7 inches), and turning radius of 2.5 meters (8.2 feet). The wheelbase was evened out to 1,370 mm, and the trail increased to 98.6 mm (3.9 inches) for subsequent models.
Dimensions & Capacities
Overall dimensions are 2,030 x 720 x 1,127 mm (79.9 x 28.3 x 44.4 inches — L x W x H), giving the bike a narrower profile than the smaller-displacement CBR125R. Seat height measures 775 mm (30.5 inches, unladen), offering comfort to riders of medium to tall stature. Still, it could be challenging for revheads with an inseam of less than 32 inches to plant their feet on the ground comfortably.
Capacity-wise, the two-wheeler has a curb weight of 162 kg (357 lbs.) and a maximum weight capacity of 140 kg (309 lbs.). Models with ABS weigh 9 lbs. more than the base versions. These figures result in an estimated Gross Vehicle Weight Rating (GVWR) of 302—306 kg (665.7—674.7 lbs.), which includes the combined weight of the rider/passenger, a full fuel tank, fluids, cargo, and accessories.
Exterior
Having written an article on the Honda CB250 a while back, I think it's worth mentioning how that model compares to the CBR250R. Although both motorcycles share some design elements and use a similar engine and frame, they differ more than the average rider would think. The Honda CB250 draws from a much older motorcycle technology, as evident in its sophisticated simplicity.
The CBR250R features a full fairing, whereas the CB250 takes on a naked motorcycle form. This contrast in styling gives distinct appearances to each bike — the former being more aggressive and the latter more classic.
Regarding riding position, the CBR250R adopts a sportier, forward-leaning stance, while its cousin provides a more relaxed and upright position. The full fairing on the CBR250R improves aerodynamics and offers a sleek look, whereas the CB250 exposes its engine and components for a minimalist design.
Cost of a Honda CBR250R
According to Motorcyclist, the list price for the 2011 Honda CBR250R is between $3,999 and $4,499 (depending on whether you opt for the standard model or one with ABS included). Regarding pre-owned units, resale values generally align with this price range — albeit somewhat more affordable. Per JD Power, low and average retail prices range from $1,615 to $2,610. Conversely, auction listings can go up to $4,500.
US MSRPs increased yearly by at least $100 in subsequent years, with the 2012 Honda CBR250R selling for $4,099—$4,599 and the 2013 Honda CBR250R for $4,199—$4,699. The 2013 CBR250R Repsol Edition trim had the same price as an ABS-equipped package.
From 2014 to date, the Honda CBR250R continued production in non-US markets, specifically Japan, India, and Malaysia. Here is a breakdown of list prices from 2014 to 2021 per country:
Japan
India
Malaysia
2014—2016:
¥570,000 to ¥650,000

₹1.58 lakhs to ₹1.92 lakhs

RM21,940 to RM23,888
2017—2019:
¥580,000 to ¥660,000

₹1.63 lakhs to ₹1.98 lakhs

RM22,364 to RM24,626
2020—2021:
¥590,000 to ¥670,000

₹1.68 lakhs to ₹2.03 lakhs

RM23,292 to RM25,670
Honda CBR250R — Pros and Cons
Since the Honda CBR250R was marketed in North America and some parts of Europe for only three years, procuring a secondhand unit would be the expectation for those on the hunt for this reliable 250cc. That said, here are the lowdowns of the CBR250R that prospective buyers need to be aware of:
Pros
Fuel Injection: The CBR250R features fuel injection, eliminating the need for choke adjustments, which can be especially advantageous for novice riders.
Modern Design and Technology: The motorcycle incorporates a clean-sheet, single-cylinder engine, and a new chassis with numerous patented features, making it a technologically advanced option in its price range.
User-Friendly: Designed to be easy to operate, reliable, and cost-effective, catering to first-time riders, with an expected 70% of buyers being beginners.
Lightweight and Manageable: With a weight of 360 lbs and a low 30.5-inch seat height, it's easy to handle, offering a comfortable riding experience for riders of various heights and experience levels.
Engine Performance: The 249cc single-cylinder engine offers a lively performance, higher revs, and sufficient power without overwhelming inexperienced riders.
Narrow Frame: The narrow twin-spar steel frame enhances maneuverability, making the CBR250R ideal for urban riding and tight curves.
Smooth Ride: The gear-driven counterbalancer minimizes vibrations, ensuring a smooth and comfortable ride.
Good Fuel Efficiency: The motorcycle provides good fuel efficiency, making it an economical choice for budget-conscious riders and commuters.
Optional ABS: The availability of ABS enhances braking performance and safety.
Cons
Limited Suspension Damping: The bike's suspension configuration exhibits limited damping ability on rough terrain, although it's suitable for the bike's intended use.
Braking Response: Some riders may find the front brake response slightly delayed and spongy, although this can be seen as a safety feature for beginners.
Seat Seam: The applicability of the seam between the tank and seat may cause discomfort for some riders during spirited or aggressive riding.
If you find that these details don't suffice, take a look at my other article on the Honda CBR 250R vs. Kawasaki Ninja 250R for more of the dual-sport's strengths and drawbacks.
About Honda
Honda Motor Company Ltd., a celebrated Japanese manufacturer and part of the Big 4, boasts a rich legacy of crafting motorcycles that have significantly influenced the industry. The CBR series, introduced in the 1980s, is a testament to the firm's unwavering dedication to innovation, dependability, and creating products tailored to diverse tastes and rider abilities.
This iconic series has paved the way for modern-day models like the Honda CBR250R and its larger displacement iterations, embodying Honda's ongoing commitment to delivering exceptional two-wheeled experiences.
Conclusion — Honda CBR250R Review
The Honda CB250R encapsulates the spirit of the CBR series by seamlessly blending sporty aesthetics with modern practicality. Additionally, its aerodynamic design and beginner-friendly features make it an appealing option for newcomers to the world of motorcycling.
While its power and configuration may not suit all riding scenarios, this compact machine has, time and again, proven itself a stylish and functional choice for recreational riding and urban commuting. As Honda continues to refine and innovate its neo-sportbike lineup, the CBR250R remains a dominant force in the market that never fails to draw in gearheads seeking a reliable ride.