Ducati 916 Specs and Review
Disclosure: We may get commissions for purchases made through links in this post.
The Ducati 916 is a 916-cc motorcycle that screams riding excellence and style like no other '90s bike. It is among the legends that "set the pulse of designer racing," embodying the pinnacle of engineering and performance during its time. It is powerful, sleek, and red – an eye candy for motorheads and enthusiasts.
The Ducati 916 is an iconic sportbike produced from 1994 to 1998, made available in standard, two-seater, and limited-edition trims. Boasting a Desmoquattro engine, 109–131 hp power output, advanced tech features, and a sleek, modern aesthetic, the superbike was, to many, the highlight of the '90s.
Attributes such as even toque spread, impressive handling mannerisms, and born-for-racing styling cannot even begin to give justice to the collective worth of this iconic motorcycle. To learn more about this handsome two-wheeled stunner, stick around and continue reading today's article.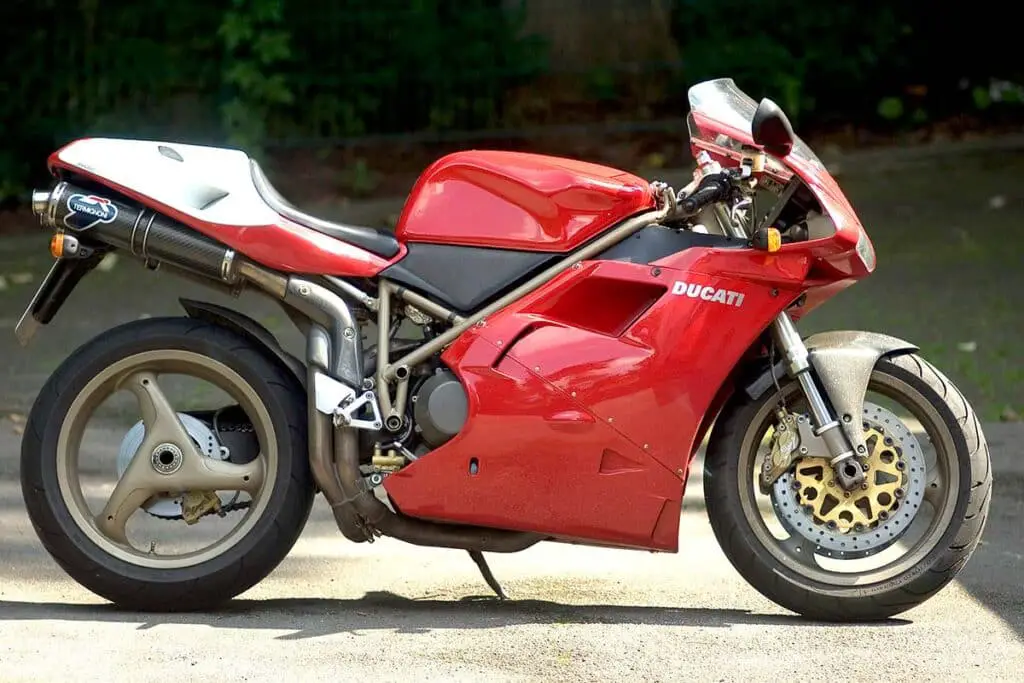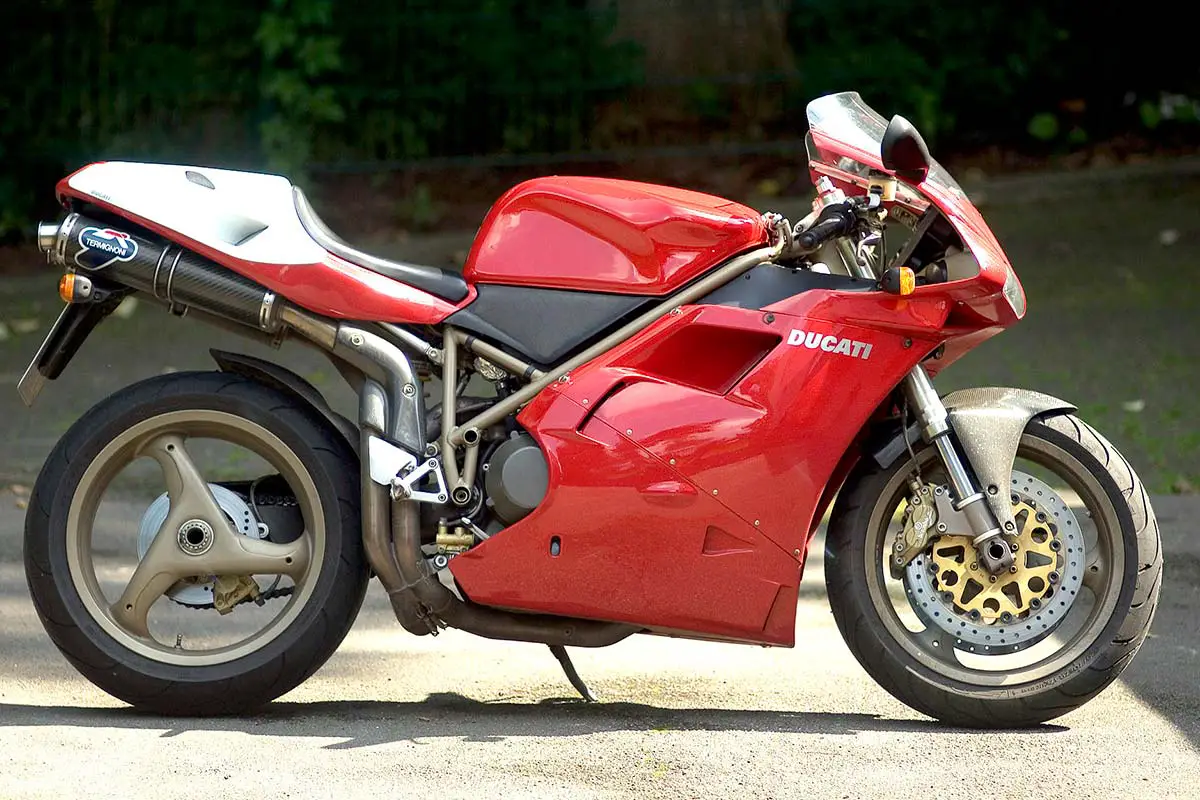 Ducati 916 – "The Ferrari of Motorcycles"
No, this fond reference to the Ducati 916 has nothing to do with its Cagiva Red finish. Instead, it relates to the superbike's industry-leading styling, highly-coveted mannerisms, and superb performance on the racetracks.
Introduced to the market between 1994 and 1998, the Ducati 916 was the superbike to beat in the mid-'90s. Sure, its Desmodromic timing system and power mill may be a derivative of the Pantah. But other than that, its aesthetics, performance, handling, and technical features were light years ahead of its class. In truth, the extent of its influence on succeeding sportbikes can only be likened to that of the Suzuki GSX-R750.
As if that were not enough, the performance bike went on to win four Superbike World Championships. Legends like Carl Fogarty and Troy Corser and "Motorcycle of the Year" awards were synonymous with the Ducati 916.
Trims & Special Edition Models
Monoposto Strada (STR)
The Strada was the Ducati 916's standard model produced since 1993. However, it did not seem to have the "Monoposto Strada" as an official part of its name until later on.
Only four units were released in 1993. But this picked up to full production in 1994 – with 3,196, 3,875, 2,896, 5,281, and 2,755 produced in the succeeding years.
The number of bikes manufactured during the 916's run totaled 18,006. (However, it is unclear if these figures include the homologation models sold within the same period.)
Biposto (BIP)
Differences between the BIP and the Strada are the revised decals, braided brake, clutch lines, a new shindengen regulator, and this model is a two-seater (hence, the Italian term "Biposto"). It is also worth noting that the BIP subframe has a more forward-mounted ECU than the Monoposto.
Per '98 service manuals, this trim is supposed to have a 520-watt alternator instead of the original 350-watt. But bike owners claim otherwise, saying the old alternator is still fitted inside the two-wheeler.
Senna (S)
First showcased at the Bologna Motor Show in December 1994, the 916 Senna was a specialty livery and Ducati owner Claudio Castiglioni's way of celebrating the life of F1 World Champion Ayrton Senna. Only 300 units of the charcoal-gray-and-red limited-edition Senna trims were produced, with three editions released between 1995, 1998, and 2001.
Net proceeds of the bike's sales were donated to the Instituto Ayrton Senna, a charity for impoverished children in Brazil.
Sport Production (SP)
The Sport Production or 916SP is a homologation special introduced during the bike's debut. It sported carbon-fiber body parts, full-floating brakes, improved shock absorbers, and a Monoposto tail section. It was also six pounds lighter, with a 15% increase in Ducati 916 hp versus the street-legal model. Around 1,200 units were built between 1994 and 1996.
Sport Production Special (SPS)
Released in 1997 to homologate the Ducati 996, the 916 Sport Production Special was, in many ways, better than the SP. It featured reinforced crankcases and new cylinder heads (among other things) that helped improve the bike's power qualities, midrange pull, and top-end.
About 404 SPS units were built in 1997, followed by 1,000 units in 1998. The increase in production numbers was due to enthusiasts going gaga over its torque output, sublime handling, and impeccable driving feedback.
Here is a list of all Ducati 916 special models released within the bike's 5-year production (source: Revzilla)
SP
SP1
Senna
SP2
SPA (50 only, made in 1996-'97 to allow for AMA Superbike homologation, 955 cc displacement) 
SPS (World Superbike homologation model, 996 cc) 
Senna II & III
Ducati 916 Specs & Features (1994 – 1998 Models)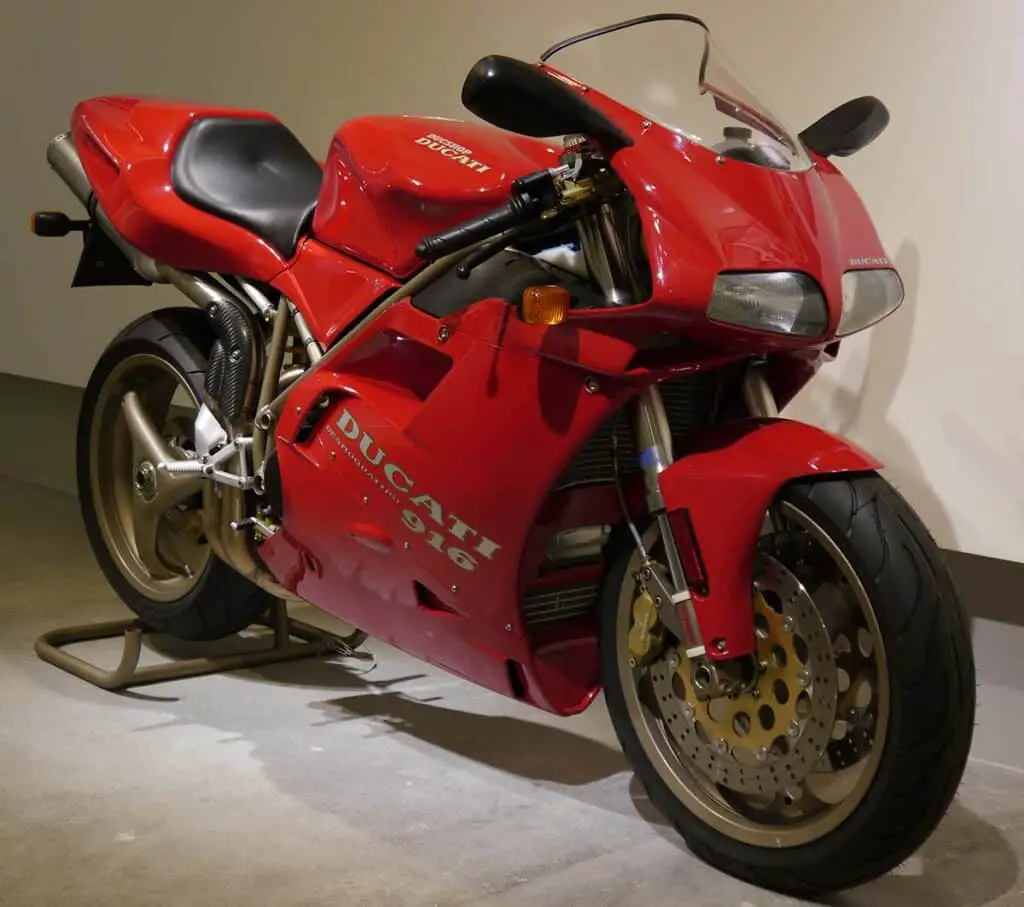 Note that this section covers the various trims of the Ducati 916 motorcycle and details information entirely different from Ducati ST4 916 specs, a sports touring machine with the same piston displacement released by the Italian firm between 1999 and 2005:
Engine
A liquid-cooled and enlarged 4-stroke Desmoquattro DOHC engine (longitudinal 90° V-twin) brings the Ducati 916 to life. Piston displacement is 916 cm3 (55.87 in3), compression ratio is 11±0.5:1, and bore-stroke ratio is 94 x 66 mm (3.70 x 2.59 inches). A Weber fuel-cum-ignition system with a single injector per cylinder manages fuel injection (except for the Sport Production trim with dual injectors per cylinder).
Overall, this engine configuration lends to the following performance figures:
| Description | Performance Figure |
| --- | --- |
| Top Speed | 161.5–167.7 mph (260–270 km/h); 158.5 mph (255.1 km/h) |
| Horsepower (at the crankshaft) | 109–131 hp (80–96 kW) @ 9,000 RPM |
| Maximum Torque | 86–101 Nm (8.77–10.30 kgf-m, 63.43–74.49 ft-lbf) @ 7,000 RPM |
| Fuel Consumption | 40.46–45.16 mpg (17.2–19.2 km/L) |
| Redline RPM | 10,000–11,000 RPM |
(Upper-limit values are for Sport Production or SPS trims, while lower-limit values are for the Senna, Biposto, and Monoposto Strada)
Fuel & Lubrication
All production models of the Ducati 916 require 17 L (4.49 USgal, inclusive of 4.0 L/1.06 Usgal reserve) of high-quality unleaded fuel with a minimum rating of RON 95-98. Gasohol variants containing no more than 5% MBTE, 10% ethanol, or 5% methanol are generally acceptable for Ducati motorcycles.
Lubrication-wise, the performance bike uses a pressure-feed system with a gear pump, suction filter, bypass pressure relief valve, and a replaceable pressure filter cartridge. The recommended capacity is 4.0 L (4.22 US quarts) of SAE 15W-50 Shell – Advance Ultra 4.
Other multi-grade oils specified in the owner's manual are permissible following ambient temperatures. Use of full-synthetic equivalents with an API grade not lower than SJ (meeting JASO T903 MA/MB or ACEA standards) is allowed.
Ignition & Lighting
Hybrid Weber I.A.W. CPU P8 (SPS, Monoposto Strada) and 1.6M (Biposto, Senna) electronic indirect injection systems serve as the ignition system for various Ducati 916 models. These systems are equipped with a computer and built-in power modules. A Champion A55V (SPS) or RA59GC (STR, BIP, S) spark plug with an electrode gap of 0.5–0.6 mm (0.019–0.023 inch) is responsible for spark ignition.
A generator with a rated output of 12V 350 W serves as its charging system. Meanwhile, a 12V 16 Ah/(10 HR) YB16AL-A2 battery like Fire Power CB16AL-A2 Conventional 12V Heavy Duty Battery (view on Amazon) – with assembled dimensions of 207 x 71.5 x 164 mm (8 1/8 x 2 13/16 x 6 7/16 inches) – aid in powering lighting and electronic accessories. For lighting specs, see the table below:
| Description | Voltage x Wattage |
| --- | --- |
| Dual Headlamp | 12V 55/115 W poIyellipsoidal low beam unit |
| Parking, Number Plate Light | 12V 5W |
| Instrumentation | 12V 1.2 W (warning lights); 12V 2 W (dial lights) |
| Direction indicators | 12V 10 W |
| Tail Light | 12V 5/21 W |
Drivetrain
As with most Ducati superbikes, the Ducati 916 has a Desmodromic timing system. It is driven by the crankshaft through spur gears, timing belt pulleys, and toothed timing belts and utilizes two actuators instead of a return spring to close the valves.
A 6-speed constant-mesh transmission and a modular, dry multi-plate clutch assembly deliver power to the ground. Meanwhile, a 5/16″ x 5/8″ DID 525 HV chain like DID 525VX3G120ZB Gold 120 Link High-Performance VX Series X-Ring Chain (view on Amazon) handles wheelspin. This chain drive has a front/clutch sprocket ratio of 31/62T and a final drive ratio of 14/36T (SPS) or 15/36T (Monoposto Strada, Biposto).
See below for stock transmission gear ratios:
| Description | Gear Ratio |
| --- | --- |
| Transmission Gear Ratio – I | 2.467 (15/37) |
| Transmission Gear Ratio – II | 1.765 (17/30) |
| Transmission Gear Ratio – III | 1.350 (20/27) |
| Transmission Gear Ratio – IV | 1.091 (22/24) |
| Transmission Gear Ratio – V | 0.958 (24/23) |
| Transmission Gear Ratio – VI | 0.857 (28/24) |
Tires & Brakes
Stock tires consist of tubeless radials – 120/70 ZR 17 M/C at the front and 180/50 or 55 ZR 17 M/C at the rear mounted on three-spoke, light alloy Brembo rims (3.50×17 front; 5.50×17 rear). Depending on trim, the superbike could have either Pirelli or Michelin tires (view on Amazon). Recommended cold-tire pressure for each is 220 kPa (2.24 kgf/cm2, 32 psi) and 239.5 kPa (2.44 kgf/cm2, 34 psi), respectively.
Double-drilled floating 320-mm dual hydraulic discs (front) and a single fixed 220-mm hydraulic disc (rear) – both with Brembo® "Gold series" calipers – provide the Ducati 916 its halting power. Brake discs are constructed from steel for Monoposto Strada and Biposto trims and cast iron for Senna and SPS versions.
Suspension
Enclosed in a Chromoly steel trellis frame with a removable rear subframe (27° steering angle; 97 mm/3.8 inches trail) are fully adjustable 43-mm USD Showa® front forks and a progressive-rate rear linkage with a mono-shock fully adjustable for rebound, spring preload, and compression. The Monoposto Strada and Biposto trims have Showa shocks, while the Senna and SPS trims come with same-size Öhlins.
Each suspension unit provides a respective wheel travel of 127 mm (5.0 inches) and 71 mm (2.8 inches). The wheelbase is 1,410 mm (55.5 inches) – lending to superb handling, improved cornering, and a smoother ride. But like its predecessors, the bike's ground clearance is a miserly 150 mm (5.9 inches).
Dimensions & Capacities
Length and height measurements of the Ducati 916 are 2,050 x 1,090 mm (80.7 x 42.9 inches). The width is 685 mm (26.9 inches) if measuring from end to end of the handgrips and 780 mm (30.7 inches) if based on the rearview mirrors. Seat height is 790 mm (31.1 inches), capable of comfortably sitting medium-built to tall riders. Footpeg height is approximately 300 mm (11.8 inches), as illustrated in the service manual.
Dry weight ranges from 192–204 Kg (423.2–449.7 lbs.), with the SPS trim being the lightest and the Biposto version the heaviest. In running order (including a full tank, fluids, and rider weight not exceeding 74 Kg or 163 lbs.), the 916 Ducati weighs between 276 and 288 Kg (608.4–634.9 lbs.).
Exterior
Guggenheim's The Art of the Motorcycle described the Ducati 916 featured "a single-sided swing arm, patented adjustable steering… and one of the most distinctive styling jobs ever seen on two wheels." Its single-sided swingarm is made for quick and hassle-free tire changes. Its diminutive twin exhausts were engineered to fit under the seat, complementing the Ducati 916's clean lines and sleek exterior.
On the outside, the full-faired two-wheeler is finished in a strikingly beautiful Cagiva Red (in honor of the bike's parent company). The race-version of the 916 ridden by WSB Legend Carl Fogarty had the same bodypaint but with a white-and-red pinstriped rear.
The LE Senna trim had blacked-out fairings, carbon-fiber small side panels, a fender, and a mudguard (view on Amazon). Massimo Tamburini, who penned the Ducati 916, admittedly took some of the bike's visual cues from Big Red's 1992 NR750.
Trivia: Incoming-year 916 Ducati Monoposto Stradas had their lower fairings secured with rivets. Succeeding-year models upgraded to removable fasteners.
How Much Does a Ducati 916 Cost?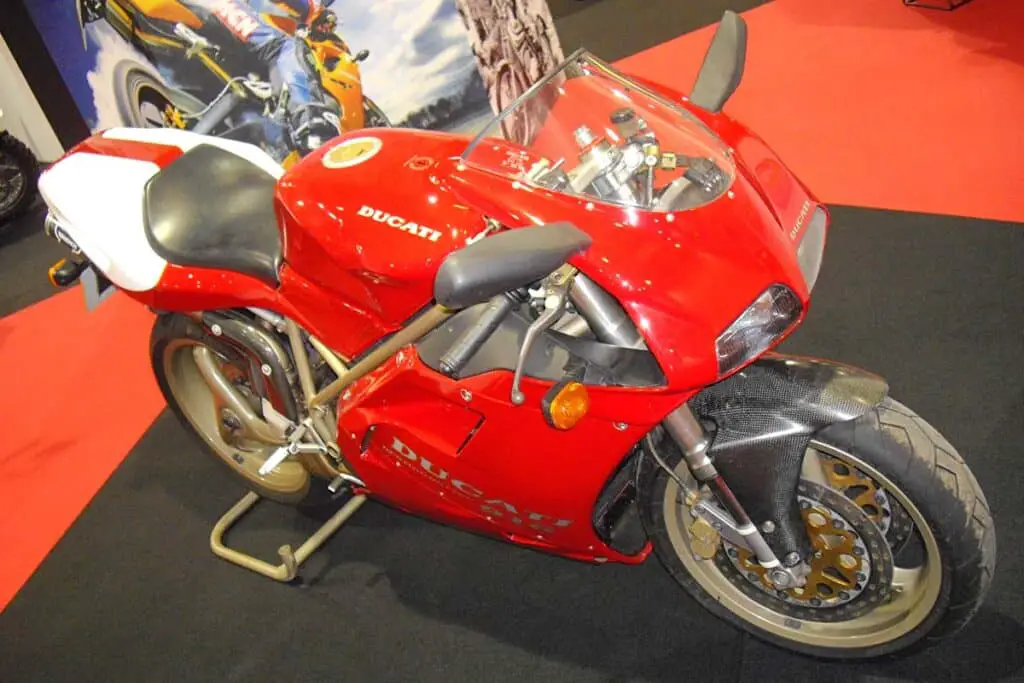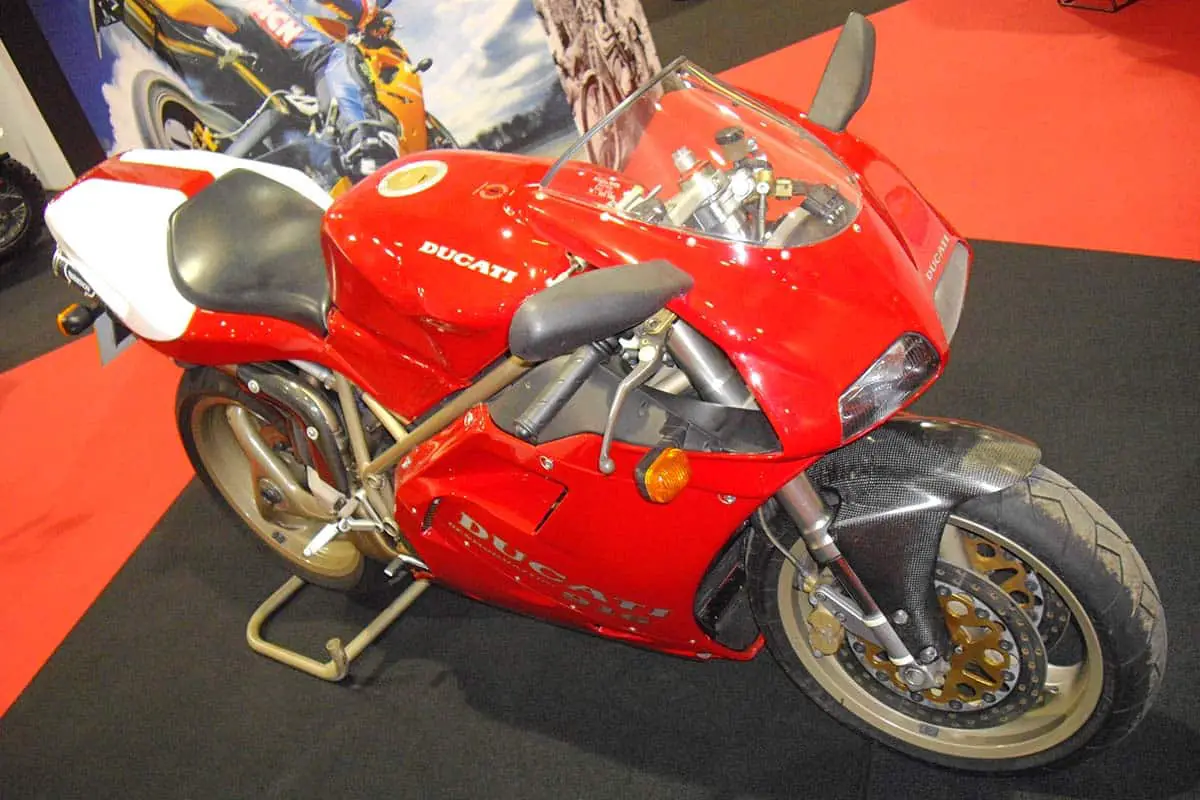 The Ducati 916 series ranged from $14,500 to $16,495 during its 5-year production run – with little movement in pricing in its first two years. But if we were to include homologation models SP and SPS, the highest price tag put on the 916-cc bike would be $24,000 – a little over 50% more than the list price of standard models.
Nada Guides data shows a resale value range between $1,160 and $10,540, while Hagerty and other trader sites indicate resale values within $12,700–$42,100.
| Year – Model – Trim | List Price | Retail/Trade-In Values |
| --- | --- | --- |
| 1994 Ducati 916 | $14,500 | $1,425 – $10,245 |
| 1995 Ducati 916 | $14,975 | $1,555 – $10,540 |
| 1996 Ducati 916 | $15,700 | $1,920 – $10,500 |
| 1997 Ducati SB916 | $15,995 | $1,160 – $7,650 |
| 1997 Ducati SB916 Biposto | $15,995 | $1,160 – $7,650 |
| 1998 Ducati 916 Biposto | $16,495 | $1,350 – $7,970 |
| 1998 Ducati 916 Monoposto | $16,495 | $1,350 – $7,970 |
| 1998 Ducati 916 Senna Edition | N/A | $19,000 – $23,000 |
| 1997 – 1998 Ducati 916 SP/SPS (Homologation Units) | $24,000 | $12,700 – $25,000 |
About Ducati
Ducati Motor Holding S.p.A. (formerly Ducati Meccanica and Società Scientifica Radio Brevetti Ducati) is the motorcycle-manufacturing division of Italian OEM Ducati. It is currently a powerhouse in the world of motorcycling.
Founded in 1926, the company struggled during its earlier years, often finding itself under threat of bankruptcy. Fortunately, buyouts like the Cagiva acquisition in 1985 helped Ducati overcome challenges and continually produce breakthrough offerings like the Ducati 916.
Conclusion – Ducati 916 Review
No one knows for sure how many Ducati 916s are still around. But some UK sites have counted and show approximately 447 units still up for grabs. Note, however, that these numbers are still estimates, as there is no way of finding out if these values include special-edition trims and if they cover all markets.
You can still search the web for good finds – some private owners have recently posted well-kept 916s with low to mid mileage and minimal cosmetic damage priced between $6,000 and $10,000+. But it would be different if you are looking for units made in Cagiva's Varese factory, as those are rare and quite expensive.
I would not pass up the chance to own this legend of a motorcycle – be it the pricey Senna or a standard Strada model. And if you feel the same, ensure that your pockets are full and your eyes open.