Suzuki GN250 Specs and Review
Disclosure: We may get commissions for purchases made through links in this post.
More than longevity, the Suzuki GN250 boasts a reputation that goes beyond its name brand. This small thumper is known for its remarkable yet functional simplicity and is, in fact, among the few longest-running labels in Suzuki's motorcycle lineup. In this article, let us delve into the enduring, timeless design and notable features of this classic motorcycle.
Sold from 1982 to 1988 in the US and until 1997 outside of North America, the Suzuki GN250 is a cruiser-like motorcycle preceding the Suzuki TU250. It has a build-friendly drivetrain, chopper-esque aesthetic, and agile mannerisms.
Uncover the history, features, and common issues of this reliable yet low-profile motorcycle. Whether you're a seasoned enthusiast or a nouveau rider, let's dive into the world of the Suzuki GN250 and explore the drivers behind its favorability among urban commuters and off-road adventurers.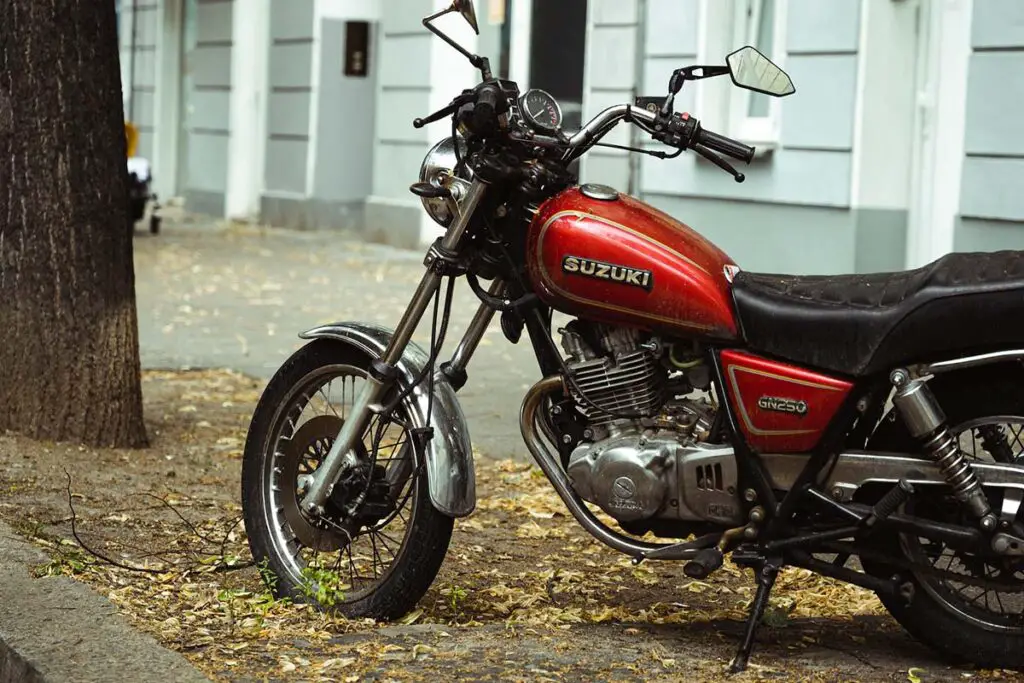 About the Suzuki GN250
The Suzuki GN250 holds a prominent place in the realm of motorcycles, offering a compelling blend of versatility, reliability, and approachability. Introduced in the early 1980s, the GN250 quickly gained recognition as a capable and economical machine suitable for various riding environments. Designed to focus on practicality and ease of use, the GN250 appeals to novice and experienced riders alike.
From its inception, the two-wheeler showcased a straightforward design with clean lines and an uncluttered appearance. The emphasis on simplicity extended to its powertrain, a 249cc air-cooled single-cylinder engine known for its durability and fuel efficiency.
Expectedly, the GN250 struck a chord with riders who appreciated its lightweight nature and balanced performance, making it ideal for urban commuting and occasional off-road excursions.
Over the years, the GN250 underwent subtle refinements while maintaining its core principles of practicality and reliability. Eventually, it gained global popularity, serving as a trusted machine for motorheads of different skill levels and backgrounds.
It may not be the type of motorcycle that anyone could immediately fall head over heels in love with. Nonetheless, it is one of the most reliable 250cc machines you will ever get to straddle.
Suzuki GN250 Specs & Features
Engine
The cafe-racer-style two-wheeler uses an air-cooled, 249 cm³ (15.2 in³) 4-stroke SOHC engine with a single-cylinder arrangement. It shares the same bore-stroke ratio of 72 x 61.2 mm (2.835 x 2.409 inches) with its successor, the TU250X. Meanwhile, the compression ratio is slightly lower than the latter at 8.9:1. A lone 34-mm Mikuni BS34SS carburetor (mated to a polyurethane foam air filter) handles the air-fuel mixture.
Overall, this engine configuration lends to the performance figures below:
| Description | |
| --- | --- |
| Top Speed | 71—80 mph (114—128 km/h) |
| Horsepower* | 22 bhp (16.4 kW) @ 8,500 RPM |
| Maximum Torque* | 19 Nm (1.9 kgf-m, 14 lb-ft) @ 6,500 RPM |
| Fuel Economy** | 62 mpg (3.8 L/100 km, 26.4 kmpl) |
| Approximate Tank Range | approximately 169 miles, 273 km |
* Values derived from 
Motorcyclespecs.co.za
** Gas mileage provided by 
Fuelly
 based on 28 individual instances of fuel-ups
Fuel & Lubrication
The fuel tank capacity is 10.3 L (2.7 USgal). Across all production models, recommended fuel options should include suitable cosolvents and corrosion inhibitors, with no more than 5% MTBE, 10% ethanol, or 5% methanol — although zero-methanol variants are highly desirable.
Lubrication-wise, the 250-cc cruiser employs a wet sump system mated to a gear-driven oil pump and with the following oil requirements:
With oil filter change: 1.4 L (1.5 US qt)
Recommended engine oil is SAE 10W-40 or 20W-40 4-stroke motor oil or its equivalent, with a minimum API grade of SJ meeting JASO T903 MA standards. Other engine oil viscosity grades specified in the owner's manual are permissible, provided they accommodate varying ambient temperatures, altitude, and riding conditions.
Drivetrain
The Suzuki GN250 boasts a gear-driven counterbalancer incorporated into its powertrain. Moreover, the bike has a 5-speed constant-mesh transmission and an electric starter for easy ignition. A multi-plate wet clutch assembly delivers power to the rear wheel.
As for the final drive, it utilizes a 100-link Takasago RK520KSO or DID 520VC 5 chain, replaceable by a same-spec #520 Chain (view on Amazon) in case of wear or damage.
For your reference, here are the stock gear ratios of the Suzuki GN250. Except for the 3rd and 4th gear, all other gear settings were carried over to the TU250X:
| Description | |
| --- | --- |
| Primary Reduction Ratio | 3.238 (68/21) |
| Transmission Gear Ratio — 1st | 2.636 (29/11) |
| Transmission Gear Ratio — 2nd | 1.687 (27/16) |
| Transmission Gear Ratio — 3rd | 1.263 (24/19) |
| Transmission Gear Ratio — 4th | 1.000 (20/20) |
| Transmission Gear Ratio — 5th | 0.818 (18/22) |
| Final Reduction Ratio | 2.733 (41/15) |
Ignition & Electricals
The Suzuki GN250 has an electronic CDI (Capacitative Discharge Ignition) system with a timing of 10º BTDC below 1,700 RPM and 35º BTDC above 3,000 RPM. An NGK DR8EA or DENSO X24ES-U spark plug is responsible for spark ignition. The bike also utilizes a 15A main fuse and a 12V 45/40W headlight assembly.
A triple-phase A.C. generator serves as the GN250's charging system. This is supplemented by a 12V 11 Ah/(10 HR) YB10L-A2 battery (view on Amazon) for earlier models and a YTX7L-BS format for closer-to-1997 iterations.
The initial battery format has assembled dimensions of 135 x 90 x 145 mm (5.31 x 3.56 x 5.75 inches — L x W x H) sans wiring harness and mounting accessories.
Tires & Brakes
Stock knobbies consist of tubed radials, with front-rear measurements of 3.00-18 and 4.60-16, respectively. These tires are mounted on spoked aluminum alloy rims, giving the two-wheeler its lightweight nature and corrosion resistance. In the event of wear or damage, they can be replaced with same-spec Pirelli Rally tires.
The recommended cold-tire pressure for the front tire, regardless of the bike's load, is 175 kPa (1.75 kgf/cm², 25 psi). In contrast, the standard pressure for the rear tire is 200 kPa (2.0 kgf/cm², 29 psi). However, depending on factors such as solo or pillion riding and reaching the maximum payload limit, the rear tire pressure may need to be adjusted to 225 kPa (2.25 kgf/cm², 33 psi).
As for the brakes, the Suzuki GN250 utilizes discs with a more conventional axial or inline mounting at the front. Conversely, the rear brake employs a mechanical expanding drum system.
While online references for the brake unit diameters are scarce, we can infer they are similar to those found on the TU250. The front brake can be assumed to have a diameter of approximately 280 mm (11 inches), while the rear brake diameter is estimated to be around 110 mm (4.3 inches).
Suspension
Enclosed in a diamond-style steel frame (26-30º caster angle, 90-110 mm/3.5-4.3 inches trail) are conventional telescopic front forks and dual rear shocks offering 5-way preload adjustability. Each unit provides a respective front-and-rear wheel travel of approximately 140-150 mm (5.5-5.9 inches) and 100-110 mm (3.9-4.3 inches) — implying a balanced setup ideal for city commuting and the occasional ventures off the beaten path.
Other aspects contributing to the motorcycle's nimbleness and overall ease of maneuvering include a 1,360-mm/53.5-inch wheelbase and a 160-mm/6.3-inch ground clearance. Depending on the year and trim of the Suzuki GN250, there may be a ±7% variance in these figures between production models.
Dimensions & Capacities
The overall dimensions of the Suzuki GN250 are 2,030 x 840 x 1,120 mm (79.9 x 33.1 x 44.1 inches — L x W x H), with the width spanning the length of the handlebars (view on Amazon).
The saddle height is 740 mm (29.1 inches), making the bike suitable for shorter individuals to slightly taller riders. Surprisingly, its dry weight is 128 kg (281 lbs.) — 12 Kg lighter than the TU250X — despite its lower center of gravity and stockier stature.
The payload limit is unspecified in the owner's manual but can be approximated at 150 Kg (330.7 lbs.), given its class. Based on these values, GVWR (Gross Vehicle Weight Rating) can be an estimated 288.3 Kg (635.6 lbs.) — equivalent to the bike's dry mass, rider/passenger weights, a full tank, fluids, and payload.
Exterior
The Suzuki GN250 has the overall feel of a UJM with subtle brat bike touches. It exudes a sense of simplicity and functionality, featuring smooth lines and a straightforward, balanced aesthetic.
The two-wheeler has a single-piece, low-slung saddle, wide and slightly raised handlebars, streamlined bodywork, and a control layout designed for ease of use.
As for its color schemes, the most common options the G250 was made available in are the following:
Black
Blue
Red
White
Silver
Bronze
Two-tone combinations, i.e. Black/Red or Black/Silver
Cost of a Suzuki GN250
The pricing of the Suzuki GN250 has experienced fluctuations throughout its production, although the changes were relatively minor until 1988. It sold for an MSRP of $1,328 during its debut (around $4,185 if sold brand-new today and with inflation factored in), which rose incrementally in subsequent years. 1988 saw a notable jump in its rate to $1,859 (GN250J model) — an increase of a little over $400 from the previous year.
As for low-to-average resale pricing, values range from $195 to $2,770 (according to JD Power). Australian website Bike Sales, on the other hand, lists pre-1985 GN250s for $2,200 to $3,800 AUD.
The secondhand bikes have a decent mileage between 17,051 and 19,760 km and can be procured through in-house financing. Moreover, these thumpers come with random aftermarket parts and are in great cosmetic and working condition for their age.
Mods that may add to the cost of your Suzuki GN250:
Upgraded pistons, rings, valves, and springs
Porting enhancements on the head
A new Mikuni carburetor
FMF Powercore 4 muffler
Slightly larger YSS shocks (view on Amazon)
Aftermarket rims with stainless steel spokes
Pirelli Scorpion Rally tires (view on Amazon)
DNA air filter
(Source: Bike EXIF)
Suzuki GN250 Common Problems
The Suzuki GN250 boasts a remarkably reliable design. Even when purchased as a used bike, it is unlikely to pose significant challenges for new owners (especially when kept inside the garage and well-maintained). But again, this is assuming the motorcycle only had a handful of previous owners and received top-tier upkeep. Outside of these conditions, however, expect to encounter the following issues:
Starting Difficulties
Starting problems are arguably the most prevalent issue of the Suzuki GN250 and can arise from various reasons, such as a weak battery, faulty ignition switch, or malfunctioning starter motor. Owners who have dealt with it reportedly experienced the following (after ruling out the battery and main fuse as the culprit):
Experienced a gear change accompanied by an audible clunk noise and followed by sudden engine shutdown (riders were unable to restart the engine afterward)
Activating the start switch does not engage the starter motor. A single click is heard from the starter relay, but power fades shortly after (indicated by the green neutral light going out). Subsequent attempts do not produce any further clicking sound. This behavior also seems erratic, as power seems to return after some time.
By connecting the starter motor to the battery and jumping it, the former spins and turns the engine but does not start or ignite it.
The next thing that may come to mind in this scenario is that the power mill is compromised. But most often, that is not the case, as one can manually turn the engine with the help of a ratchet and socket on the crank (an indication that it is not locked, at least).
Electrical System Issues
Typically, the GN250's starting difficulties trace back to electrical system issues, where the two-wheeler's stock or current battery may show 12V on the terminals but without its "amps in the acid." What this translates to is that the battery is only good on paper but, in reality, only has enough 'beef' to latch the solenoid — hence, an unsuccessful start or ignition.
Other areas worth looking into before tearing your engine apart and digging further are the killer switch, ignition switch, and spark plugs. If these additional components still check out, you will then need to do the inevitable and work your way through valves, cam-chain, cams, rockers, piston rings, cylinder walls, etc.
Underwhelming Engine
Engaging in freeway travel with the Suzuki GN250 can be an underwhelming experience. The two-wheeler struggles to maintain a suitable pace and often lags behind even in the slow lane, despite being pushed to its limits.
Sadly, the GN250 can easily demonstrate signs of distress when subjected to such conditions. Not to mention that it will also return a miserly fuel economy of 55 mpg.
Moreover, the machine is not suitable for long-distance drives. Placing it under such conditions will likely result in a leaking cylinder head gasket or an oil-deprived powerplant. In normal situations, oil consumption should not cause concern for riders. However, what is undeniable is that the bike is not ideal for "extensive motorway travel."
Air Leaks
Given that its youngest production model is at least 30 years old, it is understandable for a preloved Suzuki GN250 to exhibit drivetrain problems.
Depending on severity, telltale signs of these issues may call for a carb rebuild, fuel tank cleanup, or parts replacement (among other things). But if these symptoms are accompanied by visible smoke at the headers, they are most likely pointing to an air leak.
Thankfully, it is easy to rule out whether or not this is the case. You just need to ascertain that the seal between the carbs and the head is good. Tightening the carburetor collar and adjusting the needle valve and idle screw are usually the only steps necessary.
When done correctly, your engine should start right up afterward. Although in some instances, you may need to fiddle with your exhaust (view on Amazon) just to be sure.
Chain and Sprocket Wear
The chain and sprockets on the GN250, whether factory-assembled or replaced, can wear out over time and lead to poor performance and potential safety hazards. This much is true, especially for units still with the stock chain on.
Although there is an air of toughness and durability to this small-displacement thumper, chain neglect should never be tolerated as it can result in catastrophic (not to mention expensive) outcomes.
Depending on how far gone the chain problem is, riders may experience more than the typical chainguard mangling and clutch slippage. When split open and inspected, owners often discover shards of plastic, smashed gear teeth, or bits of alloy jamming up the inner workings of the final drive. Other indicators include an over-grooved bore and an oval-shaped piston.
About Suzuki
Suzuki, a globally renowned motorcycle manufacturer and one of the pillars of the Japanese "Big 4," has a rich history spanning several decades. Over the years, Suzuki has established itself as a leader in the motorcycle industry, producing a wide range of models for different riding preferences and purposes.
The company's commitment to engineering excellence, reliability, and innovation is evident in the Suzuki GN250. Product offerings like this continue to magnify Suzuki's global presence and loyal customer base.
Conclusion — Suzuki GN250 Specs & Review
I may be biased, but classic two-wheelers like this 250cc machine are simply built to last. What it lacks in advanced tech and creature comfort, it more than makes up for in style, versatility, and performance. And truth be told, these are the only things you really need to turn your road adventures into something unforgettable.