2013 Kawasaki Ninja 300 Specs and Review
Disclosure: We may get commissions for purchases made through links in this post.
The 2013 Kawasaki Ninja 300 was a comprehensive upgrade to the Ninja 250R but also borrowed some styles from the classic Ninja ZX-6R. Although there's already an upgraded version, this mini-Ninja still sells well, whether used or new. It's also perfect for young riders, as it's an A2-compliant junior-type sports bike.
Considered one of the top bikes for beginners, the 2013 Kawasaki Ninja 300 has a more powerful, sharper, and larger high-revving engine. Its frame is also stiffer, while the bodywork is sharper than the 250R. You'll also find that it has upgraded wheels, suspension, and clocks.
With all these new features, is this motorbike worth it? Let's look at what the Ninja 300 offers in more detail to help you decide if it matches your needs and wants.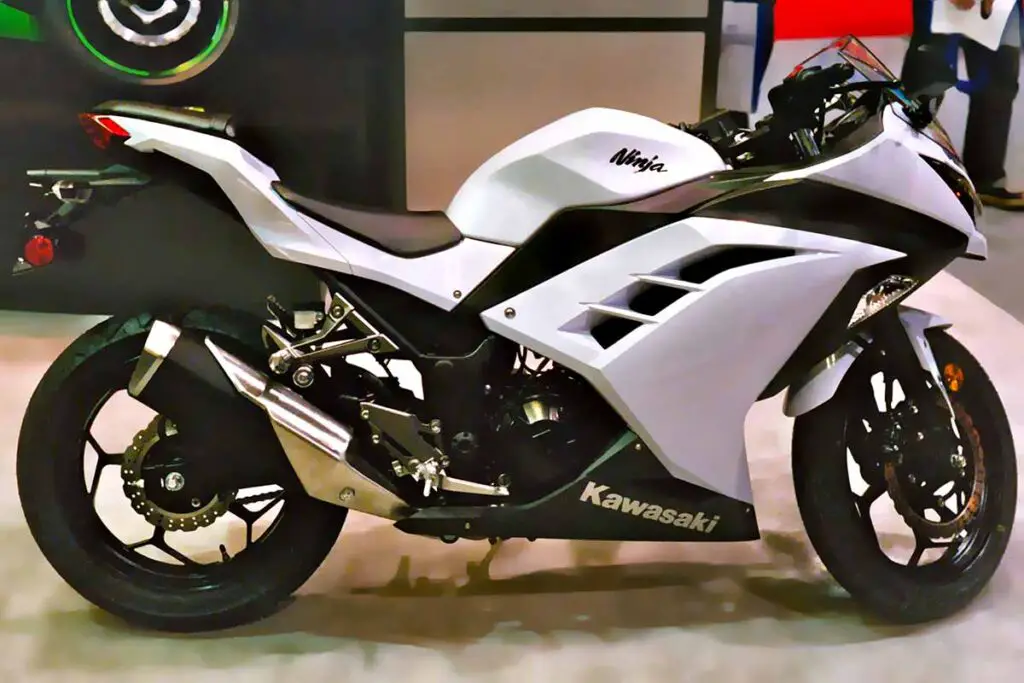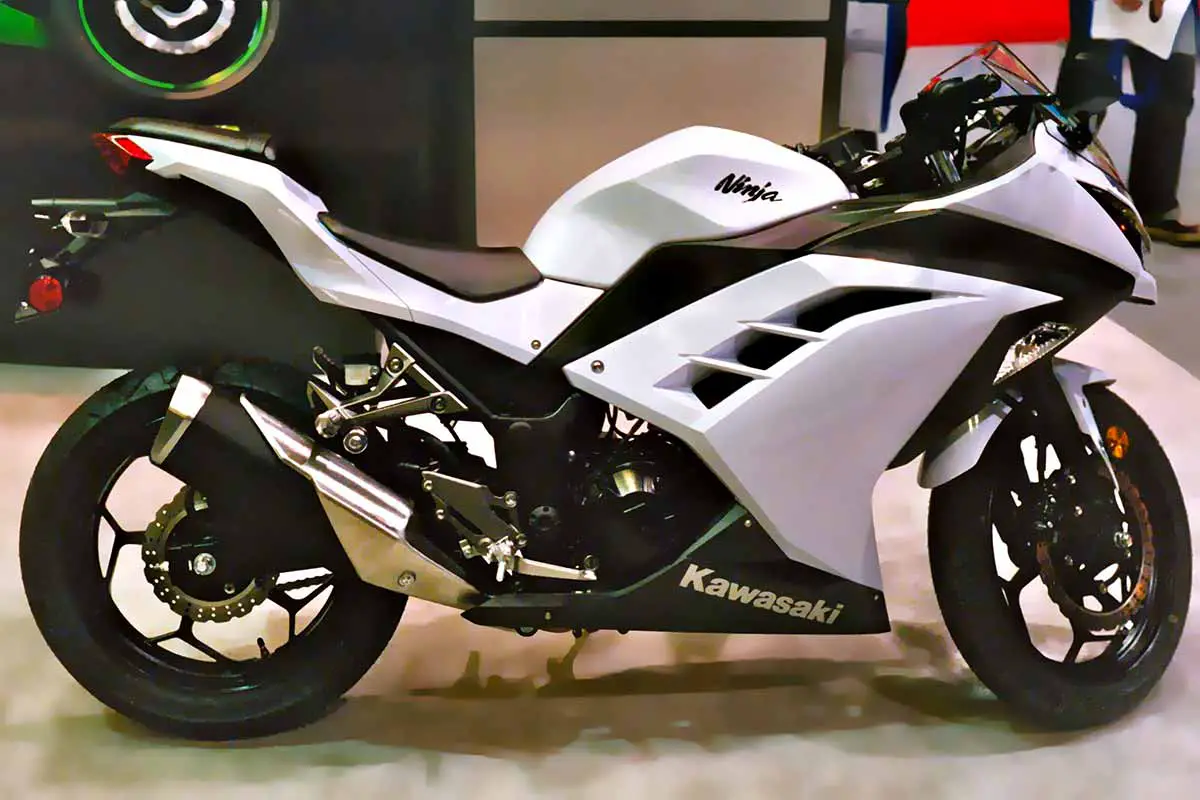 2013 Kawasaki Ninja 300 Specs, Features, Pros, and Cons
Kawasaki Motors Manufacturing Corp. has been manufacturing and distributing vehicles since 1997. They specialize in ATVs, jet skis, side-by-sides, and, of course, motorcycles, and their Ninja Series is composed of motorcycles designed for track or street driving.
The Ninja 300 was manufactured in 2012 and introduced in 2013, specifically in Northern America, Australia, Asia, and Europe. It didn't completely replace the 250 models, as the 300 was sold alongside it in some marketplaces.
Features and Specs
As an upgraded version of the previous Ninja model, the 300 has many great things to offer its riders from the inside out. Let's discuss some of the most important internal and external features and specs of the motorcycle, especially the significant changes.
Engine and Transmission
The Ninja 300's engine might have an identical build and layout as the GPX250's, but it has many internal differences. These include conrods, pistons, sleeveless cylinders, and valves. The cases used to protect them are also different, as well as the engine's cartridge-type oil filter.
The Ninja 300's fuel tank has a maximum capacity of 296 milliliter or cubic centimeters, forcing its two pistons to work harder. It also has better mileage than the Ninja 250 model, based on several test results.
Torque-wise, the Ninja 300 reaches as high as 18 ft-lbs at a speed of more than 8,000 RPM, while its peak power is at 35 brake horsepower (bhp) at a max speed of more than 10,000 RPM. The engine displacement increased by approximately 20% compared to the 250's, while the rear wheel HP and torque are about 40% and 30% higher, respectively.
However, you would need to stir its six-speed gearbox frequently to ensure the motor spins safely at five-figure speed levels. Fortunately, it doesn't produce a high-frequency and tingly vibration, which you'll normally experience with the 250R. That's even when reaching the 2013 Kawasaki Ninja 300 top speed level, all thanks to its rubber-mounted motor.
Top Speed
Speaking of the 2013 Kawasaki Ninja 300 top speed level, it reaches as high as 112 mph or 180 kph, with acceleration records of 5.6 seconds from 0 to 60 mph (0 to 97 kph) and 14.5 seconds at speed levels between 87.7 and 90.58 mph (141.4 and 145.77 kph).
Another notable feature of the Ninja 300 engine is its FCC slipper clutch with assist function. It has fewer clutch springs, so you're assured of a lighter clutch lever action without compromising bite.
The clutch also disengages on aggressive downshifts, preventing rear wheel sliding and skipping. These clutch features make the Ninja 300 ideal for several weather conditions and city streets.
In addition, the assist function ensures a 25% decrease in the clutch effort, allowing beginners and urban motorcycle riders to drive the bike with ease.
Specifications
Below is a table detailing the most important engine and transmission 2013 Kawasaki Ninja 300 specs.
| Features | Specifications |
| --- | --- |
| Engine Type | Liquid-cooled, four-stroke, parallel-twin or two-cylinder, DOHC |
| Bore x Stroke | 62 x 49 millimeters |
| Compression Ratio | 10.6:1 |
| Displacement | 296 cubic centimeters |
| Final Drive | Sealed chain |
| Fuel System | DFI with two 32-millimeter throttle bodies |
| Fuel Capacity | 4.5 gals or 17L |
| Fuel Economy | 54.1 to 70 mpg‑US (65 to 84 mpg‑imp or 3.4 to 4.35 L/100 km) |
| Horsepower | 35 at 10,860RPM |
| Ignition | TCBI; Digital advance |
| Transmission | Six-speed; return shift and positive neutral finder |
| Torque | 18 ft-lbs (24.40Nm) at 8,370 RPM |
Chassis
Maneuvering the Ninja 300, even in corners, would be comfortable and easy, both with slow and fast speed. Although it's most noticeable when driving the bike on smooth roads, you also won't have to worry about traversing bumpy roads. That's all thanks to the Ninja 300's suspension paired with the chassis weight and engine performance.
With regards to the brake, it has a single petal disc with a two-piston caliper on both ends. It doesn't provide as much brake power as a dual-disc brake with calipers mounted radially.
Still, it's high quality enough for a bike belonging to the affordable price range. After all, this type of brake helps reduce the front wheel's reciprocating mass and contributes to the convenient handling of the bike.
2 Versions: With and Without ABS
There are also two versions or models of the Ninja 300 based on the brake feature, one with an ABS (anti-lock brake system) and another without.
The 2013 Kawasaki Ninja 300 ABS is definitely an excellent upgrade since it will allow you to have sufficient bike control during emergency stops, both on dirty and wet roads. Its stopping distance is between 38.0 and 41.1 meters (124.6 and 135 feet) when driven between the 97 and 0 kph (60 and 0 mph) speed levels.
Additionally, it's centralized on the Ninja 300 bike and only weighs around 1.4 pounds, so control is further enhanced. As such, with the combination of the ABS and slipper-assist clutch, all you would need is sufficient wheel traction for improved safety and better control.
That said, you can opt for the Ninja 300 without ABS if you only plan to traverse dry roads. And, of course, it's more budget-friendly than the 2013 Kawasaki Ninja 300 ABS.
Specifications
Here's a table to sum up the chassis specifications of the Ninja 300:
| Features | Specifications |
| --- | --- |
| Frame Type | High-tensile steel; semi-double cradle |
| Front Suspension | 37-millimeter hydraulic telescopic fork; 4.7 inches |
| Rear Suspension | Uni-Trak; five-way adjustable pre-load; 5.2 inches |
| Front Brake | Single; 290 millimeters petal-disc; two-piston hydraulic caliper; with or without ABS |
| Rear Brake | Single; 220 millimeters petal-disc; two-piston hydraulic caliper; with or without ABS |
Exterior
The Ninja 300's reliability and performance rely more on the internal components, but some exterior features like the wheels and curb weight also contribute significantly.
The bike isn't too light and too heavy, ensuring you can handle it well without the danger of it tipping over easily. It also has a lengthier wheelbase than the 250's, while the rear tire is approximately 10 millimeters wider. These changes further enhance the Ninja 300's stability.
The wheels installed have a 10-spoke design, suitable for off-road adventures. These are also more durable and flexible than alloy wheels.
Appearance & Upgrades
Appearance-wise, the Ninja 300 doesn't look cheap or sub-standard. That is even if the 2013 Kawasaki Ninja 300 price is more affordable than its counterparts from other brands, such as the Honda CBR300R, Suzuki GSXR-250, KTM RC390, and Yamaha R3.
First, Its upgraded fender is made of quality plastic. Another significant upgrade to the 300 is the footpegs. Instead of chunky rubber-topped ones, such as those installed on Ninja 250, the 300 footpegs are sleek and serrated and have a sporty look.
You'll also appreciate the fact that Kawasaki ensured they cleverly hid all the bodywork fasteners. Not only does this add to the bike's aesthetics, but you're also assured they won't distract you while riding and driving the bike. Add that to the handy and flashy LCD panel with a six-bar fuel gauge and a comfortable pinion seat installed on the bike.
If that wasn't enough, Kawasaki also made sure you have space to store your belongings, thanks to the two-layer compartment underneath the bike seat. Having this feature allows you to keep your essential items securely and neatly.
Plus, the seat height, or its distance from the ground, isn't too high compared to other sports bikes. As such, short people of all genders can safely and comfortably ride it. Individuals who are too tall or have long legs might not be able to drive it, though.
Specifications
Let's tabulate some of the most important exterior features of the Ninja 300 for you to have a quick reference.
| Features | Specifications |
| --- | --- |
| Bike Dimension ( Length, Width, Height) | 79.3×28.1×43.7 inches |
| Bike Curb Weight | 383.7 pounds or 172 kilograms |
| Seat Height | 30.9 inches |
| Front Tire | 17 inches; 110/70 |
| Rear Tire | 17 inches; 140/70 |
| Wheelbase | 55.3 inches |
Pros:
Quality bodywork
Great style and design
Improved gas mileage
Smooth downshifting
Lightweight but stable
Can accommodate short individuals comfortably
Cons:
Angular tank design can be uncomfortable for some riders
It might be too short or small for tall and big riders
What Is a 2013 Kawasaki Ninja 300 Worth?
The cost of any vehicle in the market nowadays has increased, especially in the USA. With that in mind, a brand-new standard Ninja 300 has a price tag of 4,799USD, while the ABS unit costs 5,499 USD.
However, you might not be able to find a new unit in your area since the manufacturer stopped its production to give way to the newer model, the Ninja 400. If you don't mind purchasing used units, the Ninja 300 is available at a price ranging from 2,900 to 4,600 USD.
2013 Kawasaki Ninja 300 Specs and Review: In Conclusion
Although it's part of the Ninja series lineage, you'll find that the Kawasaki Ninja 300 2013 is a sports bike of its own, as it performs and looks completely different from the Ninja 250. Yes, they both have a parallel-twin engine, but there have been lots of tweaks. The most notable ones are the change from a carburetor to fuel injection and the higher displacement.
The 300 model, standard or ABS, is perfect for those looking for a reasonably priced but powerful motorcycle. It might not be as affordable as one would expect, but the bike's improved capabilities justify the cost. Likewise, it isn't as costly as some mini-bikes with almost similar features.
If you're a beginner rider of any age or gender or just re-entering the motorcycle riding circle, then the 2013 Kawasaki Ninja 300 is perfect for you. That said, you need to have a full B driver's license for you to drive it. Also, make sure you wear the correct protective gear, such as a helmet (view on Amazon), a pair of gloves (view on Amazon), and riding boots (view on Amazon) or shoes, to stay safe and abide by traffic laws.